What are the best greenhouses for cold climates? If you live in a cold region and are looking for an all-year-round greenhouse, this article is just what you need. It explores some of the best options when it comes to growing crops in cold and winter conditions.
Greenhouses help farmers grow plants in and out of season. They provide ideal conditions for the growth of plants, no matter the season.
However, these awesome structures are not designed with the same material quality or for the same purpose. Some are made for indoors, others for outdoors, while others can withstand even the harshest weather conditions.
Today, we look at greenhouses designed to work in cold climates. Such climates present harsh weather conditions, including strong winds, hailstorms, and snow. Therefore, the greenhouses must be able to withstand all this.
Without much ado, let's explore some of the best greenhouses for cold climates, to figure out what makes them unique.
Best Greenhouses for Cold Climates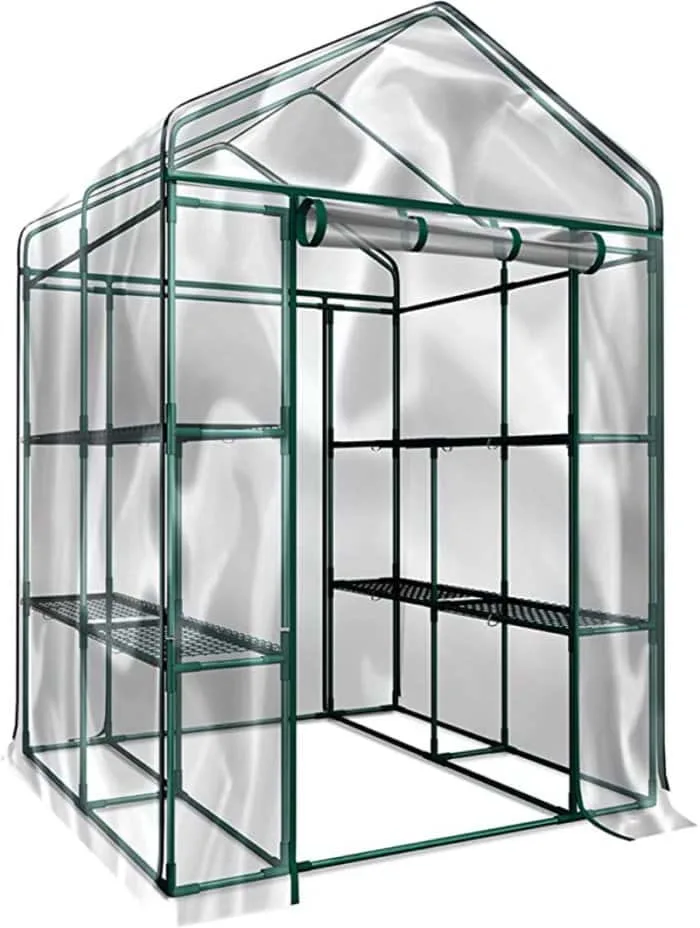 With eight sturdy shelves made of a strong steel frame, this is one of the simple but best greenhouses for cold climates we have around. For starters, the steel frame is powder-coated, meaning that it can withstand the elements without rusting.
Additionally, the clear PVC cover allows for full and effective coverage, letting in sunlight while maintaining ideal heat levels. The zippered door makes it easy for you to get in and out and helps keep pests away.
It is also easy to set up, as all you need is a level surface and zero tools. You can use it in your backyard or on your patio without any issues whatsoever.
Pros:
Sturdy shelves: Offer sufficient room for your planters, pots, and trays.
Powder-coated steel frame: The strong frame can withstand different weather elements.
Full and effective coverage with a clear PVC cover: Allows maximum sunlight absorption without overheating the plants.
Zippered door for easy access and pest control
Easy to set up, no special tools required: All you need is to follow the instructions on the product menu, and you are all set to go.
Cons:
If you want a high-quality greenhouse that can withstand those harsh elements, then this one would be a great choice.
See Related: How Much Does a Greenhouse Cost?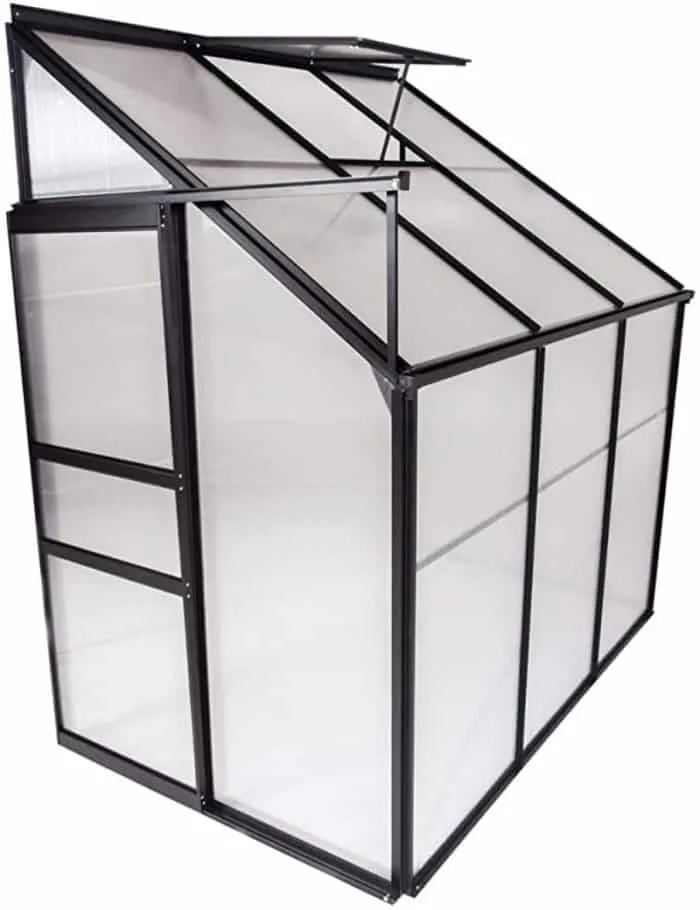 This mini greenhouse from OGrow also has a place among the best greenhouses for cold climates. Why? Firstly, it's made of a strong aluminum frame, meaning that the cold weather elements won't shake it. The frame is rust-resistant as well, so you don't have to worry about it corroding over time.
Secondly, the clear polycarbonate panels offer full coverage and are also waterproof. So, your plants will be safe from cold and wet weather conditions.
The panels block around 99% of harmful UV rays from reaching your plants during the hot season. And during the winter months, these polycarbonate panels ensure that your plants are not affected by the winds, snow, frost, and other harsh winter conditions elements.
Thirdly, the zippered door allows for easy access while also keeping pests at bay. And finally, this greenhouse is super easy to set up.
Pros:
Made of a strong aluminum frame that is rust-resistant
Clear PVC cover offers full coverage and is waterproof
Zippered door for easy access and pest control
Easy to set up, as the instructions are quite clear for a DIY project
Start enjoying fresh crops even during the coldest months!
See Related: Best Lean To Greenhouses | Side of House Options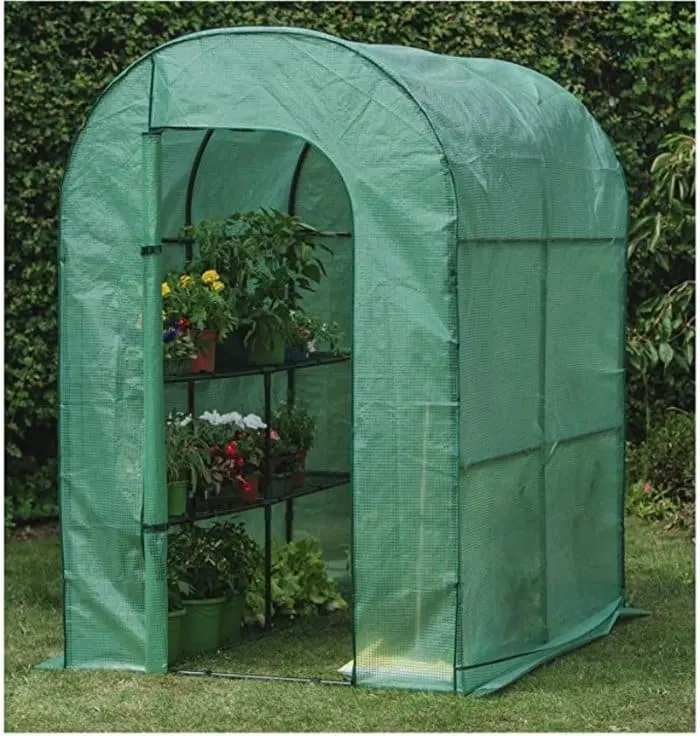 This is a large walk-in greenhouse with sturdy shelving that offers ample stable space for your plants all year. The greenhouse is ideal for your gardening activities all year round, meaning that you can grow what you want when you want.
The round roof is made of an enhanced PVC material that offers full sunlight coverage and is also waterproof. As for easy access, this greenhouse has zippered, side rolling door. The door not only allows you to easily access your plants but also helps maintain the right humidity levels and fresh air for your plants.
Its strong tubular steel frame also makes the greenhouse ideal even for the cold season, when the elements can be quite unforgiving. Subsequently, you can grow your favorite plants in summer and in winter as well.
Pros
Large walk-in greenhouse with ample shelving space
A round roof made of reinforced PVC, offering full sunlight coverage for the plants
The steel frame is rust and corrosion-resistant
Zippered door for easy access and humidity control
Easy to assemble with no special tools required
Cons:
The PVC cover is not as durable as a polycarbonate cover
See Related: Best Outdoor Jobs | Careers to Consider for Outdoor Lovers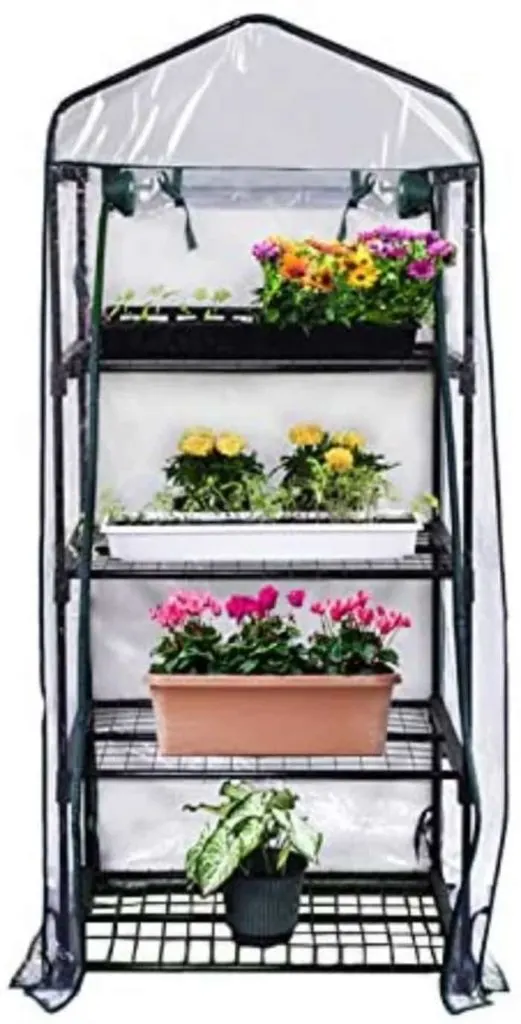 If you are dealing with limited space, Gardman R687 4-Tier Mini Greenhouse might be all you need. This portable greenhouse is not only perfect because of the space economy; it's also one of the best mini-greenhouses for cold climates.
First, the greenhouse's frame is made of sturdy aluminum alloy, making it ideal to withstand even harsh winter weather conditions. Also, the aluminum frame is rust-resistant, which makes it suitable for both indoor and outdoor use.
Secondly, it has a clear PVC covering that allows natural sunlight for your plants' optimal growth while blocking off harmful UV rays. The cover is also waterproof, so you don't have to worry about your plants during cold and wet weather conditions.
And for access, the roll-up zippered door allows for easy access to your plants while maintaining the right humidity. Finally, this mini greenhouse is pretty easy to set up – no tools necessary.
Pros:
Sturdy greenhouse construction with an aluminum alloy frame that's also rest resistant
Zippered roll-up doors
Clear PVC cover that's waterproof and offers full sunlight coverage
Cons:
It can't accommodate too many plants
See related: Best Decorative Metal Sheet for Greenhouses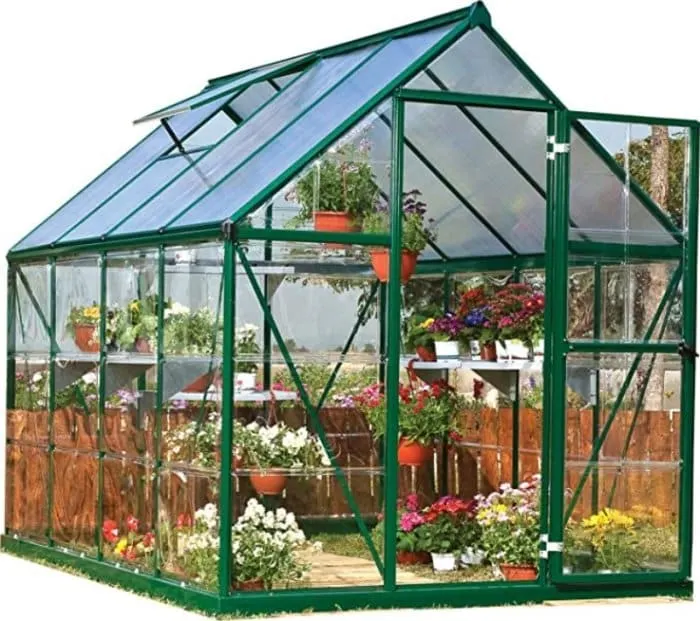 This heavy-duty, all-season greenhouse is perfect for the hobbyist gardener. The Palram HG55086G Hybrid Hobby Greenhouse is made of a strong aluminum frame that can withstand even the harshest weather conditions. Also, the rust-resistant steel frame guarantees durability as your greenhouse won't be affected by rust.
And that's not all; the clear polycarbonate panels are almost unbreakable. They can withstand the cold and harsh winter conditions, including heavy snow and strong winds.
During the hot season, the panels block around 99% of harmful UV rays from reaching your plants. This way, your plants can enjoy the best conditions, ideal for the best growth.
In addition, this greenhouse comes with adjustable roof vents that ensure proper ventilation and temperature control. The vents also help get rid of any excess heat and moisture, keeping your plants healthy.
Other unique features of this greenhouse include a lockable door, rain gutters, and a galvanized steel base.
The rain gutters help collect rainwater, which you can use to water your plants during the dry season. And the galvanized steel base helps increase the stability and durability of your greenhouse.
Pros:
Adjustable roof vents for proper ventilation and temperature control
Lockable door for added security
Rain gutters to collect water during the dry season
Galvanized steel base for increased stability and durability
Cons:
The aluminum frame is not as durable as a steel frame
The polycarbonate panels are susceptible to scratches
See Related: Best Rain Barrels for Water Collection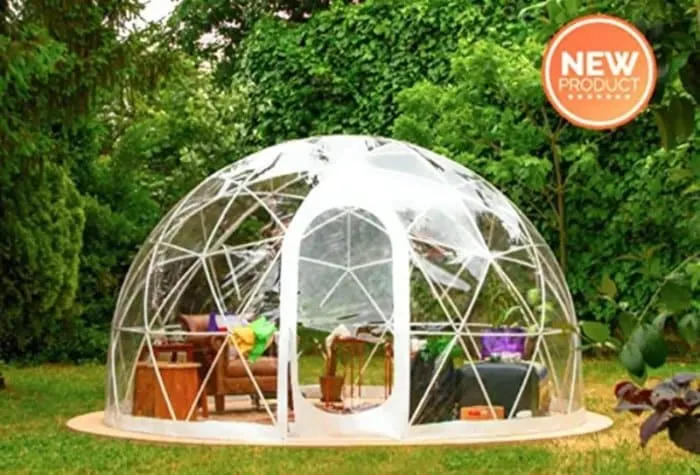 If you are looking for something more than a greenhouse, this Garden Dome Igloo is a perfect choice. Besides being one of the best greenhouses for cold climates, this structure can also be used as a gazebo or for children's play.
Garden Dome Igloo is made of a strong and durable aluminum frame that can withstand all weather conditions. For instance, during the winter season, the greenhouse can hold a max. 90 lbs of snow and withstand quite strong winds. But, if the snow accumulates up to around 6 inches, you need to clean it.
During the hot season, the Polyvinyl Chloride panels offer enough protection for your plants against harmful UV lights.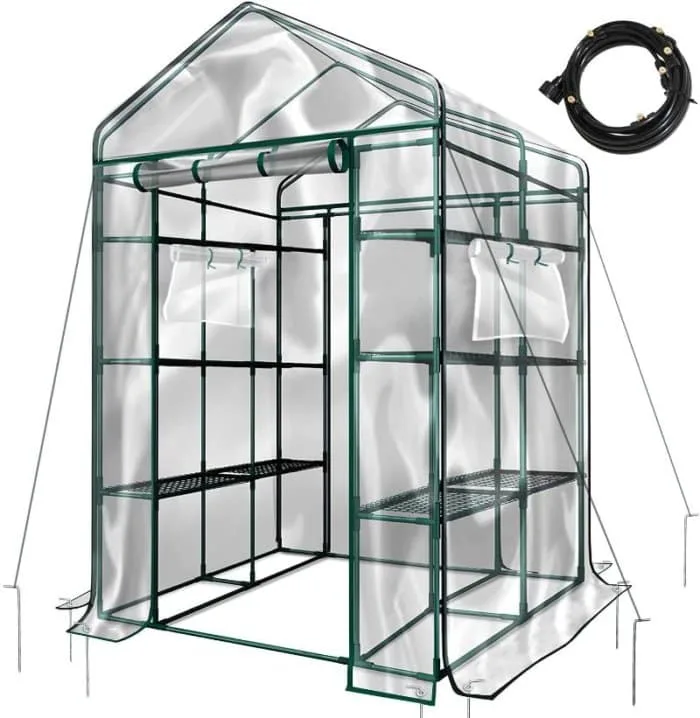 Solution4Patio Mini Walk-in is a versatile greenhouse ideal for growing plants during hot and cold seasons. And, whether you want it for your patio, garage, porch, or basement, this greenhouse won't disappoint.
But what makes it ideal for the cold weather? Well, for starters, it has an all-steel frame that is powder-coated for rust and corrosion resistance. Also, the steel frame is quite durable and can withstand heavy snowfall and winds.
This mini walk-in greenhouse also comes with a waterproof PVC cover that offers full sunshine coverage. It ensures that your plants get enough sunlight for optimal growth while guarding them against dangerous UV rays. And during winter, your plants are well covered against cold snaps, frost, and strong winds.
Even better, this greenhouse has zippered roll-up doors that allow for easy access to your plants. This also helps maintain the optimal humidity levels and keep off pests.
Another unique feature of this greenhouse is that it also comes with a self-drip irrigation system. The system contains adjustable drippers and nozzles that help control the flow of water. It will save you up to 70% of water, meaning that having this greenhouse is also economical.
Whether you are at home or not, this automated irrigation system helps in watering your plants, ensuring that the plants are always nourished.
Examples of Large Cold Greenhouses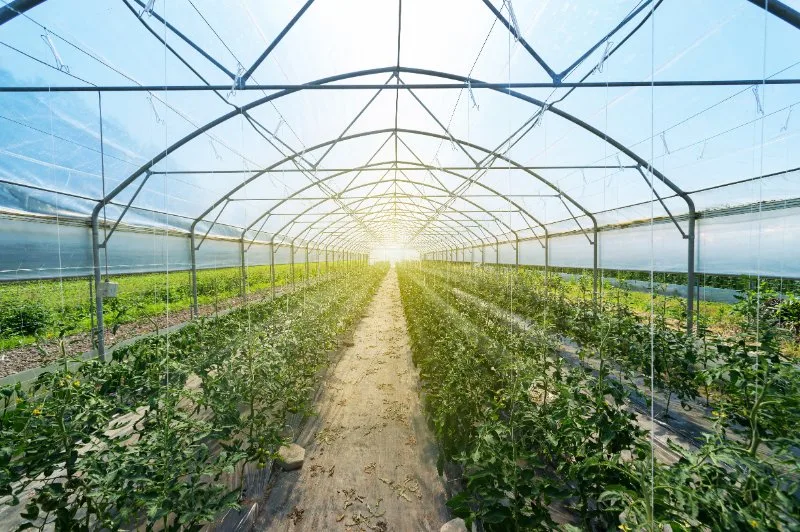 Passive Solar Community Greenhouse – Groundswell
The Groundswell passive solar greenhouse can be a great example if you want to construct a big cold climate greenhouse. This type of solar greenhouse design is built with a south-facing wall of glass to let in sunlight.
The floor and wall are made of thermally massive concrete, which soaks up the heat during the day and releases it at night. Additionally, they built an insulated roof, all aimed at adding heat retention capabilities.
Therefore whether you want to grow vegetables or tropical plants, you have yourself a winner design here.
Montecito Aluminum Greenhouse Kits
Colder climates demand greenhouses that can withstand harsh weather elements. And the Montecito Aluminum Greenhouse Kits are some of the best in the market.
Since they are made with high-quality, climate-resistant materials, these greenhouses will last you for years to come. For starters, it's constructed from an aluminum frame, which is both weather and rust-resistant.
Additionally, it contains double-walled polycarbonate covering that ensures total protection against elements like strong winds, cold, and rainstorms. This way, whether you are looking for a greenhouse for hot desert weather or cold winter climate, the Montecito Aluminum Greenhouse kit is the answer.
Winter & Cold Climate Greenhouses: What to Know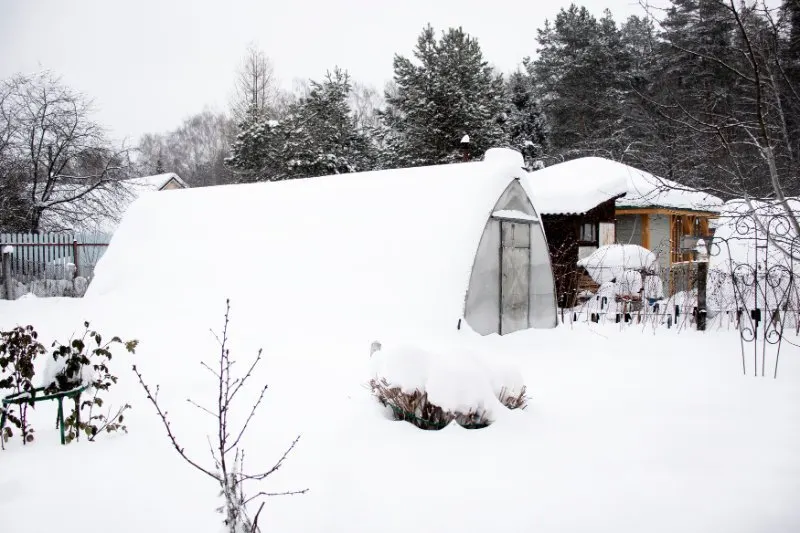 1. What Features Make Good Greenhouses for Cold Climates?
When it comes to winter and cold climate greenhouses, there are a few key features to keep in mind.
First, you'll want a greenhouse with an all-steel, aluminum, or wooden frame. These materials are strong, offering the best support during the cold weather elements. Additionally, while a wooden frame isn't as durable as steel and aluminum ones, it protects your plants against too much cold as wood is a poor heat conductor.
Second, look for a greenhouse with polycarbonate panels. Polycarbonate is a type of plastic that is shatter-resistant, meaning it won't break in strong winds or if hit by hail or falling branches.
Also, consider thermal mass for your greenhouse. This is the ability of a material to absorb and store heat, which can help regulate the temperature inside your greenhouse. For example, water barrels or containers filled with water can act as thermal mass. This help to keep your greenhouse warm even during cold nights.
Lastly, make sure the greenhouse you choose has plenty of ventilation. Good ventilation is important for regulating temperature and preventing excessive condensation, which can lead to mold growth.
2. Can It be too Cold for a Greenhouse?
The whole point of having a greenhouse is to protect the plants against extreme weather conditions. This way, the plants can grow without having to deal with too much heat or cold.
Generally, during winter, a greenhouse should be able to maintain an indoor temperature several degrees above the freezing point. This helps to protect the plants from frost.
The recommended minimum temperature for a greenhouse is 55° F. However, this depends on the type of plants you are growing. If temperatures drop below this, you'll need a heating system. This can include gas, wood, or electric heaters.
3. Are all Unheated Greenhouses Frost Free?
Well, this one boils down to how cold the outdoors is. If the temperatures are too low, then the heat from the sun won't be enough to prevent frost from forming on the plants.
But, as long as the greenhouse temperature is a bit above freezing point, the plants should be safe from frost. You should at least try to maintain a greenhouse temperature of around 35 degrees Fahrenheit for proper growth of the plants.
Typically, combining proper sunlight effects with insolation methods will help you keep the required internal temperature in a greenhouse. Keep it 30 degrees above the outdoor temperature.
4. Do Greenhouses need to be Vented in the Winter?
Yes, it's essential to vent greenhouses during the winter to prevent excessive condensation. When water vapor hits cold surfaces, such as uninsulated walls or glass panes, it condenses and forms droplets of water.
If there's too much condensation, it can lead to mold growth, which is harmful to both plants and people. Therefore, to prevent this, make sure the greenhouse is well-ventilated. You can do this by opening vents or doors a few times a day or using an automated ventilation system.
What are the Disadvantages of Winter Greenhouses?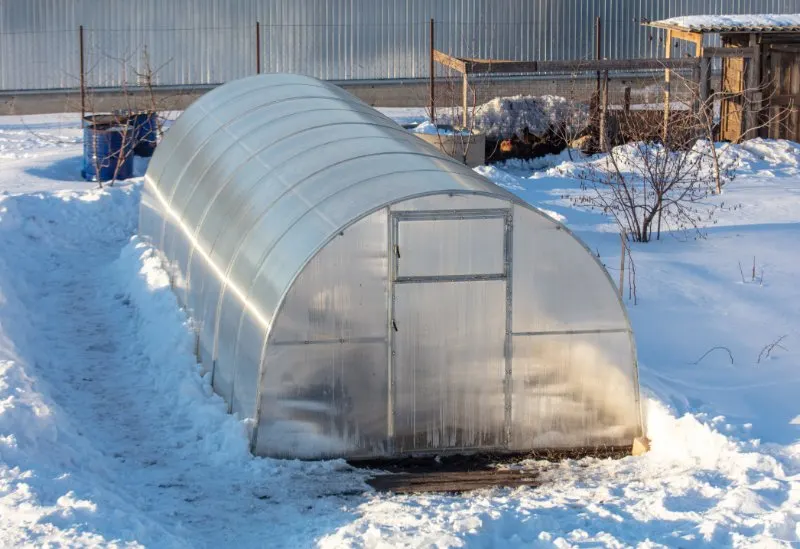 While winter greenhouses have many benefits, there are a few disadvantages to keep in mind. These include
They can be expensive to build or buy
You'll need to heat the greenhouse, which adds to the cost
If not properly ventilated, condensation can lead to mold growth
If you live in an area with heavy snowfall, you'll need to clear the snow off the roof and sides of the greenhouse regularly to prevent it from collapsing.
However, despite these disadvantages, winter greenhouses offer gardeners a way to extend their growing season and protect their plants from extreme weather conditions.
FAQs
What is the best type of greenhouse for winter?
The best type of greenhouse for winter is a double-walled polycarbonate greenhouse. This type of greenhouse provides superior insulation and retains heat better than other materials. Additionally, double-walled polycarbonate is durable and can withstand harsh winter weather conditions.
How cold is too cold for a mini greenhouse?
A mini greenhouse is a small structure designed to provide a controlled environment for plants. The ideal temperature range for a mini greenhouse is between 60°F and 80°F. However, if the temperature drops below 50°F, it can damage or kill the plants inside, so this is generally considered too cold for a mini greenhouse.
How warm does a small greenhouse stay in winter?
A small greenhouse in winter typically stays warm enough to protect plants from freezing temperatures. The temperature inside a small greenhouse can vary depending on factors such as the size of the greenhouse, the type of insulation used, and the amount of sunlight it receives.
However, with proper insulation and heating, a small greenhouse can maintain a temperature range of 45-50°F (7-10°C) or higher, even during the coldest months of the year.
Are mini greenhouses good for winter?
Mini greenhouses can be good for winter depending on their design and usage. Mini greenhouses are smaller versions of traditional greenhouses that can be used to extend the growing season or protect plants from harsh weather conditions.
However, not all mini greenhouses are designed to withstand extreme winter conditions, so it is important to choose one that is sturdy and has proper insulation to ensure that plants are protected from the cold.
Related Resources