Are wooden greenhouses a viable option for growing crops all year round? Certainly yes! Wooden greenhouses can be your all-time partner if you wish to extend your planting season.
Enjoying fresh produce from your garden in and out of season is super satisfying. While most folks have to make several monthly trips to the grocery store for all their fruits and veggies, all you do is go to your backyard and get some fresh leafy greens, tomatoes, carrots, and so on for your greens.
Greenhouses come in various sizes, designs, and materials. Among the greenhouses that always pique my interest are wooden greenhouses. Not only do they possess that aesthetic look that I love, but they also blend exceptionally well with the environment and are better for the environment.
Other materials, like aluminum, are now widely used to manufacture greenhouses, affecting the wooden greenhouses market. However, for those like me who have a thing for wooden structures, we've compiled a list of exciting wooden designs that you'll love. But before we get to that, let's evaluate a few things.
Now let's look at some wonderful wooden greenhouses on the market.
Best Wooden Greenhouses to Buy Today
The weather is not always conducive to an all-year-round planting plan. However, a greenhouse comes in handy to help achieve this. Choosing the best greenhouse is the first step toward a constant supply of fresh produce.
If you want to get a beautiful wooden greenhouse for growing your plants, the following brands are our preferred choices. They are based on customer reviews, recommendations, and our own extensive research.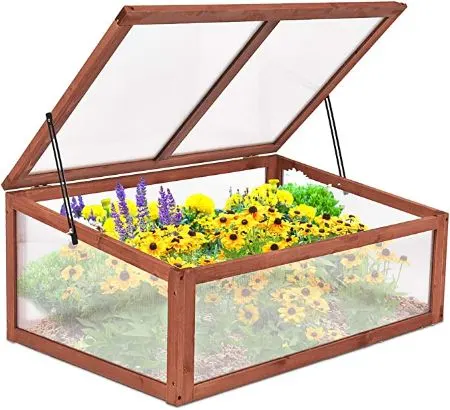 Our first pick for the best wooden greenhouses is the Giantex Garden Portable wooden greenhouse. For starters, this grow box is easy to assemble and also quite portable.
This beautiful greenhouse is made of high-quality wood, which is durable and sturdy. It protects plants from cold weather, wind, rain, and snow.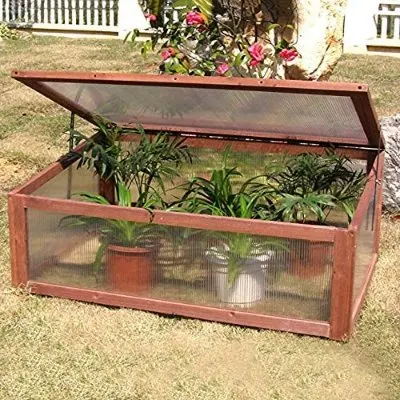 Some features include:
Grow space – this greenhouse can hold several plants, giving your balconies, patios, porches, conservatories, and decks a great touch of green.
Solid structure – it's made of heavy-duty wood that is strong and durable, giving your plants the best protection. It's also sturdy enough to hold several seed pots, trays, etc.
Foldable top – Giantex Garden Portable greenhouse's design includes a foldable top that you can easily open or close to care for your plants. This design also helps you open the greenhouse when the plants need more air or light and close it to protect them from rain or cold.
Satisfaction guaranteed – this wooden greenhouse is designed to offer 100% satisfaction, and if anything goes wrong concerning the quality, the company is always ready to sort you out.
See Related: Best Portable Greenhouses to Buy Today
This is one of the top wooden frame greenhouse kits that will surely change your gardening experience. The structure is ideal for indoor and outdoor use and is beautiful to complement your indoor décor.
Regarding durability, this solid wood frame is among the best out there.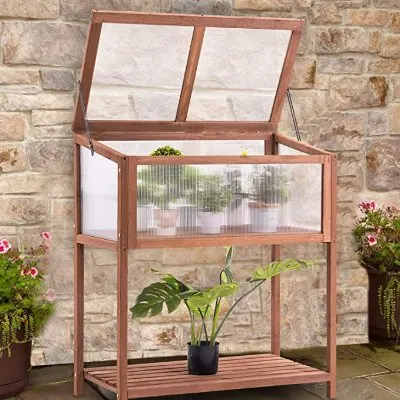 Some features include:
Materials – It is manufactured from 100% fir wood, has an incredible design, and is easy to assemble. Even better, all the tools necessary for assembling it are included.
Heating efficiency – It uses transparent polycarbonate panels that allow maximum light transmission. The greenhouse cover also helps retain heat, meaning that your crops can have ideal temperatures even during cold seasons.
Openable roof – this greenhouse kit has an openable roof that helps keep crops safe from harsh weather or animals. The feature also permits ample air to reach the plants when needed.
With the MCombo wooden mini greenhouse kit, your indoor or outdoor gardening can take a new shape. Whether you wish to plant some leafy vegetables, carrots, tomatoes, or even flowers, this might be just what you've been looking for.
See Related: Best Geothermal Greenhouse Systems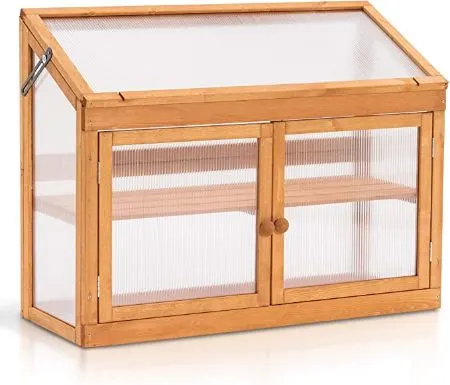 Beauty, strength, and durability are just some of the features of this 2-tier wooden greenhouse, also from MCombo. If you are looking for a small but spacious indoor greenhouse kit, this one might suit you. You can use it to grow plants on your balcony, patio, kitchen, or any indoor space without much room.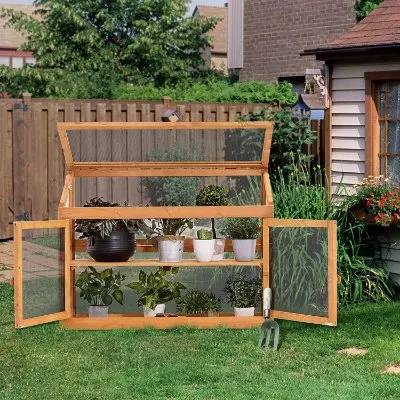 Features include:
Adjustable shelf – The MCombo 2-tier greenhouse has an adjustable shelf, allowing you to determine the height between the upper and lower portions. And there are four preset holes for the adjustments, although you can always add some if needed.
Spacious – you have more room to grow your plants. Its foldable top allows you to open it up for sunshine or close it when the weather isn't all great.
Water drainage groves – the rainy season shouldn't also worry you too much, even when your greenhouse is stationed outdoors. Water drainage groves allow rainwater to drain easily without collecting on the roof.
In terms of satisfaction, MCombo offers a 100% guarantee. If you have any quality issues, they are always happy to address them.
See Related: Best Portable Greenhouses to Buy Today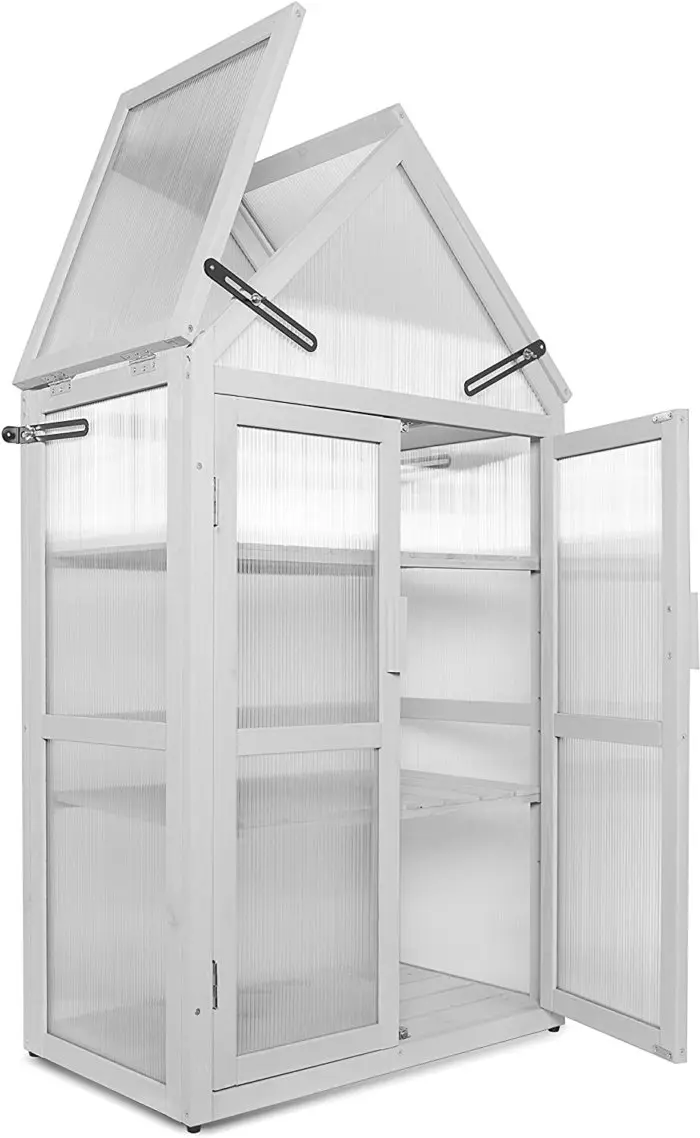 Now, this indoor greenhouse from Kitchen Joy is a perfect pick when you want to enjoy indoor gardening in style. In addition to growing fruits, veggies, and flowers it's one of those mini wooden greenhouses kits designed to enhance the look of your house or garden.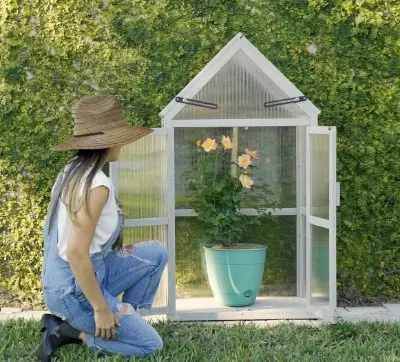 Some features include:
Design – this gray mini-greenhouse will blend easily with your furniture and help you add the touch of green to your house that you've always wanted. The structure is ideal for growing all kinds of seedlings and can also be used to germinate seeds.
Durability – this greenhouse kit is made from durable cedar, which is quite strong to keep your plants all safe. Also, this cedar-built greenhouse is lightweight, making it easy to transport or move around.
Easy to assemble – it is easy to assemble, sturdy to withstand any weather, and protects your plants from harmful UV light.
Having the freedom and ability to grow and care for your plants is all we need. Seeing those green herbs, fruits, or even vegetables growing from your indoor or backyard garden in this lovely box is incredible. It helps us appreciate nature and allows us to consume fresh produce every time and live sustainably.
See Related: How to Utilize Greenhouse Bees for Pollination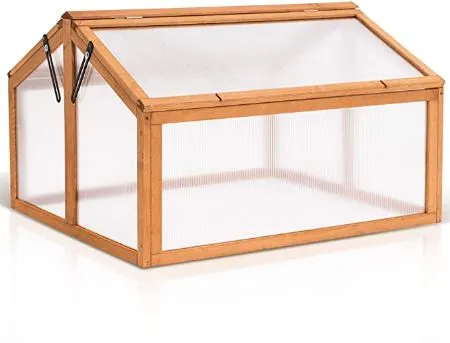 Wooden greenhouses are the way to go, especially when you need an indoor piece. We've seen a few entries from MCombo already, so what makes this double-box wooden greenhouse unique?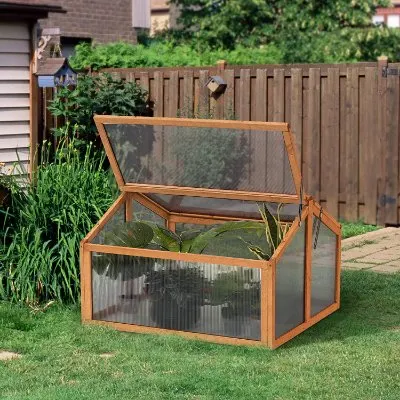 Some of those unique features include:
Materials – its transparent polycarbonate glazing covers help ensure enough light gets to the plants while protecting them from damaging UV light. This way, your plants can grow healthy all season long.
Design – this wooden greenhouse would fit well if you want something for your patio, balcony, or backyard garden. And, even when it's raining outdoors, your plants are safe.
Water drainage – the greenhouse is designed with water drainage grooves on its roof, ensuring that water drains quickly, leaving the roof water-free.
With this no-nonsense MCombo greenhouse, you won't be worried anymore about growing seasons. Any season will be a growing season for you.
See Related: Best Rain Barrels for Water Collection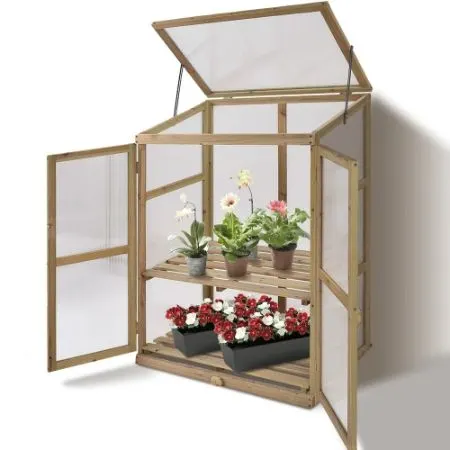 This double-shelved wooden greenhouse purchasable from Overstock is another excellent choice for gardening made from Chinese solid fir wood. It is fit for patios, balconies, and decks and offers ample growing space for your plants any time of the year.
Some of its features include:
Design – its simple but elegant design makes it ideal for use anywhere, even in the house. The greenhouse kit is designed with a foldable top, which allows you to open and close it easily. It means that your plants can get enough sunlight and air, and protection when the weather becomes harsh.
Durability – this is among the few small wood greenhouses that will serve you for years. The frame is made of heavy-duty wood, which extends its lifespan. This sturdy structure allows it to easily hold several growing trays, pots, and a growth light.
Easy to assemble – If you want to assemble it yourself, the process is pretty easy. Also, all its parts are detachable (no tools necessary), making it easy to move them around.
See Related: Best Solar Panels for Greenhouse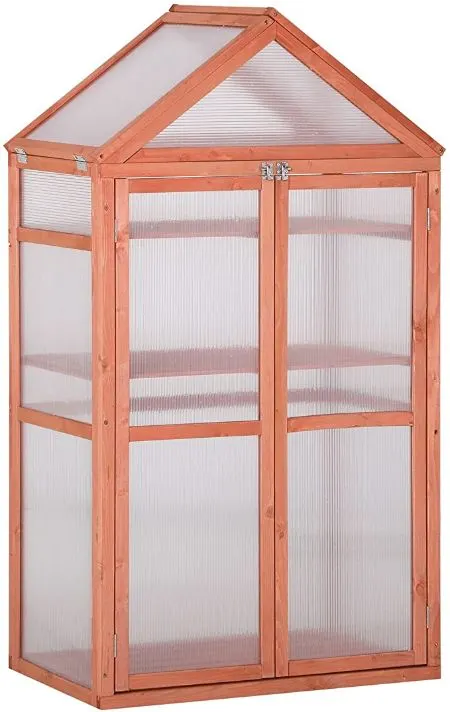 Outsunny is a big name when it comes to the manufacture of greenhouses. This cold frame wooden greenhouse is one of the company's great works for those with limited space.
The greenhouse is made from strong fir wood, making the structure durable and aesthetically appealing. Its sturdiness also makes it ideal for holding and protecting your plants, no matter the season.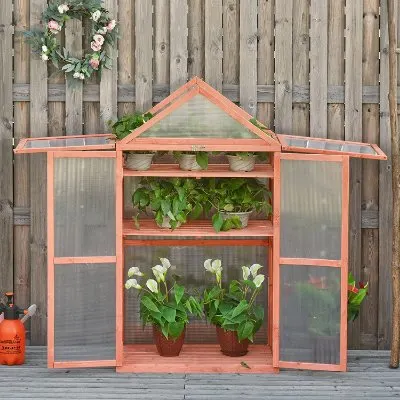 Some features include:
Materials – this greenhouse has you covered for an easy build. It's fitted with transparent polycarbonate greenhouse covers, which allow maximum light absorption and heat retention. This way, your plants are exposed to the most favorable conditions for enhanced growth all season.
Design – it is a greenhouse with a double door design, an openable roof, and a 3-tier shelf.
Easy to assemble – With its size and materials, you won't have a hard time assembling it.
All these features make this box a great option when considering a home garden.
8. Outsunny Gray Garden Wood Cold Frame Greenhouse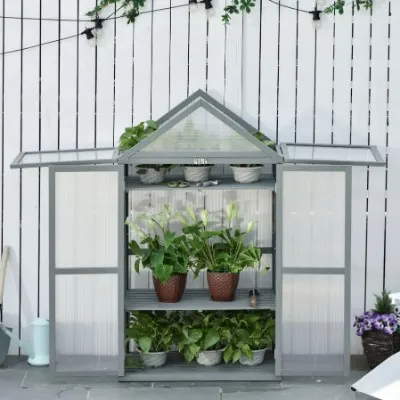 If gray is your color, this wooden greenhouse from Outsunny on Overstock will pique your interest. Its solid structure is made from strong fir wood, ensuring durability and reliability.
Some of its unique features include:
Materials – its polycarbonate covering is designed to allow maximum light transmission and retention of heat inside the greenhouse. This way, you don't have to worry about heating the greenhouse or protecting the plants from harmful UV light. All this is covered.
Design – the greenhouse's 3-tier shelf design offers more floor space for your plants' growth. Therefore, space won't be an issue if you intend to grow some vegetables, leafy greens, or beautiful flowers.
Easy to assemble – this greenhouse kit is easy to assemble, has double doors, and its roof is also openable.
It's an excellent choice for those who want small wooden greenhouses for their home garden.
See Related: Best Greenhouses for Cold Climates
9. Smacktom Double Box Garden Wooden Greenhouse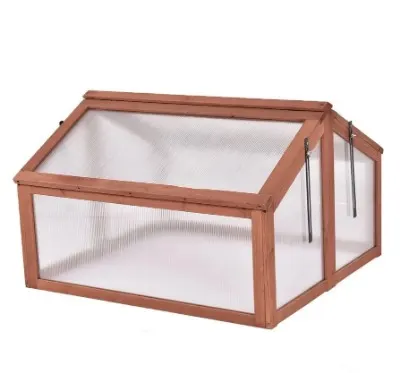 Do you want to grow your plants without worrying about the season? This SmacktomDouble Box Wooden Greenhouse can help you with that. It is large enough to hold your plants and is made from strong fir wood for durability and reliability.
Some of its unique features include:
Materials – Its greenhouse covering (polycarbonate board) is designed to protect your plants against harsh weather like rain or hailstorm, keeping the plants safe.
Design – when the plants need air and sunlight, the openable roof facilitates that. The good thing about this mini greenhouse is that it can fit indoors and outdoors.
This wooden greenhouse is a great choice if you wish to grow some plants in your backyard, balcony, or inside your house. It is portable, durable, and easy to assemble. You don't have to look much further regarding home gardening.
See Related: Best Glass Greenhouses in 2023
10. Costway Double Box Garden Cold Frame Wooden GreenHouse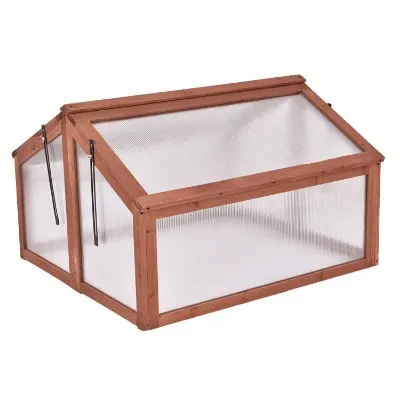 This is a 35.5″ by 31.5″ by 23.0″ wooden greenhouse, ideal for extending the normal growing season. This greenhouse from Costway is designed to protect your crops throughout the year, meaning you can have fresh produce all year round. It is excellent to grow flowers indoors, vegetables on your balcony, or those leafy greens you love.
Some of its unique features include:
Materials – Made from hardy fir wood, this is among the most durable wooden greenhouses we have on the market.
Design – it is designed to ensure that your plants are protected from harsh weather conditions, including extreme sunlight, heat, rain, or snow.
The small greenhouse is the ideal structure for those wishing to add some touch of green to their living spaces. It's portable, easy to move around, and offers great aesthetics.
See Related: Best Indoor Greenhouse with Lights
11. Greenhouse Wood 39.4″ x19.7″ x13.4."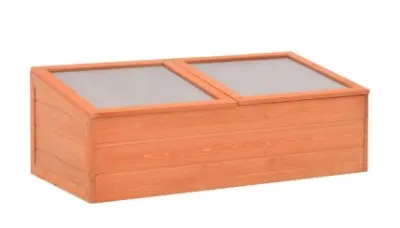 This greenhouse is ideal for your plants, from its framework, which is made from strong wood, to its polycarbonate roof that protects your plants against harsh conditions that can be purchased online. This way, you can grow your vegetables, herbs, and other plants effortlessly.
Some of its unique features include:
Design – it is deep and has a wide floor, providing enough space to hold many plants simultaneously. It is water resistant and has an open bottom and openable roof.
Frame – It is designed to offer your plants the ideal conditions, whether in summer, spring, or winter. Its cold frame design ensures that any season is a growing season without requiring additional heating for the plants.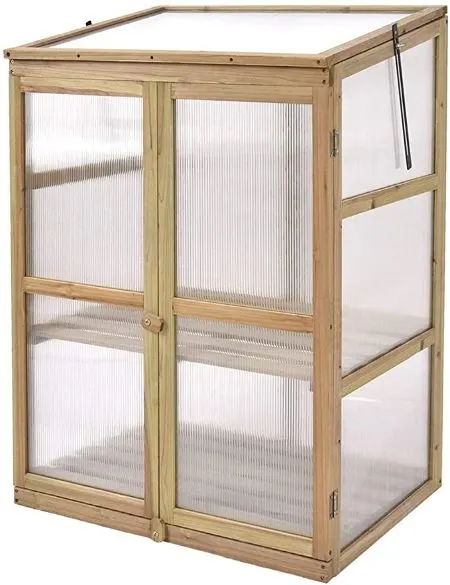 This greenhouse from Giantex enjoys a 4.3 stars rating and for a good reason. First, while it is small to fit your indoor space, it's spacious enough to accommodate the plants you wish to grow. It contains double shelves that ensure more room to grow your plants.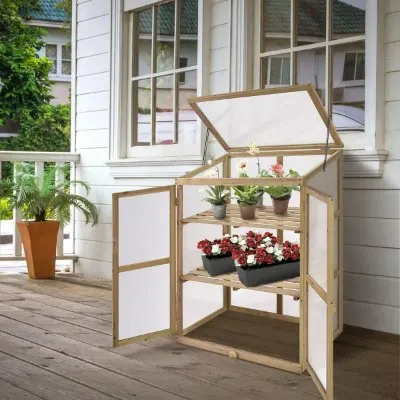 Some unique features include:
Design – its simple, elegant design blends perfectly with your indoors, making it pretty easy to add color to your indoors with beautiful flowers or green plants. The foldable top is easy to open, allowing your plants to enjoy direct sunlight and ample air when needed. Its greenhouse covering is designed to ensure the safety of your plants from all these conditions.
Durability – this greenhouse consists of a sturdy structure made from heavy-duty fir wood, guaranteeing durability.
Easy to assemble – its parts are easy to detach, so you can move it around and set it up again in another location.
See Related: Best Decorative Metal Sheet for Greenhouses
13. Juliana Classic Greenhouse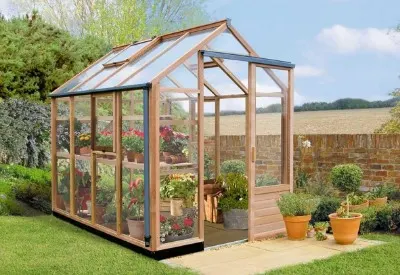 Greenhouse Emporium's Juliana Classic Greenhouse is made with 100% organic materials and provides gardeners with an excellent way to grow their plants indoors.
Some of its unique features include:
Materials – it is made of beautiful Canadian cedar wood.
Design – The wood greenhouse is designed to provide good insulation, absorb high temperatures, and be extremely durable. Juliana Classic Greenhouse is also charmingly designed and blends nicely with your garden decor.
With Juliana Classic Greenhouse, you can be confident that you will be satisfied with successful harvests, even in unpredictable temperatures and conditions.
14. Cygnet 6'8'11'5 Wooden Greenhouses with Porch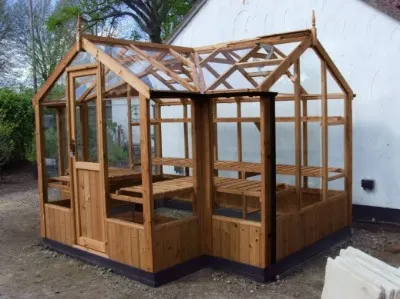 The Cygnet of Taylors Graden Buildings is a beautiful wooden greenhouse with three different porch sizes. The smallest size is perfect for those who want to enjoy the outdoors without worrying about the weather. The medium size is ideal for those who want to grow their plants or herbs. The large size is perfect for those who want a garden or a place to store their gardening tools.
Some of its unique features include:
Materials – Cygnet 6'8'11'5 Wooden Greenhouses with Porch are high-end timber and have thermal wood heat and steam treatment, giving them extremely durable protection against decay.
Design – each side has complete staging, which gives you plenty of space to plant the plants. The outdoor space is an opportunity for relaxation while admiring your greenhouse.
Durability – The greenhouse provides excellent resistance to decay and better dimensional stability.
See Related: Best Greenhouse Irrigation Systems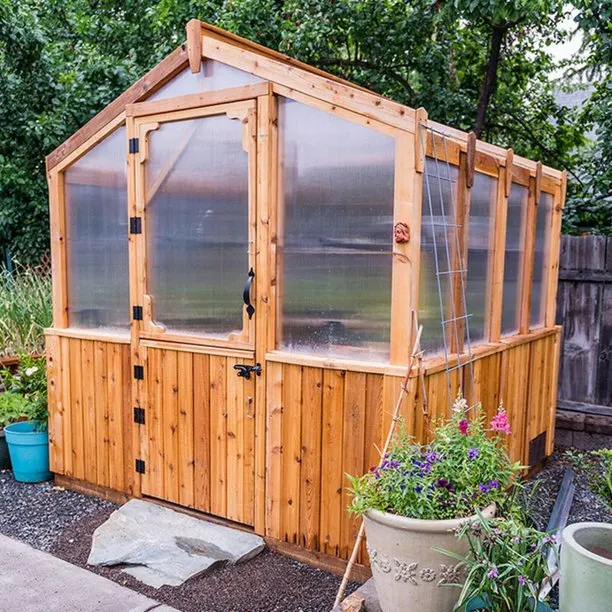 Outdoor living's Cedar greenhouse kit is an excellent pick if you want to go big. The 8 DIY wooden greenhouse offers everything you would wish for in a greenhouse. The greenhouse has everything from its beautiful design, sturdy structure, raised beds, spacious growing area, and plant protection features.
Some of its features include:
Materials – it is made from strong Western Red Cedar, guaranteeing durability, strength, and beauty. Western Red Cedar is popular for its pests and decay resistance ability. You can grow almost any type of plant in it, including tomatoes, carrots, leafy greens, flowers, peppers, etc. Its polycarbonate roof helps to block away harmful UV light that would otherwise damage your plants. This way, your flowers or crops stay fresh and beautiful all season.
Design – it is his eight-foot-tall greenhouse that has around 14 linear feet of shelving that provides ample space and options when organizing your plants.
Ventilation – it has a large ventilation window, designed to open automatically and close at 70°F. Your greenhouse maintains optimal temperatures for your plants' growth through this action.
Easy to assemble – the Cedar Greenhouse Kit is easy to assemble, and you can easily do it yourself without requiring help from an expert.
Best DIY Wooden Greenhouse Plans
16. Room to Grow: 9′ x 16′ Greenhouse Plans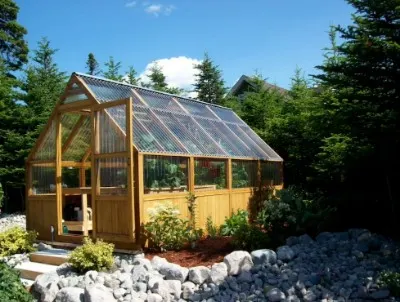 If you're looking for a wooden greenhouse that can handle high winds, hail, and heavy snow loads, then you should consider a greenhouse with a polycarbonate roof. The roof is designed to withstand extreme weather conditions, while the cedar wood frame provides sturdy support. Plus, eight roof vents help keep your plants healthy and thriving. To build this wooden greenhouse, follow this greenhouse plan from Esty.
See Related: Best Greenhouse Floors to Buy Today
17. Modular Greenhouse Building Plans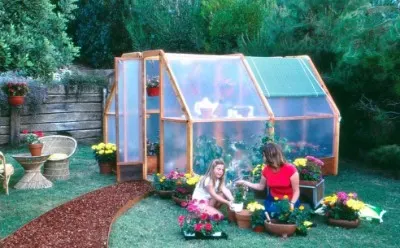 A modular greenhouse design is another great idea you can implement in your backyard if you're unsure what the future holds for your greenhouse. Interestingly, this design will be a bit cheaper than most other greenhouse ideas or kits out there. Therefore, if you've been looking for a way to build an affordable greenhouse to extend your planting season, this plan can sort you out.
All you need is to buy these plans from Etsy, get your materials and start your greenhouse construction. These modular greenhouse plans are easy to follow, guiding you through every step to help you assemble a beautiful, sturdy greenhouse.
In the plan, you will find detailed instructions on constructing the greenhouse, images, diagrams, and even a list of the necessary materials for the job. You don't have an excuse for not having a greenhouse in your backyard.
18. Miniature Greenhouse Plans: DIY 2×4 Mini Lean-to Style Greenhouse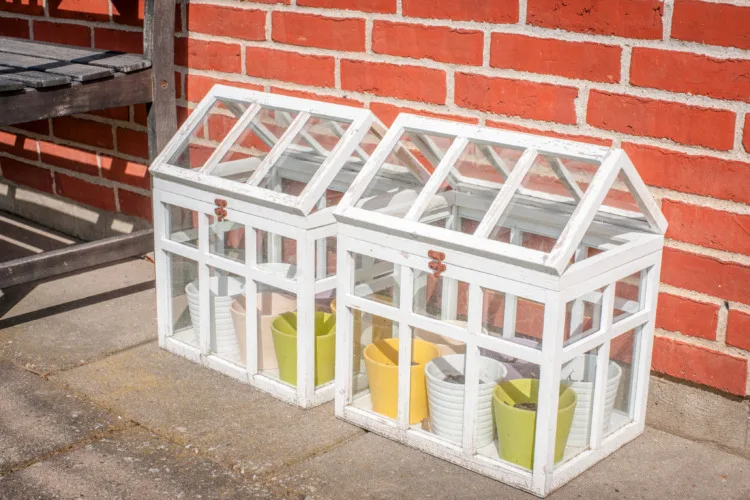 These are great small greenhouse plans for those with not-so-big spaces in their backyard. Also, if you are just a beginner in assembling greenhouses, the plans would work well for you.
It will be 4 feet by 2 feet greenhouse with several shelves to rest your plants on.
See Related: Best Aquaponics Greenhouse Kits in 2022
19. Movable Greenhouse: Lean-to Greenhouse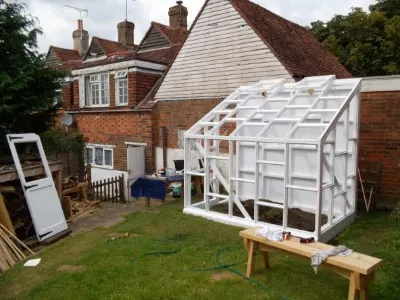 Lean-to greenhouses are an excellent way to grow crops, with a structure complementing your backyard. Generally, you will want to build your lean-to greenhouse against your house's backyard wall or any other structure in your compound.
These plans and designs are beautiful, and the resulting greenhouse is meant to be sturdy and durable. The construction plans will include diagrams, instructions, images, and measurements. When you buy this guide, all you need is the required construction materials, and your greenhouse is as good as complete.
Greenhouse Kits and Tools to Add to Your Wooden Greenhouse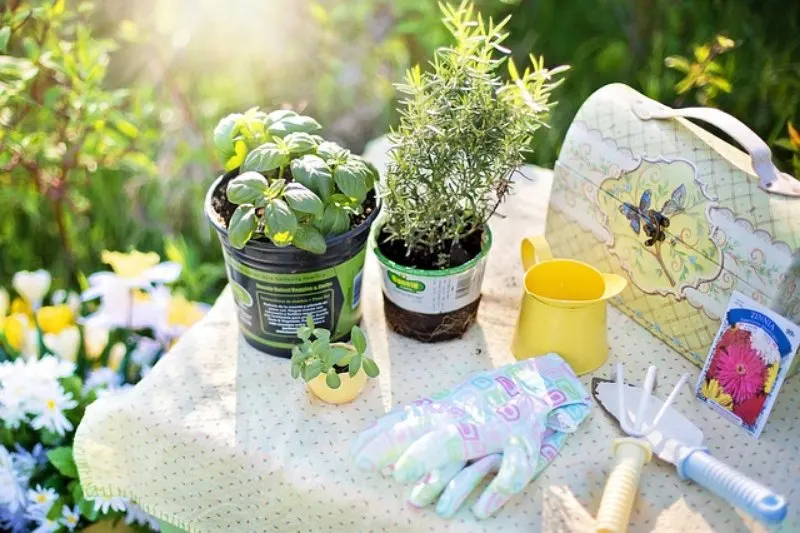 Greenhouse kits and tools offer an easy way to set up a greenhouse. They typically come with all the needed parts and often include assembly instructions. Greenhouse kits are available in various sizes, so you can find one that will fit the needs of your greenhouse.
Here are some of the kits to add to your own greenhouse needs:
See Related: Best Greenhouse Accessories
Why Would Someone Prefer Wooden Greenhouses?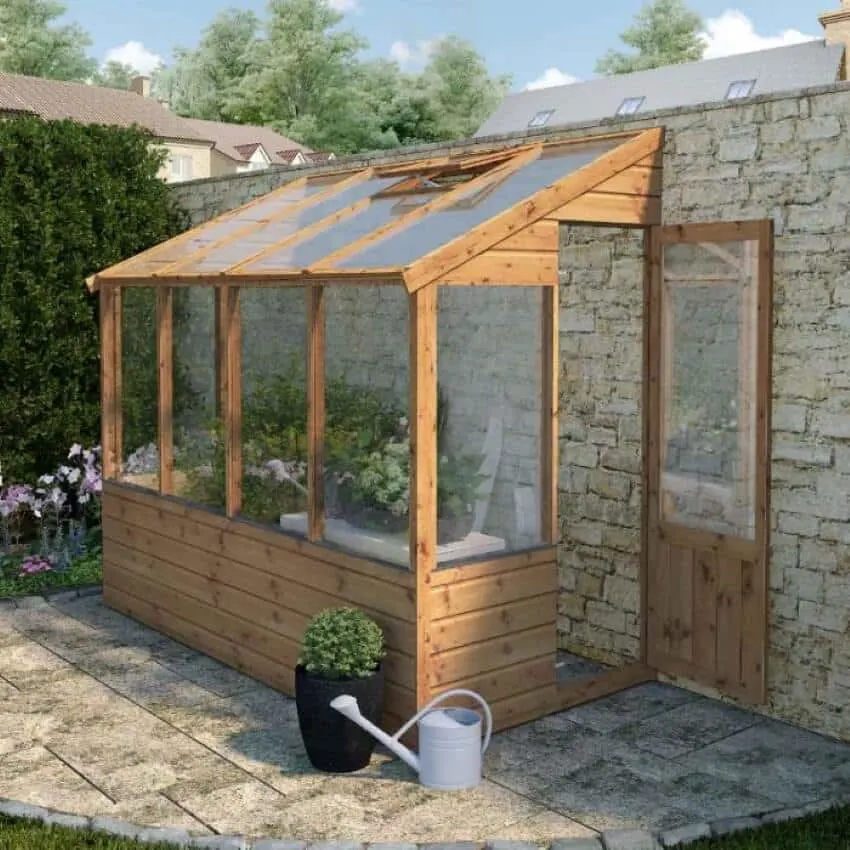 The hard fact is that several other materials outrank wood in greenhouses construction in certain areas. For instance, aluminum is more flexible, light, and rust-proof, and it's pretty attractive.
Steel is much the same if heavier and more durable, although it is susceptible to rust. PVC-based frames also come in handy when you need a cheap greenhouse, but they are arguably the most fragile, least attractive, and certainly the worst for the environment.
Benefits of a Wooden Greenhouse
So, what are the benefits of purchasing a wooden greenhouse?
It offers arguably the best aesthetics, complimenting your backyard's own natural aesthetics.
Wooden ones may blend better with your interior decor when looking for indoor greenhouses.
Since wood is heavy, that greenhouse in your backyard doesn't require as much extra support or anchoring to keep it intact.
Wood provides your greenhouse with natural insulation, protecting your plants in hot and cold seasons.
Wood is better for the environment for sourcing materials and dismantling your greenhouse.
When a Wooden Greenhouse is Necessary
So, when are the wooden greenhouses the best pick? If you still can't decide whether to buy a wooden greenhouse or not, here are instances when a wooden greenhouse should be your pick:
Suppose you live in a relatively dry region. It means the greenhouse won't experience water damage or be affected by constant temperature variations.
When heating your greenhouse is not an option, you don't have the means. Wood has great natural insulation qualities that help keep a moderate temperature in your greenhouse.
Affordable but with great looks.
Small wooden greenhouses are perfect for indoor purposes in terms of aesthetics and ease of construction.
What is the best wood for an outdoor greenhouse?
Wooden greenhouse kits are a popular option for outdoor gardening enthusiasts. The best wood for outdoor greenhouses is typically cedar or redwood due to their natural resistance to decay and insects. These woods also have a beautiful natural appearance that complements garden landscapes.
How to Make the Most of Your Wooden Greenhouse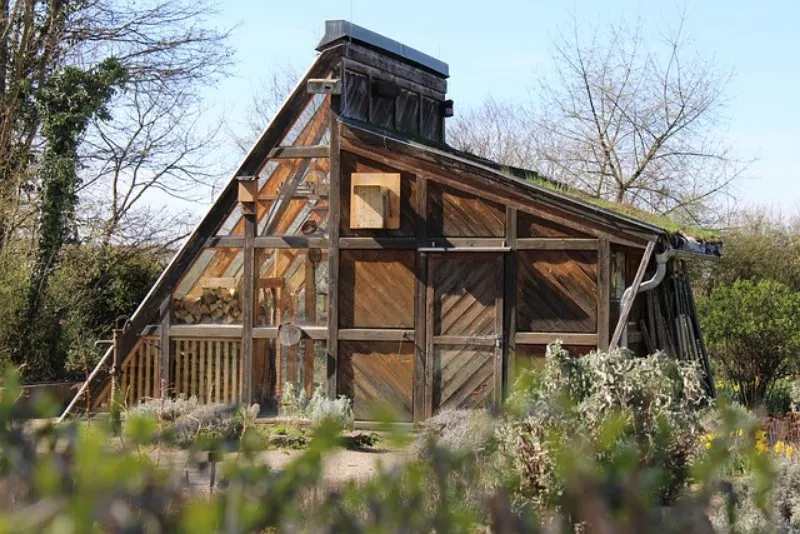 By now, you have an idea of our best wooden greenhouses and, most probably, even know which one fits you best. But how do you make the most of your greenhouse?
Well, here are several tips you can try:
Choose the best location to place your greenhouse: The perfect location ensures that your plants have the best sunlight access for enhanced growth and protects the plants from extreme UV rays. And, if you've planted flowers indoors, choose a place where everyone can admire their beauty.
Ensure proper glazing: Pick the best covering for your greenhouse. It should be lightweight, shutter-free, and with UV light block abilities.
Pick an easy-to-install greenhouse: Don't go for a greenhouse that will be too complicated to assemble. Choose one that is not only easy to assemble (and disassemble), but that is also easy to maintain.
Know what you want to grow: Before getting a wooden greenhouse, know the plants you want to grow. It will help you make a choice that won't disappoint. For instance, some greenhouses are ideal for flowers and succulent plants, while others are best for vegetables and herbs.
If your passion lies in wooden greenhouses, the above models and plans will help you achieve your gardening goals.
How long does a wooden greenhouse last?
A wooden greenhouse is a structure made of wood that is used for growing plants. The lifespan of a wooden greenhouse depends on multiple factors, such as the wood's quality, the area's climate, and the maintenance level. With proper care and maintenance, a wooden greenhouse can last between 10 to 20 years.
FAQ
What are the benefits of using a wooden greenhouse?
The benefits of using a wooden greenhouse include the ability to regulate the temperature, protection from harsh weather conditions, and the ability to control ventilation. Wooden greenhouses are also a great option to start seedlings or propagate plants.
How do I choose the best wooden greenhouse?
The best wooden greenhouse is one that meets your specific gardening needs. Consider the type of plants you want to grow, the climate in your area, and your budget when deciding.
How do I maintain my wooden greenhouse?
To keep your wooden greenhouse in good condition, clean it regularly and perform routine maintenance such as checking for leaks and repairing any damage. You should also remove any plants that are no longer healthy or that you no longer want to grow. If your greenhouse is outside, consider painting, staining, or oiling the wood to help protect it from the elements.
Are wooden greenhouses any good?
Wooden greenhouses are a type of greenhouse made primarily of wood that can be used to grow plants in a controlled environment. They are a good option for those looking for a more natural and aesthetically pleasing alternative to metal or plastic greenhouses. Wooden greenhouses are also known for their durability and longevity, making them a wise investment for serious gardeners.
Related Resources: