Do you enjoy growing plants all year long, but winter cuts you short? Why not try out mini-greenhouses and keep your green thumbs going always. With the right mini-greenhouses, you can protect plants from harsh weather conditions plus space constraints will not stall your gardening in any way.
Gardening at home can be quite a therapeutic part of your life. But, when winter rolls in, it's sometimes impossible to grow your favorite plants outside.
However, this doesn't mean you need to stop your green thumbs at this time of the year. All you need is a good alternative, and mini greenhouses are such a great one.
But, a quick online search reveals hundreds of greenhouse options from numerous manufacturers, which is overwhelming, to say the least. This means that you must be keen to do some good research to identify the ideal one for you.
That's why we've gone out of our way and compiled this well-researched guide to help ensure that your choice is well-informed. Here, we've listed some of the best mini-greenhouses in the market, based on intensive research, first-hand experience, and online reviews from past and current users.
What is a Mini GreenHouse?
A mini greenhouse is a small-scale version of a traditional greenhouse. These structures are typically used to grow plants and flowers, but can also serve other purposes such as starting seeds.
Mini greenhouses provide a controlled environment that can protect young plants from extreme weather conditions and pests. They can be constructed from a variety of materials, including wood, plastic, and metal.
Most mini greenhouses have transparent walls or roofs that allow sunlight to enter, which helps to promote plant growth. In addition to their use in gardening, mini-greenhouses are also popular among hobbyists and collectors of miniature objects.
Benefits of using a mini greenhouse
Mini greenhouses are small greenhouses that offer many benefits to gardeners and plant enthusiasts. Perhaps the most obvious benefit is that they can extend the growing season by protecting plants from cold weather, shielding plants from harsh winds, and keeping pests and diseases at bay.
Mini greenhouses can also be used to create a microclimate that is ideal for certain plants. For example, if you live in an area with hot summers, you can use a mini greenhouse to create a cool, humid environment for your tropical plants.
Or if you live in an area with cold winters, you can use a mini greenhouse to grow heat-loving plants year-round. Whether you're a seasoned gardener or a plant novice, a mini greenhouse is a great way to get the most out of your plants.
Be keen on the features of each mini-greenhouse, and you'll identify the one that best matches your needs.
How to choose the best mini greenhouse for your needs
There are a few things to consider when choosing the best mini-greenhouses for your needs.
The size of the greenhouse is important to consider. You will need to make sure that the greenhouse will accommodate and protect the plants that you want to grow.
The material of the greenhouse is another thing to consider. The most common materials used for mini-greenhouses are plastic and metal. Plastic is typically more affordable, but metal will last longer.
The type of cover on the greenhouse is also important to consider. There are many different types of covers available, so choose one that will allow enough light in for your plants to thrive.
You may also want to consider whether or not you can find the greenhouse kits for the small greenhouse you pick.
Tabletop greenhouses are another great option for small spaces. These greenhouses are compact and easy to set up, making them perfect for apartments or small homes.
Lastly, if you're looking for a greenhouse that's easy to set up and take down, look for one with a zippered roll-up door.
Best-Of by Category
Best Mini Greenhouses/Portable Options
The best mini greenhouses have certain traits that you must check for before making a purchase. From this guide, you learn the importance of quality frame material, transparent sheets for light penetration, and easy setup. Also, the top ones ensure ample humidity and are lightweight and portable.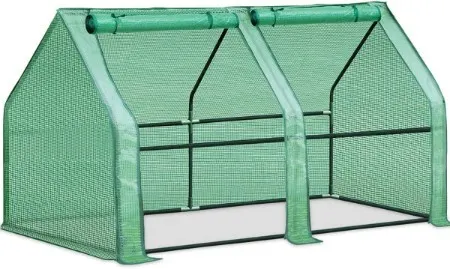 The Quictent Portable Mini Greenhouse is a great way to get started in the gardening world. The powder-coated steel framework and UV-protected, waterproof cover create a durable structure that will last for seasons.
The transparent PE cover also features ropes to keep the cover and frame together, ensuring a tight seal. The 50 white T-type tags included with the purchase make it easy to label and keep track of your plants. This Quictent greenhouse also has 2 doors that can be completely opened and rolled up with ropes for easy access and Ventilation.
Not only does this mini greenhouse have great features, but it's also easy to set up and pretty stable. We had about a 95% germination rate instead of our usual 80% due to the good ground warmth!
Opening the 2 Door with 4 zippers lets the sun in and holds the heat so the plants will have a warm place to grow even on cold winter days! You'll love being able to see your flowers or vegetables grow day by day in this lovely mini greenhouse.
With Quictent Greenhouse, you can easily purchase the right greenhouse kits in case you need to make any repairs or changes.
See Related: Best Insulation for a Greenhouse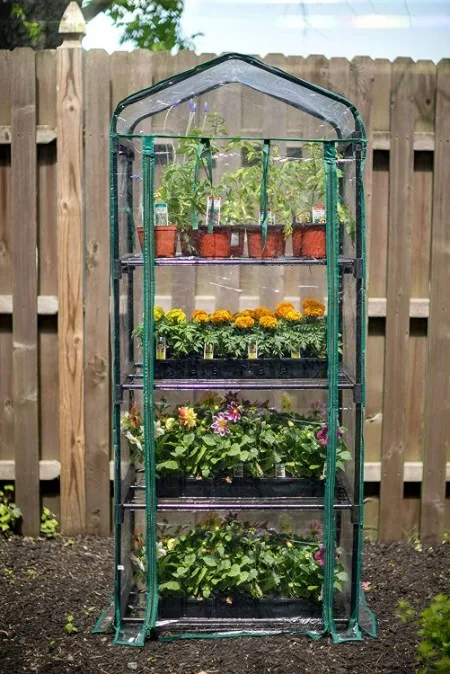 From Gardman, you get this 4 tier portable mini greenhouse. You can move it from one point of the house to another with ease since it weighs only 9.6 pounds.
Also, if space is one of your main concerns but still hope to practice some gardening, this piece serves you well. It's not only one of the best portable mini greenhouses you can get, but it also comes with 4-tier shelves, thus maximizing space. And, you can set it up on a balcony, patio, or small yard space.
Among its best features is the clear polythene plastic sheet, which makes it easy to watch seedlings and plants grow. Also, it has a zippered roll-up door to quickly reach your plants.
Additionally, the external frame structure is made from tubes of steel. These are durable and strong enough to support the mini greenhouse even when you place potted plants inside.
And as for the size, it measures 27 inches in length by 18 inches in width by 63 inches in height. This is a great size for indoor gardening, especially where space is an issue.
See Related: Best Glass Greenhouses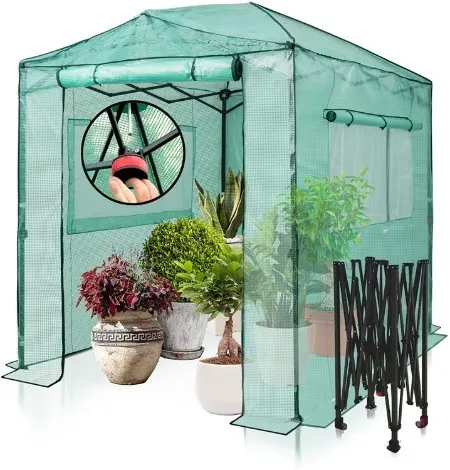 The Eagle Peak Instant Pop-up Greenhouse is the perfect way to extend your growing season. With easy setup technology, you can have this top-rated greenhouse up in no time. When it's time to store or transport your greenhouse, it glides closed just as easily as it goes up.
This makes it perfect for use indoors and outdoors. You can move this greenhouse around as the seasons change, which makes it easy to extend the growing period of your plants and to see your garden all year round.
With this spacious walk-in greenhouse, you'll have plenty of room to move around. The shelving fits comfortably in 6'x8' of floor space. So check out the Eagle Peak Instant Pop-up Greenhouse today and start enjoying your garden even more!
This small greenhouse includes a 1-year warranty from the date of purchase making it a great choice in case it doesn't work as described.
See Related: Greenhouse Costs Guide: Cost to Build, Own and Operate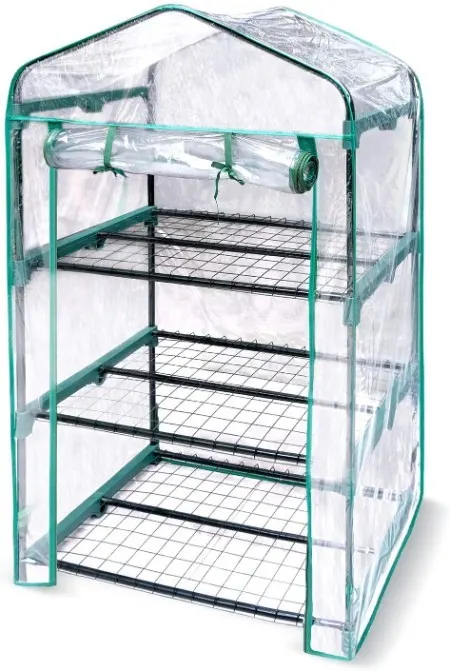 Another one on our list of the best small greenhouses is this 3-tier piece suitable for indoor and outdoor gardening. It has a lasting PVC exterior sheet that keeps the plants safe from the harsh sun and other elements. When you want to access the plants, simply unzip the front door and roll it up.
It's an easy mini greenhouse to set up and move from one location to the next. The structure uses strong and durable steel tubes that can hold it up despite the weight inside. Also, the width is wider, ensuring more stability.
Inside this small greenhouse kit, there are mesh trays where you place the plant pots or trays for ample support. Also, they help keep it organized.
All you need to set it up are a few minutes and to follow the accompanying guide. It's easy and won't require any help.
As for dimensions, it measures 27.2 by 19.3 by 49.6 inches providing ample space. It's enough space to place a plant in a pot and enjoy its growth through the transparent PVC sheet.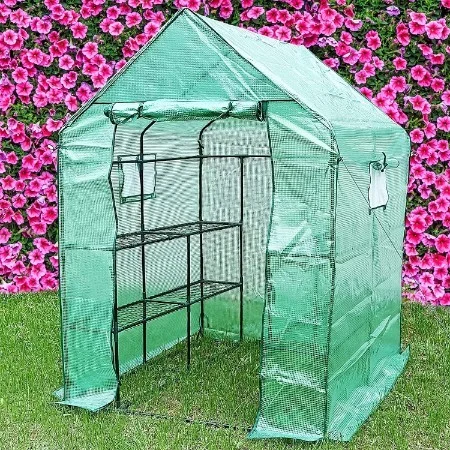 Do you have a larger space indoors that can hold a wider version of mini-greenhouses? If yes, here is another gem that'll keep all your seedlings and plants safe.
The outside layer has a plastic polyethylene material that provides the best environment for plants while keeping them protected. Not only is it durable, but you can also see through it, allowing you to monitor plants inside without opening its door.
You can rely on the steel structure that holds the mini indoor greenhouse up for as long as you need it for support. After that, you can take it apart and store it. Both the plastic sheet and steel pipes are durable and sturdy.
Additionally, the polyethylene material is a better option, given its lack of toxicity. PVC is known to have an odor, while this option provides a better working environment. It can stay inside as long as you need, without spoiling your peace.
Finally, its dimensions are 56 inches in length by 56 inches in width by 76 inches in height. That's ample space to store lots of plants for as long as you need.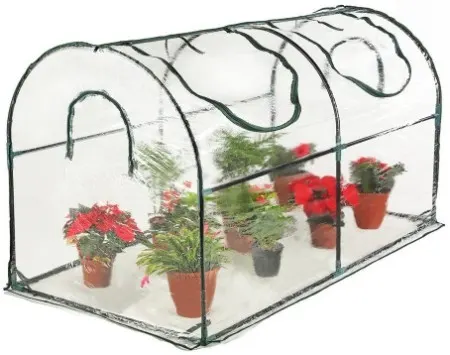 Are you worried about your plant's health and wellbeing on extremely hot days or freezing nights? Here is another example of excellent portable mini greenhouses you can set up in your home.
The main feature that makes it an excellent choice is the steel frame structure, meaning that you have a lasting product. It's reinforced to facilitate durability and comes with equally enforced connections for all the poles.
Additionally, you'll notice the 4 doors with zippers on the DIY mini-greenhouse, two of which can be rolled up for easy access. The coverage uses transparent PVC film that's resistant to harsh UV rays.
You can keep it on the patio or balcony without any worry. The 4 doors, with the 2 that fold up, guarantee that your plants get ample ventilation.
Also, it's lightweight and simple to put together. You move it with ease, and it comes with a 1-year warranty.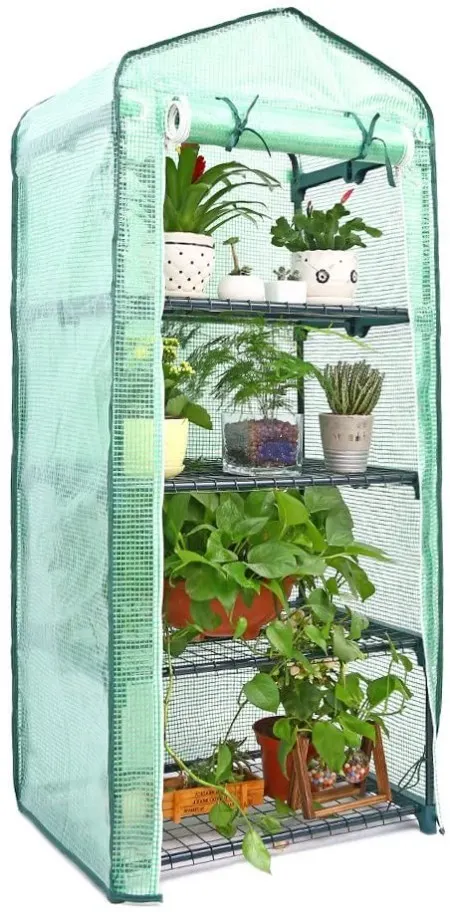 Our search for the best small greenhouse kit reveals the Ohuhu 4-tier portable brand that meets all your gardening needs. Its design means you'll have the right amount of space and environment for all your seedlings and plants.
Given its 4-tier structure, you can expect dimensions of 27 inches in length by 18 inches in width by 62 inches in height. Please choose an area in your home, balcony, or patio with enough height to set it up.
Moreover, nothing says sturdiness than the heavy-duty steel pipes that make up its structure. These will last you for a long time, meaning you can choose to leave the plants inside even after the extreme weather passes.
Also, you can easily access the plants by unzipping the door and rolling it up. By doing this, you ensure plants get proper air circulation, which is critical for their survival.
Lastly, it's one of the lightest mini-greenhouses weighing just 11.48 pounds. You can move it around without breaking a sweat.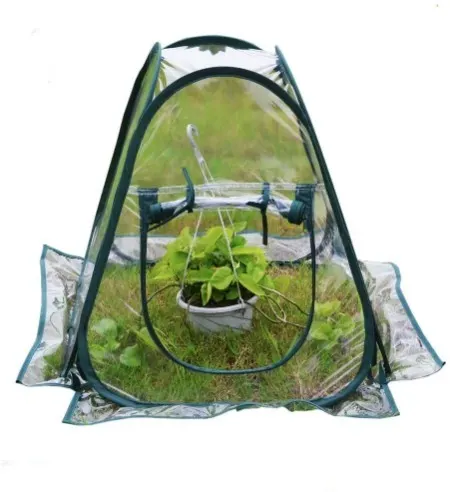 This is a free-standing small greenhouse suitable for a single large plant or several small ones. It's the best solution when you want to keep wind, rain, and extreme sunshine away from your plants.
For example, you can place it on top of the balcony or patio plants during extreme weather events. It provides ample protection and is durable, thanks to the high-quality PVC sheet. Use it when you need ample humidity to boost plant growth.
Besides, you get 4 steel ground pipes that guarantee stability since the structure won't keep moving about. Also, there's a doorway with a zipper that you open when plants need ventilation.
The home complete mini-greenhouse measures 13.66 inches in length by 13.66 inches in width by 0.79 inches in height. And, it's light and easy to move around, weighing 1.98 pounds only.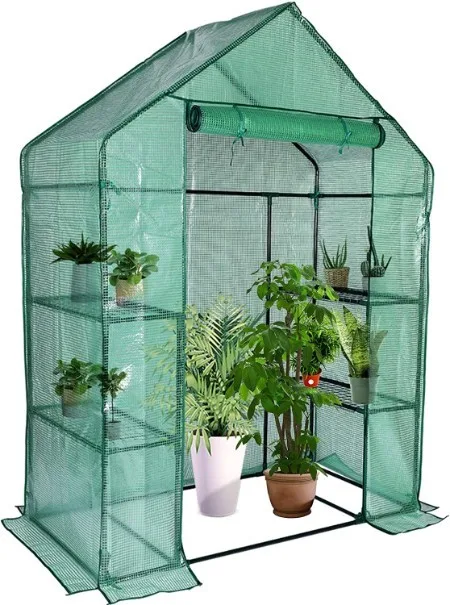 Impressive mini-greenhouses are also environmentally friendly, as this portable version from KOKSRY will show. The sheet uses PE material to enclose plants in a safe environment free of any toxic particles that might harm them.
Additionally, the material checks all the boxes, given that it's odorless, offers proper temperature control, and is non-toxic. It's also resistant to acid and alkaline corrosion, making it a durable material for the portable mini greenhouse.
Structurally, the mini greenhouse uses heavy-duty tubular steel pipes joined together. Also, it comes with a heavy net for ample support that you can also use to hold numerous other seed trays inside.
As for the exterior, there's a doorway that has a zip and rolls up when you want to access the plants or allow air circulation. When you want a more humid environment that supports growth, roll it down and zip up.
Lastly, there are additional ropes that come with the best mini greenhouse for ample anchorage.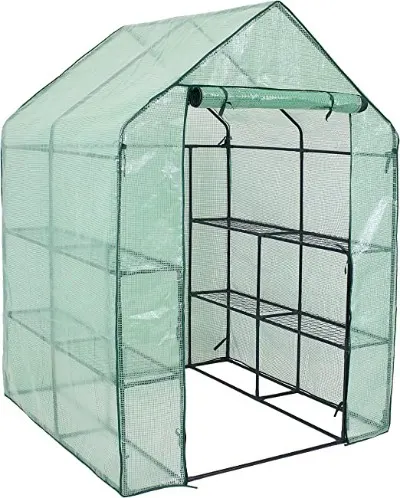 Mini greenhouses ensure your plants have ample protection, and this 4 tier beauty from Sunnydaze is a great example. It serves its purpose as one of the best portable greenhouses since it's easy to move around.
It has an interior capacity weight of 17.6 lbs and can carry many small planters or trays on its 4-tier shelf space. Also, it's suitable for keeping growing trays inside a humid environment.
The exterior cover is made using durable and high-quality PE material. It doesn't permit direct sunlight penetration, and it also protects against snow, wind, and rain.
Additionally, the interior shelving is made using top-quality connectors that are long-lasting. Each connects to create shelf space to hold the planters and is made using heavy-duty steel.
This mini greenhouse kit comes with a manual that helps guide you through installation. You won't have to strain trying to figure out the different parts. Also, there are 4 stakes in the kit that you can use to anchor the portable mini greenhouse.
See related: Hydroponics vs Aquaponics: What's the Difference?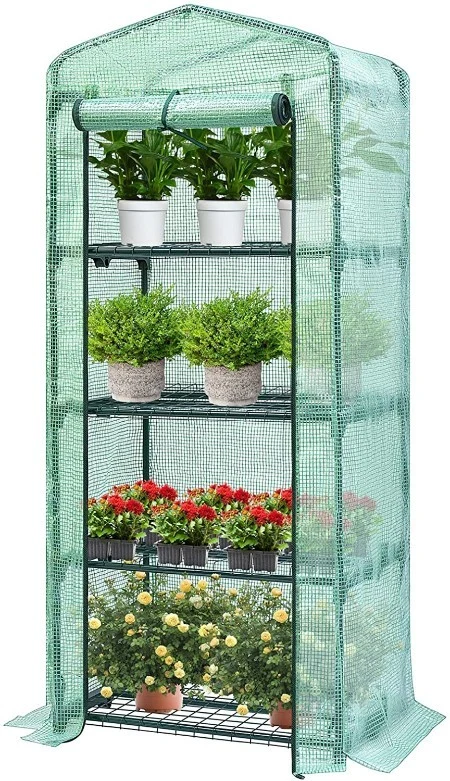 Each of the 4 shelves makes this one of the best mini greenhouses you can get. The depth of each shelf offers sufficient space for multiple planters with ample space left for spacing.
Also, it has a generous height for taller plants.
Next are the steel tubes that you join together to form the DIY mini greenhouse and hold PE material in place. These are durable and sturdy enough to carry the weight of multiple planters or seed trays.
Besides, the PE material is for protection and creates a humid environment when closed, encouraging plant growth. Also, the mini greenhouse is affordable so you can get one or three for your indoor garden.
You won't need any tools to put it together. Follow the instruction manual, and you'll have a mini indoor greenhouse in no time. You can even turn it into a fun project to do with the kids.
Finally, it's the solution you need for gardening during the winter months. You can start seedlings early, and by spring, they'll be ready for the outdoors. Also, you can hang small planters on the mesh exterior material, making additional space.
See Related: Best Lean to Greenhouses for Side of Home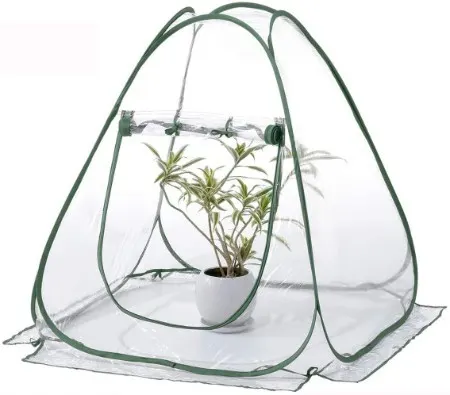 As one of the most comprehensive mini-greenhouses, first impressions speak volumes about it. The exterior is made using transparent material that maximizes light penetration to the plants within.
Next is the doorway that's easy to zip up and down when you want to encourage more ventilation. Also, it's the best way to remove or replace the plants within.
Being a mini portable greenhouse, it's one of the best you can have at home. The small frame makes it easy to place anywhere indoors without occupying too much space. Also, it's light and easy to carry.
It's also the best for heat retention, which is necessary for seedlings that want to sprout. By placing a seedling tray in it, you notice germination occurs faster than when the tray lies exposed.
See Related: Greenhouse Costs Guide
Conclusion
Mini greenhouses are a great way to extend your growing season, and with so many different options on the market, it can be hard to decide which one is right for you. We've highlighted 12 of the best mini-greenhouses on the market, and each has the unique features that make it perfect for different situations.
FAQs
How effective are portable greenhouses in extending the growing season?
Mini greenhouses can be very effective in extending the growing season, depending on the model. Some models are designed for indoor use, while others can be used both indoors and outdoors. Additionally, some models are larger than others, providing more space for plants.
What is the best material for a portable greenhouse?
The best material for a small greenhouse depends on your needs. If you're looking for something that will be durable and last for many years, then you might want to consider a metal or plastic option. If you need something lighter and easier to move, then a fabric small-greenhouse might be a better choice.
How much do small greenhouses cost?
The best material for a small greenhouse depends on your needs. If you're looking for something that will be durable and last for many years, then you might want to consider a metal or plastic option. If you need something lighter and easier to move, then a fabric small-greenhouse might be a better choice.
How much do small greenhouses cost?
Mini greenhouses can range in price from around $30 to $300 depending on the size and features. You can usually find a good quality mini greenhouse for around $100.
Related Resources