Have you decided to add lamp posts to your lush and cozy garden? Whether for extra security or enjoying a relaxing night in the yard with your family? It's time for you to consider a sustainable and functional option – a solar lamp post!
Solar lamp post lights can be the perfect solution for outdoor lighting. In the face of grim climate change warnings, solar energy is the single most efficient and accessible source of renewable and sustainable energy alternatives.
Investing in outdoor solar lamps is an excellent and proactive step to becoming more environmentally aware. A desire to be sustainable is not the only reason outdoor solar-powered light for your yard is so great.
Solar lamp post lights are not connected to your electric grid because they generate power through the sun. You will not need to have these energy-efficient lighting systems installed by a professional electrician.
The top solar lamps are also low-maintenance. And it is unlikely that you will ever need to call in a professional to have them repaired.
The steep cost of solar lamp posts is likely the main reason you are holding off on making this decision. While there is no question, the initial buy of solar lamp posts can hurt you in the wallet, especially if you opt for higher-end solar lamp posts. But consider that solar lamps don't attract any further costs.
With solar lamp posts, your monthly utility bills will be lower than with traditional outdoor lighting solutions. You will make the money you invested back pretty soon. So let's look at some solar lamp post lights and what features to look for!
Best-Of by Category
How Do Solar Lamp Posts Work? What Do You Need to Look Out for as You Shop?
Solar lamp posts contain powerful rechargeable batteries powered by direct sunlight through using compact solar PV panels.
Your solar lamp posts will recharge when the solar PV panels receive sunlight. It means you must place them in optimized locations free of significant shade.
As the day turns to dusk, a sensor in your solar lamp post will trigger the LED lights to turn on. And it provides seven, eight, or even up to 11 hours of lights for your yard.
As you consider what solar lamp posts are ideal for you, here are some essential things to think about:
The rechargeable batteries in solar lamp posts vary in quality. The most powerful batteries are the reliable and durable Lithium-ion (Li-ion) or Nickel-metal Hydride (Ni-MH) batteries.
Metal, wood, and plastic are the core materials used to manufacture solar lamp posts. Each material has its own unique characteristics and associated costs.
Since solar lamp posts are rising in popularity, you can choose from different styles. You can choose from quaint Victorian-style solar lighting to modern designs. And solar lamps can be free-standing or wall-installed.
Solar lamp posts work with LED lights, which are somewhat less powerful than traditional light bulbs, which means that some people who buy solar lamp posts for their yards are not satisfied with the brightness level. If you are looking for the brightest solar lamp post, look for designs with many lanterns. It is because more LED lights mean a brighter result. You can measure the brightness of solar lamps in lumens. And the higher the number, the brighter the light you will get.
The best solar lamp post designs are sturdy, durable, and constructed with quality in mind. And you want to look for riveted, welded, or soldered fixtures.
With that out, let's look at some of the top solar products to buy. Because not everyone agrees on what great design looks like, we'll showcase a range of styles so you'll find the best solar lamp post for you.
See Related: Solar vs Wind Energy: What's The Difference?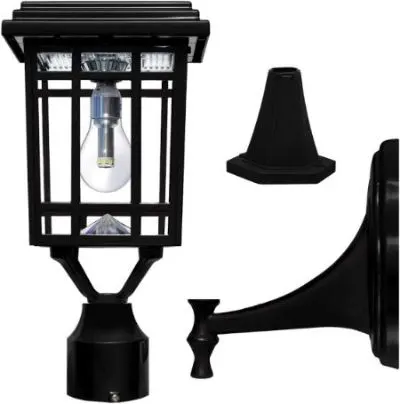 This cool solar lamp is brought to you by Gama Sonic. They are one of the most reputable companies in the solar lamp industry. With a design inspired by the American Arts and Crafts Movement, the Gama Sonic Prairie solar light will appeal to people with eclectic tastes. And those who are after a more traditional style.
You can choose between black and weather bronze. And you will get a high-quality cast aluminum body either way.
Its versatility makes Gama Sonic's Prairie Light one of the best outdoor space solar lamp post options. This solar lamp can be mounted on a pole to create a solar lamp post wall-mounted or mounted on flat surfaces. This solar lamp post has a Ni-Cd battery pack and provides 50 lumens for as long as 12 hours. One will set you back only $80.
See Related: Best Compostable Trash Bags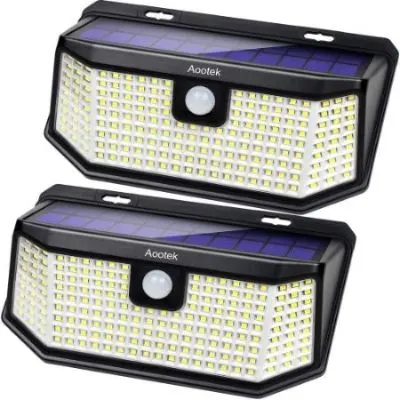 Most people describe Aootek's solar security lights as having an "Art Deco" style. But it would be more accurate to call it utilitarian. These solar security lights aren't aesthetically pretty.
But they are practical, especially if you need a motion-sensor solar light for your porch or garage. This solar light offers three different settings. You can have the solar light on all night, choose a default dim settings that immediately brightens when it detects motion, or allow the light to turn off unless someone passes by.
It is the way to go if you are looking for unusually high-lumen output solar post lights for a friendly price ($30!).
See Related: Are Brown Paper Bags Compostable?

Are you looking for the best solar lamp post in a traditional, rustic, and romantic style? Westcharm's 3-head solar lamp post with a planter may be perfect!
It is made with aluminum and beveled glass. This charming solar lamp post has three lanterns and six super bright LED lights per head.
The advantages of choosing a solar lamp post with a planter are two-fold. You can incorporate the solar lamp into your landscaping plan while adding weight to help secure the solar lamp post. At $200, this lamp post offers a whimsical feel for an affordable price.
See Related: Best Biodegradable Glitter for Candles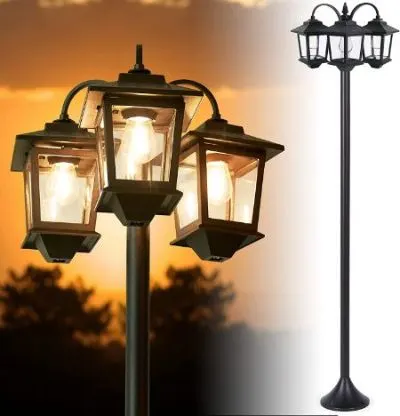 With 70 lumens of brightness and a height of 75 inches, these AIRIBO solar lamp post lights will light up any place! They reinforced the pole with a powder-coated black on the outside. It is weather resistant to extreme temperatures, rust, and bending.
These solar lights with a retro 3-head design provide a nostalgic vibe for only $78.99. And it ignites a warm, captivating yellow light that mimics natural flames.
See Related: Pros and Cons of Biofuels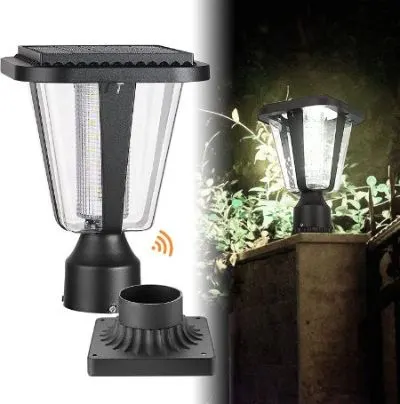 The Lovus Solar lamp post is waterproof and lightning proof. It is functional in a wide range of outdoor locations and weather situations.
This product is designed for easy installation with no wires required. It includes a pier mount adaptor you can use for post and pier mounting.
The solar pillar's brighter light is powered by a monocrystalline silicon solar panel. It has a photoelectric conversion efficiency of up to 25% and fast charging capabilities.
At $89, these Lovus solar lamps are among the best solar lamp post and eco-friendly options for people looking for affordable alternatives.
See Related: Best Solar Chargers for Laptops

Have you been looking for a beautiful, sturdy solar lamp post design with modern and traditional styles to light up your yard? Look no further than Gama Sonic's lamp post!
This solar street lamp's 360° light reach makes it a perfect option for sidewalks and businesses. The solar panel lights up when the built-in sensor detects it is getting dark outside.
At $381, this is not one of the cheapest options. But Gama Sonic's Everest series is among the best solar lamp post choices if you want your investment to pay off.
See Related: Ways to Save Environment in Everyday Life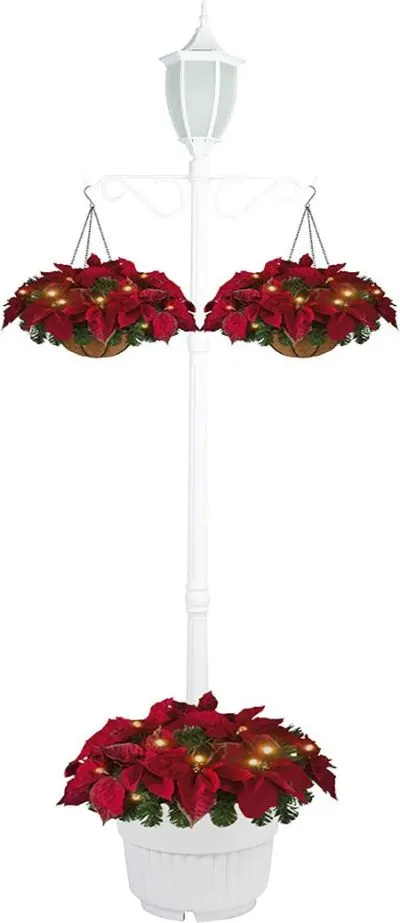 Those eco-friendly consumers who love quaint styles are bound to fall for the Sun-Ray Crestmont solar lamp post and planter. Unlike most other solar lamps and lighting solutions we have looked at, this one is available in a stunning white color and a solid black.
Sun-Ray's Crestmont lamp post offers a warm and flickering light with around 80 lumens. And it will ensure your yard feels cozy and soft into the early hours. It is made from die-cast aluminum and magnesium alloy and is resistant to weather conditions. Of course, you get the planter, too!
See Related: Best Compostable Plates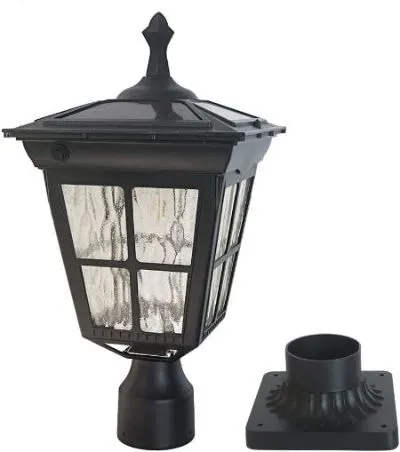 Check out the Kemeco cast aluminum solar post light fixture for a traditional garden vibe. It is a perfect outdoor solar lamp post when you mount the light fixture onto a pole. You can get as creative with its installation as you want.
The soft white LED light spreads out beautifully over your patio or yard. It is because Kemeco's light fixture has strong ripple glass. This solar light fixture is bright enough, providing up to 150 lumens. Although the fixture will cost you $100, you will need to invest in a pole if you are after the street lamp look and feel.
See Related: Different Uses for Solar Panels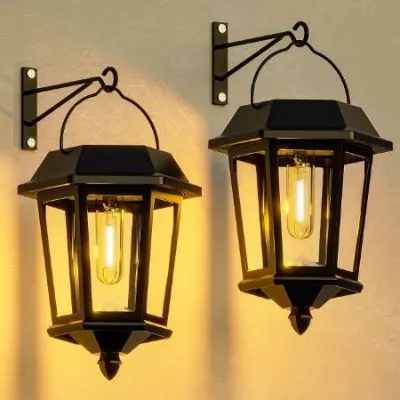 Woolmug's solar wall lantern combines modern and classic aesthetics. It is made of durable clear glass, high-quality metal, and LED lights.
After dusk, the vintage solar lantern emits an elegant, gentle 2700K warm white light. And it offers a comfortable and safe lighting environment for your doorway, wall, or patio.
For only $37.99, you can guarantee it is made from high-quality materials. And the tight seal prevents dust from entering the interior and affecting its aesthetic.
See Related: Best Solar Power Banks to Buy Today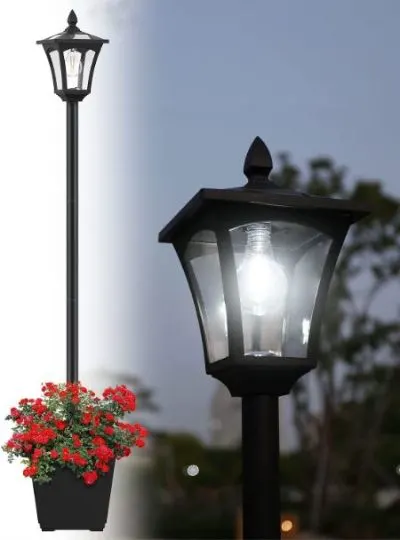 This DOESLAG Solar Lamp Post has a vintage vibe and a flower planter creating an attractive look in your backyard! It has high-quality metal poles, a quality plastic light top, and a planter pot.
For only $49.99, you'll get durable and waterproof solar outdoor lights and a decorative garden accent!
See Related: Electronic Scooters Pros and Cons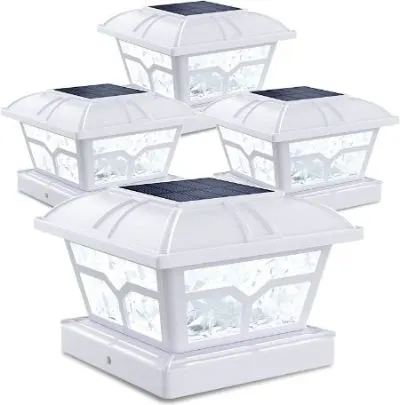 Some people look for environmentally-conscious solar lamp posts that blend into the background. But others will consider the world of artful solar lighting designs for the outdoors.
Once you start browsing, you'll soon discover that you have no shortage of options. And this SIEDiNLAR Solar Post Cap Lights that is pleasing on the eye itself and casts beautiful shadows is one possible choice out of many.
For only $45, you will get four packs of the best solar lamp posts. The Siedinlar solar post lights have a distinctive seagull shape. And the diamond lampshade may cast a strong light on the posts at night, creating a lovely scene.
The solar fence post light is made of robust ABS, providing a perfect combination of style and durability. And it gives your fence a distinct look that draws attention.
See Related: Best Solar-Powered Laptops to Buy Today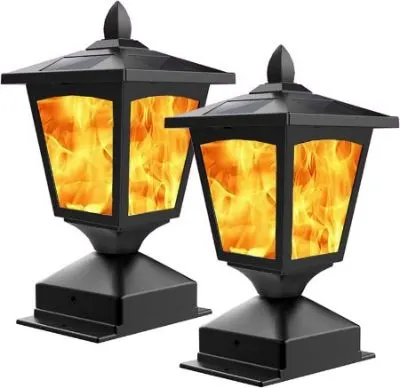 This BlueYang Solar Post Flame Light is made of excellent quality safe distinctive actual flames. And it provides a beautiful campfire environment for your outdoor activities. The glass heat resistance lampshade also allows you to enjoy more romantic flicking flames scenery.
For only $39, you get a pair of these durable and aesthetic lamp post lights! In comparison to the market's Consume Faster Ni-mh 1000MAH Battery, Blueyang solar post flame light is equipped with an Energy Saving 400MAH Lithium Battery. It can light up for 8-12 hours in summer and 5 hours in winter after being fully charged in the sun for around 8 hours.
The Advantages of Using Solar-Powered Lights
It is environmentally friendly.
One of the most serious environmental issues is the growing carbon footprint. And it is caused by energy production from nonrenewable sources. And solar lighting can reduce your carbon impact. You can definitely help by becoming sustainable with solar lights.
It is cost-effective.
The initial cost of solar light products may appear to be a bit excessive. But the energy savings will help you offset that cost when paying less to your utility company and spending less on incandescent bulbs.
It is Low Maintenance.
When it comes to solar lights, you won't have to worry about costly or time-consuming upkeep. You only have to follow the operator's instructions. And you'll be able to enjoy years of trouble-free performance.
It is safe.
Solar panels are cordless and wireless – so it is safe. These panels are self-contained and can be placed anywhere without the worry of someone tripping over them. They are also not prone to overheating and are safe wherever you place them.
It has several design options.
There are several options for solar lights available on the market today. You will be able to locate solar lights in various sizes and styles. There are several solar light solutions available. You can illuminate a sidewalk in your front yard or a significant part of your garden.
Small solar lights on your fences will do the trick if you want to make your deck feel more private and inviting. Solar streetlights are becoming popular among houses and other industrial uses.
Final Thoughts
Now that you have seen that the best solar lamp posts do not, in fact, have to break the bank, you have very little reason to consider anything else.
Solar lamp posts are easy to install, super simple to maintain, free to power, and can offer all the light you need outdoors. Above all else, while you get the benefits of endless sun-fueled light, you will do your part to help the environment.
FAQs
How to maintain solar panels?
Since you will place it outside, you will need to spend some time cleaning the panels. And you have to ensure the batteries are still operational. When using solar panels, you should replace batteries every 5-7 years. This power source requires little to no maintenance as long as it works effectively and provides the energy light source you desire.
How long do solar panels last?
It will all depend on the chosen brand and how frequently you use it. But typically, solar panels can last up to 20 years, and LED fixtures need to change after 50,000 – 100,000 hours of operation.
Do solar-powered lights last all night?
Depending on the brand, there are solar lights that can keep on all night. Some alternatives and brands allow you to control how bright the light is at night or have dim features.
Several kinds allow you to set timers for how intense you want your light to be at different times. They can all be customized based on your requirements. You only need to select the appropriate brand and inquire about it before making a purchase.
How long does it take to charge solar lights?
The more sunlight the solar lights receive during the day, the longer they are likely to run at night. Solar lights require about 6 hours in direct sunlight to fully charge, allowing them to run for at least 8 hours on a full charge.
Is it true that solar lights attract lightning?
Solar panels do not attract lightning, but they do not avoid grounding. Lighting will not strike your home unless it is the only building for miles around or is at a higher elevation than surrounding structures.
Do solar lights function in the rain?
Solar panels will continue to function even if the light is deflected or partially covered by clouds. The rain helps your solar panels run more efficiently by wiping away dust and debris.
How to improve my solar post lights?
First, make sure your solar panel is in a sunny location. The brighter it is, the more power it generates and the longer it will keep your lights on. Second, angle your solar lights so that they face south. It will provide them with direct sunlight and allow them to charge more quickly.
What is the maximum brightness of solar lights?
The brightest solar lights are task lights or spotlights, and the greatest ones may produce brightness comparable to a 40-watt incandescent bulb. That is still not as bright as a standard outdoor spotlight, so in areas where you need powerful, direct light, double or triple up.
Do solar lights automatically turn off?
Solar lights turn off automatically during the day since they convert light into energy to store in batteries. This energy is used to power the light at night.
Is it necessary to clean solar lights?
While solar lights require little to no maintenance, they require thorough cleaning to maintain efficacy during their lives.
Are solar lights sustainable?
Solar street lights are the sustainable solution for extensive lighting, lowering carbon emissions and environmental impact while increasing community safety and satisfaction.
Do solar lights charge on cloudy days?
Yes, even on cloudy days, solar lights charge. Although the battery does not charge as quickly, small efficient solar panels can still provide electricity when it is partly cloudy or overcast.
Do you switch off your solar lights at night?
In most cases, you do not need to manually turn off solar lights at night. Instead, photocell light sensors will activate solar lights at night and turn them off in the morning. You can adjust controls to turn your solar lights on and off at specific times of the day.
Is it possible to make solar lights brighter?
Yes! Solar lights feature different brightness levels to help you make the most of your outdoor space. Solar security lights, for example, may match the brightness levels of any current property lighting system.
Can I leave my solar lights on during the winter?
Yes, you may leave solar lights out in the winter, and many solar holiday lights are designed expressly for seasonal use. Due to restricted sunlight hours and harsh weather conditions, some people decide that solar lights are not worth the investment in the winter. Solar lights can be carried inside until spring in these cases to keep them running properly.
Can a solar light be charged indoors?
Yes. You can still charge solar light indoors by exposing it to direct sunlight through a window. Some goods may be rechargeable by plugging them into a power source using the provided adaptor.
Can batteries in solar lights be replaced?
Yes. You have to change the batteries in solar lights to restore and prolong the unit's storage capacity. As the effectiveness of the solar panel gradually declines, you can replace the batteries as many times as necessary as long as the unit continues to function.
What could you do to your old solar lights?
Solar lights are composed of bulbs, batteries, and materials, which must be disposed of separately. Many of these parts are recyclable, and we strongly encourage you to do so.
Are solar lights worth the investment?
Yes! Solar lights are usually a good investment since they operate on free electricity. Ordinary lights use utility electricity every second they are on, which can quickly add up to annual costs well above the initial cost of a high-quality solar light.
Related Resources