Can you use compostable bags for trash? If yes, what are the best compostable trash bags in the market? This piece gives you the best compostable trash bags alternatives.
According to UNESCO reports on marine pollution, approximately 100 million tons of plastic, trash lies on water bodies (oceans, lakes, rivers) around the world. Subsequently, this plastic waste causes over 1 million deaths of marine species (fish, mammals, turtles, and birds).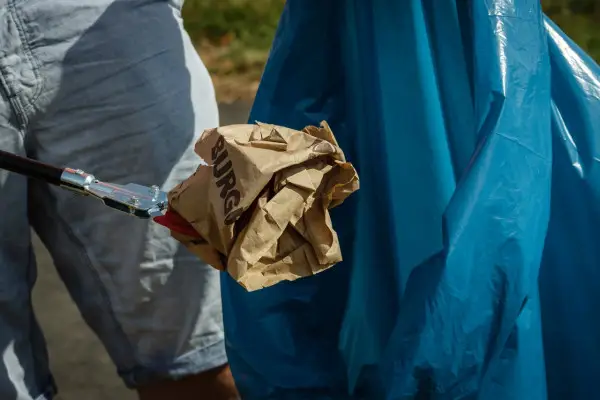 The worst thing is all this menace is brought about by human activities – the sole individuals who ought to be taking care of the planet. Ironic, right!
This means we are still the ones to find a solution to this devastating state. And while it might seem hopeless, the continuous push by activists and environmental leaders has seen various companies take positive initiatives towards sustainable production.
For instance, the introduction of eco-friendly, compostable trash bags shines some light on combating the plastic menace. Adopting the use of compostable trash bags can make a significant difference in protecting our planet.
Best-Of by Category
Difference between Compostable vs Biodegradable Trash Bags
When we think of eco-friendly trash bags, these two inseparable terms always come up; biodegradable and compostable trash bags.
But are they the same? Not entirely! How do I mean?
Biodegradable trash bags are those eco-friendly bags that decompose naturally after some time through biological means. They are made of materials that decompose through the effect of bacteria or other biological organisms.
However, most biodegradable trash bags are essentially still made of plastic. Some microorganisms are added to the material to ensure that they biodegrade. For this reason, some biodegradable trash bags can still release some toxic elements into the environment.
On the other hand, compostable trash bags are designed to decompose through biological means but require some human input. This means that while they are organic materials that can break down naturally, they need certain conditions to make the process effective. These include moisture, heat, and oxygen.
The difference between the biodegradable and the compostable trash bags is mainly in their composition. While some biodegradable trash bags still contain plastic, compostable ones are made from purely organic materials.
In essence, all compostable materials are biodegradable, but not every biodegradable material can make compost. The end product of composting must be humus.
Advantages of Compostable Trash Bags
I know that this question has, at one time or the other, crossed your mind – why should I use compostable trash bags? Why should anyone consider using compostable bags instead of plastic ones?
Well, there are a million reasons why. And, here are just but a few:
Since compostable trash bags are biodegradable, they don't litter the environment as they disintegrate and get assimilated into the environment.
They are easy to recycle
Compostable trash bags are safe for animals and don't clog waterways.
They reduce the amount of plastic bags reaching the oceans and other water bodies.
The compost made from these bags ends up enhancing plants' growth and thus high productivity.
They don't end up in landfills, which translates to less toxic gasses.
Taking care of the environment is our responsibility. And, simple things like using compostable trash bags will go a very long way in accomplishing this goal. Instead of taking the "easier plastic way," taking the "eco-friendly compostable way" is the right way.
Top Compostable Trash Bags
When we can't reduce, reuse, or recycle, compostable trash bags are the best option. So, which are the best trash bag options for you? How do you pick the ones that are not just greenwashing?
Here are our top picks: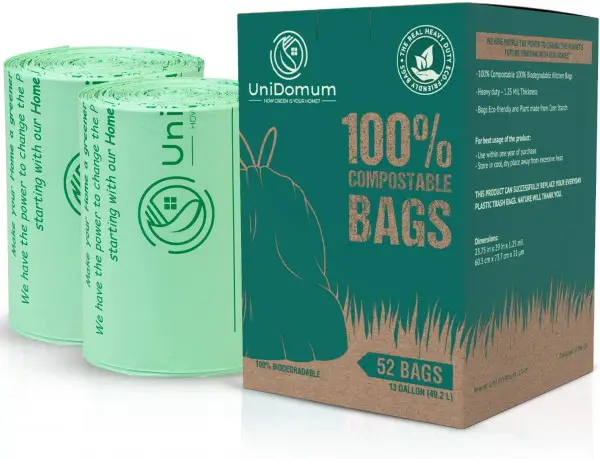 These are some of the best compostable trash bags you'll find in the market. They are made from corn starch and are 100% eco-friendly, offering an excellent option to maintain a litter-free environment.
The material used to make these bags is also environmentally safe and disintegrates easily in the right composting conditions. They break down into water, biomass, and CO2.
Even better, UniDomum compostable trash bags are Certified Compostable by BPI. This means that they meet the US ASTM D6400 standards and are ideal for home or industrial composting.
As for the company manufacturing the trash bags, it is known to produce top-notch products that are also eco-friendly. The UK-based company strives to manufacture quality sustainable products through extensive research, quality checks, and product testing.
If you are looking for an eco-friendly way to dispose of your waste, compostable trash bags by UniDomum are just what you need.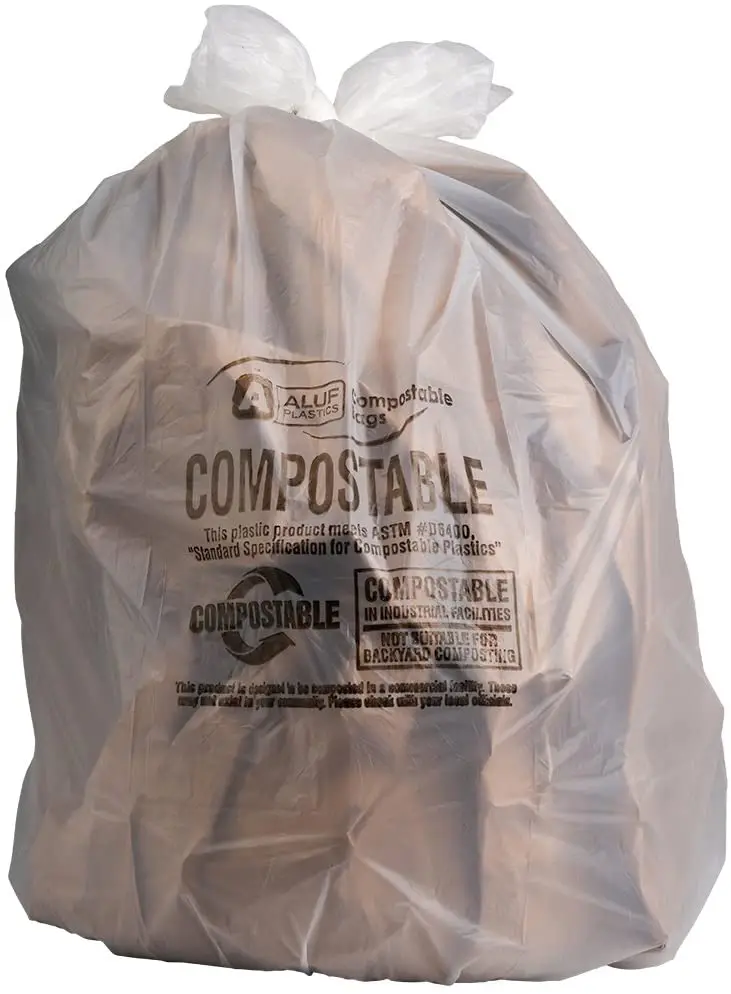 If you're trying to make that eco-friendly choice in waste management, these compostable plastic trash bags from Plasticpalce are an excellent choice. While they are not manufactured from starch or organic materials, they are made from biodegradable/compostable plastic. This means that they biodegrade like any other compostable trash bag and are easy on the environment.
The bags are sturdy and are designed to hold any compostable waste in your home. You can use them for leftover foods, vegetables, fruit peels, and other kitchen wastes.
As for their disposal, the bags are ideal for municipal, commercial and industrial composting. You cannot compost them at your backyard compost as it doesn't have the optimal requirements. However, the end goal is to easily biodegrade, something they do under the right composting facilities.
Pros
They are leakproof
Have no odor/scent
They come in a clear color allowing you to see their contents
See related: How to be an Environmental Activist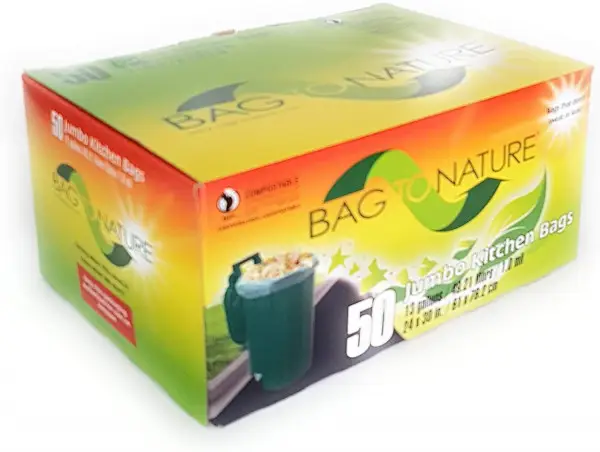 These are compostable kitchen trash bags that work perfectly in your household waste composting efforts. While they biodegrade easily, they also help accelerate the composting process in your composter.
Bag-To Nature makes compostable bags that are not only leakproof and durable but that also ensure you have enough space for your trash. They are 13-gallon compostable trash bags that make kitchen waste management quite effortless. With these trash bags, you have an efficient way to store your kitchen trash.
You should, however, note that the bags will certainly tear if you stack in them more than the stipulated 13-gallons of waste. Despite being sturdy, they won't carry more weight than that. Also, ensure to use them within the first nine months after purchase.
Bag-To-Nature bags are 100% compostable, BPI-certified trash bags you can rely on. As long as you keep them away from excessive heat or moisture, you are good to go.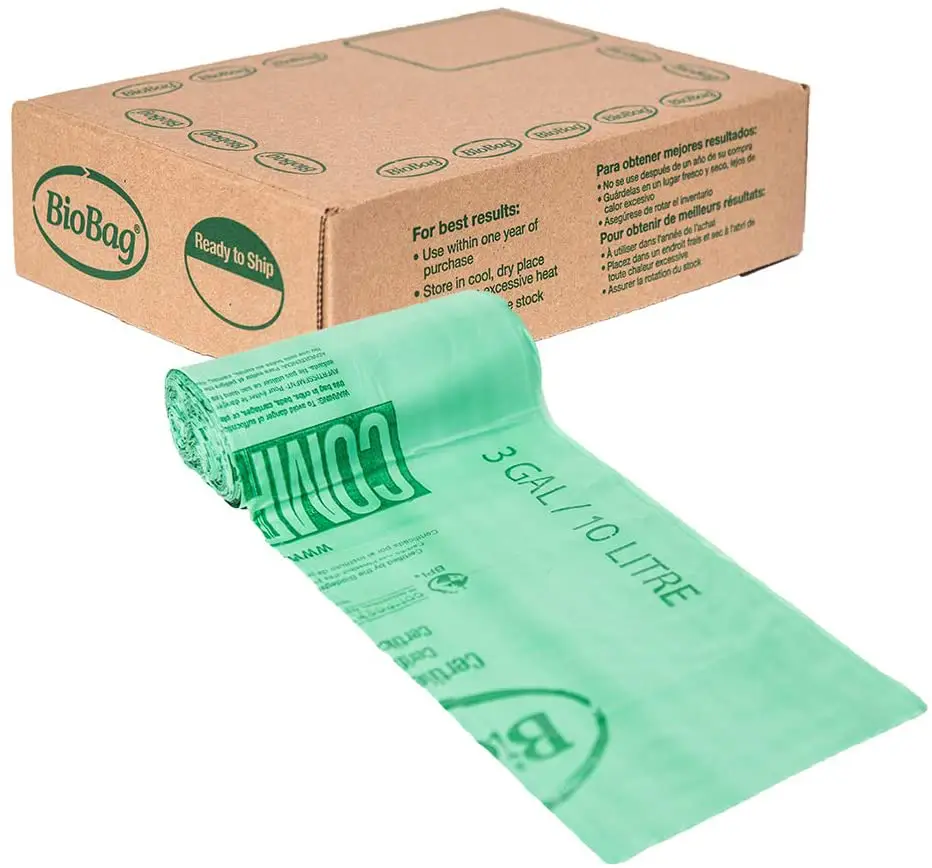 For small composting trash bags, these Bio-Bag waste bags are an ideal option. Firstly, the bags are BPI-certified, hence meets the ASTM D6400 set standards. Therefore, if you wish to do some composting in your backyard, you have yourself an excellent choice here.
Bio-Bag also claims that their products are breathable, meaning that they are odorless during decomposition. This is a desirable feature as no one wants an awful decomposing smell coming from their compound.
These bags biodegrade easily, as the manufacturer uses plants starches, 100% compostable polymers, and vegetable oils in their manufacture. This also implies that they are environmentally friendly.
And, if you want a trash bag that can fit almost any countertop composting bin, this is your solution. The only shortcoming of these trash bags is that they are relatively thin, meaning they can't handle heavy waste loads.
Pros
Ideal for home composting
Leakproof
Ideal for food waste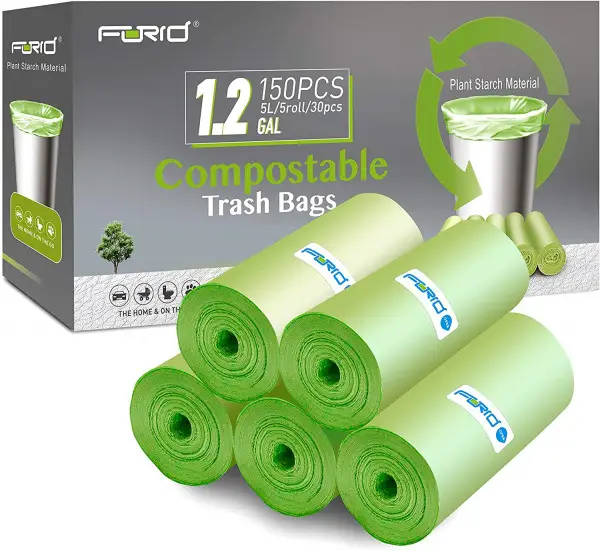 These eco-friendly compostable trash bags by FORID are also an excellent fit for your kitchen waste. First, they are made from organic materials that easily biodegrade without leaving toxic traces of gases in the environment. The manufacturer usually uses organic starch extracts from plants to manufacture the trash bags.
Secondly, the bags are certified in Europe and the US, meaning they comply with the ASTM D6400 and EN 13432 standards. For this reason, you can easily compost the trash bags together with your household waste right in your backyard.
Pros
They are multipurpose waste bags – this means that you can use them in the kitchen, bathroom, offices, living rooms, etc.
They are sturdy and durable and don't leak or tear with wet garbage.
The trash bags are made from organic materials.
And as for the company manufacturing the trash bags, it boasts of over 15 years of experience in this field. Also, the company donates around 1% of its income to environmental conservation and protection organizations. So, when you buy that 150 trash bag pack, you've protected the environment in more ways than you can know.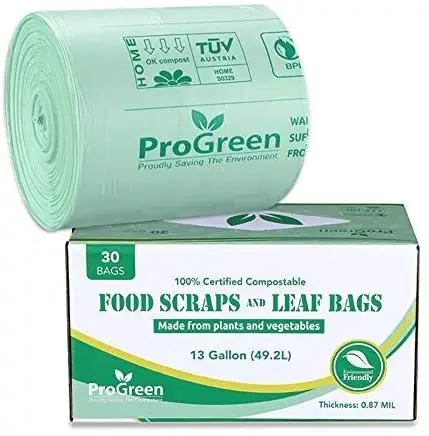 When it comes to going green in waste management, ProGreen compostable waste bags must feature on the list. And just as their name goes, the bags are 100% compostable, and you can compost them in your backyard or a commercial composting facility.
These 13-gallon trash bags are both VINCOTTE, and ASTM D6400 BPI Certified and are suitable for all your household waste. Also, the bags are relatively thick (0.87 Mil), meaning they will not tear easily and do not leak.
However, some users disagree with the bags' proclaimed sturdiness, saying that these bags leak after a while and thus require you to double them up. The good thing is they are averagely priced. Therefore, you can buy several of them for the same price as one of the other trash bag models.
Pros
100% organic
Easy to compost
Ideal for almost all household wastes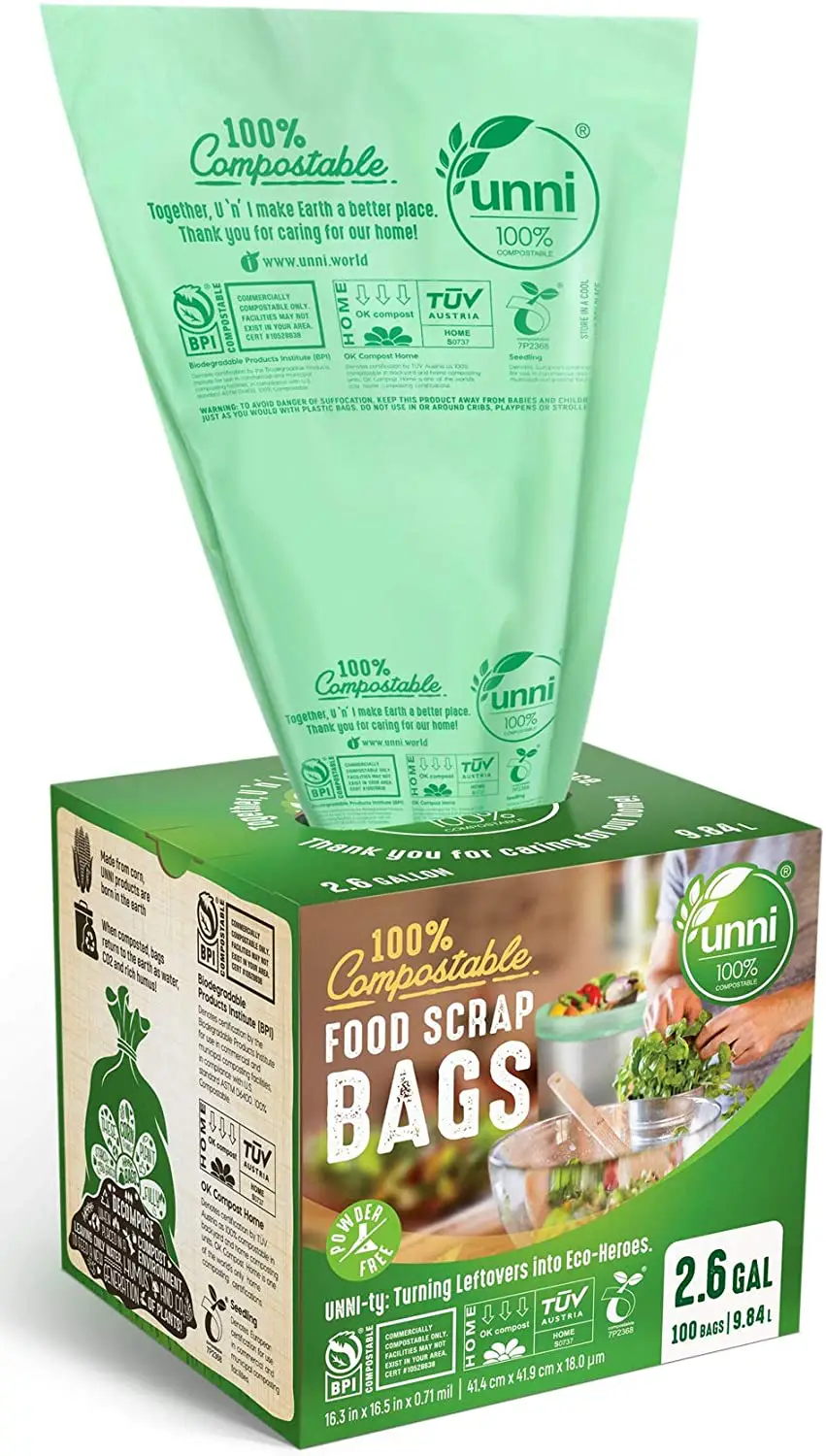 These compostable trash bags are manufactured from organic plant materials that are readily biodegradable. The company boasts of using eco-friendly, high-quality, bio-based materials, which are also durable, non-toxic, and polyethylene-free.
These trash bags from UNNI are also certified both in Europe and the US and can be composted at home or commercial composting facilities.
For an eco-friendly way to get rid of your biodegradable waste at home, try these UNNI's compostable bags. UNNI prides itself on over ten years of experience in compostable bag manufacturing, hence gaining customers' trust.
One thing to note, though: these trash bags are suitable for use within the first year of manufacture. And, they ought to be kept in a cool and dry environment.
Pros
Durable
Non-toxic
Contains zero polyethylene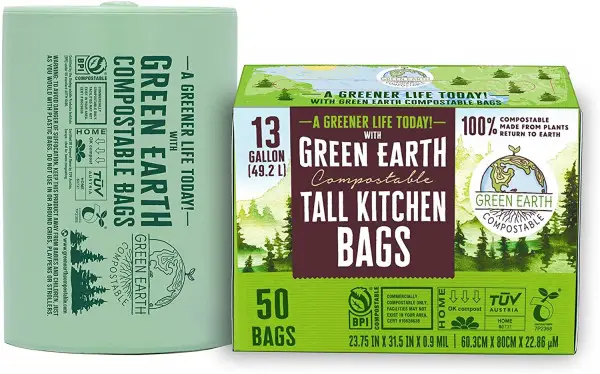 These are 1mil thick, 49.2 Liter compostable trash bags, ideal for all your household waste. They are not only large enough to hold huge chunks of waste but are also BPI certified in the US and OK Compost Home certified in Europe. This means that they are suitable for home, commercial, or industrial composters.
Also, these Earth Green trash bags are fully compostable and produce zero toxic gases or elements during decomposition. And they are manufactured from GMO-free plant extracts.
Like most other compostable trash bags, these ones also must be kept in a cool, dry environment. Also, they are best when used within a year of purchase. If you have tall trash bins, these are the trash bags for you.
Pros
Leakproof
Durable
GMO-free
See related: 12 Eco-Friendly Wrapping Paper Options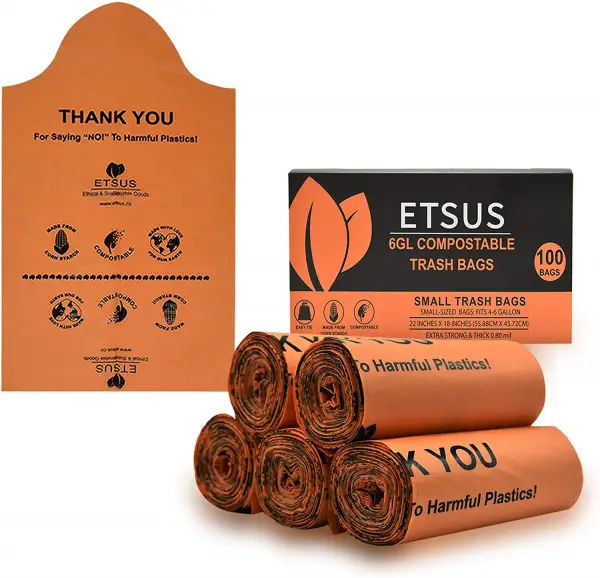 Compostable trash bags from ETSUS are also among the best in the market. For starters, they are 0.80 mils thick, meaning that they are sturdy, and secondly, they are leakproof.
The trash bags come in 4 or 6-gallon capacities, offering a solution for those who want small and medium-size waste bags. And as for the materials, ETSUS makes their trash bags from corn starch, an organic plants' extract that is easy to compost.
With such compostable bags, plastic pollution in marine environments will gradually become a thing of the past. Also, since they biodegrade and get assimilated into the environment, the issue of greenhouse gases coming from landfills will be sorted out with time. This is because fewer trash bags will be ending up in these landfills.
The bags can be composted at home or a commercial composter. So, if you need some certified, biodegradable, and compostable small trash bags, ETSUS might have just the right answer for you.
Pros
Ecofriendly
Multipurpose
Sturdy and durable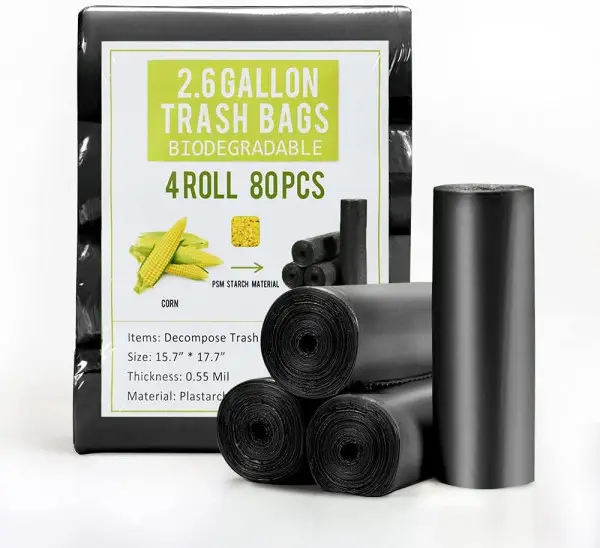 For those whole love composting in black trash bags, these bathroom waste bags are for you. First, they come in different sizes ranging from 1.2 to 6 gallons. This means you can choose one that fits your household waste.
Secondly, they are ecofriendly as they are made from plants starch extracts. This implies that you are taking the right steps towards reducing your carbon footprint.
The best thing about these compostable trash bags is that they are suitable for almost any situation. You can use them for your living room, baby's room, office, bathroom, car trash can, etc. And, their bottom is augmented to make them stronger and hard to tear.
Pros
They are scent-free
Non-toxic
Environmentally friendly
Therefore, if you want to make a difference in the war against environmental pollution, these compostable bathroom trash bags are an ideal fit. Get your pack today and start your sustainability journey.
Where to Buy Compostable Trash Bags
When it comes to finding places that sell these compostable trash bags, the internet is never short of options. From Amazon, manufacturers' websites, to other online retail stores, you have more options than you can imagine.
Also, if you want to make physical purchases, major retail stores like Walmart give you the opportunity. Don't miss your chance of making a positive impact with compostable trash bags. It's the small efforts we make that will change the course of things.
Related Resources