Let's talk facts: the wrapping papers that come with your gifts are pretty to look at, but they're trash waiting to be chucked in the bin. Unless you're a hardcore recycler, every gift you open contributes to global pollution (Christmas is notorious for being one of the most non-eco-friendly holidays in the world). Enter the eco-friendly wrapping paper.
With the right choices, you can make your gifts look stunning without generating unnecessary waste. From eco-friendly items like reusable bags, and eco-friendly trash bags to recycled paper.
I listed down eco-friendly wrapping paper ideas so you can foster the spirit of giving without making a dent in the environment.
What is eco-friendly wrapping paper?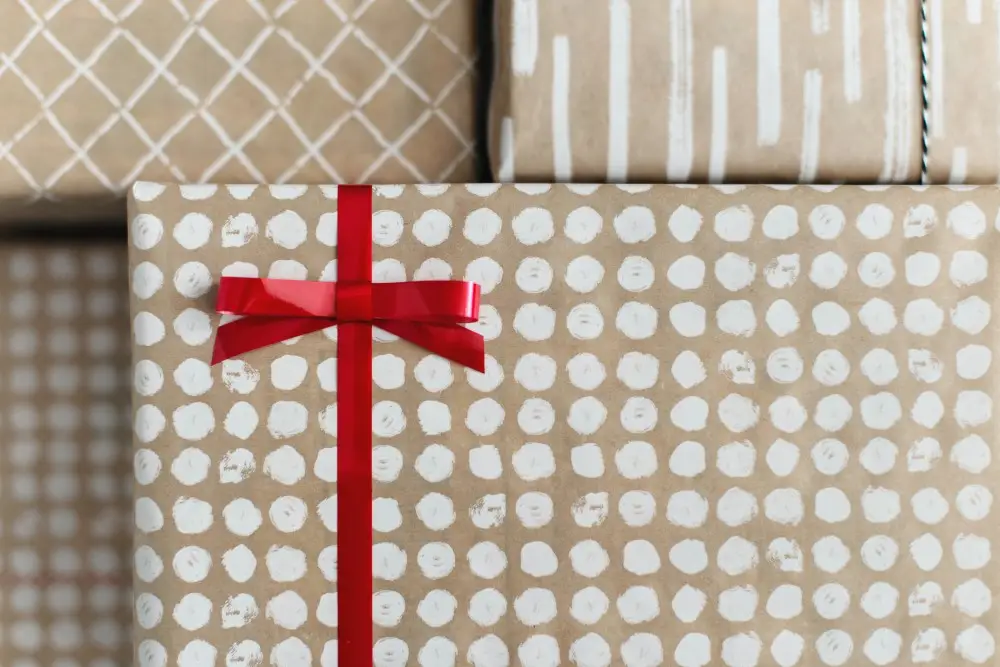 Most wrapping paper you find in card shops and supermarkets is crafted from low-quality fibers coated in plastic, dyed, or decorated with glitter. Most of them are also too thin with poor-quality fibers or come with sticky tape attached to them. These qualities render them ineligible for recycling.
An eco-friendly wrapping paper is a complete opposite as it uses recycled materials like newsprint that decompose naturally. It is also crafted from recyclable elements and is not dyed or laminated. Finally, eco-friendly wrapping paper biodegrades in landfills and is also accepted by recycled paper mills.
One of the best ways to determine if your wrapping paper is recyclable is by doing the scrunch test: recyclable paper is easily smushed in your hand without bouncing back.
See Related: Best Sustainable Shoes for All Different Occasions
Why should we use eco-friendly wrapping paper?
Billions of dollars are spent on wrapping paper each year. In 2016 alone, the UK threw over 227,000 miles of wrapping paper – that's enough to cover the entire island of Jersey. In addition, if we placed all the Christmas cards we used alongside one another, they would wrap around the world over 500 times. The numbers do not end there.
In the US, we discard over $11 billion worth of packing material and uproot more than 15 million Christmas trees. According to Greenpeace, manufacturing one kilogram of wrapping paper emits around three and a half kilograms of carbon dioxide. It also takes approximately one and a half kilograms of coal to fuel its production.
We could go on and on about the statistics around Christmas, but the bottom line is clear: gift wrappers have an undeniably detrimental impact on the environment. With this in mind, finding greener ways of giving gifts, like using eco-friendly wrapping paper alternatives, is absolutely essential in today's environmentally-conscious era.
Best-Of by Category
The 12 Best Eco-Friendly Wrapping Paper Options
These gift wrappers were selected according to durability, materials used, aesthetics, and user reviews.
Pricing guide
$ = below $15
$$ = $15-$25
$$$ = above $25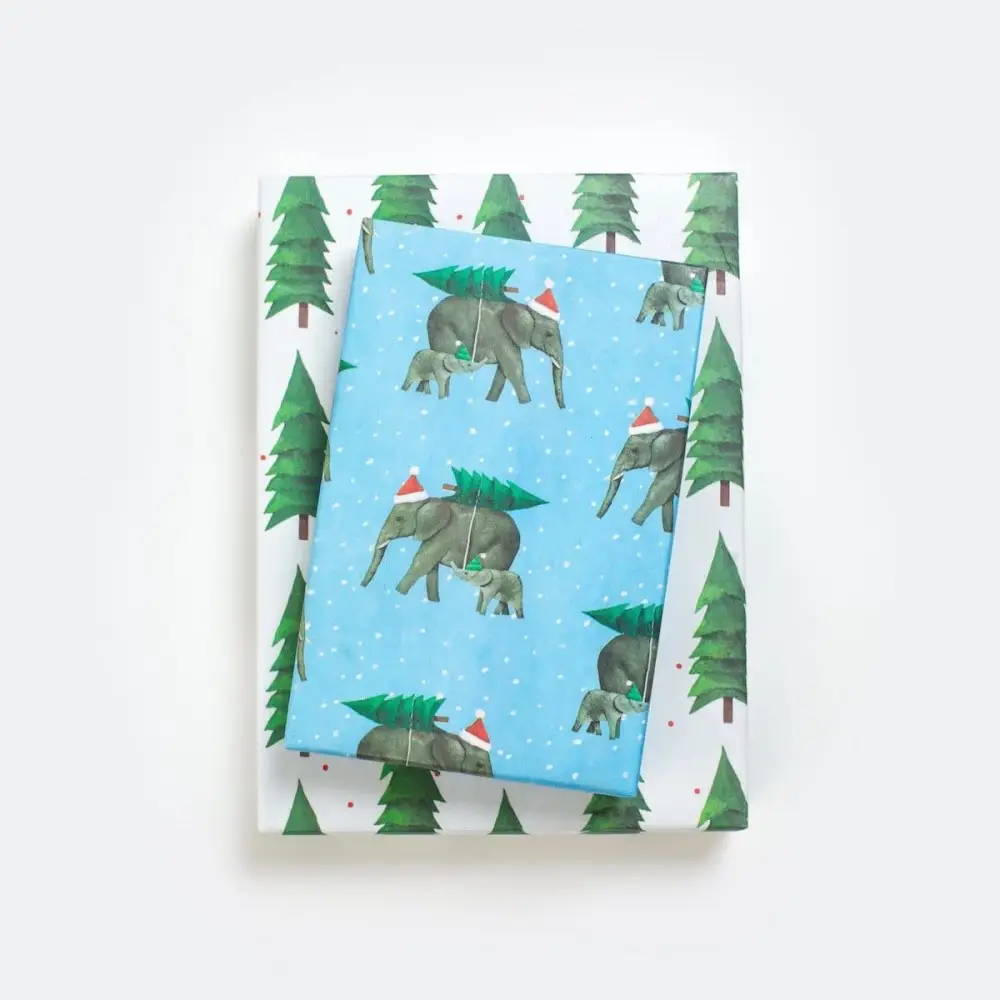 Price: $
Includes: Three double-sided and reversible wrapping paper sheets (21.5" x 34")
You don't have to sacrifice design when looking for eco-friendly wrapping paper. Wrappily's eco-friendly Christmas wrapping paper comes in several whimsical designs. There's one with an elephant lugging a Christmas tree behind her back and a llama wrapped in a Christmas scarf. The gorgeous illustrations are a work of art!
Wrappily's eco-friendly gift wrappers are crafted from recycled newsprint material, so they don't contribute to the world's growing trash. This item, in particular, comes with three double-sided reversible wrapping paper sheets, so you're getting two designs with each purchase.
According to reviews, the ink tends to transfer to your fingers (as is the case with most eco-friendly wrapping papers), but most users don't seem to mind as long as it's helping the planet.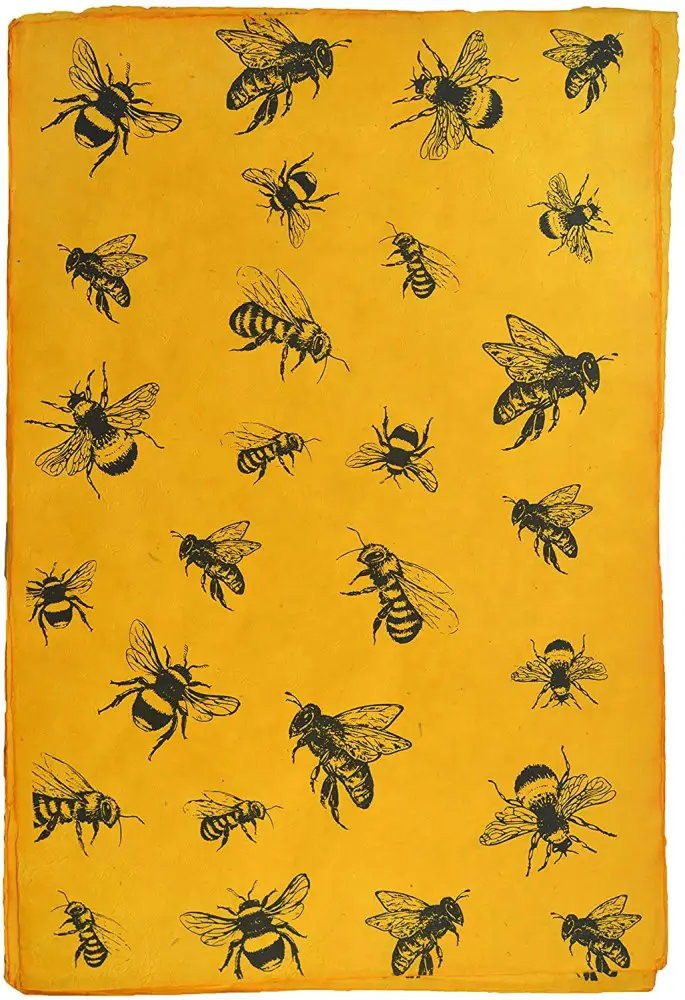 Price: $$$
Includes: 10 sheets, 20 x 30 inches each
Add a touch of Himalayan culture into your gifts with these lokta paper gift wrapping sheets. Crafted through a thousand-year-old paper-making tradition from the Himalayas of Nepal, these tree-free wrapping papers are made from lokta bush cuttings, which are ground and spread by hand over boxed screens.
After being evened out, they are set to dry out in the sun to form paper with a gorgeous natural texture. Lokta bushes are a renewable resource and grow quickly after being harvested, so the process of making paper from these plants is ultimately sustainable.
Kathmandu Valley Co. offers their eco-friendly lokta paper gift wrappers in several vibrant seasonal designs which are perfect for any occasion, be it baby showers, weddings, Christmas, or Hanukkah. Users love how incredibly durable the paper is and how they adore its 'natural feel,' with most considering them to be a 'work of art.'
See Related: Best Erosion Control Blankets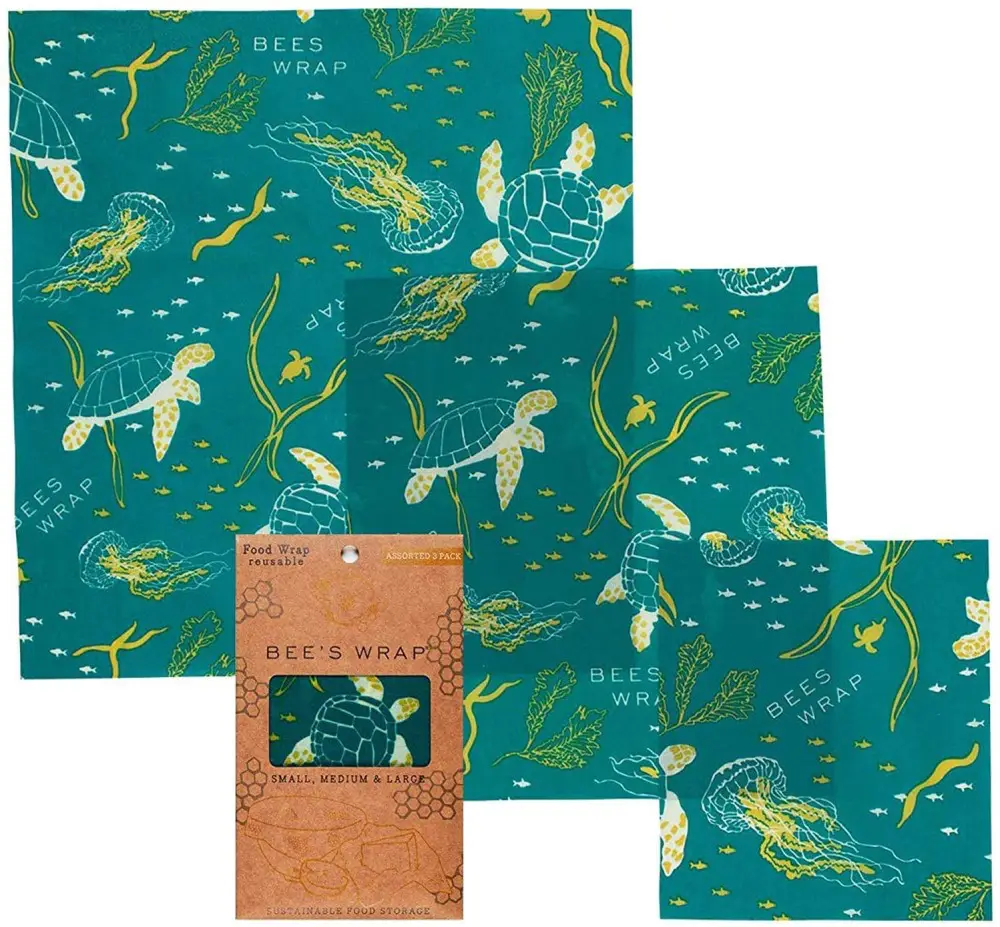 Price: $$
Includes: Three wrapping papers of multiple sizes: small (7" x 8"), medium (10" x 11"), large (13" x 14")
If you're the type who loves giving people food, Bee's Wrap is a natural and sustainable alternative to plastic wrap. Bee's Wrap is a Vermont-based company that has been developing reusable food wraps since 2012, so they know a thing or two about developing sustainable food-grade materials.
Bee's Wrap food wraps are crafted from sustainably harvested beeswax, organic cotton, tree resin, and organic jojoba oil. They serve as great alternatives to the eco-friendly clear wrapping paper that's often used for food. Both the fabric and the printing are certified by the Global Organic Textile Standard, and even their packaging is crafted from biodegradable cellulose and 100% recycled paper.
These compostable food wrappers may be used to wrap vegetables, cheese, fruit, or bread. They may also be used to cover a bowl of food or when packing snacks along the way. A box of three sheets may seem pricey, but each wrapper can be reused after hand washing them under cold water.
See Related: Best Insulation for a Greenhouse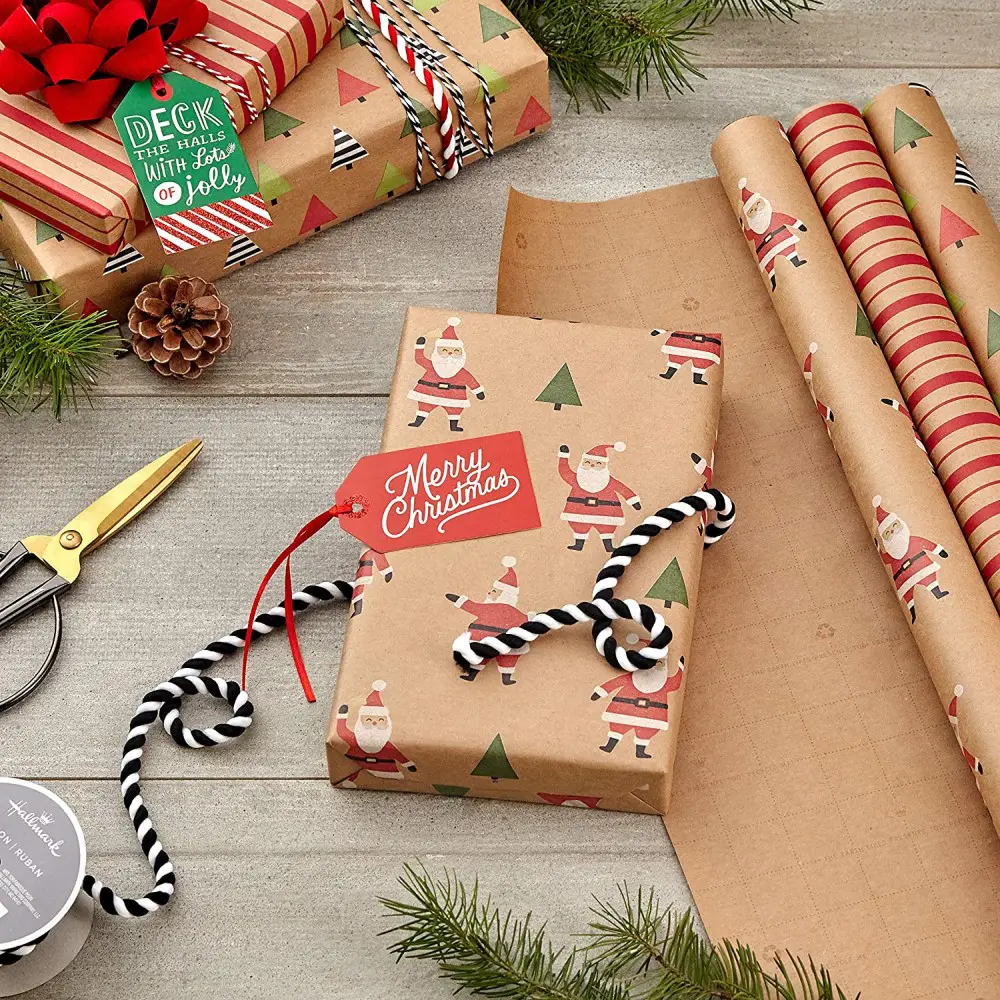 Price: $
Includes: Three rolls: 30" x 12" each
Nothing beats the look and feel of traditional wrapping paper, but if you're looking for eco-friendly options, these Hallmark Sustainable Christmas Wrapping Paper are the closest to real you'll ever get.
Crafted from high-quality paper materials, this eco-friendly wrapping paper is made from materials sourced from well-managed forests. The limited ink coverage means that this wrapping paper is eligible for recycling as well.
This particular set features three Christmas-themed designs, but Hallmark offers other illustrations as well. Gridlines on the back allow for straight cutting and easier wrapping of presents an ideal match for sustainable gifts.
Users love how thick the material is and how easy it is to cut and work with. On the flip side, more than one user commented about tapes not sticking well to the paper material, so you may have to consider using stickier tapes with these gift wrappers.
See Related: 11 Best Products to Help Climate Change to Buy Today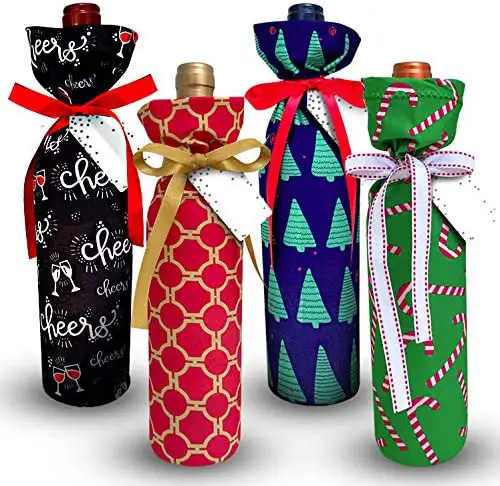 Price: $$
Includes: Set of 4 bottle bags with gift tags and decorative ribbons
Who doesn't love a quality liquor?
If you're giving away spirits on Christmas, these festive bottle bags are an eco-friendly choice. Made from stretchable fabric, Wrapeez Wine Bottle Bags are the perfect size for more than just wines and spirits, but for lotions, perfumes, candles, cooking oils, jars, growlers, or gourmet condiments as well.
Using fabric wrappers for gifts means zero paper waste, so you're doing the environment a favor. As a reusable item, you're not only giving away one gift but two!
Wrapeez Bottle Bags come in a wide assortment of designs, so you're bound to find one that's perfect for any occasion, be it Christmas, birthday, or anniversary.
Users loved the vibrant colors, the convenient tie closure, and how they're able to wrap around bigger bottles.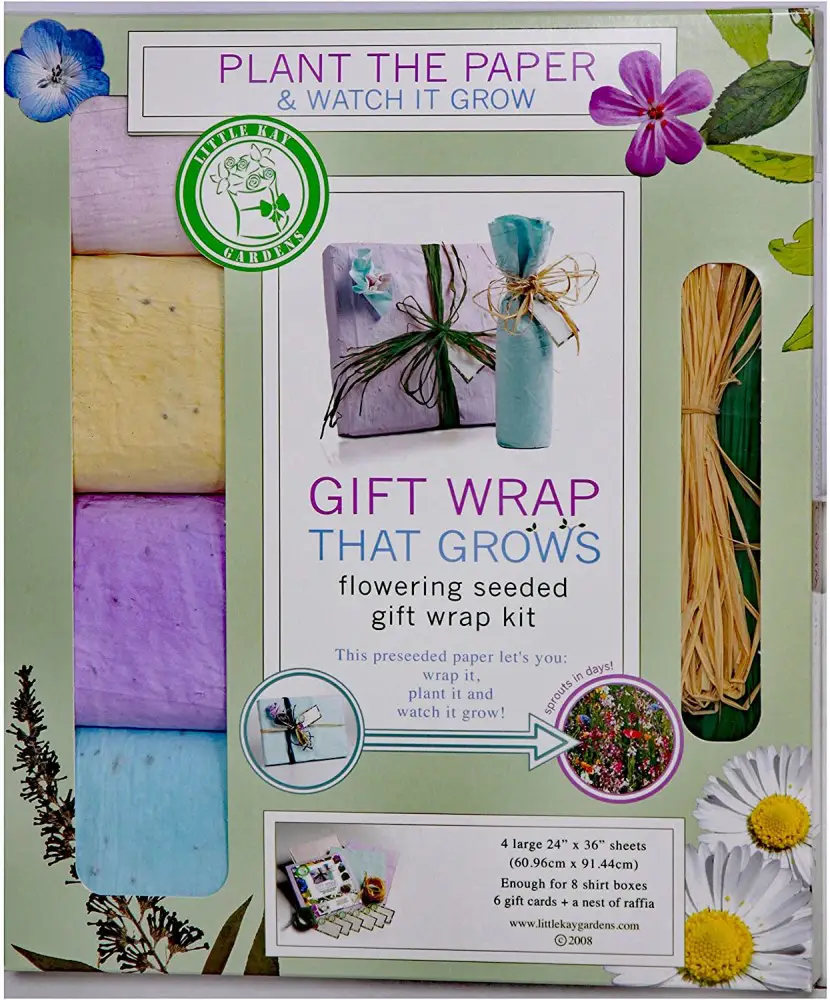 Price: $$
Includes: 4 large seeded gift wraps (24" x 36"), 6 gift cards, and a bundle of raffia
Looking for a gift that keeps on giving? The Triumph Plant Gift Wrap goes beyond just allowing you to recycle your gift wrapping paper – it lets you grow your own flowers too!
Crafted from 100% recycled paper, this eco-friendly wrapping paper comes embedded with wildflower seeds. After unwrapping the gift, the receiver can bury the wrapper under loose topsoil. After a few days, wildflowers will sprout.
Each Triumph Plant Gift Wrap box comes with four gift wraps, a bundle of raffia, and six gift cards. Users love how the sheets can fit almost any sized gift and how eco-friendly they are.
Others commented on how convenient each set is, as they already contain gift cards and tying material. Some users found the colors, mostly bright pastels, to be lacking vibrancy and variation.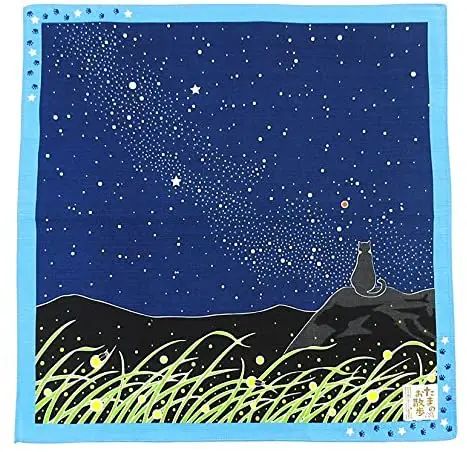 Price: $
Includes: One wrapping cloth (19" x 19")
If you're looking for more sophisticated alternatives to eco-friendly wrapping paper, Furoshiki might be the wrapping technique you're looking for. Originating in Japan around 710 B.C., Furoshiki is an ancient art of wrapping gifts using a square piece of cloth or fabric, but it also refers to the material itself.
Furoshiki fabric features elegant and decorative designs. In recent years, it has grown in popularity as an eco-friendly gift wrapping technique. All that's needed to wrap your gifts in furoshiki is the cloth itself, which may come in various sizes but are always square.
This item, in particular, features a vibrant illustration of a cat gazing upon a star-studded sky. Users loved the exquisite details, color saturation, and how sturdy the material is.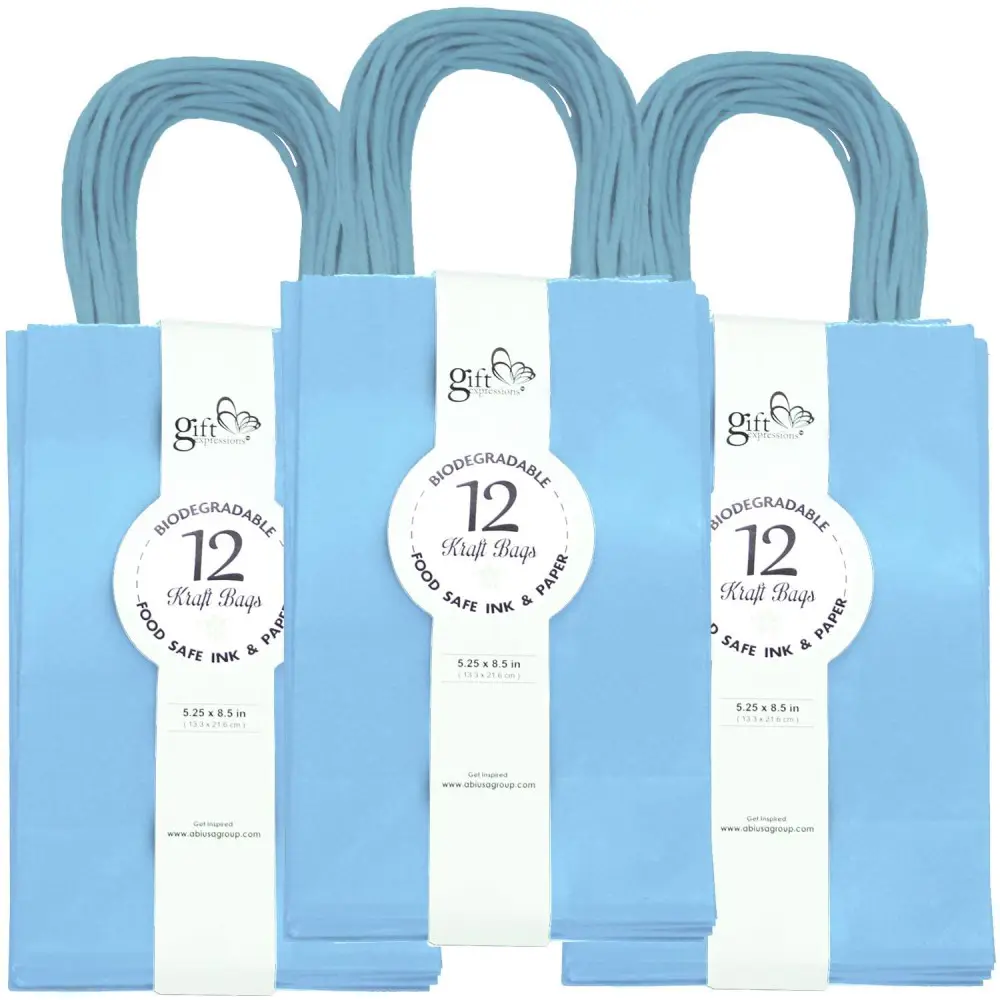 Price: $$$
Includes: 36 craft gift bags (5.25" x 8.5" x 3.5")
Have an eco-friendly party with these goodie bags that respect Mother Earth. Great for birthday parties, weddings, baby showers, or bridal showers, Gift Expression Paper Gift Bags are 100% biodegradable, but this doesn't mean they break apart easily. The premium quality paper construction is thick and sturdy – even the twisted paper handles feel like they can handle quite a bit of weight.
Blank designs mean buyers get lots of freedom for DIY – stamp a design, paint on them, or attach stickers; the choice is yours. Users love how these bags hold up well and are just the perfect size for giveaway mugs.
If you're looking for eco-friendly wrapping paper, these goodie bags are great alternatives!
See Related: Are Orbeez Biodegradable?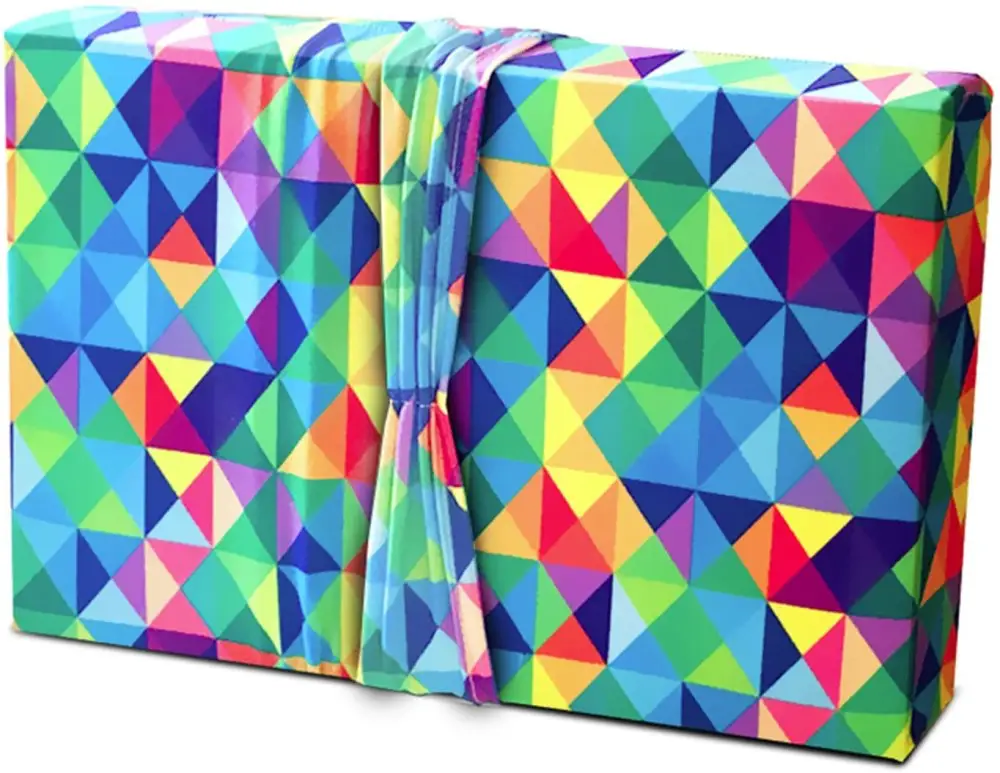 Pricing: $$
Includes: Three Wrapeez gift wrappers (10.12 x 4.88 x 2.2 inches)
Most of us love giving gifts but detest the folding and taping that comes with it. If you're looking for a far more convenient way to wrap presents, Wrapeez offers a brilliant solution.
These eco-friendly Christmas wrapping paper alternatives are crafted from high-quality stretch fabric that's designed to look like traditional wrapping but with the ease of a gift bag. The look and feel are so high-quality that your recipient is sure to use them again!
Are you caught in the Christmas rush?
Wrapeez claims that it takes less than 20 seconds to create a perfectly wrapped gift which could be a life-saver if you're preparing presents at the last minute. Great for weddings, birthdays, holidays, anniversaries, graduations, and other special occasions.
Users loved how vibrant the colors were and how sturdy the material is, but a little warning: the stretchable fabric can be sheer and transparent at times, especially when you're wrapping something huge.
See Related: 13 Best Posters on Saving Earth and Environment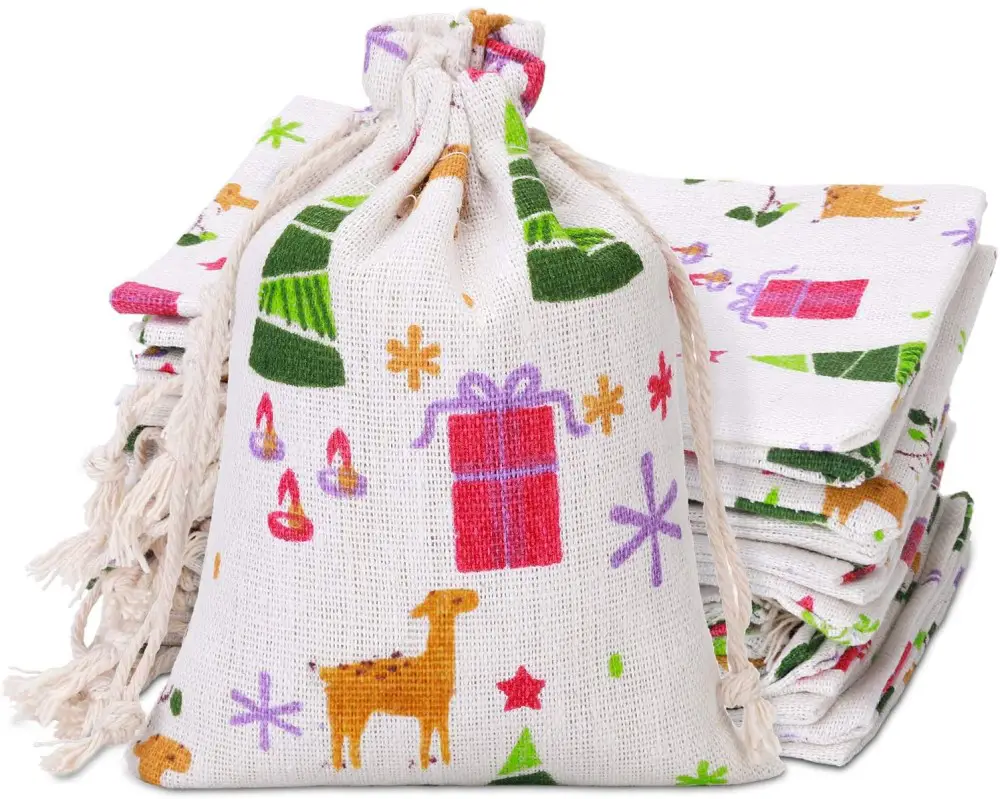 Price: $
Includes: 35 burlap drawstring bags (10×14 cm)
For Christmas to be environmentally-friendly, gift givers and receivers need to practice the act of reusing. But let's face it, eco-friendly wrapping paper is often hard to reuse, and since most of them aren't compostable, they still put a strain on our landfills.
If you're looking to convince your recipient to reuse your Christmas packaging, it's hard not to give these charming Boao Drawstring Gift Bags a second go. Each burlap bag comes designed with vibrant and playfully drawn illustrations.
The durable burlap material is washable and reusable with just the perfect size to hold smaller items like candies, chocolates, cookies, or bread.
You can even use them as home decor! Users love the adorable designs and how easy it these bags are to use as Christmas packaging.
They're also an excellent value for money, as one package comes with 35 bags.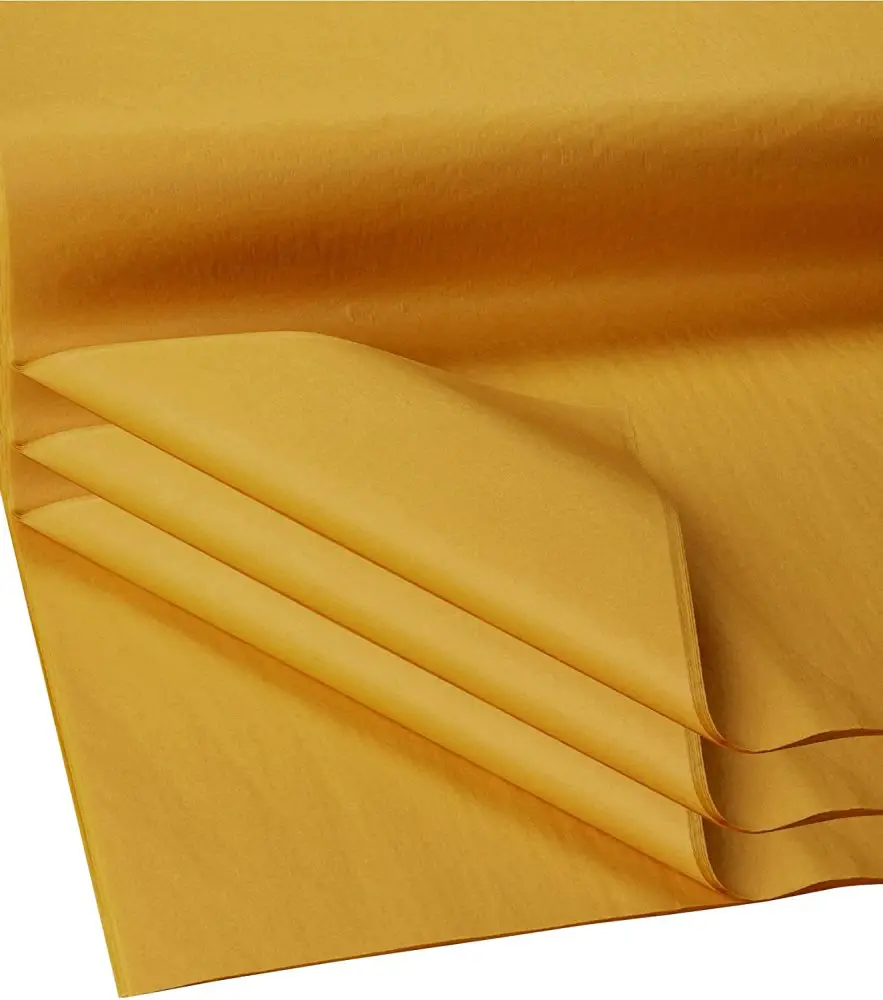 Price: $
Includes: 100 sheets (15"x20")
If you're looking to jazz up your Christmas packaging, this eco-friendly tissue paper gift wrap is a great choice. Whether you're looking to add fillers in your gift bags or crafting tassel garlands or tissue pompoms, Flexicore Gift Wrap Tissue Papers are made of high-quality material that's easy to shape and fold in any way you want.
Each package of Flexicore Gift Wrap Tissue Paper comes in various colors that are perfect for your gift wrapping needs.
Users loved how this eco-friendly wrapping paper doesn't rip too easy, with many being pleased by how vibrant the colors are.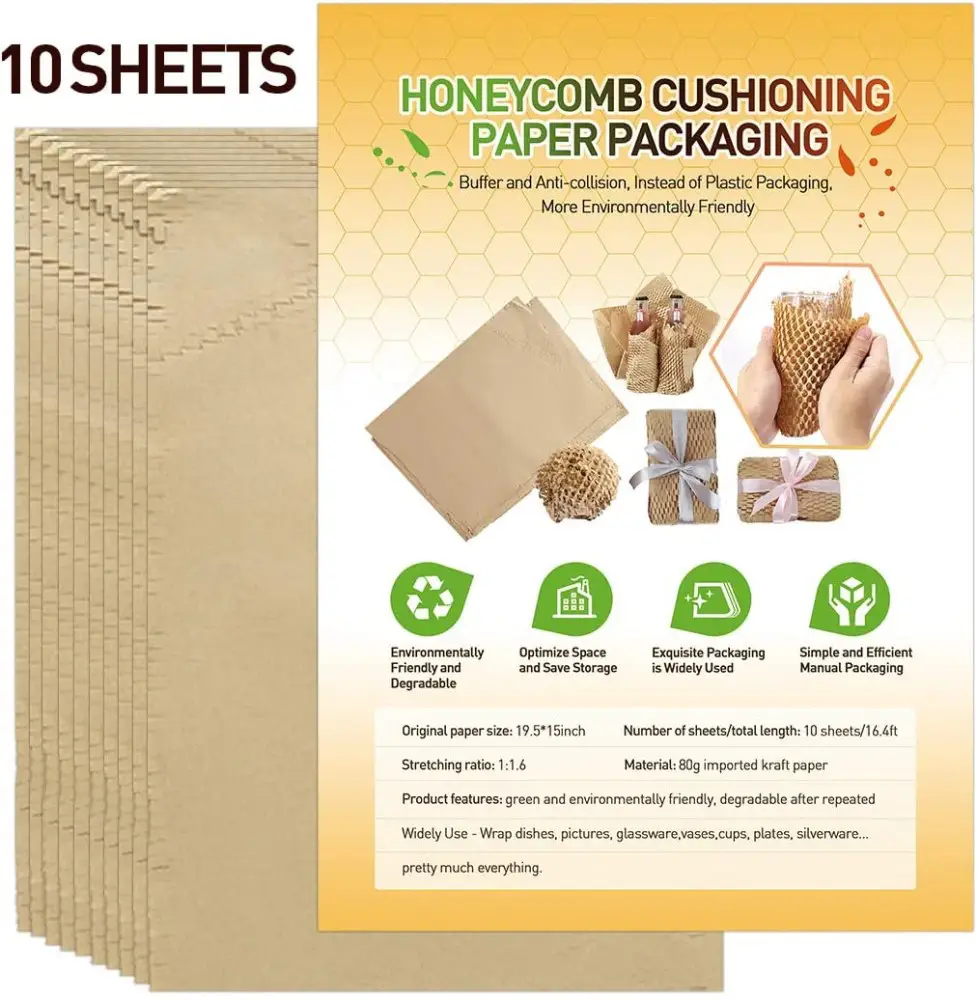 Pricing: $
Includes: 10 sheets of honeycomb paper (19.6"x15") and 12 sheets of fragile label paper
Need a little cushioning for fragile gifts?
This eco-friendly paper bubble wrap is an excellent alternative to its plastic counterparts, and best of all, it does the job. This paper cushioning, which is crafted from reusable and degradable kraft paper, has a wide range of uses. Use it to cushion wine boxes, photo frames, glass products, ceramics, artwork, or expensive holiday gifts.
It's also effortless to use.
Just stretch the eco-friendly wrapping paper to reveal its honeycomb shape and wrap it around your fragile products. It can also be used as a creative gift wrapper if you aim to give your presents a unique look.
Related Resources