Finding the best solar-powered generators for home use can be tricky. There's a lot to think about! You'll have to determine your energy needs, find a generator with enough capacity, and ensure it has the features you want.
If you're looking for a solar-powered generator for your home to conserve energy, read on. We'll walk you through the process of finding the best option.
Best-Of by Category
The Best Solar-Powered Generators for Home Use
We focused on solar-powered generators with larger capacities with home use in mind. Many of these offer well over 1000 watt-hours so that you can get your vital needs met through an emergency power outage or use them for off-grid living.
That said, a few of them are on the smaller side and much less expensive.
So, if you only need to power a few things through a storm or other power-loss event, you might want to focus on those options.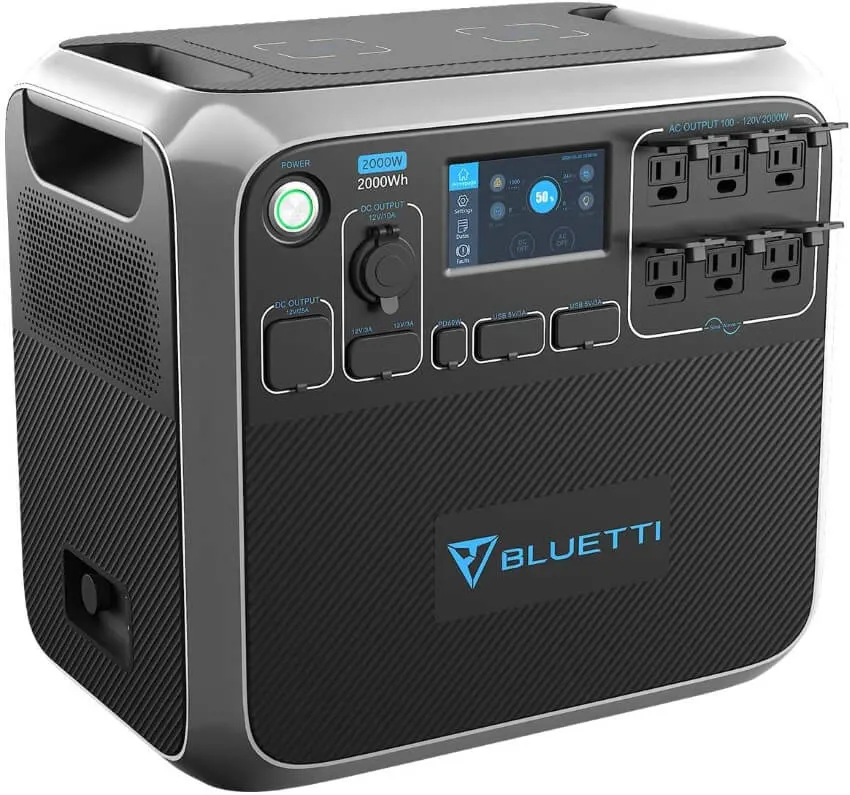 With 2000Wh, the AC200P by Bluetti is a solar-powered beast. This generator can easily power even larger appliances, like your refrigerator, window A/C, and space heaters, making it ideal for home emergency use.
It allows for 700w of solar power input and features an MPPT controller, so it also recharges fast. It takes about three and a half hours to recharge this generator. If needed, you can also recharge it using your car. It will take longer, close to eleven hours, but at least you have the option!
The AC200P also has six A.C. outlets for easy use, a cigarette lighter, and several USB outlets. Plus, it features a backlit touch screen that delivers all the device information you need, such as voltage, temperature, and charging level.
You'll have to purchase solar panels separately, and this unit is fairly heavy at just over 60 lbs. Still, for home use, it's one of the best generator options.
Pros
Huge capacity
Fast recharging
Several outlets
Cons
Panels sold separately
Heavy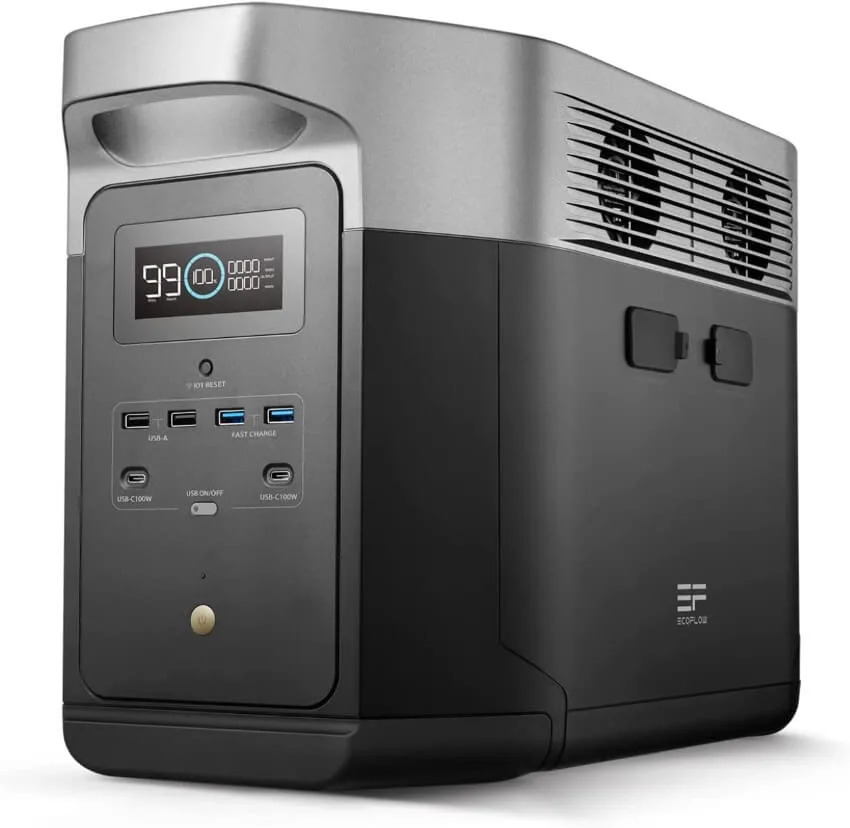 If you're attempting off-grid living or need an extra-large capacity during an emergency for any reason, the ECOFLOW Delta Max is an excellent option. This battery has a large capacity of 2016 Wh, and you can link it with up to two more batteries if desired. That puts your total watt-hours at a whopping 6048!
The ECOFLOW also boasts a rapid charge feature that will get you an 80% charge in about ninety minutes. Of course, the rapid charge feature works via an outlet or your car, not through solar panels, which charge much slower.
That said, even with pure solar charging, this generator links to 800w panels and can fully recharge in three to six hours, which isn't bad at all. Plus, it comes with an app to control and monitor everything remotely. You can turn off ports, view output, and more without ever leaving your couch.
The Delta Max isn't exactly affordable, especially if you plan to connect two or three of them at once, and you'll have to purchase the panels separately. It's also fairly heavy, so if you hoped to use it while camping or in an R.V. as well as for home emergencies, it might not be the best bet.
However, in the event of a multi-day power outage, it's one of the best solar-powered generators on the market.
Pros
Huge capacity with ability to link multiple batteries
Fast charging via solar or outlet power
Remote control via free app
Cons
See Related: Best Solar-Powered Computers to Buy Today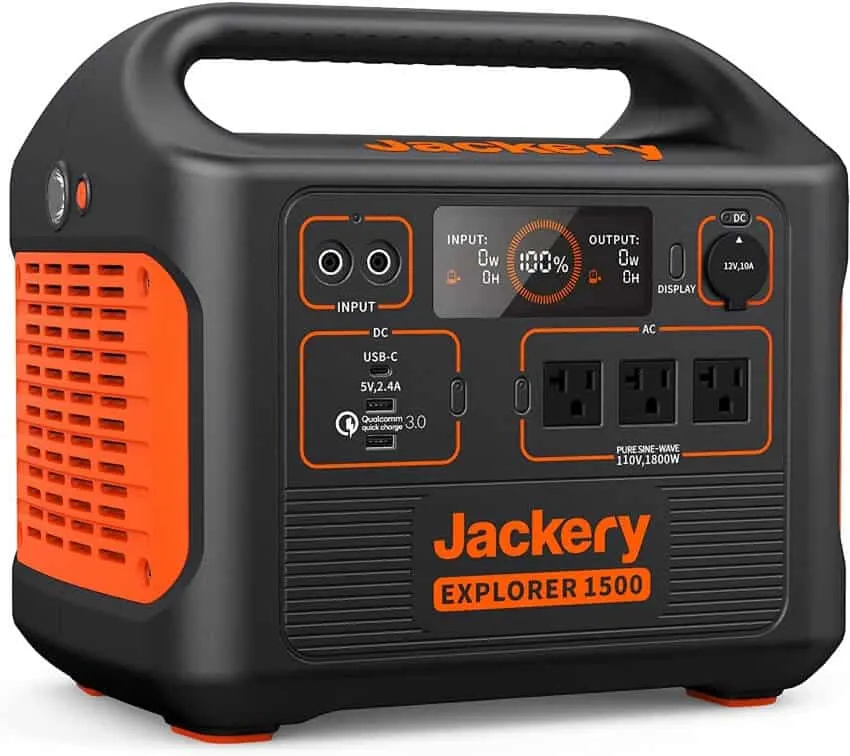 With 1534 Wh, the Jackery Explorer 1500 promises to run a refrigerator for up to 15 hours, a T.V. for up to 21 hours, and a microwave for up to 68 minutes. That's more than enough to get through most outages unscathed, especially when you consider how efficient the Jackery Explorer 1500 is.
The Jackery Explorer 1500 is one of the most efficient solar-powered generators for home use, thanks to its upgraded MPPT controller. You'll reach an 80% charge in just four hours of solar exposure. That's not bad, given that it only allows for 400w input.
Jackery recommends using this generator with their SolarSaga 100w solar panels, up to four at a time. Though you'll have to purchase them separately, they're affordable and foldable, making them exceptionally convenient.
If you happen to own other solar panels, though, you'll have to purchase adaptors to work with Jackery products. Jackery uses proprietary connections, which can be a little frustrating for those who already have solar panels in place.
The Explorer 1500 features seven power outlets in various forms, including three USB ports. It also has a digital screen that will provide real-time battery monitoring.
All in all, this is a highly efficient and easy-to-use power generating machine.
Pros
Upgraded MPPT controller for efficiency
Large capacity
Seven power outlets
Real-time battery monitoring
Cons
Must use with Jackery solar panels or purchase additional adaptors
See Related: Best Solar Charge Controllers
4. Bluetti EB70S – Best for Powering Essentials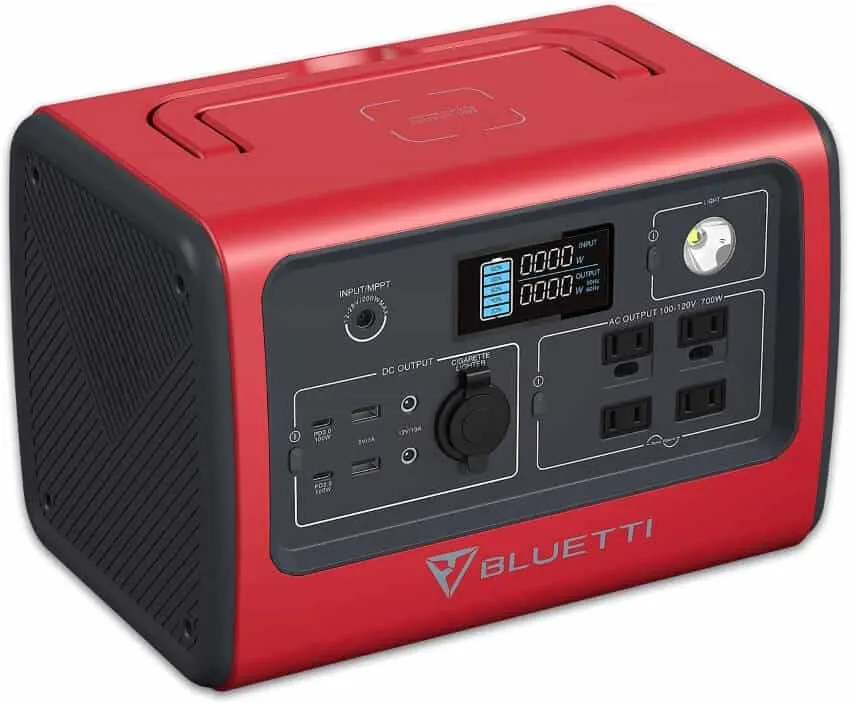 If you're looking for a solar generator that will take care of essentials during an outage but don't need all the bells and whistles of, say, the Delta Max or the AC200P, Bluetti's EB70S might be your best bet.
This pared-down solar generator has a good size capacity of 716Wh. So, it should be able to charge your most necessary devices should the power go out.
You can run most refrigerators, charge your laptop, and keep your phone powered. But this one can't handle anything over 700w. That means, if you want to power a microwave, toaster oven, or furnace, this isn't the best option.
That said, the EB70S does have a few major benefits. It features an MPPT charge controller for fast recharging by solar panels or by electric outlet. It also has a LiFePO4 battery rather than a straight lithium-ion battery.
The LiFePO4 battery offers a longer lifespan, up to 4x the amount of Li-ion batteries. So, you can rest assured this will last as an emergency option for quite some time. And, with twelve outlets, including a charging pad, using the EB70S is very convenient.
Pros
Long battery lifespan
Twelve outlets, including charging pad
Fast recharging by outlet or solar panels
Cons
Cannot power anything over 700w
Smaller battery capacity
See Related: Best Solar-Powered Laptops to Buy Today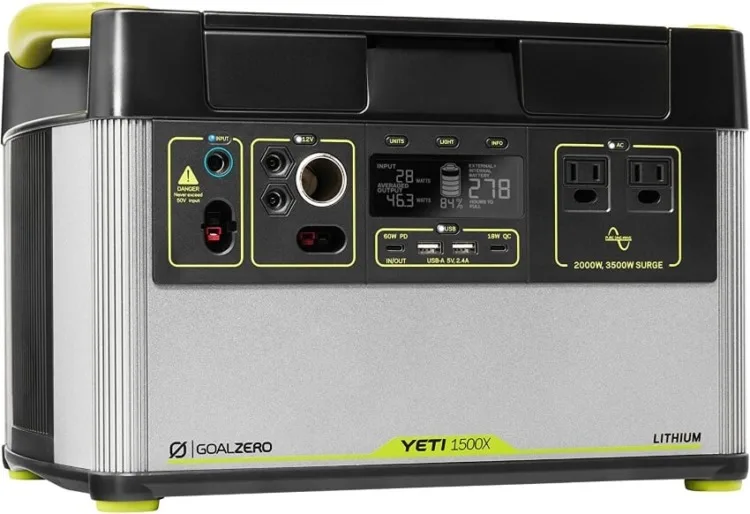 Goal Zero is a well-known brand in the solar generator world for good reasons. All of their power stations are U.S.-made, then tested in rugged environments worldwide, including in the Arctic. So, if you want a solar-powered generator that's dependable in any emergency, the Yeti 1500x is it.
With a 2000w A.C. inverter, there's no limit to what you can power using this battery. If you can plug it into the wall of your home, you can run it with the Yeti. That includes fridges, medical devices, and, of course, your computer and phone.
It provides 1500 Wh, which should be enough for most situations, and recharging is fast. Four hours of solar recharging using 400w panels should do the trick.
The Yeti 1500x works with several different Goal Zero solar panels, depending on how often you want the battery to recharge. With the right solar panel set-up, plenty of sunshine, and this battery, you could take most of your power needs off-grid. Or, you can opt for portable panels and use this solely as an emergency option.
All of that said, with Goal Zero products, you are paying a premium for the brand name. And their connection capabilities are lacking. With a generator this pricey, it'd be nice to have it readily linked to a second and third battery so that you could increase capacity.
Also lacking are the outlets. There are only two A.C. outlets and three USBs, which is far less than other generators at this price point.
Pros
Powerful 2000w A.C. inverter
Fast recharging capabilities
Dependable brand
Cons
Minimal connection capabilities
Few outlets
See Related: Best Solar Tiki Torches for Your Home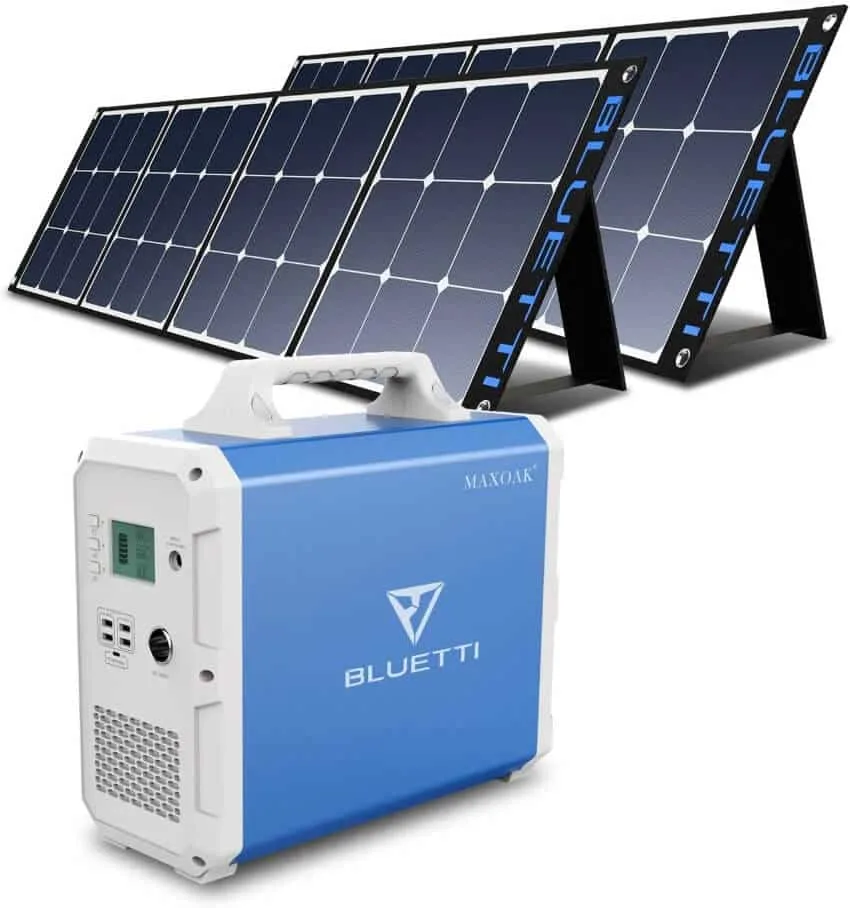 If you don't want to spend time researching both a solar generator and the panels to connect it to, an all-in-one option is a way to go. With the Bluetti EB150 solar bundle, you get a power station and the panels to go with it at a relatively affordable price.
The EB150 generator offers 1500Wh and can handle appliances up to 1000w. So, you can easily power refrigerators, an electric skillet, and most space heaters.
Bluetti built an MPPT controller into their EB150, so this generator is very efficient. However, the solar panels that come with it are only 120w, so recharging will take some time. You're looking at up to ten hours to reach a full recharge in optimal conditions.
By upgrading to 200w solar panels, you can cut the recharging time almost in half, but, of course, the price goes up as well.
Pros
Everything included in one bundle
Large 1500Wh capacity
Handles up to 1000w appliances
Cons
Long recharging time with included panels
See Related: Best Energy Efficient Electric Heaters for Large Rooms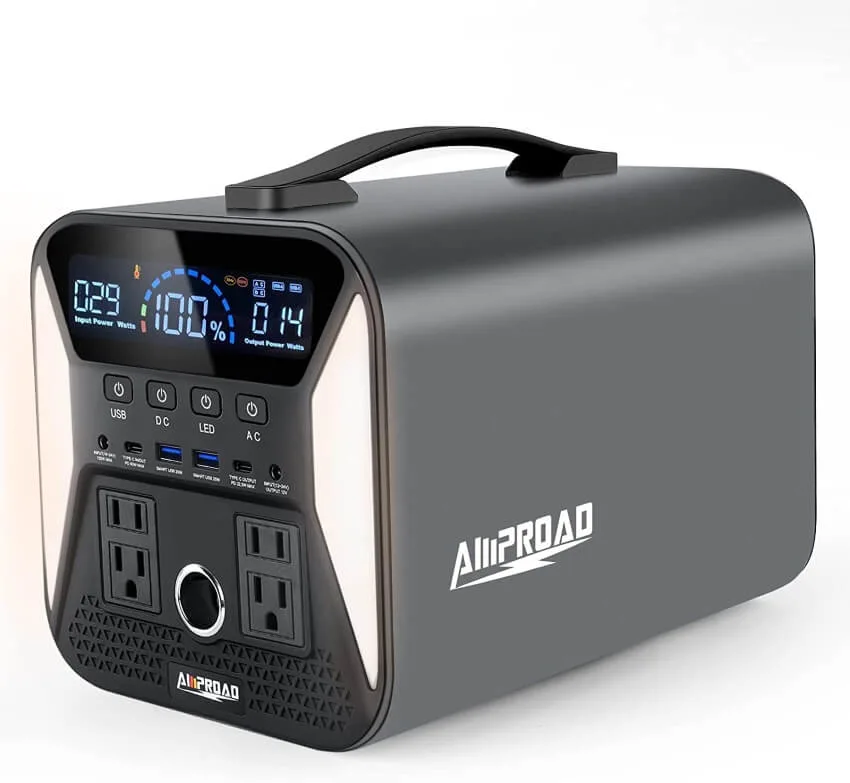 Though solar-powered generators are always quieter than gas options, they still typically have fans inside to keep them cool. The fans can be disruptive for some who rely on their generators to power devices like CPAP machines while they sleep. The AMPROAD Epic 1000 eliminates that problem by nixing the fan and using a heat-dissipating aluminum body instead.
With a 1000Wh capacity and 1000w input, the Epic 1000 can handle most appliance needs. You'll be able to plug in a mini-fridge, coffee maker, or chest freezer easily. This generator also includes an LED flashlight built-in; it's ideal for emergencies.
That said, if you're looking to power any sort of off-grid living, this generator might not be enough. You'll probably want more watt-hours, closer to 1500 or even 2000.
Pros
silent running ideal for powering nighttime devices
LED flashlight built-in
Affordable
Cons
Good for emergencies, but not enough for off-grid living
See Related: Best Solar Chargers for Laptops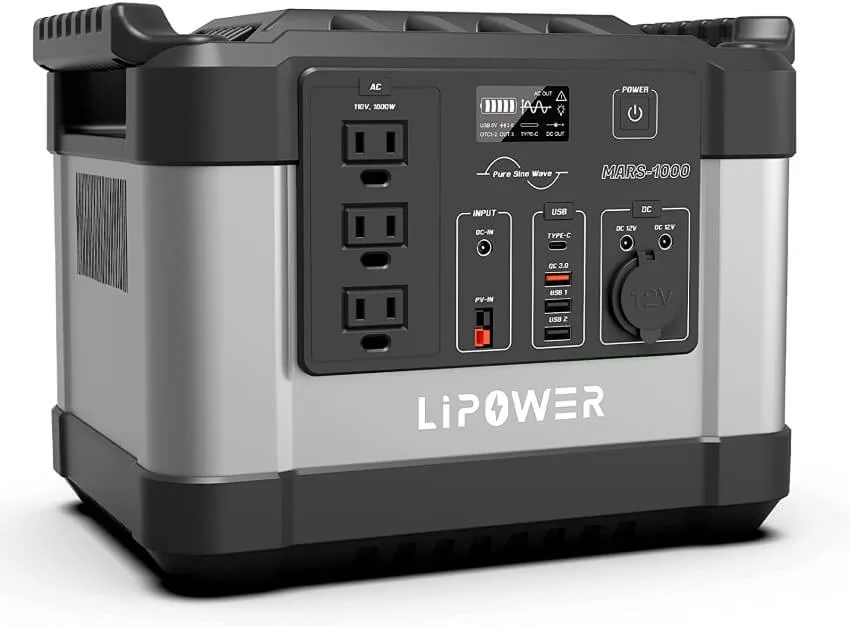 Most generators with over 1000 watt-hours cost quite a bit. The LIPOWER power station is the exception. With a massive 1100 watt-hours for well below the cost of comparable models, this is the best solar-powered generator for the price.
This generator offers 1000w output as well, so you can power most appliances, including mini-fridges, microwaves, and iPads. There are ten output ports, including several A.C. outlets and USB ports.
This generator also allows for flow-through charging, so you can use the battery as its charges, which can be incredibly convenient.
Of course, 1100 watt-hours may not be enough to power many appliances at once, and the LIPOWER doesn't conveniently connect to additional battery sources.
Pros
Allows flow-through charging
Lightweight (26.5 lbs.)
Cons
Smaller capacity than other models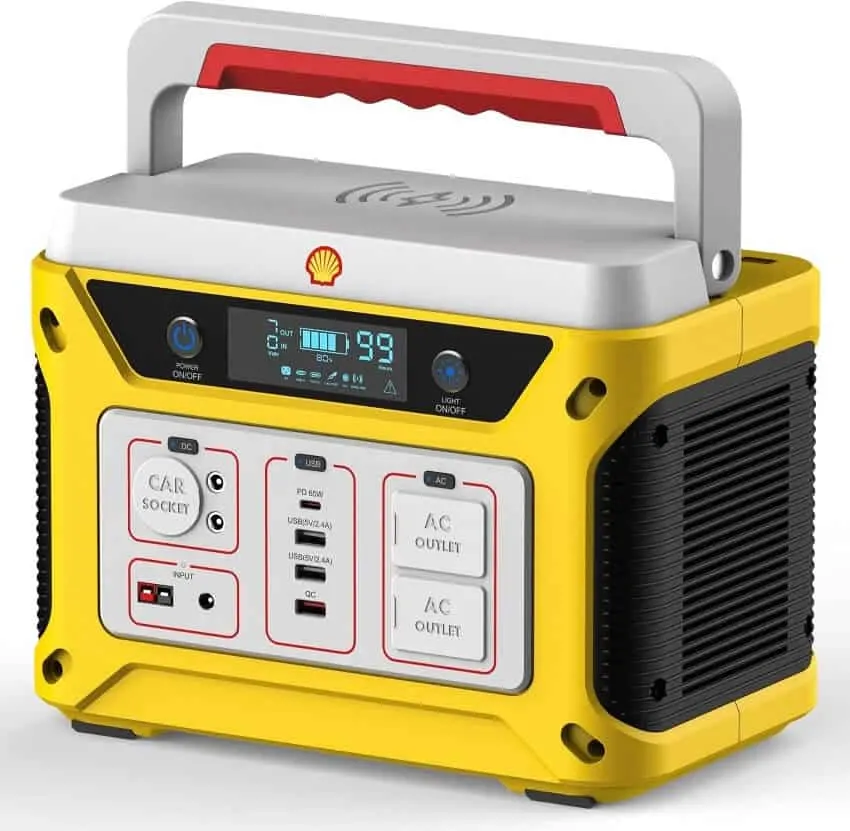 If you want a generator that's portable but also good for home use, the Shell Power Station is a good choice. This generator won't power much at once with only 583Wh. However, it is very compact, lightweight, and will work in emergencies.
It can handle a T.V., mobile phone, or CPAP machine for at least a night. And it allows for flow-through charging. However, the maximum output is only 742w, so you won't be able to power larger appliances.
The Shell power station is an incredibly affordable machine, and it will work well if you're solely worried about occasional emergencies.
Pros
Very lightweight and small (13.2 lbs and 12×9 inches)
Flow-through charging
Comes with waterproof bag
Cons
Limited capacity
Limited output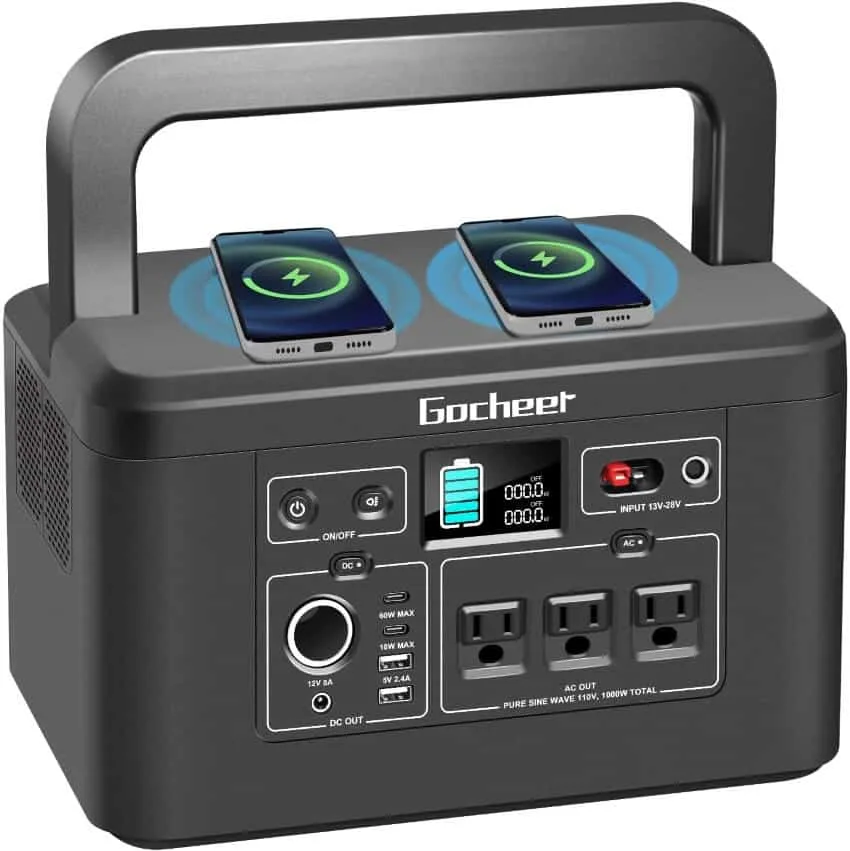 With 962Wh and a 1000w maximum output, the GoCheer power station is surprisingly powerful. It may not be the best for off-grid living, but this generator should be sufficient in case of a blackout or other emergency.
This generator features four light modes, making it ideal in a power outage. You can use it as a flashlight, a full light, or a nightlight as needed. It also has eleven outputs that you can plug a range of devices directly into.
There's no flow-through charging with the GoCheer, but there are several recharging options. You can use solar power, of course, as well as an outlet, car charger, or second generator.
Pros
Features four light modes
Eleven outputs for range of devices
Decent 962 Wh
Cons
No flow-through charging
Not enough capacity for off-grid living
What are Solar-Powered Generators?
Solar-powered generators are devices that collect power through solar panels and then store it in a battery for later use. Some solar-powered generators, or portable power stations, as they're sometimes called, come with solar panels included.
But, many solely consist of the battery portion, which you can attach to solar panels of your choice. You can get a quote for rooftop solar from contractors in minutes with EnergySage.
When to Use a Solar-Powered Generator
Solar power generators can range in size, but most are on the smaller end. That's because they're meant to be portable. You can use them for your home when there's a power outage or emergency, often for several days at a time. They also work well in R.V.s, on boats, and when camping.
You can also use them for off-grid living. In that case, you'll want one with a high capacity. Ideally, you'll be able to connect multiple batteries to increase the capacity further.
Otherwise, you'll probably have to lower your electricity demands significantly. Of course, using one for off-grid living also works best when you live someplace sunny, where recharging is easy.
See Related: Best Solar Driveway Lights
How Portable Power Generators Work
Understanding how solar power generators work will help you determine what type you need for your home. In general, solar power generators connect to integrated or separate solar power, which collects energy in the form of direct current (D.C.) electricity. A charge controller within the generator regulates the electricity coming from the solar panels so the battery can store it.
When you're ready to use the stored electricity, an inverter within the generator changes the electricity from D.C. to A.C., or alternating current, which most appliances use. That way, you can power your devices — everything from televisions and cell phones to your refrigerator.
How to Pick Solar-Powered Generators for Your Home
Once you decide on a solar-powered generator for your home, it's important to pick the right one. Here's how:
Determining Power Needs
Start by determining how much power you'll need for your home. You can do this by making a list of the appliances and devices you'll want to use for off-grid living or during a power outage.
Most people include things like their refrigerator, T.V., computer, and a few lights. You'll probably also want the ability to charge your phone and possibly bigger appliances, like your A/C or water heater.
From there, you can use an electricity usage monitor on any appliance that runs on 120 volts. This will include things like your television and refrigerator.
The usage monitor will give you exact data on how many kilowatt-hours the device uses over time, and they're fairly inexpensive. You can typically purchase one at a hardware store for under $50.
For larger appliances, like your water heater or A.C., or for general estimations of energy use without purchasing a monitor, you can use an energy calculator. The numbers you find with the calculator won't be as exact, but it will give you a good idea of your power needs all the same.
Picking Battery Capacity
Once you know your power needs, you can choose a solar power generator with the right battery capacity. When choosing battery capacity, it's crucial to understand watts and watt-hours.
All of the appliances you listed as necessary will have a wattage rating, and, you'll notice, the energy calculator gives you a measurement in watts.
Watt-hours (Wh) is the amount of energy the generator can store. So, a 1000 Wh generator can supply 1000w of power continuously for one hour.
Or, it could deliver 100w for ten hours, or 10w for 100 hours, etc.
Ideally, you'll purchase a generator with enough watt-hours to power your list of devices for several hours– at least through the night, if it's going to be useful during an emergency.
When thinking about this, you'll want to aim high. Estimate your capacity needs to be about 20% higher than what you calculate to be safe.
However, know that as battery capacity increases, so does price, and large solar power generators can be a major investment. So, you may want to pare back your power needs if possible.
Efficiency
You'll want to look for solar power generators that run efficiently. An MPPT charge controller is the best bet for that. MPPT, or maximum power point tracking, means that the charge controller looks at the amount of power your solar panels are outputting at any given time. Then it determines the most efficient power output given your battery's voltage and matches the two.
In other words, with an MPPT charge controller, you won't lose as much wattage between the panels and your batteries as you otherwise would. And this results in more efficient charging.
Outlets
Some generators include USB ports or direct A.C. outlets so you can plug devices directly into them. Others include wireless charging pads. That can be exceptionally convenient, but you'll have to decide if it's necessary for home use.
Size
Many solar power generators boast their lightweight and small dimensions. You might want a lightweight option if you plan to use it for camping or on a boat, as well as when you're at home. And, you might want something small if space is an issue like it might be in a smaller house or R.V.
See Related: Best Eco-Friendly Bathroom Products
Frequently Asked Questions (FAQ)
Buying a solar-powered generator comes with questions. Let's see if we can answer a few of them.
Are solar-powered generators worth it?
Yes, solar-powered generators are typically worth the investment. Unlike gas generators, they have no running expenses. You won't have to purchase fuel or keep up with maintenance. And, with lithium batteries, they're very long-lasting.
That makes them great to have on hand for emergencies. They can also be fantastic for off-grid living, camping, and boating.
How long do solar-powered generators last?
Solar-powered generator lifespans can vary from hundreds to thousands of charging cycles depending on the battery type and discharge rate. Lithium-ion batteries typically have a long lifespan, but it will depend on how you use the battery.
Each time you charge and discharge the battery, the life span shortens a bit.
So, if you're using your battery daily, it will probably only last a few years.
Alternatively, if you're only using your battery for emergencies, it could easily last a decade or more.
Can solar-powered generators power an entire house?
Yes, a solar-powered generator can power an entire house if you purchase one with a large enough capacity and keep your electricity needs down.
Of course, this will also depend on where your house is. In less-than-sunny climates, solar power might not be a viable option.
Related Resources