Are microwaves bad for the environment? No! But you need to consider energy-efficient options to preserve energy consumption as well as save money on your home energy costs.
Let's see the best eco-friendly microwaves to buy, how eco-friendly microwaves work, and the benefits of eco-friendly microwaves!
TL;DR
After all, everyone is going to have different preferences for types of eco-friendly microwaves. By weighing the pros and cons of using eco-friendly microwaves, individuals can decide which option is best for them.
Best Energy-Efficient, Eco-Friendly Microwaves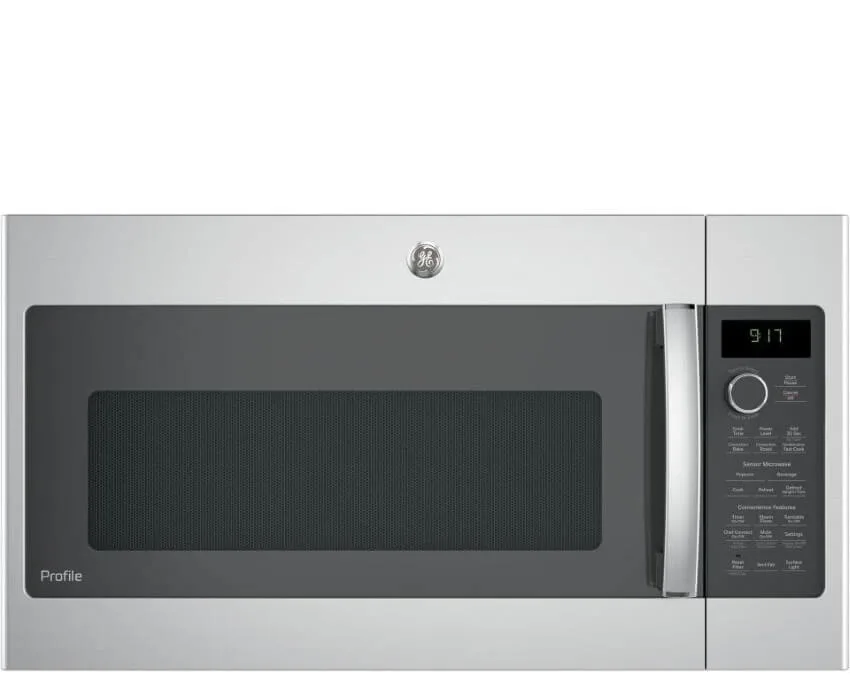 If you need a do-it-all sustainable microwave that can fit in a small space, this is the best option for you.
Using only 1000 energy watts and cooking with 950 power watts, we love how this environmentally friendly microwave is great for eco-conscious cookers who still want to have stainless steel and stylish option for their kitchen.
Pros:
10 Power Levels
LED cooking light
Easy clean-up material
Cons:
Lower power wattage than other options
User Reviews:
This microwave ranges between $600 and $670 depending on the website you choose, the stainless steel color finish, and the delivery location. GE Appliance users rated this oven a 4.2 out of 5 stars in 2,274 global ratings.
Users loved how this over-the-range microwave oven fits the modern decor in the kitchen, contains quick-cooking capabilities, offers convenient possibilities, and provides quick baking options.
See Related: Best Solar Powered Generator to Use for Home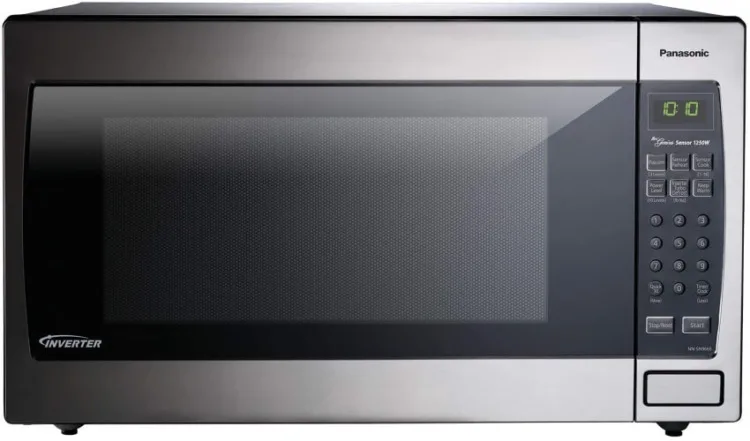 This inexpensive microwave has high user reviews on every retail website, costing between $285 and $305 and earning a whopping 4.8 out of 5 stars on Amazon and Walmart! With a cooking energy use of 900 watts and power of 1250 watts, this large microwave is a great option for those who have no qualms about interior space.
Featuring 2.2 cubic feet of cooking space, you can put anything in here to heat up, whether it be a Sunday roast dinner, frozen meal, or popcorn.
With features like a turbo defrost, 'keep warm', and 14 preset menus, you can always ensure that your food comes out fresh and hot.
Even if you forget that you left something in the microwave, the 'keep warm' feature helps you prepare dinner and keep it hot before your guests arrive. We've done this before — and the kee' warm feature is a real lifesaver!
There are a few stand-out features of this microwave that set it apart from other options.
The Panasonic microwave contains a Genius Sensor, helping minimize the guesswork and any wasted energy that is not necessary to cook or defrost your food. Measuring the steam output, power, and cooking time, can prevent overheating food and wasting power.
Pros:
Child-safe door for added safety
Genius Sensor
Cons:
The child-safe door makes it harder to open
User Reviews:
Amazon users gave this microwave oven a 4.5 out of 5 stars in 5,889 reviews, showing how this is one of the top competitors on the market. Users loved how this microwave contained 1250 watts of power, displayed real power percentages, easy-to-push buttons, easy-to-open doors, and ample interior space.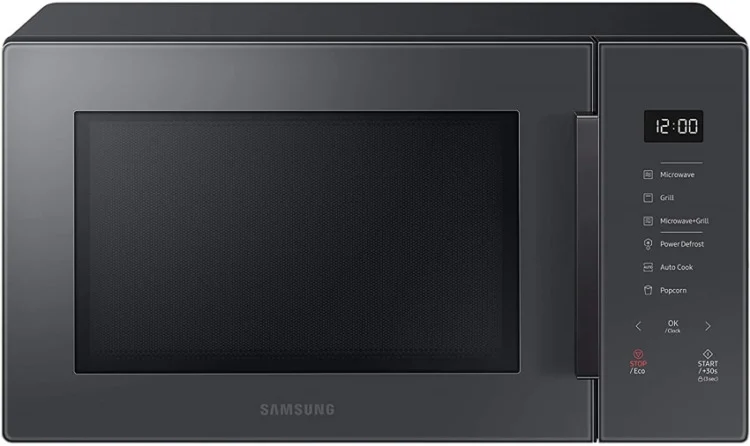 This small microwave is an inexpensive alternative to larger and more spacious options.
For those who live in a small studio, single room, or apartment with minimal space, this charcoal grilling microwave is a tiny, but effective, microwave for cooking all of your favorite foods.
Featuring just 1600 watts of energy use and 1000 watts of cooking power, this charcoal grilling microwave can get your food crispy in no time. Don't you love crispy chicken tenders?
Pros:
Charcoal grilling feature
Cons:
Might be too small for families
User Reviews:
Featuring an LED display, energy-saving mode, and a minimalist interface, this microwave is a smart option for those who want to conserve energy when their appliances are not in use.
Amazon users gave this product a 4.4 out of 5 stars in 177 ratings, with Amazon ranking this as one of Amazon's choices in the 'Seed-Cooking Microwave Ovens' category.
Users loved how this microwave was sheer to see the food and easy to clean. However, the downsides of this microwave are the lack of safety and the low ease of use compared to other choices.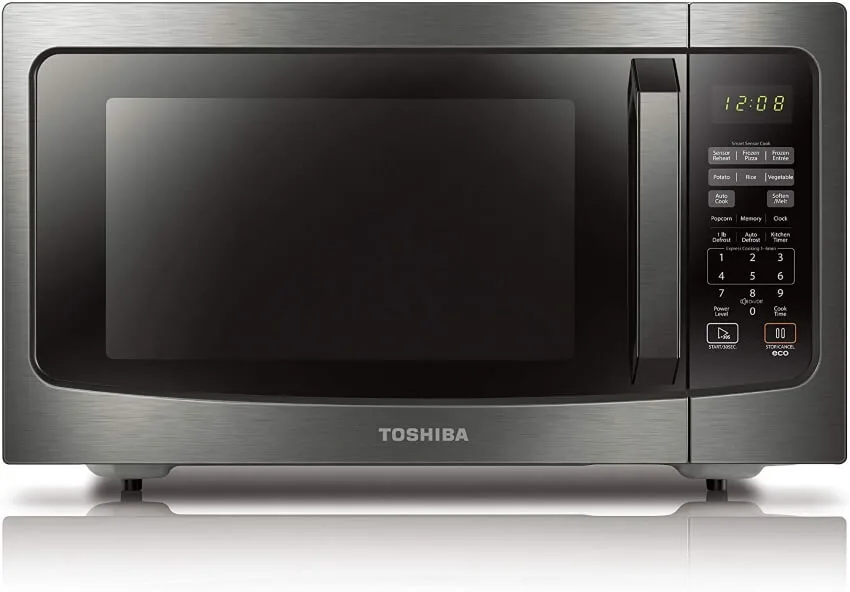 Who wants to spend a fortune on a microwave? Not us! Although you will be using this handy appliance most days of the week, you still don't want to spend a fortune on this countertop appliance.
Fortunately, Toshiba has you covered — the Toshiba countertop microwave oven is just $236 on Amazon, making it ideal for those who need an appliance for their first apartment.
This countertop microwave oven features 1000 watts of cooking power and only uses 1400 energy watts to heat up your favorite foods.
This stylish stainless steel microwave is versatile, easy to clean, and saves energy when not in use. We love an eco-friendly microwave that helps us with minimum-wage salaries to make our dinner in no time flat.
Pros:
14 auto menus
'Hold' function to keep your food warm
Easy to clean
Cons:
User Reviews:
Amazon users rated this product very highly, giving the Toshiba countertop microwave oven a 4.3 out of 5 stars in 4,299 global ratings.
Amazon made this one of Amazon's Choice picks for Countertop microwave due to the 21 preset recipe options, 1000 watts of power, and 13.6" turntable diameter.
Users stated they loved the easy to clean features, the combination of microwave and convection oven, and the ability to use in small spaces. The only downside of this microwave is the longer cooking time.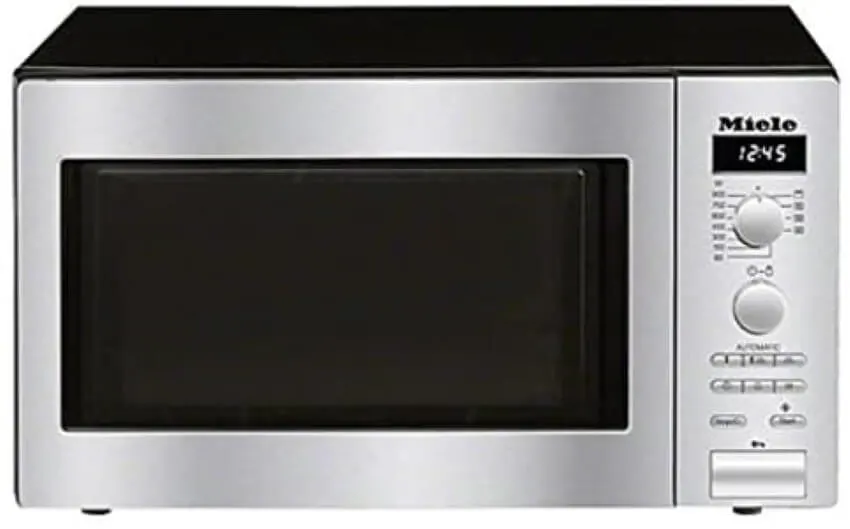 Miele is a sustainable company that has been passionate about green endeavors since its inception in 1899. The company focuses on carbon neutrality, power-saving appliances, and sustainability, ensuring its products align with its values and ethics.
They ensure that their manufacturing emissions are as low as possible and their products are not harmful to the environment.
Miele produces various microwaves that are great for eco-conscious individuals who want to get a great deal on this handy kitchen appliance.
Their freestanding microwave costs approximately $650 and comes with automatic programs, ensuring there is no wasted energy in the heating or defrosting of your food.
The Miele 24 chef series stainless steel built-in microwave is a good option for chefs who want a microwave with one automatic program, electronic dial controls, a child safety lock, and 900 watts of cooking power!
Pros:
Child safety lock
Electronic dial controls
Cons:
User Reviews
See Related: Are Double Ovens More Energy Efficient?
#6 Best Integrated Microwave with a 2-year Warranty: AEG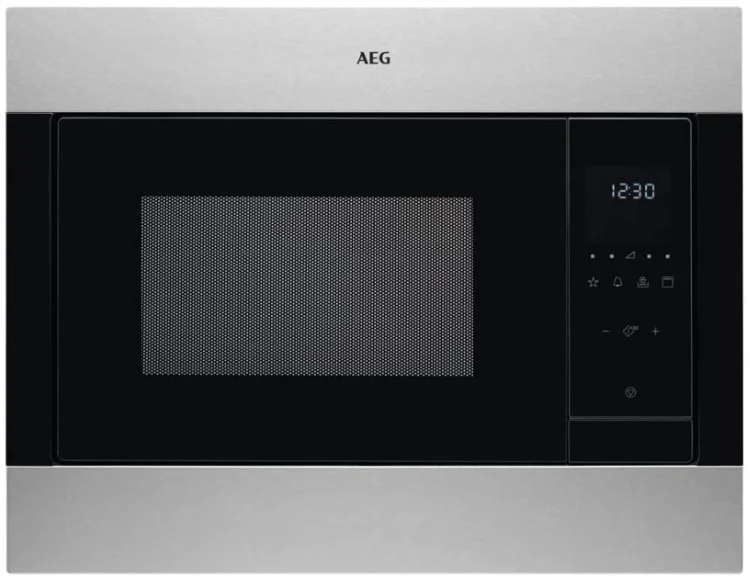 AEG is a company part of the Electrolux group that focuses on reducing carbon emissions in its operations.
Since their sustainability report in 2005, they have been stirring to neutralize their carbon emission and reduce any waste in their operations.
By prioritizing product efficiency, reducing the use of harmful materials, and eliminating the use of fluorocarbons, AEG has been producing microwaves with alternative refrigerants to produce high-quality and sustainable products.
Although tier microwaves are at the high-end of the price spectrum when compared to other choices, the initiatives set forth by this company to focus on carbon neutrality are respectful and ethical.
Their microwaves range from approximately $500 to $1,200, and all contain an automatic defrost option, 2-year warranty, and reimbursed recycling costs of the packaging of your microwave.
Pros:
2-year warranty
Reduced carbon emissions
Cons:
The high-end microwave is very expensive
User Reviews:
The AEG Built-in microwave is a 900-watt option that is a stainless steel combination microwave that earned a 4 out of 5 stars with Amazon reviews.
Users stated they liked the minimalist fins, four combined cooking possibilities, and affordable price. The only downside of this microwave was the lack of durability.
See Related: Best Bear Sprays: Top Choices for Safety in the Wild
#7 Best Freestanding Budget Microwave: Beko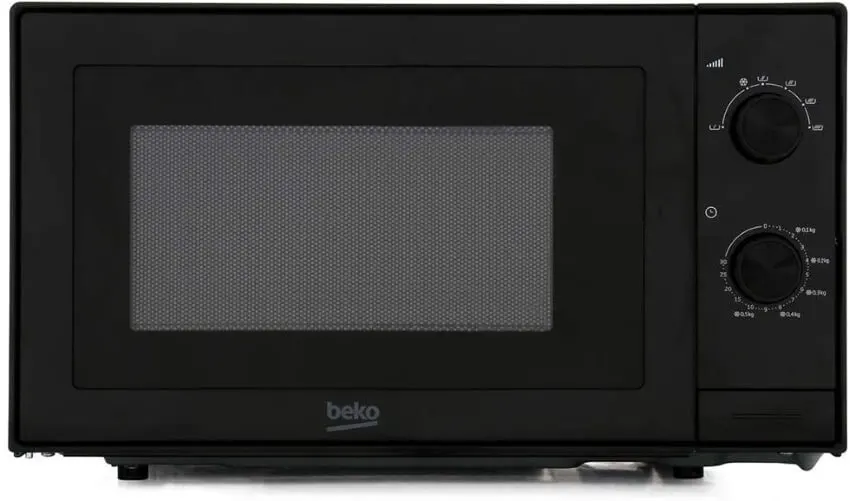 If you have never heard of Beko, you are missing out! Beko is part of Arcelik, a business corporation that focuses on environmentally friendly and reachable sustainable goals.
Arcelik aims to reduce energy consumption by nearly 50% with their products, reduce recycling waste by nearly 100% in global operations, and reduce plastic content in their products by 40% in 2030.
Beko has the same initiatives as its parent company, offering both freestanding and built-in microwaves with a 2-year warranty, environmentally friendly materials, and power-saving measures.
The microwave range from just $80 for a 700W compact microwave to approximately $350 for a more expensive microwave.
Pros:
Reduced energy consumption
Environmentally friendly materials
Cons:
User reviews:
User reviews on PC Richard ranked the Beko 30" freestanding gas range oven a 4.1 out of 18 stars, stating they loved the smart features, settings and controls, and the style.
The freestanding Beko microwave oven earned a 4 out of 5 stars on Amazon.
See Related: Is Aluminum Foil Recyclable?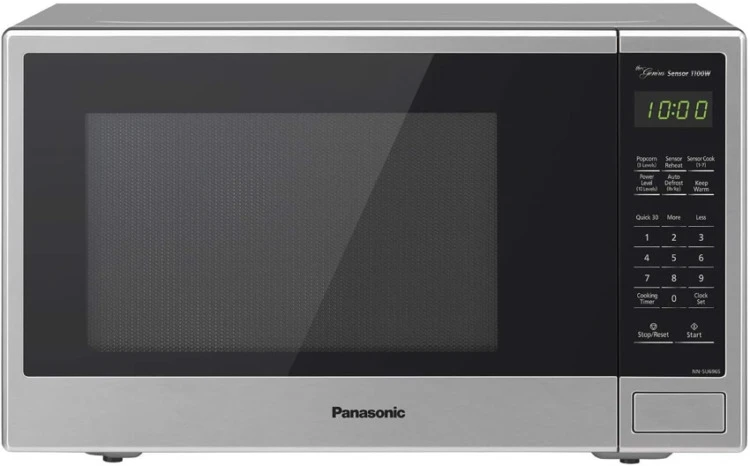 New families and kids are great — but making food can sometimes turn into an all-day affair. Fortunately, not with this high-powered microwave!
This stainless steel microwave contains 1100 watts of power and 1.3 cubic feet of space — plenty for families and couples who use their microwave on a daily basis!
With a 12.4" diameter turntable, +30 second cook time button, 'keep warm' feature, child door lock, and seven auto-cook settings, this microwave can do it all.
Since the Panasonic model is big for families but takes up less counter space than other bulkier options, this microwave is sleek, stylish, and perfect for smaller kitchens. Just because it is smaller, it doesn't mean it is less powerful.
This Panasonic option is reliable, safe, trustworthy, and powerful for cooking any type of food.
Pros:
'Keep warm' feature
Child lock
Cons:
Might be too big for small spaces
User Reviews:
Users on Amazon rated this microwave oven very highly, giving this product a 4.4 out of 5 stars in 2,435 ratings. This microwave is Amazon's Choice in Countertop microwaves because of its minimum countertop footprint, 7 preset auto cook menu items, and 1100 watts of power.
Users stated they liked that this microwave was easy to clean, contained a low noise level, and was easy to use.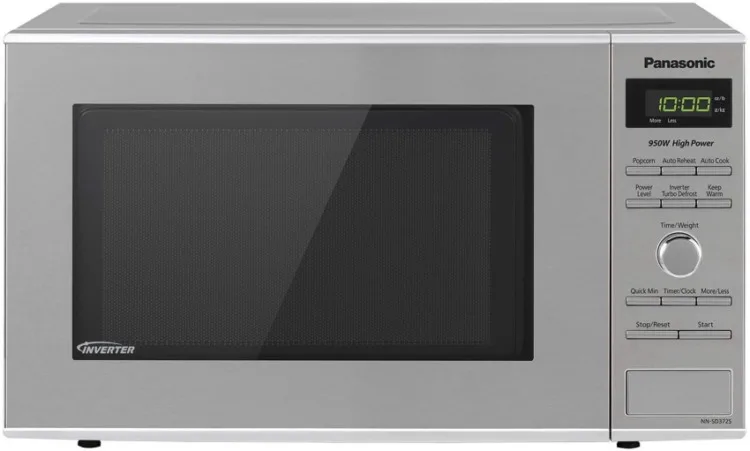 If you live in a dormitory, small studio apartments, a single room in a shared house, or a tiny one-bedroom apartment in New York City, you know just how much space matters.
Everyone has been there — you are making Ramen noodles in your room. But what if you want to switch it up a little bit?
In comes the Panasonic stainless steel microwave, a powerful eco-friendly microwave that is just 0.8-cubic feet! Instead of taking up your entire counter with a 2-foot cubic microwave, this tinier option is perfect for single-person use.
Featuring Genius Sensor and inverter technology, this Panasonic option is a reliable and consistent option that uses quick minute timers, +30 second buttons, safety lock features, and an easy power adjustment to help you cook your food in no time.
If you want a quick frozen meal while you are studying for your upcoming test, this Panasonic microwave will become your best friend.
Pros:
Great for single-person use
Safety lock features
Cons:
Too small for more than one person
User Reviews: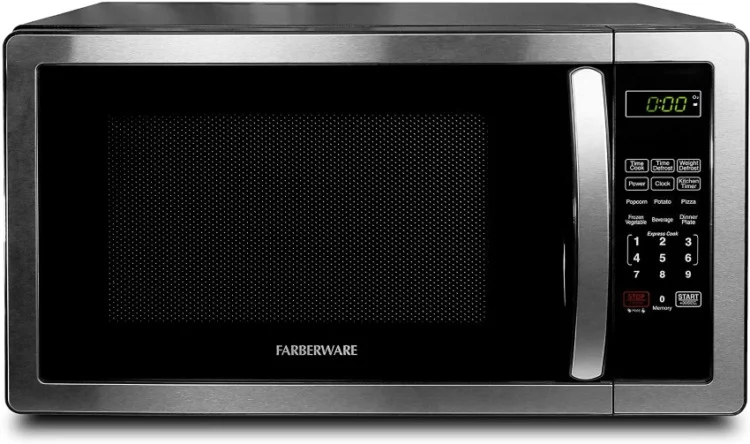 If you don't know how to cook, that shouldn't be a problem. Not everyone knows how to whip up a gourmet meal in their oven or stovetop. Instead, try this program-heavy microwave.
This reliable and performance-oriented microwave is a smart choice for individuals who want to use cooking programs for frozen foods, popcorn, express options, multi-stage cooking, defrosting, and specific foods.
Featuring 1-6 minute express cook buttons, saveable programs, a rotating glass turntable, and a 1-year warranty, this microwave takes up minimal counter space, offers desirable safety features, and contains inverter technology.
Pros:
Inverter technology
Multi-stage cooking options
Cons:
User Reviews: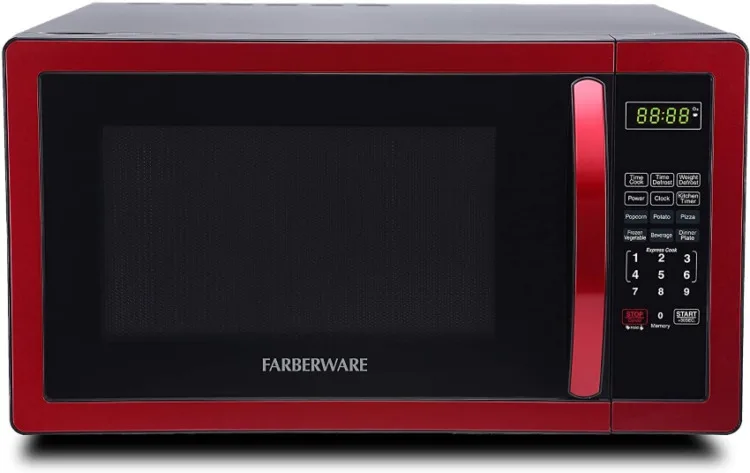 Farberware offers another alternative to the classic microwave, creating an ideal option for those who want to avoid overcooking or undercooking their food when they come home from work.
Featuring excellent user reviews praising its reliability and ease of use, this Smart Sensor technology microwave is good for new chefs who have trouble guessing the cooking time of their food.
This Farberware microwave contains an energy saver mode to help prevent wasted power and reduce energy consumption.
Furthermore, it features ten power control levels, multiple defrost functions, a clear LED display, minimalist buttons, a child safety lock, and a multi-state function to adjust the cooking level while your food is in the microwave to find the precise cooking temperature!
Pros:
Energy saver mode
Clear LED display
Cons:
User Reviews:
See Related: Best Solar Lamp Post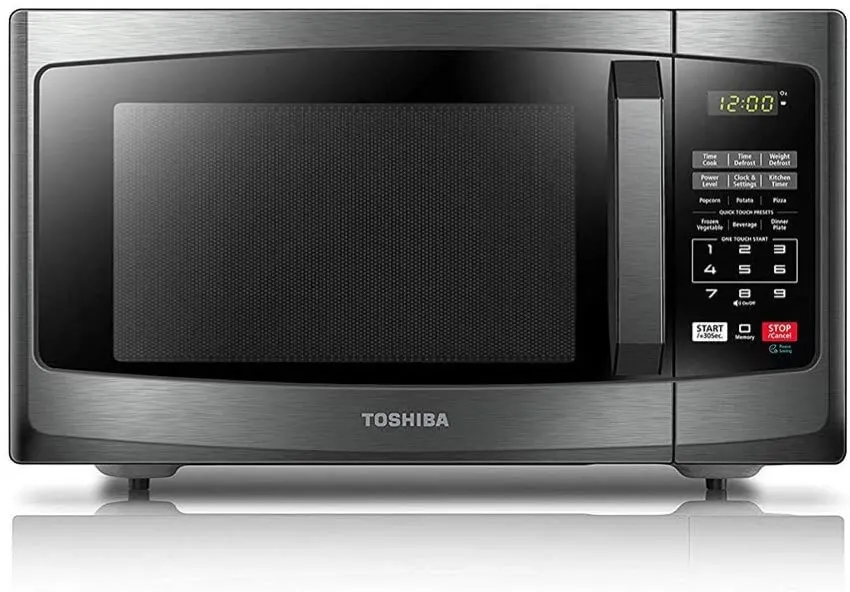 If you have limited space in your kitchen, this tiny 0.9-cubic foot option offers 900 watts of power, style, and sophistication to any cooking space.
It doesn't matter if the rest of your appliance is second-hand or rusted, this Toshiba microwave will add a bit of style to your kitchen area for a low price.
For single people who live in a small room or feature a tiny studio kitchen, this reliable, functional, and reputable microwave is a perfect choice for those who need a microwave that can do the bare minimum.
Even though it doesn't have some of the flashy features of other models or a bigger capacity, this microwave offers everything you need as a single person to cook food, defrost food, and reduce your energy consumption.
Featuring 10 power settings, 6 pre-programmed options, clearly labeled buttons, and muted button sounds, this microwave can be a smart choice for people who have limited space and want to be considerate of their roommates.
Pros:
Reliable for single-person use
Muted buttons
Cons:
Fewer features
Lacks capacity
User Reviews: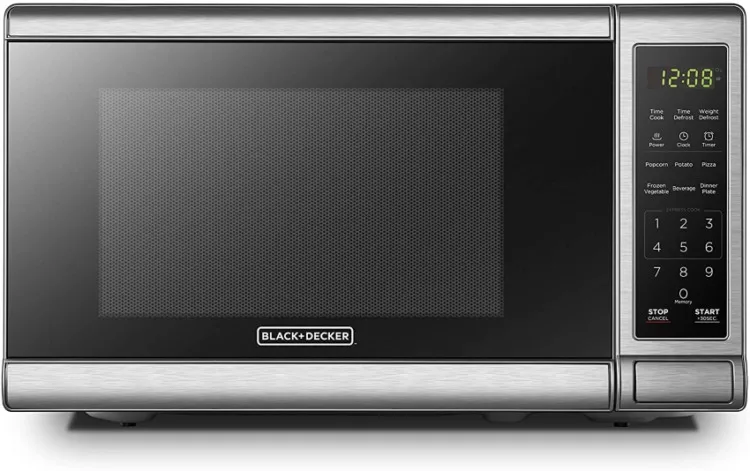 Black + Decker is one of the best companies on the market that offer transparent environmental policy and power-consumption appliances for everyday use.
For those who want an affordable, reputable, high-performing microwave with clear environmentally friendly policies, this Black + Decker digital microwave might be the best option.
Do you share counter space with your seven other roommates? We understand — and that's why we chose this affordable and compact microwave.
Featuring just 0.7-cubic feet of internal cooking space, this single-person microwave can fit perfectly into small cooking spaces, countertops, or bedrooms.
With 700 watts of power, 10 power settings, a 30-second express cooking option, and preset programs, this microwave offers complete functionality at a fraction of the price.
With a push door that makes it easy to open and retrieve your food, you never have to worry about the door getting jammed or pressing a combination of buttons to open the door in a hurry. The interior light makes it easy to view the food to prevent overheating or undercooking your meals.
Pros:
Reliable and affordable
Lightweight for easy transportation
Cons:
Buttons are hard to see in the dark
User reviews:
At just 25 pounds and 10" high, this lightweight and compact microwave are easy to move between various rooms, apartments, and houses when you are relocating later in life.
And don't just trust us — this is the Amazon Choice for compact microwave due to the low price of just $75, the reliability, and the compact size.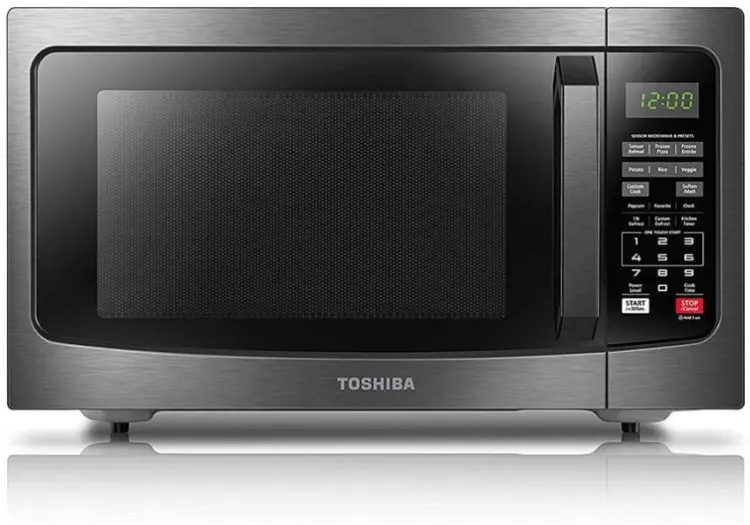 The Toshiba EM131A5C is a microwave that doesn't skimp on anything — looks, features, and function.
Featuring more features than other options, such as a mute option, door handle, and reheating in the press of a button, this microwave costs just $135 from Amazon, making it a budget-friendly and feature-heavy eco-friendly microwave that is affordable.
Pros:
Very affordable
Feature-heavy
Cons:
User reviews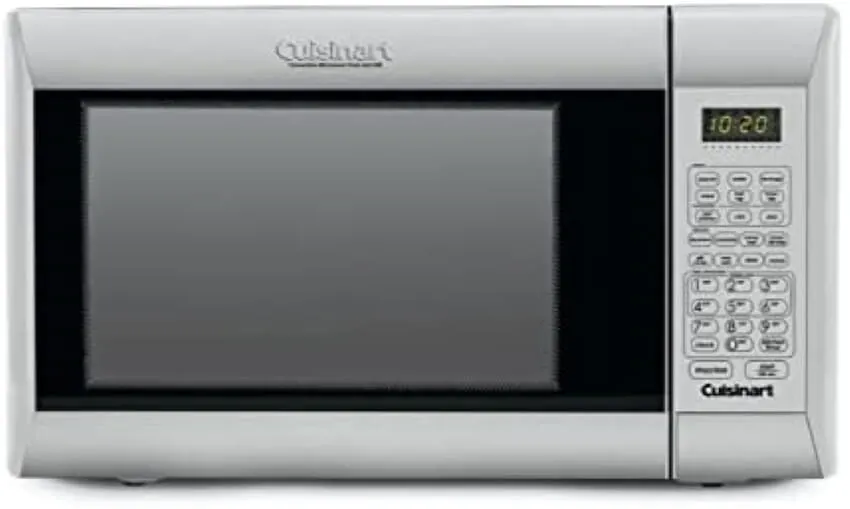 Available on Amazon with Prime delivery, this Cuisinart convection microwave option is one of the best convection microwaves on the market — and it is eco-friendly!
Featuring an automatic menu with a program specifically designed for defrosting, roasting, and making, you never have to worry about how you are going to reheat your chicken or defrost your frozen dinner.
Featuring eight cooking functions, you can choose from one of the versatile options to ensure you cook your dishes to perfection.
Even if you need to reheat some seafood or pop a bag of popcorn, be rest assured, the various cooking functions will help create tasty food in just minutes.
Don't worry about the material of this microwave holding onto smells from previous cooking. Every time you use the microwave, it will smell brand new!
Featuring 1.5-cubic interior feet and 1000 watts of power, this stainless steel microwave does not absorb odors, is BPA-free, and has a reversible grill rack for ample functionality. The only downside to this microwave is the tinted windows that make it hard to see the yummy food that is coming your way.
Pros:
Cons:
User Reviews:
Users give this microwave 4 out of 5 stars in over 2,084 global rankings. Previous customers love how it is very versatile, can fit into a small space, and the numerous programs. The only downside of this microwave is the shorter lifespan and the louder button sounds.
See Related: Is Parchment Paper Compostable?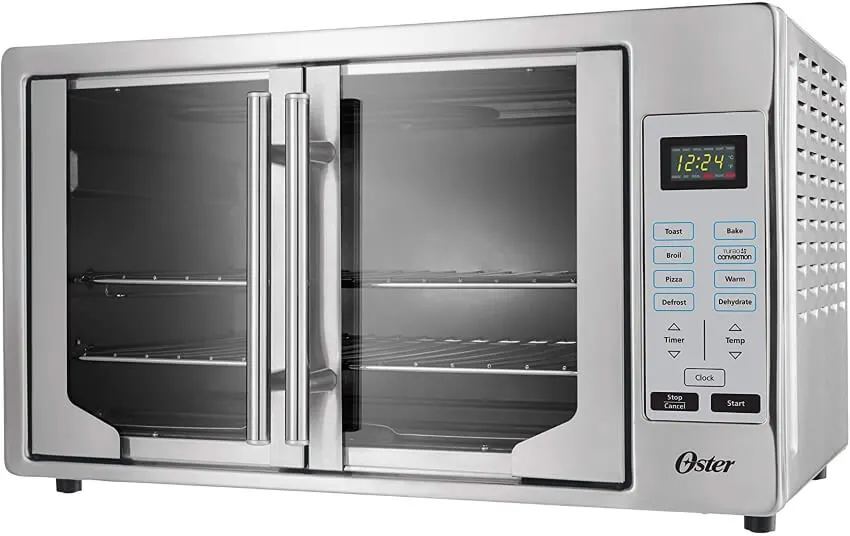 Featuring double doors, turbo convection baking programs, and digital controls, you can ensure that the microwave detects and cooks your food to perfection every single time.
Since you don't have to rely on your previous knowledge of cooking food and guesswork, your food will always come out cooked, crispy, and ready to eat. After all, aren't you tired of soggy chicken tenders?
Featuring two tracks with plenty of space and flexibility to cook dishes in your preferred style, you can cook minute meals or longer dinner creations at a temperature of 150 degrees Fahrenheit.
The best features of this microwave are the visible glass doors, auto shut-off feature, and easy-to-clean material.
Pros:
Two tracks for cooking food
Visible glass doors
Cons:
Short power cord
Longer cooking time
User Reviews:
Previous customers have rated this toaster oven very highly, giving this appliance a 4.6 out of 5 stars with 4,694 global ratings.
Users state they love the stylish design, accurate preheat temperature, and spacious interior. The only downsides of this oven are the hairline gaps between the doors can lead to loss of heat and increase the cooking time.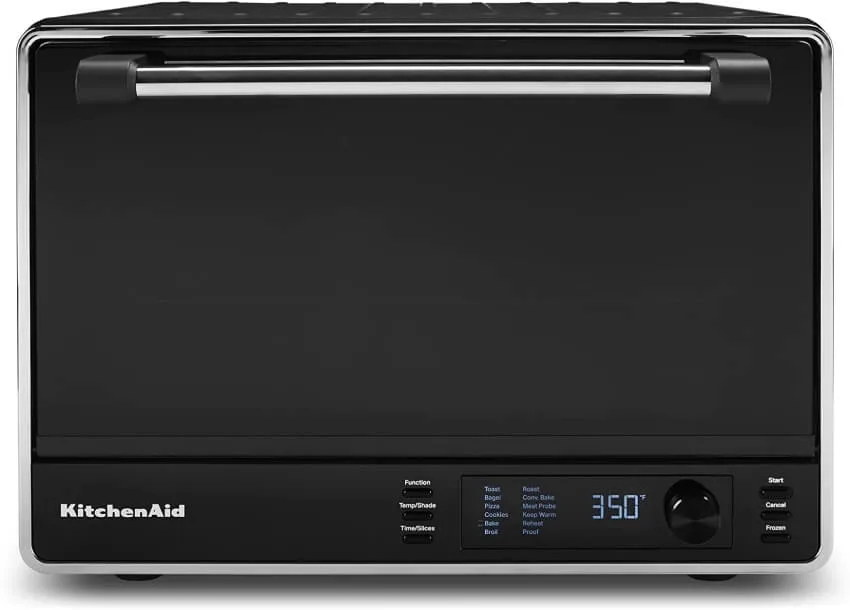 This Kitchen Aid option is the best microwave to ensure even heating throughout the entire dish. No more cold spots as you bite into your lasagna!
You Can rest assured that you are going to get evenly-heated food throughout the entire dish due to the even-heat technology, two-hour automatic shut-off to save power, and constant-on feature.
With the versatility to toast bread, bake pizza, and warm a dish after being cooled, you can use this Kitchen Aid for anything and everything.
Featuring nine programmed functions, a 12-inch broiling rack, a non-stick drip tray, and consistent heat, this Kitchen Aid convection oven can cook any type of food.
Pros:
Nine programmed functions
Broiling rack
Cons:
User Reviews:
Users rated this oven as a 4.4 out of 5 stars with 504 global ratings.
The positive reviews stated that this Kitchen Aid oven can work with various foods, the preheating function is useful, and the oven is easy to clean. The only downsides of this oven from user experience are the short lifespan and the fickleness when it comes to turning on and off.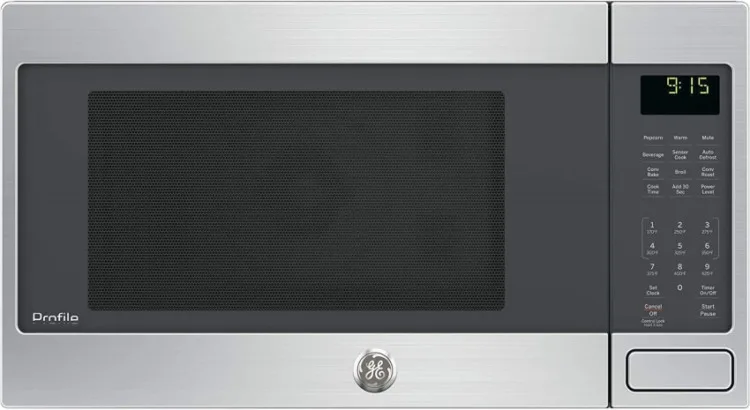 This microwave from GE has a stainless steel exterior that is easy to clean, a sensor cooking function to avoid overcooking foods and auto-cook functions that make it easy to cook your favorite dishes, such as popcorn, roast dinners, and broiled foods.
With ten power levels and 1000 watts of power, you can use this medium-sized convection oven to roast, broil, and bake your dinners! The only downside of this microwave is the noisy operation and the loud buttons — but for the extra broiling feature, we don't mind the little 'beeps' and 'boops'.
Pros:
Easy to clean
Auto-cook function
Cons:
Loud button noise
Broil and convection features are low-powered
User Reviews:
Amazon users gave this convection oven a 4.1 out of 5 stars with 206 global ratings.
The positive reviews of this oven state the appliance is easy to clean and the stainless steel is stylish. The negatives of this microwave oven are that the broil and convection features are underpowered compared to other options.
See Related: Best Eco-Friendly Space Heaters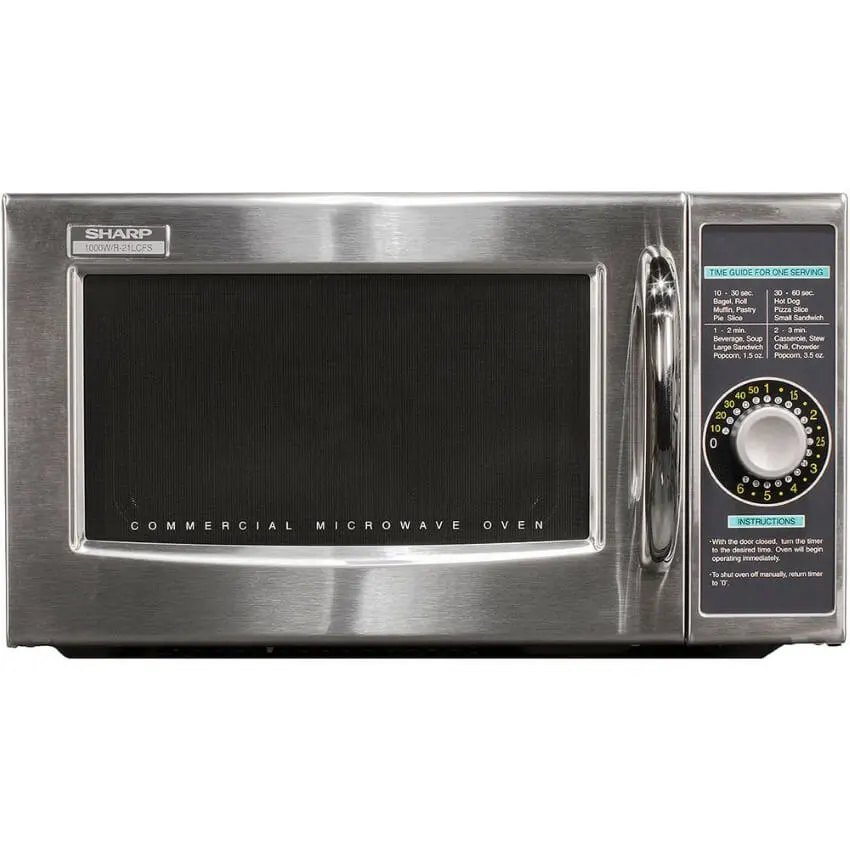 Do you need a mic woe that is going to last multiple years? If so, then look no further! The Sharp microwave oven offers basic features, ten cooking levels, stainless steel material, and an internal capacity of just over 1.5 cubic feet.
Pros:
Stainless steel is stylish
Easy to use
Cons:
Lack of features and cooking options
Low power rating
User Reviews:
Amazon users gave this microwave oven a 4.1 out of 5 stars with 117 global ratings. Users loved how the noise level was very low, the microwave was easy to use, and it was a great value for the money.
The only downsides of this oven were the potential to stop working after minimal use and a low power rating.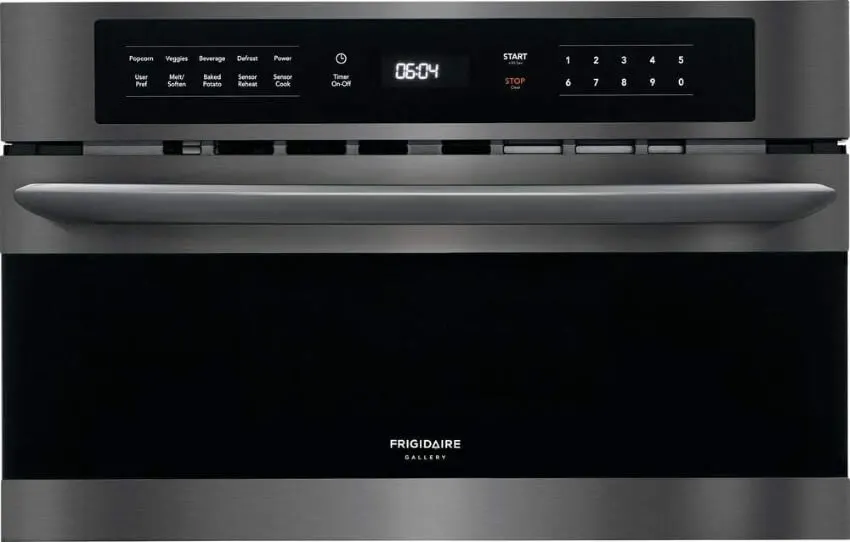 The Frigidaire Microwave oven is a combination wall oven that is made of stainless steel and contains over 2 cubic feet of microwaving capacity!
With a pre-heat option, kitchen timer, keep-warm function, broiling up to 550 degrees, and self-clean option, this microwave is a quiet, spacious, and smudge-proof appliance that is suitable for those who enjoy cooking big dishes for their big family!
Pros:
Smudge-proof material
Self-clean option
Cons:
Bulky design is too big for small rooms and kitchens
User Reviews:
Amazon users gave this oven and microwave combination a favorable 4.3 out of 5 stars in 140 global ratings. Users loved how the installation was very easy, the style is top-notch, and the microwave oven combination is a good value for the money.
The only negative experience with this microwave wall oven was the low oven capacity.
#21 Best Microwave for 3-in-1 Functionality: Galanz Microwave Oven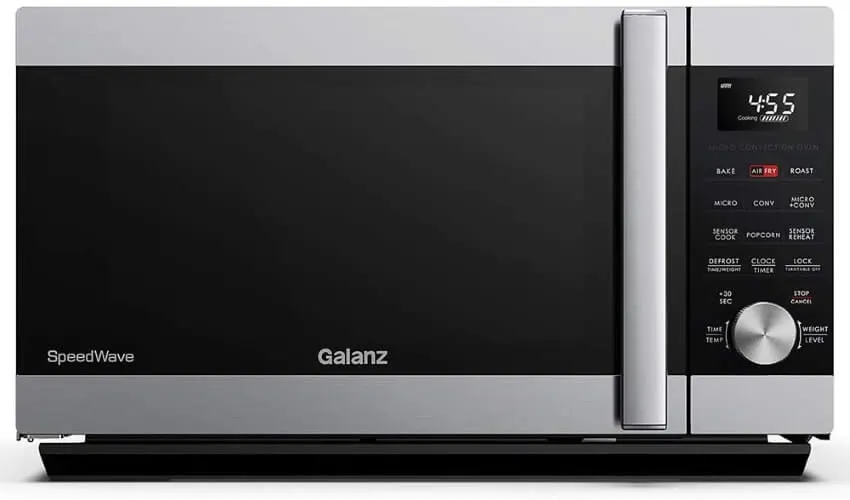 Do you need a do-it-all appliance that can cook anything you need, defrost meals, and air fry meals? If so, this is the best choice for you!
The Galanz Microwave Oven is a 1000-watt power option that has fast cooking speeds, versatility to cook various foods, and an air fryer option to get perfectly crispy foods without needing to use fats and oils!
If you are looking to eat healthy while still eating your favorite fried foods, this Galanz Microwave oven can do just that.
Do you love french fries but don't love the trans fats associated with this unhealthy food?
The Galanz microwave option can provide you with your favorite comfort food without the guilt. The best features of this microwave are the fast cooking speed, evenly-heated foods, no undercooking, and stops cooking when the food is ready–saving energy and cutting power consumption!
Pros:
Cons:
User Reviews: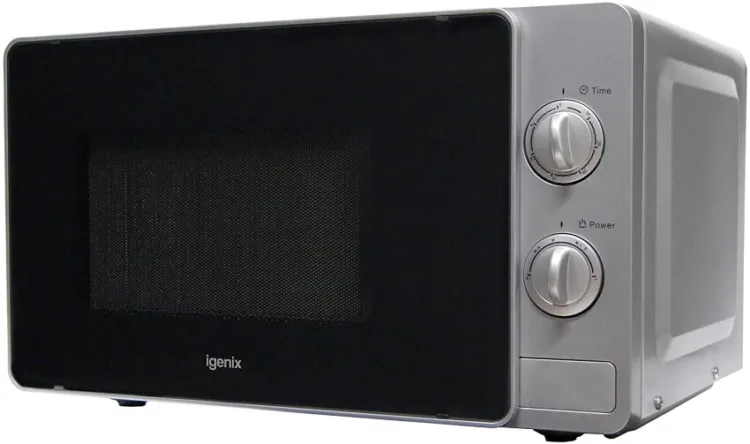 This simple and easy-to-use microwave is a great option for those who want a minimalist interface and a low price!
With just two knobs to help you select the cooking time and temperature and an easy-open door button, this Igenix microwave has scored highly on other review sites, earning an 87 out of 100.
Not to mention, this microwave can fit in perfectly with almost any style. Whether you have a modern kitchen, crowded dorm room, or country kitchen, this microwave will work perfectly with your decor.
Pros:
800 power wattage
20-liter capacity
Cons:
Unclear instructions for defrosting and special features
User Reviews: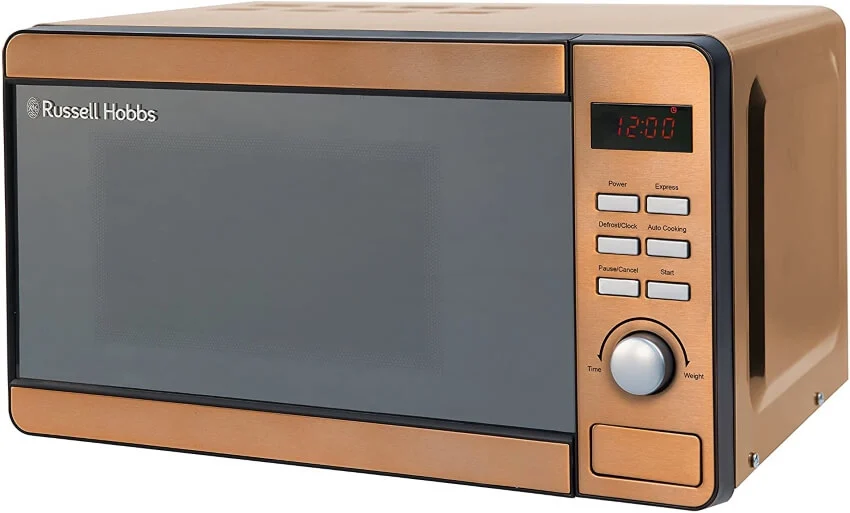 The Russell Hobbs microwave is a retro-inspired microwave that comes in various eclectic colors, not just your boring black or white.
With a rust-type color, six buttons, one knob, and one push button, this compact and intuitive microwave is an eye-catching model that will work well in almost any type of kitchen. Featuring a 17-liter capacity and 8 auto cook programs, this microwave is a stylish, do-it-all option.
For those who enjoy using a microwave for their daily cooking, this microwave can use the auto cook programs and 3 defrost programs to avoid overcooking or undercooking.
Pros:
Very stylish
8 auto-cook programs
Cons:
Beeps at the end of every cycle
User Reviews:
Related Resources