Urban greenhouses are helpful farming and gardening equipment that have nurtured city folk into becoming urban farmers of sorts. They allow people to grow a relatively high volume of plants in small areas, such as balconies, decks, and rooftops.
Due to the effectiveness of urban greenhouses, it's pretty safe to say that their future looks bright. We may continue to see more of them pop up in cities.
So, we'll go over what they are, how communities benefit from them, and how you can start your own.
What is an Urban Greenhouse?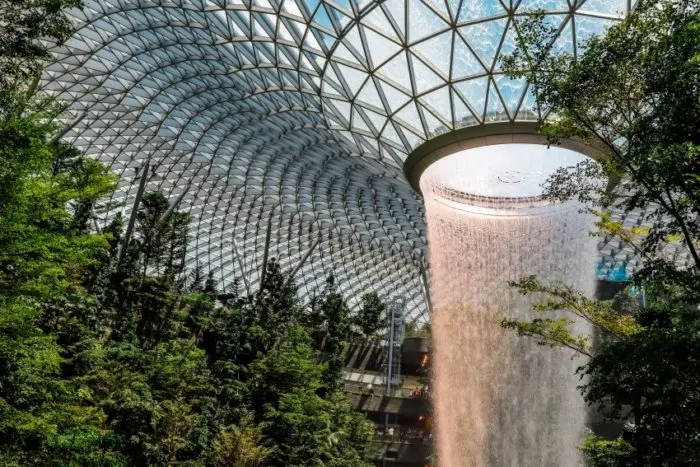 Simply put, an urban greenhouse is a covered, small-scale garden that can fully function in urban settings. You can usually find them on rooftops or balconies, and they can grow nearly anything, from houseplants and flowers to fruits and vegetables.
How Do Urban Greenhouses Work?
Urban greenhouses differ from traditional rural greenhouses because they need to fit in smaller spaces.
While rural greenhouses can take up several acres, urban greenhouses don't share the same luxury of space. So, you have to get a little more creative with configurations to maximize the amount of limited space that you have.
4 Common Types of Urban Greenhouses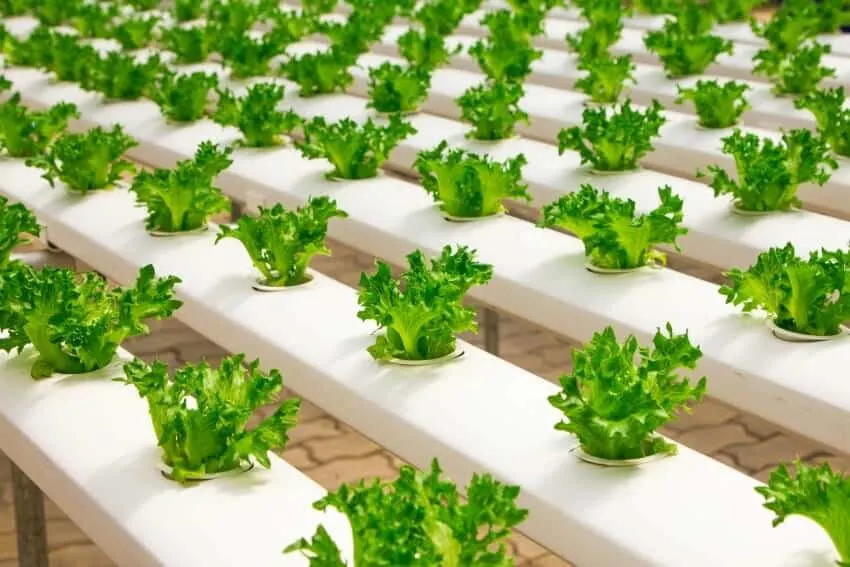 Urban greenhouses defy the traditions of rural farming and use space far more efficiently, and there are several different types.
Common types of urban greenhouses and gardens you can find in cities include the following:
Hydroponic/Vertical Greenhouse
Rooftop Greenhouse
Community Greenhouse
Hydroponic/Vertical Greenhouses
Rather than laying out seedlings side by side in horizontal rows, the most basic vertical gardening system stacks pots of seedlings on top of each other.
As you water the top plants, the water will trickle down until it reaches the plants at the very bottom of the stack. More advanced vertical greenhouses use hydroponic systems to provide optimal nutrient formulas and watering schedules for plants.
They also eliminate the need for conventional soil and can use more sustainable mediums, such as coconut fibers or aged bark. Some vertical greenhouse systems can go as far as eliminating soil altogether.
Aquaponic Greenhouses
Rather than taking up acres of land, suburban and urban dwellers with small backyards can build an urban greenhouse containing an aquaponic system. An aquaponic garden houses a mini-ecosystem of fish and plants and is much more compact and doesn't require any soil.
Plants in an aquaponic system receive their nutrients from fish waste that gets circulated by running water. The water becomes purified by the plants and returns as clean and safe water for fish.
This system is very sustainable and organic because it uses a natural source of nutrients from fish rather than synthetic sources.
Rooftop Greenhouses
Rooftop gardens and greenhouses are becoming more common in cities. They're any sort of garden located on top of buildings. Their purpose can be purely for aesthetics, or they can be functional.
If the space is large enough, rooftop greenhouses can contain vertical farming systems or community gardening plots. There are common misconceptions that rooftop greenhouses ruin the structural integrity of buildings because the roof has to bear more weight.
However, a proper installation will involve building engineers monitoring the weight capacity of the rooftop and adding extra support structures, if necessary.
See Related: Greenhouse Costs Guide: Cost to Build, Own and Operate
Community Greenhouses
This type of greenhouse usually involves having members of the community rent or purchase an area inside it to do their own gardening in a season.
Many community greenhouses and gardens have become neighborhood assets because they've flipped abandoned lots and have become educational and social sites for community members.
See Related: Do Greenhouses Stay Warm During Winter?
5 Reasons Why We Need More Urban Greenhouses
Taking care of urban greenhouses can be a fun hobby. However, they also have the potential to make significant positive impacts on whole communities.
Urban farming has a consistent track record of benefiting cities, which indicates that we'd benefit from seeing more of them.
1. Urban gardening was extremely successful throughout US history.
Urban gardening and greenhouses aren't new or revolutionary concepts. In fact, past US presidents even promoted them during periods of hardship.
World War I ushered in the concept of Victory Gardens, which were vegetable gardens that millions of Americans planted on their property.
During World War II, there were over 20 million Victory Gardens across the US, and these gardens were responsible for about 40% of the nation's produce.
Although Victory Gardens aren't prevalent in the US today, urban greenhouses are still making significant impacts in their communities.
For example, a rooftop hydroponic greenhouse in Brooklyn, New York produces over 100 tons of food per year and provides produce to local grocery stores and restaurants year-round.
2. Vertical Greenhouses May Help Feed the World's Population
Vertical farming in urban greenhouses can help increase food production as the world's population continues to increase. Researchers anticipate the world's population to exceed 9 billion people by 2050 and that every two out of three people will live in an urban environment.
Establishing vertical greenhouses in cities can help bring fresh produce to urban dwellers more efficiently than traditional farming by reducing land space and transportation time.
3. Urban Greenhouses Can Boost Local Economies
Tending urban greenhouses can start as a hobby, but it has the potential to become a successful business. More neighborhood grocers, restaurants, and community members look to shop locally, so urban greenhouses continue to rise in popularity.
Urban gardening can help circulate more money within the community and accumulate more wealth. It also has the potential to increase employment opportunities as small businesses grow.
See Related: How Does Saving Water Help Climate Change?
4. Urban Greenhouses Can Make Significant Impacts on the Environment
Although there needs to be more in-depth research on the specific impact that urban greenhouses have on the environment, there are still many promising signs.
The presence of trees and vegetation is a positive asset to urban communities. They can filter gases and other pollutants to improve air quality.
Parks within cities can help with combating heat island effects. Some research shows that urban parks and areas with a lot of trees can reduce temperatures to 2°F to 9°F below the rest of the city.
Although urban greenhouses alone can't solve environmental issues, they have the potential to play a significant role in improving urban life.
See Related: How to Choose the Right Greenhouse Size
5. Urban Greenhouses Can Help People's Mental Health
Urban greenhouses aren't just good for the environment. They can also have a positive impact on mental health.
Gardening can help reduce symptoms of depression and anxiety. The work of gardening can lead to increased serotonin levels in the brain, which puts people in a better mood.
It can also help reduce loneliness as it connects people to one another with a shared interest.
People can easily join a gardening club or volunteer organization to become a part of something bigger than themselves.
See Related: Are Greenhouses Bad for the Environment?
How To Start an Urban Greenhouse
Urban greenhouses can plant significant benefits into a person's life, and the best part is that they're easy to start. Follow these steps to grow your own urban greenhouse.
Select a Type of Urban Greenhouse
You don't need to be an engineer or know too much about agriculture to start your own greenhouse. There are plenty of DIY urban greenhouses that you can build, or you can purchase pre-made urban greenhouses and quickly assemble them at home.
You also don't have to pay a fortune to get started and can usually find some good urban greenhouse deals online.
Here are some different kinds of urban greenhouses and gardens to spark some inspiration.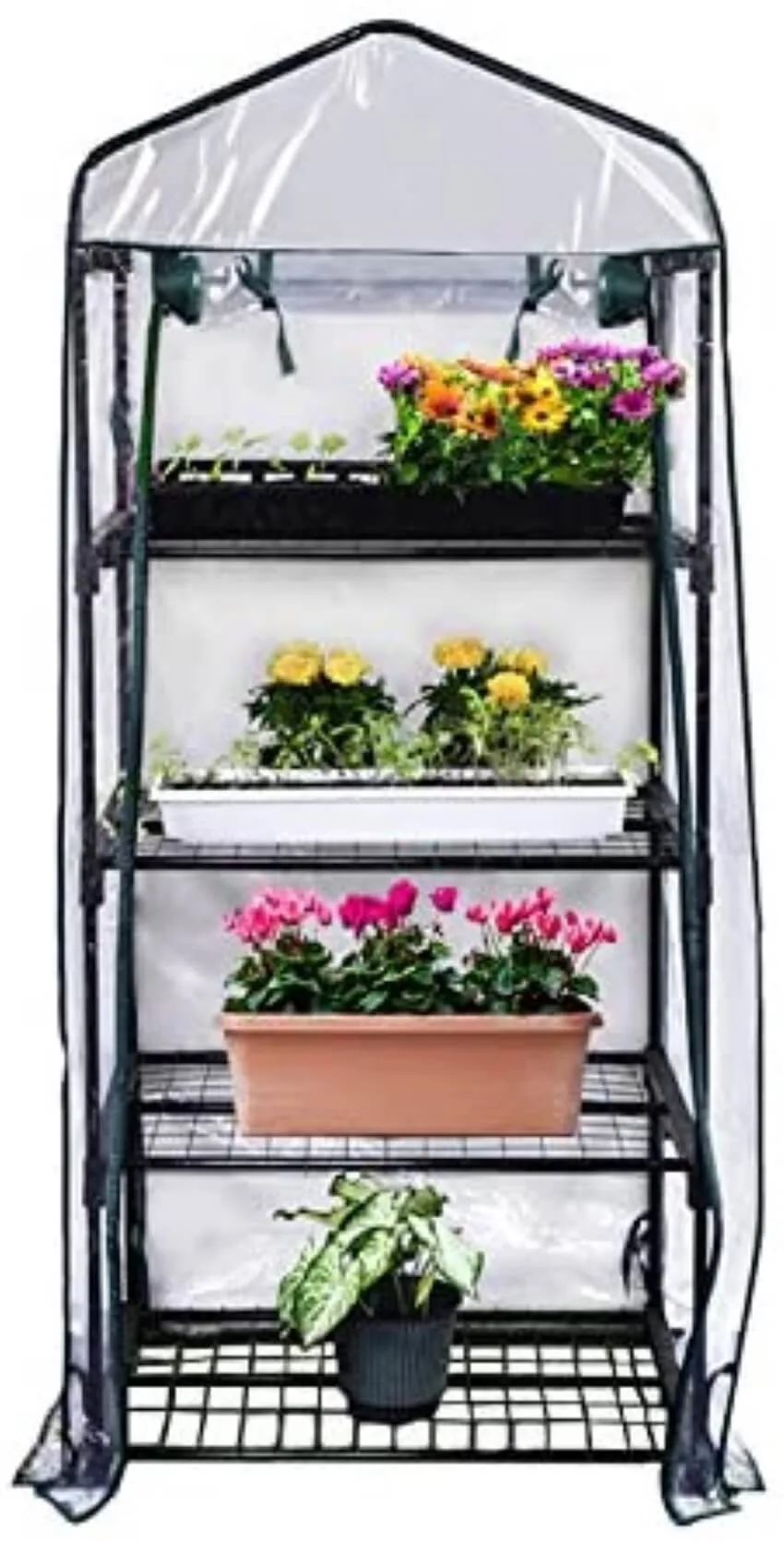 This urban greenhouse is a great choice for beginners. It's relatively affordable and easy to assemble. It comes with all the basic features that one would need to start gardening.
Along with a solid steel frame, the set comes with a durable polyethylene cover that comes with a convenient roll-up zipper door.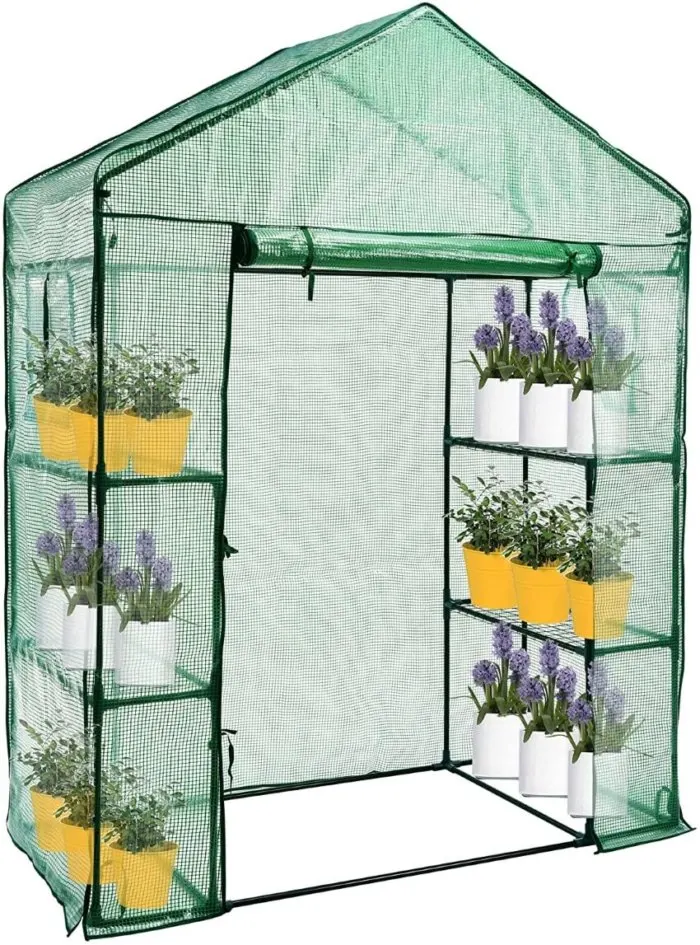 This greenhouse fits well on a deck or small backyard. It comes with six shelves with enough space to support vegetables and taller plants. Its protective covering is high-quality PE material, which is a more eco-friendly option than a PVC covering.
Another convenient feature is that this urban greenhouse is portable. It's simple to assemble and disassemble so that you can quickly relocate it from place to place.
See Related: Best Greenhouse Accessories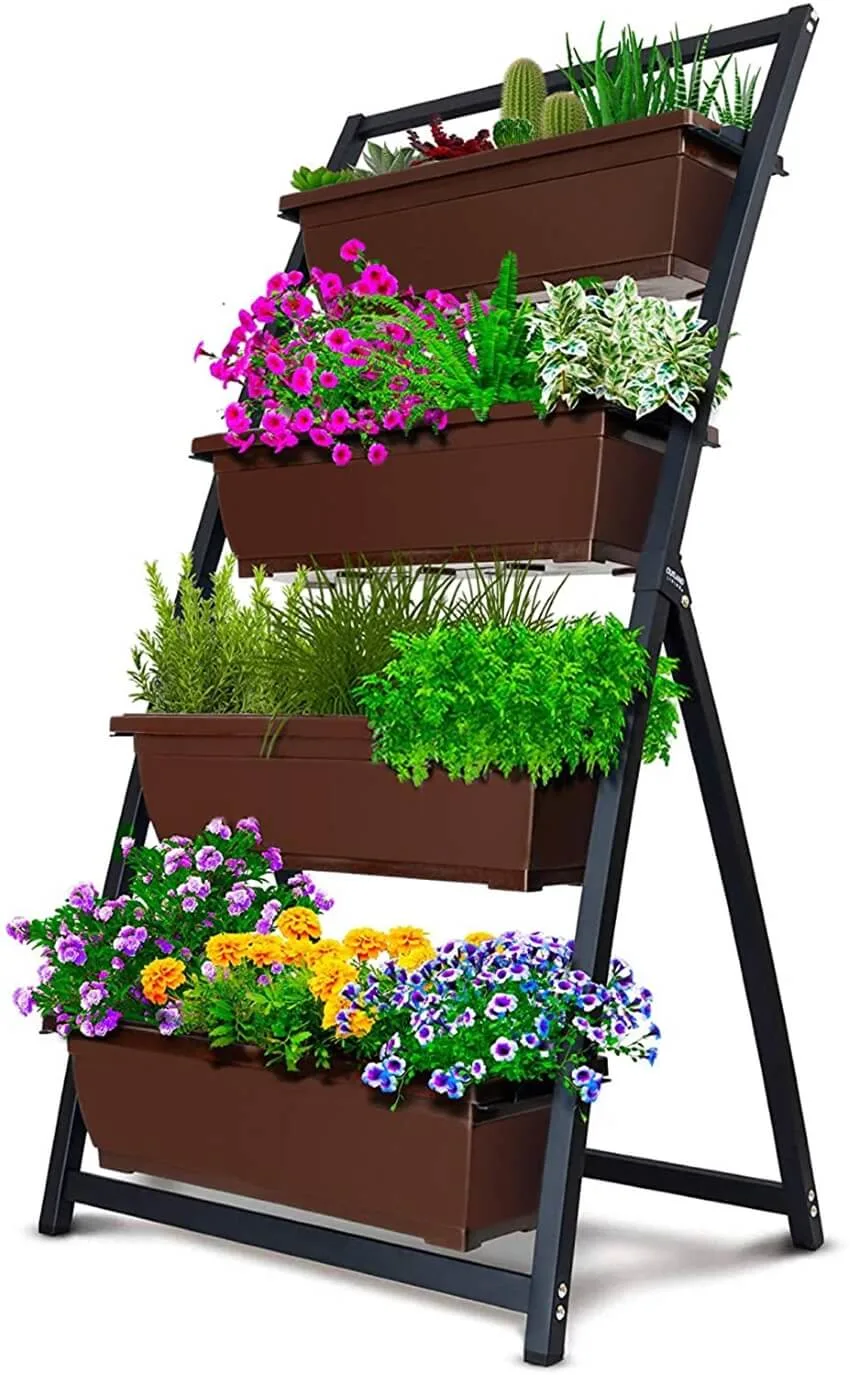 If you're interested in vertical greenhouses, this raised garden bed can be a great installation for your greenhouse. It has wide food-grade plant bins that you can use to plant herbs and vegetables.
The entire structure has an extremely sturdy design that can adequately support pots full of soil and water.
This stackable vertical garden is a suitable option for individuals who want to grow fruits and vegetables in their urban greenhouses. It's extremely lightweight and easy to place in any spot in your greenhouse.
The tiers have a patented flow-through design that helps save water and space. Each tier also has a water reservoir to prevent overwatering.
You can also use this product for hydroponic gardening, and it's a great introductory model for beginner gardeners.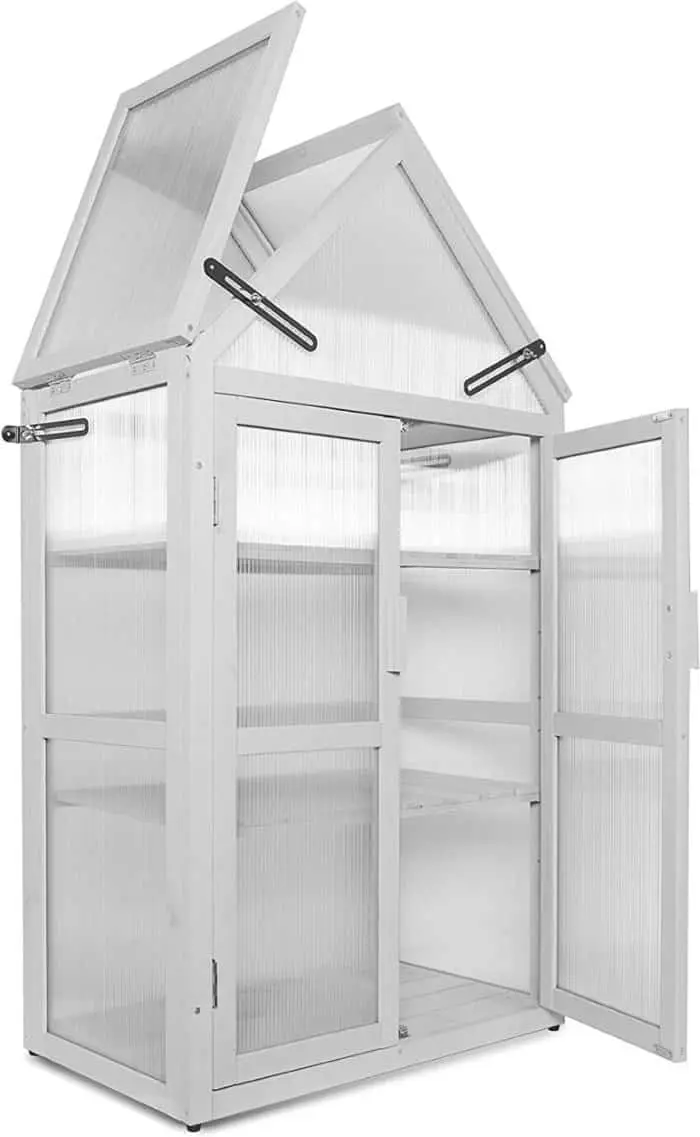 This mini greenhouse fits perfectly on a standard balcony. We like how it looks beautiful, and it's also very functional and well-made. The main body is cedarwood, which is lightweight and durable.
The greenhouse comes with removable shelves so you can potentially grow vining produce, such as tomatoes. It also has a small gap on the bottom so that the wooden base doesn't sit in water.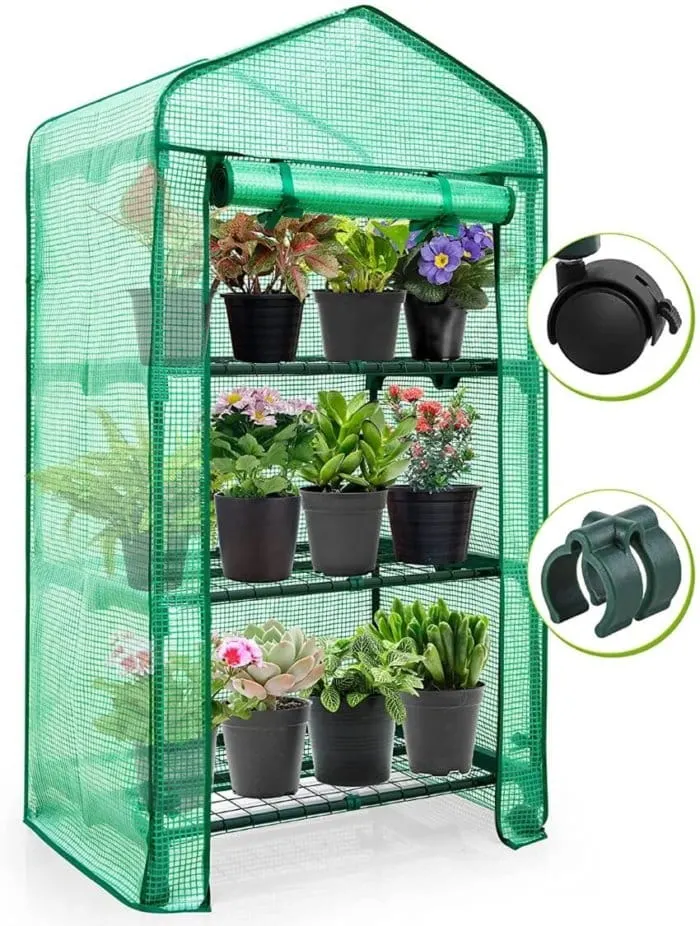 We like this urban greenhouse because it's very portable and easy to transport. It comes with a set of wheels, so you can quickly transfer it indoors and outdoors depending on the seasons and temperature.
This greenhouse fits on a balcony or a deck. It also has deep shelving so that you can grow blooming flowers and vegetables.
See Related: Best Vegetables to Grow in Greenhouses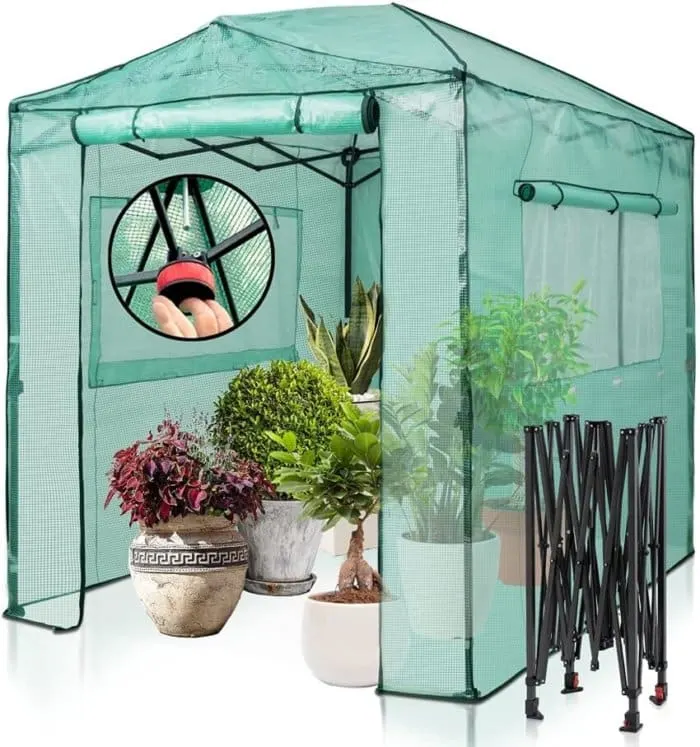 This walk-in urban greenhouse works well if you have a deck or small backyard. It's extremely easy to set up and doesn't require any tools. The frame has adjustable legs, so you can change the height. It also has a steel roof, which can withstand all kinds of weather conditions.
See Related: Best Greenhouses to Buy in 2022: Kits & Standalone Options
Choose the Right Plants
After you decide on the type of urban greenhouse you want to use, it's time to select the right kinds of plants. These are some factors to consider:
Urban greenhouse size
Climate
Sunlight
Plant hardiness
Do a little research to see which plants will do well in the climate that you live in. You'll also want to factor in how intense the sunlight will be.
For example, if your greenhouse is by a south-facing wall, you'll get a lot of direct sunlight that can end up overheating plants.
If you're a beginner, try to select plants that are more hardy and forgiving, such as cucumbers, green beans, and lettuce.
Create a Planting Schedule
Not all plants start growing in the spring. Some vegetables, such as cabbage and asparagus, can grow in the fall and thrive in winter.
With the help of an urban greenhouse, you can potentially grow plants year-round.
So, take some time to develop a planting schedule. Select a variety of plants that have different harvesting seasons.
If you have any questions, you can speak with a specialist at your local plant nursery.
Keep the Internal Temperature Steady
One of the unique challenges of using a greenhouse is maintaining the temperature. You'll be surprised by how much heat a greenhouse can contain from sunlight.
However, temperatures can also drop quickly during winter nights.
Several tools are extremely helpful for monitoring temperature. First, install a thermometer in the greenhouse.
An electric heater is almost always a necessity if you live in an area with cold winters.
If you live someplace that has extremely high temperatures, a dark tarp large enough to cover your greenhouse can help block sunlight.
See Related: Best Greenhouse Lights
Regularly Check for Pests and Diseases
Although a greenhouse can help keep pests out, it also helps keep them in if they manage to enter. Infestations spread quickly inside a greenhouse, so it's essential to regularly check for pests and diseases. Consider using a fogger once in a while to do a "cleanse" of your urban greenhouse.
One thing that helps prevent the spread of pests and disease is consistently disinfecting your gardening tools, such as shears and pollination brushes.
Make sure to also thoroughly check any outside plants for pests before bringing them inside the greenhouse.
Related Resources