Did you know that you can lower your monthly electric bill through some simple changes? How? By getting energy-efficient TVs for your home – something that is also environmentally friendly.
The average monthly electric bill per household is a cause for concern, especially given how many other bills you have to handle. What if you can make changes in your home that can help lower this cost?
Getting energy-efficient TVs for your home is one move that can start a downward trend. TVs are always on at home, especially when people spend all day indoors. Given that each TV can use up to 400W, you might want to consider switching brands.
Additionally, it's not a surprise that these TVs use up some electricity even when they're in sleep mode. But the good news is, many manufacturers are now learning the need to produce new TVs that do not consume too much energy.
Our Top Picks
So, what are some of the most energy-efficient TVs? Well, this guide is here to offer you the best TV choices in the market. But before I give you the list, let's see some important things you should consider:
Most Energy Efficient TVs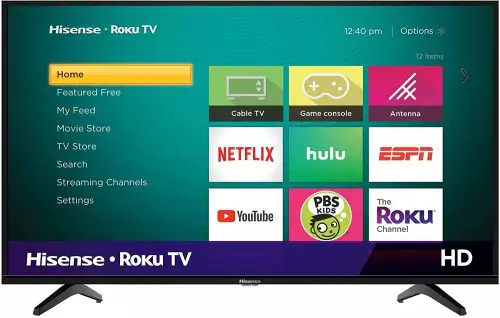 As you seek energy-efficient TVs to add to your home, consider this 32″ LED screen from Hisense. It's a great option to conserve electricity consumption, and you won't be compromising on quality – it comes with 720p picture quality. Sync it with Alexa to make changing channels easier
The Roku Smart TV has more technological advances to add to good picture quality, including inbuilt WIFI. This makes it compatible with Alexa and ideal for gaming and streaming, all while saving on power.
All it needs is 25kWh to function, saving you a lot in terms of your monthly electricity bill. You can check the current energy tariff to see how much you save per month. Also, the energy efficiency ensures you get a quality TV that'll serve you for some time.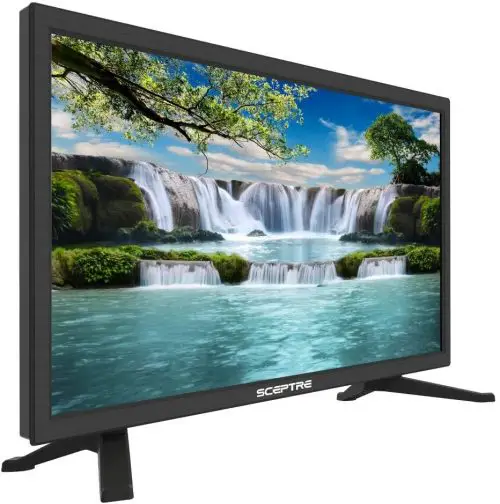 Energy-efficient TVs have numerous features that can help you lower that monthly electric bill, and one of those includes their size. This 19″ HDTV by Sceptre consumes less power than most plasma screens in many homes. All you need is 19.6W to power the TV and enjoy your favorite shows.
Another plus for the TV is that brightness is set, and you only need the backlight to get good quality resolution. Additionally, there are several settings available with this brand to reduce power.
See Related: Eco-Friendly Backpacks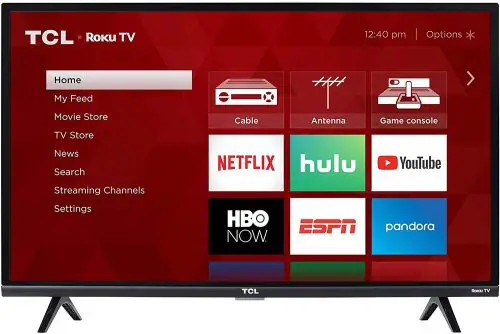 Size matters when seeking the best TV to lower the overall electricity bill each month. The LED 32″ screen fits your mission to the letter, given that you won't have to use a lot of power to keep it on. At the same time, you won't compromise on quality since this is a smart TV.
Start by connecting to Alexa when you want to change channels or play music at home. Besides, this Roku TV has access to thousands of movies and series at the touch of a button. Also, all are accessible through the Roku channel app that you can download.
As for resolution, you can enjoy the crispest pictures every day since the LED screen has 1080p HD. The LED screen is directly lit, which improves the quality of images appearing on your screen.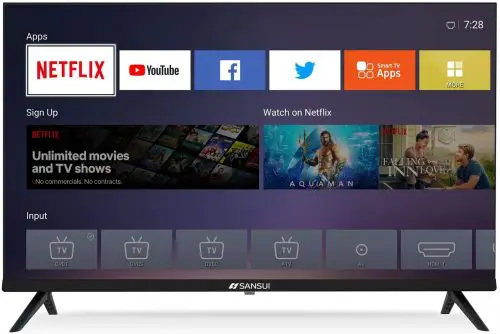 Sansui 24″ smart TV fits into the category of smart TVs you can use at home and are still sustainable. It's part of the energy-efficient TVs with brightness options that you can take advantage of to save on power consumption. Besides, you won't have to worry about compromising on picture quality since it has top quality.
Additionally, you'll notice that it comes with an HD panel inbuilt that supports quality images suitable for all media content you want to play on the TV. Also, you have a multi-viewing mode together with inbuilt speakers that generate top-quality sound.
Finally, it has the best of smart technology, which includes 2 USB ports, 3 HDMI, 1 AV, 1 Earphone, and WIFI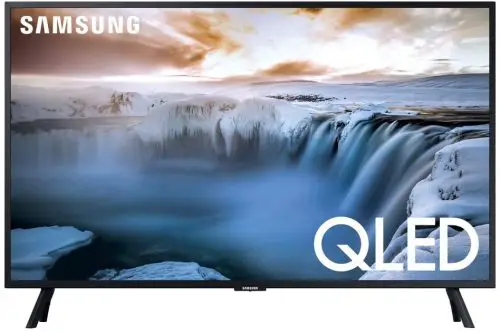 32″ gets you a quality QLED display technology from Samsung that fits with its dedication to manufacturing sustainable products.
Resolution is best with 4K which delivers the crispiest images topped up by a powerful processor. Take advantage of smart technology that makes it easy to stream movies and episodes at any time.
Also, some settings give you options in terms of brightness. Brightness is one aspect of most energy-efficient TVs that helps you lower the power consumption each month.
When it comes to outputs and inputs, you get triple HDMI ports, optical digital audio output, dual USB ports, and a singular Ethernet port.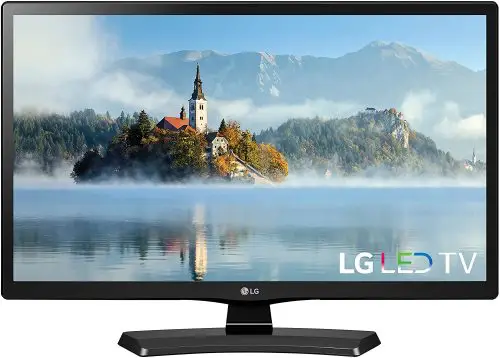 Take advantage of another LED TV with the most energy-efficient technology you can find. The size ensures you use up as little power as possible to power the screen for as long as it's needed. Basically, you end up lowering the cost of electricity since the TV won't consume as much.
While the TV has all the LED capabilities you can expect, you can lower the cost by turning it off after using it. Although it has a suitable sleep mode, it's best to switch it off.
The LED screen is also supported by lighting at the back that ensures you get quality pictures throughout while being energy efficient.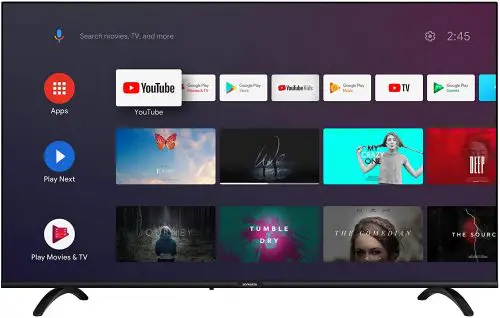 Skyworth has among the most energy-efficient TV types that use LED display technology, are more sustainable, and lowers power consumption.
The 40″ Full HD smart TV has a 1080p resolution that gives you quality in-screen images topped up with crisp sound delivery. While lowering your monthly electricity bill, you also get to enjoy the quad processor (A53) that guarantees the best graphics.
Google Assistant makes it easy to control the smart TV and stream as much content as you want from the comfort of your home. You also have input/output support that comprises dual USB, dual HDMI, network port, RF, and optical.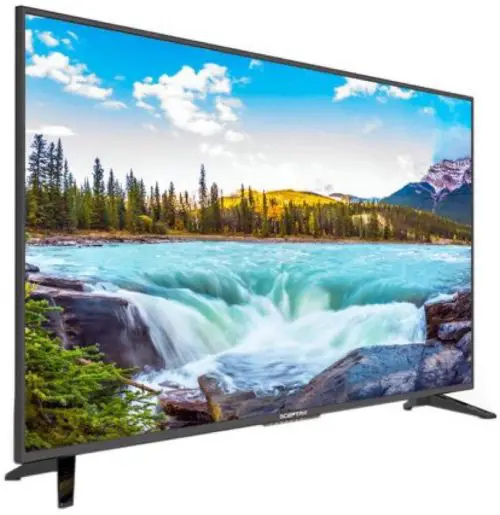 Who said eco-friendly TVs have to be small? Once again, Sceptre delivers another top-quality most energy-efficient TV to consider. Here is a 50″ FHD LED TV giving you 1080p. And, you'll notice the model is more affordable as you do some brand comparisons.
Check out the brightness settings that come with this eco-friendly TV. The dynamic options make it a great choice to bring home. Image quality is razor sharp and works for all media content you wish to view on it.
It's one of the many Sceptre energy-efficient TVs that utilize smart technology, granting you access to numerous content and streaming services. Also, you have a variety of connection points, including VGA, USB, CVI, PC Audio, and AV input.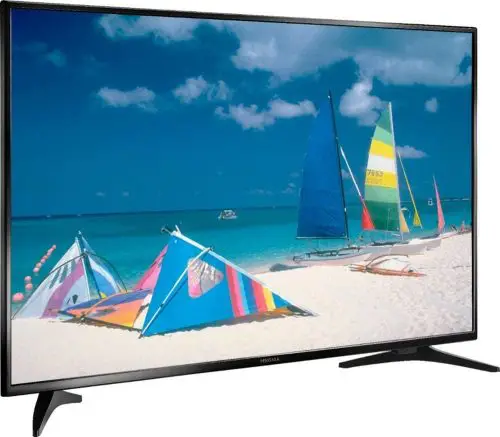 With LED TVs, energy consumption is no longer a problem. And, this 43″ screen from Insignia is a perfect indication of that. It offers you the best quality paired with the most energy-efficient technology.
In terms of resolution, you get 1080p which ensures you always enjoy the best quality HD images. This applies to all content you want to view.
To save more energy, you can opt to use the brightness settings to ensure the LED TV uses less power. But you still get crisp images.
Also, it comes with a refresh rate of 60Hz topped up with an 8ms response time. It helps you reduce blurriness on the screen when watching scenes with fast motion.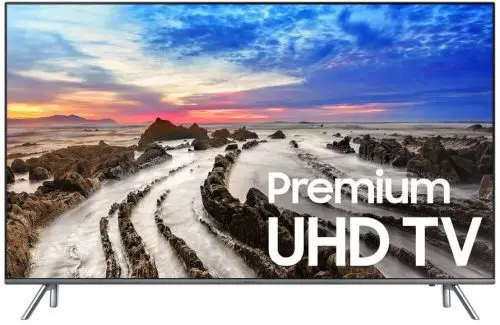 Are you searching for an even larger TV screen but still want to ensure you get an energy-efficient class TV? How about this 65″ TV from Samsung with smart LED properties that make it an eco-friendly addition to your home?
First, you note that it has backlighting that's more controlled to ensure you get quality images. While you view, you can benefit from the anti-glare that's part of the package and multi-viewing angles that protect your vision.
Additionally, you get quality 4K pictures since the TV has a powerful inbuilt processor that uses AI technology.
It's one of the most energy-efficient TVs despite its size since it's equipped with several brightness control settings. Use them to control how bright the screen is, thus saving on power consumption.
Related Resources: Best Energy Efficient Electric Heaters for Large Rooms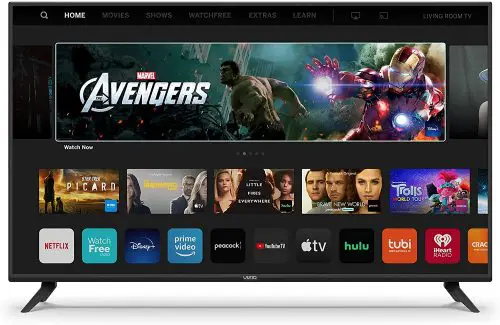 Most energy-efficient TVs use LED display technology that gives you quality images while saving the amount of power consumed. Vizio fits the profile for an eco-friendly TV that delivers top image processing due to the inbuilt full-speed IQ active processor. Besides, you can enjoy the 4K engine that's intelligent, giving you quality HD entertainment.
The LED TV has brightness adjustments that use pixel-level intelligence that ensures you get more quality images always. It's an ideal TV for gamers who benefit from this TV's responsiveness to PlayStation and Xbox since you can use its auto game mode. Also, it has a low input lag.
Top that off with smart technology that uses top-speed navigation, and you can enjoy any media content you want online.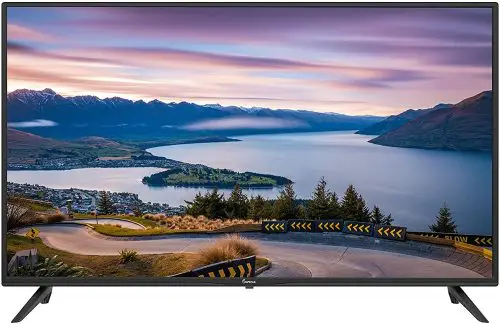 It's one of the most energy-efficient flat-screen TVs you can get that's full HDTV and 40″ in height. The display technology is LED, which gets you quality 1080p resolution at all times.
You get quality 1920*1080 crisp images that generate rich colors that you can enjoy while watching multiple contents on the screen. Control brightness to save on power consumption by using the brightness settings.
Additionally, the LED TV has dual inbuilt speakers that generate top sound, which means you won't need to plug in more speakers. Also, there's an inbuilt ATSC tuner and full remote control, and the screen has VESA control.
Things to Consider Before Getting a New TV
Are flat-screen TVs Energy-Efficient? Well, no! Many are not. The truth is, though these flat-screen TVs are attractive to look at, some consume lots of electricity. In fact, these bigger and brighter screens only add to your electric bill.
Additionally, the type of TV display technology you have can increase the cost. For example, plasma/flat screens are notorious for using a lot of power. What about LED TVs, are they more energy efficient? Yes, they are!
The best types of TVs when it comes to energy consumption are LED and LCD TVs. In fact, you should note that an energy-efficient LED TV consumes more than three times less energy than a flat-screen TV.
For example, a 32″ LED TV can consume up to 50 watts of electricity while the same size flat screen can use upward of 400watts. It's easy to see why an LED screen is a better option for energy-efficient TVs in your home.
How much money can you save on your electricity bill if you switch to energy-efficient TVs? Well, I know you might be wondering if it's worth all the fuss and whether you'll be saving any reasonable amount. But, you'll be glad to note that switching to an LED model will add some money back into your pocket every month.
For instance, a 50-inch LED TV will consume around 100W an hour while a plasma flat-screen an upward of 400W. So, if you use your TV 5 hours a day, at the current electricity price of 10.2 cents per kWh, here is what you'll use annually.
The LED will cost you around $18.61, while the plasma flat-screen costs you about $74.46 annually. This means that you can save around$55.85 per year or $4.7 monthly.
Will you be sacrificing image quality at all for an eco-friendly TV? The answer here is no! You won't be sacrificing image quality when you opt to get an LED TV. These energy-efficient TVs come with varying resolutions depending on size from 720p to 1080p.
Also, they have inbuilt HD panels to boost image quality and help you get crisp pictures always.
When conducting energy-efficient TV comparisons, longevity is one matter you must keep in mind. The good news is that these energy-efficient TVs are long-lasting and don't get spoilt easily. However, this can vary from one brand to another. For this reason, the best place to start the search is by reading customer reviews.
While eco-friendly TVs are the most energy-efficient TV types, pricing varies depending on the brand. You can compare two TVs of the same size and specifications, but notice that one costs more than the other. The simple reason for this is the fact that one brand is more recognizable than the other.
Also, LEDs might be a bit more expensive than traditional TVs, but the saving you get on energy is worth the switch.
Brand Comparison
While numerous brands offer sustainable TV options, you can compare them to see which suits you best. Each brand has plenty to offer but what you need to seek is LED technology topped up with brightness settings. This two help to lower the overall power usage per month.
Those with inbuilt speakers are a plus since you won't need to plug on a surround system. Generally, energy-efficient TVs are the future, as the world seeks to be more eco-friendly and sustainable in all areas. Besides, getting one helps you lower your monthly electricity consumption.
Due to global warming, we encourage people to buy products that can help climate change and save the planet. One example is buying an erosion control product, which is used to prevent soil erosion. We can also buy posters that relay something about saving the earth, to make awareness for everyone.
FAQs
Does a smart TV use less electricity?
A smart TV is a television set that can connect to the internet and run apps. While some smart TVs may have energy-saving features, they do not inherently use less electricity than non-smart TVs. The amount of electricity a TV uses depends on factors such as screen size, resolution, brightness, and usage habits.
Do newer TVs use less electricity?
Newer TVs use less electricity than older models. This is due to advancements in technology that have allowed manufacturers to produce more energy-efficient TVs. In fact, some newer TVs use up to 50% less electricity than older models, which can lead to significant cost savings on energy bills over time.
How can I reduce my TV power consumption?
TV power consumption is the amount of electrical energy that your television uses. To reduce your TV power consumption, you can adjust your TV's settings to lower the brightness and contrast, which will reduce the amount of energy used.
Additionally, you can enable the power-saving mode on your TV, which will automatically adjust the settings to reduce energy usage when the TV is not in use. Finally, you can consider purchasing a newer, more energy-efficient TV that meets ENERGY STAR standards.
What is the lowest power consumption TV?
The lowest power consumption TV is a type of television that is designed to consume less energy than traditional televisions. These TVs typically use LED or OLED technology, which is more energy-efficient than older technologies like plasma or CRT. They also often feature energy-saving modes and settings that can further reduce power consumption.
Related Resources