Are you planning to shift to wind energy to power your home? And did you know there are some excellent home wind turbines you can try out? Well, I have compiled just the right list for you.
Based on a 2019 report by eia.gov (US energy information administration), the average annual electricity consumption per household was 10,649 kWh. This means that, on average, households consume around 877 kWh monthly.
Multiply this with the US's average electricity cost, 10.2 cents per kWh, and the figure becomes about $89.45 every month. Now, this is not cheap! For this reason, plus the need for clean energy, people are moving to alternative energy solutions.
Wind energy is one major alternative, and that has gained much popularity over the years. More people are installing home wind turbines in an attempt to cut their energy bills and carbon footprint. But are these wind turbines working?
Yes, they are. Especially if you have the right one and at the right location. To help you go off-grid with wind energy, we've prepared a list of some of the best home wind turbines you can consider. Also, this is a kind of product to buy if you wanted to help mother earth from climate change.
Erosion Control Blankets is another product that is helpful to the environment. It supports the growth of new vegetation that helps to prevent erosion naturally.
Using biomass is another example and a good alternative used in cooking and lighting. I'm just giving these examples to make people aware that with all that's happening around us, we can still somehow help our planet if we try going back to basics.
Best Home Wind Turbines
Now that we know what wind turbines are and how they work, let's see some of the best home wind turbine kits you can buy online.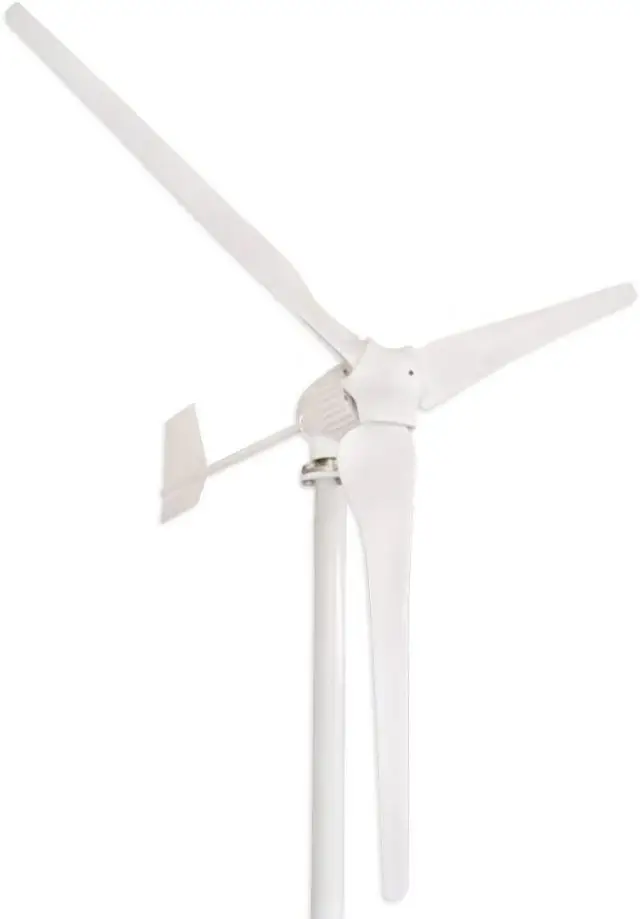 If you are looking for the best small wind turbine for home use, this one fits that category perfectly. The 1000W wind turbine produces significantly low noise due to its light aluminum alloy casing.
In terms of efficiency, this device's structure is optimized to allow the blades' rotation even at very low wind speeds. It also adjusts automatically to face the wind direction, which increases the efficiency and the annual wind power generation.
It's durable, with a 15 years lifespan if well used, even without requiring much maintenance. And to ensure value for your money, the device comes with a 3-year warranty.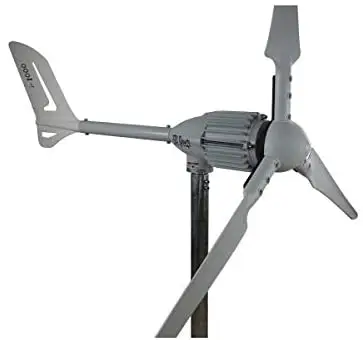 With a rated output of 1000W, this wind turbine is certainly a great deal for home use. The device contains three 107cm long blades made from durable plastic material containing 30% glass fiber.
The blades are not only durable but also relatively lightweight, producing very low amounts of noise. As for the casing, the wind turbine is covered with aluminum, which ensures the generator is optimally cooled.
Generating your own eco-friendly electricity from home has never been easier. And, this 1kW wind turbine is an excellent option for you.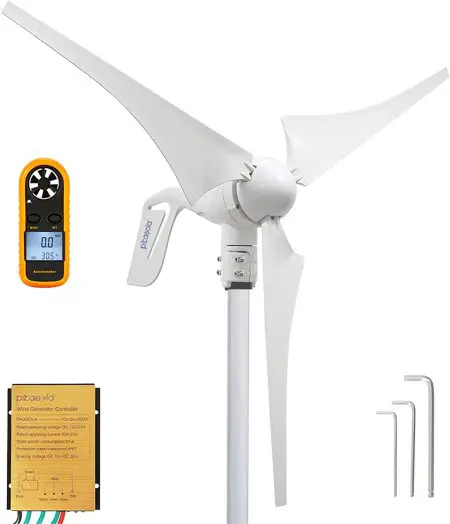 This is a 400W wind turbine that not only helps to convert wind energy to electricity but does so in the most efficient way. Some of its outstanding features include:
Blades rotation even at minimal wind speeds
Low vibration thus minimal noise
High efficiency
Automatic body rotation to face the wind, thus maximizing output
Its 23.4-inch long blades are made of sturdy nylon carbon fiber, which guarantees durability and efficiency. In addition, nylon is both water and corrosion-proof. This means you won't need to worry about bad weather taking a toll on your wind turbine.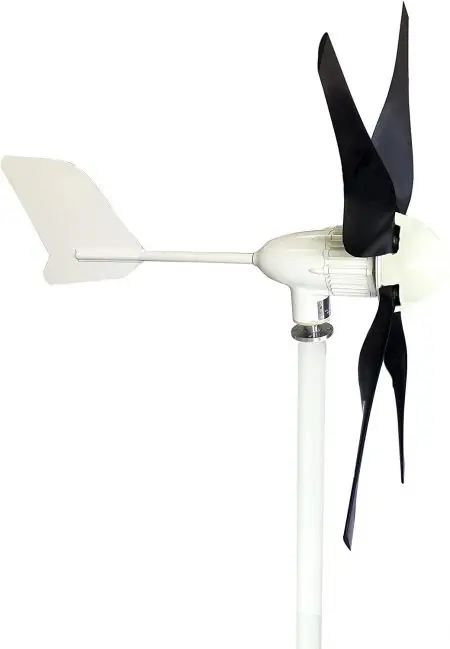 This 5-blade home wind turbine kit is another incredible choice for those looking for an alternative energy source. The 3.3/5 star rated wind turbine in Amazon can comfortably generate 400W of electricity from wind power.
This means that if you are trying to reduce your monthly energy bills, you can certainly do that. It is also compatible with solar panels, allowing it to produce up to 650W.
The device works well at wind speeds of around 27 mph, although the blades can still spin at much lower wind speeds. And, while it can't power high-capacity devices, it can still produce enough power for most of your home gadgets.
Primus AIR 40 is a micro-wind turbine designed for land applications. This wind turbine works efficiently at various wind speeds, offering much efficiency.
Producing around 40 kWh a month, AIR 40 is ideal in low energy demand applications such as lighting, SCADA, water pumping, or powering off-grid homes. If paired with solar energy, this device can help to offer stable energy during seasonal power variations.
Some notable features of this wind turbine include:
High-tech microprocessor technology
Designed to produce minimum noise
Durable and efficient
Pairs with solar arrays
Operates in both high and low wind speeds
With this device, you might just be buying the best micro home wind turbine in the market.
See Related: Important Pros and Cons of Wind Energy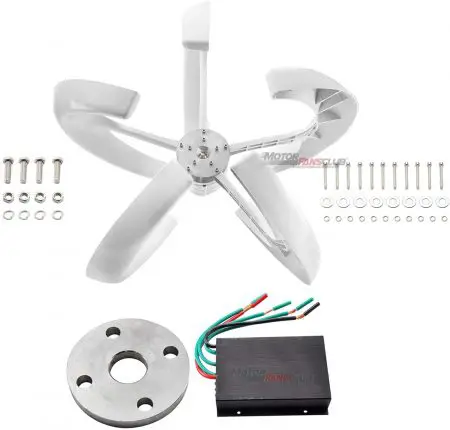 Best vertical wind turbine for home use! This 5-blade wind turbine offers 5000W at maximum rpm, which is certainly enough energy to run several applications.
Since it can function in considerably low-speed winds, this device guarantees power in your home, even when other wind turbines can't. Its wind energy conversion is pretty high due to its blades' shape, hence the higher annual energy output. The safe wind speeds for this device should be ≤45 m/s.
Through its vertical-axis design, it is not affected by the wind's direction in any way. Also, it contains an intelligent microprocessor that enables it to efficiently regulate both the current and voltage.
As for durability, this home wind turbine is made to last longer. It's covered with an aluminum alloy die-casting that is resistant to both corrosion and extreme winds. The blades are made from light nylon fiber, ensuring that they operate even at low wind speeds.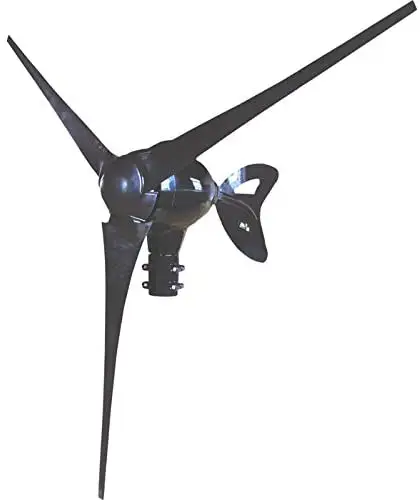 This is an excellent home wind turbine that will generate power even at wind speeds of as low as 7 mph. It is coated with high-quality material, resistant to weather elements, thus ideal for both sea and land operations.
The rest of the body is made from sturdy die-cast aluminum alloy, which offers perfect cooling conditions. As for the blades, the lightweight carbon fiber composite ensures less vibration thus less noise during operation.
The device also contains an over-speed shutdown mechanism that protects it against damage during extremely windy conditions. And, you won't have to keep inspecting the wind turbine as it's maintenance-free. Just install it and start enjoying 2,000 watts of eco-friendly energy.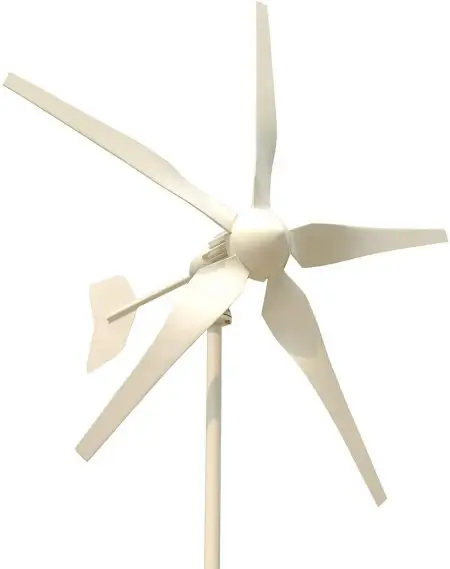 Going off-grid or supplementing your home energy to achieve lower monthly bills is certainly an excellent idea. And, this 1000W, 5-blade turbine helps you to do just that. If you are looking for the most efficient wind turbine for home use, this might just be it.
Firstly, it generates electricity at minimal wind speeds, ensuring that you have a consistent power source. In addition, the wind turbine is covered with a lightweight aluminum casing that minimizes vibration, thus pretty quiet during operation.
Its entire design is optimized to enhance efficiency in energy conversion, thus guaranteeing high annual energy production. Also, it's strong, durable, safe to use, and contains an over-speed control mechanism.
Lastly, the product comes with a 3-year warranty, ensuring you don't get a raw deal.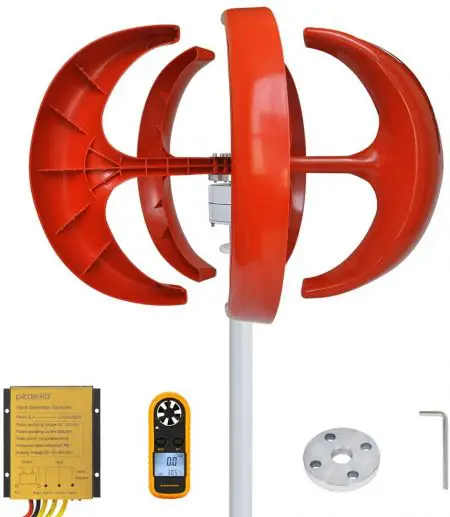 If you are looking for a small vertical wind turbine for home use, this 200W wind turbine fits the description. It contains 5 double-axis vertical blades, which resemble a beautiful red lantern design.
The blades are made from fiber-reinforced nylon, which is considerably strong and durable. Also, these blades are fixed by a flange, making them firmer and less prone to falling off.
Other unique features of this system include:
Considerably quieter than most other home wind turbines, especially the horizontal-axis ones
Optimized aerodynamic design leading to high efficiency
Reliable 3-Phase AC Generator (permanent magnet)
Easy to install and operate
Environmental friendly source of alternative energy.
This micro wind turbine is ideal for supplementing the existing power source for lower energy bills.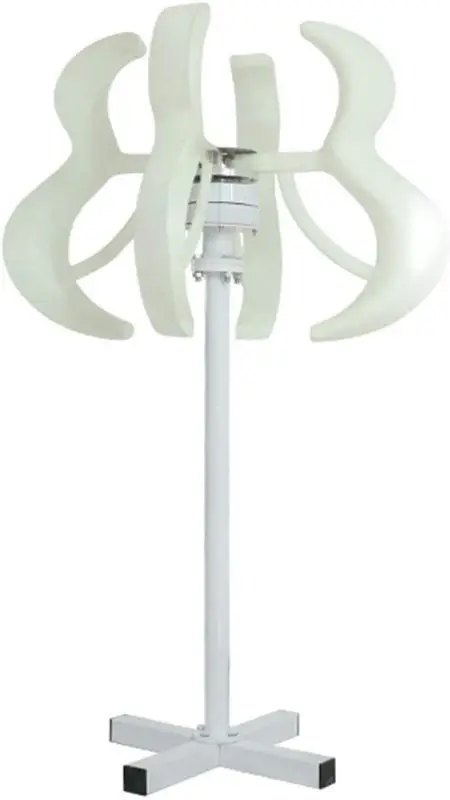 These are beautiful home wind turbines that will efficiently add 6000W to your home energy sources. They are available in 12, 24, and 48V, meaning that you have a choice based on your energy requirements.
These wind turbines are designed to operate at pretty low wind speeds, which means that they are considered efficient. And, despite their small size, they generate enough energy to power various gadgets in your home.
Other features include:
Low noise even during strong winds
Easy installation
Maintenance-free
Strong aluminum alloy body
Anti-typhoon feature
And with a high-power tracking microprocessor control, the device can easily regulate both current and voltage.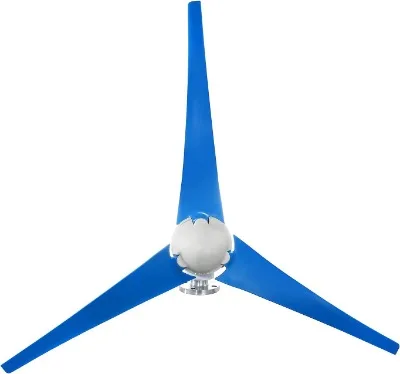 This is a small but efficient wind turbine generator for home use. With its optimized design, this 800W windmill generates power even at extremely low-wind conditions. It has a unique turbine protection system, whereby strong winds raise the rotor by 90 degrees, reducing the frontal wind attack on the blades and the structure.
This wind turbine is also made from strong material to enhance durability. For instance, the alternator casing is aluminum, while the direction flag is made from plastic and 30% glass fiber.
Blades are made from carbon material and are 1.3m / 51.18 inches long. They are also relatively lightweight, which minimizes the noise produced during operation.
Lastly, the system's voltage is 12V, with a maximum frequesncy of 60Hz, and comes with a warranty.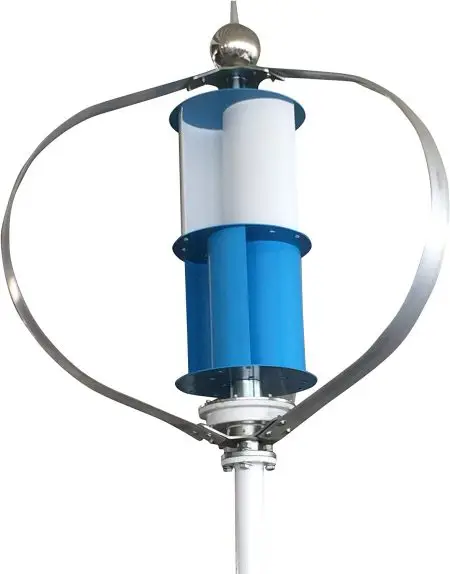 The 400W vertical-axis wind turbine from Tumo-Int closes our list of the best home wind turbines. With an aluminum alloy casing, lightweight, and producing minimum vibrations, this device is designed to offer the best results.
Its fixed magnet rotor alternator, plus the customized stator, allows it to reduce resistance torque and operate at very low wind speeds. This means that you are assured of power in the house even during minimal winds.
The entire structure is tailored to ensure durability, with strong typhoon resistance features. As for the ideal operational conditions, this wind turbine works well anywhere between -40° C ~ 80°C.
Plus, it comes with a 3 years warranty.
See related: 13 Top Environmental Organizations in Europe.
What are Wind Turbines?
Wind turbines are instruments that help to generate electrical energy from the wind's kinetic energy. These devices are available in various designs and sizes, ideal for large or small-scale electricity generation.
Wind turbines are an excellent source of clean, renewable energy, as long as they are installed in an area with stable winds.
If you want to tap into this source of energy for your home, it's pretty easy. There are numerous small home wind turbines that you can install on your property to produce your own power.
Home wind turbines can be divided into two main categories; horizontal-axis and vertical-axis wind turbines.
The Horizontal-axis ones are the most common and the ones that many people know. They are made of three or more blades that operate "upwind." These blades are attached to the rotor and fixed at the top of a tower, facing the wind.
As for the vertical-axis ones, they are omnidirectional. This means that they don't have to face the wind for them to operate. Here, the rotor is set diagonal to the wind, although not always vertical, with the gearbox and generator set at the base of the wind turbine.
In terms of prices, each home wind turbine kit's cost is determined by the size, quality, and amount of energy it can generate. Durable, high-efficient wind turbines cost more.
How Do Home Wind Turbines Work?
Home wind turbines work in much the same way as large commercial wind turbines – just that they are smaller. And the principle is pretty straightforward.
The wind helps to turn the turbine's blades, fixed on a rotor, which in return spins a generator to produce electricity. The rotating blades' aerodynamic force easily converts the wind energy to electrical energy, which you can use in your home.
The electricity produced will entirely depend on the size of the wind turbine and wind speeds in the area.
Installing a wind turbine in your home not only reduces your monthly energy bill but also helps in reducing your carbon footprint. Also, you won't have to worry when there are power outages. As long as there is enough wind in your area, your home will be powered.
How Many Homes Can a Wind Turbine Power?
Before buying and installing that home wind turbine, we need to evaluate how much power it will offer. While an average commercial wind turbine generates enough energy to power around 460 homes in a month, smaller residential wind turbines are not as strong.
For instance, many home wind turbines that we install range from 400W to around 20 kW. And, according to our earlier estimates, an average household requires around 877 kWh monthly. In this light, a wind turbine rated between 5 and 15 kW is ideal to power a single home.
Here's a more straightforward example: A wind turbine rated 1.5kW will comfortably meet energy needs for a home demanding 300kWh a month. This means that an average US household would require a 4.5 kW rated wind turbine to meet its entire 877 kWh energy demand.
However, you should note that this energy generation is also dependent on the strength of the wind in your location. Therefore, areas with constant strong winds are ideal for wind energy generation.
How to Install a Home Turbine for Home
Installation of a home wind turbine is not a complex task. However, you must be knowledgeable of certain things. For instance, you are dealing with electricity and thus need to know how AC and DC wiring is done.
Also, you need to create a strong cement foundation for the tower lest your turbine topples from strong winds. And, if it's a long tower, you'll need a lift to mount it safely. If you can do that, you are good to go.
However, if you can't, the company that sold you the wind turbine will assist you with that. And if you bought your device online, you can always call the local utility office for a list of qualified local system installers.
The good thing about small home turbines is that they don't require much land. In fact, some might even be installed on your roof. And the ones installed on a tower also don't require much space as they rise above the ground, even up to 100ft.
Related Resources