Are there biodegradable trash bags? For the average environmentally-conscious consumer, trash bags made from biodegradable plant-based materials seem like a sound choice, but there's more to them than you think. Not all eco-friendly trash bags are as green as people believe them to be.
In this article, we discuss how eco-friendly trash bags work, the decomposition process, and their overall impact on the environment.
We also whittled down the 12 best eco-friendly trash bags in the market so you can rest assured that your purchase won't put a dent in the environment.
Are eco-friendly trash bags really good for the environment?
For earth-lovers who are truly conscious about their impact on Mother Nature, the eco-friendliness of trash bags has long been a matter of debate.
Here's what you need to know about them.
Living a zero-waste lifestyle is better.
Those truly devoted to saving the earth do not need a trash bag. They regularly compost food, refuse nonrecyclables, and donate unwanted items.
The fact that you need a trash bag is already doing the earth a disservice.
Of course, for some people, making a vow to stop producing garbage is extremely difficult or next to impossible.
At some point in our lives, most of us are still going to produce some waste, and this is where biodegradable and compostable garbage bags come in. Being 'greenish' is still a lot better than being not green after all.
See Related: 10 Best Conservation Posters: Earth, Water & Energy
Most trash bags don't decompose in landfills.
A vast majority of the biodegradable and compostable trash bags available today only decompose in specific circumstances.
The conditions present in a landfill are unfortunately not enough for most garbage bags to decompose, making them no better than plastic at saving the environment.
However, several industrial composting facilities are being developed around the world whereby compostable trash bags will be much more efficient than traditional landfills.
An example of a commercial composting facility takes food scraps from household and restaurant kitchen wasste and converts the gas byproduct into renewable natural gas.
Compostable vs Biodegradable Trash Bags vs Degradable
The term 'biodegradable', 'compostable', and degradable, are often used interchangeably when used to describe trash bags, but they are three completely different things.
All of them, however, are designed to break down in specific environments.
Here's everything you need to know about them.
Degradable trash bags
These types of plastic trash bags are crafted with a slew of chemicals and heavy metals that cause the material to break down over time when exposed to heat and sunlight.
When degradable bags are released into the environment, they break down into thousands of tiny plastic pieces that are toxic to animals.
These broken pieces are more challenging to remove from the environment than single plastic bags.
Biodegradable trash bags
Biodegradable eco-friendly trash bags are similar to degradable bags in that they contain components that help break down the material into tiny pieces.
Instead of chemicals and heavy metals, however, biodegradable bags contain microorganisms that break down the plastic.
While biodegradable garbage bags are a 'greener' option than degradable bags because of their more organic component, they still break down into smaller pieces of plastic that contaminate the environment.
Compostable trash bags
Made of natural plant starch, compostable trash bags do not produce toxic materials when breaking down.
With the help of water, carbon dioxide, and biomass, compostable eco-friendly trash bags decompose exceptionally in a composting system.
If you decide to throw your compostable bag in the general waste bin, it will not compost well in a landfill environment.
So which trash bag is ultimately better?
While we all should all be staunch advocates of living a zero-waste lifestyle, compostable trash bags are the better choice, but only if you absolutely must.
This is followed by biodegradable trash bags, and then degradable trash bags.
See Related: 12 Best Sustainable Shoes for All Different Occasions
Best-Of by Category
The 11 best eco-friendly trash bags
Here are the most eco-friendly trash bags, selected according to their durability, eco-friendliness, and overall consumer reviews.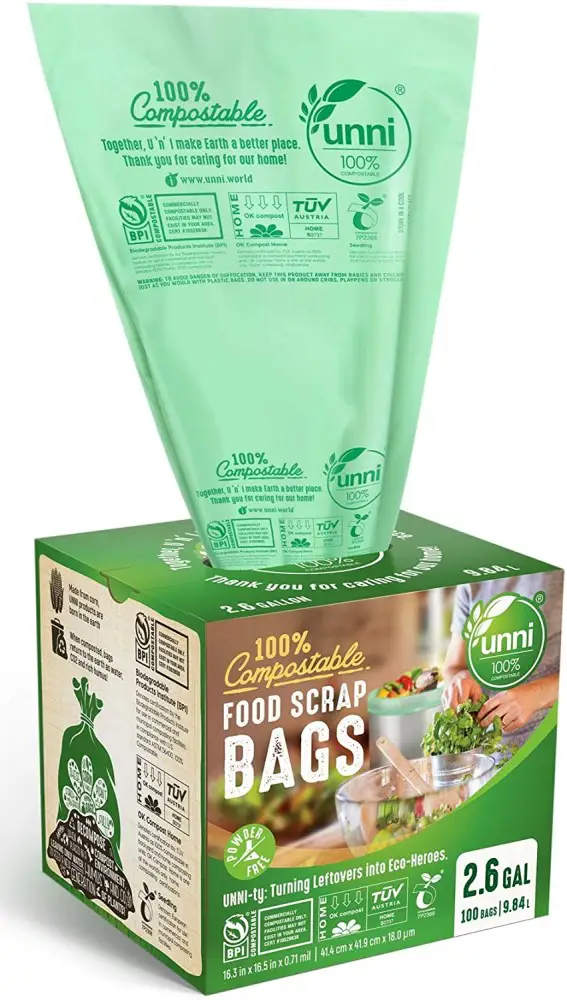 UNNI 100% Compostable Food Scrap Bags are made from plant materials and boast of having a high biobased content. These trash bags are non-toxic, durable, and contain no polyethylene, making them one of the best compostable trash bags on the market.
All of UNNI's compostable garbage bags have received certifications from the European OK Compost Home and the Biodegradable Products Institute, which means they are 100% compostable even when used in a home composting unit.
UNNI Compostable Food Scrap Bags must be used within a year from purchase and kept away from excessive heat and moisture.
About UNNI:
UNNI is a reputable manufacturing and distribution channel of compostable bags. They have 10 years of industry experience in developing compostable bags in a wide variety of sizes and can also offer custom designs for your organization.
Apart from compostable bags, UNNI also develops 100% compostable dinnerware, cutlery, shopping bags, and sandwich bags.
See Related: Compostable Plates to Buy Today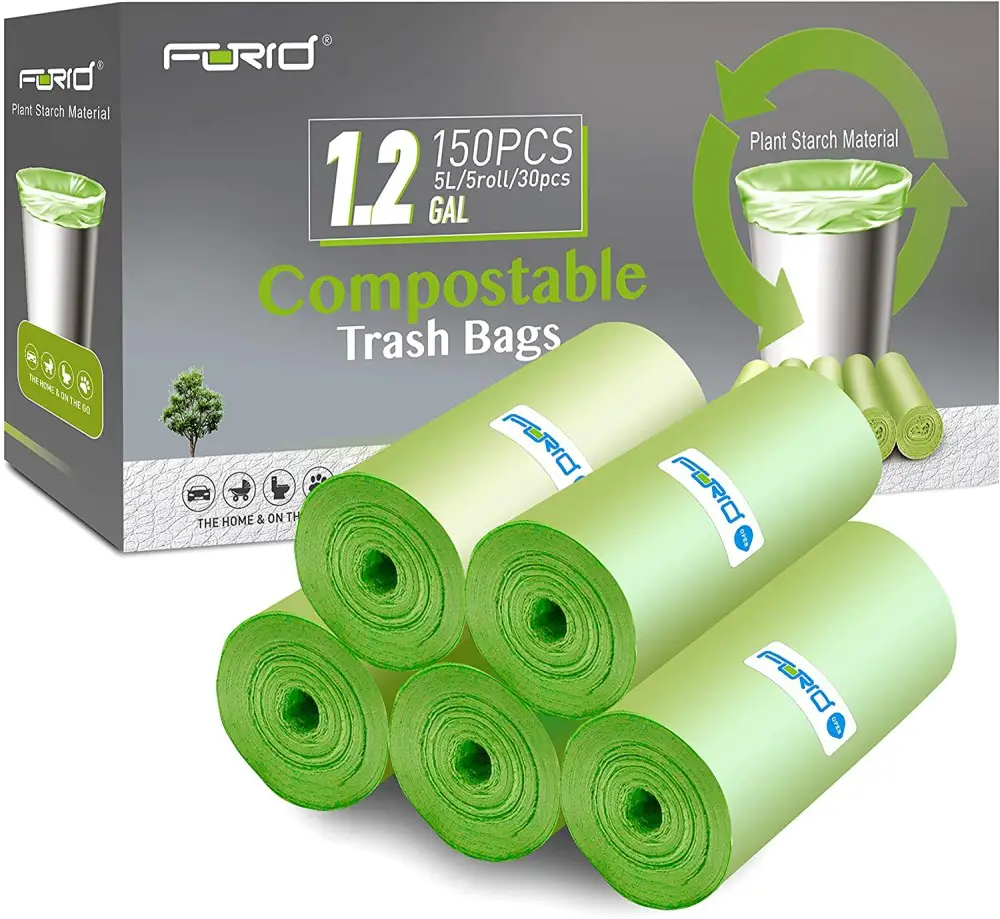 FORID Compostable Trash Bags are crafted from plant starch material while utilizing a new biomaterial based on natural renewable plant starch extracts.
These biodegradable and compostable bags can be composted in home composting facilities and backyards. FORID claims that its offerings are harmless, odorless, and purely compostable.
While compostable trash bags are notorious for tearing easily, especially when packed with wet garbage, FORID Compostable Trash Bags feature a durable octagonal bottom that withstands at least 38kg.
Suitable for bathrooms, kitchens, offices, baby diapers, living rooms, and garbage recycling.
About FORID:
FORID describes itself as an 'ingenuity brand' that focuses on product innovation and sustainability with strict standards on manufacturing technology, product quality, and raw material configuration.
The manufacturing company has been around for 15 years and donates 1% of its work to environmental organizations.
See Related: Best Biodegradable Baby Wipes in 2022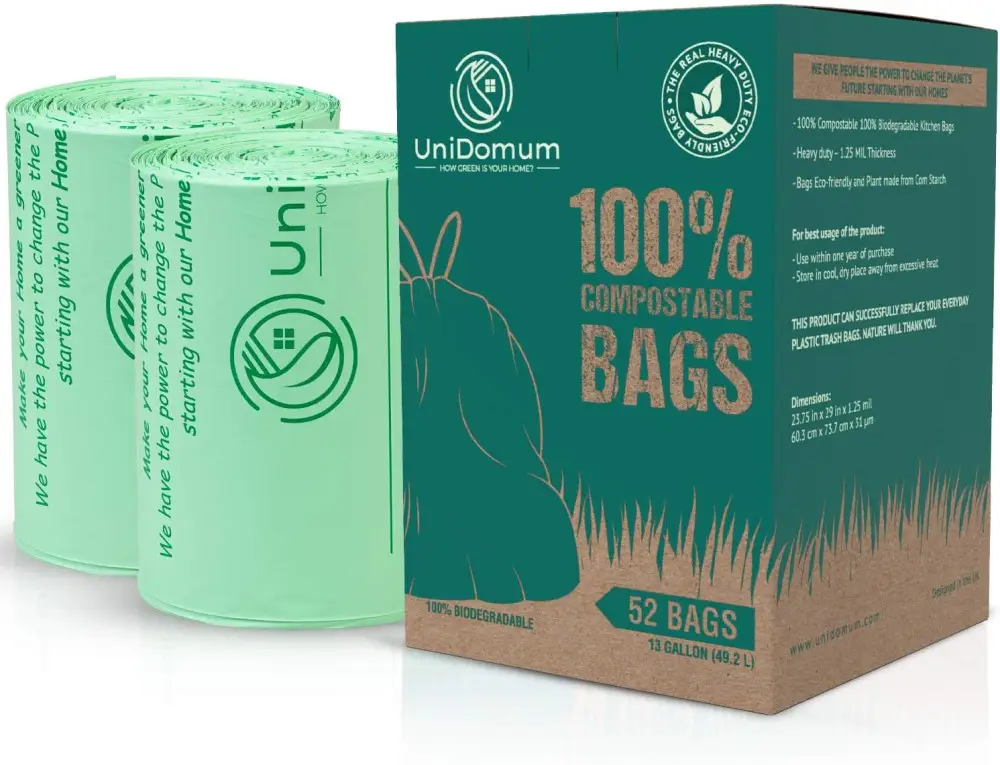 UniDomum Trash Bags are made from non-toxic, non-GMO, and organic materials, including corn starch.
Just like other trash bags, microorganisms are also thrown into the mix, breaking down the bag into carbon dioxide, biomass, and water.
UniDomum claims that their bags are crafted with a 50% thicker material compared to other compostable bags, so they're able to hold their material integrity longer when used in your indoor bin.
About UniDomum:
Based in the United Kingdom, UniDomum offers high-quality eco-friendly products and services worldwide.
The company focuses on bringing state-of-the-art sustainable products to the market through real-world product testing, extensive specialist research, and premium-level quality checks.
All of the company's compostable bags are certified by the Biodegradable Products Institute for use in municipal and commercial composting facilities. All items also comply with the U.S. standard ASTM D6400 and European OK Compost Home & Industrial.
See Related: Best Products to Help Climate Change to Buy Today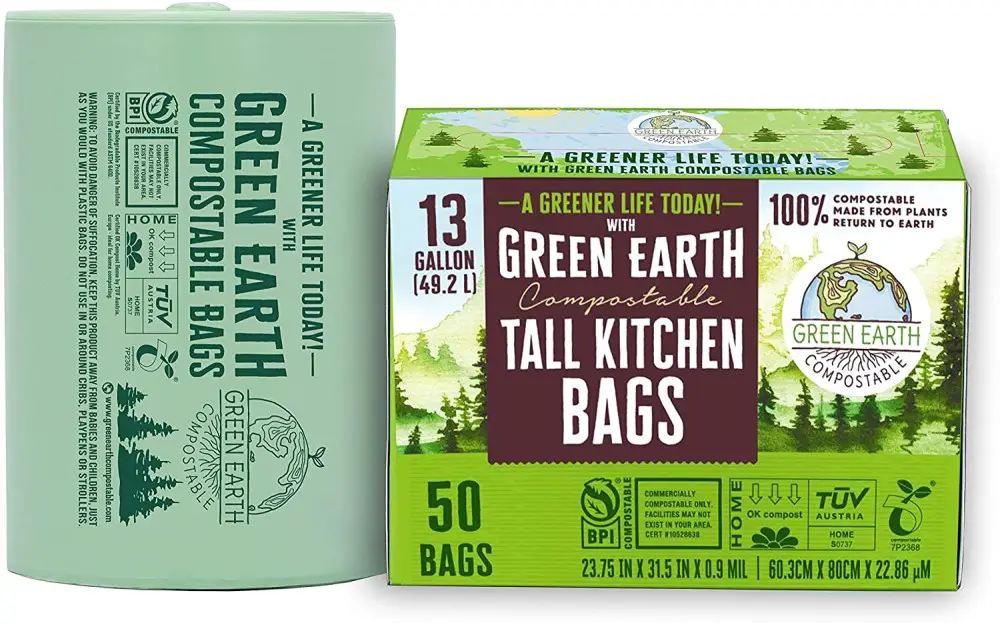 Unlike biodegradable bags, Green Earth Compostable Bags decompose in both commercial and home settings as they break down in the water, carbon dioxide, and biomass.
The company only uses GMO-free crops and biodegradable materials to develop its compostable products.
This tall kitchen trash bag, in particular, can fit most tall bins but must be used within a year of purchase and stored away from heat and moisture due to the usage of compostable materials.
About Green Earth Compostable:
Green Earth Compostable is a compostable trash bag manufacturing company that focuses on 100% compostable, plant-made trash bags. It donates 1% of its sales to charities that focus on conservation.
All of the company's products are made with compostable material and are certified by OK Composting, which means they are certified for composting in both municipal and industrial facilities as well as in a home and backyard composting setting.
All compostable bags are also certified by the USA BPI organization and made according to ASTM D6400 Specifications.
See Related: Green Revolution Pros and Cons to Know
These 4-6 gallon capacity trash bags are crafted from sustainably grown corn starch that naturally decomposes in both land and sea.
With lower greenhouse gas emissions and carbon footprint than PE plastics, these eco-friendly trash bags are also biodegradable in a home composting environment.
ETSUS compostable trash bags are crafted from materials that meet the U.S. ASTM D6400 standards for composting at an industrial facility.
If you're looking for biodegradable trash bags in bulk, this is a great choice.
About ETSUS:
ETSUS, which stands for Ethical and Sustainable, is a manufacturing company and family-run project that produces sustainable goods. After realizing that it's much cheaper and easier to find destructive goods than eco-friendly alternatives, ETSUS set out on a mission to produce a range of everyday sustainable consumables.
As of 2021, the brand sells compostable trash bags, biodegradable bags, and compostable dog poop bags on their website, Etsus.co. but buyers can browse their wares on Amazon and other online markets as well.
See Related: Eco-Friendly Stand-Up Pouches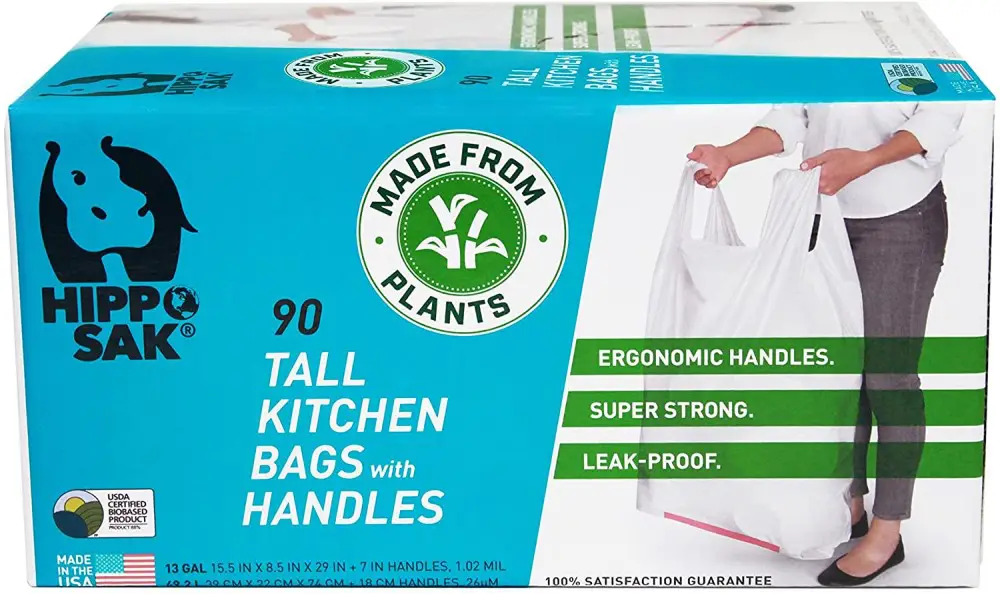 If you're looking for the best biodegradable trash bags, Hippo Sak products are a great choice. These biodegradable garbage bags are made from sugar cane instead of fossil fuels, which means they're renewable and recyclable while reducing your carbon footprint.
Hippo Sak claims that its plant-based bags are 10 times stronger than other leading trash bags, and a look at their Amazon reviews seems to reinforce this.
Several technologies make these plant-based kitchen bags a brilliant choice: the 4-play extra-wide hand-friendly handles that make them easier to hold, and the PowerStrip Reinforced Bottom that prevents holes, tears, and leaks.
Hippo Sak Plant-Based bags are a USDA Certified Biobased Product.
About Hippo Sak:
Founded in 1991, Hippo Sak is a division of Crown Poly Inc. and considers itself a market leader in packaging supplies. It also claims to be the only U.S. manufacturer that exports plastic film packaging products globally.
The company holds over 100 patents worldwide, which allows it to develop the most technologically advanced products in the market.
All Hippo Sak products are made with the highest environmental standards with a low carbon footprint, low water usage, and low pollution. The company considers itself an environmental innovator for reduction, reuse, and recycling.
See Related: Best Biodegradable Golf Balls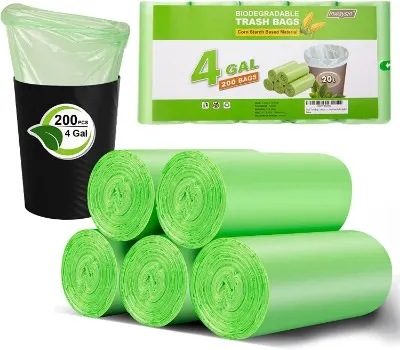 Numerous certifications, including the BPI, ASTM 6400, and Vincotte "Ok Home Compost" certification, make Inwaysin Store one of the best compostable trash bags on the market.
These trash bags are crafted from high-quality renewable bio-based materials, including plant starches, sugar cane, and vegetable oils.
While they are compostable, Inwaysin Store are extremely durable and hold up well even with wet garbage. As such, they're perfect for holding organic food waste and trash in your bathroom, kitchen, or baby diaper pail.
Second Nature Bags offers a full refund or replacement if you aren't satisfied with the quality of their trash bags.
About Second Nature Bags:
This manufacturing company has a strong passion for reducing environmental pollution and lowering our carbon footprint.
Second Nature Bags produces 100% certified compostable and biodegradable trash bags, crafted from plant-based materials like sugar cane and corn.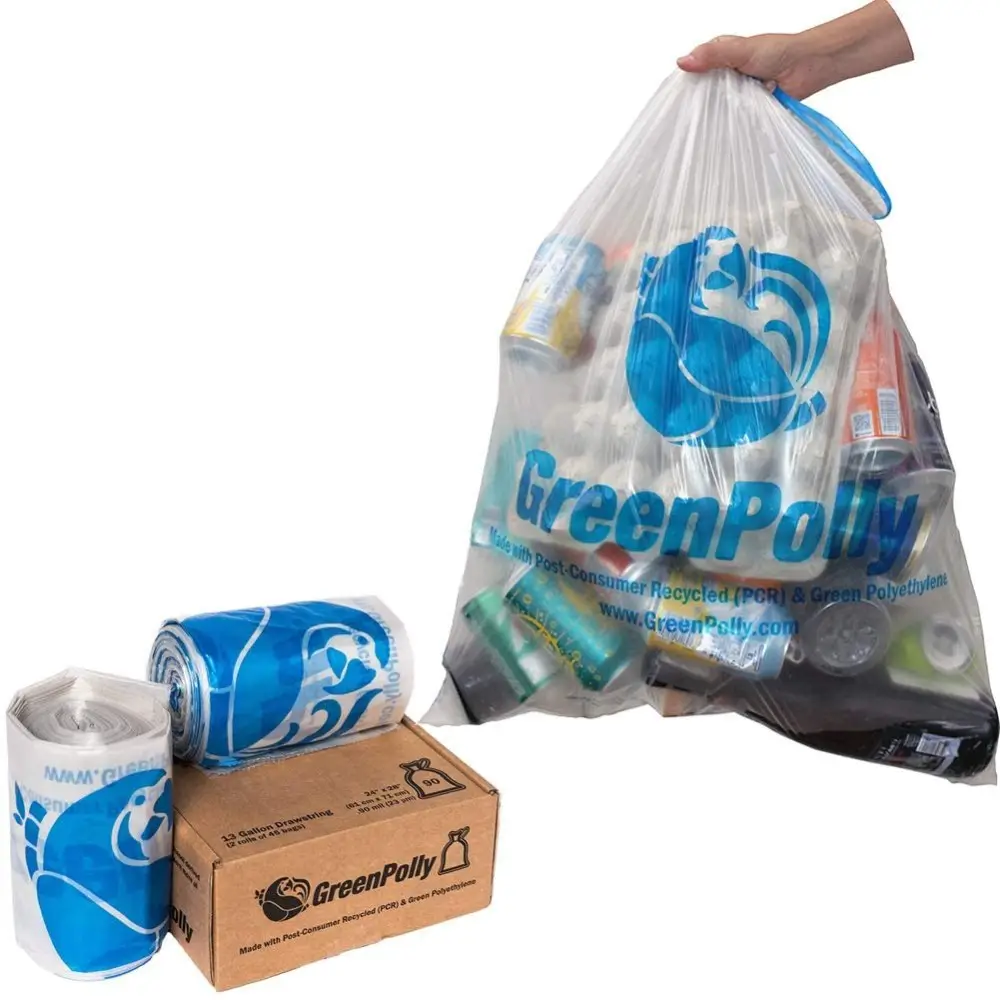 These recycling bags are crafted from 80% certified post-consumer recycled plastic and 20% polyethylene derived from renewable sugarcane. In other words, GreenPolly reuses discarded plastics to craft this line of recycling bags, as opposed to using fossil fuels.
These BPA-free clear recycling bags, which are designed for use in municipal, clear-bag recycling programs, feature 3-ply construction and are incredibly durable (the Amazon reviews are good proof).
About GreenPolly:
GreenPolly is pet waste, trash, and recycling bag manufacturer that puts a prime on recycling plastic to reduce waste in landfills and incinerators. It sources natural polyethylene (PE) from a sustainable source, as opposed to deriving them from fossil raw materials such as natural gas and oil.
By doing this, GreenPolly significantly reduces the carbon footprint of its products compared to traditional plastics.
The brand claims that its bags are one of the very first to be crafted from 80-90% plastic and 10-20% green plastic from sugarcane (a renewable source).
See Related: Best Home Energy Savings Products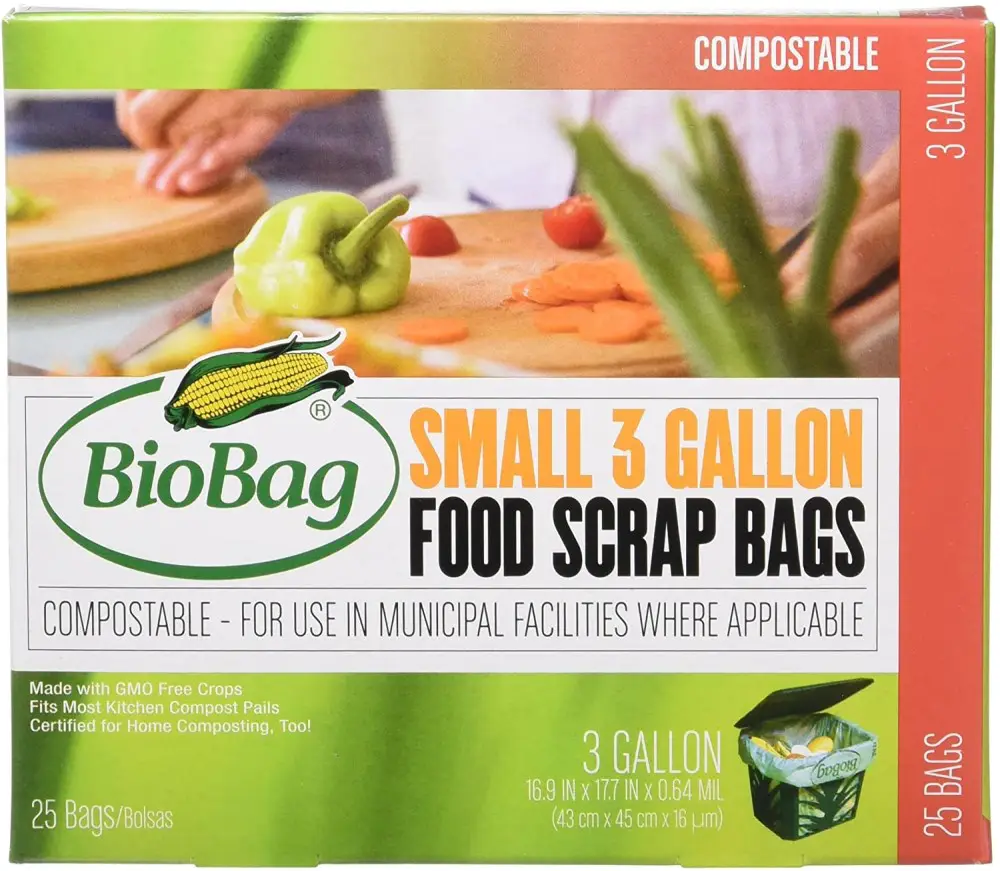 Looking for the best tall kitchen trash bags? This compostable table kitchen food scrap bags are crafted by BioBag, a company that considers itself to be a leader in providing bags for organic waste.
Unlike traditional plastic trash bags, BioBags are crafted from plants, fully compostable polymers, and vegetable oils, which means they are completely degradable and can be consumed by microorganisms that are present in the soil, so they are a great option for yard waste and food waste.
Durability is no issue for BioBag trash bags, which come with star-sealed bottoms for extra strength.
About BioBag:
BioBag is a trash bag manufacturing company with the goal of diverting naturally organic waste from entering landfills.
The company prides itself on not being a large-petroleum-based trash bag company that only dabbles in compostable bags.
Instead, they boast of being a small company of passionate employees who are committed to only producing certified compostable films and bags. However, given the materials used, these are considered biodegradable plastic bags.
All BioBag items are approved by the Biodegradable Products Institute, which means that they compost safely and rapidly in both municipal and commercial composting facilities.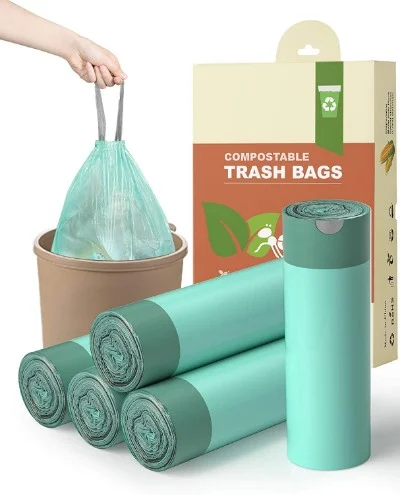 AYOTEE Store's compostable trash bags are crafted from natural renewable plant sources that decompose when in the presence of the natural environment.
Depending on the climate and temperature, these trash bags should decompose in around 9 to 12 months. It's worthy to note that even the packaging is recyclable and made from recycled paperboard.
What's great about these waterproof trash bags is the convenient and reliable drawstring closure, so you can easily close and seal the trash without worrying about spilling and leakage.
That's Rubbish compostable trash bags are BPI-certified compostable.
About AYOTEE Store:
AYOTEE Store is a trash bag manufacturing company that's committed to a greener planet, one trash bag at a time.
With a focus on creating strong, heavy-duty material, AYOTEE Store's compostable bags are one of its latest offerings.
Every time you use a compostable trash bag from AYOTEE Store, you're reducing your carbon footprint and making the world a greener place.
FAQ
Which garbage bags are biodegradable?
Biodegradable materials are any of a number of materials that can biodegrade, or decompose naturally. The biodegrade process often requires the input of certain nutrients, moisture, light, and/or oxygen. What makes bioplastics biodegradable is that they will break down in both aerobic (high oxygen) environments like compost heaps as well as anaerobic (low oxygen) environments like the natural processes within the ground.
How long does it take a biodegradable trash bag to decompose?
When stored under microbe-rich circumstances, biodegradable trash bags can break down within several months to several years and are biocompatible. Comparatively, traditional containers take hundreds of years and are completely decomposing.
Are biodegradable trash bags better than plastic bags?
The biodegradable plastic bag market represents a more environmentally friendly solution whose cellulose is more efficient in breaking down into materials. This offers a better alternative to traditional plastic bags as they can decompose at a much faster rate.
Why are biodegradable trash bags bad?
A biodegradable trash bag is bad because bioplastics, instead of being biodegraded in a landfill, they're potentially blown into the atmosphere and ingested by wildlife. The best alternative and most environmentally friendly option are compostable trash bags.
Related Resources