Did you know that achieving sustainable living is quite easy? Even simple acts like using sustainable toothpaste can make a huge difference. Read on to discover some incredible products for this.
Given that you use it once or twice per day, it's vital to consider the ingredients in your toothpaste. In the recent past, organic and sustainable toothpaste use has risen. Switching to one of these minty, whitening, refreshing, and protective natural toothpaste is probably one way to help give you a beautiful smile while saving the environment.
The goal of achieving zero-waste may seem unattainable. But, every little effort you and I make puts us one step ahead. If it helps to conserve the environment, you can stick your teeth into it!
Approximately a billion plastic toothpaste tubes get to the landfills each year, and eventually into oceans.
Embracing compostable, reusable, organic, and eco-friendly toothpaste products will help reduce plastic wastes piling up in landfills, incinerators, and oceans. This can, in turn, minimize the impact it has on the environment.
The trash in landfills takes a long time to break down, which results in all kinds of pollution. If you want to be part of people reducing that statistic, create your own DIY style and try some of these sustainable toothpaste products in our list:
Best Sustainable Toothpaste Products
One good thing here is that shifting to sustainable toothpaste products won't affect your finances. In fact, most of these products cost less than $10.
Here are some of the best sustainable toothpaste products to consider: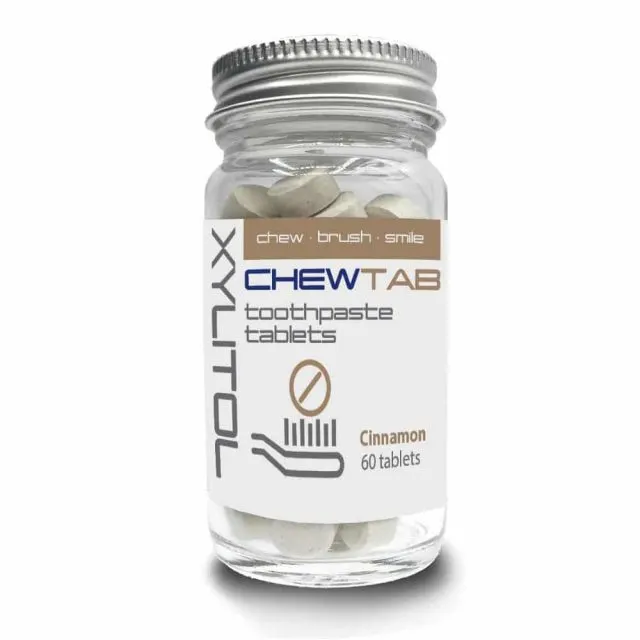 On top of our list is the Chewtab toothpaste tablets. This sustainable toothpaste is available as a set of 60 tablets, in an eco-friendly reusable glass bottle. With the use of such sustainable packaging, toothpaste use doesn't have to pollute the environment.
In fact, by using these toothpaste tablets, you'll have joined the movement that will help make our environment plastic-free. The bottles are refillable, and one can get refills of 3 x 60 counts.
Additionally, the toothpaste is available in different flavors, including Cinnamon, Peppermint, Vanilla Mint, and Bubble Gum. It doesn't contain any fluoride, SLS, or silicon dioxide (silica), which is highly abrasive.
Chewtab toothpaste tablets are enamel safe and are made up of natural ingredients that are gentle on your teeth, gums, and ultimately on the planet.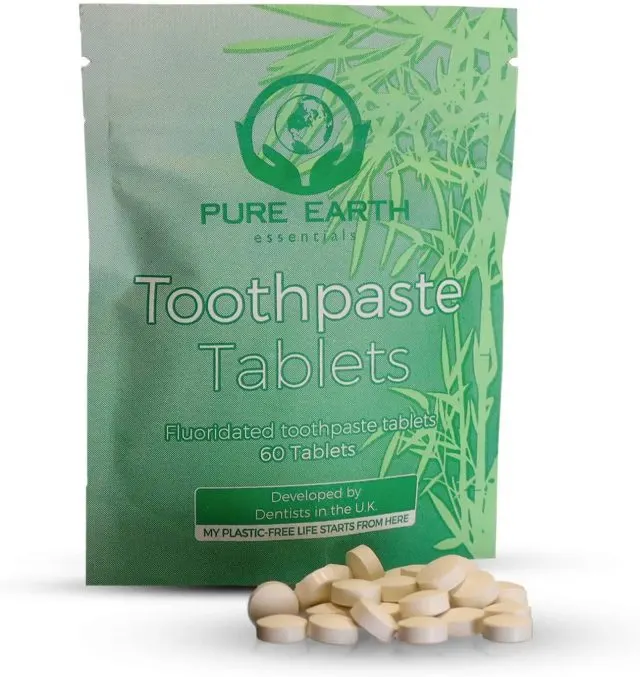 These are yet another set of sustainable toothpaste tablets, but with fluoride. Fluoride helps to fight cavities and keep your teeth stronger. The tablets have the right amount of fluoride (1450ppm), which is vital in helping prevent tooth decay and strengthen the tooth surface.
The pack contains 60 tablets, produced with a mission to reduce plastic wastes, packaged in recyclable paper bags. The tablets are chewable and tubeless, meaning that, unlike the squeezable toothpaste, there is no need to swipe the toothpaste tube across the toothbrush bristles.
Therefore, they help reduce wastes that come with brushing your teeth and are more hygienic and less messy. These sustainable toothpaste tablets have a natural mint flavor to give you a fresh breath.
These chewable toothpaste tablets are vegan, natural, and eco-friendly. They are easy to carry as they are not bulky, are leak-proof, and hand-luggage friendly. Also, they are easy to use as you only need to place a single tablet on your mouth, chew for 5 seconds, and then brush your teeth, spit and rinse.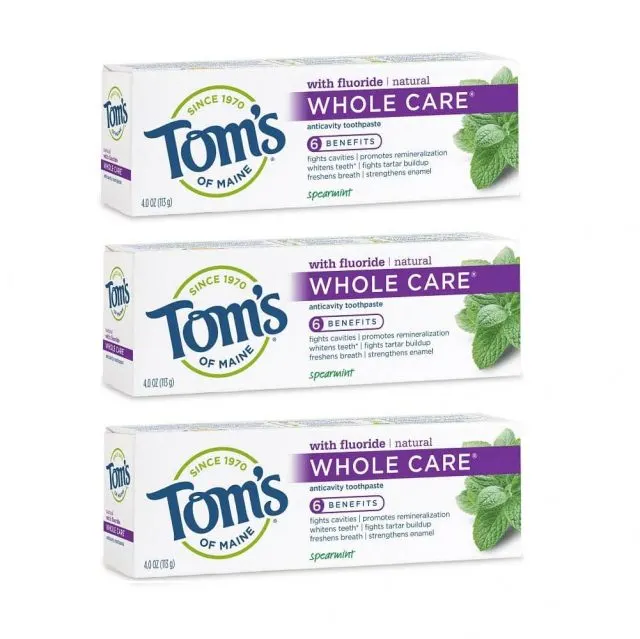 This Natural Toothpaste is among the most sustainable toothpaste with fluoride, ideal for both kids and adults. It comes with three main flavors, including cinnamon clove, peppermint, and spearmint.
Cinnamon clove is recommended for kids. It has three-ounce tubes of toothpaste that can help fight cavities and prevent tartar build-up in your little ones' tender teeth.
The toothpaste has naturally derived silicas that help get rid of surface stains to attain a brighter smile. The fluoride in this toothpaste promotes demineralization, which helps strengthen the enamel.
It's also one of the natural toothpaste with sustainable palm oil (Sodium Lauryl Sulfate) as an ingredient. This usually acts as a dispersant or a foaming agent.
The toothpaste contains no artificial sweeteners, colors, preservatives, or flavors and has not been tested on animals.
See Related: Best Sustainable Subscription Boxes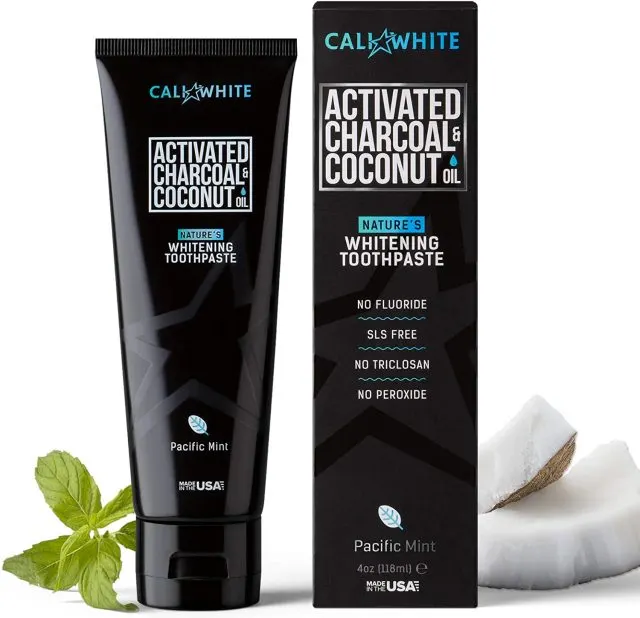 Made in the USA, this Cali natural whitening toothpaste is eco-friendly and vegan. It's fluoride-free, gluten-free, SLS-free, peroxide-free, sulfate-free, and has no parabens. It can be used safely by kids and adults.
The product is made from certified organic coconut oil, activated charcoal, and baking soda, which helps to clear stains and pull out plaque.
This toothpaste is infused with remineralizing properties of tea tree oil, xylitol, diatomaceous earth, coconut oil, and peppermint oil. It's clinically approved and can whiten the teeth even up to 7.7 shades whiter.
With its Pacific Mint flavor, this toothpaste cures bad breath and leaves your mouth feeling fresh. Also, the toothpaste helps you keep your sink ever clean, as there's no need to use the powder version of charcoal (Active Carbon), which can be quite messy.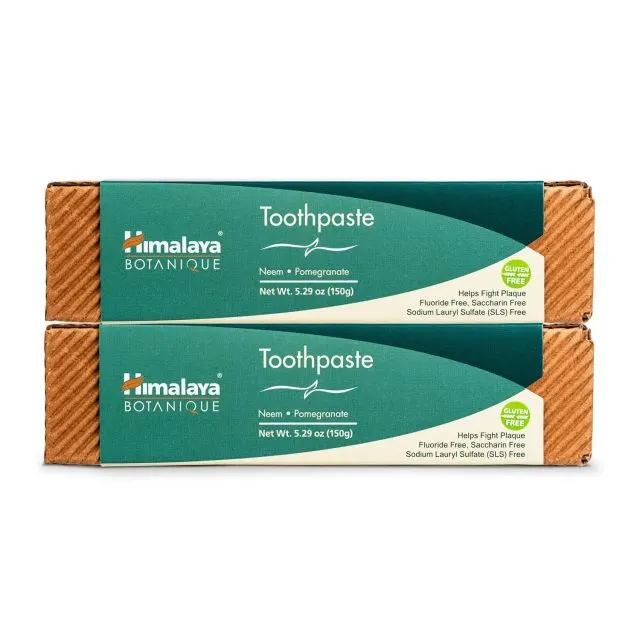 This neem & pomegranate toothpaste is one of the best sustainable toothpaste we have around. Its plant-based ingredients such as neem keep your mouth clean, while pomegranate reduces plaque on teeth.
The toothpaste's minty-fresh flavor keeps your teeth brighter, as well as your breath cool and fresher. The toothpaste contains zero fluorides, SLS, triclosan, or gluten.
This vegan toothpaste is also made through a cruelty-free process. The brand cares for our furry friends, and it hasn't been tested on animals.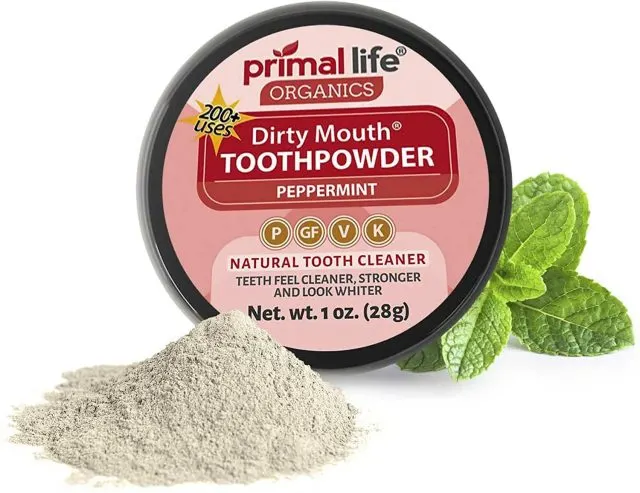 If you're looking for a sustainable powder for teeth whitening, then Primal Life Dirty Mouth Tooth Powder is the product to consider. This teeth powder helps take the dirt out of your mouth so you can have healthier, stronger, and cleaner teeth and mouth.
With a wide variety of flavors to choose from, you can never go wrong with this teeth whitener. You can pick flavors ranging from sweet spearmint, black spearmint, or black peppermint flavor.
This tooth powder lets you bid teeth sensitivity goodbye and start enjoying all types of food and drinks, whether hot or cold. The toothpowder is safe for kids, even when swallowed, although it's recommended that you spit it out.
Also, you only need to use a small amount for the best results. For instance, the 1 oz teeth whitening powder can be used even up to 200 times. The 0.25 oz is ideal for 60 uses.
With this tooth powder, you will easily achieve pearly white teeth as you save the earth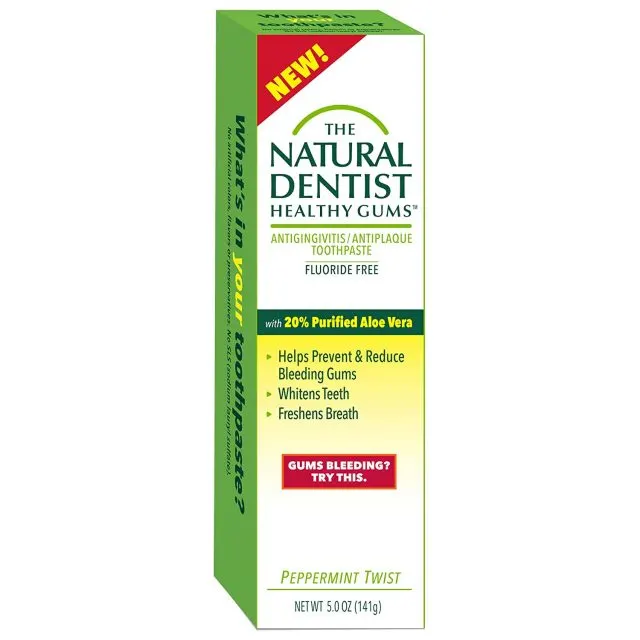 Natural Dentist is the ideal toothpaste for achieving healthy gums. This peppermint toothpaste is made to prevent and treat bleeding gums. It works well on your gums when you use it at the initial signs of gingivitis.
With this toothpaste, you can reduce plaque, whiten your teeth, and freshen your breath.
It's a natural toothpaste containing aloe vera, which is perfect for oral hygiene. This herbal toothpaste has no natural sweeteners, preservatives, flavors, or colors, and it's both fluoride-free and SLS-free.
It also contains hydralyte, which quickly restores electrolytes that can help during dehydration caused by fluid loss resulting from vomiting, night sweats, etc. It has no chemicals, artificial fillers, or abrasives. The product is naturally formulated for healthy gum.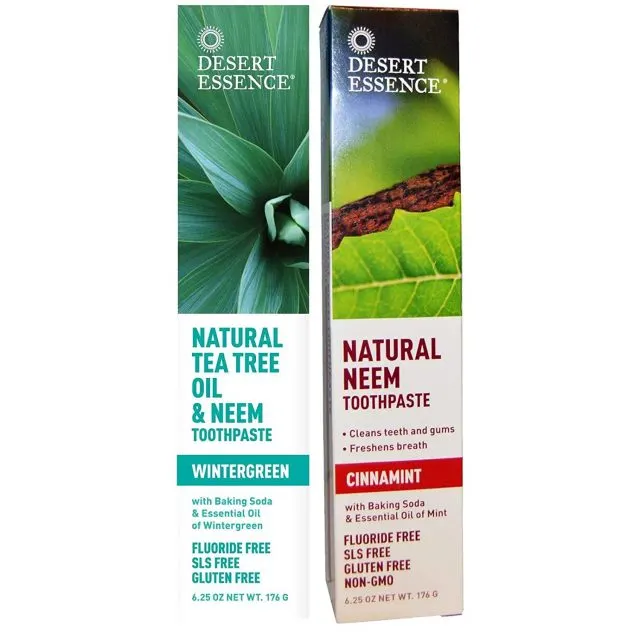 This is sustainable toothpaste with natural eco-friendly ingredients. It's made of natural ingredients such as sea salt, wintergreen leaf, neem extract, eco-harvest tea tree oil, and leaf distillate.
The toothpaste has baking soda that helps remove stains on your teeth, which might have resulted from smoking, drinking tea, and coffee. This makes the teeth appear whiter and brighter.
The tea tree in this toothpaste contains antiseptic properties that help fight plaque that builds up on your teeth.
It does not contain harsh abrasives, parabens, glycols, fluoride, petroleum compounds, phthalates, and artificial dyes and fragrances. That makes it safe to use regularly with no side effects.
The toothpaste has flavors of pure essential oil of wintergreen leaf, which is ideal for keeping your breath fresh. Desert Essence Toothpaste deep cleans both the teeth and gums.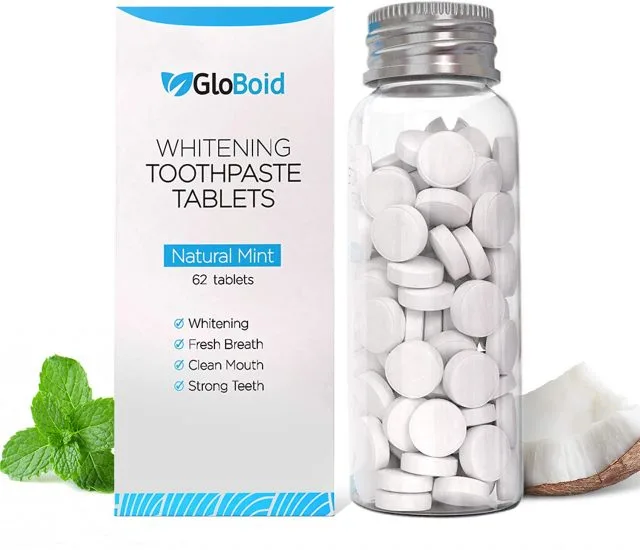 These 100% eco-friendly toothpaste tablets with Fluoride are ideal for anyone living or who wants to lead a sustainable lifestyle. It comes in a glass jar and not a plastic tube thus, helping reduce plastic wastes. It is produced cruelty-free and is recyclable.
To use it, you only need to pop a tablet in your mouth, chew for around 15 seconds, or until you feel a fresh foam fulminating in your mouth. Then brush for 2 minutes, spit out, and then rinse. You need to repeat this twice daily for excellent results.
The toothpaste has a healthy 1450ppm amount of Fluoride per tablet for fighting cavities. Also, these tablets are infused with a natural mint flavor, which gives a fresh breath. It's ideal for home use and also while traveling.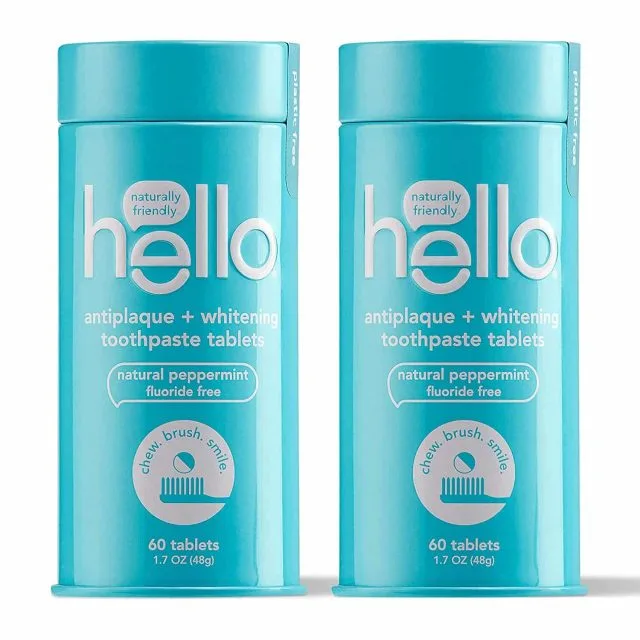 Hello is an oral care brand with a mission to make the world better with sustainable products. With these anti-plaque toothpaste tablets, you are guaranteed to get a white and fresh mouth.
The toothpaste is packaged in a plastic-free reusable metal tin. The ingredients and materials used are responsibly and sustainably sourced. Bamboo, stevia, and boxes used are 100% recyclable and are printed with soy-based ink.
When using this toothpaste, you only need to chew one tablet using your front teeth until it creates some foam. Wet the toothbrush, brush, rinse and spit. Using a hello charcoal brush would be ideal as it is more eco-friendly.
This toothpaste has a natural peppermint flavor that gives you that fresh breath. Also, it's formulated with coconut oil, tea tree oil, and real peppermint.
The toothpaste has no artificial flavors, sweeteners, no peroxide, no fluoride, no dyes, no SLS, no gluten, and no sulfates.
See related: Why Should We Care About Climate Change?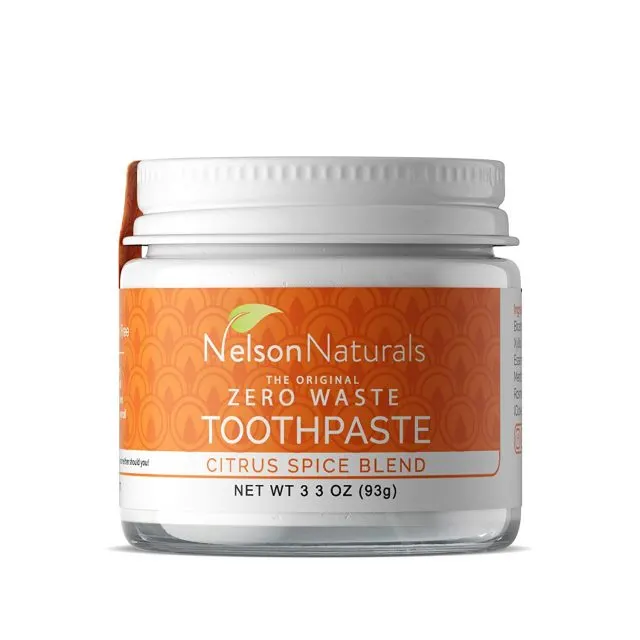 Packaged in zero-waste products, Nelson Naturals is 100% sustainable toothpaste. It is packaged in a plastic-free glass jar which helps keep the environment free of plastic wastes.
The toothpaste has a citrus spice blend, contains zero fluorides, zero SLS, and is free of artificial flavors and artificial colors. It is made for adults, and each packet contains 2 oz.
Nelson Naturals toothpaste is alkalinized, which helps the enamel absorb minerals naturally. If you want a toothpaste naturally produced and cruelty-free, then this is the product to go for.
It contains Xylitol, which is extremely dangerous to dogs if ingested, so it's advisable to keep it away from pets.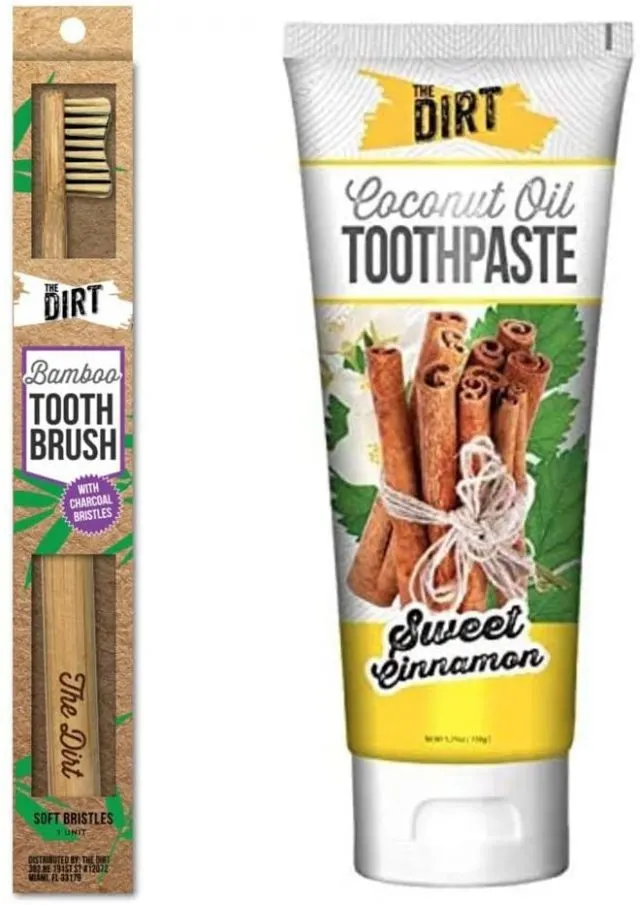 This Dirt All Natural Toothpaste is eco-friendly. It's a fluoride-free, gluten-free, MCT and coconut oil toothpaste.
The toothpaste mixes MCT oil with the benefits of bentonite clay which is a natural detoxifier and cleanser. Also, it has a refreshing flavor and anti-bacterial and antiseptic properties good for your mouth.
The good thing about this product is that it comes with a bamboo toothbrush which is stronger, healthier, and durable than any plastic. The Dirt All Natural Bamboo Toothbrush has extra soft and springy bristles that are sustainably sourced. The bristles are firm enough to remove plaque but also soft enough not to damage your enamel.
One large tube contains up to 6 months of servings. And, you don't have to use a towel to dry the toothbrush; you just rinse and leave it to dry, just like a regular toothbrush.
This bamboo toothbrush is allergen, additive, and BPA-free. The brushes have passed the stringent EU certification standards. They are ideal for people sensitive or allergic to soy, corn, or gluten.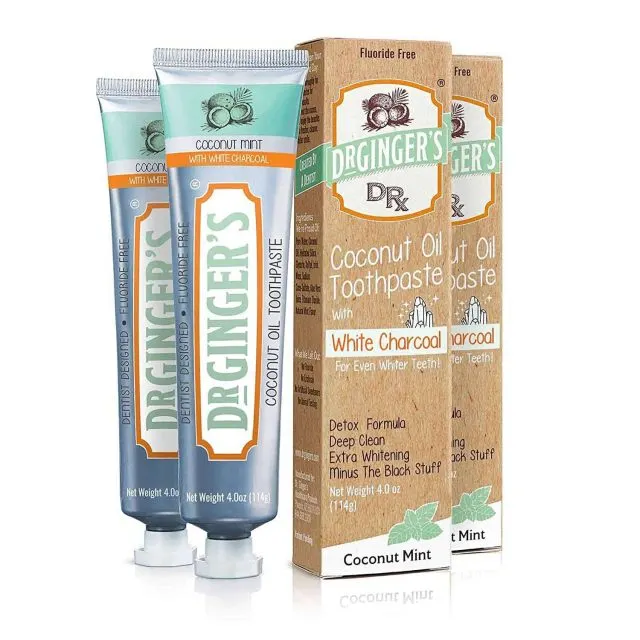 Dr. Gingers coconut oil toothpaste is a great choice for those seeking sustainable toothpaste. This toothpaste has a coconut mint flavor with white activated charcoal.
It contains (2) 4-ounce tubes of Dr. Gingers toothpaste. It's peroxide-free, fluoride-free, and free of artificial sweeteners. It's also alcohol-free, sugar-free, and free of artificial dyes.
The white charcoal present in this toothpaste provides detoxification properties. You can comfortably use it with no dark mess like that produced by active charcoal. This white charcoal contains coconut oil that makes it less messy.
All the ingredients in this toothpaste work together to help whiten and polish your teeth. The white charcoal contains tiny pores that help trap toxins and chemicals that might be in your mouth. This helps give you a deep clean that lasts for days.
If you want to freshen your breath and teeth sustainably, then you definitely need to include this toothpaste in your oral care routine.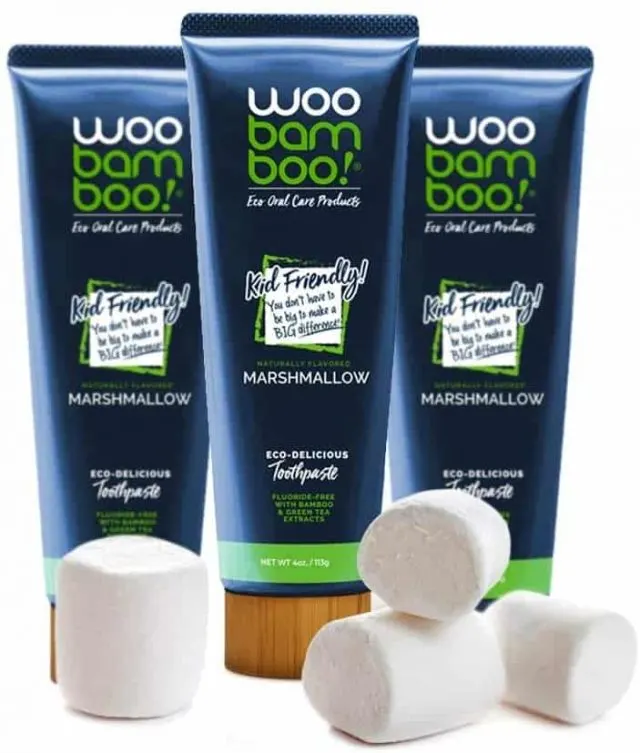 Woobamboo is a bundle of 3 marshmallow natural sets of toothpaste. This is sustainably sourced toothpaste which is also good-tasting. This USA-made toothpaste is packaged in a tube that has been made from a plant-based material that is recyclable.
It's free of any harmful ingredients and is created to help brush safely. WooBamboo is a company with a mission to offer eco-friendly products. Their toothpaste products will not only help make your teeth better but is also better for the earth.
Related Resources