Planning a camping trip? Want to make sure that you and your family are prepared in the event that the power goes out? Trying to save some money on your utility bills while conserving the environment? If you answered "yes" to any of these questions, then you may be thinking about investing in a solar-powered mini fridge.
At one time, solar-powered refrigerators may have seemed impossible. Since these appliances rely on too much electricity, it was extremely difficult to make fridges that were powered only by solar energy.
While attempts were made, the results were lackluster, as they couldn't collect enough solar energy, or they could only hold their power for a very limited amount of time.
Thanks to advances in technology, however, that's no longer the case! Solar technologies have greatly improved in recent years, and those technologies are being used to power refrigerators and freezers.
Whatever the reason, if you're interested in purchasing a solar-powered refrigerator, keep on reading to learn more about these technologically advanced appliances, including some of the best models that are currently on the market today.
Best-Of by Category
How Do Solar Refrigerators and Freezers Work
You're probably wondering, "How does a solar fridge and freezer work, anyway?" To explain, here's a brief overview.
Converting the Sun into Energy
In a nutshell, solar refrigerators work by taking sunlight and converting it into energy. That energy is then used to chill the storage compartments that the appliance contains. There aren't any moving parts and no electricity is required at all; the entire process is based on natural sunlight.
Standard refrigerators and freezers, like those that most people have in their kitchens, garages, basements, or motorhomes, are outfitted with motors that compress a solution of refrigeration to cool the interior of the appliance.
Solar fridges and freezers, on the other hand, are absorptive devices; in other words, they use the heat, which is sourced from the sun, and utilize thermal energy to transfer the refrigeration solution into a liquid.
The result: energy is produced, and as such, the appliance is able to sustain cold temperatures inside the fridge and freezer, and thus, the contents that are stored within it.
See Related: Energy Conservation Techniques to Know
Refrigerants Explained
Whether powered by electricity or the sun, all refrigerators rely on refrigerants to cool the interior of the appliance.
There are a lot of different types of refrigerant solutions, but two of the most commonly used solutions are comprised of a mixture of water and ammonia or water and lithium bromide. When combined, these substances make a vapor or liquid refrigerant.
It's important to note that caution should be practiced when using all types of refrigerants.
Why?
Because the contents of the solution have the potential to cause physical harm, especially if they are ingested.
With that said, in order to chill the interior of the fridge and freezer, as well as the contents that are stored within it.
The refrigerant (also referred to as "coolant") has to be converted from liquid to vapor, or vapor to liquid. It is this process of conversion that creates thermal energy, and that thermal energy can be utilized to power DC-powered electrical systems that are used in solar-powered refrigerators and freezers.
In the beginning, solar refrigerators are provided with a gaseous form of coolant; however, when the coolant is heated via sun exposure, pressure is applied to the gas, and eventually, the refrigerant is changed from gas to liquid form. When it's removed from the heat (the sun), the liquid coolant depressurizes, and thus, reverts back into gas.
See Related: Environmental Consequences of Fracking
Solar Powered Refrigerator Insulation
So, how do solar powered refrigerators and freezers stay cold? They are heavily insulated. The appliances are lined with insulating substances – usually metal or foam materials – and those substances insulate the contents of the refrigerator and freezer and shield it from being exposed to external heat.
To put it simply, the insulation materials that are used to line solar powered mini fridges and freezes, as well as full-sized appliances, allow the food that is stored within the appliance to remain chilled, even when it's left out in the sun or high temperatures.
If any type of refrigerator – whether powered by electricity or solar energy – isn't insulated, it would be completely useless. The top, bottom, sides, and door of the appliance is completely insulated, and this insulation allows the interior of the appliance to remain consistently cool for a prolonged period of time.
See Related: Which Energy Sources Generates the Least Greenhouse Gases?
No Batteries Required
The first solar refrigerators and freezers used both sunlight and PV cells to charge up lithium-ion batteries. The batteries were able to hold a charge long enough to provide the appliance with energy for a few hours when sunlight wasn't present.
Today, however, thanks to the advanced in technology, solar refrigerators and freezers no longer utilize batteries; rather, the conversion of the refrigerants from a gaseous state to a liquid state generates enough thermal energy to maintain cold temperatures within the appliances without sunlight.
As such, batteries are not needed to power solar refrigerators at night, when it's cloudy, indoors, or in any other setting where sunlight isn't present. Pretty neat, huh?
See Related: Best Biodegradable Dog poop Bags
The Advantages of Solar Powered Refrigerators and Freezers
Whether you're an environmentally conscious individual, you're a prepper who wants to be prepared in the event that the power goes down.
You no longer want to rely on the grid and want to completely disconnect from it, or you spend a lot of time outside camping, fishing, etc., and you want to have access to cold food and drinks, you might be thinking about investing in a solar powered fridge.
Before you do, however, you probably want to know what type of benefits cooling your food in a solar powered fridge and freezer offers.
Below, you'll find a brief summary of some of the most notable advantages of solar refrigerators.
See Related: Are Brown Paper Bag Compostable?
Blackout-Proof
Hurricanes, strong winds, blizzards, ice storms, heat waves, or the "cyber-attacks" that seem to becoming more and more commonplace in these upside-down days, blackouts are bound to happen, and when they do, you can be taken by complete surprise.
While losing power is a bummer for so many reasons, perhaps the biggest issue is the inability to keep your food cold. With a solar powered refrigerator, if the power goes out, you won't have to worry about food spoilage.
See Related: Best Conservation Books to Read
Improved Energy Efficiency
Sure, you could use a solar panel to power a standard energy efficient fridge and freezer; however, if energy efficiency is your primary concern, that isn't exactly the best way to go.
Why? – Because the solar power will need to be inverted to AC power in order to keep the interior of the appliance cold. That isn't the case with a solar powered refrigerator, as they are wired to run on DC power; in other words, they don't need to convert solar power to AC power. In short, solar powered refrigerators are much more energy efficient.
See Related: Best Compostable Trash Bags
Less Expense
After you purchase your solar fridge, you won't need to spend a dime to run it. The solar panels collect energy from the sun, and that energy is converted into power that is used to keep the appliance cool. It is among the great environmental products to own.
If you're looking for a way to reduce your expenses, after the initial investment, you'll save a whole lot more when you use a solar fridge to keep your food cool.
See Related: Pros and Cons of Biofuels to Know
Eco-Friendly
Lastly, if you want to reduce your carbon footprint, a solar powered refrigerator is definitely a wise investment. Standard refrigerators and freezers use a tremendous amount of energy; even so-called "energy efficient" models.
Since solar powered fridges collect sunlight, and turn that sunlight into energy to power the appliance, you'll be able to minimize your carbon footprint.
See Related: Best Erosion Control Products
The Best Solar Powered Refrigerators
Now that you know the benefits that are associated with solar powered refrigerators, if you've decided that you'd like to purchase one, there's no doubt that you want to ensure you're investing in a high-quality, reliable appliance.
There's been an influx in solar powered fridges in recent years; in fact, the market seems to be saturated with them. While having a lot of choice is a good thing, it can also make trying to narrow down the options a difficult task.
To help you do just that, we've taken the liberty of doing the research for you. After scouring the internet and reading through the product descriptions and countless customer reviews, we've selected the solar powered refrigerators and freezers that we believe are the best options currently available.
See Related: Best Compostable Mailers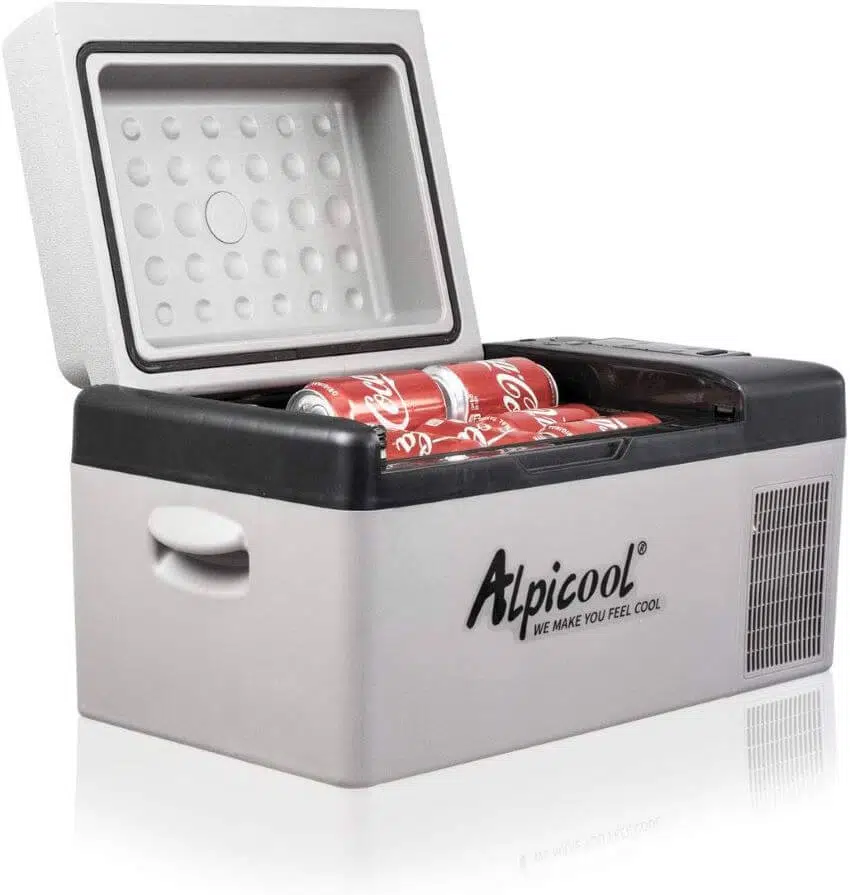 The Alipcool C20 Portable Refrigerator can be used for camping, fishing trips, backyard barbecues, when the power goes out, or simply for having backup storage. With a 20 liter capacity, you can comfortably fit 25 cans with ease.
It freezes without the need for ice and can reach chilling temperatures as low as -4 degrees F (-20 degrees C), so you can have confidence knowing that your goods will be kept nice and cold. A temperature memory function and three levels of battery protection – low, medium, and high – it won't suck the power from your vehicle's battery.
Constructed of highly durable, yet extremely lightweight materials, it's easy to transport, yet will keep your food and drink nice and secure. High density foam insulation throughout the appliance will keep the contents reliably cold for a prolonged period of time.
See Related: Why Should We Care About Climate Change?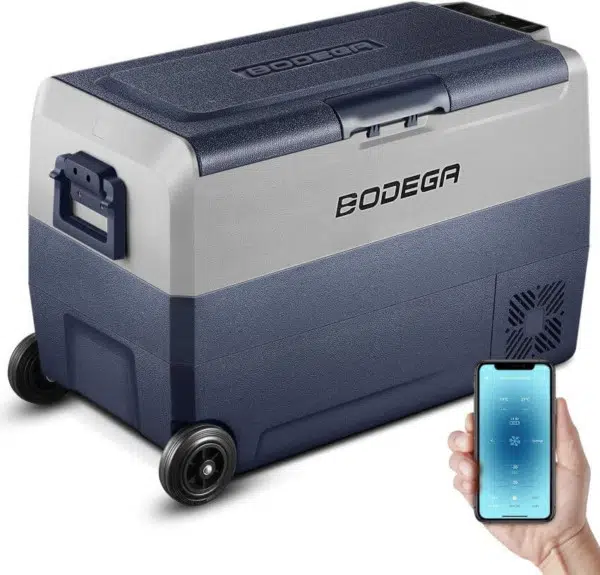 Next on our list of the best solar powered mini fridges is this option from Bodega. It's a dual zone fridge/freezer, with the left zone offering 28.5 liters (30 quarts) of space and the right zone offering 21.5 liters (23 quarts) of space, for 50 liters (53 quarts) of total storage space.
You can control the temperature of each zone independently. This solar powered fridge supports both manual and app control. To use the app control, download the Bodega app for either android or iOS, plug in the cord, turn on the appliance, and follow the easy to understand instructions.
A battery protect system with high, medium, and low levels, allow you to properly correspond different startup voltages and shutdown voltages. Thanks to the powerful compressor, the interior can be chilled to 32 degrees F in as little as 15 minutes!
See Related: Best Eco-Friendly Space Heaters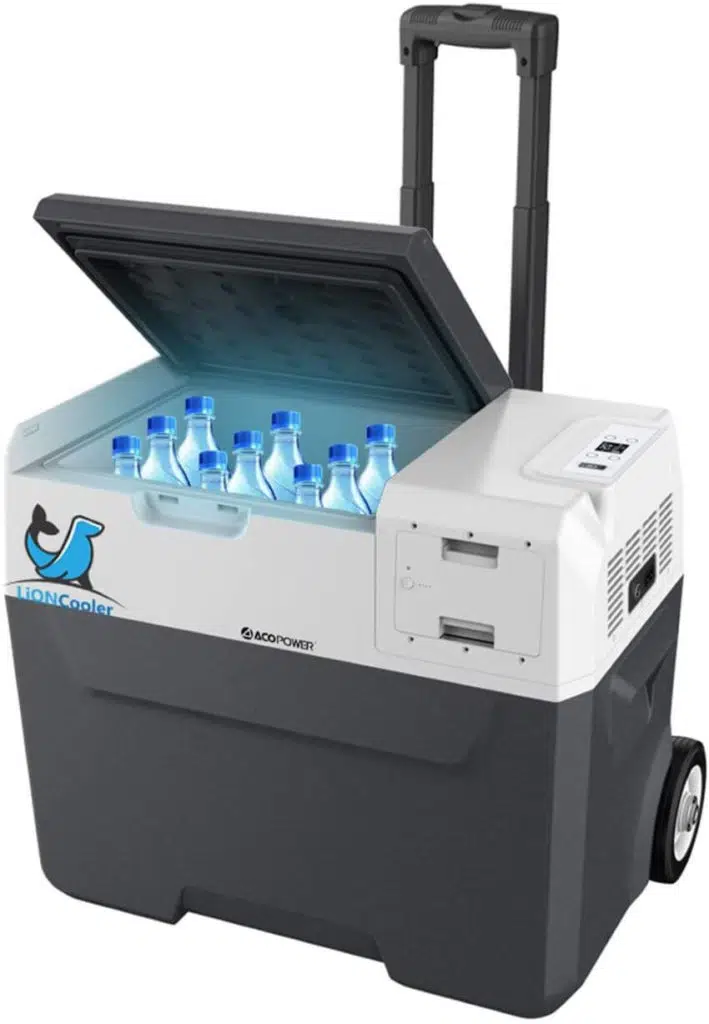 The LIONCooler X40A Battery Powered Solar Fridge Freezer with Solar AC/Car Rechargeable Battery can function as both a fridge and a freezer.
Thanks to the super-powerful compressor, it can cool down to -4 degrees F, so you can have peace of mind knowing that the contents will stay nice a cold. When emptied, it cools down to 32 degrees F in just 20 minutes, so it's ready to start using in no time.
With a 43 quart/40 liter capacity, you can keep plenty of foods and beverages cooled. The rechargeable 173Wh built-in lithium ion battery charges via a 120V AC, 12v/24V DC adaptor or a 12v solar panel (80 to 120W).
A portable trolley and durably constructed 6 inch wheels with a telescopic luggage-style handle, you'll have no trouble toting this fridge/freezer combo around.
The digital smart control panel with electronic temperature control makes it super easy to operate, as you can remotely manage the temperature setting with a free Bluetooth app. With an ETL certification, you can rest assured that your food and drinks will be safe and secure.
See Related: Biodegradable vs. Compostable: What is the Difference?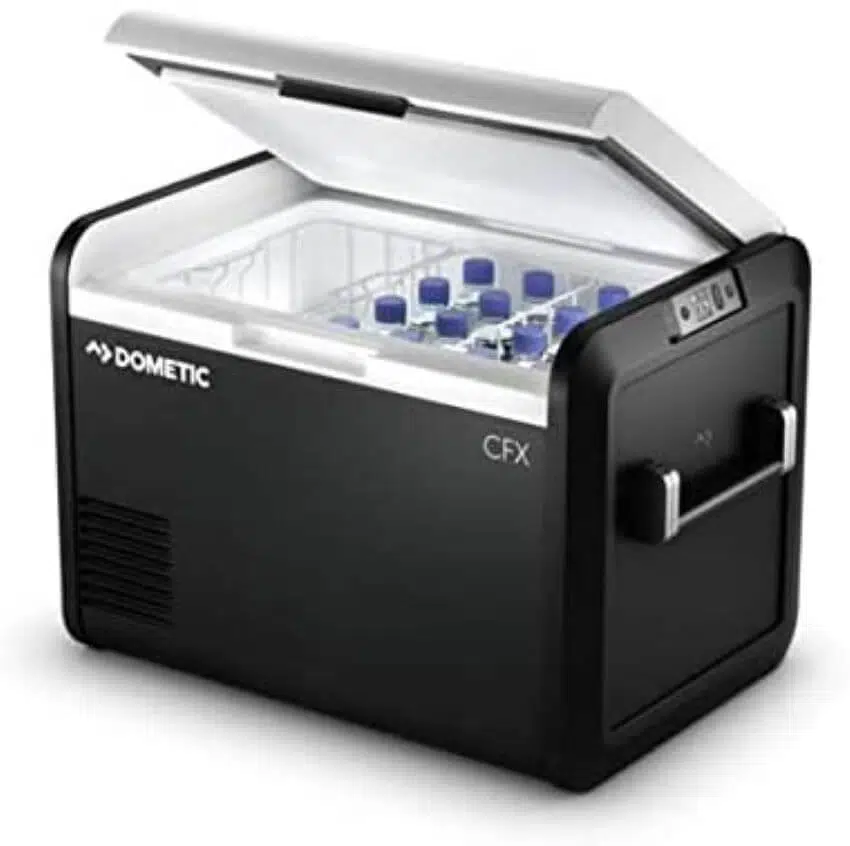 Wrapping up our list of the best solar-powered refrigerators is the heavy-duty Geartree Domestic CFX3 Portable Refrigerator and Freezer. It features a durable, yet lightweight ExoFrame construction, complete with fender frame protected edges and aluminum alloy handles, so it's easy to transport, yet it can really take a beating.
The super-powerful VMSO3 compressor's cooling technology refrigerates and deep-freezes to -7 degrees F for maximum efficiency. An easy-to-read high-resolution and soft-touch buttons allow for seamless control and monitoring of the temperature inside the fridge.
Download the CFX3 app and you can conveniently operate the appliance via WiFi or Bluetooth technology, and even see the performance history of the fridge.
With a 3-stage dynamic battery protection system will prevent your car battery from being depleted.
Related Resources