When winter rolls around, it's time to get space heaters to add warmth to your home. But, most space heaters are not energy efficient or sustainable. Have you thought of getting an eco-friendly space heater? These are both energy efficient and good for the environment, helping you reduce your carbon footprint and utility bills.
Did you know that you can use an energy-efficient space heater at home that will provide better heating and save money on electricity costs? In the process, you not only reduce energy consumption but keep your home safe.
Usually, a good space heater covers lots of square footage without using lots of energy. Its internal construction helps emit more heat even at a low heat setting. That way, it pulls less power but still keeps your home cozy on cold days and nights.
Furthermore, if you want to bring down your annual utility bills, an energy-efficient space heater for your home is among the smart devices you can adopt. But before making that purchase, here is everything you should know about them.
Best-Of by Category
Best Eco-Friendly Space Heaters
Below are some of the best heaters in the market you can check out.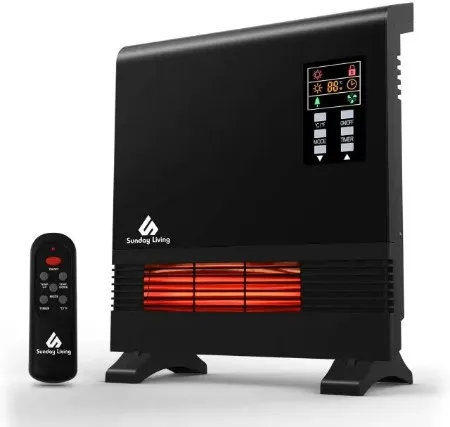 Features
Brand: 5 Sunday Living
Color- Black

Power Source: Electricity
Control: Remote
Settings: Adjustable Thermostat
Wattage: 1500W
Description
Sunday Living space heater is an example of an eco-friendly wall heater you can use at home. It's a 1500W heating system that uses electricity to provide warmth for your home.
One of its main features is the fact that it's a sustainable device. You have an option of cutting down your energy consumption using the heating modes.
Usually, it features high, low, and eco-friendly heating modes. That way, you can use the eco-friendly mode to provide warmth while minding the environment. Also, it heats up fast, saving energy.
In terms of mounting, you have two options. First, you can mount it on a wall when you don't want to move it around. Second, you can leave it as a free-standing heater. Once you do, it becomes a portable space heater to bring to any room you want to warm up.
The good news is that it doesn't take up much room. Also, it has a 5000 BTU and is extremely quiet. So expect fewer noise distractions as you go about your day.
Additionally, this energy-efficient heater has ETL certification. This means it's a safe device to use in your home. And, it has some safety features, including a child-lock function, and protection against overheating.
See Related: Eco-Friendly Backpacks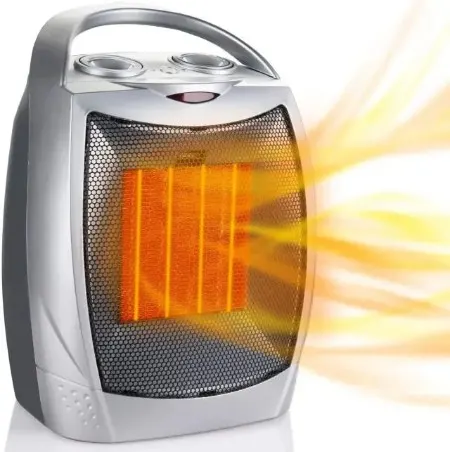 Features
Brand- Minetom
Wattage- 1500W

Material- Ceramic
Power source- electric
Room size- 200 sq. ft.
Color- Silver
Adjustable temperature- 0F to 158F
Description
Minetom is one of the best portable space heaters. It's an energy-efficient home heating device that's lined with PTC ceramic. The ceramic heater makes it possible to get lots of heat in the shortest time possible.
More so, heat emission is quick, and it uses less energy due to the powerful internal fan. The result is lower energy consumption which saves you money.
It's suitable for rooms measuring 200sq. ft. like a bedroom. More so, it emits less noise, so it's better for such rooms.
The heater materials are flame retarded, which safeguards your home against the risk of fire. In case of overheating, it automatically shuts off. The same happens if it's knocked over.
There are numerous adjustable temperature options to choose from that start from 0°F to 158°F. Pick the lowest possible temperature to heat the small room and use less energy in the process for more efficiency. All in all, the safety features of this device add to its overall durability.
See Related: Eco-Friendly Wrapping Paper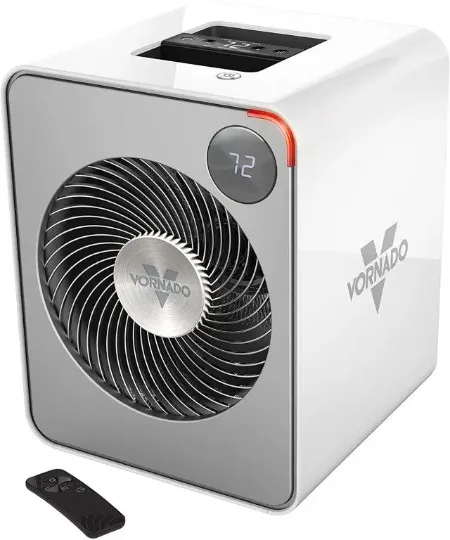 Features
Brand- Vornado
Color- Ice white
Power source- electricity
Heat settings- 2 temperatures
Timer- 1 to 12 hours
Control- remote
Description
The most notable feature of this eco-friendly house heating system is its vortex circulation process.
Generally, it requires less energy to heat a small room. However, this heater uses less energy to heat small and medium-sized rooms. The workings resemble that of a forced furnace but on a smaller scale.
Besides, it has auto-climate capabilities that sense the temperature needs of the room. That way, this energy-efficient space heater can adjust the temperature settings accordingly. In the end, less energy is needed to heat the room and maintain the warmth.
Another notable feature is the two temperature options. You have low at 750W and high at 1500W. The device has an LED display screen that you can keep an eye on. Also, adjusting the temperature is through remote control or the touch display screen.
Lastly, this is a safe-to-use space heater for your home, thanks to the cool-touch exterior. It shuts off if it tips over and automatically shuts off in 2 stages when overheating.
See Related: 13 Best Energy Efficient Kettles | Eco-Friendly Options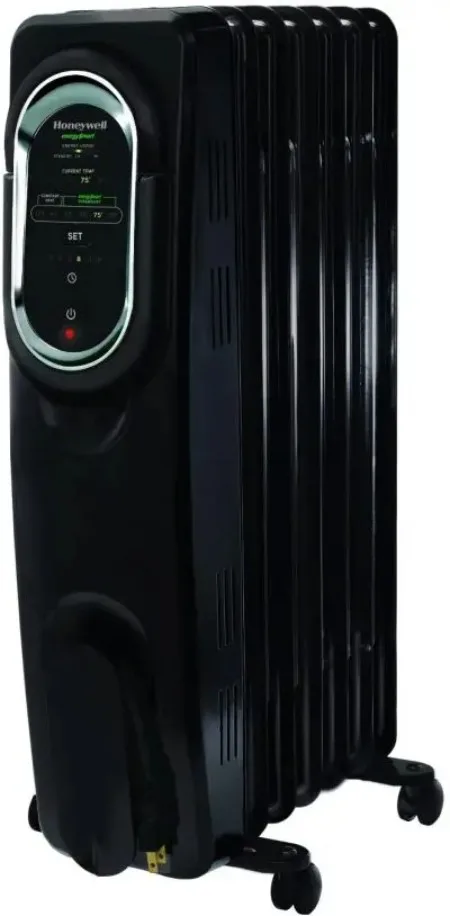 Features
Brand- Honeywell
Color- Black
Power source- electricity
Wattage- 1500W
Heating methods- infrared, ceramic, and forced air
Heat settings- 3
Description
For rooms as large as 350 sq. ft., this Honeywell space heater provides ample warmth. It's a smart device that uses less energy to keep the room warm for longer. This is a portable heater meaning you can opt to heat a specific room and leave the rest.
Additionally, the heat settings provide you with enough control to minimize energy use when the room is warm enough. Also, it has a 1 to a 12-hour timer for easier control plus an adjustable thermostat.
It's among the best eco-friendly electric heater, which is simple to move around. It has a handle that you can use to pull it to the room of your choice. Besides the handle, the heater comes with glide wheels that make it easier to roll.
In regards to safety, the heater automatically turns off in case it tips over. Also, all its wires have thermal insulation protecting against fire.
It is a silent eco-friendly space heater that you can use anytime without worrying about noise distraction.
See Related: Best Eco-Friendly Fireplaces: Top Sustainable Alternatives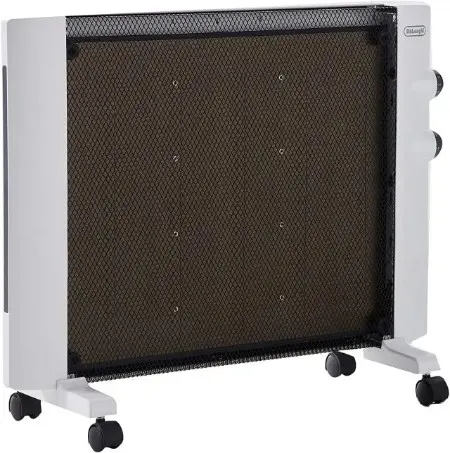 Features
Brand- De'Longhi
Color- White
Wattage- 1500W
Power source- Electricity
Room capacity- 300 sq. ft.
Description
First glances reveal that this is a long and thin space heater that uses micathermic technology. Inside the heater are heating elements that are mica-coated. These allow a rapid rise in temperature when you turn on the device.
Mica is known as an efficient heating material used by manufacturers to coat heating coils. The high wattage is at 1500W, but you can adjust it using the temperature settings. The space heater has multiple heat settings to use when you want to heat the room.
In regards to portability, this is a lightweight device despite its wide appearance. You can quickly move it from one room to another. That way, you only heat the room you are in, to save on energy. It has gliding wheels that make it simpler to move.
The device has a thermal shut-off that protects against overheating. The anti-freeze feature also warms it up to guard against frozen pipes. Frozen pipes can result in a faulty space heater.
You can mount it on a wall, which is a safer way to prevent damage due to tipping over.
See Related: Eco-Friendly Area Rugs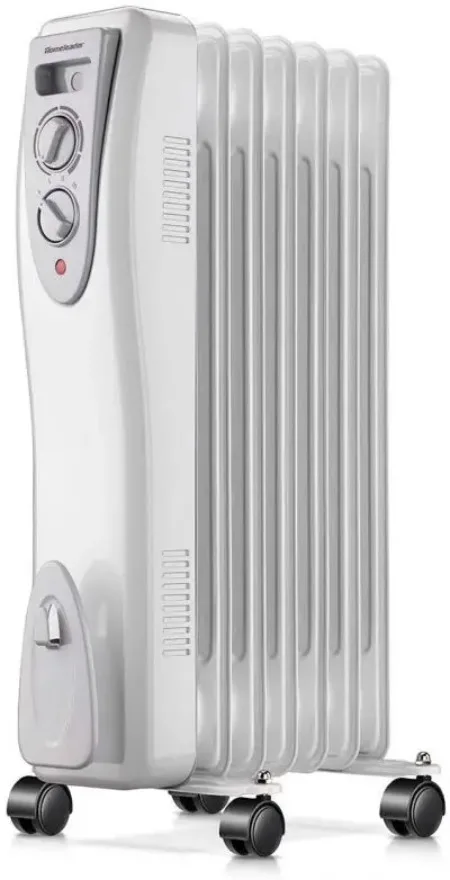 Features
Brand- Homeleader
Color- White
Heating method- radiant
Power source- electricity
Wattage- 1500W
Temperature settings- 3
Description
Here is an oil-filled space heater from Homeleader. This space heater is eco-friendly thanks to the oil. While the oil requires some heat to warm the room, it doesn't cool off fast.
Normally, it means you can heat the oil at a high setting and then turn down the device. The room remains warm, and you use less energy to keep the space heater operational. Also, the space heater doesn't dry out the air in the room.
This eco-friendly house heating device comes with an adjustable thermostat. On it are three heat settings ranging from 600W, 900W, and 1500W. Adjust as per your heating needs.
The power source is electricity plus it has a long extension cord. The device comes with a 1-year replacement warranty in case of any faults.
What is the Importance of Energy Efficient Space Heaters?
A large percentage of homes in the US are now using environmentally friendly heaters. But why are they important? Well, these space heaters benefit your home in several ways:
Reduce Utility Costs
Commonly, the number one motivator for many households to use an energy-efficient space heater is to reduce the energy bill. Today, most homes pay an annual amount of around $1,500 for energy consumption. The bill is higher when you have heating systems that run for most of the year.
When you get a sustainable heating system, you can cut down the cost of energy. You end up saving money that you can channel to other essential uses at home.
Safeguard the Environment
Eco-friendly heating solutions benefit the environment. First, you have fewer carbon emissions known to harm the ozone layer. Second, you reduce the consumption of fossil fuels since some of these systems are solar-powered.
Generally, the fewer fossil fuels in circulation, the healthier the environment. There are fewer cases of oil spills and other disasters that harm the planet.
Portability
One way to reduce the amount of energy for heating is to warm only the room you want. The most eco-friendly way to heat your home is by using a portable space heater.
Typically, you can move it to the room you're in and end up using less energy. That way, you're overall heating bill is low, which reflects on your annual utility bills.
What is the Difference Between an Eco-Friendly Heater and a Regular One?
An energy-efficient space heater saves you money since the device uses less power to warm a room. More so, it has specific materials like ceramic and mica that lower the amount of power you need to heat your spaces.
Regular heaters don't put much thought into materials that conserve heat. Therefore energy consumption is relatively high.
How to Choose the Right Energy-Efficient Space Heater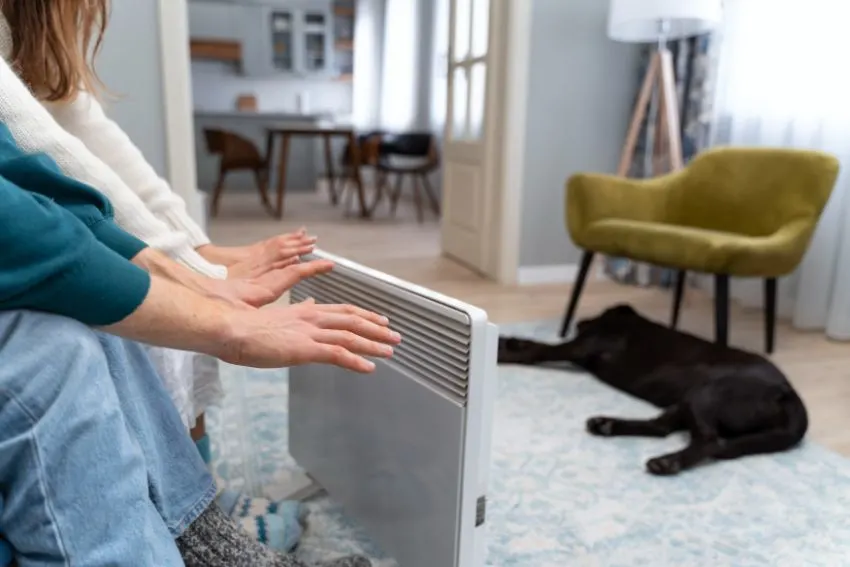 When looking for energy-efficient space heaters, it is important to consider the type of heater that will work best for your needs. There are a few different types of energy-efficient heaters available, and each has its own advantages and disadvantages.
Types of energy-efficient space heaters
Convection heaters are a great eco-friendly option for heating your home. They use less energy than other types of heaters, and they are also safer because they don't have any exposed flames. Convection heaters come in a variety of sizes, so you can find one that is the perfect fit for your home.
1. Electric space heaters
The most common type of eco-friendly heater is the electric space heater. Electric space heaters are simple to use and are available in a variety of sizes to fit your needs. However, they can be expensive to operate, and they can also be dangerous if not used correctly.
Here are some different types of electric heaters:
1. Ceramic Space Heater
Ceramic space heaters are a type of electric space heater that uses a ceramic heating element to generate heat. Ceramic heaters are efficient and safe, and they are available in a variety of sizes to fit your needs. They are also relatively affordable, making them a popular choice for eco-friendly space heaters.
Ceramic space heaters can be used to heat a room or individual spaces such as a desk or beds. They work by creating hot air in the room and then circulating the warm air around the room. This helps to create a comfortable temperature and saves energy by avoiding the need to heat the entire room.
Ceramic space heaters come with a number of safety features, including overheating protection.
2. Infrared Space Heaters
Infrared heaters use infrared radiation to heat up objects in the room, rather than heating the air itself. This means that they are more energy-efficient than traditional space heaters, and they also produce less noise.
Infrared heaters come in a variety of sizes, so you can find one that is perfect for your home. They are also relatively affordable, making them a popular choice for homeowners.
2. Oil-Filled Space Heaters
If you're looking to keep your home warm and cozy this winter, an oil-filled space heater may be the perfect solution. This type of heater offers superior energy efficiency, as it uses less power than traditional heaters while providing the same level of warmth.
Because it relies on oil instead of electricity to generate heat, an oil-filled space heater can help you minimize your carbon footprint even as you stay comfortable in colder months. Additionally, many models feature automatic temperature controls that help you set and maintain the perfect level of heating for your needs.
3. Propane space heaters
When it comes to space heaters, propane models are a popular choice for many reasons. They are energy-efficient space heaters, that use natural gas to produce heat. They are safe to use, provided that you follow the manufacturer's instructions.
However, there are a few things to keep in mind if you're considering a propane space heater. First, make sure that the area you plan to use it in is well-ventilated. Second, be sure to keep an eye on the fuel level, as propane space heaters can run out of fuel quickly. Finally, always monitor the unit for signs of excessive heat or flames.
By following these simple precautions, you can enjoy the benefits of a propane space heater without any safety concerns.
4. Solar space heaters
Finally, there are solar space heaters. Solar space heaters are the best energy-efficient space heaters, but they can be expensive to purchase and install.
No matter which type of energy-efficient heater you choose, it is important to read the instructions carefully and follow all safety precautions. Be sure to purchase a space heater that is certified by an independent testing organization such as UL or ETL.
See Related: Best Solar-Powered Generators
Choosing efficient electric space heaters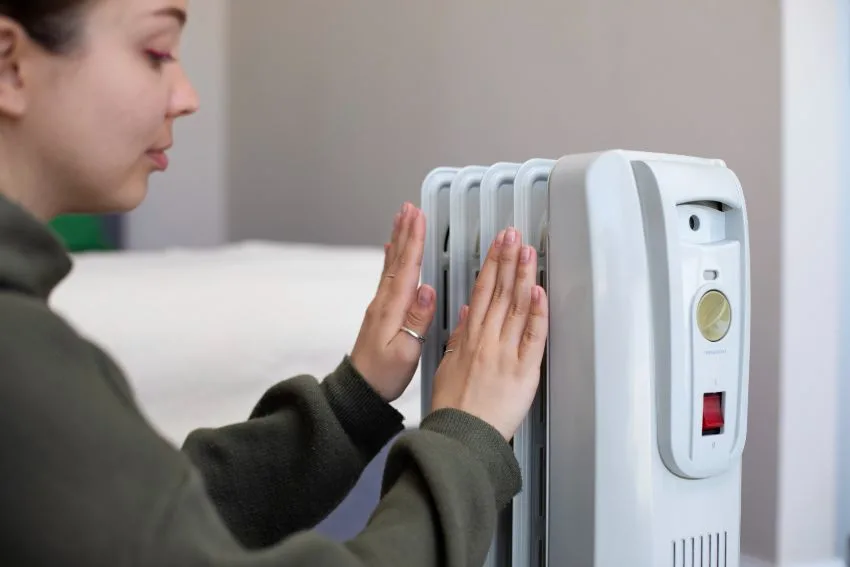 When choosing an energy-efficient space heater, it is important to consider the size of the room that you need to heat. A smaller space heater will use less energy and will have a greater energy efficiency than a larger one.
Select a space heater that has multiple settings so that you can adjust the amount of heat it produces. Additionally, choose a space heater that has an automatic shut-off feature so that it will not stay on all night if you forget to turn it off.
Energy-efficient space heaters can save you money on your energy bills and help to protect the environment. Be sure to select the right size and type of space heater for your needs, and follow all safety precautions to ensure safe operation.
How to make your space heater energy efficient
If you have an old space heater that isn't very energy efficient, there are a few things you can do to make it more efficient.
First, make sure your space heater is the proper size for the room you're using it in. A space heater that's too big will use more energy than necessary to heat the room, while a space heater that's too small won't be effective in keeping you warm.
Make sure the area around the heater is clear of any clutter or debris. This will help the heat to circulate more evenly.
Invest in an adjustable thermostat. This way, you can find the perfect balance of warmth and efficiency.
Consider adding some insulation to the room to help keep the heat in.
Make sure that the unit is properly insulated. This will help to prevent heat loss and will also make the unit more efficient.
Finally, be sure to clean the unit regularly. This will help to ensure that it's operating at peak efficiency.
These simple steps can make a big difference in the amount of energy your space heater uses, and help to keep your home more sustainable.
See related: 13 Best Books on Sustainable Living
FAQs
How Long Do Eco-friendly Space Heaters Last?
An excellent space heater can last for more than two decades. It uses less energy to heat your home, which means it's less prone to wear and tear due to overload and overuse. The result is a system that's durable, giving you more extended service.
Additionally, eco-friendly devices have safety features you want to note. First, the device has an auto-shut-off that activates if it overheats.
It will also go off automatically, in case of the device tipping over. These two safeguard your home against fire outbreaks. Not to mention most devices use fire-retarded materials that keep your home safe, guaranteeing a long lifespan.
Are Eco-Friendly Heaters More Expensive?
It depends. Like any other device, an eco-friendly space heater can be affordable or expensive, depending on the brand. It doesn't mean that only expensive ones are top quality.
A little research and checking reviews can be an eye-opener. The amount you end up spending depends on the brand you choose.
Check the settings of every device plus the square footage. The information helps you purchase the right one for your home.
Are Eco-friendly Heaters Recyclable?
Yes, but it depends on the materials. Check the space heater before purchasing and note the primary materials. If it's plastic, you can put it under plastic waste with other recyclable waste.
If it is metal, you can take it to the scrap yard for safe disposal. The only caution is to ensure the space heater isn't leaking harmful fluids before disposing of it.
Also, always check if the manufacturer accepts broken or faulty space heaters back for recycling. It never hurts to ask.
Are Heaters Easy to Repair?
Most eco-friendly heaters run for some time without any fault. But when one becomes faulty, it requires immediate repair.
The good news is that there are numerous technicians available who can repair the device. Avoid opening it up yourself and instead take it to an expert to avoid additional damage.
How Much Power Do Space Headers Need?
An eco-friendly space heater doesn't draw lots of power. Most have an eco-mode that heats the room at a temperature that's not too high. That way, the device uses less energy to heat and maintain warmth in the room.
Commonly, with features such as ceramic and mica linings, heat retention is more accessible, which means you get ample warmth with little power usage.
Related Resources