A handbag is a must-have item in every wardrobe. This article explores 10 fair trade handbags you shouldn't miss having in your closet. Whether for everyday use, traveling, or hanging out with friends, you can never go wrong with having one or two.
Fair Trade Handbags are made of different materials. From sisal, elephant grass, canvas, fabric, faux leather, leather, raffia, and synthetic, there are a wide variety of options.
Fair Trade is a global practice designed to support producers in evolving countries by buying from them directly to get fair and stable prices for their handiwork. It aims at shrinking poverty, creating equitable and ethical treatment of workers, and accessible markets.
And, whether you are looking for fair trade handbags wholesale or retail prices, various websites offer just that. You can buy one piece or a dozen of them from online shops.
So, thinking of getting yourself an additional closet staple? In this article, I've summarized 10 stylish fair trade purses and handbags you can pick from.
Best Fair Trade Handbags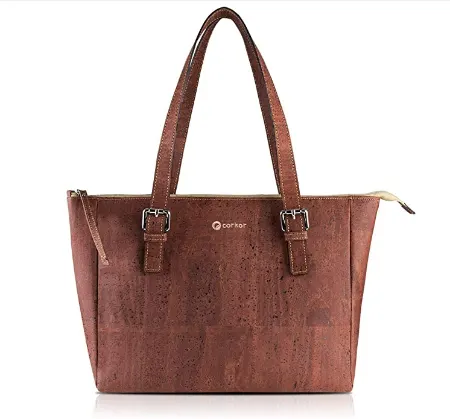 Hand collecting the bark from cork oak trees has been done for ages to create cork leather. Taking the bark off the tree once every nine years is actually good for the tree and helps it live longer. Cork production causes no pollution because it uses only water in the process and no harmful chemicals. Cork woodlands are home to thousands of unique and endangered species and can absorb 14.7 tons of carbon dioxide per hectare.
Cork leather is lightweight, flexible, and comfortable. Because of its honeycomb cell structure, it is not only resistant to water and flame but also to heat and allergens, so it may retain its original shape and is stretchy. It doesn't collect dirt and is easy to clean with soap and water. Cork can withstand rough treatment and doesn't deteriorate over time. When it comes to durability, cork leather really impresses. Is the quality and longevity on par with that of genuine leather? Then then, maybe you don't need it to be.
Quality full-grain leather is appealing since it ages beautifully and lasts forever. The natural oils in vegan leather eventually dry out and need to be replenished, while cork leather doesn't.
There are many sustainable brands out there that offer cork leather handbags of different styles. There are also tote bags, shoulder bags, crossbody bags, and others made from cork leather.
See Related: Best Eco-Friendly Baby Products to Buy Today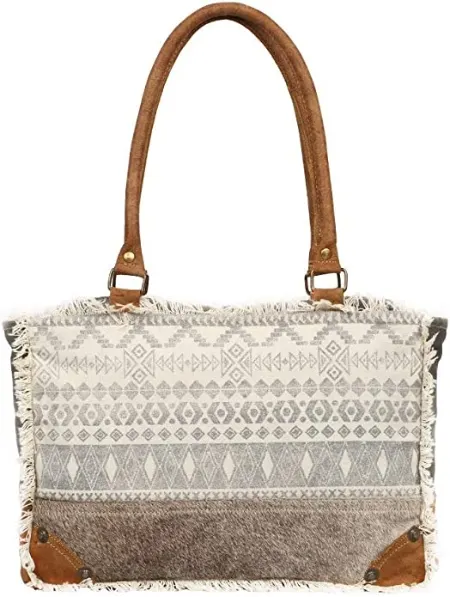 Stand out from the crowd with this Myra bag, which features a unique Aztec tribal pattern in muted tones. This chic handbag is a great addition to your accessory collection because of its timeless design and understated neutral color palette.
Just right for short excursions throughout the week or on the weekend, This trendy canvas tote bag is perfect for carrying all of your daily necessities because it has a dedicated external pocket for your phone, a zipped top closure, and many interior compartments.
This little weekend designer canvas bag is great for school, business, travel, or daily usage, thanks to its many spacious pockets. A canvas tote bag is a perfect solution for your new everyday bag.
This canvas and leather bag, with its fashionable tribal pattern and neutral color that goes with nearly anything, is a fantastic present for any occasion. This bag's simplistic beauty is a surefire way to earn compliments and display your own sense of fashion.
See Related: Best Eco-Friendly Fireplaces: Top Sustainable Alternatives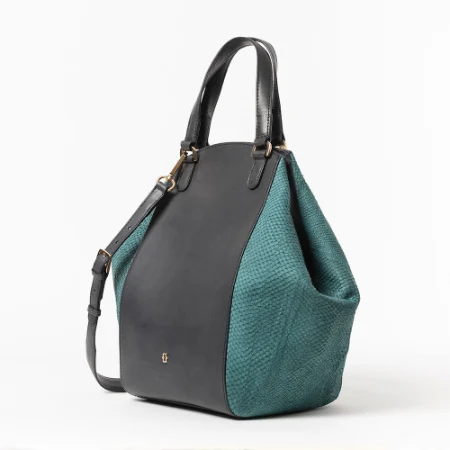 This handbag is made from recycled salmon leather and vegetable-tanned leather. If you're the type of person who is always looking for more, then this bag is perfect for you! Its beautiful front is crafted from Italian vegetable-tanned leather, while the sides are crafted with recycled salmon leather. You can fit in, not just the essentials! A4 folders or a laptop computer can be stored in its spacious interior.
On the inside, you'll find a hook for your keychain as well as two pockets, one of which is zippered, to store your little essentials. The bag has a stud button and a powerful magnet for closure. You can carry it by the top handle or use the removable strap to wear it across your body. The cotton dust bag can also be used as a convenient tote to transport and store your item while it's not in use.
The idea of making a handbag out of a fish probably isn't the first thing that comes to mind when you think of a fish. In comparison to traditional leather, fish leather is eco-friendly, durable, and a top pick. This leather's multi-dimensional collagen fibers give it a high tensile strength of 90 newtons despite its relatively low thickness. Fish leather can replace regular leather in any application.
Salmon leather is a sustainable alternative to conventional leather. Naturally, it is textured in three dimensions in a way that is both novel and striking. Leather made from salmon skin is more durable and supple than conventional leather. You won't have to worry about spills or scratches on your fish skin leather. It is impervious to water and does not require polishing.
Salmon leather is vegetable tanned, making these eco-friendly. Salmon leather is made from byproducts of the local fishing business, which would have otherwise been discarded. The sustainable leather's softness and individuality are unmatched.
See Related: Best Vegan Boots: Top Picks for Eco-Friendly Footwear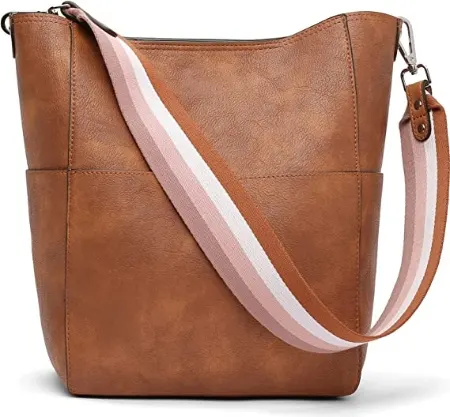 Veganism is becoming increasingly popular, and as a result, consumers are increasingly interested in purchasing previously non-existent goods like purses, watches, and shoes that are made without using any forms of animal cruelty. Vegan bags are a great compromise between being ethical and stylish.
This clutch was crafted by skilled artisans using faux leather. The minimalist shape and sleek silver hardware of this hobo bag elevate its chic factor. The closing is a magnetic metal buckle, providing added safety.
There is one large internal compartment with multiple pockets and slots for various items, such as cell phones and identification cards. Two slip pockets on the sides and one front and one back metal magnetic buckle pocket make up the bag's exterior construction.
This vegan leather handbag is a classic hobo carryall. There are two interchangeable shoulder straps—one made of leather and the other of woven material—so you can find the perfect fit. The long strap is convertible to a single shoulder strap or a crossbody strap.
See Related: 25 Best Vegan Backpacks to Buy in 2023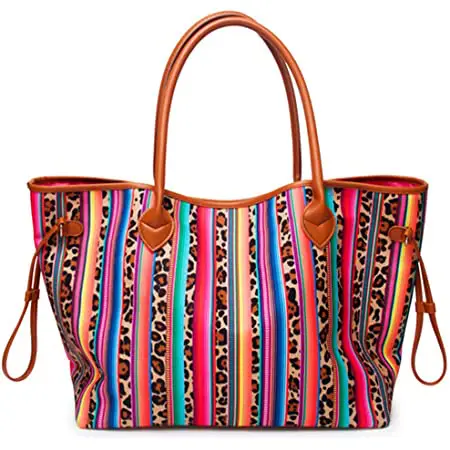 If you're planning for a road trip, a weekend getaway, a sleepover, or just a family vacation, then you need a good durable bag. Plus, it one with a large capacity to fit all your toiletries, kids' stuff, or baby essentials if you have a little one.
These fair trade canvas bags by Consuela bags are an excellent choice for any occasion. For travel, school, work, shopping, beach, gym, or even as a diaper bag, this particular bag fits well as it's made of 100% cotton canvas & faux leather with sturdy handles.
It is lightweight, zipperless, and has bottom metal studs, magnetic straps, and drawstrings, making it more stylish.
Don't worry about it getting stained with all kinds of dirt because the inner layer is made of a high-quality polyester lining that's easy to clean and maintain.
Wash it separately with water at room temperature to avoid staining. But avoid hot water, alkaline cleaner, and direct sunlight.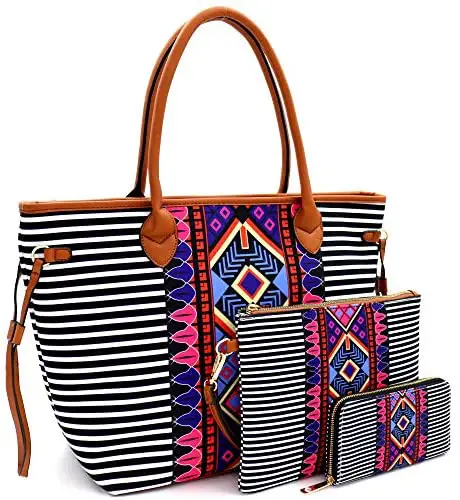 Wouldn't it be fantastic if you had a neat bag that fit all the essentials? You want to put your laptop and notepad separately, but the bag you have doesn't hold compartments or extra purses.
This fair trade 3-1 handbag and purse is what you need. It comes with sturdy drop handles and an optional adjustable shoulder strap.
The material is made of canvas and faux leather with brass-tone hardware/interior. And its extra-large capacity can be ideal for moms with kids, shopping, traveling, diaper bag, or beach bag.
The pockets are zippered, with two on the side and a closure. The best part is it comes with a clutch/purse and wallet, so you don't have to worry about stashing your things in one place.
See Related: Eco-Friendly Area Rugs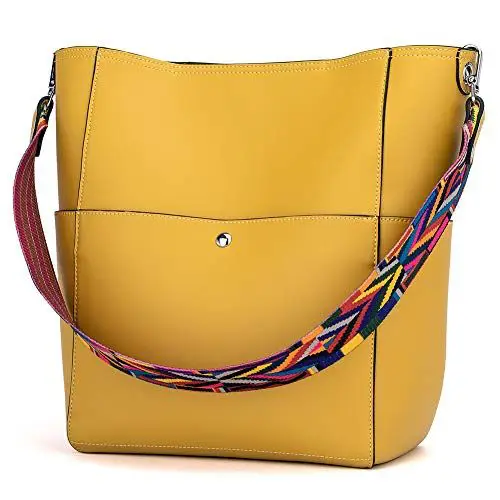 Looking at it just screams chic and elegant. With its textured and smooth vegan leather material, it's suitable for all occasions; shopping, outdoors, work, school, vacation, or use a diaper bag.
The shoulder straps are adjustable to any size, like a crossbody, shoulder bag, or bucket bag. If you dislike zippers, this is an excellent alternative because it has a magnetic buckle for easy closure and safety.
This bag can accommodate a lot of your items since it has plenty of space. There are two side sliding pockets on the outside, one inner sliding pocket, and one internal zipper pocket.
Its unique style can be matched with any kind of outfit to give you that sophisticated look. It can also be a marvelous gift for your mom, friend, sister, wife, or even your boss if it's a lady.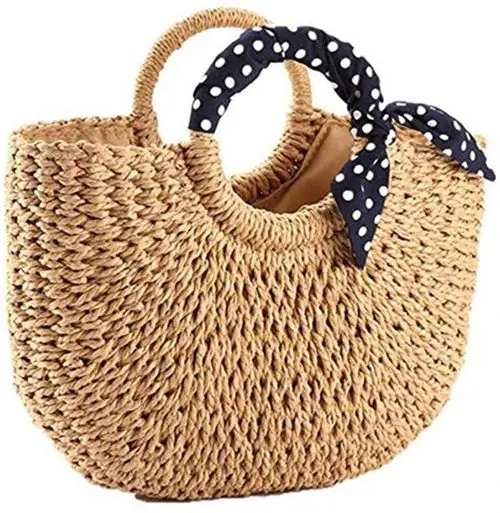 Summertime is the best time of the year to take a beach walk or go swimming with friends or family.
With all the heat and wind at the beach, you need to carry some sunscreen, extra sandals, a camera, lip gloss, and a hat. This summer beach is just what you need for all your belongings to be in place. It's cute, sleek, simple, and easy to carry.
The material is handmade with 100% natural straw fiber that's also environmentally friendly. The inner closure is an authentic drawstring design. So, grab this summer bag, and let's head to the beach.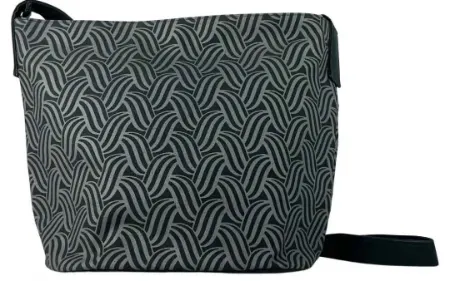 You'll absolutely adore this form and size, which is just the right amount of roomy convenience without sacrificing any cool, ethical flair. Upcycled cotton canvas is used to make our medium cotton crossbody bags. Keep your phone and keys safe in the outer zip pocket. These fair trade purses are a fantastic illustration of the versatility and style possible in ethically crafted accessories.
Malia is a sustainable brand that creates a wide selection of totes, from natural textiles to repurposed feed and cement bags (and beyond), perfect for any activity. Malia's bags are created in Cambodia using fair trade practices. Malia does not only make bags from recycled materials, but it also makes donations to local organizations that help disadvantaged children and against human trafficking. Malia makes sustainable handbags, sustainable purses, shoulder bags, messenger bags, belt bags, crossbody bags, and laundry bags from recycled materials.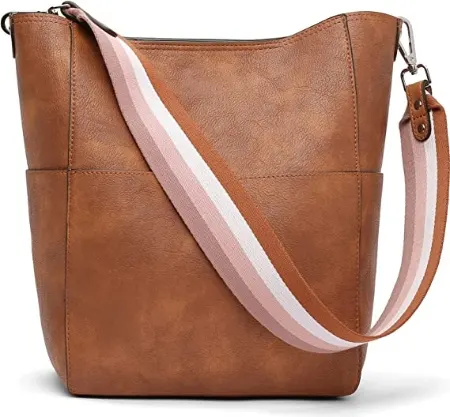 This Convertible Satchel Tote Bag is a great way to show your support for the environment without sacrificing your sense of style. Its interior is lined with recycled water bottles.
The Aurora, from Pixie Mood, is a medium-sized bag distinguished by a unique cutout at the top. You may convert it into two different purses thanks to the detachable wristlet.
This pretty bag has a top zipper clasp, an internal slip pocket, and metal purse feet. The long crossbody strap may be detached, and there is a removable compartment inside.
Use it to carry your essentials everywhere you go or give it as a gift to the woman who has everything!
Other Fair Trade Bags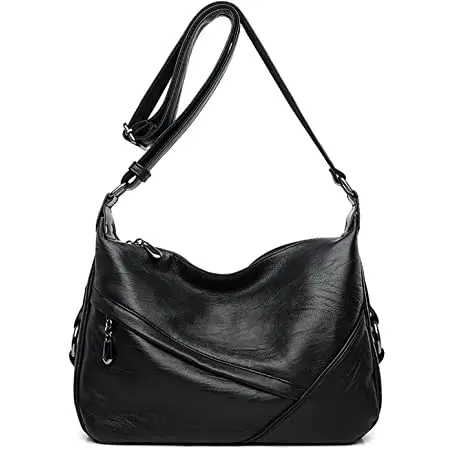 There's a party that you need to go to, but you're running out of time; outfit-check, shoes-check, makeup-check, handbag-???? No bag or purse to go with.
Ever found yourself in that situation? Not the best feeling, right?
Upgrade your wardrobe with one of these fair trade crossbody bags so you won't have to miss any more parties in the future.
The good thing is that each piece has six compartments; 1 small zippered pocket, one middle zippered pocket, one back+1 oblique front zippered pocket, and 2 sided open slots, which helps you get more organized.
This crossbody bag is medium-sized, so it's ideal for small toiletries, a makeup kit, a phone, keys, a small notebook, and Ipad. Also, these types of fair trade leather handbags are durable as they are made of soft polyester leather with a polyester lining.
The shoulder strap is adjustable such that you can convert it to a sling or tote bag. If you are looking for style, then its retro look and elegance will definitely catch your eye. It is not limited to party use only. You can also use the bag for daily use, work, school, or traveling.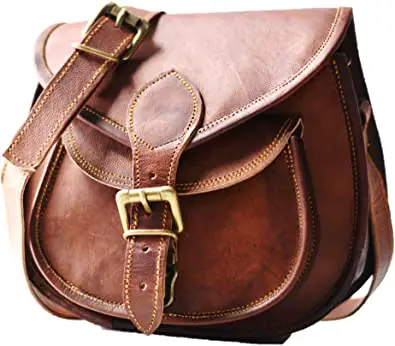 Vintage shoulder bags will never go out of fashion. Everyone has a leather bag hidden in their closet.
If you get genuine leather, it'll last for years, granted it's well maintained.
These handbags are affordable and durable because they're made with precision, 100% heavy-duty leather, strong buckles, and long adjustable straps.
This bag has three inner compartments; 1 front pocket, two zipper pockets, and a concealed lock under the primary buckle. The staple is great for light usage, traveling, daily use, work, or school.
Whether you are looking for fair trade handbags in Australia or fair trade handbags in Africa, these pieces never disappoint.
See Related: Most Eco-Friendly Cars in the World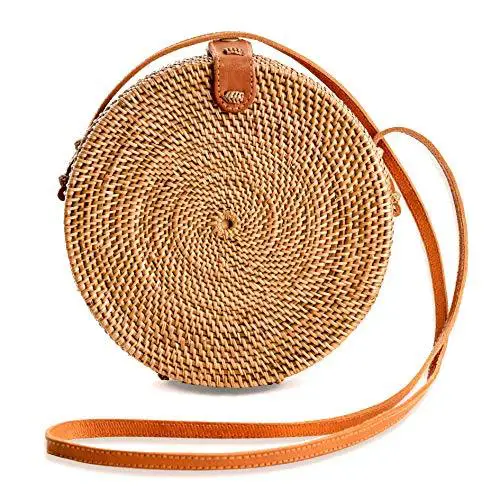 The combination of old tradition + new fashion in this fair trade boho handbag purse is inspirational. It's the epitome of chic, elegant, and stylish.
The design itself is appealing to the eye. You can use it while on the beach, on vacation, at brunch with the family, or simply on your day out.
It's 100% handmade and made with real natural grasses and genuine buttery leather, and it also has plenty of space to carry your belongings.
The leather straps are installed to ensure comfort and safety for your items.
It's ideal for outdoor use.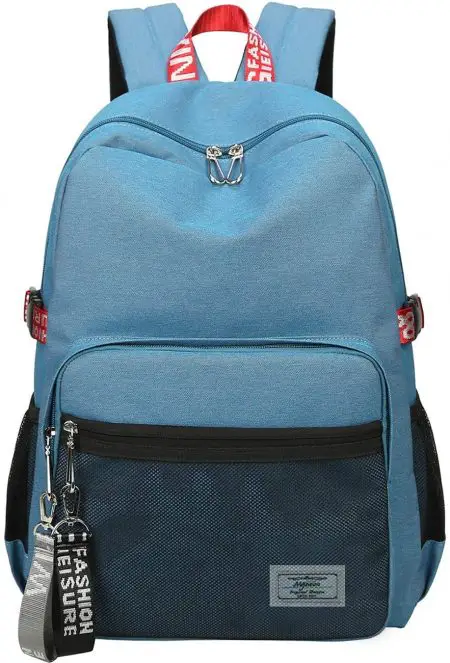 So you've just stepped into the store to do some shopping and get a bag for your child, then you realize they don't have what you're looking for in terms of durability and comfort.
That disappointment is every parent's dread. What to do, but just get that in the meantime before you buy the preferred one.
If that's you, then don't just get something you're not satisfied with. You need a bag like this fair trade bag that's multipurpose.
Whether it's travel, work, school, hiking, or camping, you're sorted. Its capacity is big enough for your clothes, books, files, or magazines.
The padding in the shoulder straps and the back help offer comfort, plus a handy top loop for easy grabbing and hanging.
It has so many cool features that make it more attractive. And multiple inner compartments, a side pocket, a front utility pocket, and a side buckle.
The compartments are;
One laptop sleeve a 14″ in size,
One zipper pocket,
Two pen slots,
Two open pockets
The side pocket is made of mesh that you can use to put on an umbrella or a water bottle. The front utility pocket is also made of mesh for your notebook or stationery.
Last is the side buckle, which is great because you can adjust the side to accommodate more stuff. The material used is water-resistant polyester.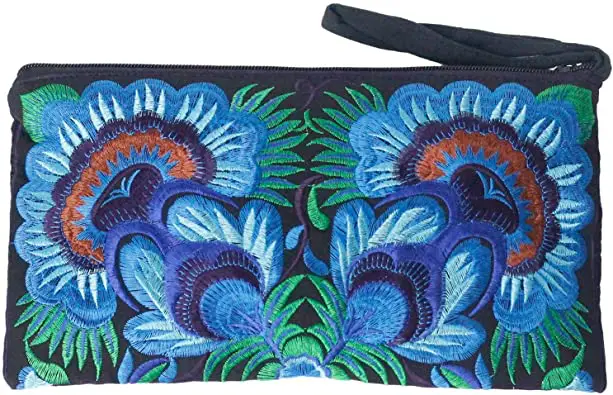 Gifts are a thoughtful way of showing how much you care or love someone.
Finding a meaningful and sleek gift can be a daunting experience, especially if you don't know what exactly to look for.
But then again, it doesn't have to be if you know where to search.
Sabai Jai offers some of the best fair trade purses and bags that are simple but fancy. Materials used are organic cotton and natural dye that gives it a soft feel.
Best for light travel with enough room for your daily necessities like; phone, cards, cash, and personal care items.
The design is highly detailed, hand-stitched, and has floral embroidery on both sides, which can definitely turn heads.
This is a must-have in your wardrobe.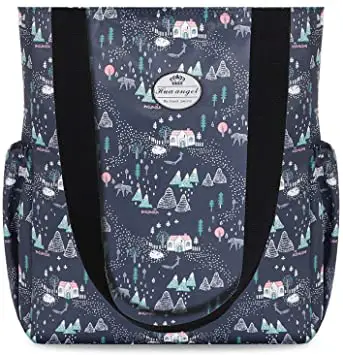 This lightweight, the versatile, waterproof tote bag is suitable for going to the gym, shopping, meeting, interviewing, yoga, hiking, camping, and daily usage—also a beautiful choice for loved ones.
It's made of waterproof polyester fabric that's smooth, soft, and wrinkle-resistant, as well as able to withstand rain keeping your things dry.
Another advantage is it's easily foldable to fit in a bigger suitcase or backpack.
Capable of holding clothes, towels, books, magazines, files, folders, valuables, umbrellas, water bottles, baby essentials, phones, and iPads.
It's one of the most flexible fair trade bags for almost any occasion. You can convert it to a shoulder bag, beach bag, or tote bag. And this piece is easy to clean too.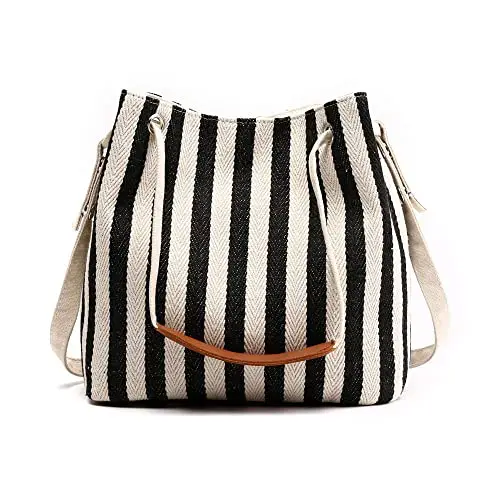 Did you know that, traditionally, the canvas was made with hemp or linen? But now, in the modern world, it's made out of heavy-duty cotton and, to some extent, linen. And is known for durability and sturdiness.
For style, comfort, stability, and quality, this bag is a great choice. The bag's space is ample enough to carry your essential possessions.
Perfect for outdoor use, recreation, school, work, traveling, shopping, or occasional daily use. You can adjust the straps to fit a tote, shoulder, or sling bag.
Get it for yourself or as a present during Thanksgiving, Christmas, valentine's day, or your birthday.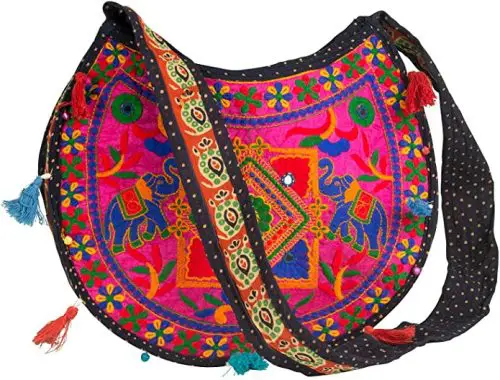 Fabricated from authentic and exquisite patchwork tapestry, this pouch is best for outdoorsy occasions.
Tassels and the colorful embroidery give it a stunning and exciting look. For longevity and strength, the fabric is a double stitched thick quilted cotton and black canvas lining for the interior.
The handle is 23″ in size, and the interior can fit an iPad, phone, notebook, and any other personal items.
Zips are on the outer opening and the inner section to create more room. From the color and design of the bag, you can easily match any outfit with it. Easily foldable to fit in another bag and easy to maintain- do not use bleach.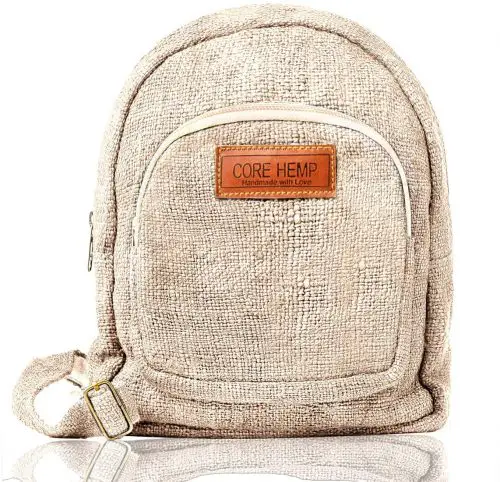 Hemp is one of the most robust and durable organic fibers made from plant stems. It retains more color when dyed even more than cotton.
Hemp fiber is dreamingly soft on the skin. Has absorbency capability in water is due to the porous nature of the fabric.
This mini backpack is designed to ensure quality, style, sustainability, and comfort.
It best suits women, teens, and kids as a gift or a souvenir. Size is perfect for items like Chromebook, Ipad, passport, keys, cards, a phone, a notepad, a pen, and a makeup kit.
To get you more organized, the interior has one large compartment and one mini front pocket. Straps are adjustable up to 38 inches in size.
See related: 12 Best Sustainable Shoes for All Different Occasions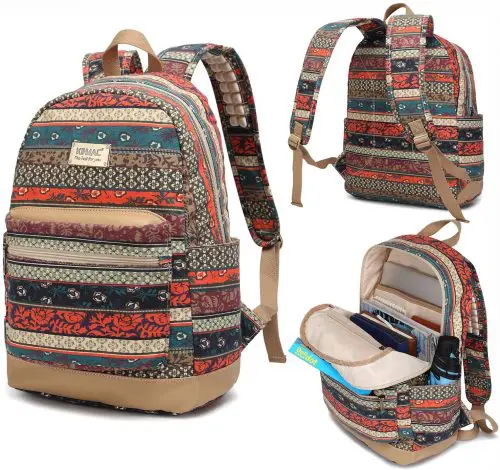 Hiking, camping, or road trip will not be fun if you can't take photos for those memories just because your phone died and there's no place that you can charge it.
That's why you need this bag because it comes with a built-in cable and a USB charging port. How cool is that?
It's so spacious that it can hold a 15.6-inch laptop, plus it has cushioning to protect the laptop. It also has enough pockets inside for snacks.
They say when it rains, it pours, but that shouldn't make you panic since this backpack is made of waterproof canvas fabric that will shield your gadgets from water or rain.
Did I mention it has a massage cushion on the straps to save you from those shoulder aches due to the heaviness of the bag?
There are many bags made from recycled materials by sustainable handbag brands. These ethical handbags are functional bags made from recycled materials and sustainable materials. Some of the most common eco-friendly materials used for these eco-friendly bags are plastic-free vegan leather (plant-based leather alternative), recycled cotton and other waste materials, upcycled materials, and sustainable fabrics.
Related Resources