A handbag is an essential piece of clothing that may reveal a lot about the person who wears it. You don't need a leather handbag to look like a million dollars! You can still appear elegant and steal the spotlight with vegan leather bags.
Vegan bags are constructed of faux and vegan leather, which, unlike genuine leather, does not use animal skin. Sacrificing animals for the sake of luxury is no longer a persuasive argument.
Designers are gradually phasing out exotic skins and fur. Instead, they're looking for more environmentally friendly options, such as vegan leather bags. We've seen many new manufacturers of vegan handbags take over the fashion market.
Vegan leather handbags are undoubtedly on your radar if you want to show the world you have a traditional style while also caring about animal welfare.
Look no further if you're looking for a vegan purse that won't harm animals or the ecosystem. With the rise of mindful luxury, we're thrilled to present you with the best vegan handbags available.
Best-Of by Category
Best Vegan Handbags to Buy Today
So, how do you find a vegan designer bag or search the internet for one? With so many choices, it's challenging to select the right one without becoming confused by the amount of research and browsing required.
As a result, we've whittled it down to the most incredible vegan designer bags.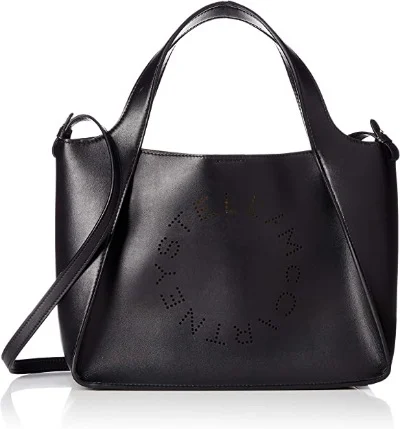 The OG of vegan designer handbags, Stella McCartney, knows how to turn modern designs into usable items with a lower environmental impact. These vegan tote bags are ideal for draping over your shoulders for a day of chores.
It's excellent for individuals who desire quick access to items at all times, with an open layout, no zipper enclosing, and strong handles. It also has a removable pouch with ample room for credit cards and a smartphone.
We love this purse and the Stella McCartney brand because it is approachable while being a high-end name. This tote may be found at department shops or on Stella McCartney's webpage, and if you know where to search and when to go, you might be able to obtain it for a reasonable price.
This vegan tote bag is accessible in different colors: pink, camel, cinnamon, black, moss, pure white, and smoke. It measures 40 x 31.5 x 15 cm and costs $664.98.
See Related: Eco-Friendly Area Rugs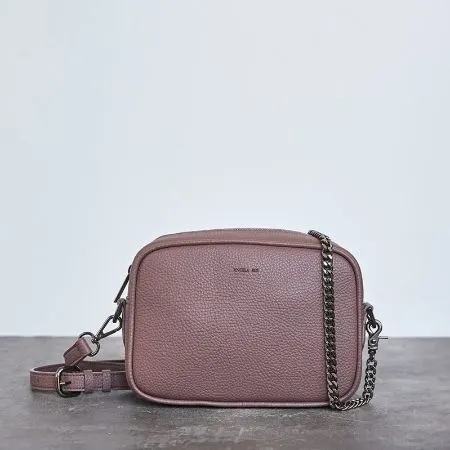 Angela Roi's game is all about comfort and economy, and each of her vegan leather handbags is handcrafted, providing you a wonderful experience without the excessive price tag.
The Grace Mini Crossbody is simple and suited for a minimalist style with its double-strapped complementary chain and matching leather strap. Even better, you can combine the two!
The Grace Mini Crossbody is made of pebbled vegan leather and has a zipper enclosed with an internal compartment for holding your phone, similar to Marc Jacobs's legendary camera bags. It's a traveler's delight and those who want safety and organizing without the effort, thanks to the additional zipped section.
This vegan leather crossbody purse measures 8.5 x 6.25 inches with a depth of 2.75 inches and comes in six diverse colors: black, grey, coral pink, purple, blue, and light mud grey. It costs $205 at the moment.
See Related: Eco-Friendly Stand Up Pouches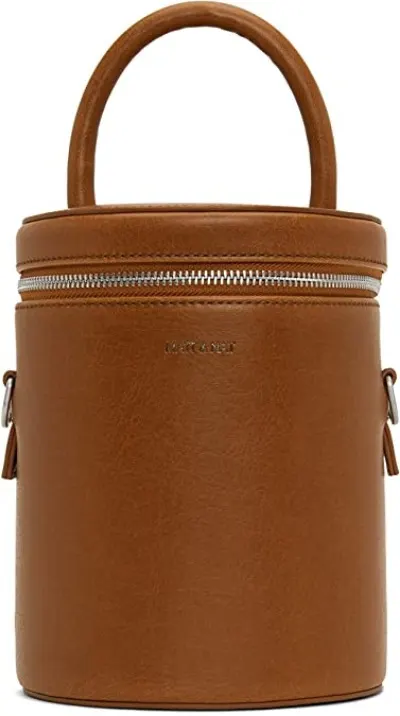 This Canadian brand, which stands for 'Material' and 'Nature,' has been creating vegan items since 1995, making it a leader in the vegan handbag sector. Matt & Nat is a unisex company specializing in a laid-back street style of vegan tote bags.
Matt & Nat bags should be draped over any young expert's shoulder since they are stylish, inexpensive, simple, and office-friendly. This vegan tote bag has enough room for a laptop or tablet and everyday items to keep up with a hectic schedule.
Thanks to its top zip clasp and interior zippered pocket, the Abbi Bag can take you from game to game. The measurements are 13.5 by 12 inches with a depth of 5.75 inches and come in four stunning neutral colors: black, carotene, melon, and opal. It costs $140 at retail.
See related: 12 Best Sustainable Shoes for All Different Occasions
This vegan crossbody is a stylish addition to any ensemble, with a color scheme that is both conventional and moderate. This vegan designer handbag is perfect for the woman who has to carry a lot yet wants her bag's contents to stay orderly.
It has a buttoned flap closing, extra compartments, and a robust and flexible shoulder strap that lets you choose your preferred sitting length. Bones actor Emily Deschanel influenced it. This vegan designer handbag stands out from the crowd since it can be used as a crossbody or a clutch.
In comparison to most companies, Gunas means that this handbag was made ethically and without sweatshops. Not only is it vegan, but you can rest easy knowing that this handbag is also beneficial for the environment and humanity.
The handbag is made of a tough and easy-to-clean covered canvas. The Gunas Emily Crossbody is 9.2 x 7 inches in size and retails for $198, and comes in a stunning beige trio colorway.
See Related: Best Luxury Vegan Wallets & Handbags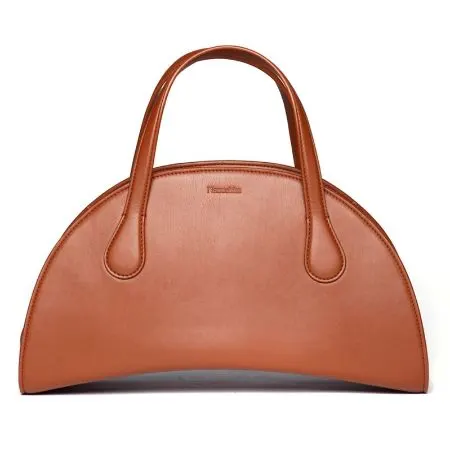 This vegan leather bag is trendy and adaptable, with a sleek and modern design. Nanushka's Wise Moon Bag is distinctively formed and minimalistic. It mirrors the brand's design philosophy and is ideal for the urban girl who enjoys a monochrome street style.
This handbag can accommodate your smartphone, a cardholder or bi-fold wallets, keys, and maybe even a few beauty essentials since it is made to handle the minimum requirements.
A slender strap and top handle anchor this vegan crossbody purse, which also has a zipped closing for utility. It goes well with Nanushka keychains, and if you have a silk scarf on hand, you can wrap it around the handles for a flash of color and design.
Because the leather is smooth, it is prone to damage and is sensitive to solid cleansers or surfaces, so this is one bag you should treat with care.
The Wise Moon is available in three colors: tan, mole (a chocolaty milk brown), and butter (a creamy light beige). Its measurements are 18 x 36.5 cm with a depth of 14.5 cm, and it costs between $745 and $775. (depending on the color you choose).
See related: 13 Best Composting Books You Need to Read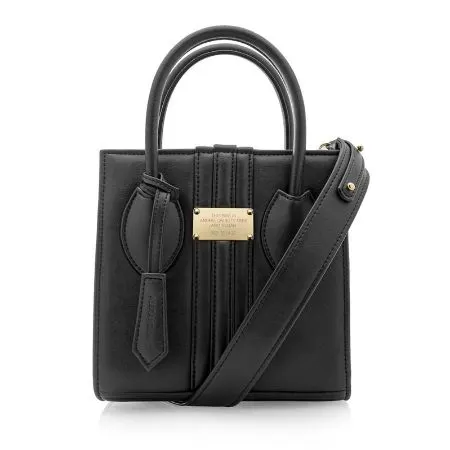 Alexandra K's vegan handbag is the perfect combo, as it can be used as a statement item during the day or for special events at night. This top-handled pochette featured a logo necklace and plated serial number and is halfway between a contemporary Y2K design and a vintage-inspired shoulder bag.
Another distinguishing feature of this handcrafted item is that it is made of grape leather rather than cactus leather or synthetics such as polyester. This little vegan handbag is tiny and organized, with a narrow phone compartment and a smaller pocket great for keeping ID, cash, or bank cards. It has a zipper clasp and two spacious compartments.
Although only available in black, the metal is available in gold or silver, and the bag's measurements are 22 x 21.5 cm with a depth of 15 cm. It costs $329 at the moment.
See Related: Best Luxury Vegan Wallets & Handbags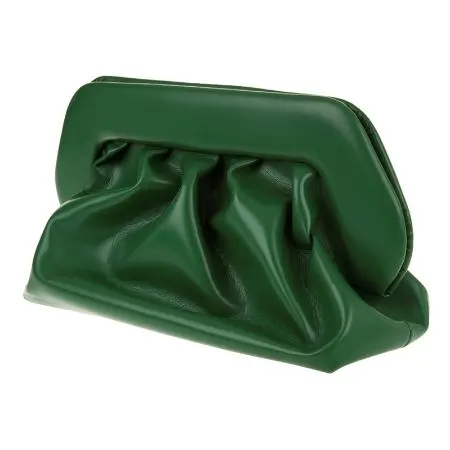 THEMOIRè creates some of the most unique vegan designer handbags, like the Bios Nappa clutch. The Bios is designed to make a statement at dinner or a party, but it may also be worn regularly.
The removable shoulder strap allows you to travel hands-free, and this vegan leather purse holds the minimum essentials, so pick your stuff carefully. An iPhone and a few Identity cards and credit cards will be stored in the Bios.
The bag's sizes are 32 x 18 cm with a depth of 12 cm, and the Nappa eco-leather is a rich, vibrant emerald green color. It's available for $316.29.
See related: 10 Most Eco-Friendly Cars for Any Lifestyle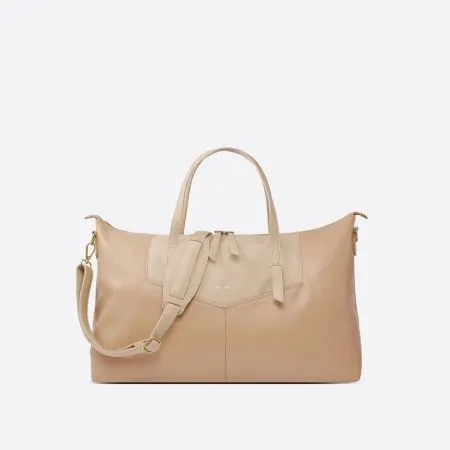 Pixie Mood is the largest and most practical bag in our top vegan designer bags list, committed to delivering flair. The Riley Weekender is a sporty yet fashionable travel bag that acts like a classic duffel bag, comparable to Longchamp's iconic purses.
This carry-on is ideal for overnight journeys with lots of storage to go, and it can accommodate clothing and other essentials on the go. It contains a spacious pocket with a zip closing, an inside zippered pocket, and a narrow slot on the outside to carry a cellphone, id, or boarding card.
A strong, removable shoulder strap, top straps, metal feet to keep the bottom clean, and a removable lining round out this vegan luxury handbag. Sand/nubuck, black/nubuck, and black/white woven are the three colorways offered. It costs $125 and is 22 x 12.5 inches long and 8.5 inches deep.
See Related: Best Eco-Friendly Fireplaces: Top Sustainable Alternatives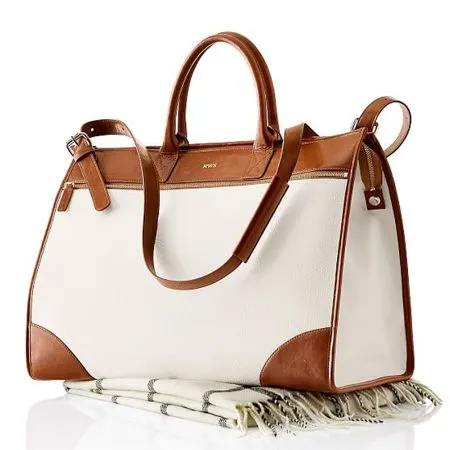 If Pixie Mood is designed for the everyday passenger, Mark & Graham's Concourse Boarding Bag is designed for experts or anybody wishing to buy a uniform outfit.
This enormous vegan leather bag is the weekender to bring with you whether you're traveling business class and have an extra place to stow your bags or carrying a lot for an overnight excursion.
It comes in different versions: small (which reaches up to an enormous boho bag) and large (which covers up to a vast boho bag). It's elegant and uncomplicated, with a customized monogram option near the top handle (a few inches bigger and width and depth).
The Concourse Boarding Bag is attached by an elastic buckled strap and may be held by its top straps to relieve some weight off your shoulders. It has a zipped enclosing at the top, extra pockets, and a zipped pocket inside for loose belongings.
The measurements of this vegan leather purse are 17 x 12 inches with a depth of 7 inches, and it comes in nautical white and blue. It regularly costs $179, but it's presently on sale for $139.
See related: Best Solar-Powered Refrigerators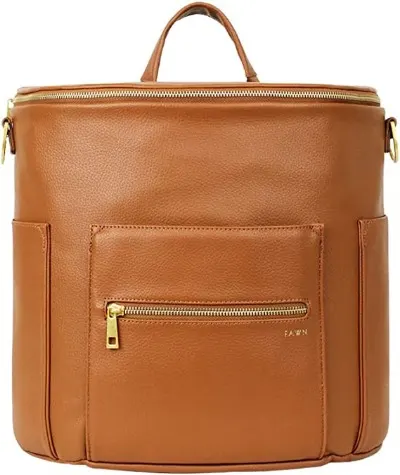 Fawn Design creates classic and flexible purses that can be worn with almost everything in your closet. The Fawn Vegan Shoulder Bag is lightweight and compact for everyday use, with neutral tones for optimum style possibilities.
This is the bag in which the girl who believes in "less is more" will still want to carry her daily needs. The design has an eye-catching classic form, either snuggled in the curve of her arm or draped over her belly as a crossbody.
You can store your cellphone, ID, and bank cards in one narrow pocket and one zipped pocket on the inside, but that's about it.
This handbag also has a buttoned fastening, which implies that stuffing it too full might cause it to burst open at inopportune moments. In the instance of this vegan shoulder bag, less is undoubtedly more.
Fawn Shoulder Bag is available in multiple colors: simple black, desert peach, sandy adobe, and caramel brown. It measures 12 x 8 x 3 inches and costs $79.99.
See related: Best Eco-Friendly Wrapping Paper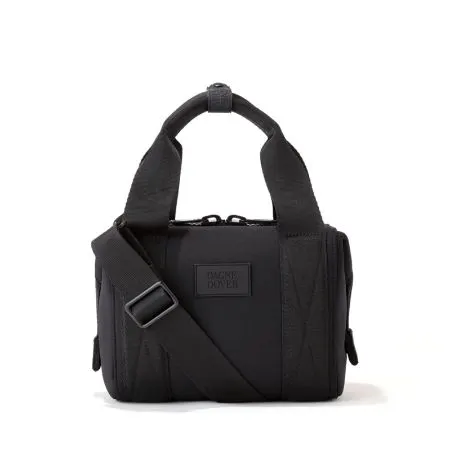 Dagne Dover has created a handbag suitable for a wide range of individuals with this carryall. This vegan designer handbag is the most adaptable in terms of utility, colors, and dimensions for everyone from practitioners to sports to university students. And, as the name implies, it's designed to hold everything you'll ever need.
The Landon Carryall, in sizes XS to XL, can contain a laptop, clothing, and hefty notebooks. It is also water-resistant and robust enough to store lunches or use as a gym bag since it is the only handbag on this list constructed of nylon.
The Landon Carryall has you prepared when it comes to organizational options. You can effortlessly organize goods into various sections with two inside side pockets, a slim zipper pouch, and a removable mesh pouch. It also has a thick detachable strap and top handles, likely to be commuter favorites.
To top it off, this vegan designer handbag is available in a variety of colors and designs, including dune, dark moss, onyx, ash blue, heather grey, pollen air mesh (seasonal), blue plaid (seasonal), silver puff (seasonal), skyway (seasonal), pinto.
The extra tiny Landon Carryall ($95) is a great crossbody bag, while the small ($125) and medium ($155) Landon Carryalls are best suited for totes or shoulder bags. The huge Landon Carryall ($185) measures 16.5 x 9 x 11 inches and can accommodate up to 2 pounds.
See related: Best Eco-Friendly Glitter Alternatives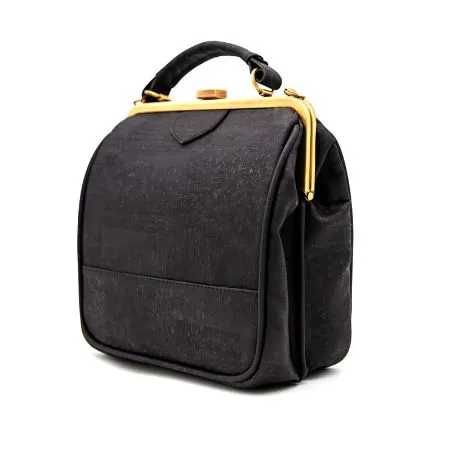 Despite being a modern brand, Laflore Paris has a historical Parisian atmosphere. The firm produces handmade handbags that encourage a lavish lifestyle. The Bebebark Convertible Cork Purse may be the appropriate purse for you if you're looking for a unique bag that exudes vintage elegance.
Most of the handbags on this list can be worn in two different ways, but the Bebebark can be worn in three different ways. It may be draped over the body like a shoulder bag, worn over the shoulders like a small backpack, or held in the palm like a clutch.
This vegan designer purse may be worn with any attire, irrespective of the event. The outside is distinctive in terms of design and style. It can contain more than it seems at 23 x 12 cm, so don't let the size fool you. For $259, you can stuff your phone, wallet, keys, and beauty necessities inside the black or emerald version.
See Related: Best Vegan Boots: Top Picks for Eco-Friendly Footwear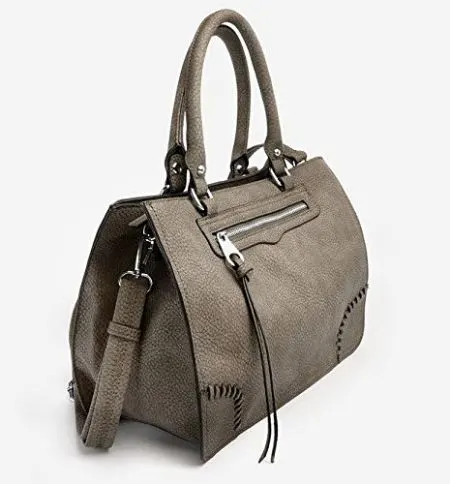 PINKSTIX creates vegan purses with PETA-approved vegan leather, assuring that no animals are harmed in the manufacturing process. They also work with Asian manufacturers to make these classic items.
Their crossbodies, bags, and wallets are available in a rainbow of colors and designs that will make you stand out from the rest.
PINKSTIX supports a lot of women's empowerment causes and is environmentally responsible and animal friendly.
Everyone, even animal enthusiasts, should make efforts to safeguard animals. Saying goodbye to genuine leather derived from animals and opting for vegan leather items such as vegan leather bags is one tiny step you can take.
See related: 25 Fascinating Facts about Conservation
Buying guide
What Materials Are Used in Vegan Handbags?
Animal-based materials like leather, suede, and fur are not used in vegan leather bags. Vegan leather is constructed of eco-friendly materials such as cork, bamboo, cotton, or silicone rather than leather. Vegan bags are also devoid of glues and colors originating from animals.
PU leather is the most popular material used in vegan leather. It's a silky synthetic fabric closely resembles animal leather, such as exotic crocodile and ostrich hides. PVC leather can be replaced with PU leather, which is safer and free of lead (polyvinyl chloride).
Vegan leather bags come in various natural and recycled materials if you choose to avoid virgin plastic. Recycled plastic bottles and recycled nylon and polyester are now extensively utilized in vegan bags.
Vegan designers also use several biobased types of leather created from food waste. Apple skin leather, maize leather, and mango leather are just a few examples of eco-friendly materials that may be used in place of standard synthetics.
What are the advantages of carrying vegan designer bags?
Luxury vegan handbags have a lot of advantages when it comes to environmental considerations. Limiting your consumption of animal-derived leather reduces toxic CO2 emissions, which is good for animals, the environment, and humans.
You can reduce trash by reusing materials in your vegan luxury bag by just being a customer. Finally, it is better for all parties involved if you use your purchasing power to invest in renewable things such as a vegan bag.
See related: Best Solar Lamp Posts
Why Should You Buy Vegan bag?
Many people are becoming increasingly dissatisfied with fashion that harms and destroys creatures, particularly exotic and fragile animals. Buying a vegan handbag is a message of kindness and care if the style is about making a statement.
Vegan handbags are also far more environmentally friendly than leather purses. Cattle ranching has been related to destruction, greenhouse gas emissions, and the waste of valuable natural resources.
You can support sustainable design that loves animals, habitats, and our world as a whole by purchasing a vegan handbag.
What Should You Look For When Buying Vegan Handbags?
When purchasing a vegan handbag, there are various factors to consider.
For starters, double-check that the bag you're purchasing is indeed vegan. Animal by-products may still be present in specific synthetic leather purses' glue, color, or detailing. As a result, look for purses that are clearly labeled as vegan.
Not all vegan bag is made equal when it comes to the environment. If you're concerned about the environment, look for bags made of natural vegan elements such as cork. Recycled vegan materials or biobased vegan leather, such as apple leather, are viable options.
You should also inquire about the origins of your vegan bag. Employee safety and well-being standards in North America and Europe are far more stringent than in most Asian countries. If your load is created in Asia, ensure the manufacturer is open about the factory's standards.
When it comes to purchasing a vegan designer bag, there are three crucial elements to consider:
Recognize your distinctive style.
Identify the handbag you desire (tote, clutch, crossbody, etc.).
Make a budget for how much you're willing to spend.
Vegan designer bags, like leather handbags, come in various pricing ranges. They are also available in multiple forms, sizes, and colors.
See related: Best Compostable Trash Bags
Brand
From ease and convenience to elegance and attractiveness, each of the brands featured in our list of the top vegan leather purses has something unique. Even a few statement items will change your mind about what a vegan handbag is since, let's face it, most of us would skip on a vegan bag since we think it's too plain.
Many people believe that vegan handbags can't compete with leather-based handbags, yet this couldn't be far from reality. Some of these designer vegan handbags are created using cutting-edge technology and procedures that have helped to shape the luxury leather products industry.
Material
Vegan handbags are made out of several various materials, including but are not limited to:
Polyurethane (sometimes known as "vegan leather") is a leather substitute made out of plastic and other natural materials such as plants and fruit.
Polyurethane is referred to as 'Pu' in Eco-Pu. It's frequently attached to the word 'Eco,' meaning that the plastics used to make a vegan luxury handbag are recycled (usually from plastic water bottles) and do not lead to further plastic use.
Nylon: Nylon is a water-resistant and incredibly lightweight synthetic fiber with a silky-smooth texture, allowing you to pack more stuff inside a vegan designer handbag without bothering about the weight.
Price
Although the costs of vegan designer handbags in our evaluation range from $79.99 to $835, they are decided for the same reasons as leather ones:
The name of the brand – The company name that makes the handbag has an impact on the price. A Stella McCartney purse, for example, will not be the exact cost of one from Fawn Design.
Hardware – Expensive metals and processes may drive up the price, so expect to pay more if your bag has elaborate clasps, locks, or pearls flowing down the handle.
Materials – Some vegan-derived materials require a more involved extraction method. A few organic fibers and plants are more challenging to turn into leather. Still, this is important to prevent the leather-goods process, so be aware that your cash is also going towards the technology and procedures used to manufacture a vegan product.
See related: Best Eco-Friendly Bathroom Products
Conclusion
Vegan bags are available in a broad range of styles. The more vegan manufacturers we see cropping up worldwide, from Los Angeles to Paris, London, Amsterdam, and Hong Kong, the faster animal leather will become a thing of the past.
Vegan bags are available in various materials, styles, colors, and pricing points. You may spend whatever much you want on handbags, ranging from under $30 to over $800. Whenever feasible, though, go for a purse made of natural or recyclable materials.
We hope you've found your new favorite handbag for the current and upcoming seasons. As new brands and designs emerge, we will update this list.
Frequently Asked Questions (FAQ)
What are vegan handbags?
Vegan handbags are constructed from organic fibers like cork, cotton, bamboo, and synthetic vegan leather.
Vegan leather handbags are made of what?
PU leather or microfibre are the most common types of vegan leather. Apple skin leather, cactus leather, and Piatex are all examples of biobased vegan leathers.
Is the quality of vegan leather bags good?
When constructed from sturdy vegan materials, vegan purses are of excellent quality. We suggest Angela Roi, Matt & Nat, and Gunas for high-quality vegan leather.
Where can I purchase vegan bags?
Online sites are the most incredible places to get vegan handbags. Additionally, Amazon provides an extensive range of vegan bags.
What's the difference between vegan leather and faux leather?
Faux leather resembles genuine leather in appearance and feel, but it is man-made. Water-resistant faux leather can also have a pebbled or smooth feel. It also has a lengthy lifespan due to the bulk of the material being polyester.
In other words, fake leather is made of cloth but has a finish that looks like genuine leather.
Generally, faux leather is not the most environmentally friendly material due to the plastic in the chemicals and synthetic treatments. Best vegan leather bags can also be produced and treated in environmentally harmful ways.
On the other hand, Vegan leather does not kill animals and is made of natural fibers derived from fruits and plants. Vegan leather is much more likely to be made from recycled plastic bottles, significantly more environmentally friendly.
Related Resources