Are you looking for some eco-friendly area rugs to add to your collection? Or do you want to replace your non-sustainable ones? Read on to see some of the best pieces we have around.
At home, you need to find ways to reduce your carbon footprint, right? There's a whole host of actions you can take. But, one easy area to start with is buying eco-friendly area rugs.
Every home has several rugs spread over different rooms. For instance, you can have them in the living room, bedroom, bathroom, and mudrooms. These mats play a crucial role in keeping your space warm, are affordable, and most come with an eco-friendly rug bag.
However, not all manufacturers and artisans use sustainable materials and manufacturing practices. That's why you need to do some research and get eco-friendly rugs.
These use recyclable, natural, and biodegradable materials that are sustainable.
Best Eco-friendly Area Rugs You Can Try
Below are our top picks for the most eco-friendly area rugs that can help you get started.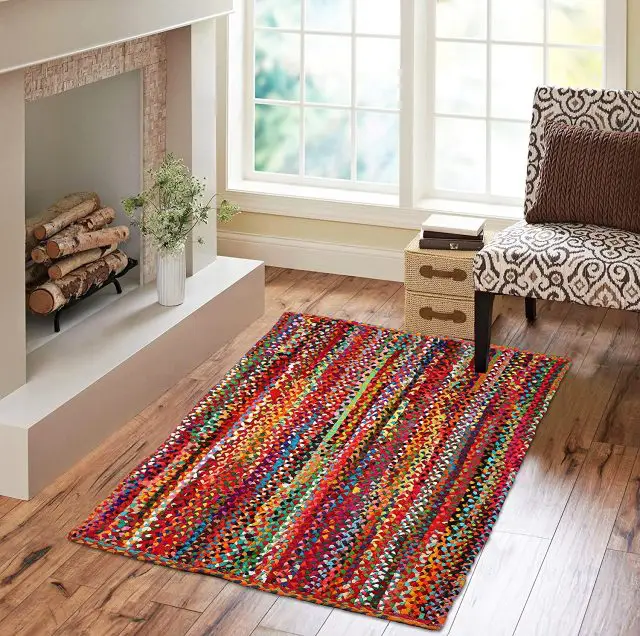 Features:
Measurements- 3ft L by 5ft W
Color- Multi
Shape- rectangular
Material- cotton
Description
Light & Pro brings you these bohemian, eco-friendly area rugs suitable for all homes. All rugs are handmade using quality artisan skills. It's worth noting that the company commits itself to making the rugs under ethical practices.
Here is a multi-color rectangular rug that you can have in your living room. The soft recycled cotton material and colors can go hand in hand with a bohemian style. It measures 3ft in length and 5ft in width suitable for most living spaces.
In terms of the material, Light and Pro use 100% recycled Chindi cotton fabric. Once the artisans have enough fiber, they weave the rug by hand.
The rectangular shape and multi-color design make it attractive to have in your home. However, there's more variety available in terms of hues.
It's a lightweight rug that's easy to wash by hand or a machine. It weighs only 7.97 pounds and can dry fast. When you want to conserve energy, skip machine drying and hang it outside. The cotton fabric is also an excellent absorber of water in areas such as the kitchen and bathroom.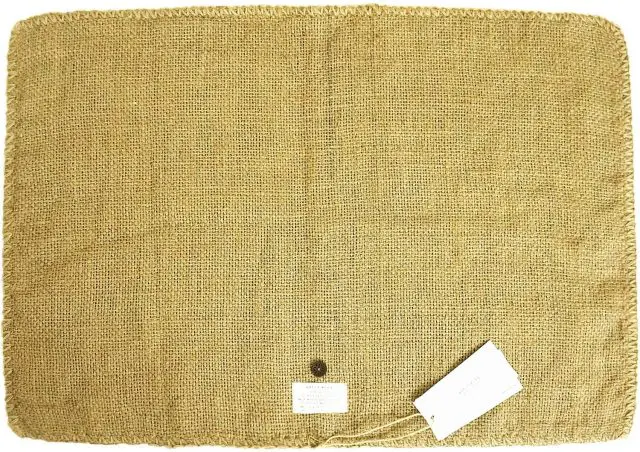 Features
Measurements: 16′ L by 24′ W
Color- Earth
Brand- Petit Moxa
Material- Jute
Shape- Rectangular
Description
Petit Moxa understands the importance of making and selling the best eco-friendly rugs. The jute rope woven mat is most suitable for doors. The maker uses 100% natural jute rope grown and harvested ethically. The shiny vegetable fiber makes some of the most high-quality eco-friendly area rugs in the world.
The rug comes in earth tones that add neutrality to any part of your home. It's a rectangular shape that measures 16 by 24 inches. You can have it on all doors with access to the outside, such as the front door, back door, side doors, and even doors to the conservatory.
Noting how strong the jute material is, you have a long-lasting mat. Some are known to last for years with proper care and cleaning.
Afterward, you can replace it knowing the material is 100% bio-degradable. Cleaning involves scraping off the mad and washing by hand. It's double-sided, so you can flip to the other side when one gets dirty.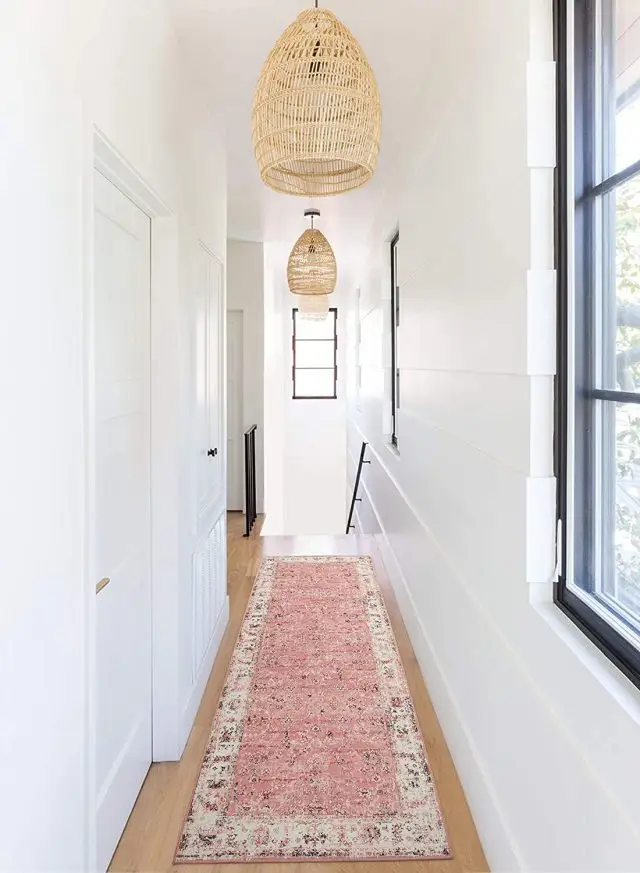 Features
Size- 2ft 6 inch L by 7ft 6 inch W
Brand- ComiComi
Pattern- vintage oriental
Shape- runner rag
Color- pink
Material- polyester
Description
Another excellent example of eco-friendly area rug is this vintage-style rug runner. The patterns alone are worth checking out. Additionally, you can say goodbye to shedding thanks to the innovative manufacturing technology utilized to make it. You won't be replacing it any time soon, even with frequent cleaning.
ComiComi uses top-quality recycled fibers to weave this area rug together. The high-quality material makes it easy to clean without needing to brush off runners. Part of the design is an oriental vintage finish that adds glamor to your home because of the Persian vibes.
It's most suitable for a long corridor where some character is necessary. While the rug uses high-quality recycled polyester, it has a cotton backing. That way, you won't have to worry about slipping.
Using a brush, you can clean out any debris and pet fur from it. It has a non-fuzz design. Besides, both materials are waterproof, which gives the mat a longer lease of life. You enjoy the silky smooth texture when walking around barefoot.
See Related: Best Fair Trade Handbags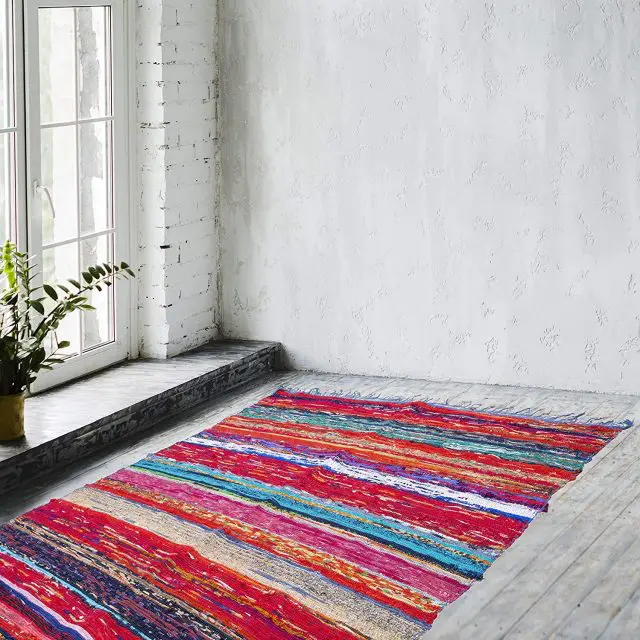 Features
Brand- Eleet
Size- 4ft L by 6ft W
Color- Blue dyed
Shape- runner
Material- cotton
Description
Eleet delivers another masterpiece that uses recycled cotton Chindi fabric to make this area rug. Chindi materials are torn cotton rugs from India that are a waste product. Instead of discarding it, recycling takes place to create unique and quality eco-friendly area rugs.
Whether you want to use it as a bathroom mat or at the side of your bed, the quality speaks for itself. The maker uses 100% recycled Chindi fiber to hand-weave the unique rug.
Besides cutting your carbon footprint with eco-friendly bathroom rugs, you add a touch of décor to your home. Its design adds a more bohemian touch to your home. You can place it in high-traffic areas since the material has anti-slip properties keeping everyone safe.
For a handmade rug, you won't need to part with lots of money. For the price you pay, you get a sturdy quality rug. Cleaning requires regular vacuuming and spot cleaning to clean stains out. It's highly absorbent.
All in all, this is part of the incredible non-toxic, eco-friendly area rugs you can add to your home. Plus, the cotton material is soft on your feet.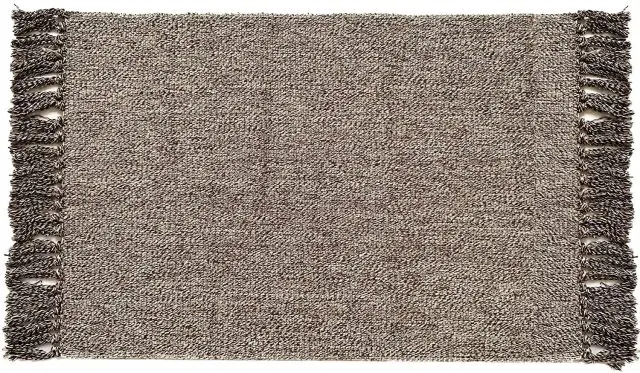 Features
Measurements- 24 inch L by 51.2 inch W
Material- Cotton
Brand- Ukeler
Color- Coffee & White
Shape- Rectangular
Description
Many parts of the house need area rugs to keep them warm, add to décor, and even play crucial roles. The eco-friendly Ukeler rug suits your kitchen, bathroom, and laundry. You can place it at the sink area to absorb the water that spills over as you clean.
Ukeler uses 100% recycled cotton material to make these affordable eco-friendly rugs. You can also place it outside the shower in your bathroom. It's a hand-woven design that has tassels at the edge to give it a more sophisticated look.
You create lots of comfort in your home and even reduce noise in certain rooms like the baby crib area. Not to mention the Ukeler area rug provides pets with a warm place to lie around the house.
Cleaning the rug is simple. You can wash it by hand or place it in the machine. It's light, weighing only 1.98 pounds, and dries fast.
See Related: Best Erosion Control Blankets to Buy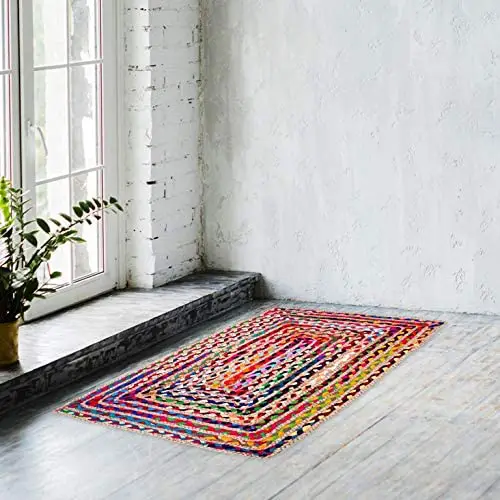 Features
Brand- Zahra
Material- Cotton
Size- 2ft L by 3ft W
Design- Reversible braided
Shape- rectangular
Description
Fancy up living spaces with these eco-friendly bathroom rugs made by Zahra. The company offers a collection of top-quality rugs that can suit multiple parts of your home. Place them not only in the bathroom area but in numerous other doorways.
These are 100% handmade eco-friendly area rugs essential when you want to reduce your carbon footprint. You get a multi-color rug that adds more glamour to your home with the bohemian style. Craftsmanship entails using traditional looms to weave together 100% cotton material.
The complete rug is soft to walk on and easy to clean. It weighs 3.32 pounds, and you can wash it by hand or machine. Regular cleaning is the best solution since it's a natural fiber rug.
Also, rotation and vacuuming retain their indestructibility. The thickness makes you feel more grounded in your home, plus it boosts the aesthetics.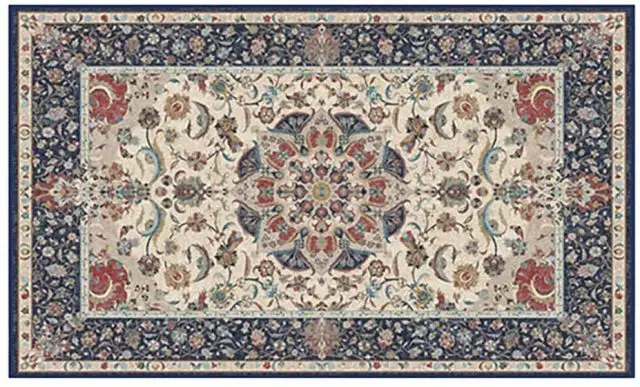 Features
Brand- RUGGABLE
Size- 3ft L by 5ft W
Color- Sima Royal
Pattern- Floral
Shape- Rectangular
Description
RUGGABLE is a company that's known for manufacturing high-quality eco-friendly area rugs. The focus is on making the rugs per order which reduces waste. In addition, all the fibers are natural and 100% sustainable. Not forgetting the rugs are biodegradable and won't harm the environment after use.
The machine washable area rugs have a unique Sima royal color scheme and pattern. You can place them in your bathroom, at the front or backdoor, kitchen, and even living and dining areas.
The non-slip nature of the fabric adds to safety, plus it's smooth to step on without shoes. Also, they feel comfortable under your feet.
It's a light area rug weighing only 5 pounds and cleans easily on a machine. It's made in the US, and the manufacturer is committed to taking care of the environment. Some of its top initiatives include planting 100,000 trees.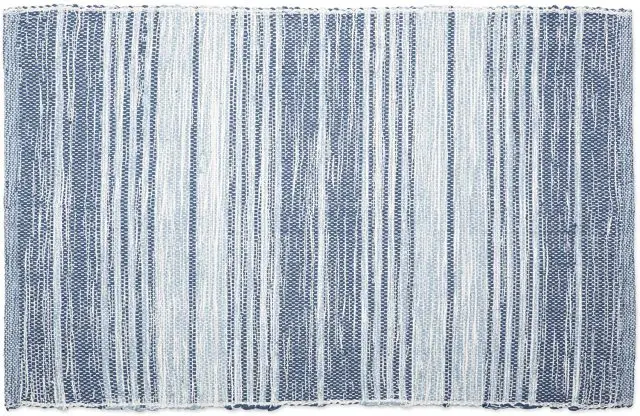 Features
Measurements- 2ft L by 3ft W
Material- Cotton
Brand- DII
Pattern- stripped
Color- stripped French blue
Description
DII brings homeowners quality eco-friendly area rugs perfect for the bedroom. The quality is top-notch, using only 100% recycled, sustainable cotton. The cotton is simple to clean since you can use a machine. Afterward, it takes a little time to dry.
The cotton material is absorbent so that you can place the mat in your bathroom or kitchen areas. The subtle French Blue color blends well with home décor. Another top feature is its double-sided use. If one side is dirty, flip it the other way. It adds to its sturdiness.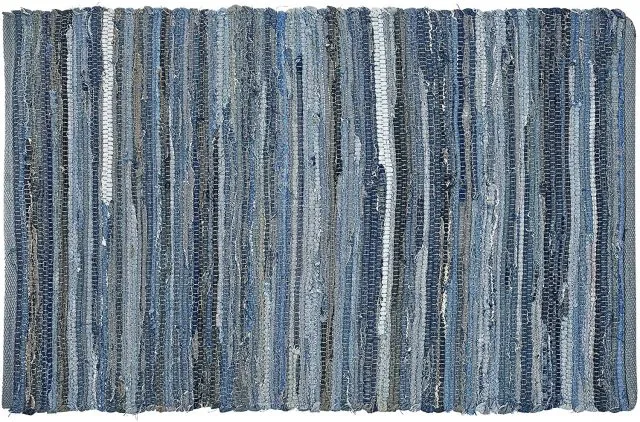 Features
Brand- MOTINI
Size- 2ft L by 3ft W
Pattern- stripped
Shape- rectangular
Color- Denim
Material- Cotton
Description
Did you know all your old denim clothes can make beautiful eco-friendly area rugs for your home? What makes sustainable rugs eco-friendly is recycling old denim clothes to make the double-sided mats. It's easy to clean in a machine or by hand and hang out to dry thus saving on energy.
MOTINI makes 2ft by 3ft eco-friendly area rugs for your laundry, kitchen, bathroom, living, and bedroom areas. It has a blue hue of denim, and the material can sustain lots of mud and dirt without fading.
The handloom manufacturing process produces top-quality and durable area rugs. Plus, no two rugs are the same. It's a practical area rug to have around the house.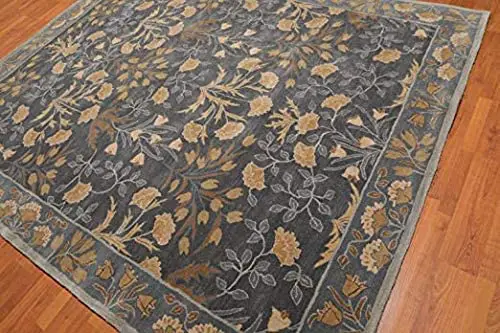 Features
Brand- PB
Material- Wool
Size- 8ft L by 10ft W
Shape- Rectangular
Color- Blue
Description
How about a fantastic area rug made using 100% wool pile from New Zealand? Typically these are eco-friendly wool area rugs with a Persian oriental design. The old layout and look add character to any living space in your home.
The wool material is long-lasting. Not to mention how easy it is to clean. Therefore you can place the rug in the mudroom, front or back door areas.
An added advantage is that wool is hypoallergenic. However, the rug suits indoor use only. It has a good size for the living room, dining, and bedroom areas.
The good news is that the dye that's on each yarn doesn't fade quickly. Moreover, the manufacturer uses recycled fabric as backing for the area rugs. Also, each rug is self-bound for maximum durability.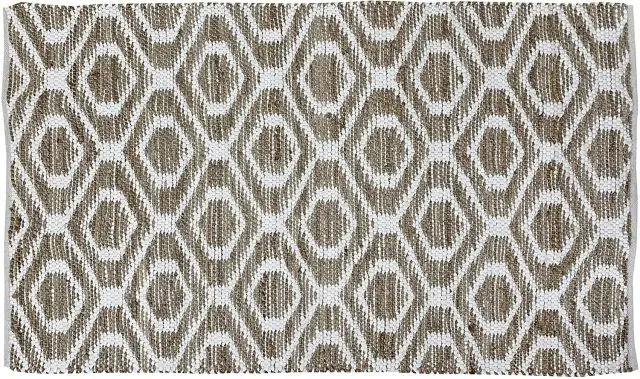 Features
Material- cotton jute
Size- 2ft L by 3ft W
Brand- The Beer Valley
Color- Natural white
Shape- rectangular
Description
Jute material makes some excellent eco-friendly area rugs perfect for every part of your home. The 2ft L by 3ft W size suits your bedroom, bathroom, living room, and kitchen areas. It's a light rug weighing 2.92 pounds and easy to clean by hand or machine.
Apart from that, the material is sourced sustainably after following top farming practices. Not to mention the whole area rug is biodegradable once you want to replace it.
However, the tough jute means you can use the rug for a long time. The area rug has a rustic vintage design that adds lots of character to the room. Moreover, it's affordable, so you can get one for every area of the house that needs a rug.
The Beer Valley prides itself on proper manufacturing practices for all its products. Materials are all ethically sourced and grown correctly to prevent harming the environment.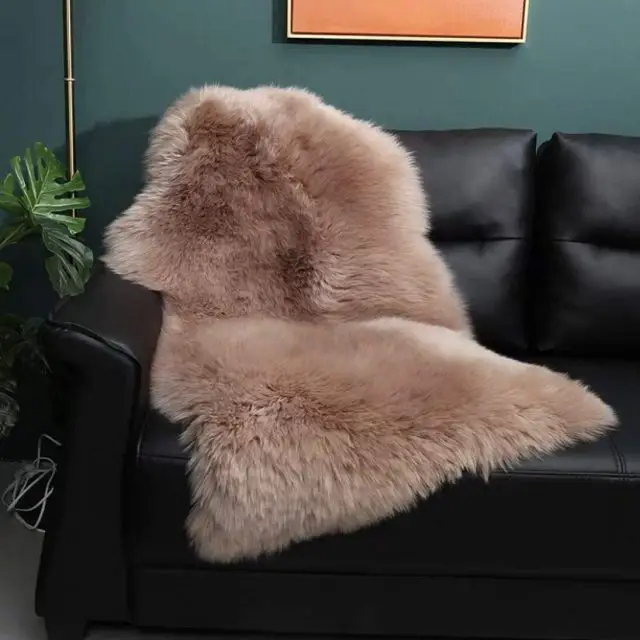 Features
Material- Sheepskin
Brand- OKAYDA
Color- bean
Measurements- 37.32 inch L by 24 inch W by 0.01 inch H
Description
Area rugs are a fantastic way of adding to your home décor. Another set of quality ones to look into are the eco-friendly sheepskin rugs that are pretty cozy. The sheepskin is ethically sourced and top quality to create the best eco-friendly area rugs.
OKYDA has chosen to use high-quality New Zealand sheepskin. All their rugs are free of toxic materials that can harm your skin. It's only the most ethical of all manufacturing processes that guide rug creation.
The house's best parts to place the rugs are in the baby room or areas where kids play. Also, they suit places where you walk barefoot, like the bedroom.
The New Zealand lambskin is soft and smooth to the touch. Also, it has an elegant look that spruces up your living spaces. It has a thickness of 0.01 inches and weighs 2.48 pounds. Note that you must take care not to spill or make it dirty because it's challenging to wash and dry.
All in all, you add warmth to the room plus a touch of elegance. The finishing makes these eco-friendly area rugs a great way to enhance space décor.
Related Resources