Traveling encompasses a lot of other activities. If traveling on a long-distance journey, you must be ready to get the products necessary to sustain yourself for the trip. And while doing so, you might want to consider sustainable and eco-friendly materials.
Over time, human activities have been responsible for climate change. And one such activity is traveling. So, to ensure that your travel is eco-friendly, consider your carbon footprint in the atmosphere during the journey.
Whether you travel by car, rail, or air, you are guilty of contributing to the negative impact on the environment. As such, you must limit factors such as using plastic straws, plastic bottles, polythene bags, and any non-biodegradable trash you could create.
Instead, try to use eco-friendly and sustainable travel accessories anytime you travel. I do, and from my experience, I have compiled the 2best eco-friendly travel products you should also consider getting for your next trip.
Read on to know the products that made it to this list of a more eco-friendly traveler:
Best-Of by Category
Best Eco-Friendly Travel Products
1. Elvira 32oz Vacuum Insulated Stainless Steel Water Bottle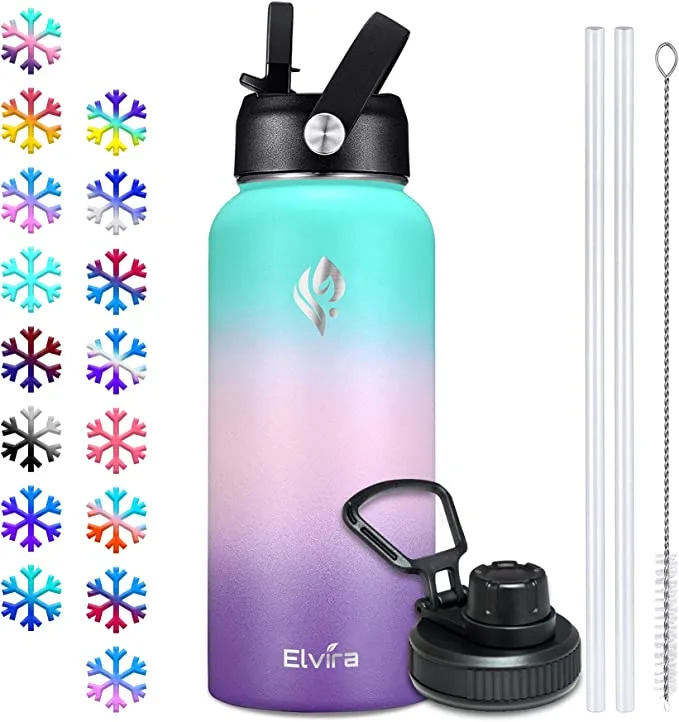 Of course, you'd not want to go on that dehydrating camping trip without a reusable water bottle. This helps to preserve your water, coffee, tea, and even fruit juice at their initial temperature. The water bottle makes a great stand-in for your reusable coffee cup.
It has a double-wall feature that helps retain your favorite beverage's temperature. The water bottle has three different lids for your dehydration needs. It also features a leakproof straw to put your mind at rest while hiking, biking, or any other athletic engagement.
The Elvira 32oz Vacuum Insulated Stainless Steel reusable water bottle is one of the ideal sustainable travel products I cannot recommend enough.
Features
Double walls to keep beverages hot for up to 12 hours and cold for up to 24 hours.
Completely leakproof and shatterproof, hence ideal for everyday usage.
Made of high-quality 18/8 sleek-proof steel.
Built-in handle for simple attachment to a backpack.
Pros
It comes with three lids, each with different functions.
High-quality yet easy-to-afford reusable water bottle.
The water bottle is highly durable and easy to clean.
It comes with a built-in leakproof straw which saves your drink from spilling.
Capable of maintaining the drink temperature for about 12 hours.
Cons
It might retain the flavor of old beverages for a while – particularly coffee.
See Related: Best Eco-Friendly Baby Products to Buy Today
2. Eurow Makeup Removal Cloth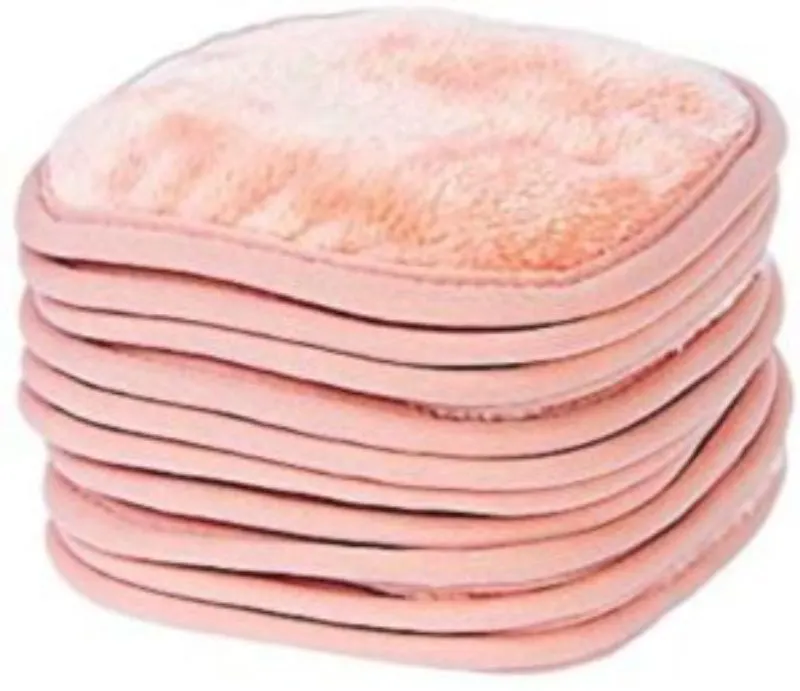 Reusable makeup wipes are one of my favorite eco-friendly travel goods for life on the road. But as handy as they are, disposable makeup wipes have some drawbacks – one of which is polluting the environment. Therefore, it is important to consider the eco-friendly option; Eurow makeup removal cleaning cloth is my top pick.
Eurow makeup removal cloth is a soft, gentle, high-quality, and durable makeup remover. It helps reduce makeup removal time as it works smoothly with or without a cleanser or water. It is also very affordable and hypoallergenic.
Features
Made of microfibre, a mild and soft material that's great for cleaning ANYTHING.
Makeup-removing cleansing towels that are stress-free.
Dimension of 5 by 5 inches and weighs 3.2 ounces.
Pros
Hypoallergenic and works on all skin types.
Clinically assessed and confirmed to be skin-tolerable under dermatological supervision.
Removes makeup without causing damage or pulling on sensitive skin.
Washable, reusable, and cost-effective.
Cleans face more quickly and thoroughly than a wipe.
Cons
It sheds little fibers and leaves them on the face after use.
See Related: Sustainable Eco-Friendly Lunch Bags
3. 4Monster Camping Towel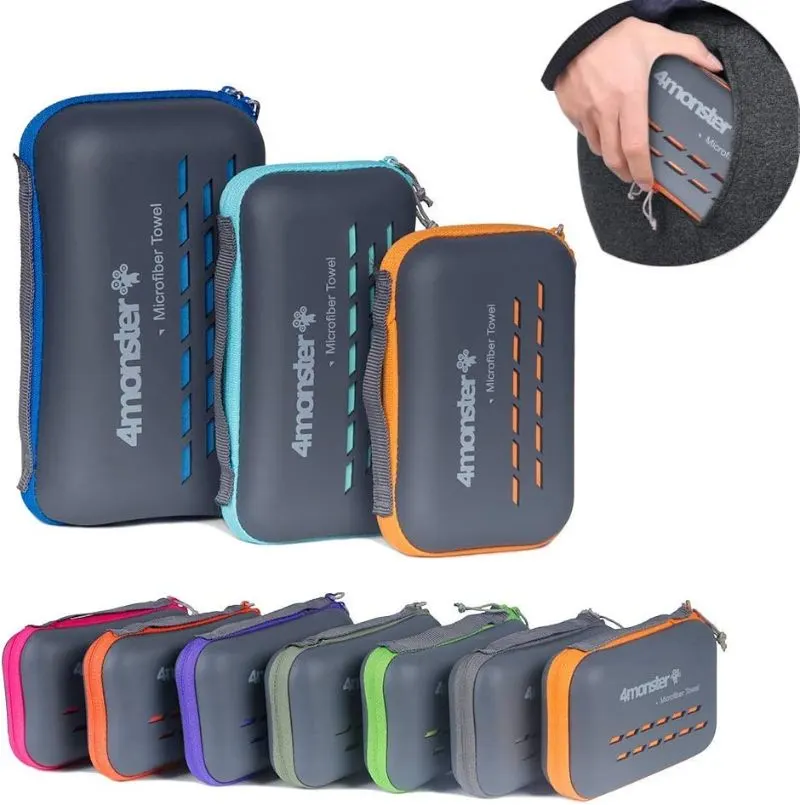 Your traveling might involve activities such as yoga, gymnastics, and other athletics. In this case, you will require a towel to keep you dry during the activities or after a shower.
4Monster Camping Towel is the sustainable travel gear that effortlessly drives my worries away whenever I am in this situation. It is quite lightweight that you will barely feel it when wrapped around your neck.
This bearable weight makes it the ideal towel for hiking or biking. It is portable, dries fast, and easily absorbs water. This soft towel is also very kind to the skin.
Features
Made of high-quality microfiber that is skin-friendly.
Unique carrying pouch for hanging your towel to your backpack or belt.
Manufactured with natural plant dyes and won't fade after use.
Towel case with a hook – portable for traveling.
Pros
Soft, light, portable, and absorbing a lot of water.
Small and practically saves space.
Does not emit an unpleasant odor after use.
By barely shaking the towel, sand and grains will fall off.
Cons
You'll receive just one towel, not four. 4Monster is just a brand name.
See Related: Eco-Friendly Stand-Up Pouches
5. Tzowla Travel Laptop Backpack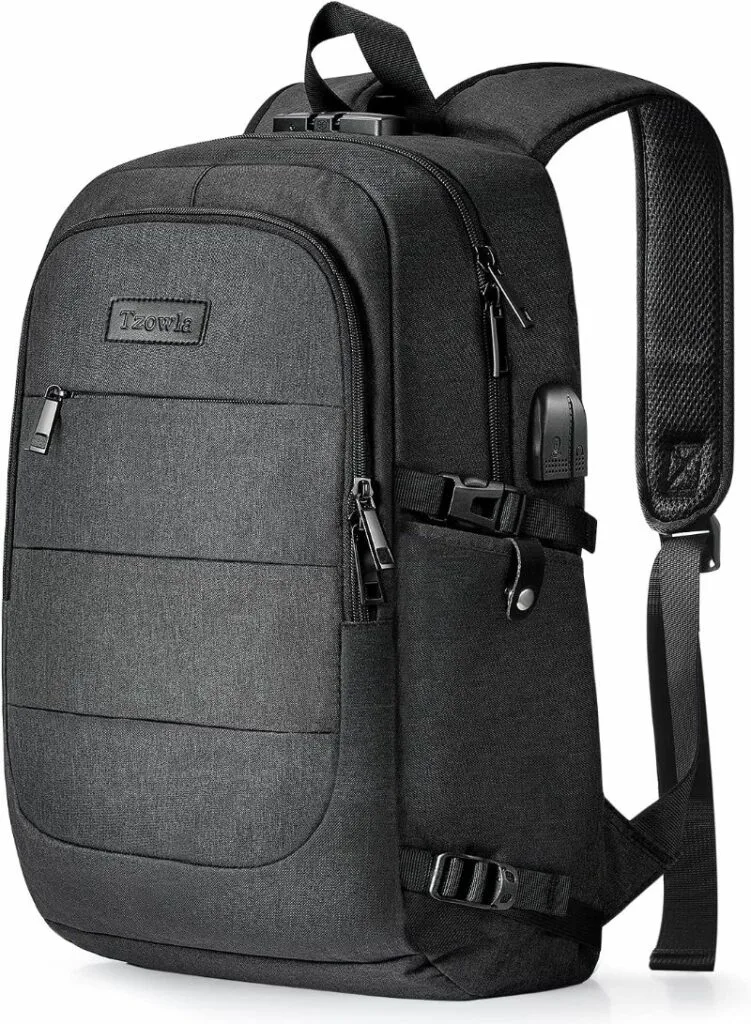 Every traveler needs a backpack to keep them going. Some journeys may require you to go along with your laptop and sustainable luggage.
The Tzowla Travel Laptop Backpack is among the eco-friendly travel bags you can rely on. It has a 360° protection system, a water-resistant 300D exterior nylon, and a protected soft padded interior.
In addition, it has a side pocket, magnetic buckle, high-quality black-tone zippers, and breathable mesh. It features a USB and a Headphone port to charge your devices quickly. The backpack has a cool, minimalist design, great sturdiness, and incredible longevity.
Features
Water and abrasion-resistant outer layer for protection during rain.
High-quality polyester fabric and comfortable broad padded shoulder strap design.
Nicely structured interior and exterior compartments with huge capacity.
External headphones and USB port, with an integrated charging cable.
Pros
Stylish, durable, and long-lasting
Not gender or usage-specific.
Spacious compartments to store your travel items.
It allows you to charge your phone in a simple and handy manner.
More durable and functional than that eco-friendly tote bag.
Cons
Prone to wear and tear if not properly handled.
See Related: Best Eco-Friendly Microwaves to Buy Today
6. Pixie Menstrual Cup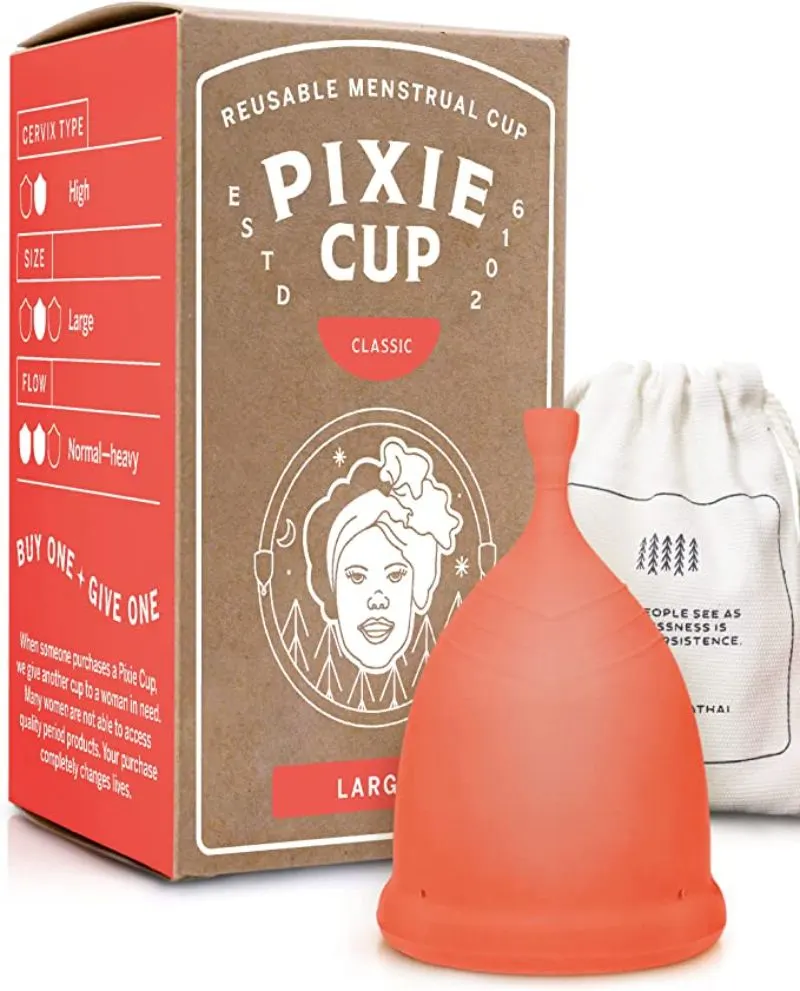 The fact that you are on a trip does not stop your period. Using a menstrual cup will help you maintain so much balance and worry less while you experience the uniqueness of womanhood.
Pixie Menstrual Cup is a comfortable, reliable, and eco-friendly product. These menstrual cups can be cleaned and reused for up to ten years without side effects.
The Pixie menstrual cup makes periods much more bearable. It stays well put without releasing odors and prevents period blood stains.
Features
Comfortable and perfectly spaced strategic grip rings that fit your natural grip.
Specially designed cup body that bends and molds to your body shape, remaining put no matter what you do.
Leakproof rim designed to ensure that you and your panties are safe.
Distinct ball stem for easy removal.
Pros
You can wear it for 12 consecutive hours before cleaning and reinserting it.
Not limited to a specific age range.
It functions secondarily as a conception cup.
Odorless and comfortable in the vaginal canal.
Cons
It might not work for some people depending on their anatomy.
See Related: Best Zero Waste Products: Eco-Friendly Choices
7. Colgate Anywhere Travel Toothpaste Tablets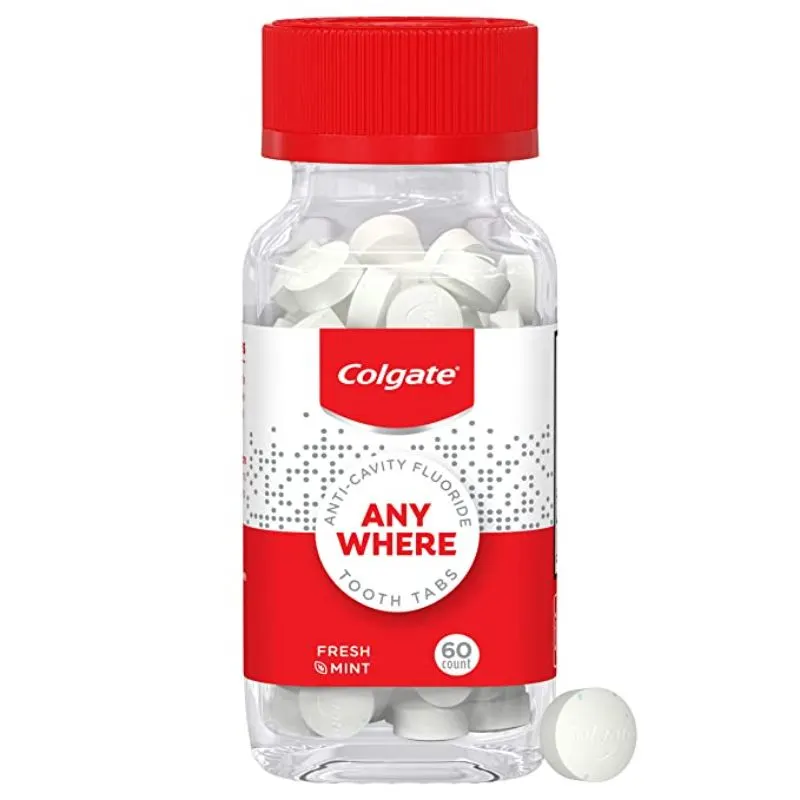 You shouldn't be worried about taking your regular tube of toothpaste everywhere. The Colgate Anywhere Travel Toothpaste Tablets are the eco-friendly alternative option I would recommend instead.
Colgate Anywhere liquid-free travel toothpaste tablets give the cavity protection you need. All thanks to the bite-sized toothpaste chunks. Your teeth can absorb that fresh, minty goodness in the same way as conventional toothpaste.
When exhausted, you can purchase a refilled package to refill the glass or plastic bottles rather than dispose of the tub. Or you can use it to store whatever; I won't try to be your mom.
Features
Reusable bottle package, which is eco-friendly alongside bamboo toothbrushes.
It contains fluoride, which helps to prevent cavities in your teeth.
Recyclable, refillable, vegan, and devoid of SLS.
A child-proof cap is included for added protection.
Pros
Produces results similar to that of regular toothpaste in a tube.
Great for travel and easy to use.
Tastes fine and has a decent flavor, leaving a minty fresh feeling.
Dissolves easily and produces moderate foam.
Has its bottle for sustainable production.
Cons
Produces less foam than conventional toothpaste.
See Related: Sustainable Toothpaste Products Ranked
8. Goodwipes Flushable Plant-based Wipes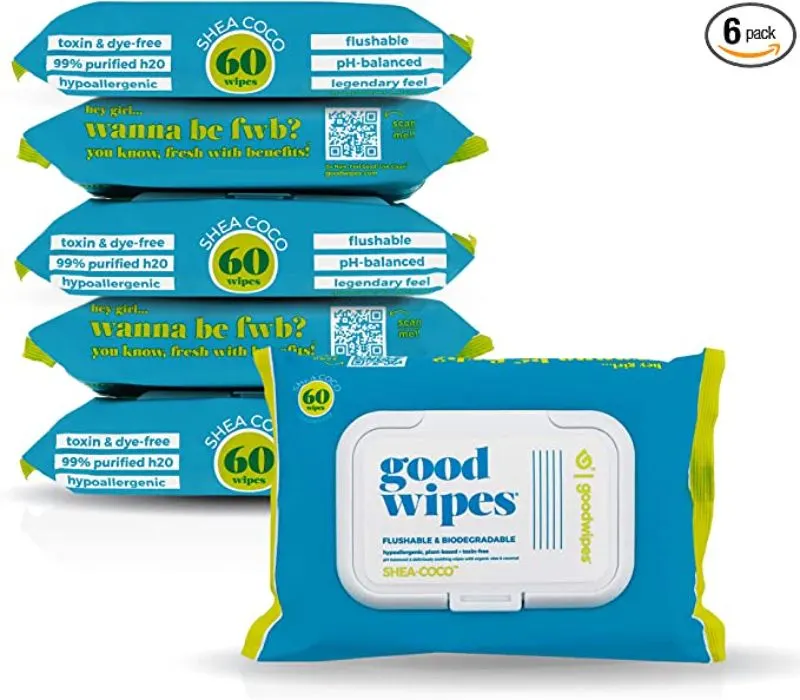 No one wants an itchy butt around friends and loved ones on the beach or on a plane. I mean, an itchy butt is awful anywhere, but being stuck in the middle seat of a coach with an itch is hell.
Your rear end wants to be pampered. To avoid this nightmare during your trip, you must clean up with a hypoallergenic and eco-friendly wipe.
The heavenly sensation of Goodwipes Flushable & Plant-Based Wipes relaxes, cools, and soothes your buttocks without causing discomfort. It doesn't contain harmful chemicals. It is biodegradable and decomposes easily, thereby keeping the environment clean.
Features
Eco-friendly plant-sourced fibers.
Plastic-free, completely flushable, and safe for sewers and septic systems.
Contain Organic Aloe, Vitamin E, Lavender, Chamomile, and other ingredients to soothe your skin.
Double moisture-lock lid to keep the wipes moist.
Pros
Devoid of potentially dangerous chemicals such as toxins and parabens.
With no irritation, it relaxes, cools, and soothes your behind.
Suitable for people with sensitive skin.
After usage, the skin feels just natural with a pleasant scent.
Cons
Fragile and should be removed with care.
See Related: Best Eco-Friendly Baby Products to Buy Today
9. Sony ZX Series Wired On-ear Headphone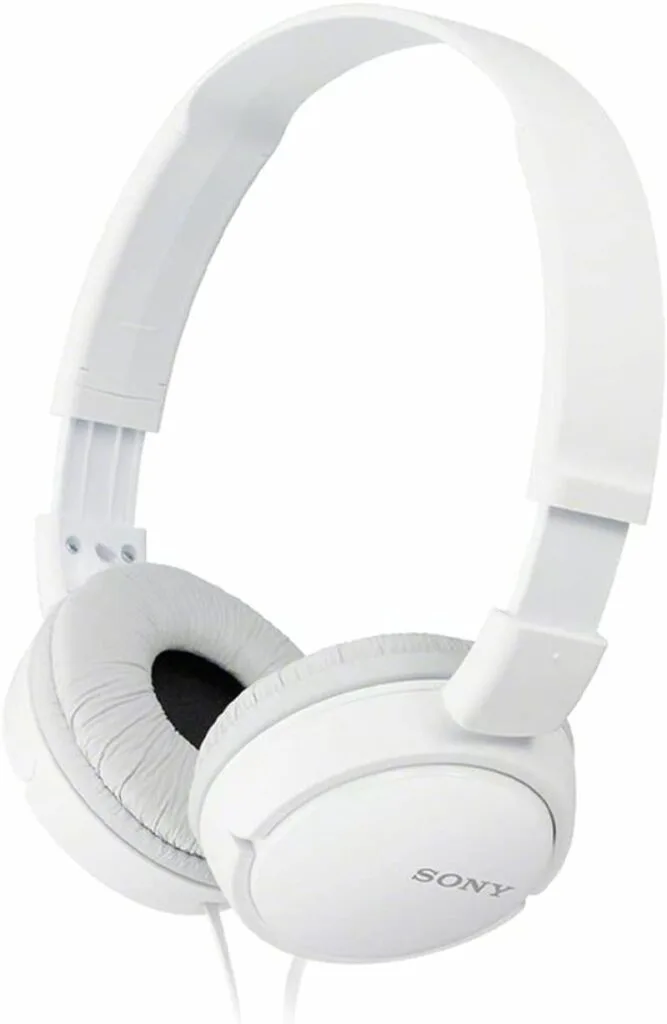 Every traveler needs something to distract them from tedious journeys. Good music helps. However, good music is most appreciated when it fills the ears with good headphones, passing a soothing feeling to the listener.
One thing you might need for you to enjoy that long, boring, and tiring journey all the way is a Sony Zx Series Wired On-ear Headphone. It has a swiveling ear cup design that makes it easy and comfortable to carry with you on the journey without bothering about its buoyancy.
It also has a sound-proofing enclosing closed-back design and cushioned earpads for total comfort. You will need this pair of Headphones while traveling if you love music.
Features
Swiveling earcups to save space.
Earpads are cushioned for maximum comfort.
Deep bass, lush midrange, and soaring highs are delivered by the 12 Hz to 22 kHz frequency range.
1.2m y-type cable with excellent durability.
Pros
The cable is tangle-free and resistant to snags.
Comfortable even with glasses.
Incredibly cheap yet has a fantastic sound quality.
Compact, foldable, and lightweight.
Cons
Barely filters or isolates surrounding sound when used.
See Related: Best Eco-Friendly Microwaves to Buy Today
10. Ryno Tuff Portable Camping Solar Charger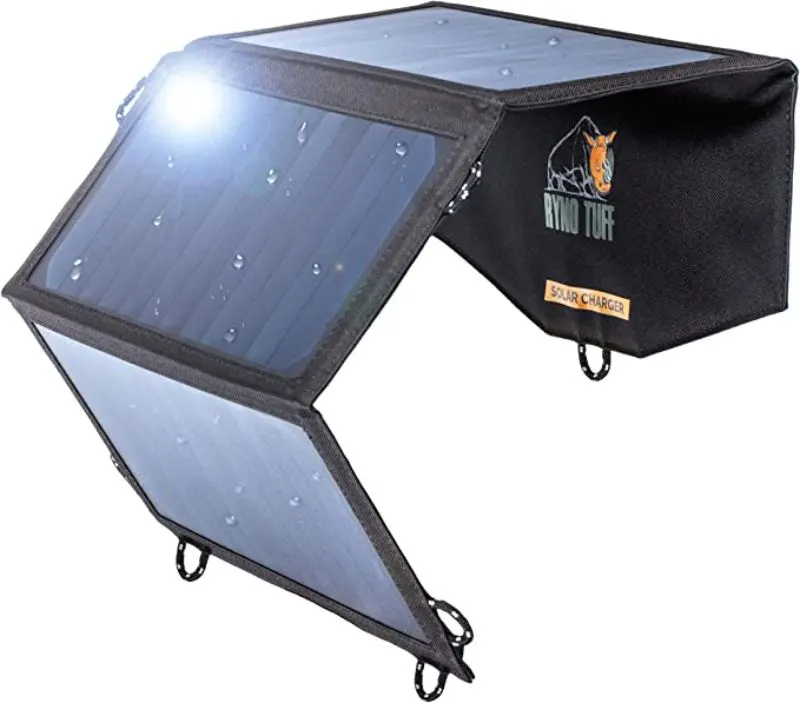 Solar chargers are ideal for use outdoors and on camping vacations because they use a renewable and cost-free energy source. An eco-friendly mobile solar charger is expected to be lightweight and portable. This attribute allows you to attach it to your backpack without requiring extra luggage.
It should also be waterproof, so you can leave it outside your tent without worrying much about getting damaged by rain. Ryno Tuff Portable Solar Charger for Camping is what you need to never run out of power again – not even when you are stuck in the desert for days. It can charge all sorts of phones and USB electronic gadgets.
It is light, foldable, durable, waterproof, and highly efficient. Overall, this solar charger ticks all boxes of the best solar chargers for camping.
Features
Foldable Solar Panel Charger with two USB Ports.
Maximum Power in a Compact Package.
Waterproof and long-lasting solar panels.
The power-saving mechanism stops charging when your device or gadget is full or overheated.
Pros
Lightweight, thereby saving space, and easy to carry while traveling.
Strong and generates a solid current enough to charge your smartphone in a few hours.
While charging, you can stow devices in the protected pocket.
Charges fast which is essential for camping trips.
Cons
You can only charge it through solar power with no option for electrical charging.
See Related: Best Eco-Friendly Bathroom Products to Buy Today
11. Badger Anti-Bug Shake And Spray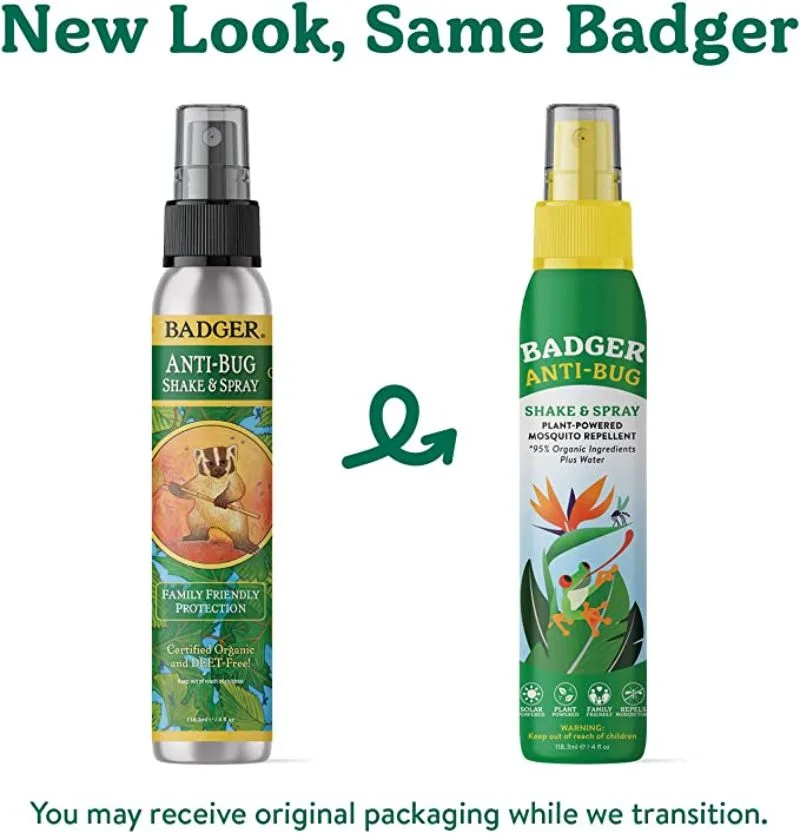 Mosquito and insect bite is not torture anyone wants to be subjected to. An easy-to-carry eco-friendly insect repellent is necessary for that camping trip if you don't want mosquitoes and other bloodthirsty insects to feast on you.
Badger – Anti-Bug Shake and Spray resents insects just as much as you do. As such, it will drive insects far away from you during your trip.
It repels insects with natural ingredients. This environmentally friendly anti-bug spray is safe and free of toxic chemicals. It is also easy to carry and recycle.
Features
Delightful perfume of citronella, rosemary, and lemongrass essential oils that naturally repel insects.
Devoid of synthetic chemicals or petroleum-based ingredients.
Gluten-free, vegan, and cruelty-free.
Lightweight, portable, and recyclable.
Pros
TSA-authorized travel sizes of 4oz and 2.7oz are available.
Proven to keep mosquitos at bay for over 3 hours.
A perfect option for camping trips.
Has a decent smell with a less offensive odor.
Cons
It might make your body oily if sprayed on the body.
See Related: Different Types of Ecosystems Around the World
12. Greenzla Bamboo Toothbrush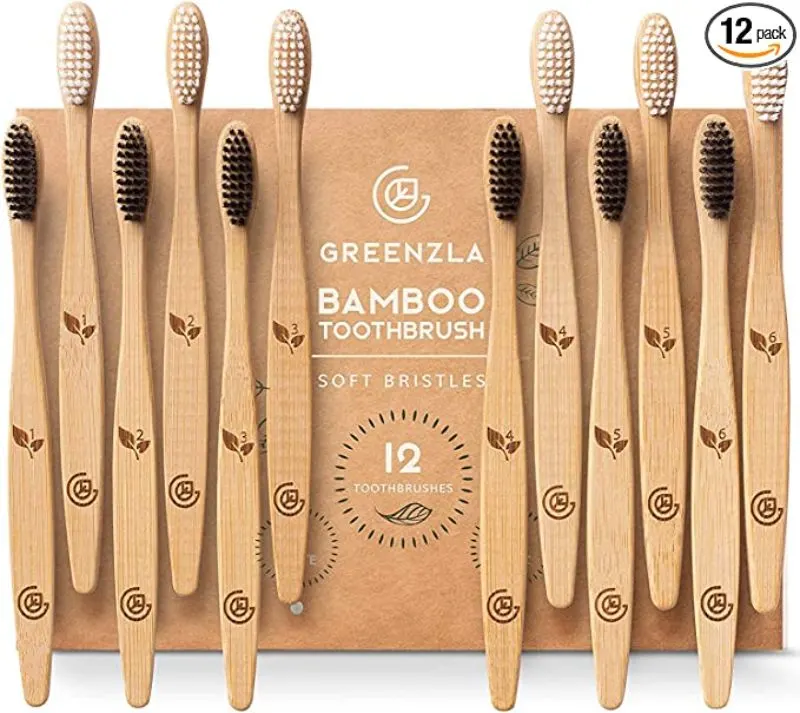 Every year, millions of plastic toothbrushes are disposed of. This is highly detrimental to our entire ecosystem. A bamboo toothbrush is an excellent alternative to a plastic tooth cleaning brush because it is biodegradable.
With Greenzla Bamboo Toothbrush, you can care for your teeth while helping the environment. Greenzla uses only the highest-quality natural ingredients to make toothbrushes gentle on the teeth and gums. The toothbrushes, as well as the packaging, are both eco-friendly.
Features
Includes charcoal-infused bristles that are BPA-free and gentle on teeth and gums.
Bamboo handle with a smooth and natural finish.
Toothbrushes with eco-friendly packing.
Twelve long-lasting toothbrushes that can sustain you for up to 6 months.
Pros
Made with sustainable materials.
Designed for maximum comfort and minimal stress.
Soft and tender on the teeth and gums.
A less plastic alternative to replacing plastic toothbrushes.
Cons
Bristles might detach when not properly used.
13. HYC00 Travel Duffel Bag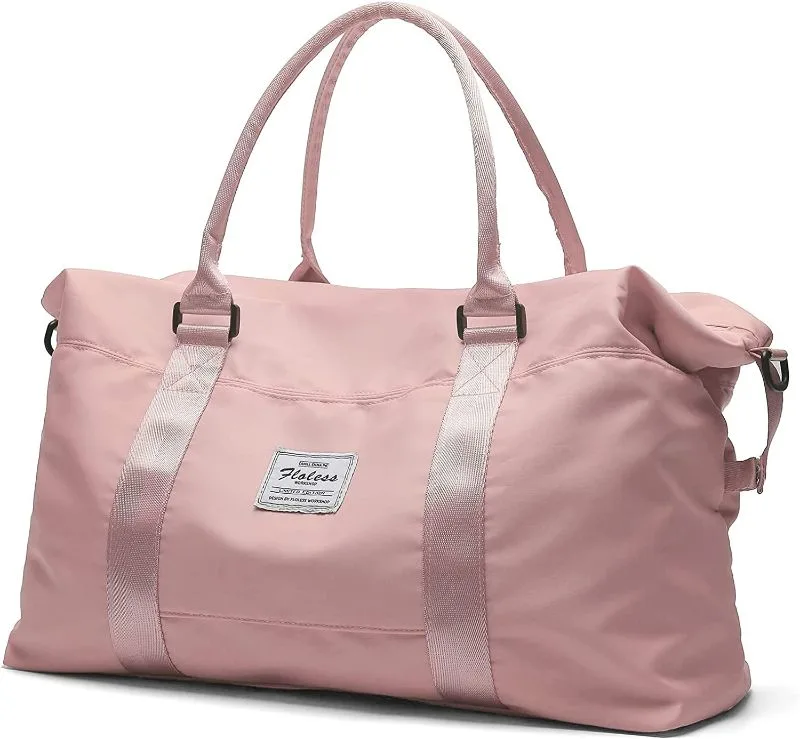 The best bags for traveling must possess spaciousness, durability, and comfort. The HYC00 Travel Duffel Bag is an excellent choice as it includes all these qualities.
You may take the HYC00 Travel Duffel Bag wherever you go without worrying about finding a place to put it. Its size is ideal for use on planes or any other transportation mode you have chosen.
It is also suitable for camping and other outdoor activities. And lastly, it is water-resistant, stylish, functional, and has a large capacity.
Features
Water-resistant nylon fabric to keep your belongings dry inside.
Made of a light but durable material.
Numerous practical pockets to help separate telephones, keys, wallets, and other vital items.
A shoulder strap and handles are included for easy carriage.
Pros
Getting one for sporting trips is such a good idea.
Works perfectly for both long-term and short-term trips.
It has a separate waterproof pocket to keep your items from getting wet.
Large and spacious with multiple pockets.
Cons
Zippers may break easily when not carefully handled.
See Related: Best Energy Efficient Kettles | Eco-Friendly Options
14. Boonboo Cotton Swabs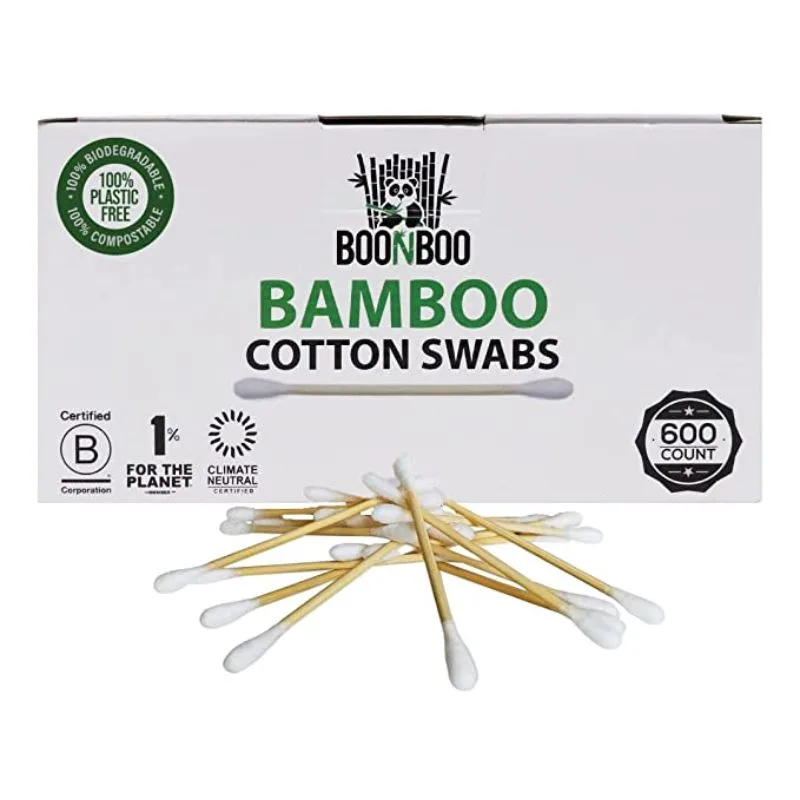 Cleaning your ears can be an issue with plastic cotton buds. No matter how small the size is, they are detrimental to the environment.
With Boonboo Cotton Swabs, you can clean your ears comfortably without worrying about causing havoc to the environment. Bamboo and cotton are the sole materials used to make Boonboo cotton swabs and are both natural and biodegradable.
They decompose quickly and contribute to environmental sustainability. Boonboo cotton Buds aren't designed for inner-ear cleaning alone.
You can also use them to clean various other things, such as the outer ears, fingers, toes, eyes, and nose. Furthermore, you can use it for applying or removing makeup, first aid, baby and pet care, cleaning the household, and other simple usages.
Features
Made of natural, compostable, and sustainable materials such as bamboo and cotton.
They come in a cardboard package that is free of plastic and recyclable.
Four hundred bamboo cotton swabs in a package.
Pros
Excellent replacement for plastic swabs, which are not eco-friendly.
Comes in a recyclable cardboard box.
Firmly fitted buds, and do not remove into the ear during use.
The strong wooden part does not break while cleaning the ear.
Cons
Not flexible for bending like the plastic type.
15. Bumkins TSA Approved Toiletry Bag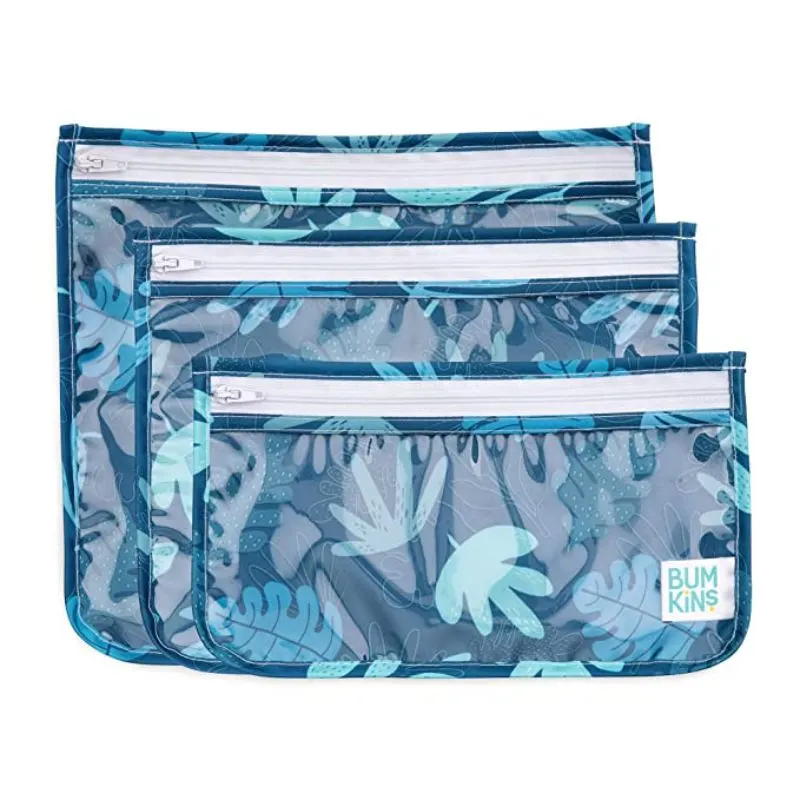 A toiletry bag is essential for every traveler, whether you're a globetrotter or just going on a weekend trip. Bumkins TSA Approved Toiletry Bag is a must-have for eco-friendly travelers passionate about going green.
It is a more environmentally friendly option than single-use plastic bags. And it has a set of three different-sized pouches.
These are made of easy-to-clean waterproof fabric. The hard fabric makes them reusable over and over again. Plus, they're durable enough to be used regularly and can withstand spills.
Features
Made with Bumkins' signature waterproof fabric, which is soft and durable.
Comes with three pouches of varying sizes.
Simple to clean and reuse.
Devoid of BPA, PVC, vinyl, phthalates, and lead.
Pros
A sustainable travel product alternative to single-use plastic bags.
In the bags, you can organize toys, accessories, cosmetics, gadgets, and other items.
The bag's zippers keep belongings safe from falling or spilling.
Transparent –you get to see what's on the inside.
Cons
Requires regular cleaning.
See Related: Best Compostable Trash Bags | Eco-Friendly Options to Buy
16. Ethique Solid Shampoo Bar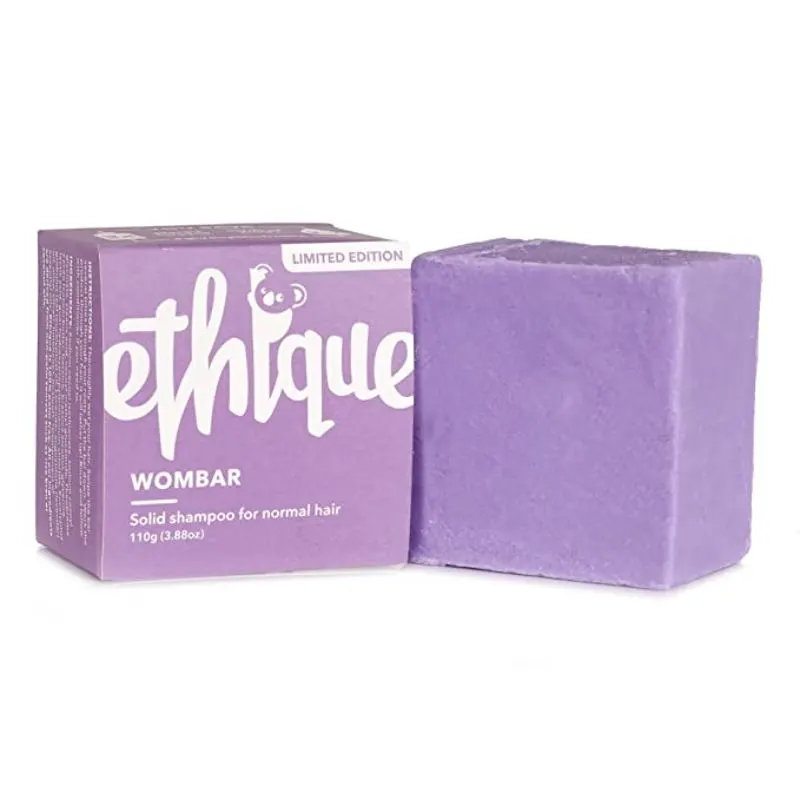 Traveling is good for the soul, but it's a different story regarding your hair. We expose our hair to a variety of unfavorable conditions. You'll need an excellent shampoo on vacation to keep your hair looking its best. In this case, an eco-friendly shampoo is a perfect choice.
The Ethique Solid Shampoo Bar for normal hair comes in a completely compostable and recyclable box. One bar equals three shampoo bottles and can be used up to 80 times, eliminating the need for those plastic bottles.
Features
Prepared with nutritious cocoa butter and sugar beet-derived betaine.
Vegan and sulfate-free.
Devoid of plastics, parabens, phthalates, preservatives, colors, synthetic scents, waxes, and silicones.
It has eco-friendly, recyclable, and compostable packaging, which minimizes waste.
Pros
Suitable for color-treated and damaged hair.
Excellent eco-friendly options to replace shampoo in plastic containers.
It keeps moisture levels in check and reduces irritation.
Suitable for all skin types.
Cons
17. Native Plastic-Free Deodorant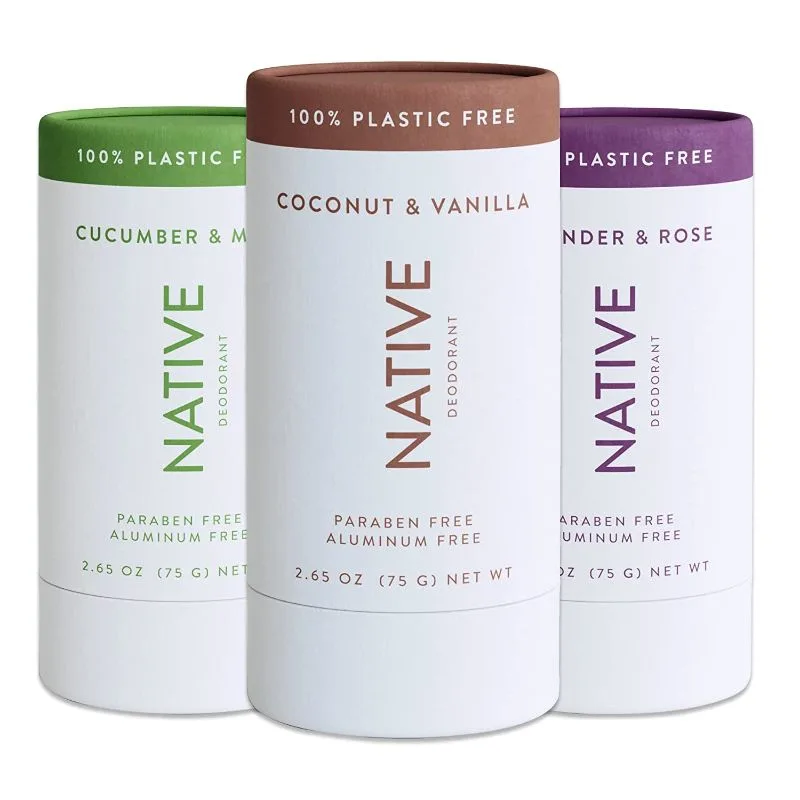 Wastes from deodorants and antiperspirants, just like any other waste, can expose us to harmful chemicals due to their negative environmental impact. Natural deodorants like Native Plastic Free Deodorants are specially designed to care for the ecosystem without disposing of so many plastic bottles in the landfill.
Native Plastic Free Deodorant is a probiotic, skin-friendly deodorant made with silky smooth coconut oil and shea butter. It is made with natural ingredients.
Also, it feels light and fresh under the arms and effectively protects you from emitting a displeasing odor. The deodorant is made without aluminum and comes in an eco-friendly push-up stick paper tube.
Features
Plastic-free.
Naturally derived ingredients.
Devoid of aluminum, parabens, phthalates, and talc.
Safe, synthetic, sustainable (phthalate-free) scents are combined with natural fragrances.
Pros
Works effectively to keep you odor-free.
Eco-friendly product for travelers.
Eco-friendly packing.
An excellent choice for people with sensitive skin.
Cons
The container may retain some of the stick.
Easy to squash
See Related: Beautiful Eco-Friendly Area Rugs
18. ABFOCE Solar Bluetooth Speaker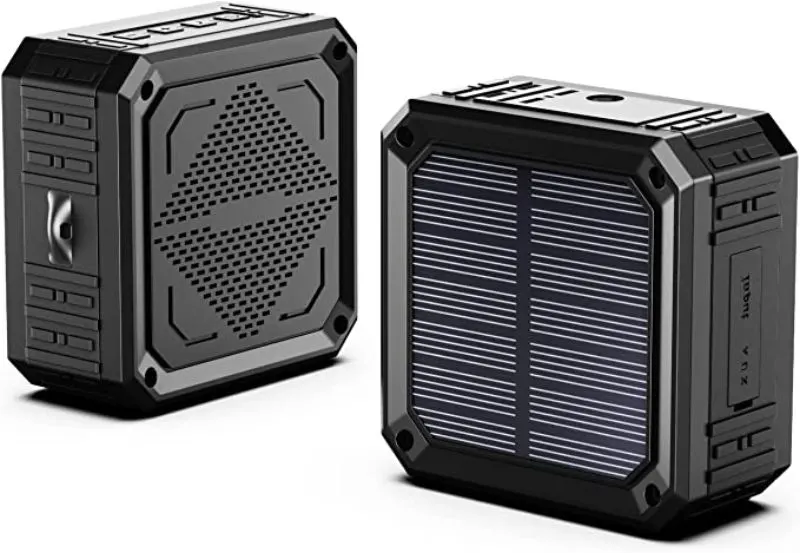 There's no better way to make the most of your travel experience than to listen to your favorite music. Good music can help you stay in a positive frame of mind on the go.
I recommend an eco-friendly Bluetooth speaker that will give you an optimum travel experience. And in this case, it's the ABFOCE Solar Bluetooth Speaker.
The ABFOCE Solar Bluetooth Speaker is made especially for travelers. You need not worry about dust particles and water splashes as the speaker is dustproof and waterproof. It has good sound quality.
When exposed to direct sunshine, the internal battery charges safely and automatically. The speaker can also be charged using a cable plug to an electrical wall outlet without sunshine.
Features
High-capacity battery is integrated into the speaker.
Waterproof, shockproof, and dustproof, thus ideal for outdoor use.
Compatible with all Bluetooth devices, including tablets, smartphones, and laptop computers.
Non-Bluetooth music players can connect via a 3.5mm AUX cable.
Pros
Outstanding sound quality.
Both solar charging and electricity charging ability.
When used at 70 percent voice level, it can last up to 15 hours after being fully charged.
Permit a hands-free phone call.
Cons
The solar panel and the speaker are on opposite sides. Charging the device will require you to put the speaker face down, muffling its sound.
See Related: Best Sustainable, Eco-Friendly Toys for Kids
19. WoodAble Disposable Wooden Cutlery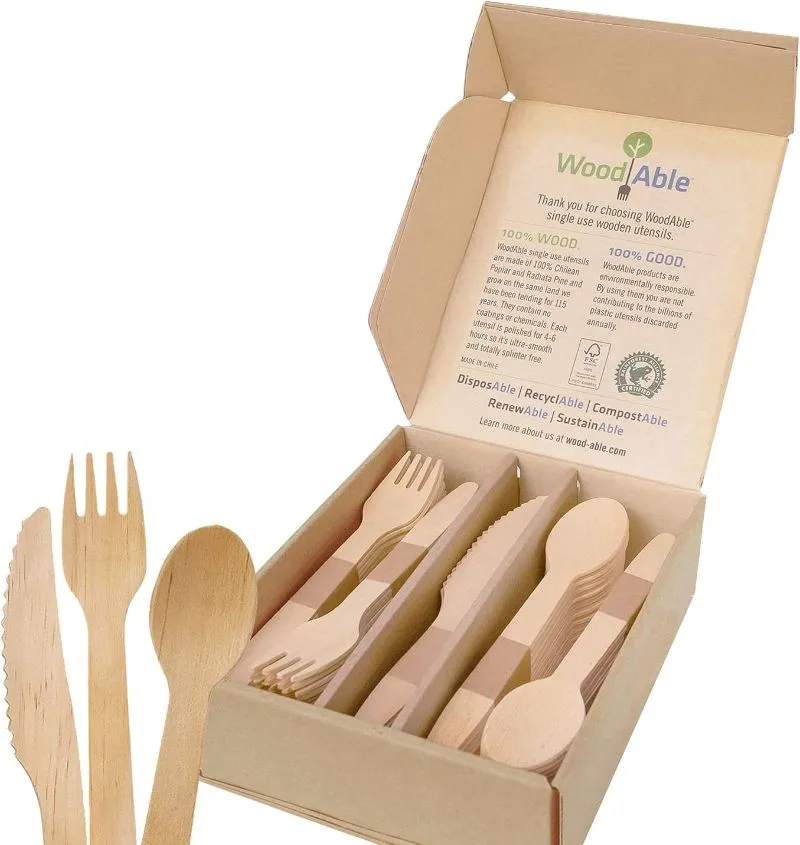 It is not news that plastics generally are not eco-friendly. Your single-use cutlery need not necessarily be plastic cutlery. I've got a better option for you.
With a WoodAble Disposable Wooden and Bamboo Cutlery set, you can ditch the single-use plastic cutlery on your next camping vacation. These reusable utensils are made of reusable materials.
WoodAble Disposable Wooden Cutlery is built entirely of wood from Chilean poplar and pine. Skilled workers who knew their way around the wood stamp, thermo-form, and turbo-polish made the set of spoons, forks, and knives.
They are tremendously strong, smooth, fully splinter-free, and far more capable than weak plastic. WoodAble Disposable Wooden Cutlery is your best bet for picnics.
Features
Sturdy design with a gleaming sheen.
It composts and turns into soil in about 90 days.
Made of 100% wood.
Sustainable and free of splinters.
Pros
Eco-friendly products to minimize plastic waste.
It works better and brings comfort compared to plastic utensils.
Has a smooth and fanciful appearance.
It also comes in a recyclable box, hence making it eco-friendly.
Cons
The cutleries may break when force is applied to them.
No bamboo straw in this pack.
See Related: Best Eco-Friendly Wrapping Paper Options
19. King C Gillette Safety Razor
Purchasing reusable, unisex razors and blades that are ethically produced is a simple approach to reducing your plastic waste. That is why I am introducing the King C. Gillette Safety Razor.
This is a razor that is environmentally friendly for your next trip. The King C. Gillette Safety Razor has a Chrome Plated Handle, making it sustainable and eco-friendly.
It also comes with 5 platinum-coated double-edge razor blade refills that shave precisely. This makes it great for edging sideburns and creating beard lines.
Features
Chrome-plated handle for long-term durability.
Five high-quality platinum-coated stainless steel reusable razor blades for precise shaping.
Closed comb head for optimal control.
Double-edged razors.
Pros
Shaves closely, smoothly, and comfortably.
Easy to hold, use, and control.
Durable and eco-friendly.
Excellent choice for beginners.
Cons
The chrome-plated handle becomes slippery when wet.
See Related: Best Eco-Friendly Bathroom Products to Buy Today
20. Love Sun Body Mineral Body Sunscreen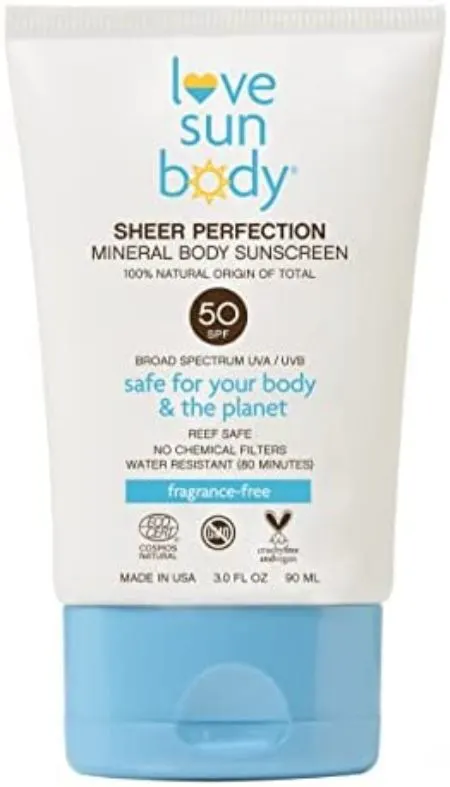 Sunscreen contains toxic chemicals that could become particularly harmful to marine life. If you're swimming while on vacation, an eco-friendly, reef-safe sunscreen is an excellent choice for your skin and the environment.
Love Sun Body Mineral Body Sunscreen is a suitable eco-friendly sun cream for you. It lacks chemical filters (such octinoxate and oxybenzone), GMO or synthetic elements, parabens, petroleum, phthalates, nanoparticles, sulfates, or even urea.
It is healthy for both your body and the environment. The sunscreen is made entirely of natural ingredients and effectively shields your skin from the sun.
Features
Free of chemical filters and synthetic additives.
Sunflower oils, shea butter, jojoba esters, glycerin, and vitamin E are all included in this formula.
Hypoallergenic, non-comedogenic, and suited for all skin types, especially sensitive skin.
Fragrance-free.
Pros
Lightweight and simple to use.
Doesn't leave a white cast on the skin and dries quickly.
Quite effective on all skin types.
Gluten-free, cruelty-free, and good for you.
Cons
Because of the mineral and oil content, the formula may separate slightly if stored in a warm environment. The product's performance, however, is unaffected by this.
21. Cloudfield Wood-Frame Eco-friendly Sunglass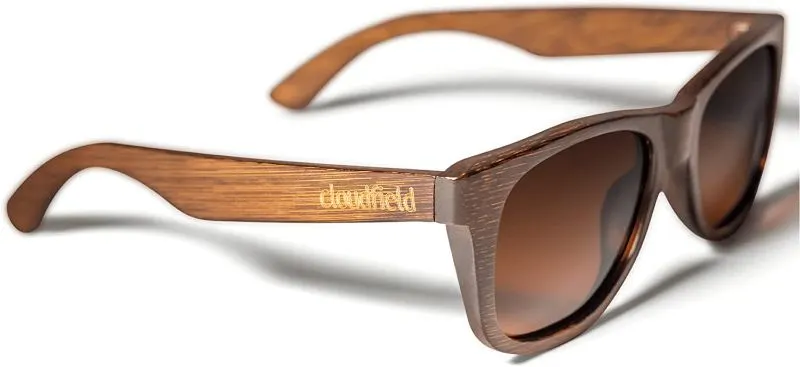 Eco-friendly sunglasses should be part of your consideration if you are visiting the beach in the course of your traveling. Enjoying your suntanning requires you to have good sunglasses. It would then be best if your sunglasses were eco-friendly.
Cloudfield Wood-Frame Eco-friendly Sunglass is made from Bamboo and wood. It features polarized 9-layer lenses capable of filtering ultraviolet rays. This keeps your eyesight safe regardless of how long you stare at the sun.
Despite its coating and polarized layer, it does not cloud your view. Plus, these things are cool as all heck.
Features
Wooden body and glass cases made from bamboo.
Polarized 9-layer lenses.
Anti-glare classic polaroid material.
Anti-reflective coating to avoid reflection of light.
Pros
Eco-friendly products made from bamboo.
Fashionable and complements all kinds of clothing.
Unisex and works perfectly for both sexes.
Designed with safety consciousness and is suitable for the beachside experience.
One size fits all.
Cons
It's "one size fits all."
22. YXILEE Summer Handmade Beach Tote bag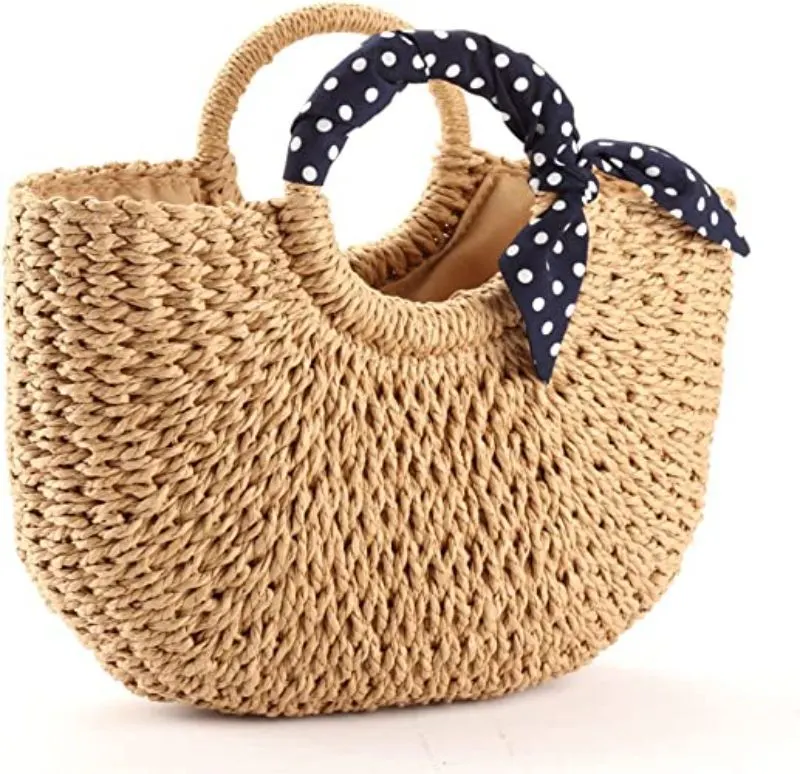 When going to the beach, a lady must have a small purse to carry cosmetics and otNalgene Sustain Tritan water bottleher essentials. Whether you want to gift a girlfriend or treat yourself, this handcrafted beach bag is a perfect sustainable bag for the vacation.
You can throw in all kinds of items from iPhone, Ipad, and your makeup kit. It's ideal when going for dating, work, or travel.
Made with 100% natural straw, the hues of YXILEE tote bag differ because the straw changes color with the seasons. These eco-friendly travel bags with a polka dot accessory are perfect purses that compliment your summer look.
Features
Round handle design with a 3.9 diameter.
A handwoven straw design.
A polka dot silk scarf tie handle, length 35.4.
Pros
Eco-friendly products made from straw.
Handwoven by women, thus protecting and promoting local communities.
Comes with a silk scarf to blend traditional and contemporary designs.
Cons
It may be smaller than expected.
23. Eminence Organic Skincare Rhubarb Masque hyaluronic acid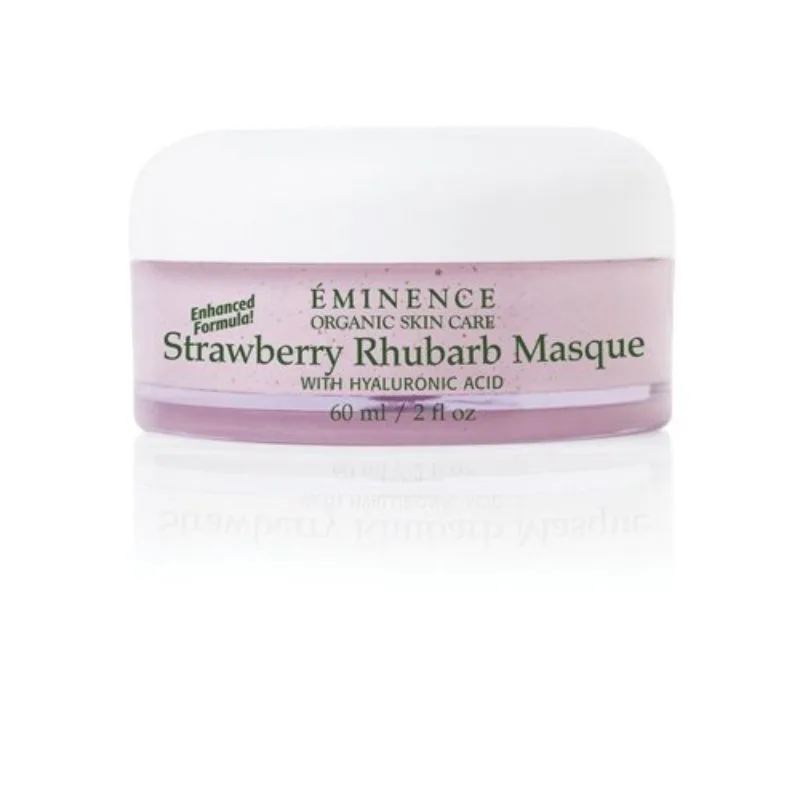 A lady shouldn't miss this Eminence organic skincare rhubarb masque hyaluronic acid in their travel bag. This is a vegan-friendly product with a sweet-smelling strawberry scent.
It gently exfoliates and removes impurities from the skin. Thus, brightens and shrinks pores on your skin.
Also, this product hydrates and revitalizes your skin, leaving it smooth. With this gel, wrinkles and fine lines will be a thing of the past.
And if you're wondering if it fits your skin type, worry no more. It's fit for normal to dry skin types.
The product is dermatologically tested. That means it's free from artificial sulfates, aluminum, and parabens.
Features
In gel form.
Made of organic, all-natural materials.
Prons
The strawberry scent produces a sweet scent.
Reduces redness, wrinkles, and fine lines, leaving you feeling and looking young.
It tightens the skin and shrinks the pores.
It leaves the skin soft and supple.
Cons
24. Nalgene Sustain Tritan BPA-Free Water Bottle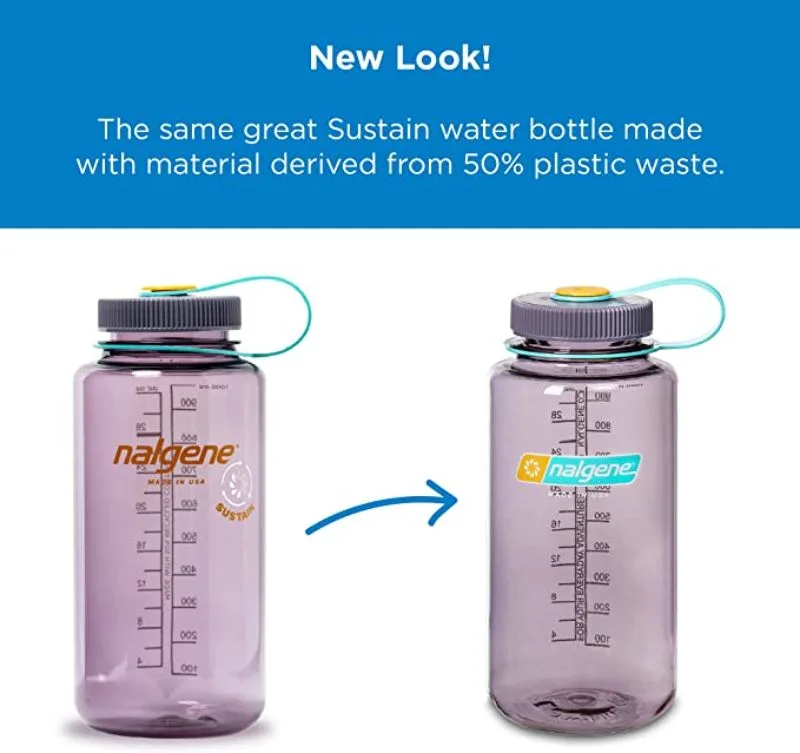 To stay hydrated when traveling, having a water bottle is essential. You can never go wrong with these recycled plastic bottles.
Nalgene Sustain Tritan water bottle is made of 50% plastic waste and is available in a one-liter capacity. It is a bottle you can use in everyday adventures, including office, gym, hiking, or camping.
The bottle is fit for hot and cold beverages ranging between -40 to 212 degrees Fahrenheit. That way, you can take with you your water cold if you visit warmer climates or engage in physical activities. On the other hand, you can have hot coffee when it's cold in the winter.
And if you want to know your water intake, this water bottle is perfect for that. It's marked with ounces and milliliters for easy measurement.
Features
BPA and BPS-free.
Lightweight and Azure in color.
Rectangular and sporty.
0.18 kilograms package weight and 1 gram item weight.
1-liter capacity.
Prons
Can handle boiling beverages and water for cold weather camping and trips.
Ideal for cold water for hiking.
Easy to clean.
Made from recycled materials.
Durable and Leak-proof.
Glows in the dark.
Cons
It cannot hold a temperature because it's not vacuum sealed like a hydro flask.
It can be a little heavy when full.
25. VENO Heavy Duty Extra Large Moving Bags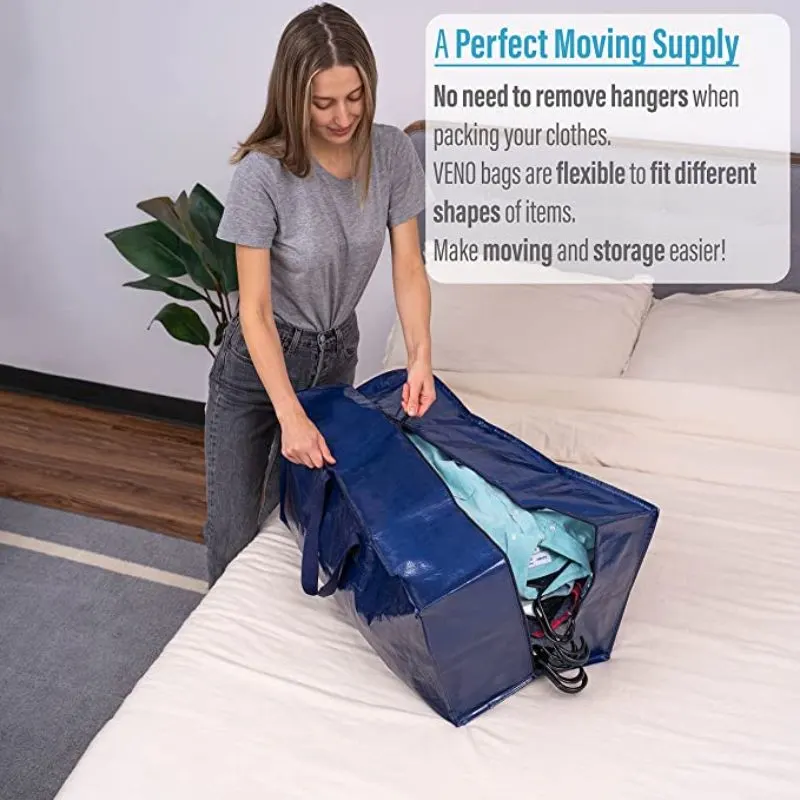 Bag organizers are versatile travel accessories that make your experience more efficient and stress-free. They keep your belongings separately in different compartments to make them easier to find and free from damage, spills, and stains.
Veno moving bags are super handy organizers when traveling. When folded up, these Veno heavy-duty large moving bags made of recycled materials make perfect eco-friendly packing cubes.
The bags are a set of 8 extra large storage bags and travel accessories that are collapsible, making it easier to fit in a suitcase or backpack. And they have a three-sided zipper design to create a wide opening for easier loading and unloading.
Eco-friendly travelers use them when going camping. They are also a perfect moving-box alternative as they can fit anything from laundry, toys, shoes, crockery, towels, blankets, and pillows.
Features
Dual tab extended three-sided zipper to help open wide.
Foldable to fit any space.
Heavy-duty backpack straps.
Water-resistant making them perfect for any season.
Reinforced poly webbing handles that are robust to hold.
Has a capacity of up 50 liters and 50 lbs.
Prons
Easy to clean.
Extra durable.
Eco-friendly and recyclable.
It can be carried as a backpack.
No need to remove hangers for clothes when moving.
Can open wide to load large items.
It can be folded to fit in a car, drawer, luggage, or closet.
Stands upright for easy loading.
See-through material that's easy to spot and identify items when needed.
Cons
Cracks in extreme weather exposure.
26. Maravello Laundry Detergent Sheets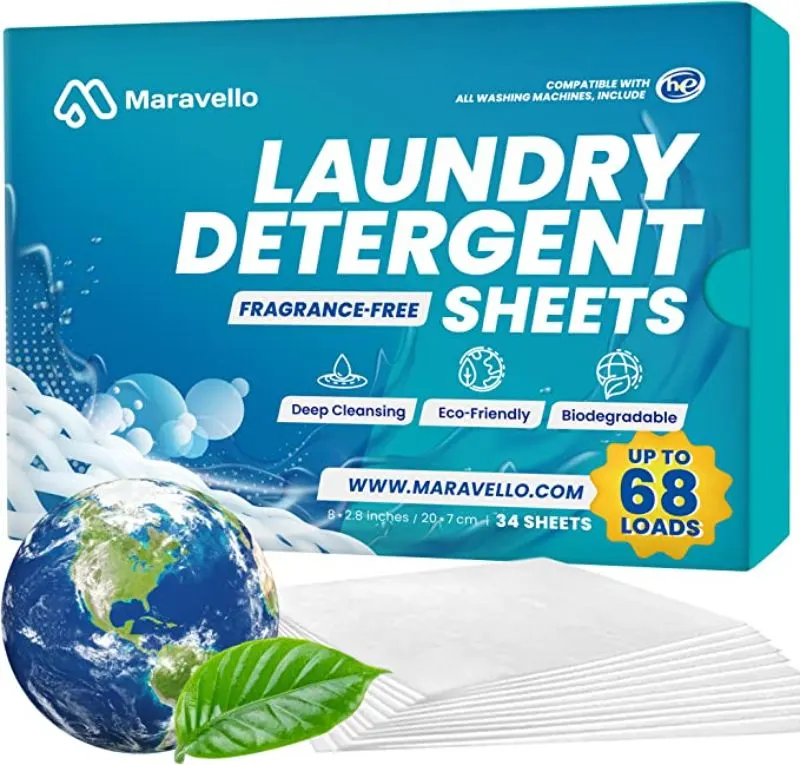 When traveling, you may not have access to clean clothes every day. Having a detergent to do laundry is therefore very essential.
Using a detergent that can help you maintain a clean and fresh wardrobe and reduce your carbon footprint at the same time is great. The Maravello laundry detergent sheets do exactly that. It is a strong washer sheets detergent formula placed in a zero waste sustainable packaging.
It has 120 laundry sheets that can be equated to 30 traditional detergents. With Maravello cruelty-free and non-irritating detergent sheets, you can have fresh-smelling clothes every day and reduce the amount of waste released into the environment.
Features
Gentle to the skin for baby and sensitive skin.
Fragrance-free with no added dyes, paraben, chlorine bleach, or phosphate.
Zero-waste, eco-friendly detergent packaging.
Compact space-saving laundry detergent.
Pros
Sustainable detergent, safe on skin and environment.
Easy to use and carry.
Unscented with no irritating smell.
Cons
You must pre-dissolve the sheets in a measuring cup before use.
27. PRTECY 2 Set Natural Bamboo Steamer and Shampoo Bar Holder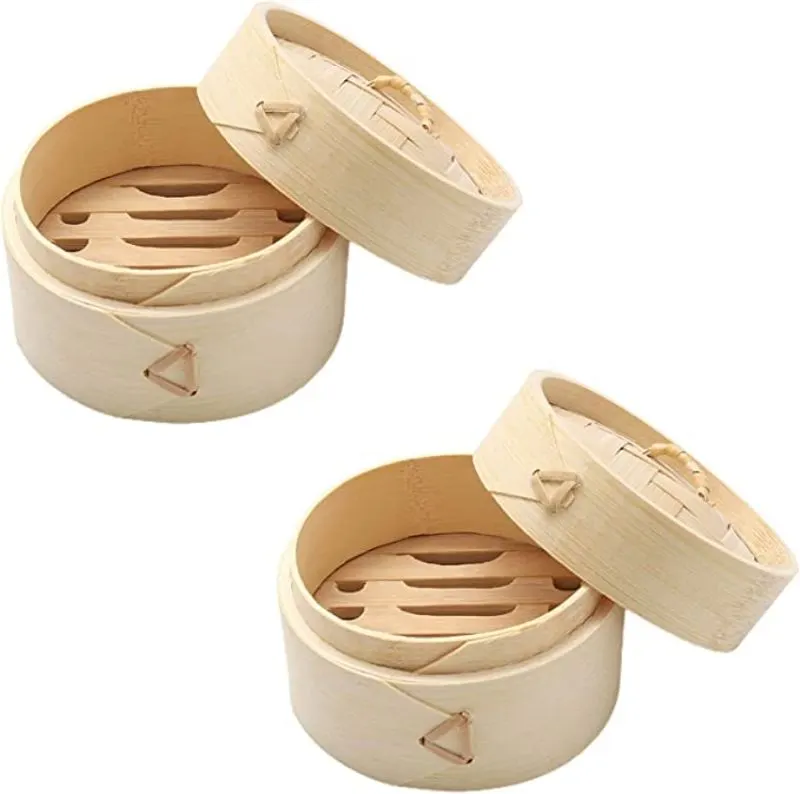 Packing a shampoo holder when traveling can help save money and maintain good hygiene, cleanliness, and convenience throughout your trip. And there is no better way to pack it than with this PRTECY 2 Set Natural bamboo holder.
This is an eco-friendly case box made from bamboo. The disposable soap container reduces the amount of negative environmental impact you create.
The case can also help keep the soap solid bars from crashing in your luggage. Its drain and bottom design let the water flow out while the hollow lid keeps the soap ever-dry.
Features
Durable, sustainable bamboo material.
Multipurpose, as you can put soap, candy, or biscuits.
Compact, lightweight, and saves space.
Round shape storage box.
Wooden lid to keep contents inside.
Pros
Multipurpose and can be used as a soap case or snack tray.
Made of eco-friendly materials.
Easy to carry.
Cons
The lid can break easily.
28. Marmot Trestles Women Cold-weather Sleeping Bags

When camping, a sleeping bag provides a comfortable place to lay your head and protects you from insects, reptiles, and other wildlife. A sleeping bag is also insulation against the cold ground.
Marmot Trestles sleeping bags come in handy when planning for such an excursion. The bag is perfect for women.
The dual zipper makes it suitable for all seasons, as you can adjust the temperature. Whether you do outdoor activities during summer or winter, you can go with this sleeping bag.
Features
Female-specific.
Dual layer for maximum loft.
High fabric to resist moisture.
Synthetic insulation.
Pros
Extra insulation in key areas.
Anatomy shaped for women.
Sustainably made.
Retains exceptional warmth and softness.
EN-rated and comfortable in temperatures as low as 16.7 degrees Fahrenheit.
Cons
Gender-specific made for women.
How to Choose Eco-Friendly Travel Products
Before we delve into the list of eco-friendly travel products, here are some tips:
Consider Reusable Items
Heaping up non-biodegradable waste is dangerous to the environment. To reduce environmental waste, you must consider products you can reuse. Such products may only require you to wash or dry them before reusing them.
Products that fall into these categories include things like eco-friendly toiletries, reusable bags, bottles, towels, and coffee mugs. These ensure that fewer waste materials get dumped into the environment.
Buy Biodegradable Products
If you use one-time products, you must ensure they are either recyclable or biodegradable.
Non-biodegradable products cannot decompose when disposed of and threaten the environment. When traveling, you may consider bamboo products because they are biodegradable.
Consider Recyclable or Potentially Refillable Products
You can recycle some products after use. Instead of disposing of them as waste, the manufacturer expects you to recycle them for repackaging.
Post-consumer plastic bottles can also be recycled after the content has been used. Just because it doesn't have Evian in it anymore doesn't mean it's any less of a bottle.
Likewise, you can refill some products after usage. Rather than disposing of the package, you can get a refill package to fill the initial container or plastic bottles. Examples of products in this category are toothpaste, eco-friendly sunscreen, and deodorants.
Now that you know how I choose my products, you can go through the recommendation for my eco-friendly travel products. I have ensured to add features, pros, and cons for each piece of sustainable travel gear for careful consideration.
Related Resources