Over 20,000 disposable plastic bottles are bought globally every second, and none of these will fully decompose. Let's take a moment to wrap our heads further around that number: more than one million single-use plastic bottles are bought every minute, filling landfills and choking all sorts of marine life. With eco-friendly water bottles, we're hoping to curb that issue.
Hydration is important, but the environment is too. Thankfully, there's a massive range of practical, stylish, and reusable water bottles that can help stave off your thirst, from fuss-free and affordable reusable plastic containers to more sophisticated double-walled stainless steel variations.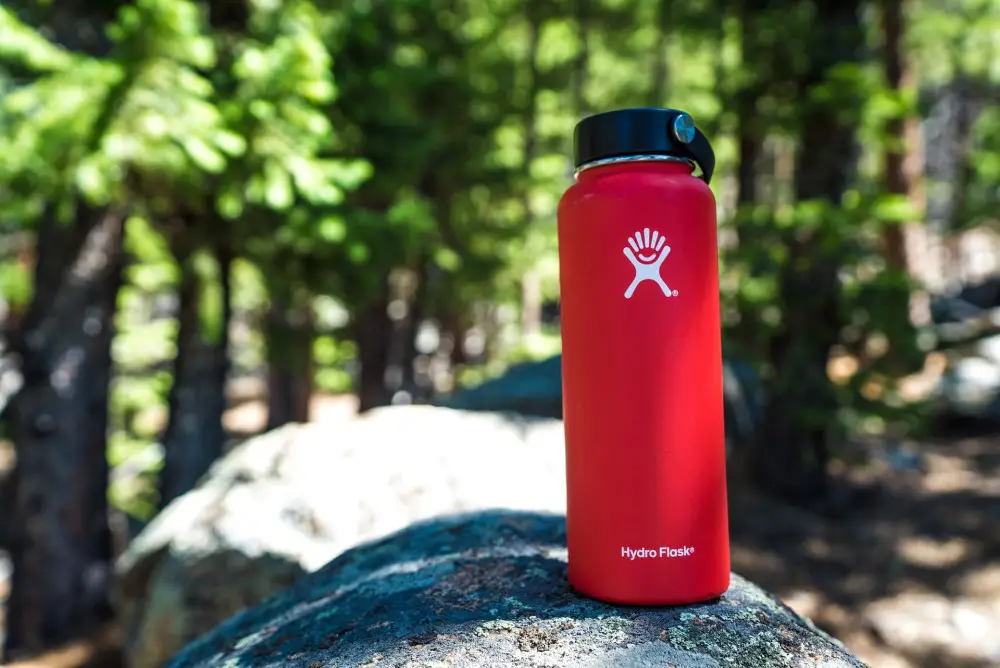 No matter your lifestyle or budget, there are eco-friendly water bottles for you.
I compiled a list of the 12 best water bottles, keeping in mind their features, reviews, and value for money. Stop making a dent in the environment with these reusable jugs that will tide you over when thirst arrives.
Best-Of by Category
Selecting a material
The material you choose for your water bottle matters, especially if you're looking for an item that fits your lifestyle. All types of water bottle materials are safe to drink from, except, of course, those with BPA which can cause health problems. Here's a quick guide to help you in your selection.
Glass
Pros: Glass water bottle reusable eco-friendly options are made from natural materials, so you're guaranteed safe from toxins seeping into your beverage and changing the flavor when cooled or heated. A glass bottle's transparency also offers a peek of the contents inside, alerting you when it's time for a refill.
Cons: Glass is a fragile material, so it isn't recommended for lugging around in the gym. It's also poor at maintaining a beverage's coolness and is not recommended for hot drinks.
Plastic
Pros: Most of the reusable plastic bottles made today are now BPA-free, so you're safe from ingesting toxins. Reusable plastic bottles are lightweight, making them ideal companions for athletes. Most plastic bottles come with a mouthpiece which makes drinking easier.
Cons: Plastic isn't the most durable material, so it may get scratched or crack easily. It's not ideal for hot drinks as it melts the material and gives your beverages a chemical taste.
Stainless steel
Pros: Most of the metal eco-friendly water bottles today are crafted from aluminum or stainless steel – materials that cookware is made from, so they're food-grade and beverage friendly. Stainless steel water bottles are incredibly durable and offer the best insulation for both hot and cold drinks.
Cons: Metal water bottles can be heavy, bulky, and cumbersome. Other variations may give your beverages a metallic taste.
Caring for your eco-friendly water bottles
Water bottles can get grimy really fast, especially if you use them often. No matter the material, handwash your water bottles with dish soap and hot water to prevent bacteria from building up.
Catch a whiff of something unpleasant? Try adding a teaspoon of baking soda while you're rubbing it down.
After washing, keep the lid off and leave the bottle upside down to air dry. Store your water bottles with the lid off to thoroughly air them.
The 12 best eco-friendly water bottles
Great for: Coffee lovers looking to keep their beverages warm for hours on end
What I love about it: While most metal water bottles are heavy, Chilly's Bottles are surprisingly lightweight.
If you're looking for eco-friendly water bottles that can keep your cup of Joe tasting delicious for hours, look no further. This vacuum insulated water bottle offers double-wall insulation, which can keep cold drinks for up to 24 hours and hot beverages for up to 12 hours.
Storing hot drinks can be dangerous when done in flimsy containers, but the Chilly's Bottle comes with a leak-proof screw-top lid that prevents accidental spills.
This food-grade stainless steel water bottle is toxin, BPA, and phthalate-free, with a two-ply construction that stops condensation from forming outside the bottle.
This means that you can immediately stash it inside your bag without messing up the contents.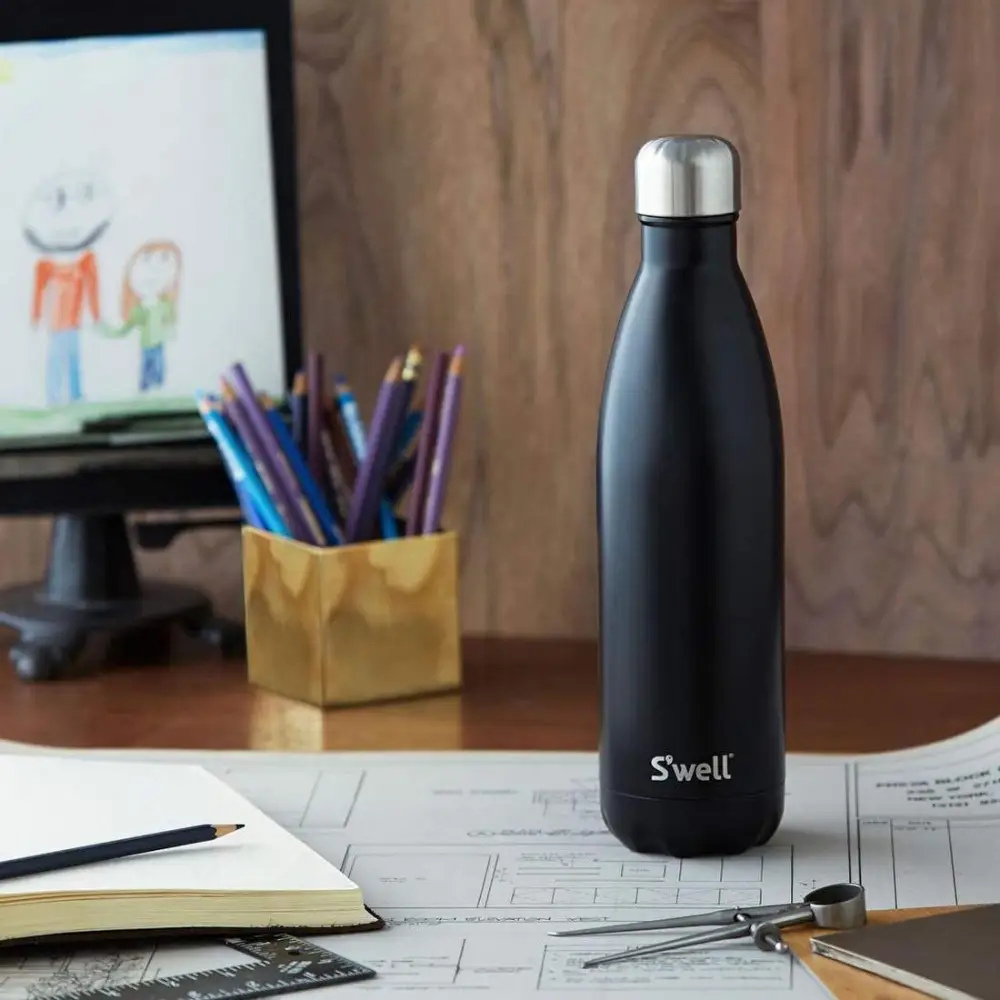 Great for: Those who enjoy cold beverages. This metal water bottle is basically winter, bottled up.
What I love about it: Eco-friendly water bottles that can keep your beverages chilled for two days? Take my money.
Keep cold beverages always within reach with S'well line of metal water bottles — the closes thing you'll ever get to real magic. With triple-layered insulation and an exclusive 'Therma-S'well Technology', the S'well line of sleek water bottles is designed to keep your beverages cold for two days and hot for up to 24 hours. The copper wall layer insulation prevents condensation, so they never sweat' in your hands or bag.
With an opening designed to fit most ice cubes, it's easy to refill the S'well stainless steel water bottle eco-friendly with your favorite chilled beverage.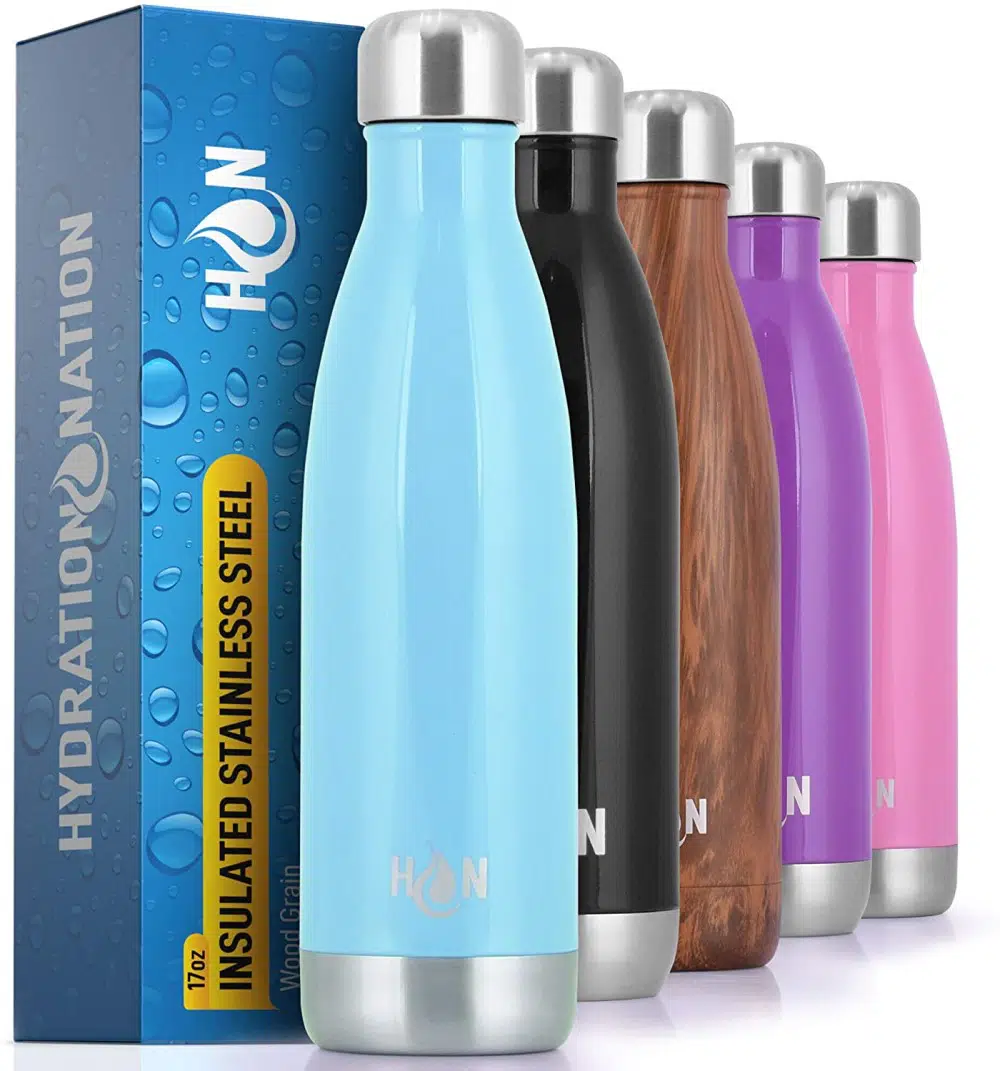 Great for: Those looking for the best value for money
What I love about it: Stainless steel eco-friendly water bottles are often a lot more expensive than their glass and plastic counterparts. This one is incredibly affordable without skimping on quality.
If you're looking for a metal water bottle that's easy on the pockets, Hydration Nation is one of the best choices.
These sleek and stylish water bottles come with a double-walled vacuum insulation technology that can keep your beverages cold or hot for hours. Just like the more expensive metal models in this list, Hydration Nation eco-friendly reusable bottles come with copper vacuum insulation technology, so it's condensation resistant and won't slip from your fingers.
If you put a premium on aesthetics, Hydration Nation's huge design selection will win you over (I especially love the one with 'wooden' skin).

Great for: Athletes and gym buffs
What I love about it: This one is a water bottle made primarily for convenience. Whether you're pumping weights or running a marathon, this bottle makes thirst-quenching easier by allowing you to drink single-handedly.
Don't let its nondescript appearance fool you. The brilliance behind the Contigo Autoseal Cortland eco-friendly reusable water bottles is in the small things – the carry clip that latches on to your luggage or back, the sleek spout cover that guards the mouthpiece against grime, and best of all, an AUTOSEAL technology that allows you to drink by simply pressing a button.
Releasing the button automatically re-attaches the seal, protecting the spout from dirt while avoiding spills and leaks. It's top-rack dishwasher safe, completely BPA-free, and void of plastic odors.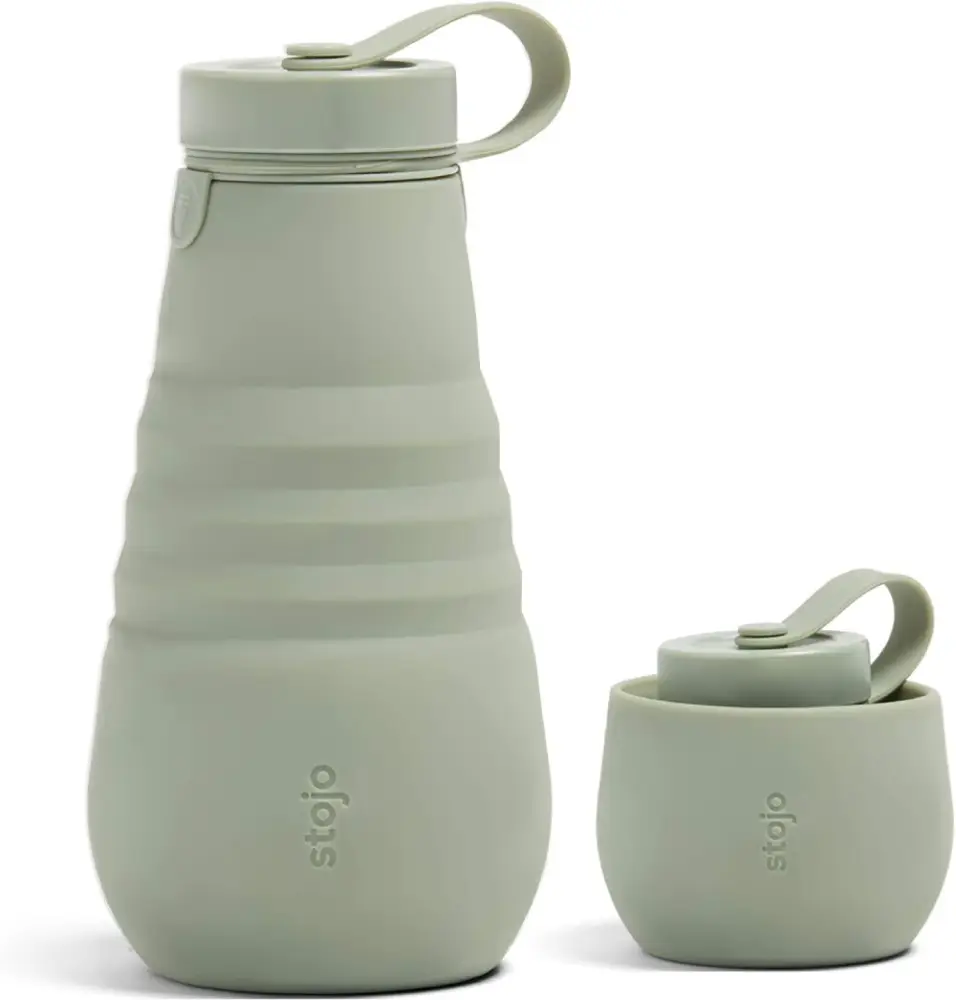 Great for: Those looking to drench a parched palate on-the-go
What I love about it: Is it a water bottle or a handcrafted vase? The sleek design of this silicone water bottle gets 5 stars in the style department. Also, it's super portable!
Stojo's claim to fame is its superior portability, making it one of the best eco-friendly water bottles on Amazon. Once you've finished your beverage, the bottle conveniently collapses for easy storage. A leakproof, airtight seal guarantees zero spillage, so you can stash it inside your bag anytime without worrying about disastrous leaks.
The Stojo Collapsible Bottle is crafted from LFGB Certified food-grade silicone, so you can rest assured that your beverages are safe to drink regardless of how hot or cold they are.
See Related: Best Energy Efficient Kettles

Great for: The young and hip
What I love about it: Among all the Gen Z trends that have exploded over the recent years, the Hydro Flask is one I can get behind. This eco-friendly water bottle comes in an array of different colors, and they're great at keeping your beverages cold too.
Among all the eco-friendly water bottles in this list, the Hydro Flask is arguably the most popular today. Once a favorite among the outdoorsy and athletic clientele, the Hydro Flask has also been embraced by both Gen Zers and millennials, who both have a passion for saving the environment.
Models come with TempShield double-wall vacuum insulation that keeps cold beverages chilled for a day, while hot liquids remain warm for 12 hours.
The mouthpiece is large enough to fit ice cubes so you can keep your drinks chilled even longer. It's BPA-free, phthalate-free, and best of all, comes with a lifetime warranty.
See Related: 11 Best Products to Help Climate Change to Buy Today

Great for: Professionals looking for a classy, no-fuss canteen with great features
What I love about it: The modern, stand-out design is its unique selling point. Clean lines, vibrant colors, and a sophisticated aesthetic makes drinking look oh-so-cool.
With a minimalist design that screams sophistication, Corkcicle's line of eco-friendly water bottles is cool, and in more ways than one. These BPA-free water bottles are triple-insulated, which means they can keep your drinks cold for 25 hours and hot for 12.
The non-slip, silicone bottom keeps it secured on your office desk, while the ergonomic flat sides make gripping and drinking a lot easier. The cherry on top is the stylish screw-on lid, which prevents your beverages from leaking while adding a touch of modern appeal.
Once work is done switch to party mode. The Corkcicle also comes in a 25oz size (which holds an entire bottle of wine).

Great for: The taste conscious.
What I love about it: Water should taste like, well, nothing. If you hate getting hints of plastic or chlorine in your water, the Brita Water Filter Bottle will speak to you.
If you're looking for eco-friendly plastic water bottles that can make your drinking experience better, the Brita Plastic Water Filter Bottle should top your list. The bottle's claim to fame is its built-in filter, which reduces the odor and taste of chlorine and other chemicals.
Brita Plastic Water Filter Bottles come with 1 replaceable filter which you need to replace every two months. The one-handed push-button lid and the easy-sip straw make drinking easier, while a built-in carrying loop offers convenient portability. It's also dishwasher safe and easy to clean!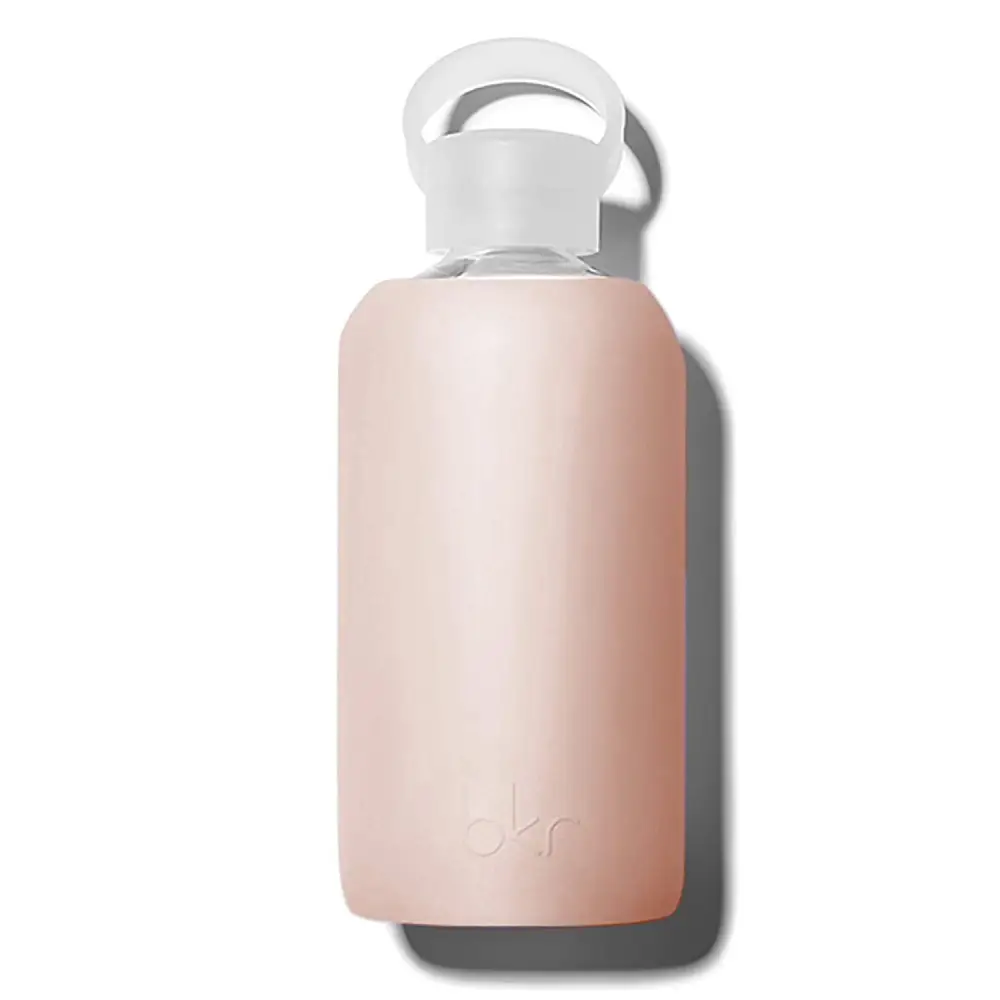 Great for: The trendy and fashionable
What I like about it: These eco-friendly water bottles come with trendy 'skins' and, surprise: a lip balm cap add-on. Whoever created the Bkr line of reusable bottles deserves a pat on the back.
Bkr describes their water bottles as the 'perfect union of modern design and functionality, and we're inclined to agree. Looks-wise, the minimalist, ornament-free design is a work of modern beauty.
The removable silicone sleeve offers great grip and more durability.
Feel like rocking a different color?
Purchase separate silicone sleeves and replace them according to your liking (I personally love the spiked variation).
The Bkr water bottle aims to be the only solution you need for hydration, and not just as a source of water. A lip-balm add-on attaches to the cap and offers an easy and convenient solution to chapped lips.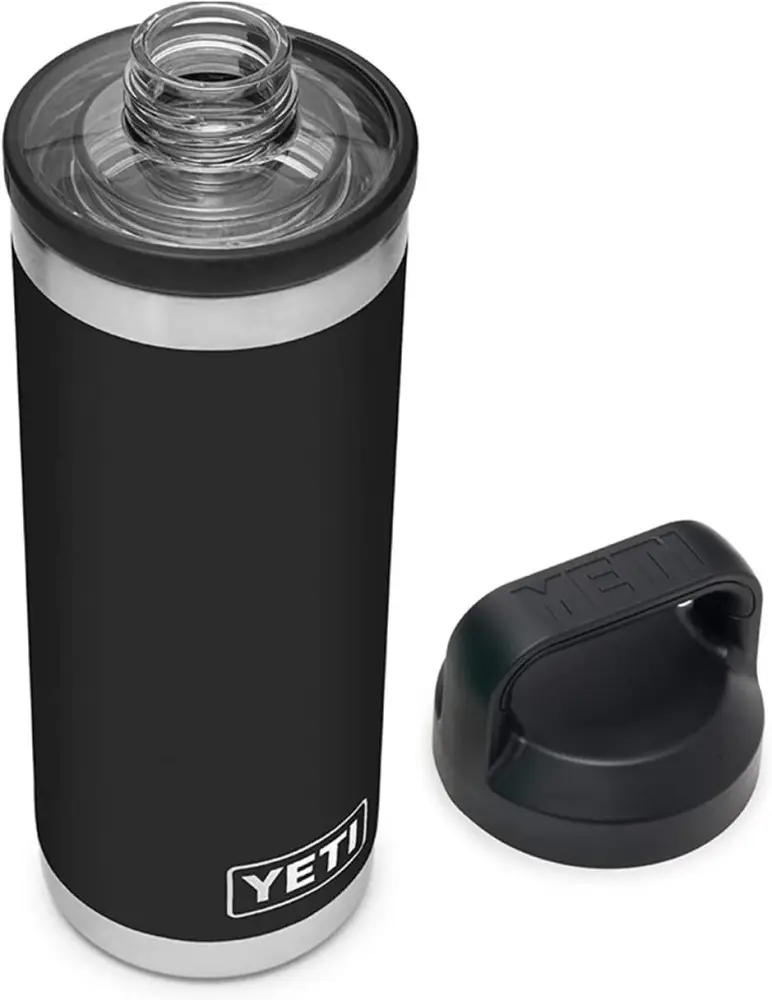 Great for: Rugged adventurers, campers, and the outdoorsy
What I like about it: Yeti products are known for their durability, and their water bottles are no different. Crafted from 18/8 stainless steel, The Yeti Rambler line of eco-friendly water bottles is an ideal companion to the most rugged terrain.
If you're going camping, hiking, or exploring the great outdoors, the Yeti Rambler offers the durability you need to stay quenched on the go. The fuss-free utilitarian design looks and feels durable, and with good reason: all models come with DuraCoat Color that doesn't peel, fade, or crack. If you roll this one down a cliffside it may still look good as new.
All it takes is an easy half-twist to open the Chug Cap, and the TripleHaul handle offers easier access to the contents. Hikers on long trails can still enjoy hot or cold beverages, thanks to its double-wall insulation which keeps your beverages at an ideal temperature for hours on end.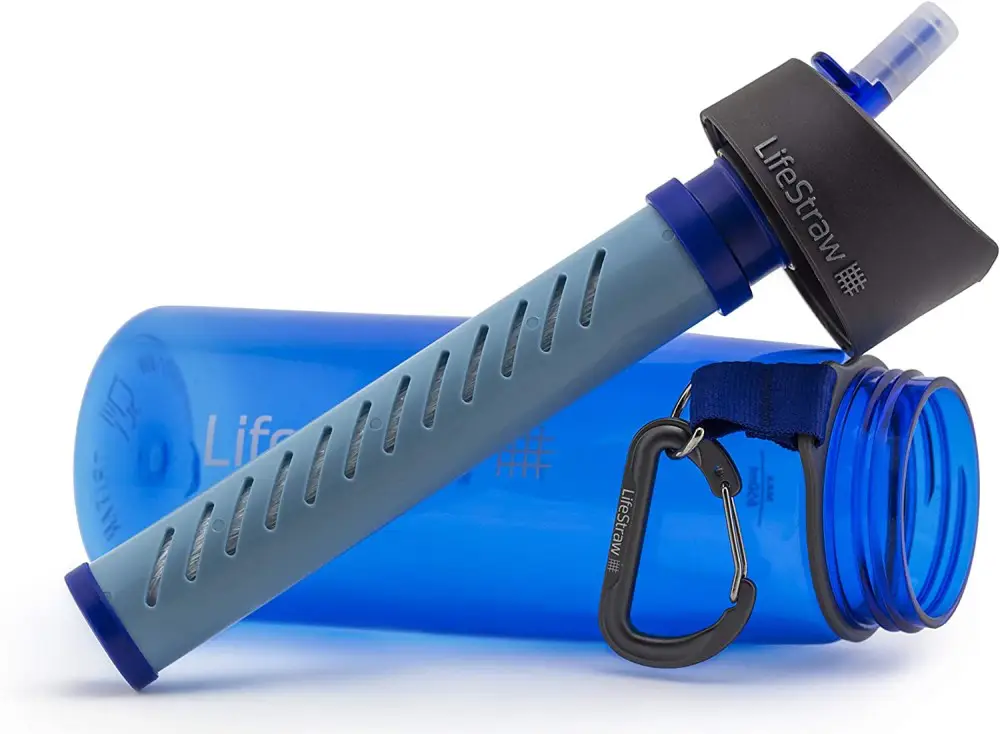 Great for: Health-conscious travelers
What I like about it: The top-of-the-line water filtration system allows you to drink water from just about anywhere.
Going on a camping trip? This water bottle allows you to literally scoop water from a stream and drink it directly without having to wait.
LifeStraw Go Water Filter Bottles are fitted with hollow fiber membrane water filters, which effectively remove protozoa and bacteria from streams and likes so you can enjoy safe and clean drinking water no matter where you are. The water filters employ a 2-stage activated carbon filter system which reduces chlorine and odors while removing aftertaste.
The microfiltration membrane can filter up to 1,000 gallons of water before needing to be replaced. Best of all, each purchase of LifeStraw products offers clean water to a schoolchild for an entire year.
See Related: Is Rainwater Harvesting Worth It? Learn The Pros and Cons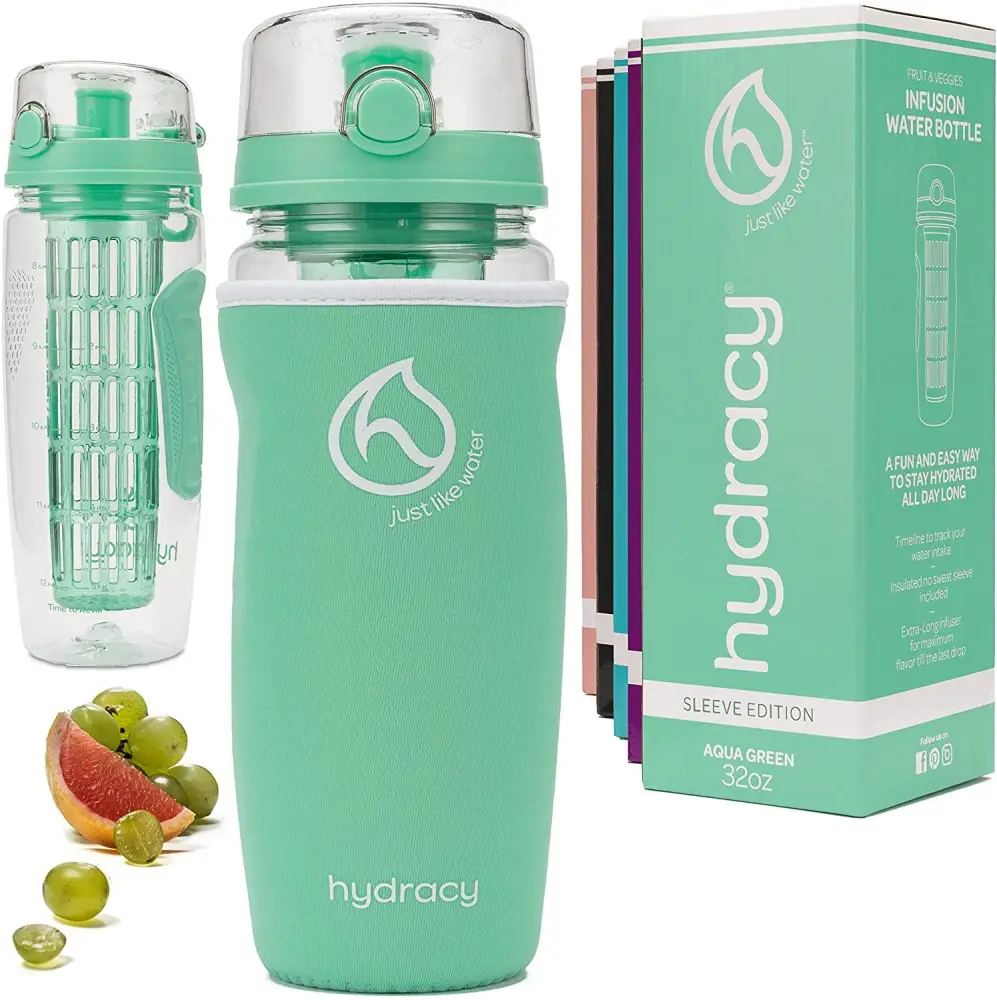 Great for: Sweet tooths, health buffs, and those looking to lose weight
What I like about it: It's a water bottle that doubles as a fruit infuser. If you're a sweet tooth or a fitness buff looking to pack on his daily vitamins through natural sources, this water bottle eco-friendly is for you.
There are numerous benefits to drinking detox water, and the Hydracy Fruit Infuser Water Bottle allows you to receive all of them in a portable BPA-free canteen that you can lug around wherever you go.
Inside the plastic bottle is a full-length infuser basket with enough space to stash various fruits. A timeline feature also helps you track your daily water intake. This particular model comes with a stylish, sweat-proof insulative cover that prevents condensation and enhances grip.
The flip-top guards the mouthpiece against dirt, while a metal ring latch secures the spout and prevents leaking and spillage.
See Related: Best Biodegradable Clay Pigeons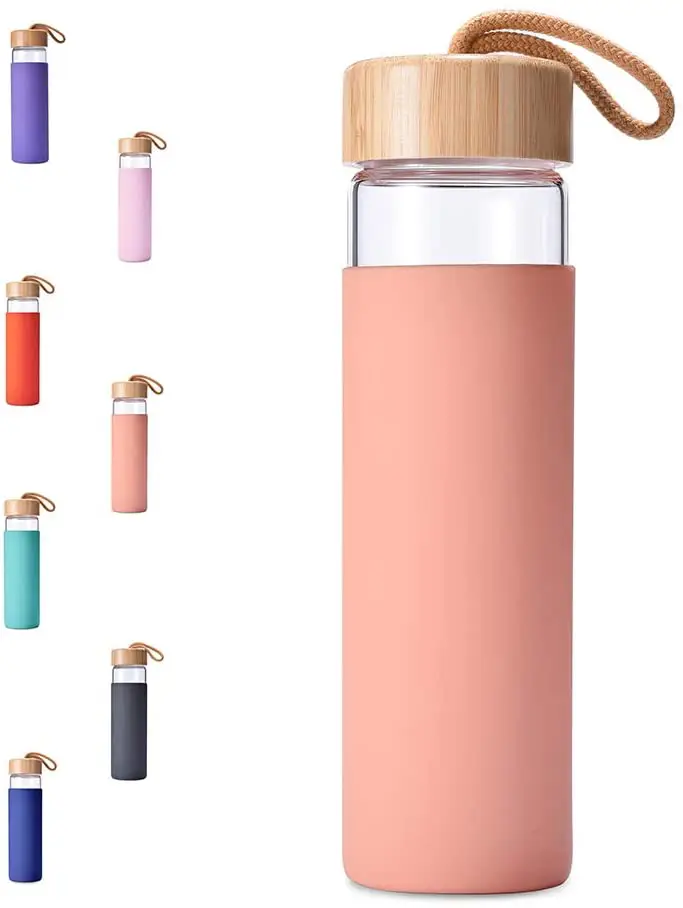 Great for: The minimalist
What I like about it: It's a simple, sturdy, glass water bottle that comes with several colored sleeves. The bamboo lid is a nice, stylish touch.
Eco-friendly water bottles don't have to be complicated. Sometimes, all you need a durable canteen that does the job. If you're on the market for fuss-free options, the Yomius water bottle is a great choice.
To save the environment, eco-friendly materials for water bottles are essential in their creation. This BPA-free glass water bottle is crafted from borosilicate glass which does minimal harm to the environment. This also means that your water stays pure without the icky aftertaste of PVC, BPA, cadmium, or lead.
Though it's made from glass, it's super tough and able to withstand temperatures of -4F to 266F, so you can use it for warm liquids without the risk of cracking (it's also dishwasher safe).
The eco-friendly bamboo lid, while adding a fashionable touch, also comes fitted with a food-grade silicone o-ring to guard against unwanted leaks and spillage.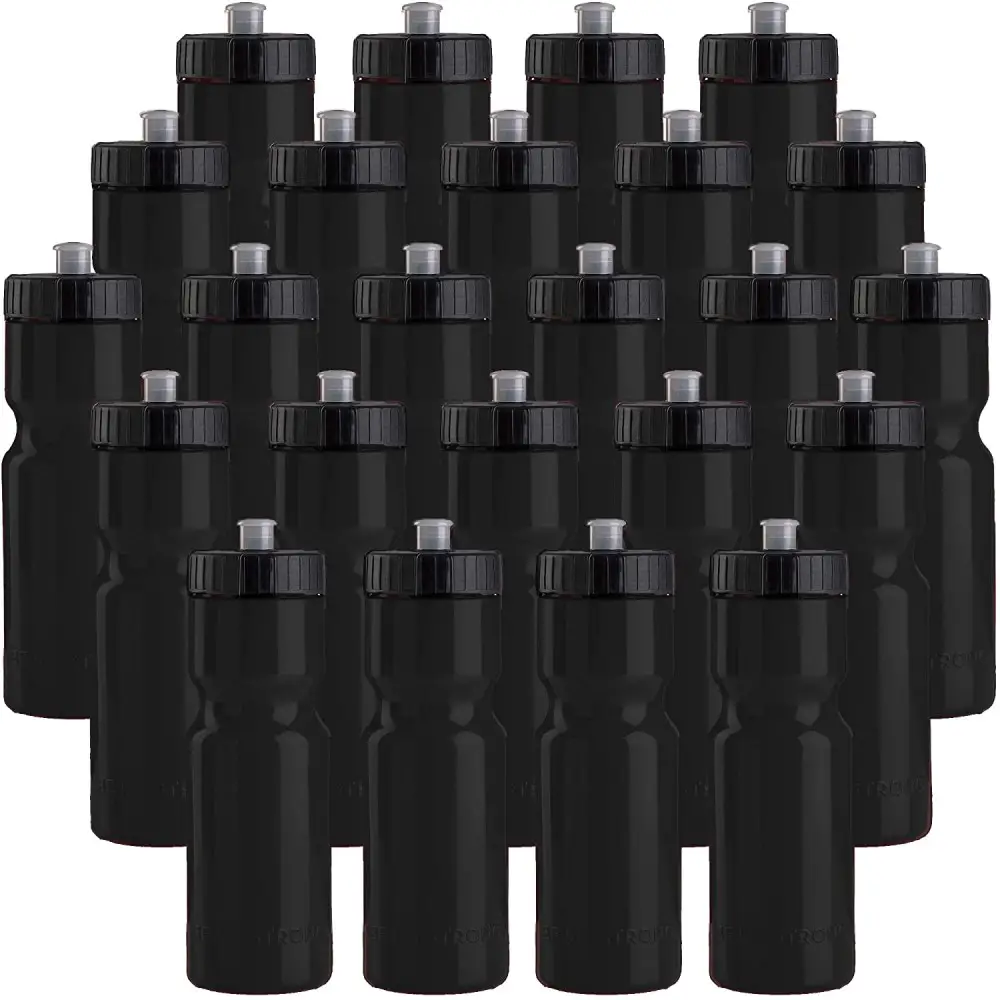 Great for: Those looking for wholesale options
What I like about it: Simple and straightforward, these BPA-free water bottles are great giveaways for sports events or gyms
Looking for eco-friendly water bottles wholesale? These reusable, dishwasher-safe, plastic sports bottles are crafted from easy-squeeze polyethylene and available in a variety of different colors.
They're also the perfect canvas for DIY projects and decals. The convenient size fits easily into water bottle holders and bike cages.
Related Resources: