Are you looking for eco-friendly stand-up pouches? With today's earth-conscious consumers, the greener you look, the better you'll sell. Consumers with environmentally-discerning tastes demand more than just an eco-friendly rehash of your business processes – they require you to use sustainable materials in all your products as well.
In this article, we're discussing eco-friendly stand-up pouches – one of the most sustainable packaging materials available in the market today. If you're looking to make the switch to greener packaging options, read on.
What makes a stand-up pouch eco-friendly?
Less material to create.
In general, flexible packaging like eco-friendly stand-up pouches requires 75% less material to create than jars, bottles, and other rigid and inflexible packaging. Fewer raw materials equal a happier Mother Earth.
Less waste.
Earth-friendly companies are in competition to produce less waste. With waste reduction as a top priority, eco-friendly stand-up pouches, especially compostable stand-up pouches and compostable stand-up pouch with window, shine as they are made with fewer materials and take up less landfill and space.
A study by Fres-co determined an 85% reduction of packaging waste when a company makes the switch from the can to the pouch. This waste reduction also spills into other areas, such as fuel, landfill, start-up, and space.
Since eco-friendly stand-up pouches weigh 70% lower than rigid packaging, they require less fuel per unit to transport. This leads to an overall decrease in energy consumption, a lower carbon footprint, and an overall reduced impact on the environment.
See Related: 4 Types of Water Pollution You Need to Know About
Outer packaging is unnecessary.
Stand-up packages are virtually ready for selling and do not need extra packaging material like clamshells, boxes, or plastic seals. Most eco-friendly stand-up pouches are heat sealable and ready for the market. Also, there is no extra energy or material needed to store, manufacture, ship, or dispose of excess packaging material.
Longer shelf life.
Contrary to popular opinion, food stored in cans or plastic materials does not have a longer shelf life than those kept in eco-friendly stand-up pouches. The shelf life of food stored in cans, for example, is only two to five years, and this isn't because of food spoilage.
The longer food is in a can or plastic packaging, the more likely it is that chemicals and harmful components will transfer into the food. This is exactly why military MREs are often stored in pouches where they have a shelf life of over 8 to 10 years.
The 12 best eco-friendly stand-up pouches
If you're an earth-friendly business owner looking for greener packaging, I rounded up the 12 best eco-friendly stand-up pouches available on Amazon. These stand-up pouch packagings were selected according to quality, durability, eco-friendliness, and user reviews.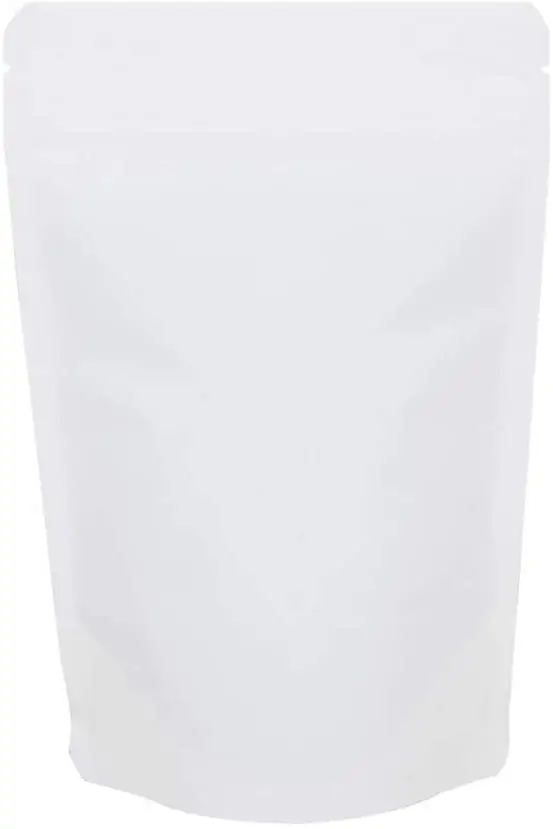 Includes: 50 pieces, can hold 7oz each (Width 7.9in x Height 10.6in x Bottom Gusset 6.4inch)
Coffilm eco-friendly stand-up pouches are a blank canvas – you can buy these in bulk, add stickers, and other ways to incorporate your branding.
Made especially for coffee beans, these paper stand-up pouches come with a high-barrier function that keeps the freshness of your beans for a more extended period, very much like their aluminum counterparts. Rounded corners offer safer handling and prevent paper cuts.
The built-in aroma degassing valve allows roasting gasses and accumulated oxygen to escape while keeping oxygen from the environment out. Therefore, the package retains its shape and the coffee stays just as fresh as the day it was roasted. Best of all, these Coffilm stand-up pouch bags are crafted from eco-friendly materials that are entirely recyclable.
See Related: Best Insulation for a Greenhouse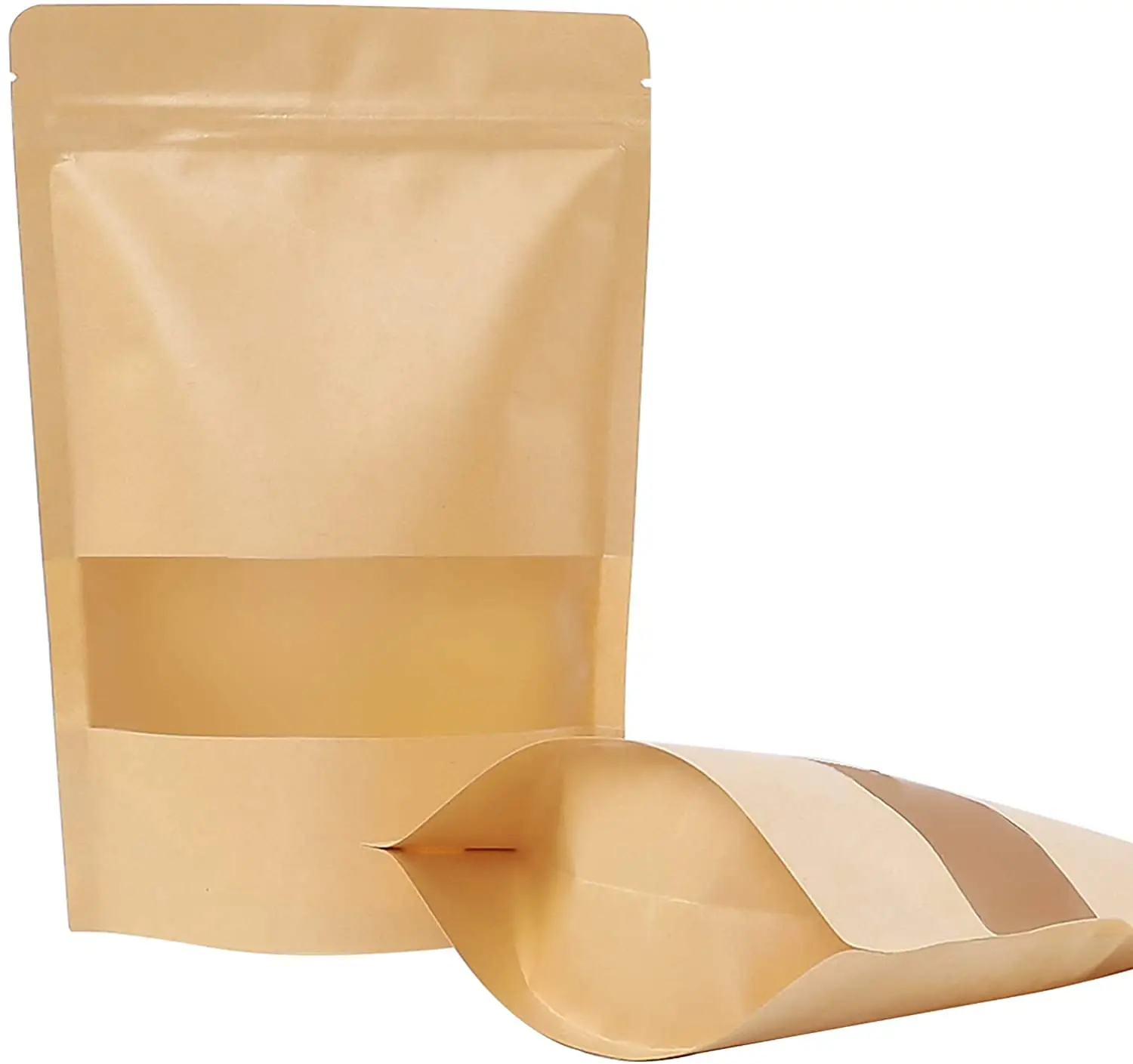 Includes: 120 pieces, can hold 5.7oz (5.9 × 8.6in x Bottom Gusset 1.57inch)
Reusable, recyclable, and odorless, Moretoes Kraft Stand Up Pouches serve as great containers for various packaging necessities, including tea, spices, candy, herbs, grains, pet food, cookies, dried fruit, and other types of food. The basic design of these recyclable stand-up pouches makes them perfect for commercial usage as it allows you to attach your own brand label.
The single-sided matte transparent windows offer your customers a peek of what's inside, while the zipper closure design and u-shaped groove tearing port provide easy access to contents while retaining product freshness.
If you're selling edible items, these eco-friendly stand-up pouches are a great choice, as they're crafted with food-grade plastic and kraft paper. The thick bottom lining of these custom stand-up pouches allows enhances the load-bearing capacity, so you're safe from tearing and leakage.
See Related: 12 Energy Efficient TVs to Start Lowering Your Monthly Bill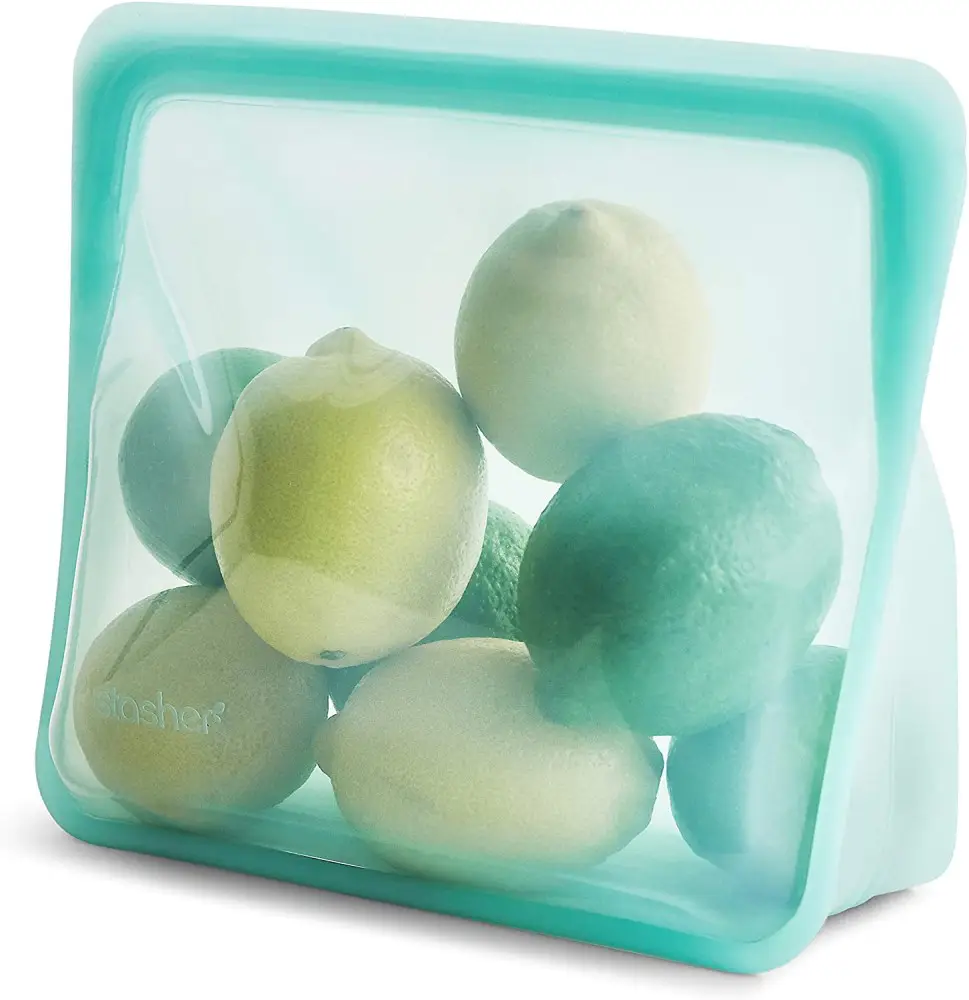 Includes: 1 piece, can hold 56oz (7.75″ x 7″ x 3)
Looking for an eco-friendly stand-up pouch bag that's meant to last for years? The Stasher Platinum Silicone Storage Bag is a reusable and eco-friendly solution to food storage. As 'the world's first fully functional, self-sealing, reusable alternative to single-use plastic bags, the hefty price tag seems worth it.
Stasher Bags do not contain PVC, latex, or BPA, unlike other traditional plastic bags, so your food is guaranteed safe from contaminants. The innovative pinch-loc seal aims to 'end the tyranny of lids' while retaining freshness and keeping air out so the flavors, juices, and nutrients in your food are locked in.
Since they're crafted from platinum food-grade silicone, these stand-up pouches for food are also microwavable and dishwasher safe (you even stash them in a heated oven up to 400 degrees Fahrenheit). Great for marinating, sous vid, or storing fruits, vegetables, cookies, bread, candies, and any type of food!
See Related: Best Zero Waste Products: Eco-Friendly Choices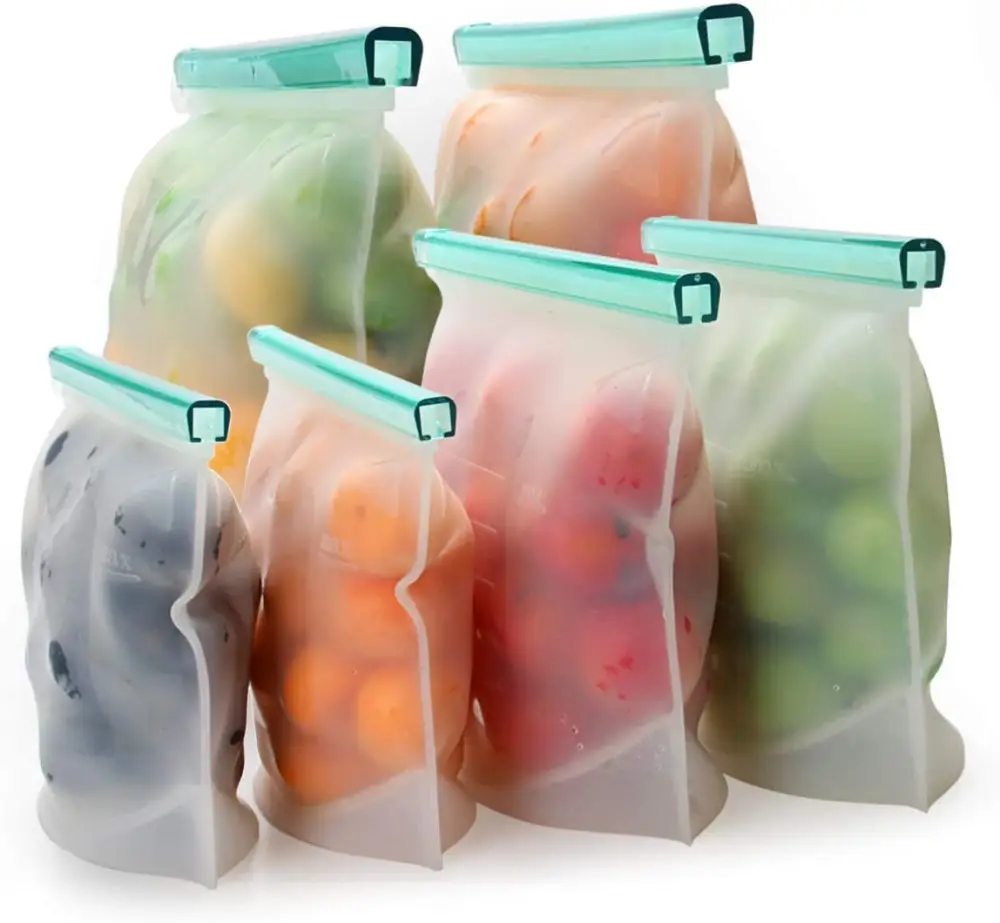 Includes: 6 silicone food storage bags (2 large – 50.72oz, 2 medium – 33.81oz, and 2 small – 16.5oz)
Put an end to single-use plastic with Cadrim Silicone Food Storage Bags. These eco-friendly stand-up pouch bags are made from high-quality food-grade silicone that doesn't infuse toxic components into your food. They're also dishwasher safe, microwavable, and freezer safe.
Great for keeping your food fresh, Cadrim silicone stand-up pouches are built with an airtight seal. The leakproof, vacuum-tight zip-locked container keeps liquids contained while keeping air out. Measurement lines allow you to accurately add ingredients – great for portion control! After use, you can roll and lay them flat in the kitchen to save space.
Apart from food, these silicone bags are also great for storing non-edible items like cosmetics, skincare, jewelry, or travel essentials.
See Related: Best Eco-Friendly Bathroom Products to Buy Today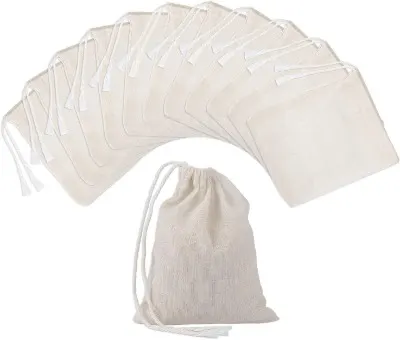 Includes: 100 pieces (4 x 3 inches)
If you're looking for reusable stand-up pouch bags, these rustic drawstring bags from Pangda can add a touch of personality to your goodies. Crafted from high-quality natural cotton, these adorable linen bags may be used to wrap candies, jewelry, gifts, coffee beans, cookies, candles, soaps, and other types of treats often found in goodie bags.
The heavy-duty fabric guarantees durability, so you can stash as much you want without worrying about ripping or tearing. A durable jute twine cinch pinches the top closed and prevents items from ever falling out.
These eco-friendly pouches are perfect for parties, weddings, or for packaging artisanal goodies.
See Related: 25 Fascinating Facts about Conservation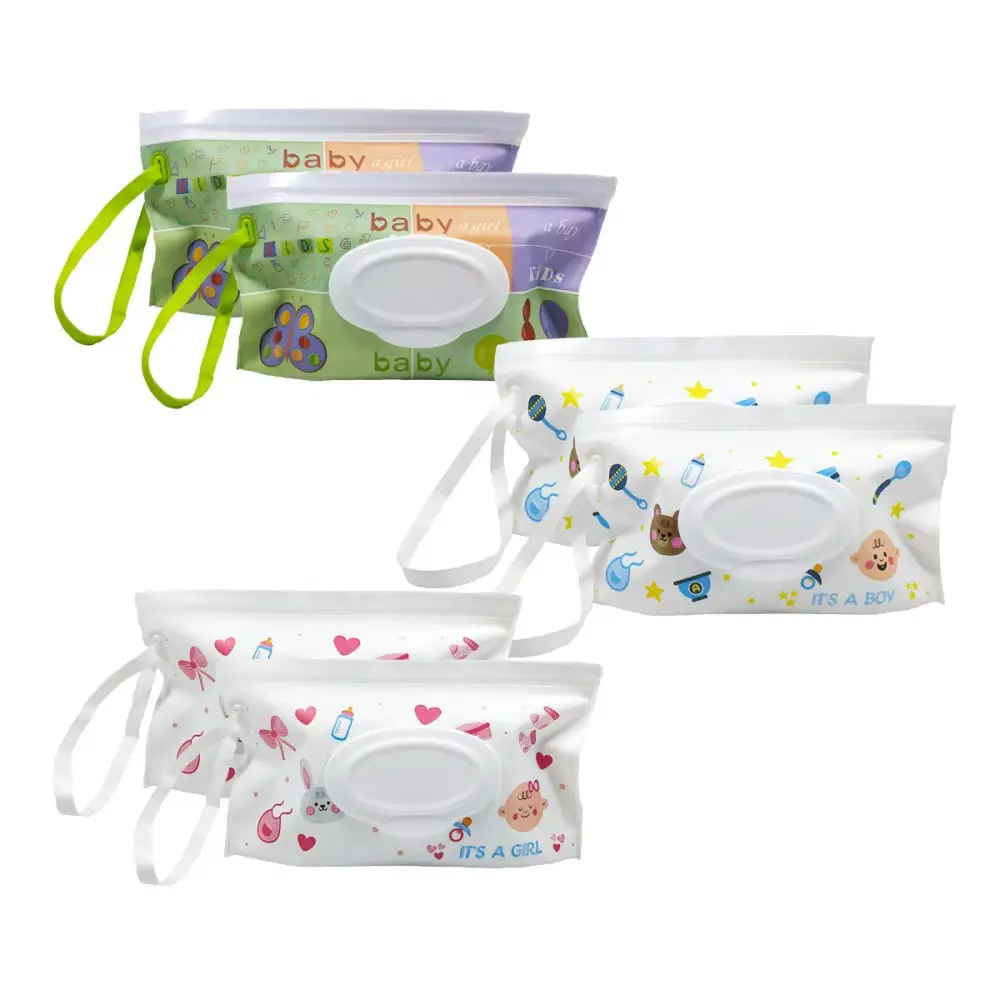 Includes: 6 packs (9.72 x 6.81 x 2.09 inches)
Wet wipes often have a flimsy construction and can be hard to carry around. The adhesive material that keeps their sticker lids closed often disintegrates, making them prone to leakage. Aisxle Wet Wipe eco-friendly stand-up pouches aim to make wet tissue dispensing a more convenient and eco-friendly process.
These portable wet wipe pouches come with nylon loops that can be worn around the wrist or attached anywhere, such as strollers, diaper bags, backpacks, or purses, making them perfect for traveling. They're just the ideal size for stashing inside your bag as well.
The durable zip-lock allows you to easily refill new wet wipes once they're used up, while the reinforced flip cap offers seals your wet wipes, retains moisture, and offers easy access as it dispenses only one wipe at a time. These stand-up pouches are entirely BPA-free and crafted from premium EVA material.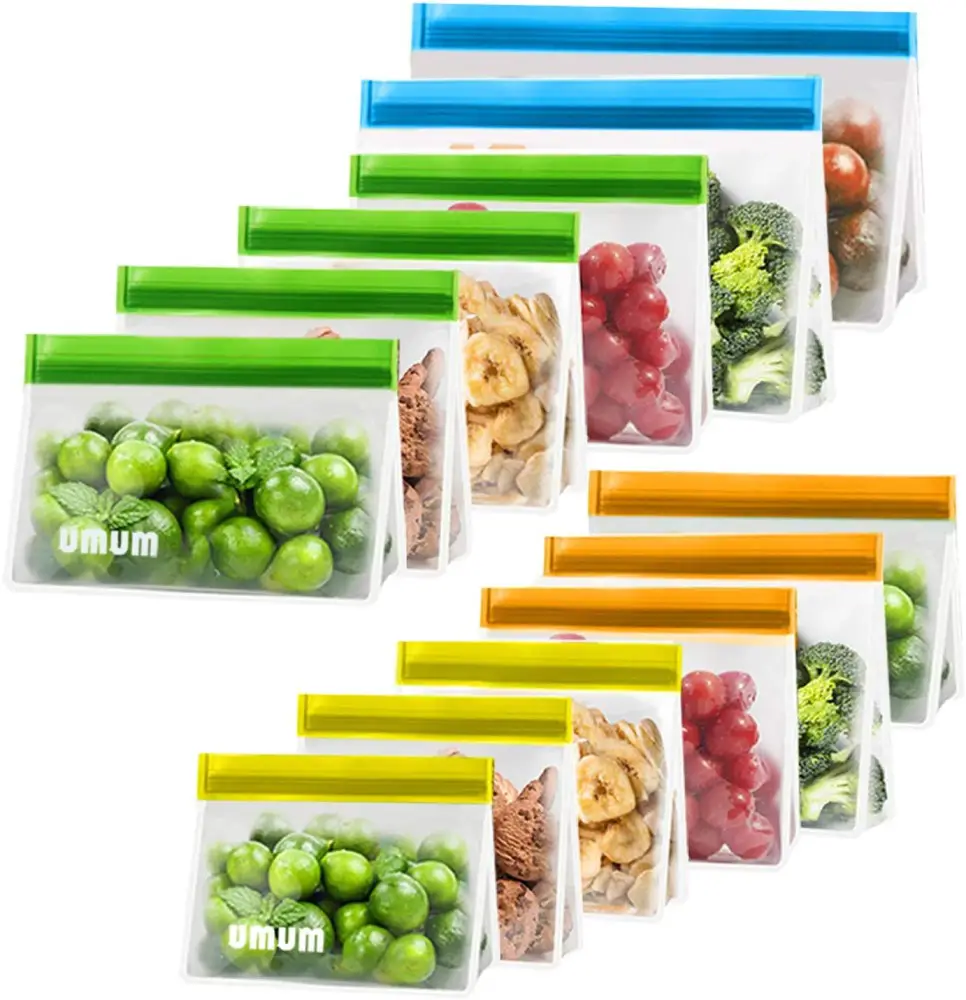 Includes: 12 packs (2-gallon bags, 4 lunch bags, 3 sandwich bags, and 3 snack bags)
Storing food doesn't have to be difficult, especially when you have these UMUM Reusable Food Storage Bags. Made from PVC, lead, BPA, and chloride-free food-grade material, these eco-friendly stand-up pouches are great for storing a wide array of snacks and foods.
Store vegetables, cereal, fruit, meal prep, baby food, cookies, and more. They can even be used to marinate meats or store non-food items like cosmetics, office supplies, stationery, make-up, jewelry, and travel accessories.
The leak-free and waterproof three-lock closures efficiently keep your items away from external elements, keeping them fresh and well-preserved. This also means that your edibles retain their original taste without being tainted by food aroma. The transparent material allows you to see the contents inside, so you don't have to remove lids when browsing your fridge.
Includes: 12 pieces (5 x 7 inches)
Add fashionable flair to your gifts and goodies with these PINOWU Ethnic Style Drawstring Bags. The whimsical ethnic design makes these eco-friendly stand-up pouches popular among consumers shopping for Christmas gift packaging.
Constructed from durable muslin fabric, these stand-up pouches have a wide array of uses such as storing accessories, candies, jewelry, coins, herbs, and spices or used as a grocery or bulk bin bag. You can also utilize these drawstring pouches to strain yogurt, nut milk, or juice.
Consumers looking for food packaging will be happy to know that these bags are made from 100% non-toxic cotton, making them great for storing fresh fruits, produce, peanuts, or coffee beans. The breathable material allows efficient air circulation, which keeps your produce fresh for longer.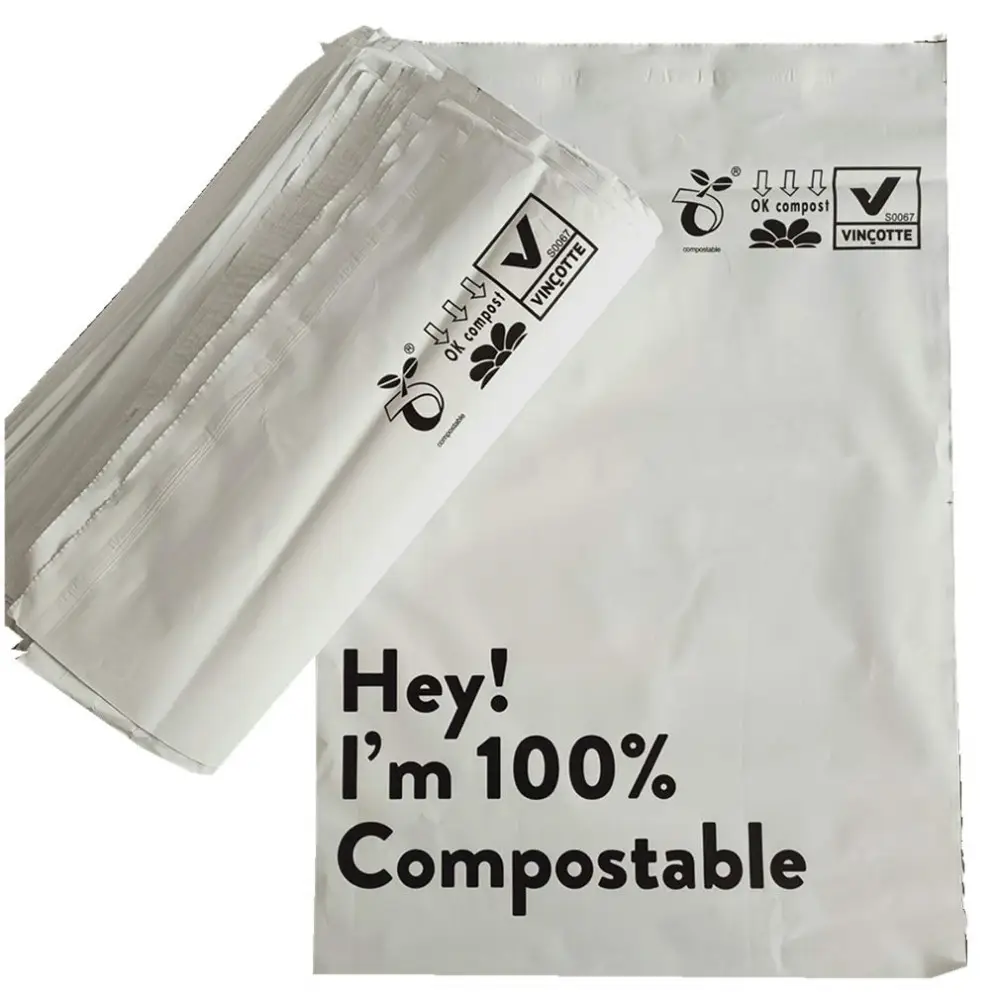 Includes: 60 pieces (15.5 x 12 x 0.01 inches)
If you're a business owner looking to make shipping more sustainable, these compostable poly mailers do the job without negatively impacting the environment.
Completely compostable and crafted from PBAT and modified corn starch, these tear and puncture-resistant poly mailers come in different sizes and pack soft items like t-shirts, scarves, and blankets exceptionally well. These mailing bags do not require glue or licking, as they come with a peel-off strip that seals the bag effortlessly.
With mailers like these, you aren't only taking a step towards being more environmentally-friendly, but you're also making a statement about your social responsibility as well – values that resonate with today's earth-conscious consumers.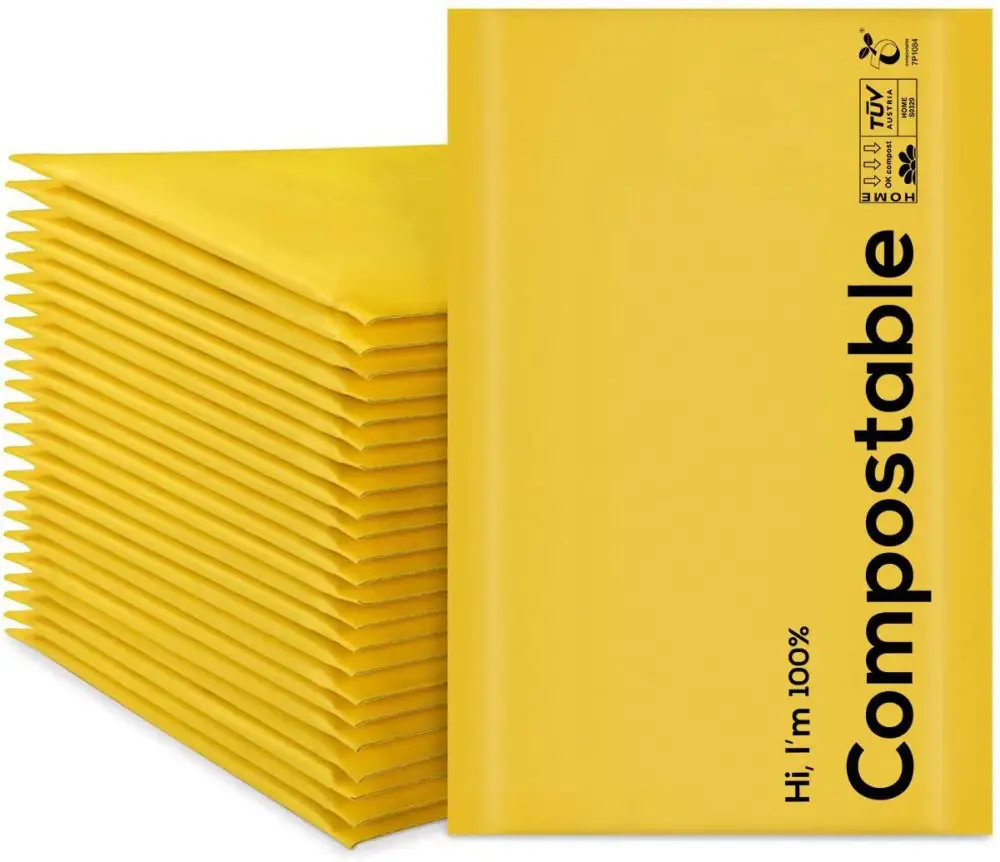 Includes: 25 pieces (8.5×12)
Looking to enhance your self-image with your customers? These compostable bubble mailers are a great way to make an eco-friendly statement while keeping your goodies safe and secured in transit.
These sleek-looking mailers are crafted from 100% biodegradable materials, including an outer kraft envelope and bubble wrap made from PBAT and modified cornstarch. Generating less CO2 than traditional plastic, these biodegradable mailers are certified by OK compost, BPI, and meet the standards of both EN13432 and ASTM 6400.
The padded and laminated construction makes these mailers puncture-resistant and water-resistant, so your goods are guaranteed safe from external elements. Great for use by merchants in shops, schools, offices, or just anywhere shipping is needed!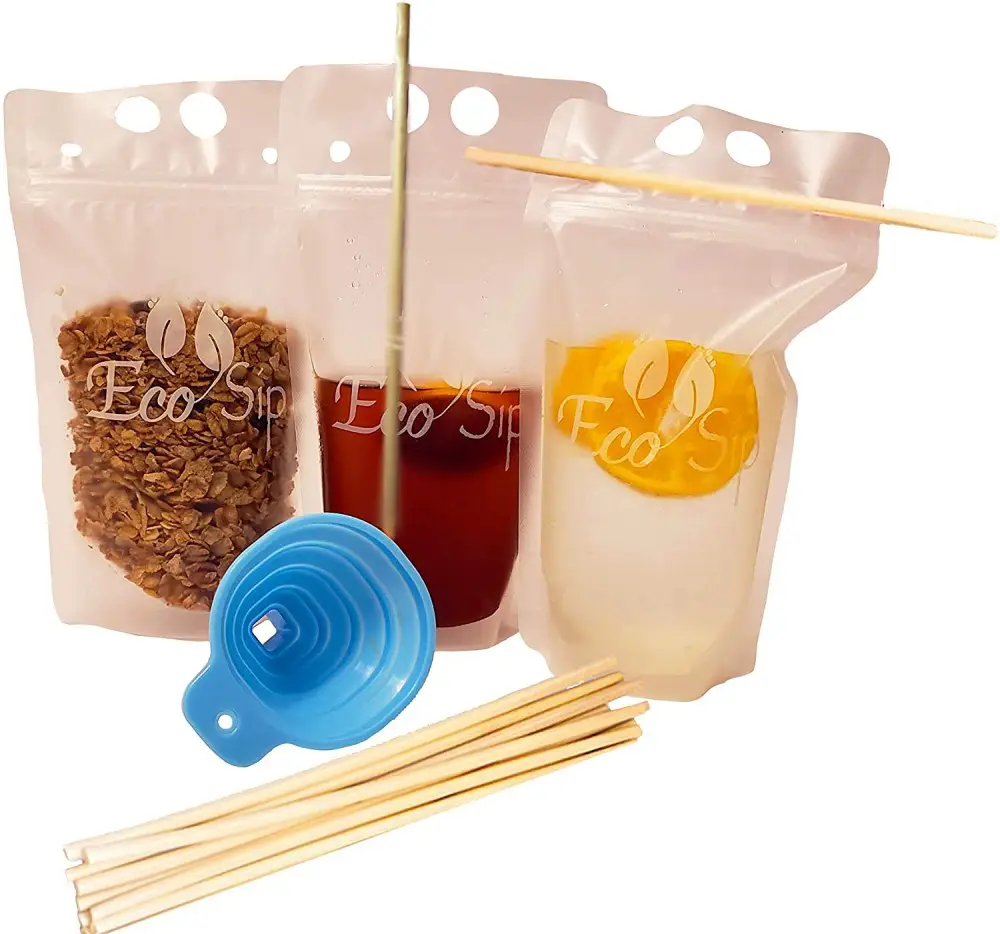 Includes: 100 pieces (5 x 9 x 1.5 inches)
Whether you're serving smoothies or soups, these biodegradable drink pouches by EcoSip got you covered. Each handy stand-up drinking pouch, which is crafted from phthalate and BPA-free non-toxic plastic, can be reused multiple times. A pack of eco-friendly hay straws is also included so you can help in putting an end to plastic waste!
If you're selling drinks in bulk, the easy-fill design makes filling a walk in the park. A convenient plastic funnel is included so you can pour your favorite beverages or soups without having to worry about spillage. They're also great for storing coffee beans, cereal, cookies, and other snacks!
Related Resources