Let me start by saying congratulations to you on your newborn baby! Perhaps you are still expecting – well, this will be a congratulation in advance. This piece is made just for you!
Using eco-friendly baby products has many advantages. According to Munchkin, parents use up to 300 diapers in the baby's first month! Most diapers aren't biodegradable, and consequently are pretty harmful to the environment. That means parents who use eco-friendly baby products are being considerate to both their babies and mother earth!
Choosing your best eco-friendly baby products must be done with care. If this is your first time nursing a baby, you may need someone to guide you through the best products, and that is exactly why I am doing this.
Having nursed two kids over the years, coupled with my experience as a greener earth advocate, I have identified some of the best eco-friendly products you can buy for your baby. When choosing an eco-friendly baby product, there are three basic things to consider;
Biodegradability.
Reusability.
The material used.
Best Essential Eco-Friendly Baby Products
I have highlighted 10 of such products in this piece. The list comprises essential products such as diapers, wipes, clothes, feeders, toys, etc. I have also added each product's features, pros, and cons for you to compare and pick the best choice.
1. Caboo Tree-free Baby Wipes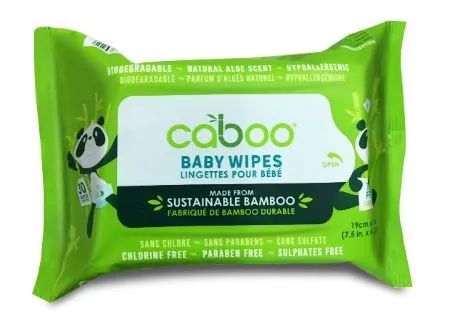 Think of the number of baby wipes you will need every month and imagine such a number as non-biodegradable. You can imagine the effect on the planet, which is why you should consider Caboo, one of the most environmentally friendly baby wipe brands.
Caboo is made from Oeko-tex certified bamboo spun lace, making it a good cleaner for new baby skin. They are very tender and soft to the baby's skin giving no room for redness or rashes.
Unlike organic cotton, the wipe contains Vitamin E, as well as soothing aloe vera, and chamomile flower making it suitable for sensitive parts of the baby's skin.
Features
Tree-free and eco-friendly products are made from organically grown bamboo viscose.
99.7% natural ingredients as certified by MADE SAFE baby product certification.
30 wipes per sealable pack.
The mild aloe vera & chamomile scent is not allergic.
Pros
No strong and allergic scents.
No alcohol, chlorine, or paraben.
Eco-friendly, Biodegradable, and Panda-friendly.
Hypoallergenic.
Cons
Difficult to find in stores.
The package does not fit in a wipe warmer.
See Related: Best Eco-Friendly Baby Products to Buy Today
2. Comotomo Natural-Feel Baby Bottle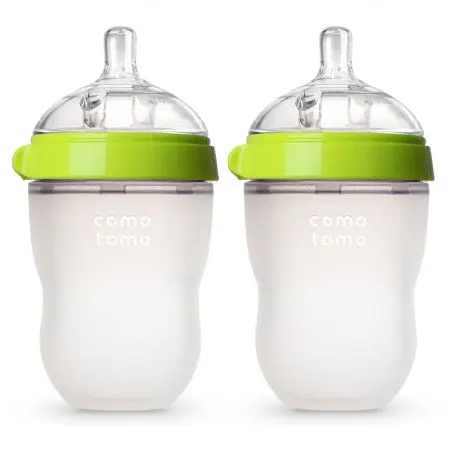 When not actively breastfeeding, you will have to feed your baby using bottles. Milk and other liquid foods like formula can be stored and fed to the baby using a bottle.
Comotomo Natural-Feel Baby Bottle is free from BPS, BPA, phthalates, lead, and Nitrosamines. It is designed to mimic breastfeeding, featuring a soft and natural silicone nipple. The bottle is designed with a silicone-grade skin-like material, making your baby feel they are holding on to a natural breast during feeding.
Features
Soft and squeezable silicone grade body which makes it feel like a breast to the baby.
Anti-colic non-leaking vent to prevent colic, spit-up, and gas.
The wide neck makes it easy to carry out a thorough clean using your hand.
Design to be compatible with microwaves, sterilizers, and dishwashers.
Pros
Well-made using food-safe materials, long-lasting, reusable, and recyclable.
Good option for babies who find it difficult to transition from breastfeeding to bottle-feeding.
Anti-colic features.
Cons
The silicone-grade body might take a longer time to warm and cool as such, keeping your baby waiting if the food is extremely hot.
See Related: Sustainable Eco-Friendly Lunch Bags
3. Bamboo Nature Eco-friendly Baby Diaper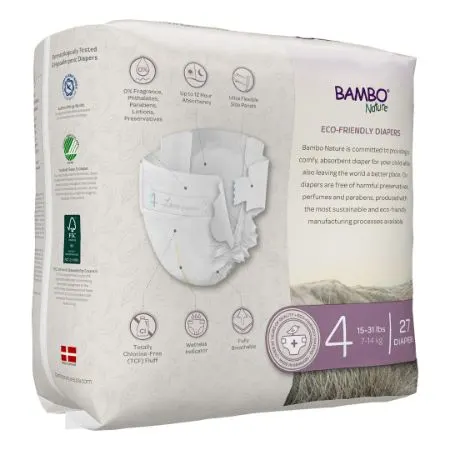 These Bamboo Nature Eco-friendly Baby Diapers are a reasonable consideration if you love your child and the environment.
These diapers are easy-to-use biodegradable, disposable diapers that back up their slogan 'Parent fearlessly'. It has all the necessary features to keep the mother and the baby at ease. It is gentle to baby skin as it causes no redness, irritation, or diaper rashes.
Features
Fits on babies up to sizes 6 and 35 lbs.
A moisture indicator that changes color when the diaper is wet.
Three layers design that can accommodate more wetness and can be used overnight.
The flexible waistband is mild on the baby's skin and has a latex-free leg curve.
Pros
No chlorine, dye, or other harmful chemicals.
Breathable.
Mild scent.
Designed to indicate internal wetness.
It is gentle on baby skin as the waistband and leg curves are designed with consideration for comfort and movement.
Cons
The wet indicator may fail for newborns (because they don't create as much poop or pee).
4. Pipette Baby Shampoo And Body Wash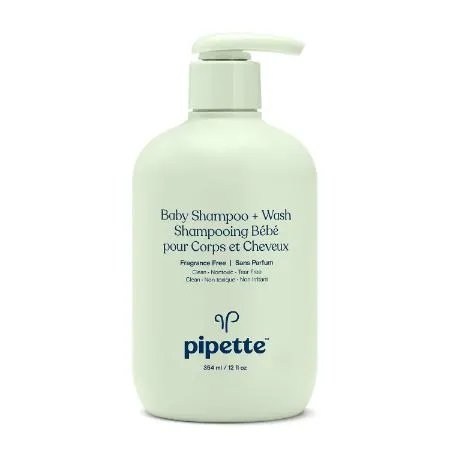 They may be made of rubber, but babies' skins are more sensitive than adults' skin. You must be careful of the soaps and baby wash you apply to the baby's body. To avoid rashes, redness, and other adverse effects, you must ensure to choose a hypoallergenic body wash.
Pipette Baby Shampoo And Body Wash work great on the baby's hair and skin. It is produced from hypoallergenic formulas, is cruelty-free, and is free of synthetic fragrance. It cleans the baby's body without leaving a residue and makes the hair clean and soft. It is capable of hydrating and restoring the natural balance of sensitive baby skin.
Features
It is plant-derived, hence, free from tear and fragrance.
It features plant-derived glycerin to enhance the moisturizing of the baby's skin.
It features 100% sugarcane-derived squalane, which also helps with moisturizing.
It is cruelty-free and safe for the environment.
Pros
It is the best consideration for sensitive skin.
It works perfectly on both the baby's hair and the skin.
It is cruelty-free to keep the environment safe after usage.
It is hypoallergenic and free from chemicals and fragrances, making it safe for people with allergies.
Cons
To be applied in peanut size. A large amount can result in too much foaming.
See Related: Best Eco-Friendly Microwaves to Buy Today
5. Ergobaby All-Position Baby Carrier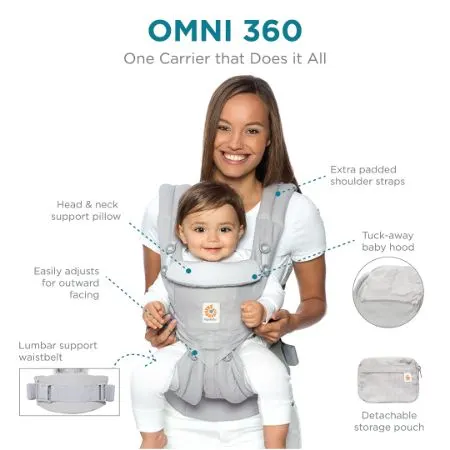 Carrying babies is one of the most beautiful (and at the same time challenging) moments for new parents. If you don't have a suitable baby carrier, you can end the day feeling like you have just undergone rigorous training.
The Ergobaby All-Position Baby Carrier is a perfect consideration for a stress-free baby-carrying experience. The carrier is designed with features comfortable for the baby and the mother. It works perfectly for mothers and fathers of all sizes. The carrier is made with premium cotton, which enhances its comfortability. It's also washable and durable.
Features
Top-notch design to aid four different carriage positions.
Innovative ergonomic seat to accommodate and adjust to the baby in all carriage positions.
It has a lumbar support waist belt for adjustment and tightening to avoid waist and back pain.
Detachable storage pouch to keep diapers, wipes, wallets, phones, and keys.
Features a neck pillow for babies and a baby hood for sun protection.
Pros
Considers the comfort of both babies and the parent.
Adjustable and usable for all baby sizes – and also works for parents of all sizes.
Features sun protection.
It is washable, reusable, and transferable to other new parents once your baby grows out of it.
Cons
Bulky straps may require external help to detach sometimes.
See Related: Best Zero Waste Products: Eco-Friendly Choices
6. Sage Spoonful Glass Food Containers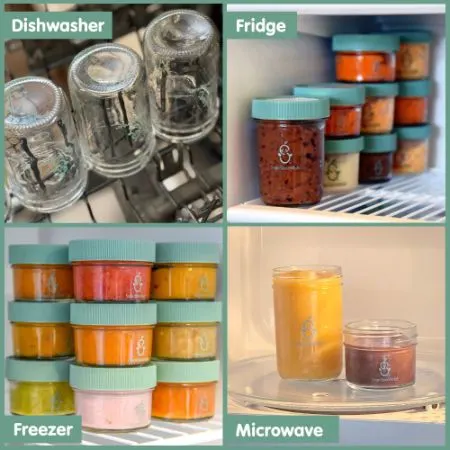 No baby product list is complete without a good container for the countless baby-related substances that need storing or carrying. You've always got a reason to consider a container for keeping cereal, milk, blends, baby's food, or formula.
A Sage Spoonful Glass Food Container is the best consideration if you need a reusable and eco-friendly food container. They consist of different sizes and categories of glass jars made from thick, durable glass.
They are designed to keep different types of solid and liquid foods safe and secure in a chemically neutral vessel. It does not leak as it has a perfectly tight cover. It is also usable in freezers, fridges, and microwaves.
Features
Thick and durable glass jars.
It features an erasable marker for labeling jars and keeping the content date.
Leakproof and airtight cover to keep the food fresh.
Jars are BPA-free and non-porous.
Pros
Reusable, cost-effective product, and a sustainable choice.
Freezer, fridge, microwave, and dishwasher friendly.
Durable jars that can last for a long time.
It can keep both solid and liquid food without absorbing its content.
Cons
See Related: Best Eco-Friendly Cotton Comforters to Buy
7. Delta Children Emery 4-in-1 Convertible Crib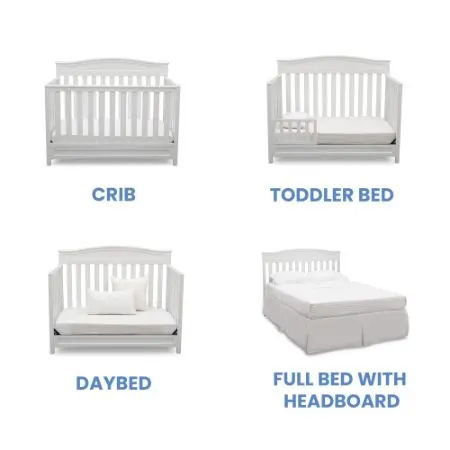 One of the essential baby products to get is a crib. The baby needs different cribs at different stages of growth, from infancy and toddler. If that is the case with you, why not consider a convertible 4-in-1 Crib?
The Delta Children Emery Convertible Crib can be used for your baby from one month up to 3 years. It is creatively designed to be converted into four different forms. Therefore, you don't need to worry as your baby grows as the crib can be adjusted into a toddler bed, day bed, a full bed, and also features crib sheets.
All the components of the cribs are sustainable materials and 100% non-toxic. It is also the best option to save on the cost of changing beds as your kids grow.
Features
Convertible from a crib to a toddler bed, day bed, and a full-size bed.
You can adjust the crib and the bed to meet the baby's growth.
Strong and sturdy wood to accommodate the baby's weight.
Both the wood and mattress are certified 100% non-toxic.
Pros
Strong, durable, and can accommodate babies of all sizes.
It is sustainable and cost-effective as you don't need to change it as the baby grows.
It can be transferable and can be resold when the baby outgrows it.
It is available in four different colors.
Cons
You need the manual to assemble and disassemble. Trust me. Don't lose it!
See Related: Eco-Friendly Stand-Up Pouches
8. HIPHOP PANDA Baby Bamboo Washcloth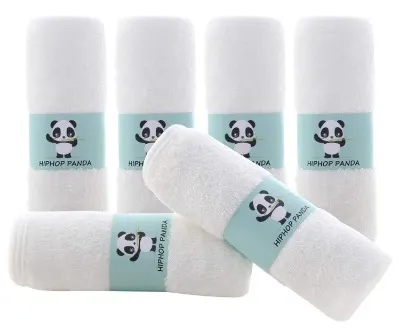 A washcloth is another important thing to have in your baby's wardrobe. I have included an eco-friendly washcloth which is the HIPHOP PANDA Bamboo Washcloth.
The washcloth is made from 100% bamboo material and no organic cotton. It is hypoallergenic and extra soft, which is kind to the skin, causing no side effects or irritation after bath time.
It is gentle on the baby's body and an excellent environmental consideration. It is washable and reusable, making it a better choice than disposable wipes. It is a PVC-free baby product which makes it much healthier for your baby and the environment.
Features
100% eco-friendly bamboo.
Extra soft cloth perfect for sensitive skin.
Free from chemicals and dyes.
Pros
It does not contain harmful chemicals and dyes.
Super soft and tender for the baby's skin.
It is sustainable, reusable, and cost-effective.
Made from eco-friendly and biodegradable materials.
Cons
If it were maybe an inch or two bigger, then it would be perfect.
See Related: Best Eco-Friendly Bathroom Products to Buy Today
9. Heirio Montessori Toy For Toddlers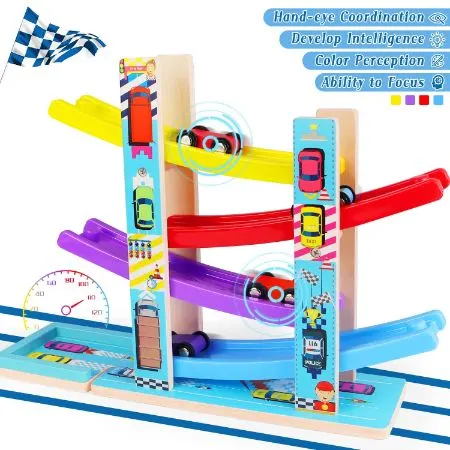 Toys are essential things to get for your child. Try as you might, you aren't going to be around them all of the time. So why not consider a reusable and eco-friendly toy to keep them occupied?
Heirio Montessori Toy is a charmingly designed product that considers both safety and fun. It features a wooden car ramp and cars of different colors. These chunky cars are big and cannot be swallowed by a baby or toddler making them much safer for kids.
This toy not only acts as a cool play set but also aids preschool learning. With this, your kid can start learning to identify colors and enhance their cognitive ability.
Features
It features a car ramp, four colored cars, and a parking lot.
Colorful design to enhance color perception and ability to focus.
Screw fixation on making the car ramp strong and durable.
The cars and the ramp are made with BPA-free material and are non-toxic.
Pros
The movement of the cars on the ramp will help build the kid's focus ability.
It aids color perception and cognitive ability.
It is capable of enhancing the baby's natural curiosity and stimulating imagination.
It is sustainable, eco-friendly, and cost-effective.
Chunky cars are too big to fit in little mouths.
Cons
Not suitable for infants.
See Related: Best Plates That Are Compostable
10. JacnJac Silicone Baby Feeding Set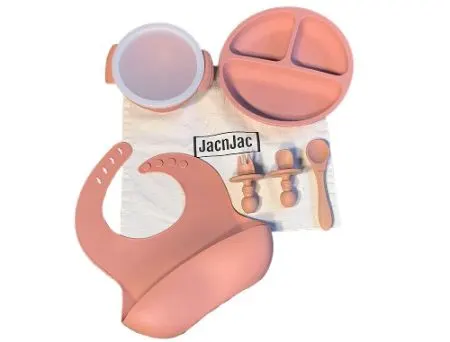 If your child has reached the spoon-feeding stage, an eco-friendly person might consider JacnJac Silicone Baby Feeding Set. The feeding set comprises a bowl, a divided plate, a spoon, a fork, and an adjustable bib with a food catcher.
All the tools in the feeding set are food-grade silicone, free from toxic chemicals, and BPA-free. They have no harmful effects on the baby nor do they absorb the food. The plate and the bowls are microwave, dishwasher, and refrigerator friendly. They are durable, reusable, and eco-friendly.
Features
It consists of a bowl, a divided plate, a spoon, a fork, and an adjustable bib.
The adjustable bib is waterproof and does not absorb falling food or water.
Made with silicon which makes the products durable and easy to clean.
The bowl has a secured lid for keeping food safe.
Pros
It contains the necessary tools to train the baby for self-feeding.
The products are designed with non-toxic materials.
It is freezer, fridge, microwave, and dishwasher friendly.
They are unbreakable, reusable, transferable, and eco-friendly.
Cons
New bibs can be a bit stiff.
Related Resources