What do you get when you combine candles and glitter? Captivating sparking light! Candles are wonderful on their own; they provide light and add ambiance to a room and can set the mood for relaxation or romance.
Adding glitter to a candle further enhances these beautiful light sources, as the flickering flame bounces off the sparkling glitter, making the whole experience of burning a candle even more magical.
While you can purchase pre-made glitter candles at home décor or health and wellness shops, department stores, online retailers, or anywhere else that sells decorative items, if you fancy yourself crafty, you might be thinking about buying manufactured glitter candles and making them yourself.
Whether you want to use them as a treat for yourself, you want to give them as one-of-a-kind gifts, or you'd like to sell them, making glitter candles is pretty easy.
However, if you're eco-conscious, instead of standard, run-of-the-mill glitter, you may wonder if there is biodegradable glitter for candles. Fortunately, you're in luck because there are some options that you can use as eco-friendly glitter for candles.
What are the benefits of biodegradable glitter? Where can you look to find biodegradable glitter? What's the best biodegradable glitter for candles? To find the answers to these questions and more, keep on reading!
Best-Of by Category
The 5 Best Biodegradable Glitter for Candles
If you're interested in making your glitter candles but want to minimize the impact your creations have on the environment, you're probably wondering where to find biodegradable glitter and which eco-friendly glitter alternatives to use.
While that's certainly an honorable decision, given the massive push to preserve the environment in recent years (undoubtedly a good thing), dozens of manufacturers are advertising biodegradable glitter for crafts.
Don't just jump on the first option you find, however, because, as mentioned, scientific findings have determined that many of the so-called eco-friendly glitter alternatives are as damaging to the environment as traditional glitter. So, what should you choose?
To help you on your quest to find the best biodegradable glitter for candles, we've taken the liberty of doing the research for you. After scouring the internet and conducting extensive research, we've narrowed down the options to what we believe are the best eco-friendly glitter alternatives. So, without further ado, here's a look at our findings.
See Related: Energy Conservation Technique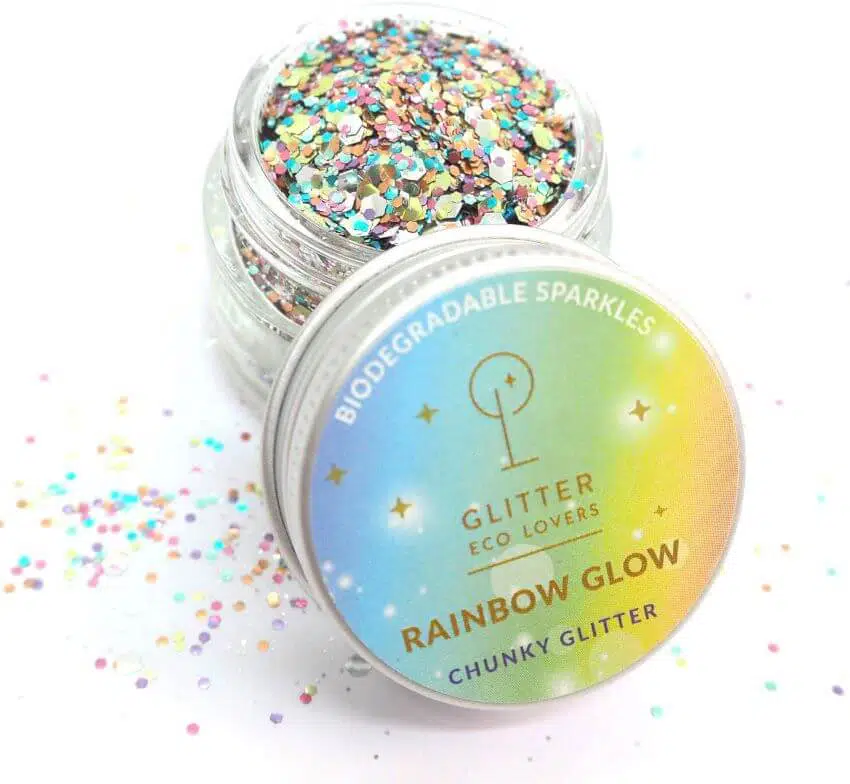 Made of a combination of cellulose that is sourced from eucalyptus trees, and based on plants, not plastic (like traditional glitter), Glitter for Eco Lovers is one of the best eco-friendly glitter for candles brands on Amazon. Not only is it biodegradable, but it's also cruelty-free and vegan.
It's 100 percent free of genetically-modified organisms (GMOs), as well as antimony, and it's never tested on animals. It's allergen-free, as well. The company, Glitter for Eco Lovers, is a licensed seller of Bioglitter, which means that they adhere to the most stringent standards, so you can have complete confidence knowing that it's good for the environment and good for you.
As if being environmentally-, animal-, and human-friendly isn't amazing enough, Glitter for Eco Lovers is 30 to 40 percent softer than traditional glitter, so it can easily be added to lotions, lip balms, makeup, and other types of products that you would apply topically to the skin. Of course, it's great to use for making candles, too.
Just paint some onto a pre-made candle, or make your own DIY poured candle and mix the glitter directly into the mixture. The rainbow colors are stunning and the sparkle is incredible. With this chunky eco-friendly product from Glitter for Eco Lovers, you will be able to make simply beautiful candles that will be sure to delight.
See Related: Pros and Cons of Biofuels
Next on our list of the best biodegradable glitter for candles comes from Electric Glitter. This all-natural glitter is intended for use on the body, but it can certainly be used to make sparkling candles.
Made from cellulose that is sourced from eucalyptus trees, not only is it eco-friendly, but it's also a whole lot softer than traditional glitter that's made of plastic materials. It's neither tested on animals, and it's completely vegan-friendly and cruelty-free.
The packaging is made of recycled paper, too. Electrik Glitter donates a portion of the proceeds that they make from every sale to ocean conservation efforts.
It's available in a wide variety of color combos, such as blue and fuchsia, blue and pink, green and gold, and rose and gold. There are solid colors to choose from, too, like fuchsia, green, gold, pink, red, and aquamarine. Though it's made to be used on the body, it can certainly double as a biodegradable glitter for crafts, including candles.
See Related: Are Brown Paper Bags Compostable?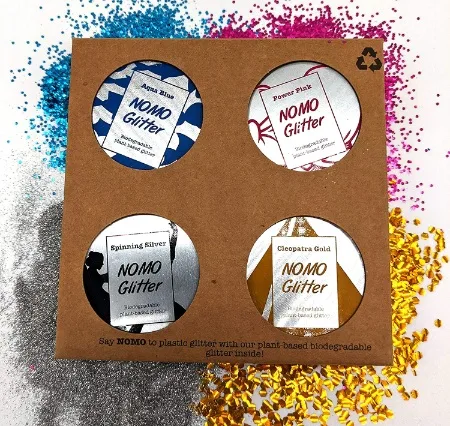 If you're looking for an eco-friendly glitter for candles that adds another dimension of sparkle and shine, check out NoMo Glitter. The glitter is shaped like stars, which will make your candle crafts dazzle.
The glitter comprises 93 percent of regenerated cellulose, 2.5 percent plant-derived glycerin, 2.5 percent epoxy resin, 2 percent pigments, and aluminum. The cellulose used in the glitter is made of FSC accredited forest eucalyptus trees. Measuring 1/10th diameter, there's no mistaking the shape of the stars.
NoMo has teamed up with charities committed to conservation and donates 5 percent of the sales of each pot of glitter to planting trees and cleaning seas. The sparkling silver star-shaped, eco-friendly glitter is 30 percent softer than plastic glitters, too, so it's easy to apply to candles, but if you'd like, you can use it to be-dazzle yourself, too!
See Related: Best Biodegradable Baby Wipes in 2022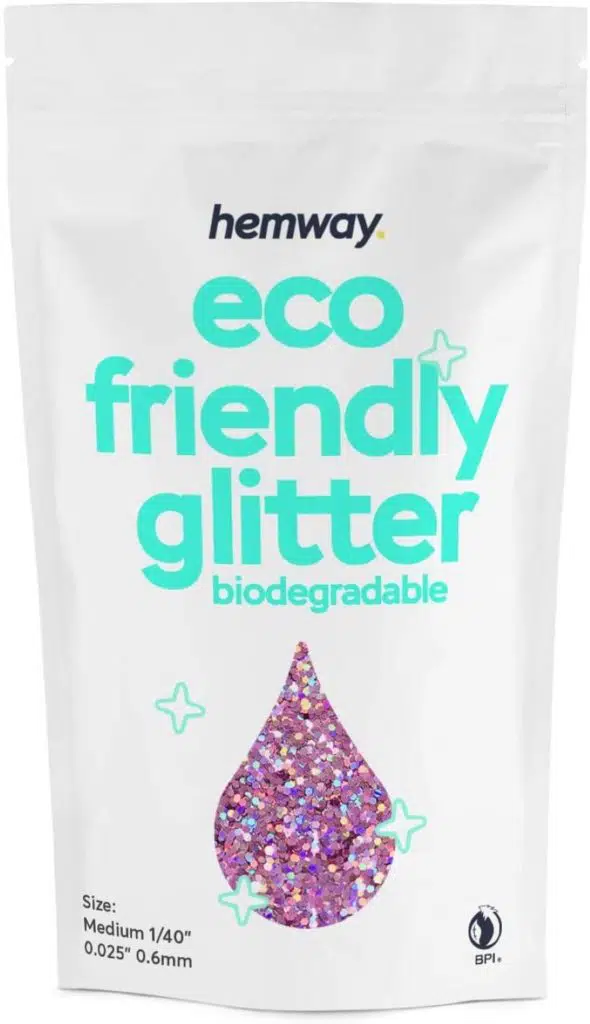 Hemway's eco-friendly glitter for candles is new to the market. It's a multi-purpose environmentally-friendly glitter, so you can use it for arts and crafts, like making candles, or you can use it to add some sparkle and shine to your skin and hair.
No matter how you use it, you can rest easy knowing that you won't be damaging ecosystems. This cosmetic-grade glitter is made of cellulose materials, is completely non-toxic, and is 100 percent vegan-friendly, cruelty-free, and is never tested on animals.
This glitter is softer than standard varieties, so it won't irritate the skin and it's easier to work with, allowing for hassle-free application on your candles.
Hemway eco-friendly glitter is available in a total of 19 colors, such as rose pink, sapphire blue, silver, turquoise, gold, and copper, just to name a few. Use a single color or blend two or more together to create a multi-colored glittery candle.
See Related: Best Eco-Friendly Pens to Buy Today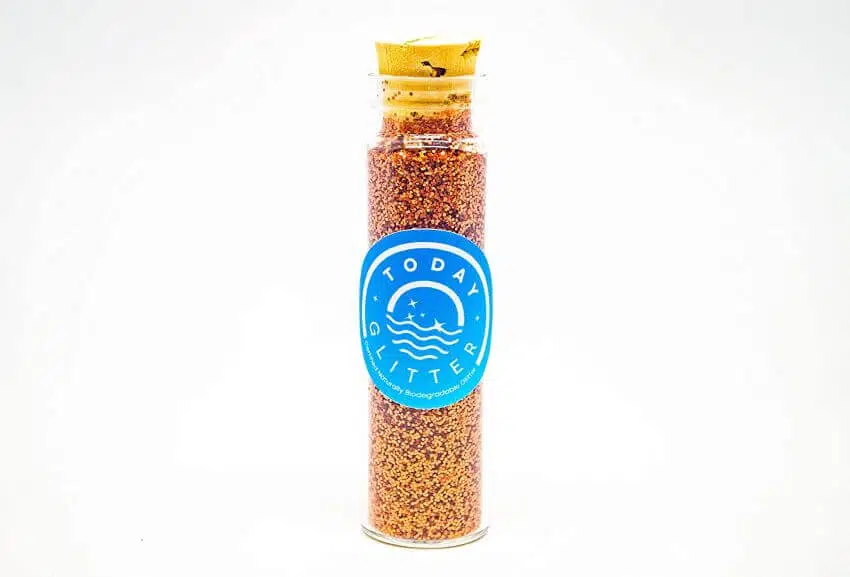 Wrapping up our list of the best biodegradable glitter for candles comes from Today Glitter. It's the first 100 percent plastic-free in the world!
And if that wasn't amazing enough, it's also completely aluminum-free, so you can have peace of mind knowing that you won't only be negatively impacting the environment when you use this glitter. Still, you can rest easy knowing that it won't harm you, either.
The manufacturer, Today, is the first and only certified online reseller in the USA, too, and they've been featured on some of the top media outlets, like Bustle, Vogue, and The Daily Beast.
It's available in nine different colors, such as blue, green, pink, red, bronze, frost, and sunset, and it's sold in four different sizes – small, medium, large, and x-large. A 100 percent satisfaction guarantee also backs it; if you aren't completely satisfied, they'll send you a no-questions-asked refund or replacement.
See Related: Are Greenhouses Bad for the Environment?
What is Biodegradable Glitter?
Before we dive in and take a look at the best biodegradable glitter for candles, let's first explain what biodegradable glitter is.
It's probably safe to assume that you know what glitter is, but if you aren't sure, here's an overview. Glitter is a collection of small reflective particles that vary in shape, size, and color.
When moved about in different angles, those particles reflect light, which makes the surface come to life with a shimmer or a sparkle.
It's similar to sequins or confetti, but the pieces are usually smaller. For a bit of a history lesson, glitter has been used since prehistoric times. It was made of a variety of materials, such as stones, like mica and malachite, glass, and even insects. Today's glitter is usually made of a blend of plastic or aluminum.
The last line stated above shifts our conversation to biodegradable glitter.
Why is Biodegradable Glitter So Important?
This is because the aluminum and plastic pieces that modern-day glitter is made of is very rarely recycled and in fact, can be very harmful for the environment; hence why many – including eco-scientists – have been calling to put a ban on the sale and manufacturing of plastic glitter.
Basically, mainstream glitter is a kind of microplastic, a substance that, in recent years, has been recognized for the horrid impact it has on the environment. It's usually made of metallized plastic film, which is then diced up into small pieces.
Whether washed off hands, a table, a card, wrapping paper, a shirt, or anything else, the tiny little piece of microplastics that glitter comprises can easily make its way into the ground or waterways, where it can have a disastrous impact on our precious ecosystems.
While those pieces of glitter may be sparkly, captivating, and beautiful, the plastic materials it's made of aren't biodegradable.
As such, it can remain in the land and the water, where they can be ingested by land and marine mammals, as well in your own belly! When they enter the body, those microplastics can build up, eventually killing them.
For these reasons, it's easy to see why standard, mainstream glitter has been under attack lately – and why, if you're looking for glitter for candles, you should opt for biodegradable options rather than standard glitter.
See Related: Best Compostable Plates
What is Biodegradable Glitter Made Of?
Like a lot of products that are labeled "green" these days, when you're purchasing biodegradable glitter, you need to be discerning. Unfortunately, there's a lot of whitewashing in terms of labeling; in other words, just because it says "biodegradable" doesn't mean it actually is.
A lot of the options on the market aren't actually biodegradable in the traditional sense, meaning that in order to break down, industrial composting is required, and it won't naturally breakdown in the environment.
A study by Anglia Ruskin University in 2020 revealed regenerated cellulose (MRC) and mica glitter.
Two products that are touted as being "eco-friendly" alternatives to traditional glitter, imparted negative effects on freshwater habitats. In fact, the impacts were nearly the same as the environmental impact that regular glitter has on the environment.
With all of that said, by knowing what type of materials to look for and then seeking them out, you can make sure that you choose eco-friendly glitter for candles. Examples of biodegradable different types of biodegradable glitters on the market include.
Cellophane-based. Cellophane is a bioplastic that is made of cellulose and it was first made in the 1930s. Since it's made from cellulose, a natural plant fiber, it sounds eco-friendly; however, that isn't exactly the case. That's because its chemical structure prevents it from breaking down naturally.
Cellulose acetate. Another material that is said to be biodegradable, cellulose acetate doesn't actually breakdown naturally, so the environmental impact is just as bad as traditional glitter.
Modified regenerated. Yet another kind of cellulose, modified regenerated cellulose (MRC) is also used to make environmentally-friendly glitter. While the foundational material is sourced from eucalyptus trees, which is biodegradable, it's usually costed with aluminum and plastic, which may prevent it from breaking down as quickly and efficiently.
Compostable. The name "compostable" is misleading, as this type of glitter won't breakdown naturally. While it is recyclable, it only breaks down in a specific environment; the temperature, pressure, and bacteria need to be just right.
PLA. Made of polylactic acid, which can be broken down via a process that is known as hydrolysis at high temperatures. While makers often label this type of glitter biodegradable, it only breaks down and regenerates bio-materials in specific industrial conditions; in other words, it won't biodegrade in the natural environment.
Related Resources