Are there any biodegradable dog poop bags in the market? Certainly yes! If you wish to go green in caring for your dog pet, go through our comprehensive list and identify some of the market's top dog poop bags.
Life without our fluffy friends can be quite boring. Won't you agree? However, despite their much joy in our lives, caring for them comes with several challenges. Ensuring the place is clean after they are through with their call of nature is tasking, especially if you don't have the right materials.
And did you know that one dog (75 pounds) can produce more than 500 pounds of poop in a year? That's right! In fact, according to the EPA, 100 dogs' 2 days poop is pollution enough to necessitate the closing of an entire bay and its neighboring watershed areas.
Now, imagine what this kind of mess can do to your household if not well managed and disposed of.
For the longest time, plastic bags have been our way out of this. However, with the increased plastic pollution experienced everywhere, biodegradable dog poop bags have gradually gained popularity. This is as more people strive to reduce their environmental carbon footprint.
So, what are the best biodegradable dog poop bags in your home? And are they all eco-friendly?
Top Rated Biodegradable Dog Poop Bags
Are dog poop bags biodegradable? Or are they just another greenwashing tactic from manufacturers? Well, while some claim to be biodegradable while they are not, there are numerous genuine ones you can rely on.
That's why we have gone the extra mile to make your search easier. Here are some truly biodegradable dog poop bags in the market.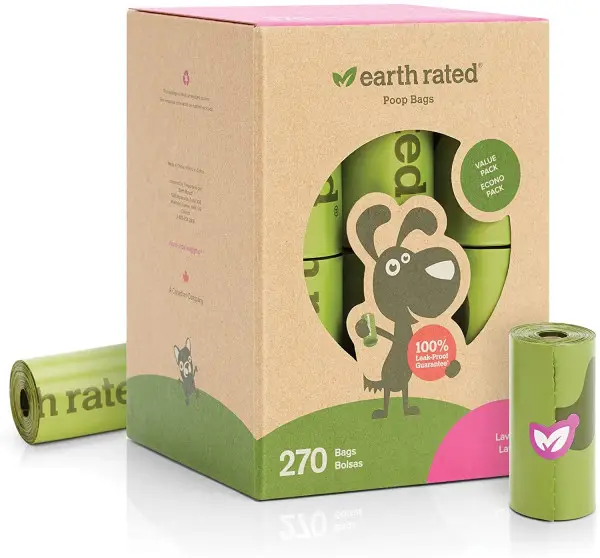 When it comes to biodegradable dog poop bags, no one does it better than Earth Rated. And this is not guesswork! These poop bags are a top seller in Amazon, enjoying a whopping 4.8/5 star rating from over 130,000 customer reviews.
This is not without a good reason. Firstly, the bags are thick and sturdy, with guaranteed leak-proof capability. With each bag measuring 9 by 13 inches, you have a sufficient and eco-friendly way to keep your pets' poop off the floors.
The bags are made from paper and use recyclable materials for wrapping. If you intend to be more eco-friendly in caring for your pets, then these biodegradable dog poop bags will suffice.
See Related: 11 Best Biodegradable Baby Wipes in 2022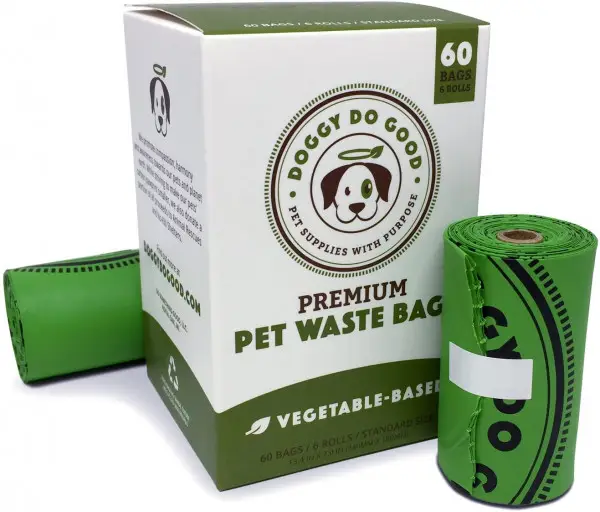 Next on our list of the best biodegradable dog poop bags are the formidable poop bags from Doggy Do Good. With a 4.9/5 star rating from Amazon customers, this is an incredible option for your dog pet.
The bags are not only biodegradable but are also eco-friendly as they are made from plant extracts (like plants starch). These organic-made poop bags are BPI certified, meaning they have met the US ASTM D6400 standards.
Even better, the bags are compostable. This is a double benefit as you can include them in your compostable waste to create that much-needed compost for plants. According to the company, these biodegradable dog poop bags will disintegrate within 90 days in an industrial composter.
These bags are simply made for this work. They are sturdy, durable, and spacious enough to hold your pets' waste.
In addition, the bags' packaging is made from recyclable materials, ensuring that less waste goes to the environment.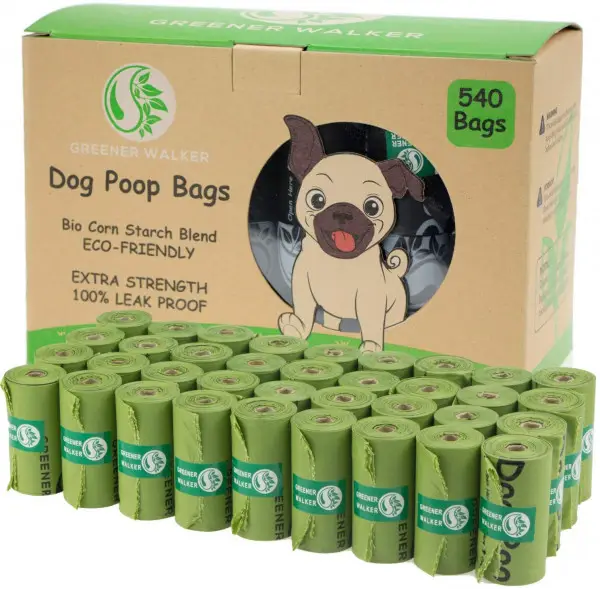 If you are looking for sturdy, 100% biodegradable, leak-proof dog poop bags, you have a winner here. The 4.7/5 star rated dog poop bags are strong, durable, and made with the environment in mind. These pet waste bags are a perfect fit for pet owners who wish to reduce their carbon pawprint.
First, they are made from organic materials (corn starch) that ensure zero environmental pollution, and their packaging is also recyclable. They allow you to keep your house clean, your hands free of pet poop, and also in the most eco-friendly way.
This package comes as a pack of 36 rolls, with 15 bags in each roll, bringing the total to 540 biodegradable dog poop bags. This is enough to keep your pet's business catered to for around seven months.
If some biodegradable, compostable dog poop bags are what you need, you better try out these poop bags from Greener Walker.
See Related: Eco-Friendly Stand-Up Pouches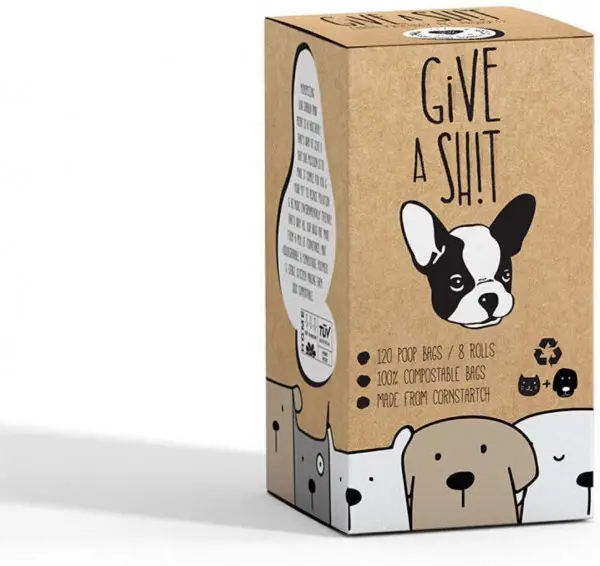 For biodegradable dog poop bags made in the USA, GAS has got you covered. Their products are known for high quality, durability, and love for nature.
They are made from compostable corn starch, edible glycerin, and BPAT (a compostable polymer), guaranteeing that you take care of your household and the planet. With the current plastic menace engulfing the globe, each step from plastic use is the right step.
These pet poop bags are Home Compost Certified in Australia, Europe, and the US. As they clearly indicate on their packaging, they give a Shit! They care – not only for the pets but also for the environment.
In addition, the bags are leak-proof and produce zero odors when decomposing. This means they help you keep an odor-free household from dog poop and also an odorless environment during composting.
This is an excellent way to package and dispose of your furry friend's waste, keeping them clean and happy.
See related: 13 Best Compostable Straws: Eco-Friendly Options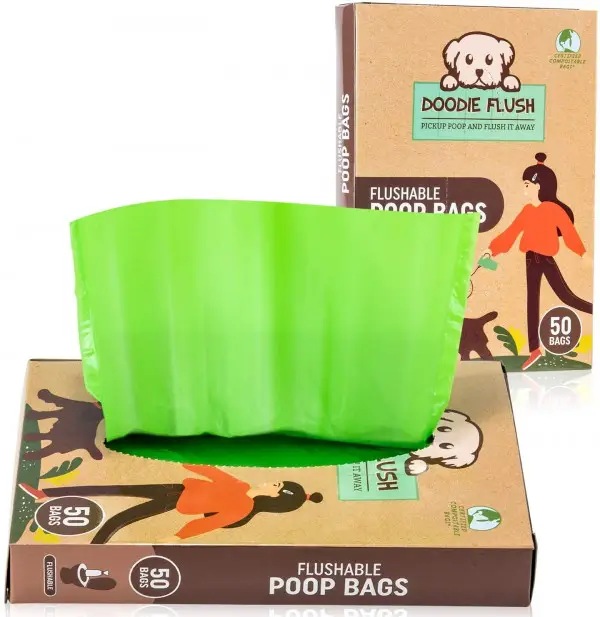 If you want it gone quickly, these flushable, biodegradable dog poop bags make an excellent choice. Not only are they biodegradable and compostable, but you can also flush them down your toilet, as they disintegrate in seconds when they hit the water. Now that sounds easy and convenient!
The best thing about these poop bags is that they are still quite thick and sturdy while water disintegrates them in a few seconds. This allows you to pick your pet's poop without worrying about messing up your hands.
And, in case you can't or don't want to flush them, you can still compost them in your home composter together with the rest of your household's compostable waste. This is because they are certified and meets the ASTM D6400 (BPI) standards.
These poop bags are much thicker than most competition's and do not require doubling up to guarantee messy-free operations. Their Poly Vinyl Alcohol material ensures the bags are sturdy and of the highest quality. And customers attest to this by giving the product a 4.4/5 stars rating on Amazon.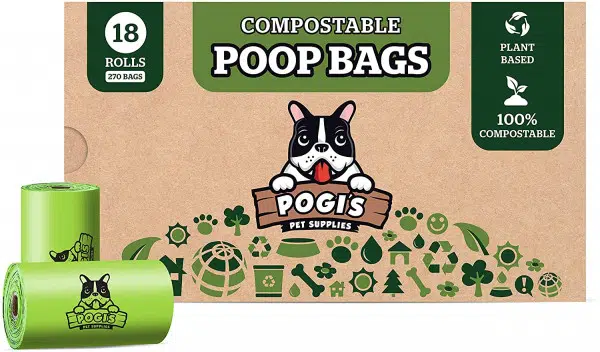 For those of us with big dogs or several of them, these large biodegradable dog poop bags from Pogi's will be most suitable. Measuring 9 by 13.5 inches, these poop bags are large enough to handle any dog's poop. And, they are also significantly thick, ensuring zero mess-ups during pick-ups.
If your dog prides in leaving large piles of poop behind, you'll certainly appreciate the large size of Pogi's poop bags. Also, these bags are not only biodegradable but are compostable too. Made from plant extracts, Pogi's biodegradable dog poop bags are ASTM D6400 certified and an excellent choice for eco-friendly dogs poop bags.
Sustainability is a key driver in the manufacture of these bags. Therefore, the company makes sure that even its packaging is eco-friendly and recyclable. Plus, they are easy to separate, open and pick poop with.
Pogi's dog poop bags are made to fit almost any standard size dispenser. And, each super pack comes with 18 rolls consisting of 270 bags. These can last you approximately three months.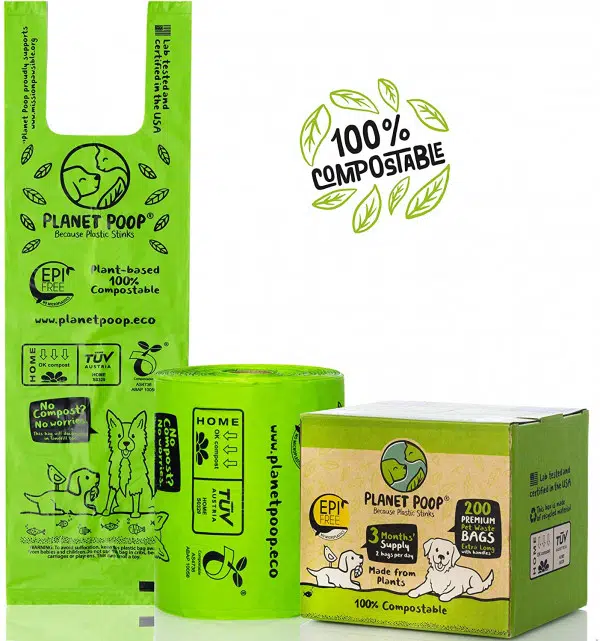 These biodegradable poop bags are also perfect for the big poopers, and they are sold in packs of 60, 120, 200, or 240 bags. They measure 9 by 16 inches, offering sufficient space to handle even your big dog's mess.
These plant-based, unscented dog poop bags make your pet's poop business all easy and mess-free. This is because they are strong, leak-proof, and, most importantly, eco-friendly. The bags are made from top-quality plants extracts, including corn starch, cassava, etc., which are also GMO-free.
The materials contain no EPI additives, polythene plastic, or any other toxic additives. In essence, you'll be doing the environment good service by using Planet Poop's pet waste bags.
Additional things you should note about the bags include: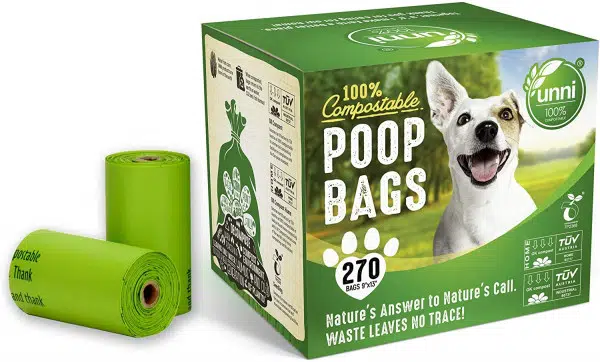 These are among the most durable, high-quality compostable dog poop bags you can ever come across. They are made of a thick material that ensures no leakages, giving you an easy time when collecting that nasty business left behind by your dog.
Even better, the bags meet all ASTM D6400 standards and are also European certified (OK Compost Home). Their plant-extracted starch material is fully biodegradable and contains zero polyethylene. So, if you target to keep the environment safe, you can start using some of these eco-friendly poop bags.
And when it comes to disposing of them, they are easy to compost, either at home or at a commercial composting facility. The certifications ensure that the bags are safe to compost at home and that they'll cause zero harm to the environment.
All you need to do is keep the bags in a dry place, away from excessive heat. Also, ensure you use them within the first 9 months of purchase. Any eco-conscious dog owner will appreciate these poop bags.
See related: 9 Best Compostable Mailers: Eco-Friendly Options to Use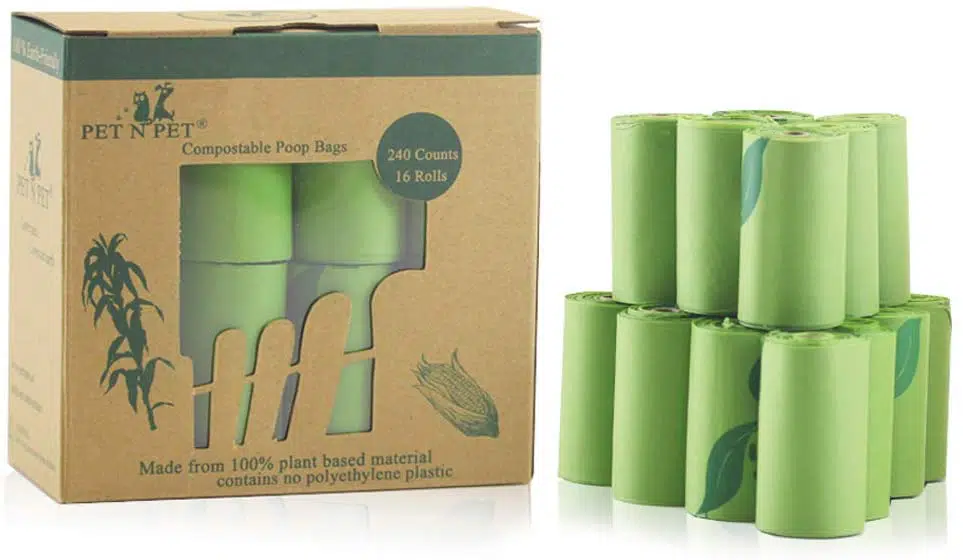 These are 100% biodegradable/compostable dog poop bags made from eco-friendly plants extracts (corn starch). And, being Euro EN13432 and US ASTM D6400 certified, it means they can be composted in composters that accept dogs refuse – commercial or industrial composters.
The bags are thick, durable, and, most importantly, leak-proof. No one wants the smelly dog's poop all over their hands. In addition, they are easy to separate through the perforated lines making your work even easier.
Pet n Pet poop bags come as a pack of either 120 or 240 bags, ensuring that your dog doesn't leave back any mess, whether at home or when taking that evening walk. And, when one set of bags is over, you can use the refillable roll packs to store another set of bags.
Like several other biodegradable dog poop bags, Pet n Pet poop bags are polythene-free, meaning that they leave zero toxic elements in the environment when they decompose. And since the goal is to care for our furry friends in a sustainable way, these bags offer an excellent option to help accomplish this.
With Pet n Pet waste bags, you don't need to worry about how to dispose of them. As long as you are near a municipal or industrial composter that accepts this kind of waste, you are good to go.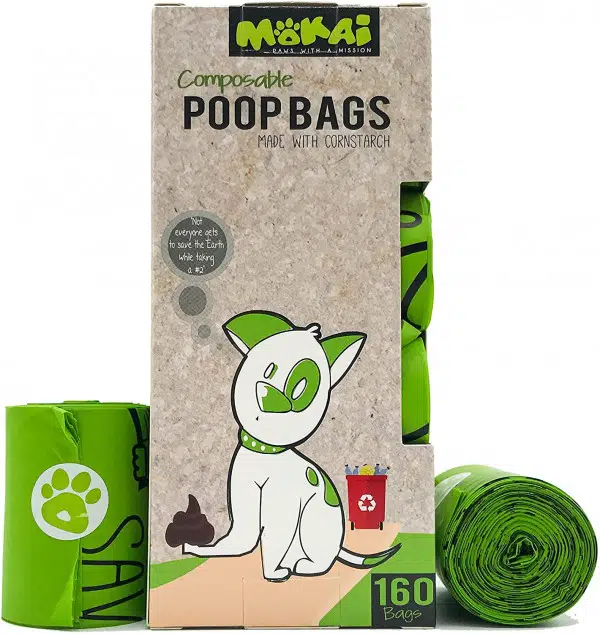 Still, on the list of best biodegradable dog poop bags, Mokai manufactures excellent alternatives. But how are they suitable for this important poop job?
For starters, just like many other leading biodegradable dog poop bags, they are compostable. Subsequently, they are ecofriendly as they biodegrade easily and can be made to something even beneficial to the environment – compost for plants.
But, the most important thing is that they get the job done, ensuring a clean environment, leaving zero toxins, and keeping the pets and their owners happy. In essence, they do what they claim to do.
Other features making these bags unique include:
They are thick (20 microns), guaranteeing zero leakage issues
The bags are large (9 by 13 inches), offering sufficient space even for a big pile of poop
They are sturdy, durable, and tear-proof
Separates easily, making them convenient for use
They disintegrate completely within 90 days
The pack contains either 160 or 320 poop bags, helping you enjoy economies of scale.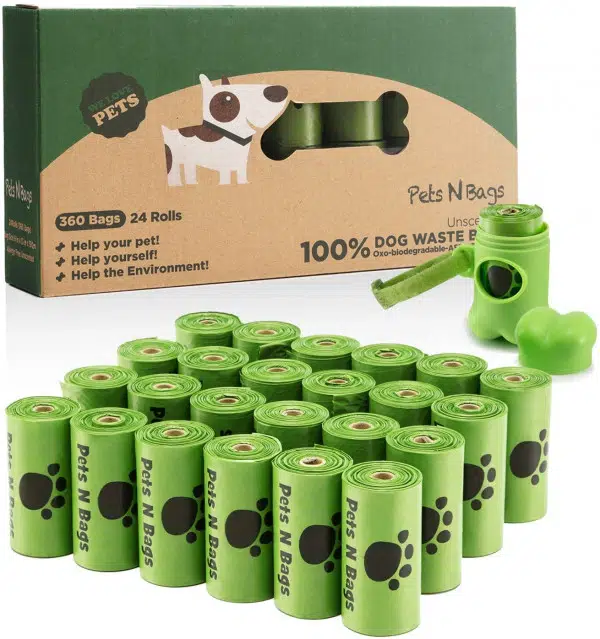 Unlike many eco-friendly dogs' poop bags, these ones are not vegetable or plant-based. However, they are still as eco-friendly and effective in what they are made for as their counterparts.
Instead of using plants extracts in manufacturing the bags, Pets and Bags use polymers like polyethylene or polypropylene. But, they add a catalyst to the material, often slat, iron, or manganese, to help the material biodegrade.
The good thing is, although there are many criticisms about these materials, they are some of the most eco-friendly biodegradable dog poop bags in the market. In fact, their manufacturing must comply with BS8472 or ASTM D6954. This means that they are well checked and certified before hitting the market.
Extra unique features include:
The rolls fit perfectly in the provided easy dispenser
Have a water-resistant coating preventing soaking
100% eco-friendly
They are scent-free
These poop bags can come in 8, 16, 24, or 60 roll packs. The pack also includes a dispenser pouch, which you can easily attach to your dog's leash. Also, they are easy to separate or detach from the rest of the roll and opens up easily.
Related Resources