Black Crowned Cranes are some of the most endangered birds in Asia. These cranes are about four feet tall with a long neck and black feathers on their head that forms a crown or beak, hence the name Black-crowned Crane.
Black Crowned Cranes have an intricate mating dance that is used to attract mates. They live in wetlands where they feed on insects, small animals, frogs, and lizards as well as seeds from plants like rice, wheat, or corn.
The crane is the national bird of Nigeria with a golden bristle-like feather.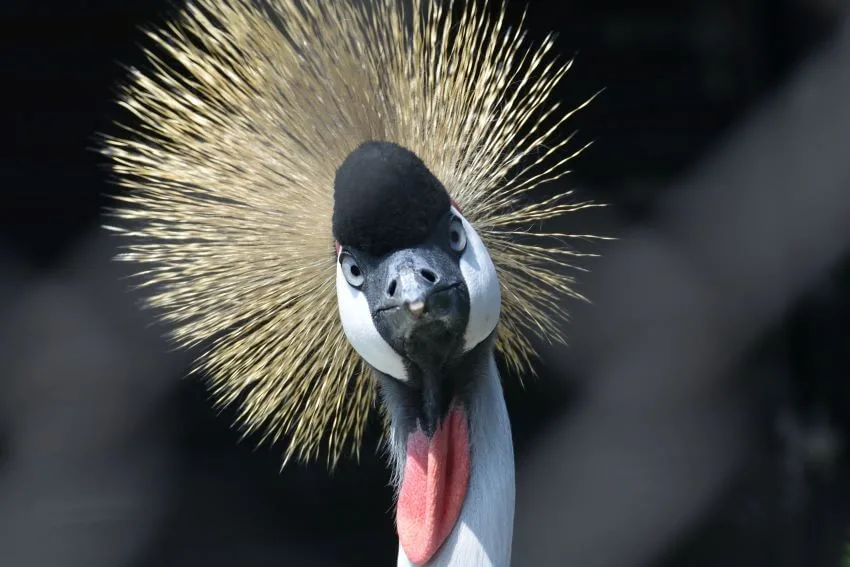 They migrate during the winter months to avoid colder temperatures but stay within India's borders for warmer weather during other times of the year. Cranes are some of the most endangered birds in Asia due to a number of factors.
One reason cranes are endangered is that they are hunted for their meat and feathers. They were are also killed when they come into contact with power lines or wind turbines. Their wetland habitats are also being destroyed due to development, agriculture, and climate change.
Description
These cranes are some of the most endangered birds in Asia, with less than 5,000 left.
Black Crowned species of cranes can be identified by white patches under their wings and a black featherless head. These cranes feed on grain and small insects; they nest in low reeds near lakes or marshes.
Crane populations have declined mainly because of habitat loss due to irrigation and logging projects, combined with hunting for food and sport (mostly outside China).
See Related: Andean Flamingo
Anatomy and Appearance
The black-crowned crane is a stately, elegant bird covered with black or nearly black plumage.
There are white and stiff golden feathers on the wings and white and red skin patches on the face in the back of the eye. A small gular pouch beneath the head is capable of producing booming noises when inflated.
The head is graced with a golden crown. They have a small red gular sac and black legs, feet, and a black body. This crane stands approximately 104 centimeters, with the male slightly larger than the female. These cranes will form flocks during the dry season but are territorial while nesting.
Location
The Black Crowned Crane is found in the savannah band across sub-Saharan Africa, from the west coast of the continent, including Gambia and Senegal, to Sudan and Ethiopia. The range of the crane was previously much more extensive.
Black Crowned Crane Habitat
The Black Crowned Crane is found in the wetlands of East and West Africa and Central–South Russia.
These shallow wetlands are usually held sacred, but humans have encroached on them, which has decreased the Black-crowned Crane habitat.
They are also threatened by the loss of habitat caused by human agricultural practices, causing the cranes to lay their eggs in abandoned nests. They have adapted, laying their eggs on floating vegetation so they can be seen above the waterline.
Black Crowned Crane Diet and Nutrition
The Black-Crowned species of crane is a large bird that is found in Africa and Asia. The cranes are omnivorous and feed on a variety of items, including insects, frogs, small mammals, reptiles, grains, and berries.
These species cranes are true omnivores and will literally eat anything small enough that they cannot escape it. The cranes will eat vegetative matter such as seeds and fruit and insects, snails, and small vertebrates such as lizards, amphibians, crabs, and snakes.
Black Crowned Crane Mating Habits
The Black-crowned Crane is a migratory bird that is native to China. Cranes are monogamous and, thus, mate for life. They tend to form pairs and large flocks to identify each other's calls.
Black Crowned Cranes also use their mating display, which involves inflating the neck sacs.
Both mates will then take turns sitting upright while beating their wings in unison. They often nest in the ground or on the ground level of trees. These cranes usually raise one brood per year, though it is possible for them to lay two eggs if nesting conditions are ideal.
These cranes prefer to live close to water sources such as lakes and marshes, but they will tolerate drier conditions if necessary. The wet season is also the breeding season for the cranes, generally from May through November or December.
They prefer to nest near water and will construct their nests out of rushes or grasses. Up to 5 eggs will be laid, and both parents will participate in incubation and rearing the young. The male crane will often keep a lookout for danger from the vantage of a tree, alerting his family with a call if he detects an intruder.
While dancing is often a part of the courtship rituals of these cranes, cranes of all ages dance, whether it is the breeding season or not. It is thought that young birds dance to build up strength and coordination.
See Related: Yellow-Eared Parrot
Black Crowned Crane Facts
Some fun facts about Black Crowned Crane include:
Conservation Status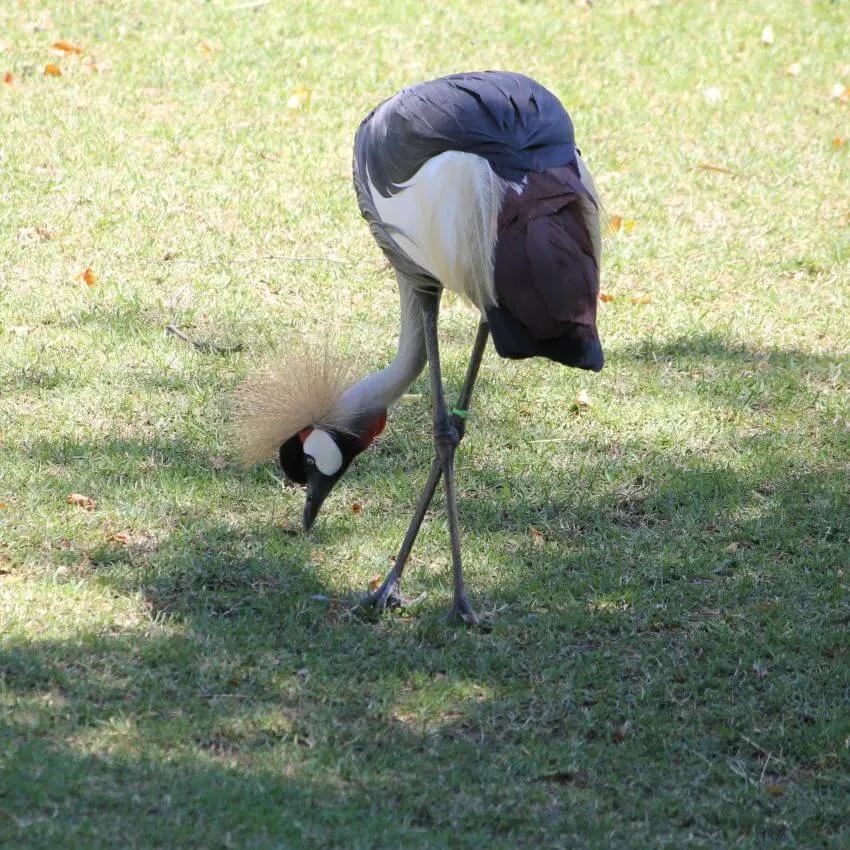 The Black Crowned Crane is a lovely bird and vulnerable species that lives in Africa and Asia.
This species, however, is threatened, with fewer than 5,000 wild individuals remaining. Habitat loss and hunting are two of the major causes of population decline for these cranes.
There are several things you can do to help protect cranes and their habitat. You can support organizations that work to conserve these birds, like the World Wildlife Fund or the International Crane Foundation. You can also volunteer your time or donate money to local preservation projects in Africa and Asia.
Threats
Black Crowned Cranes face many threats to their existence, generally because of human activities.
Habitat loss and destruction are probably the worst, with the draining of wetlands, dam construction, as well as flooded wetlands curtailing not only feeding areas but nesting grounds.
The cranes are also subject to damage by industrial development, cultivated and agricultural crops, oil exploration, and pollution, and increased agriculture.
The construction of dams destroys the shallow water that the cranes depend upon for food – they are unable to hunt for food in water over 1 meter deep.
The heavy use of pesticides to get rid of livestock pests has had a dramatic negative impact on crane populations, and these birds are also still subject to hunting.
The drought that has plagued this part of Africa for years, unintentional and intentional poisoning, as well as the pet trade and commercial trade also affect the number of these cranes.
Conservation efforts
Although these species of cranes have received official protection in the countries where they are found, enforcement of the protection is nearly non-existent.
They are listed under CITES so that trade in the cranes is prevented at that level. National parks in Senegal and Cameroon do offer the cranes a relatively undisturbed habitat. Captive breeding programs are in effect, but it has been found that these cranes do not reproduce well in captivity.
See Related: How To Be An Environmentalist
Organizations
International Crane Foundation
The International Crane Foundation works to protect cranes worldwide and their habitats, including the Black Crowned Crane.
The goal of the International Crane Foundation is to conserve cranes and the ecosystems they depend on.
According to the Crane Species Profile, three species of crane are endangered: Red-crowned, Siberian and Black-necked Cranes. Black Crowned species of crane (Balearica Pavonina) make up the third most endangered crane in the world with an estimated about 5,000 remaining cranes into the wild.
Final Thoughts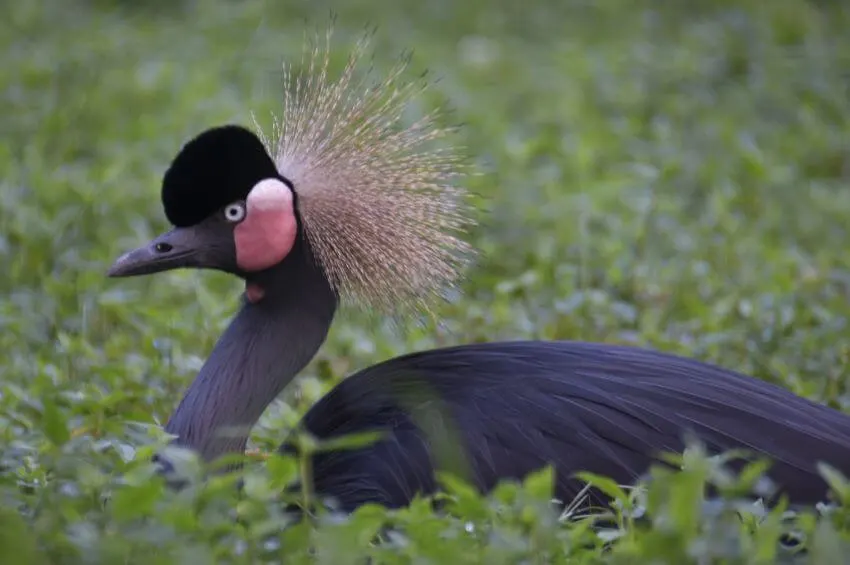 Black Crowned Cranes are endangered, with less than 5,000 left in the wild. These cranes face many threats to their existence from habitat loss and destruction to hunting.
Fortunately, there are organizations that work to protect them from extinction such as the respectable World Wildlife Fund or the International Crane Foundation.
They have been hunted throughout their range from Turkey to China for food and for use in folk medicines. In China, cranes were traditionally regarded as a special delicacy reserved only for the imperial family or wealthy aristocrats.
Today they are still consumed by a few people with private hunting permits. The crane numbers have plummeted due to habitat destruction and human disturbance and persecution making it difficult for this species to survive out in the wild!
These cranes need our help. You can help by donating money or volunteering your time for a local preservation project near you!
See Related: Endangered vs. Threatened vs. Extinct Species
FAQ
Where do Black Crowned Cranes live?
Black Crowned Cranes live in Africa and Asia, primarily east of the Black Sea.
The cranes will generally spend winters from October through February, where they use the cold month to molt and gather energy for the breeding season from March through September.
In East Africa, these species migrate between wet and dry seasons depending on the availability of water resources – a clear indication that the cranes depend heavily on wetlands ecosystems.
Is Black Crowned Crane endangered?
Cranes are some of the most endangered birds in Asia, with around 3,000-5,000 left in their natural habitat. Black Crowns are so rare that tracking them is very difficult.
How rare is a Black Crowned Crane?
They are some of the most endangered birds with less than 5,000 left. They evolved somewhere around 12 million years ago along the Mediterranean Sea.
Black Crowns are migratory so they can be found not only in southern Canada and northeastern China but also on breeding grounds as far south as India and equatorial Africa during winter.
When the crane populations crashed beginning in the mid-80s after years of habitat destruction they managed to stop declining around 2005 when they were down to an estimated 2500 individuals that are about 25% of their original total population size before hunting had reduced them below 1500.
Migrating waterfowl, including Black Crowned species of cranes, are hunted in vast numbers for sport, food, and medicine.
These crane species have also been captured to be sold as pets by poachers even though the cranes have rarely ever been kept successfully in captivity.
Can Black Crowned Cranes fly?
Black Crowned Cranes can't fly. These cranes are about 4 ft tall and weigh between 5 and 10 lbs, which is a fairly small amount for a crane. These cranes have long necks which they use to reach food with their beak.
They cannot flap their wings or take off from the ground without help from other cranes forming a "U" shape under them to give them some lift.
Black Crowned Cranes are endangered, why is this the case?
Black Crowned Crane are most at risk because of habitat destruction and poaching (they're hunted for food).
There is no Black Crowned Crane breeding program, which means most of these species live in the wild.
If we want them to survive we can stop hunting Black Crown or destroying their habitats – after all, they're beautiful and fascinating creatures and deserve our respect and care.
How to identify Black Crowned Cranes?
These species of cranes are easily identified by their black and white feathers – they really stand out! They're also very tall, so you can't miss them.
What other species of cranes are endangered?
– Black Naped Crane
– Whooping Crane
– Sandhill Crane
– Grey-crowned crane
Are Black Crowned Cranes hunted for food or folk medicines, and if so how does that affect their large population?
These cranes are hunted for food in parts of the Black Crowned Crane's range, namely China.
The species are also hunted for their skin and feathers which are used in folk medicines. Sadly, hunting these magnificent cranes has caused the crane populations to decline by up to 65%.
Today, Black Crowned Cranes (and many other animals) across Asia face major threats like habitat destruction and the trade of body parts like skins and feathers for use in folk medicines or ritualistic practices.
Is there anything you can do to help Black Crown Cranes today step into the future?
The Black Crowned Crane is one of the most endangered birds in Asia with less than 5,000 left. To help cranes survive, you can:
– Plant trees and shrubs to make habitats
– Protect Habitats crane habitats in Western Africa
– Learn more about endangered cranes and share your knowledge with friends
– Construct nesting platforms in ponds
– Volunteer in Wildlife conservation
– Raise awareness on various social media platforms
– Construct safe passage across roads and open fields and raise awareness among children.
Other Species Profiles
Related Resources