Having a solar generator is great for daily life and in case of an emergency, but it's also great for living off the grid. Because solar energy is always available, it can be used to power electronics and recharge batteries, no matter where you are as long as the sun is there.
Solar generators could be life-savers. While you're camping alone, if your power goes out, or if you just want to improve your quality of life overall, a portable solar generator for off-grid living is a great option to think about.
When you need power and don't know much about generators, it can be difficult to locate a reliable solar generator. Luckily, the following off-grid solar generator has the best you can buy right now:
Best-Of by Category
Best Solar Generators for Off-Grid Living
Here is the list of best solar generators for off-grid living.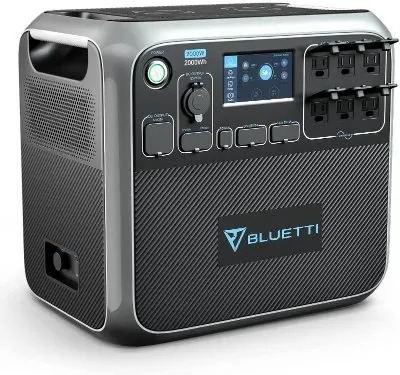 The BLUETTI portable power station is one of the most powerful solar generators when it comes to storing solar power and sending electricity to your off-grid house, or campsite. It's also a great solar generator for RVs.
This portable solar generator can power almost all of the electronics and appliances in a small home, so it is more than enough for your RV or camping trip.
Pros
Batteries can be charged quickly
There are a lot of power outlets available
It comes with a warranty that lasts for two years
Cons
See Related: Best Solar Powered Generators for Home Use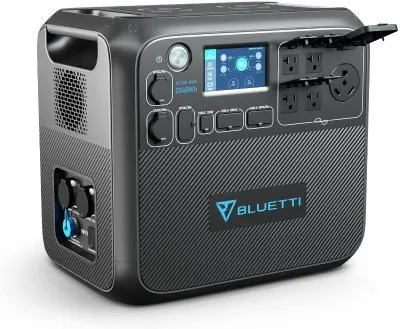 If you want a solar generator that is better for living off the grid for a long time, you will have a hard time finding one that is better than the Bluetti AC200 Max.
The LiFePo4 battery was first used by Bluetti in their line of portable power stations. The typical lifespan of this type of battery is nine years, with a range of 500 to 3,500 charge cycles. In addition, multiple Bluetti batteries can be connected in a daisy chain to increase its capacity to an incredible 8.192Wh.
This is enough energy to run a full-size refrigerator for more than a day or several hours of air conditioning. This is a huge deal. People who are used to living off a generator and don't have too many electronic needs will be able to use it for a very long time.
Pros
Large storage capacity
Battery expansion
Bluetooth
There are two wireless charging pads and a 30A RV plug
It's surprisingly cheap for everything it has to offer
Cons
See Related: Hilarious Electricity Puns You Need to Know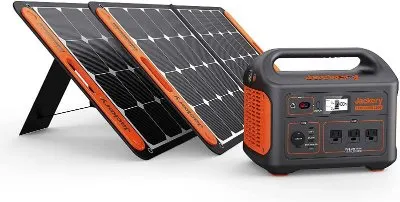 The Jackery Explorer 1000 is one of the most popular portable solar generators despite its higher price. This generator's most satisfactory characteristic is its compact size.
The Jackery Explorer's generator can reliably power a fridge, TV, heater, and stove.
This solar generator is wonderful to have in an off-grid home, in an RV, or while camping. This is a beautiful choice if you want a compact but powerful portable solar generator. It features solar panels, so you won't need to buy additional ones.
Pros
It comes with solar panels
Small and lightweight
There are multiple power outlets available
Cons
Limited changing power
Unusual power measurement
See Related: Best Solar Refrigerators and Freezers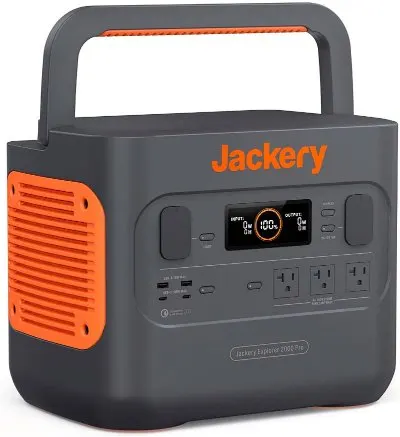 The Explorer 2000 Pro is Jackery's most powerful portable solar generator. With 2,160 watt-hours, you can charge your camping gear for days. It's suitable for isolated regions.
This portable power station can be charged in two and a half hours with six 200W solar panels. The Jackery Explorer 1500 only has four panels.
On top of all that, it has a very easy-to-use interface. Since it has a lot of output ports, you can plug in a lot of different electronic devices and other electrical gear.
Pros
It has a tremendous amount of storage space
Charges very quickly
It's durable, simple, and effective
Has numerous ports
Cons
Heavy for its size
Poor reviews
Related Resources: Best Energy Efficient Electric Heaters for Large Rooms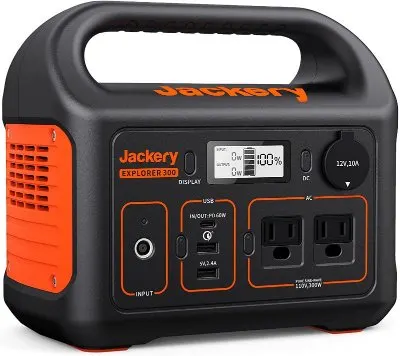 Jackery's Explorer 300 solar generator is small, light, and has a tremendous power capacity. The Jackery Explorer 300 is a high-end power bank, not a portable power station. It allows you to recharge your electrical gadgets while camping or provide emergency backup power to your cabin.
Its 293 Wh capacity can charge 31 phones, 15 cameras, six typical drones, 2.5 laptops, or run a TV or minifridge for a few hours. This little portable power station does a lot for $300.
Pros
Affordable
Durable
Portable
Cons
No flashlights – unlike some on this list
Solar panels not included
See Related: Solar vs Wind Energy: What's the Difference?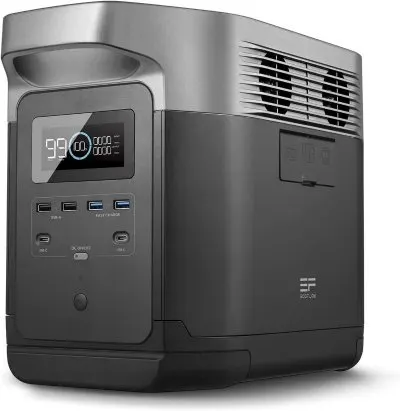 The EF ECO FLOW is the most powerful portable solar generator on the market. This solar generator can be powered by solar panels, an AC source, or your car's battery. This is great if you need to charge your generator while traveling or before leaving.
This solar generator also has a better display panel than others on this list. The EF ECO FLOW Delta charger powers multiple devices swiftly and efficiently. This solar generator is also compact and lightweight.
Pros
Enough ports for up to 13 devices
It takes only one hour to charge fully
It is capable of using up to 400W of solar power
Cons
Less input wattage than competitors
The output is lower wattage
See Related: Best Solar Charge Controllers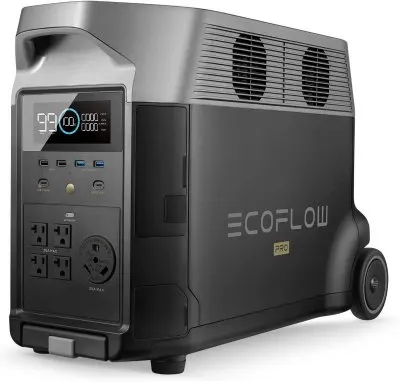 If you're looking for a solar generator that can power your whole house, the EcoFlow Delta Pro stands out from the rest because its power and output capacity can't be beaten.
The Delta Pro is powerful on its own with 3,600Wh, but you can add more EcoFlow batteries and generators in a chain to boost that to 25,000Wh. It has a considerable output capacity, which means that when you need it, it can power all of the electronic devices in your home.
The Delta Pro also has a companion app that can be downloaded on iOS and Android devices. With this software, you can check how much energy is being used, change how it works, and keep an eye on and control many other things.
Pros
WIFI and Bluetooth connectivity
30A RV outlet
Extremely powerful batteries and inverters
User-friendly app
Cons
See Related: Best Solar Refrigerators and Freezers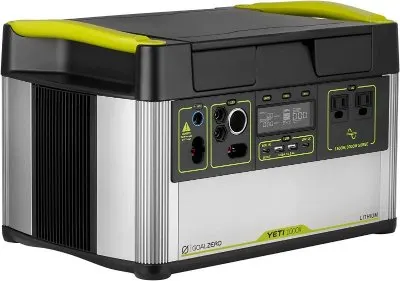 Since Goal Zero was the first company to make a portable power station ten years ago, it makes sense that it is the best solar generator for off-grid living.
The Goal Zero Yeti 1000X portable power station won't run your off-grid home for long without help from the sun. It's also a little smaller and has fewer outlets than other solar generators out there. But it is extremely well made, durable and long-lasting – ideal for serious off-gridders.
This solar generator is also made to work in some of the harshest environments on Earth, and it has been put through its paces in various natural settings.
Pros
High max input (150W or 600W)
Tough exterior
It is capable of being easily packed and stored
Cons
It is significantly heavier than competing models
See Related: Best Solar Heaters for Greenhouses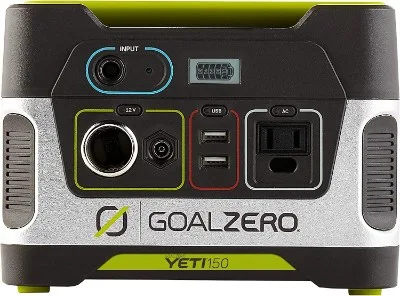 This portable charger will provide you with everything you require to charge a wide variety of different devices. This provides a variety of small inputs, all of which are guaranteed to work with every conceivable kind of home equipment.
This is an excellent generator for you if you need to charge your appliances using the sun's power. Goal Zero Yeti portable power station can accomplish this task.
This generator has been put through its paces in a wide range of environments, from the scorching sands of the desert to the tundra of the arctic. You can rest assured that it will withstand the test of time and continue to provide you with sustenance as well as energy for the duration of the journey.
This is one of the sturdiest chargers you can find on the market, and it comes with a lot of safety features to ensure you won't be hurt while using it.
Pros
Robust and dependable
Includes a 150-watt lead-acid battery as standard equipment
Charges quicker than most options currently available on the market
Multiple integrated capabilities
Cons
Not substantial enough to power a home
See Related: Sunrun vs Tesla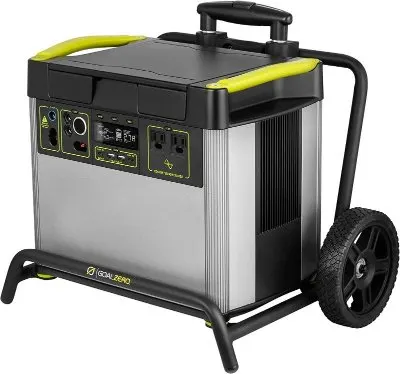 The generator features a high conversion rate, which is crucial to look for in a power supply if you want to charge your electronics rapidly and effectively. This is long-lasting and comes equipped with wheels, allowing you to move your generator quickly and easily from one location to another.
The Goalzero Yeti 3000X portable power station has many charging ports, allowing it to power up several electronic devices simultaneously.
This baby can generate an impressive 3000 watts of electricity, sufficient for simultaneously powering up to ten different electronic devices.
Pros
Among the most durable solar generators
Weather-resistant
Works with a wide variety of different home appliances
An excellent and lightweight photovoltaic panel
Utilizing this will assist you greatly in lowering your monthly power costs
Wheels
Cons
This is yet another very costly item
See Related: Best Home Energy Saving Products to Buy Today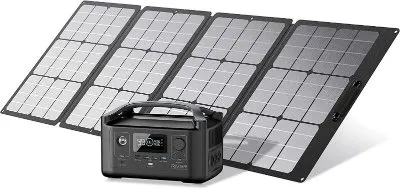 Here is a device that can quickly charge most electronic devices in under an hour. The EF Ecoflow River 288Wh Portable Power Station has a very rapid charging time and is guaranteed to provide you with all you require for a highly stable charge for most of your electronic devices.
This is suitable for use with the vast majority of home appliances currently available, including the stove, the stovetop, the hot shower, and the tea kettle in the kitchen.
You'd be amazed at how many different things this small generator can power with its modest size. You may go to bed assured that you will have all you require to get a full charge on your device.
Pros
No trouble connecting this one to a bank of solar panels – which it comes with!
Durable
Most rapid charging options available on this list
Comes with panels
Relatively inexpensive
Cons
If you plan to charge multiple devices at the same time, this may be a touch too flimsy for your requirements
See Related: Best Solar Driveway Lights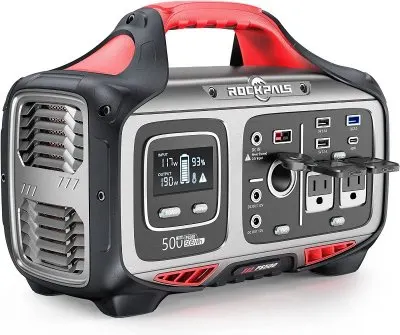 The ROCKPALS portable power station is an excellent choice for campers who want electricity for a few essential devices but don't want to buy a bigger unit that takes up more space.
One thing that jumps out to us about this solar generator is its price, despite the fact that it does not include solar panels. When the price of the solar panels is included, this solar generator remains one of the best-priced units available.
Pros
Extremely compact
It can be charged via pass-through ports
Integrated MPPT for faster battery charging
Pretty inexpensive
Cons
It doesn't come with solar panels
No master power off
See Related: Best Hand Crank Generators: Top Picks for 2023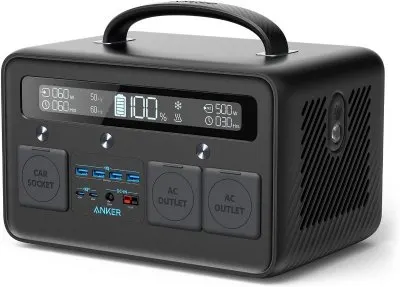 The Anker 545 is a terrific pick for portability because it's compact, light, and powerful for its size. It's a good backup choice for an off-grid cabin. It's also easy to transport because of its size and weight.
It has a huge 770-Watt power output, making it the quickest way to charge your electrical devices. This power station can be fully recharged in around 4.9 hours, making the process simple and rapid.
Pros
Light in weight and size
Super quiet
Lighting inside the structure
Cons
No wireless charging
Highly expensive
See Related: How to Make a Mobile Home More Energy Efficient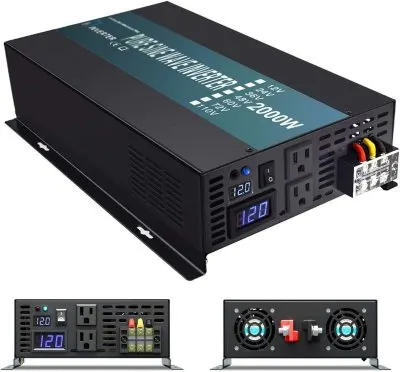 The WZRELB 2000w Pure Sine Wave Power Inverter is a portable generator alternative. This inverter is great for camping trips that last more than one night and power electronics at home.
The most exciting thing about this product is that the sine wave electricity it gives off can be used in systems that are not connected to the grid.
It does this by making a clean sine wave with high-quality copper inductances. This improves the performance of AC equipment and makes sure your appliances are safe at the same time. In addition, the 2.0 mm PCB board is connected to the ground, and the output is made to handle many loads.
Pros
Compatible with most batteries
Electrical equipment is safe
Versatile
Cons
The voltage meter isn't securely attached to the panel
See Related: Best Products to Help Climate Change to Buy Today
How to Choose the Right Solar Generator for Your Life Off the Grid
When looking for a solar generator for living off the grid, you should first figure out what size solar generator you need for off-grid living. To find the best solar generator for your needs, you can start by looking at the features we mentioned in the list.
Batteries
Watts are used to measuring how much power a battery can hold. The higher the wattage, the more electricity it can store.
This means you can use your solar generator to power more appliances for longer. Also, if your generator has a bigger battery, you can use it even when the weather is terrible.
When figuring out how much power a solar generator's battery can hold, you should look at the watts and the watt-hours. This will tell you how many watts are used in an hour and how long the batteries should last if they are used to their full potential.
See Related: Best Solar Chargers for Laptops
Inverter
Before your electronics or home appliances can use your solar panels' direct current (DC), they must be changed into alternating current (AC). This is done by something called an inverter, which is part of your solar generator.
"Clean power" is a term often used to describe the electricity made by solar generators in the modern world. This usually means that the inverter makes pure sine waves when it makes AC currents. This type of electricity is much better for sensitive electronics like laptops and cell phones and works better overall.
See Related: Best Solar-Powered Laptops to Buy Today
Power
When looking for a solar generator, you should know how much power all the devices you want to connect to the generator will need.
The next step is to choose a solar generator with a power output that is much higher than what you need. This will ensure that all your electronics, like the lights, refrigerator, cell phones, and laptops, have more than enough power.
Charge Controller
Charge controllers regulate solar panel-to-battery power. Most solar generators currently have a charge controller called MPPT, or three-point power tracking (MPPT).
You can connect multiple solar panels in sequence without worrying about the battery overheating. Adapters are needed if your solar generator doesn't include an MPPT charge controller.
Weight
Most solar generators aren't as big as gas generators, so when we talk about a generator's weight, we're talking about something that should weigh less than 100 pounds.
Because solar generators are made to give people access to electricity in hard-to-reach places like off-grid stations or during emergencies, they need to be easy to move and not too heavy.
Final Thoughts
If you're going on a long vacation or going camping out in the middle of nowhere, a solar generator is a great way to ensure that you have access to electricity.
However, ever since solar generators became a popular alternative for many off-grid lifestyle enthusiasts, the market has been flooded with options suited for a wide range of applications and customers.
As a result, it's more challenging than ever to make the appropriate option, especially if it's your first time purchasing a major appliance of this type. Because of this, we've compiled a list of the top solar generators for use in off-grid living conditions.
FAQS
How many solar panels will your system need?
There are times when the number of solar panels is more important than their quality, and other times when the opposite is true.
Panels with 30W of power can have the same footprint as panels with 120W, but the 30W panels will charge far more slowly. First and foremost, you should choose solar panels that give off much power. Only after that should you think about buying more solar panels.
What do you need from the solar generator to be able to do in terms of portability?
Living without power is very different from occasional living. Long-term residents don't need to worry about how portable their system is. For shorter trips, you will want something lighter and smaller.
The same rule applies in the case of an emergency. You should look for batteries that are both strong and light, and you should also look for batteries that can hold a lot of power.
What sort of results do you want?
Solar generators without USB connections are useless for charging phones and other gadgets. You don't want a battery with only a few AC outlets if you wish to power several gadgets. Plan what you'll need if you can't connect to the grid if there's an emergency.
How big of a generator do I need for off-grid cabin?
A generator for an off-grid cabin is sized based on the amount of power needed to run the necessary appliances and devices. As a general rule, a generator that produces between 3,000 and 5,000 watts is sufficient for most off-grid cabins. However, the specific size needed will depend on factors such as the number of occupants, the size of the cabin, and the power requirements of individual appliances.
Related Resources