The world needs more champions of conservation. And, reading conservation books is the best way to get the right information on how to go about it. Read on to discover some of the top books about conservation.
Are you interested in making an impact on the world? Do you have numerous questions about conservation efforts?
One of the best ways to get the answers you need is to read lots of conservation books. You can pick a specific area like climate change or opt to get numerous environmental conservation books.
Typically, the books highlight numerous issues facing the environment and different solutions. Though this is a broad topic, there are books for everyone.
Below you can find the best conservation books for children, teens, young adults, and even professionals.
Best Conservation Books to Read
Conservation Books for Children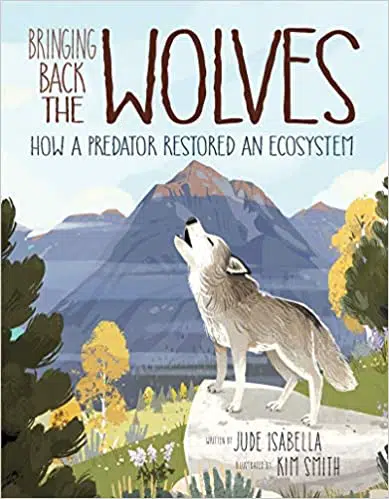 Features
Author: Judy Isabella & Kim Smith
of pages: 40 pages
Language: English
Recommended for age: 8 to 12 years
Grade Level: 3 to 7
Publisher: Kids Can Press
Description
Jude Isabella and Kim Smith are responsible for authoring and illustrating this phenomenal conservation book. It tells a story about how wolves restored the ecosystem in Yellowstone National Park.
It's among other incredible conservation books by the same author and covers 40 pages. The book is written in English and suits children from the age of 8 to 12 years.
In the 1800s, there was a considerable predator problem on ranches neighboring the national Park. The US government resulted in paying hunters to eliminate the grey wolves. The job was well done because there was none in the park by 1926.
Soon, the effects of this action started being evident across Yellowstone. Every inch of the ecosystem was affected, including flora. That led to the reintroduction of the grey wolf in 1995, which has since transformed the park.
This book on nature conservation illustrates why it's crucial to maintain balance in such a setting. Children learn why all animals are essential to the ecosystem and how the grey wolves transformed Yellowstone National Park.
The book has a helpful appendix and glossary that you can use.
See Related: Best Books on Pollution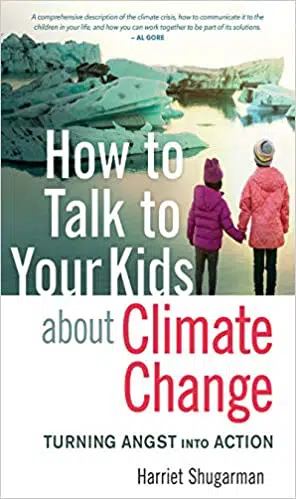 Features
Author: Harriet Shugarman
of pages: 192 pages
Language: English
Recommended for age: 7 to 12 years
Publisher: New Society Publishers
Description
Climate change remains one of the top issues affecting the planet today. As many more people become aware of its effect, authors like Harriet Shugarman continue to publish awareness conservation books.
This book is a perfect example of a well-researched book. It ranks among the top environmental conservation books that children can read and understand.
The book is 192 pages long and published by New Society Publishers. Inside, Harriet takes readers on a journey that only a mother can explain to her children. It's ideal when kids want to get a better climate education when it's most necessary.
Expect you and your children to have a renewed commitment to conserving the environment even before you're halfway through. It turns sheer outrage into action when Harriet emphasizes the need for more action starting at home.
The conservation book contains lots of inspiring messages that explain a complex subject in the best way. Both parents and their children can learn a lot by taking time to read the book.
See Related: 20 Best Energy Conservation Techniques
Conservation Books for Teens or Students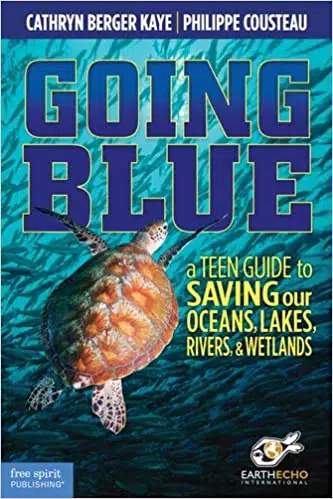 Features
Author: Cathryn B. Kaye M.A & Phillipe Cousteau
of pages: 128 pages
Language: English
Recommended for age: 11 years and up
Grade Level: 5 to 12
Publisher: Free Spirit Publishing
Description
Children's books about ocean conservation help young minds learn more about saving the planet. 'Going Blue' is an example of a top conservation book to buy teens or students.
It's an educational book that helps shape young minds to be more eco-friendly and aware of natural resource problems.
The water crisis across the world continues to cause lots of problems. After noting all the issues facing water resources, the book doesn't leave the matter at that.
Instead, it gives teens ideas on how to become proactive and come up with solutions. Inside are vibrant images and suggestions that are pretty practical that can drive them to take action today.
Issues covered in the book include clean water access, Trash Island, bottled water, coral reef damage, and runoff pollution, among others.
It's 128 pages long and meant for kids starting from the age of 11 onwards. The conservation book is written in English and works well for grades 5 to 12.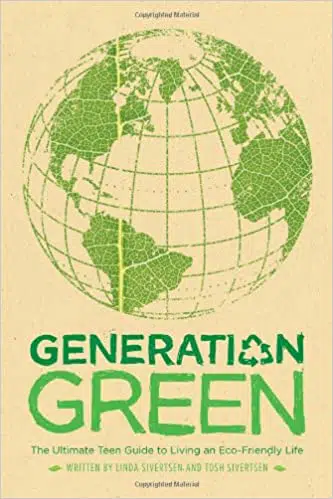 Features
Author: Linda & Tosh Sivertsten
of pages: 272 pages
Language: English
Recommended for age: 12 years and up
Grade Level: 7 to 12
Publisher: Simon and Schuster Books for Young Readers
Description
Linda and Tosh Sivertsten are the authors of 'Generation Green,' a 272 pages long conservation book highlighting the earth's environmental crisis.
The book is among the top conservation books to read and gift teens who have a passion for eco-friendly living. It lets them know the matters facing planet earth and that they have the power to change it.
Minor changes like tossing bottles into recycling bins and avoiding printing papers are examples of eco-friendly living. This conservation book informs teens know they have the power to create change. It starts at home and school with small actions.
In the beginning, the book lays out the significant issues facing planet earth. Afterward, you get numerous ideas on how to live a more green life. It covers habits such as eating, shopping, dressing, and traveling, among others.
Teens from the age of 12 can read the book and learn how to make eco-friendly behavior part of their daily lives. It's written in English and suits grade 7 to 12 students.
See Related: Are Orbeez Biodegradable?
Conservation Books for Young Adults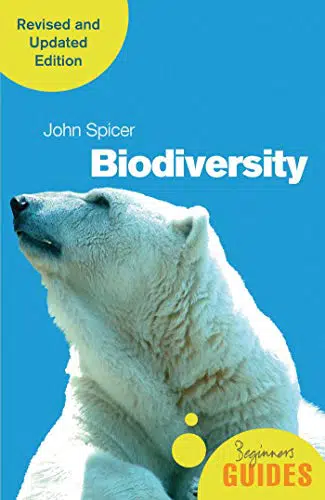 Features
Author: John Spicer
of pages: 272 pages
Language: English
Publisher: One World Publications
Recommended for: College level reader
Description
As a young adult in college or starting life independently, it's important to be environmentally conscious. "Biodiversity Book" is a great place to start as you seek more books on biodiversity conservation.
It's a beginner-friendly book that helps you understand biodiversity and its role on planet earth. You can understand why there's a lot of emphasis on protecting it.
The author articulates the topic simply, in a way that every young adult can understand, even if it's not a school course. It highlights the issues affecting biodiversity across the world and makes suggestions on how to protect it.
Expect 272 pages of crucial information with scientific findings backed by respected scientists from across the world. It's a great place to start if you're considering a course in a similar field. Take time to examine the dire situation in many areas and possible solutions.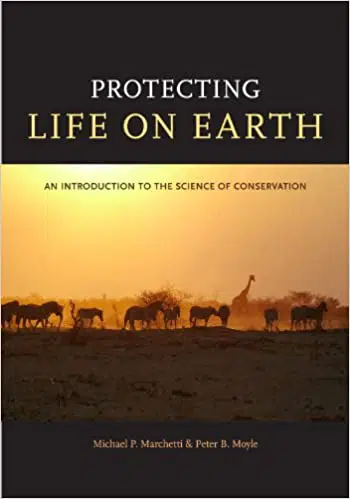 Features
Author: Michael Paul Marchetti & Peter B. Moyle
of pages: 430 pages
Language: English
Publisher: University of California Press
Recommended for: College level reader
Description
Conservation is at the heart of many young adults. Many are taking an interest in different matters like climate change and biodiversity protection.
One way to learn more about these topics is to read books on the conservation of natural resources, for example. The authors of "Protecting Life on Earth," cover different crucial topics that college-level readers share an interest in.
Get ready to learn more about the science of conservation in a non-technical format. Instead, you can better understand environmental law, environmental history, biodiversity, and climate change, among others.
It's a multifaceted book that covers 430 pages. Readers can catch a glimpse of the most exciting wildlife in nature. Learn more about concepts like evolution, ecology, sustainability, natural resources, economics, and sociology.
Conservation science is a career that many more environmentally passionate people are pursuing. In this book, you can learn what the course covers before covering it in school. Inside the text are practical ways to become more eco-friendly and a champion for conservation.
See Related: Best Eco-Friendly Space Heaters
Conservation Books for Adults and Professionals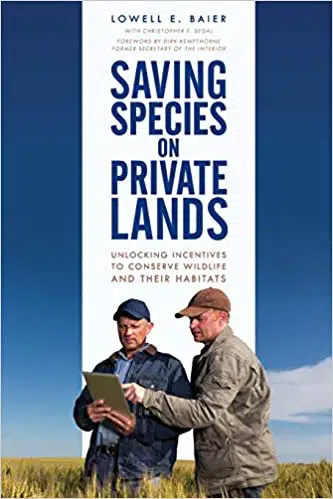 Features
Author: Lowell E. Baier
of pages: 376 pages
Language: English
Publisher: Rowman & Littlefield Publishers
Recommended for: Private Land Owners, environmental science, and law professionals
Description
Owners of large tracts of land and conservation professionals need this book authored by Lowell E. Baier. It highlights the need for more people, including landowners, to conserve endangered species in the US.
More than 75% of at-risk species are found in private land. Their presence often conflicts with landowners, which results in elimination. However, specific steps can help the two co-exist and protect these species.
Private landowners can use this book as a guide when interacting with environmental law and science experts. It highlights the importance of wildlife conservation in the US no matter what activities take part in the private land.
Most engage in ranching, farming, mining, energy development, and forestry, among others. Using the art of land management, owners can help conserve numerous endangered species while preserving their businesses.
Apart from environmental law, the book helps landowners learn more about other opportunities. For instance, numerous financial packs are offered at state and federal levels for any owner engaged in active wildlife conservation.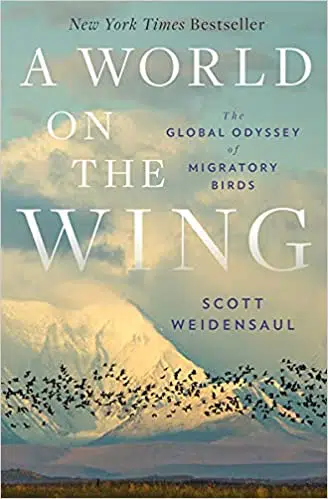 Features
Author: Scott Weidensaul
of pages: 400 pages
Language: English
Publisher: W. W. Norton & Company
Recommended for: environmental science and conservation professionals
Description
Migratory birds are an eye-opener into the importance of biodiversity in the world. Any environmental science professional seeking books on nature conservation can get this incredible piece by Scott Weidensaul.
It highlights the physiological and navigational prowess of migratory birds that enables them to cross vast oceans and survive. Millions of birds circumnavigate the globe each year in search of food, water, breeding grounds, and better weather.
The book details the wonders of such diverse bird migratory patterns and the effects of climate change. The author is a Pulitzer Prize finalist who speaks to scientists, curious readers, and researchers. Bird lovers can understand how to make life easier for these migratory birds.
Environmental challenges are affecting these birds in numerous ways. Scientists who want to make an impact in this field can gain more practical approaches here. The conservation book is 400 pages long and published by W. W. Norton and Company.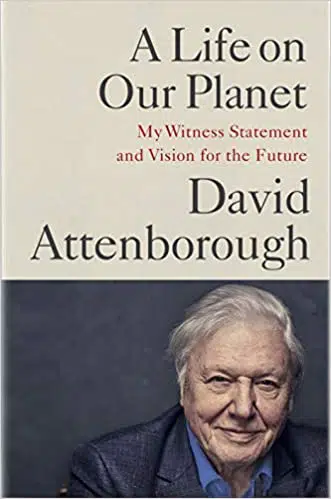 Features
Author: Sir David Attenborough
of pages: 272 pages
Language: English
Publisher: Grand Central Publishing
Publication Date: 6th October 2020
Description
Sir David Attenborough is a legend among the top known nature lovers and conservationists known across the world. Since he was a young man, he's been a vocal champion of conservation and wildlife preservation.
Now at the age of 93, he adds to his collection of books on nature conservation. He's authored many more but now gives his vision for the planet's future after witnessing many changes over the years.
Readers can recognize that the world is at a tipping point. There's a need for more conservation work and lifestyle change to save the planet. Sir David illustrates this in this 272-page long conservation book.
It's not an autobiography but rather a witness account of the state of the planet. Its message is meant to spread more awareness of the dwindling habitats and further conservation efforts. He takes readers on a journey since he was young up to now and how the planet continues to change.
Coffee Table Conservation Books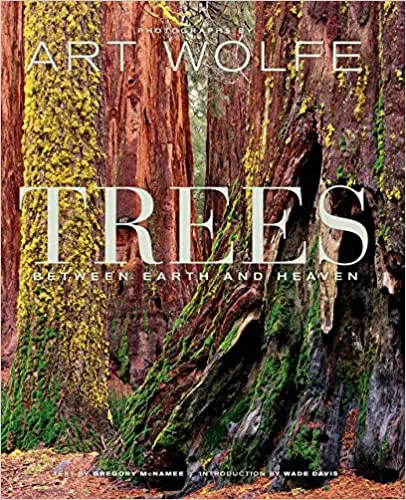 Features
Author: Gregory McNamee, Art Wolfe (Photographer)
of pages: 318 pages
Language: English
Publisher: Earth Aware Editions
Description
Among the best conservation books to read and have on your coffee table is 'Trees,' by Gregory McNamee. Inside are impressive and immersive photos that take your breath, by Art Wolfe.
The book illustrates the impact of trees on human life from Biblical times. Trees have been part of humanity right from the tree of life, and play a crucial role in human life. The effects are cultural and spiritual.
Through the images, the book focuses on specific trees to huge forests. The photos are from all six continents, making it the ideal coffee table conservation book.
The pictures have a more significant impact through the words of the author. This brings to life the importance of specific trees and forests in all parts of the world in a comprehensive 318 pages piece.
See related: 14 Stylish Fair Trade Handbags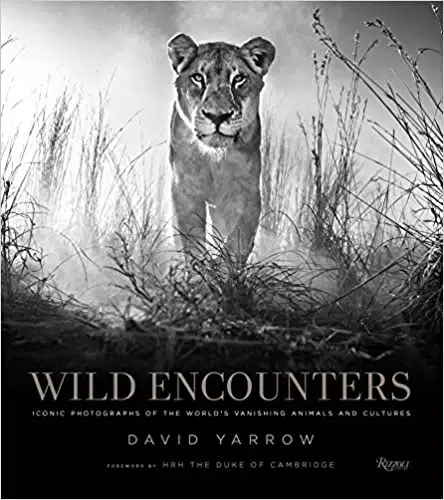 Features
Author: David Yarrow
of pages: 336 pages
Language: English
Publisher: Rizzoli
Description
Researchers and conservationists should grab 'Wild Encounters' for a glimpse of our planet's great species. These are some of the wild animals that remain across the world.
Add it to your collection of books on environmental conservation, and travel across the planet through the eyes of David Yarrow. The author has traveled from the north to south poles, venturing in all the wild habitats and conservations, to highlight these magnificent creatures.
The images are stunning, filling every inch of the 336 pages and continue to tell a story of the planet's wild animals. It has 160 images of lovely wild animals, including threatened species.
Related Resources