Curtains have always been more than a privacy-preserving shield and cozy home décor item.
Using curtains — yes, almost any old curtains — will, by definition, play a role in increasing climate control in the home and cutting down on your electricity bill. That's because curtains act as a physical barrier between one of the elements of your home's design that most easily interacts with the outside world: your windows.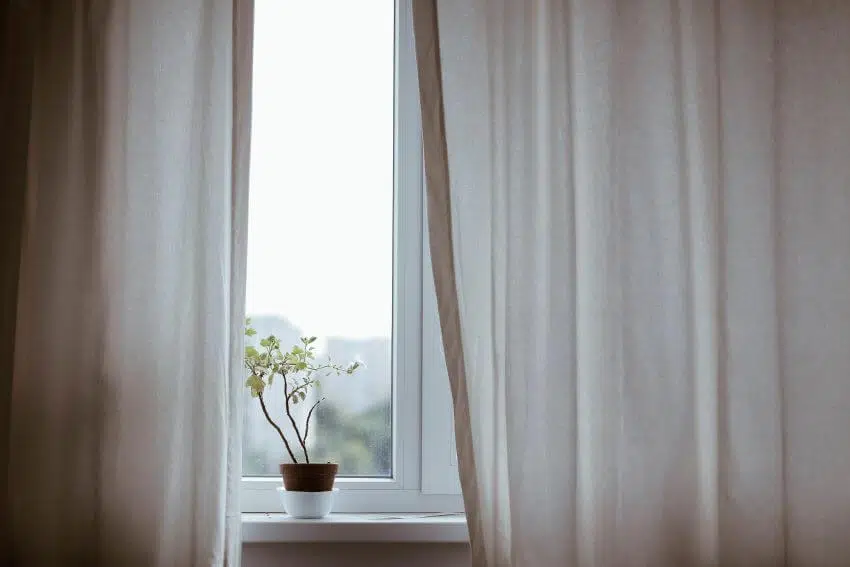 Even the best modern double glazing can let wind in under certain conditions, and older windows are often drafty. In addition, when the sun is already bright and the temperature hot, curtainless windows can act somewhat like a magnifying glass, creating a mini-greenhouse effect in your home.
In wintertime, windows not protected by curtains cause the opposite problem by allowing heat to escape and enriching the utility company. Curtains act as a physical barrier that offers you slightly cooler conditions at the height of summer and a somewhat warmer home in the middle of the winter.
In recent times, however, curtains that are much better at performing this job have risen in popularity. They are known as energy efficient curtains, energy-saving curtains, insulated curtains, blackout curtains, or thermal curtains.
Could buying energy efficient curtains be the right solution for you? There's no question! Whether you want to make your home more comfortable throughout the year, you hope to cut down on your heating bill in winter and your air-conditioning bill in summer.
You aim to become more environmentally conscious in the fight against climate change, or a little bit of all three, energy-efficient curtains can be a great addition to your home.
Best-Of by Category
Best Energy Efficient Curtains
1. Deconovo Grommet Room Darkening Thermal Insulated Window Curtain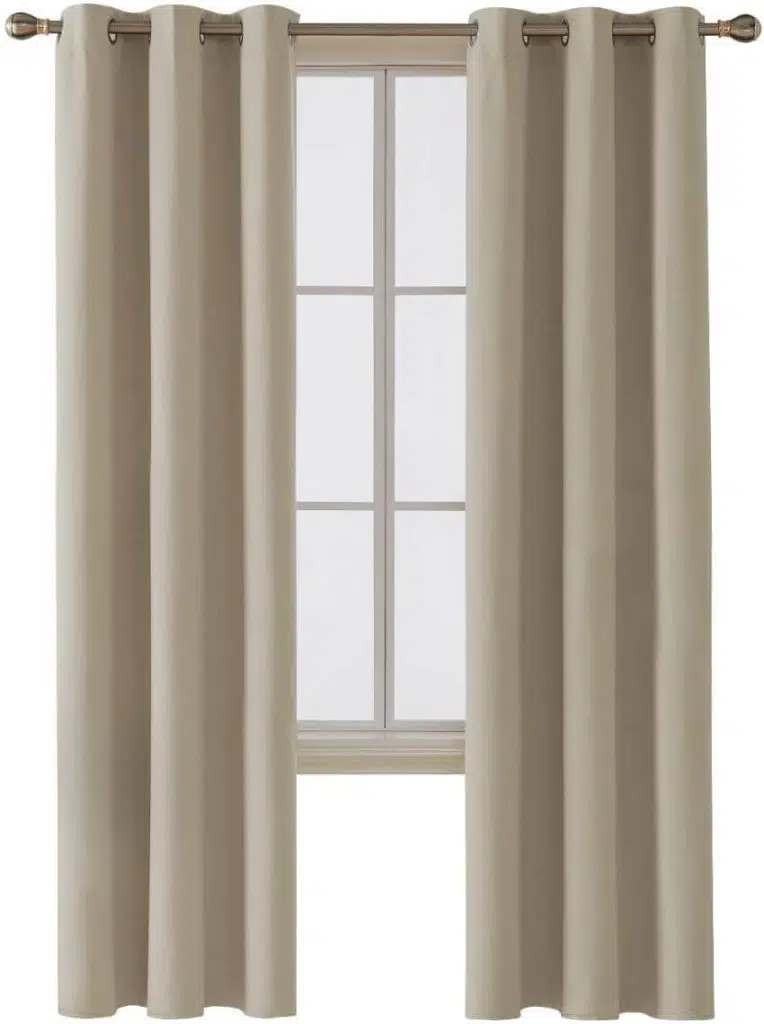 Deconovo's Grommet blackout curtains are heavy and solid-colored energy efficient curtains that offer a little extra.
As well as blocking out heat in summer and keeping it inside when it's cold out, these curtains have a noise-canceling effect that makes them perfect for your bedroom if you live in a rowdy urban environment. They will perform just as well in your living room, play room, or in kids' bedrooms.
With a soft, silky feel and a satin look, these panels by Deconovo are some of the best energy efficient curtains on the market. Choose a neutral beige, bright orange flame, or greyish white for the summer. In winter, go with one of the many darker options, including purple grape, dry rose, navy blue, or solid black.
Still not sold? Here are the all-important specs:
Price: $17.99 — discounts often available
You get one panel with a size of 42 x 95 Inches, with six elegant grommets.
The material is polyester, and the curtains can be machine washed on cold.
The style can best be described as timelessly elegant; beautiful in a non-invasive way.
See Related: Electric Scooters Pros and Cons to Know
2. Utopia Bedding 2 Panels Grommet Blackout Curtains with 2 Tie Backs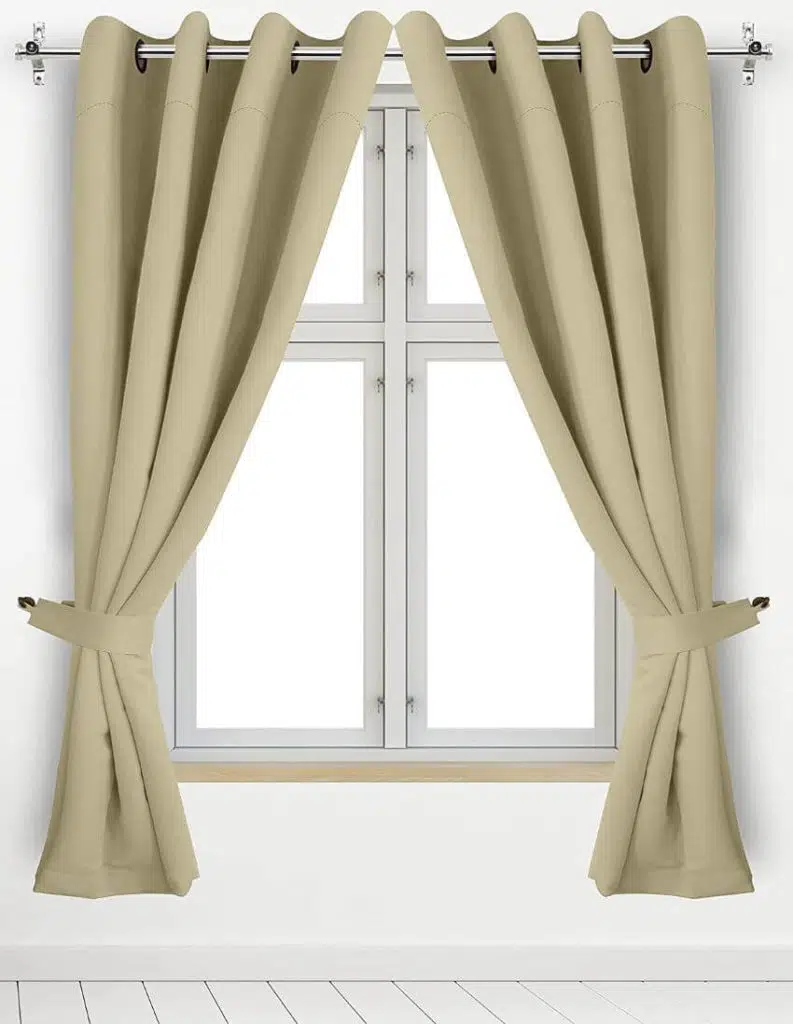 Are you looking for a full set of energy efficient curtains for each window, and are you really not digging the idea of having to make size adjustments yourself? In that case, you should definitely consider Utopia Bedding's set of energy efficient blackout curtains.
These elegant curtains come in eight different solid and classic colors, and each set is shipped with a set of matching tie backs that will make it so much easier to open your curtains easily without compromising on style.
They are an especially great option if you live somewhere really bright, as these energy efficient blackout curtains block up to 90 percent of sunlight.
So, what do you need to know? Let's take a look!
Price: $20.45 for the largest size, which includes two panels and matching ties.
Utopia Bedding's blackout curtains are available in three different sizes: 52 x 63, 52 x 84, and 42 x 63 Inches.
The bigger sizes come with eight grommets per panel, while the smallest has six.
These energy efficient and eco-friendly alternative are made from polyester and can be machine washed on cold.
See Related: Best Conservation Books to Read
3. Sun Zero Kara Floral Print Energy Efficient Rod Pocket Curtain Panel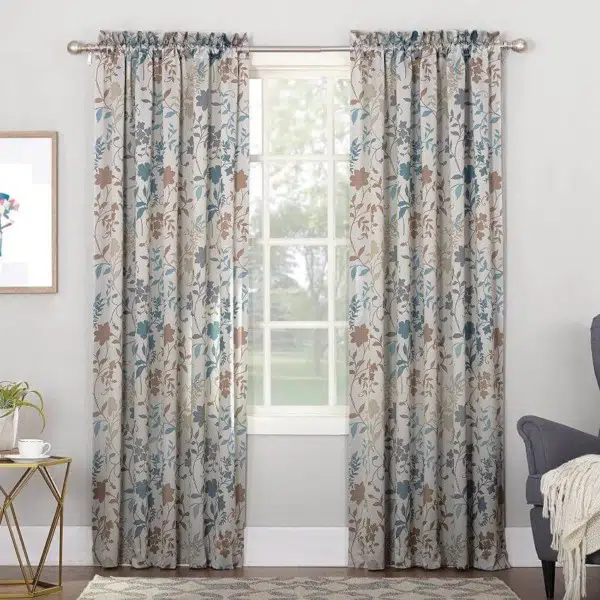 Are you in the market for energy efficient curtains, but does the sea of solid colors make you want to fall asleep? Not to worry! Awesome energy saving curtains with patterns do exist, and the Sun Zero Kara floral print energy efficient rod pocket curtain panels are a prime example!
The stunning combination of blues and earth tones in a style that Sun Zero calls contemporary but that will also fit a more traditional décor very nicely is not the only thing that sets these curtains apart. Instead of the grommets that have come to dominate, they have built-in rod pockets.
Here's what else you need to know:
Price: $24.99 for both sizes — but you get one panel, not a set. Special offers are available sometimes.
Size options: 54 x 84 or 54 x 63 Inches.
Machine washable, polyester blend.
See Related: Best Compostable Trash Bags
4. Best Dreamcity Blackout Curtains, Set of 2 Panels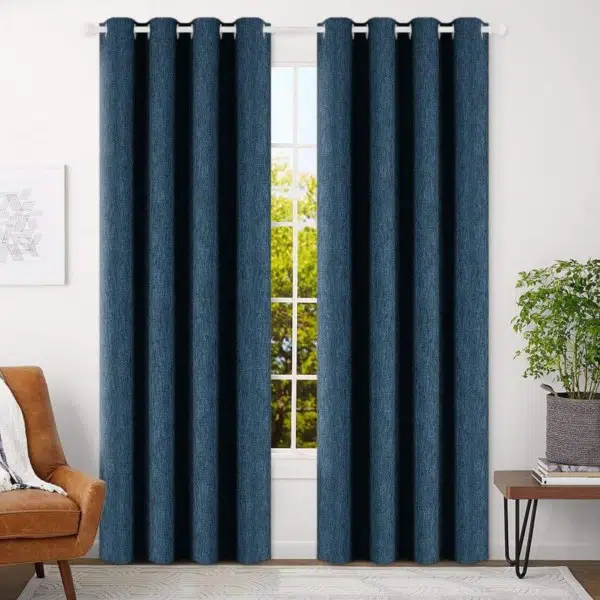 Shoppers who are after the best energy efficient curtains that look like linen are going to love these Best Dreamcity blackout curtains with grommets. The triple weave polyester fabric was designed to look exactly like linen, and while the dark navy blue is beautiful, you can also opt for gray, purple, camel, or beige.
You get:
A set of two panels for $34.99 for the bigger size.
The choice of two sizes: 52 x 84 or 52 x 63 Inches.
Eight grommets per panel.
Curtains that can be machine washed on cold.
See Related: Pros and Cons of Biofuels
5. Yakamok Room Darkening Black Gradient Color Ombre Blackout Curtains with Grommet
For a beautiful modern style, take a look at these wonderful energy efficient curtains in am ombre gradient by Yakamok.
Frankly, they come in more colors and sizes than we can describe in this short guide, but suffice to say that you'll have no shortage of choice, whether you want a dark purple top that fades into a clean white, or a neutral beige that gradually morphs into a rich blue.
These curtains cost $39.99 for two panels sized 52 x 84 Inches, but you are pretty much guaranteed to find the size you are looking for even if you have entirely different needs. These energy efficient curtains also block out between 50 and 70 percent of the sun's UV rays, and they can even be ironed!
See Related: Best Erosion Control Products
6. WONTEX Blackout Curtains Thermal Insulated with Grommet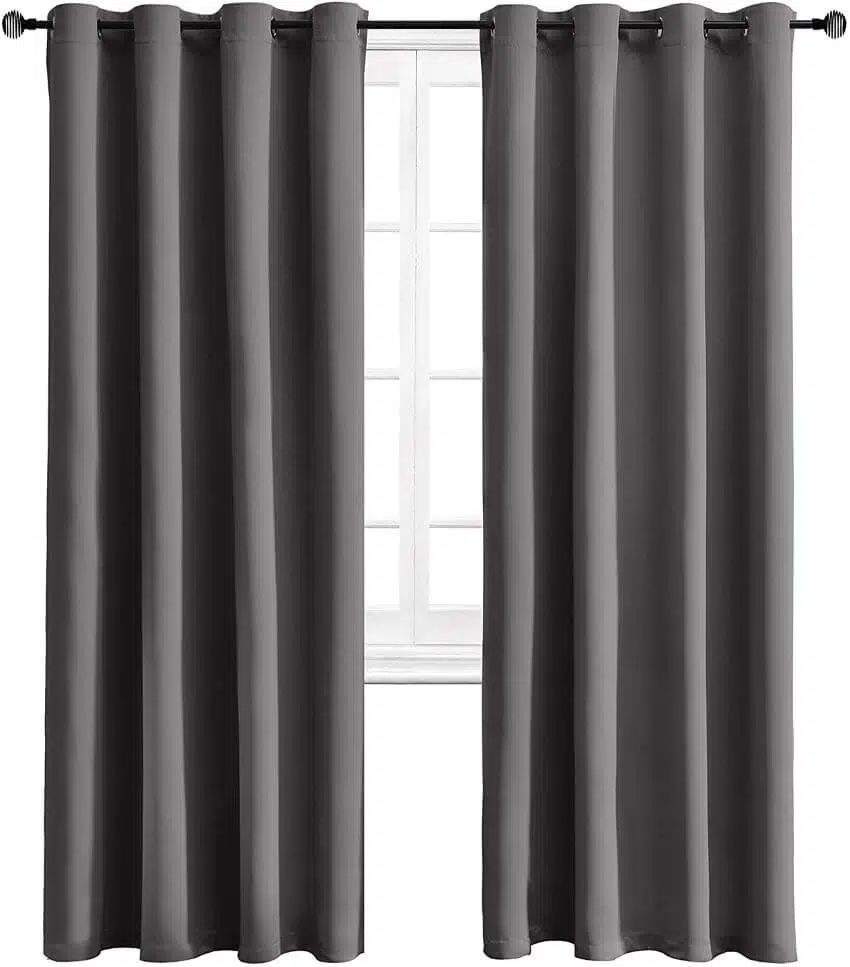 These curtains may look simple and timeless, but they hide cutting-edge technology. WONTEX Blackout Curtains come in a wide variety of different (all solid) colors and sizes. If you are buying these energy energy efficient curtains, you will get two panels. The most popular size, 52 x 84 Inches, costs $32.99.
Apart from possessing all the qualities you'd look for in the best energy efficient curtains, they're also wrinkle resistant, thread trimmed, and have anti-fade properties.
See Related: Best Compostable Mailers
7. Regal Home Collections Meridian Energy Efficient Lattice Chic Foamback Grommet Curtains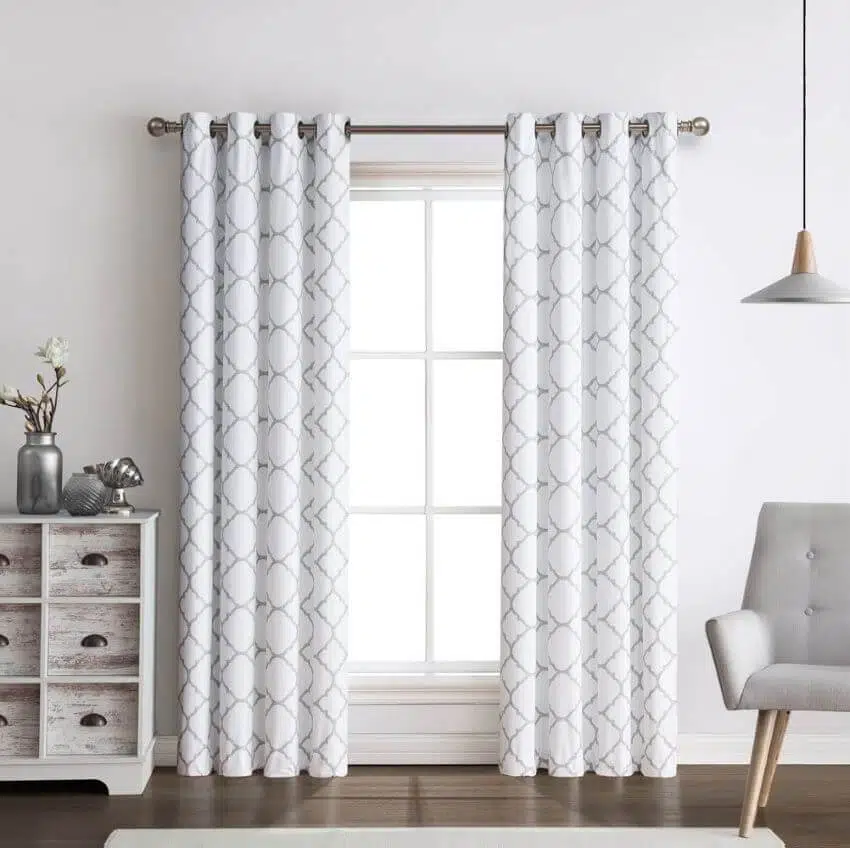 Yes, energy efficient curtains are — among other things — designed to block out light, but there's no question that these Regal Home Collections Lattice Chic blackout curtains will proverbially light up any room!
Here are the specs:
Price: $32.99
Size: 52 x 84 Inches.
Material: Foam back polyester.
Machine washable, can be ironed, can be tumble dried.
See Related: Best Eco-Friendly Space Heaters
8. NICETOWN Bedroom Blackout Curtain Panels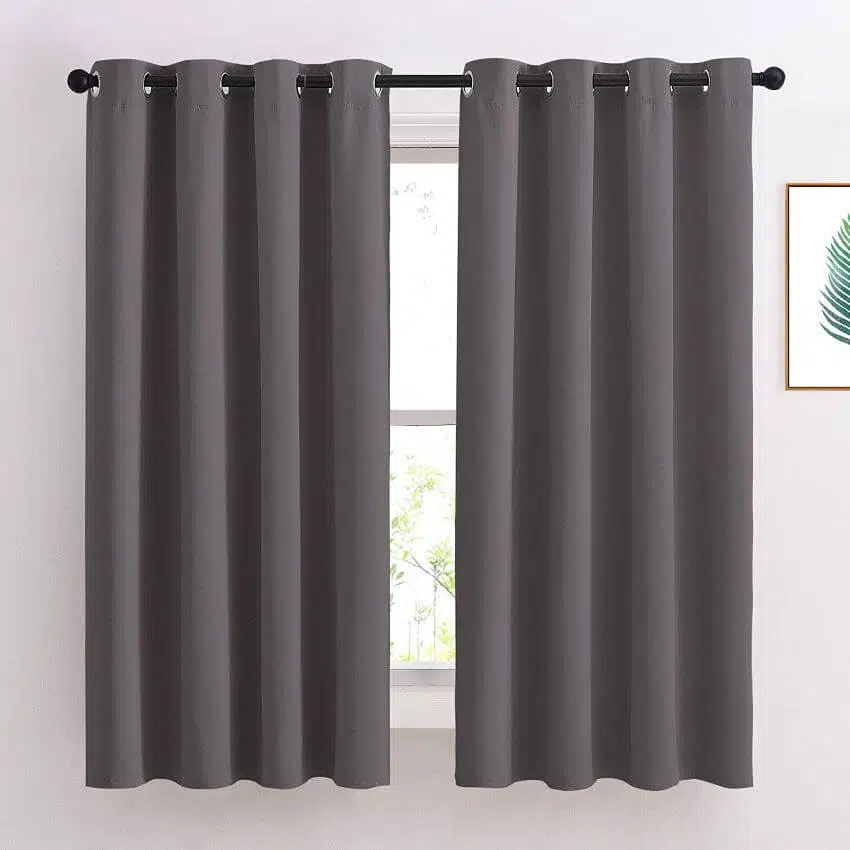 The fact that NICETOWN blackout curtain panels are extremely durable, versatile, and available in a wide variety of colors makes it clear why these curtains are also "Amazon's Choice".
These energy efficient curtains can block out up to 99 percent of all sunlight (!) and are wrinkle free as well as sound-resistant. If you choose dimensions of 52 x 63 Inches, that will set you back $23.95.
See Related: Environmental Consequences of Fracking
9. Rose Home Primitive Linen Blackout Curtains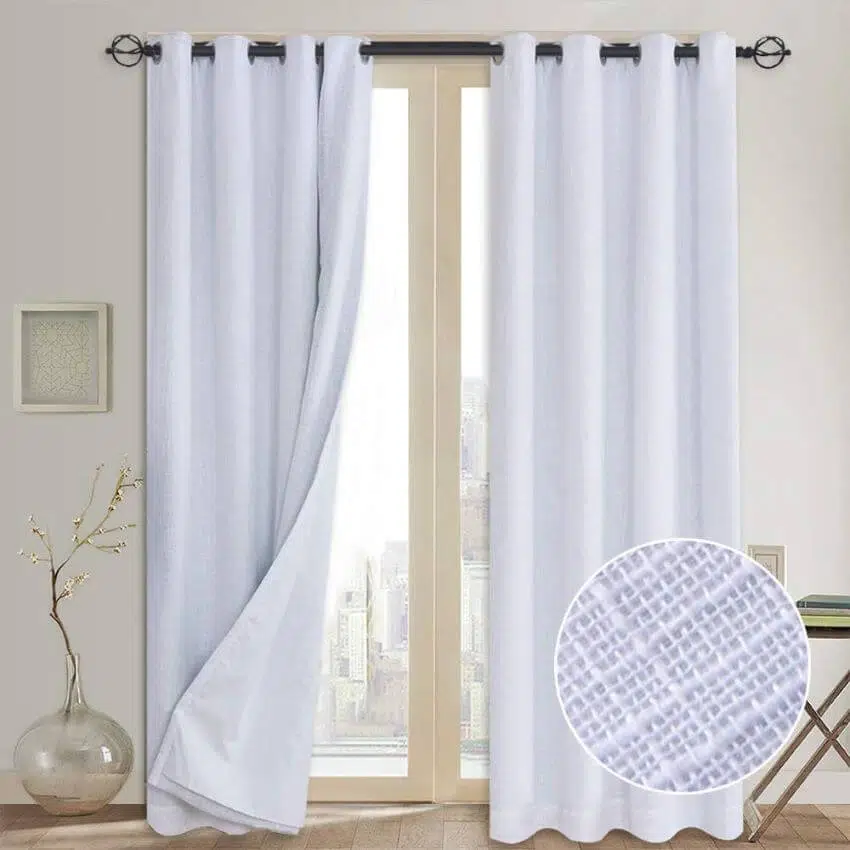 These Rose Home primitive linen blackout curtains simply scream "summer"! Although made of polyester, these energy efficient curtains were made to look just like burlap, giving them an almost whimsical farm look.
They are available in four sizes and six complementary, earthy, colors. For $32.99, you will get two panels with dimensions of 50 x 84 Inches.
See Related: Best Solar Refrigerators and Freezers
10. RHF Wide Thermal Blackout Curtains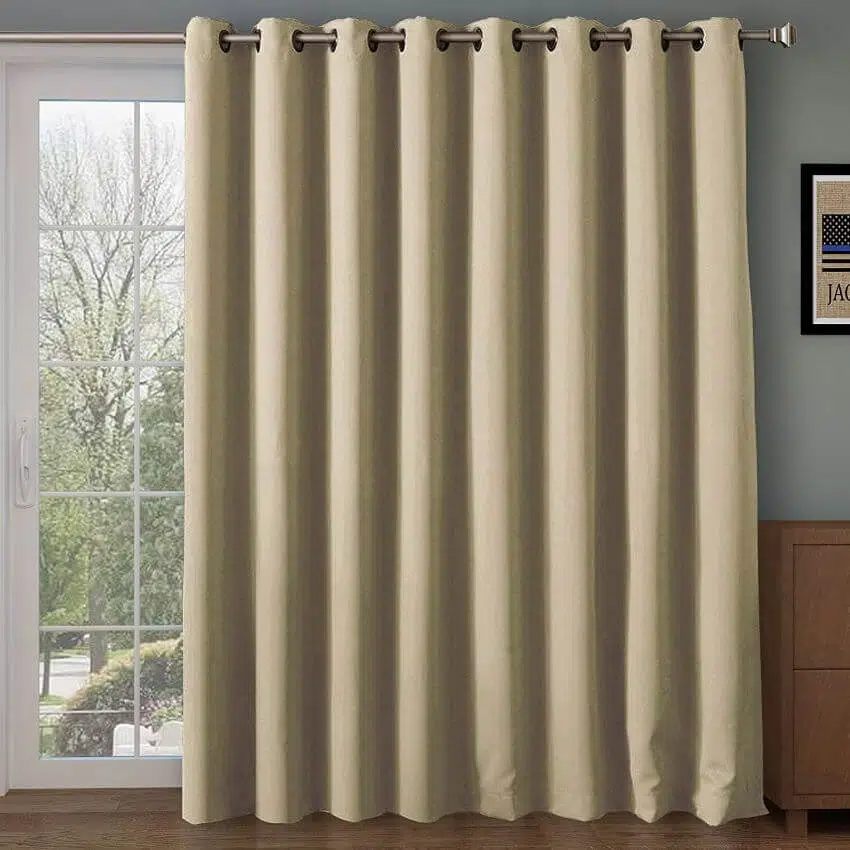 RHF's wide thermal blackout curtains are unique in that they were designed with patio doors and sliding doors in mind, featuring microfiber within their layers.
The other amazing feature? If you are looking for the best energy efficient curtains as a pet owner, you can stop right here — because RHF's thermal blackout windows are fur-resistant. That means your cat or dog can brush past them as many times you like, but your curtains will remain beautifully crisp, and fur-free, anyway.
Choose from 10 different colors and six different dimensions! With a 100 x 84 Inch panel only costing $21.99, these energy efficient curtains are surprisingly affordable, too.
See Related: Energy Conservation Techniques to Know
11. Eclipse Thermal Blackout Patio Door Curtain Panel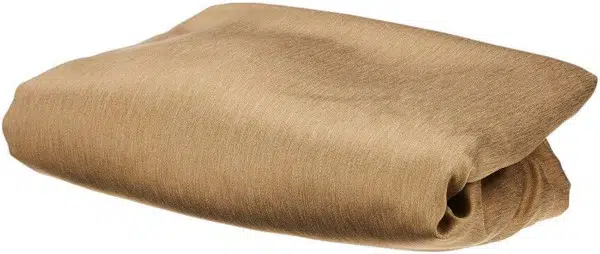 The Eclipse Thermal blackout patio door curtain panels are another excellent choice for people with large patio doors who are looking for viable alternatives to vertical blinds.
Made with polyester in a universally-appealing wheat color, they are one of the few energy saving products available in this large size of 100 x 84 Inches. These panels employ a trademarked triple weave technology to block up to 99.9 percent of all incoming light, the curtains can be machine washed, and they have a beautiful sheen.
With that trip into the world of energy-efficient curtains behind you, you know that blackout curtains don't have to break the bank.
They come in all sorts of different sizes, and styles, and in solid colors as well as patterns. What are you waiting for? Do your bit to save the world (and slash your energy bills)! Go forth and shop!
See Related: Ways Coffee Waste Can Be Recycled
How Do Energy Efficient Curtains Work?
Available in a wide variety of styles, energy-efficient curtains are curtains lined with special materials that help retain heat in winter and prevent heat from coming in during the summer.
Energy-saving curtains work, at their most basic level, by creating a physical barrier or buffer that reduces the exchange of heat that would normally occur between your home and the outside environment through your windows.
Many energy saving curtains are advertised as being able to serve you well year-round — by keeping the heat you pump into your home inside during the winter while preventing cold winter air from entering and preventing cooler air-conditioned air from leaving through the windows, as hot summer air comes in and the sun additionally heats your home.
These curtains do live up to their promises to some extent, but people who are committed to saving money in an environmentally-aware manner and being as comfortable as they possibly can in the process will want to consider investing in two sets of energy-efficient curtains — one for summer, and one for winter.
The best energy-efficient winter curtains:
Are darker in color.
Are manufactured from several layers of insulating materials.
Are hung closely to the ceiling and stretch all the way to the floor to create as tight a seal as possible. If you happen to have central heating units right underneath your windows, as some people do, you will not want floor-length energy efficient curtains in winter, but should rather install curtains that effectively cover your windows, with a magnetic strip at the bottom.
Because will be attempting to maximize heat retention in winter, it's important to note that it is still best to open your energy efficient curtains on bright sunny winter days. Close them at night, and know that having a set of two curtains per window is more efficient than using a single curtain.
The best energy efficient summer curtains, also called energy efficient blackout curtains or thermal curtains, have different characteristics:
These curtains will be made from a light-colored material with an opaque lining that blocks light.
They will form a tight seal by hanging close to the ceiling and extending all the way to the floor.
You'll close energy efficient curtains hanging in front of windows that are receiving direct sunlight and open curtains facing away from the sun throughout the day, as needed, to be able to get light (thus avoiding the need to switch your lights on!) while avoiding the heat.
Buying energy efficient curtains can reduce the heat your home loses in winter by around 10 percent, and slash the heat that enters your home in summer by a whopping 33 percent — in turn, leading to significant savings year-round!
Now that you're all caught up on the "why" of energy-efficient curtains, it's time to explore! What are the best energy-efficient curtains? Here's a look at some of the most exciting options on the market.
Related Resources