People may love summers, but winters have their own charm. Staying in with a cozy blanket and hot cocoa to binge-watch your favorite shows is the perfect me-time everyone deserves in winter. To make your space cozy, you should invest in energy-efficient electric heaters for large rooms.
Not every apartment building or home has central heating, which means you have to get space heaters to keep warm. But if you have large rooms, you should invest in energy-efficient heaters that cover large spaces.
Even if you're in a small apartment, getting a heater for large rooms would be a better choice, as you won't have to get a heater for every room.
Summary of Top Picks
Best Energy Efficient Electric Heaters for Large Rooms
Modern heaters generally consume less energy, but you should ensure that the model you choose is, in fact, energy efficient. That's not only good for your pocket but also the planet, as the clock on climate change beyond repairs is ticking.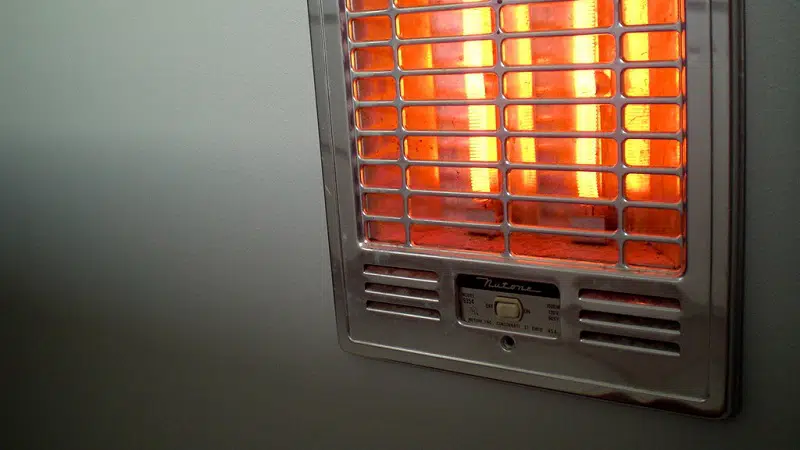 To cut through the noise and save you time, here are the best energy-efficient electric heaters that can easily warm big rooms:
Heat Storm HS-1500-PHX Wifi Infrared Heater
The Heat Storm HS-1500-PHX Infrared Heater is a Wii-enabled heater that you can conveniently control from an app on your phone. It's an infrared heater powered by electricity through a cord that can easily be hidden.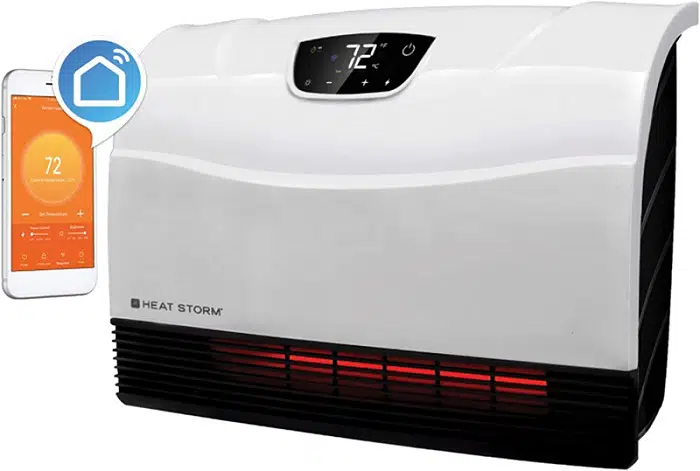 In addition to being one of the best energy-efficient electric heaters for large rooms, it is also a wall-mountable heater and saves floor space. Mounting it on the wall is easy as all the hardware required for installation is accompanied by the heater.
Not only are the grills cool to the touch, but also the entire body of the heater. It doesn't make the wall hot either. So if you have kids in the house, you can install it worry-free. There's also a child lock, so they don't mess with the control panel located on the heater.
In terms of power, it requires 1500 watts for the highest setting. As all Heat Storm heaters are ETL-certified, this one also has this safety certification.
This one also has a power outage setting recall feature built-in. What this means is that if you face a sudden power outage, it will start with the same settings when the power returns.
The digital thermostat ensures temperature accuracy. Plus, the heating element doesn't make much sound, which makes it a quiet heater you can use while sleeping.
Pros
Wifi connectivity
Reliable safety features
Comfortable and cozy heating
Energy-efficient mode
Con
Pelonis Ceramic Tower 1500 W Space Heater
The Pelonis Ceramic Tower Space Heater is one of the most energy-efficient electric heaters for large rooms. As a 1500 W electric heater, it has the capacity to quickly warm a large bedroom or living room. There are three heating modes: low, high, and ECO, with the last one being the most energy-saving.

The ceramic heating technology is quite efficient, achieving an ambient temperature of 73 degrees in a matter of seconds. Made with flame-resistant material, the exterior of the heater stays cool to the touch, which makes it a safer option for a household with kids or pets.
With a sleek tower design, this Pelonis heater is also space-efficient. It won't require a lot of floor space, and you can easily place it anywhere. In fact, thanks to the handle on top, you can easily move it from one room to another.
The coverage area is 100 to 160 sq. ft., which is typically the size of bedrooms. With 70 degrees oscillation, the heat spreads evenly and quickly.
For further safety, it also has a tip-over safety switch, which ensures that a toddler or pet doesn't knock over the heater. As for the sound, it's barely noticeable at 50 dB, making it one of the quietest heaters on the list. With a timer of up to eight hours, you can sleep peacefully with this the whole night.
Pros
Energy-saving ECO mode
Remote control
Handy safety features
One-year manufacturer warranty
Powerful and quick heating from a ceramic element
Con
Will not heat the entire house
See Related: Best Energy Efficient Kettles | Eco-Friendly Options
De'Longhi Convection Panel Heater
If you're looking for an energy-efficient space heater that really gets the job done, De'Longhi Convection Panel Heater is a viable option. This modern-looking heater has a forced airflow heating mechanism that ensures warm air spreads through the entire room, even the big ones. The powerful 1500W heater doesn't take up much space because of its sleek body.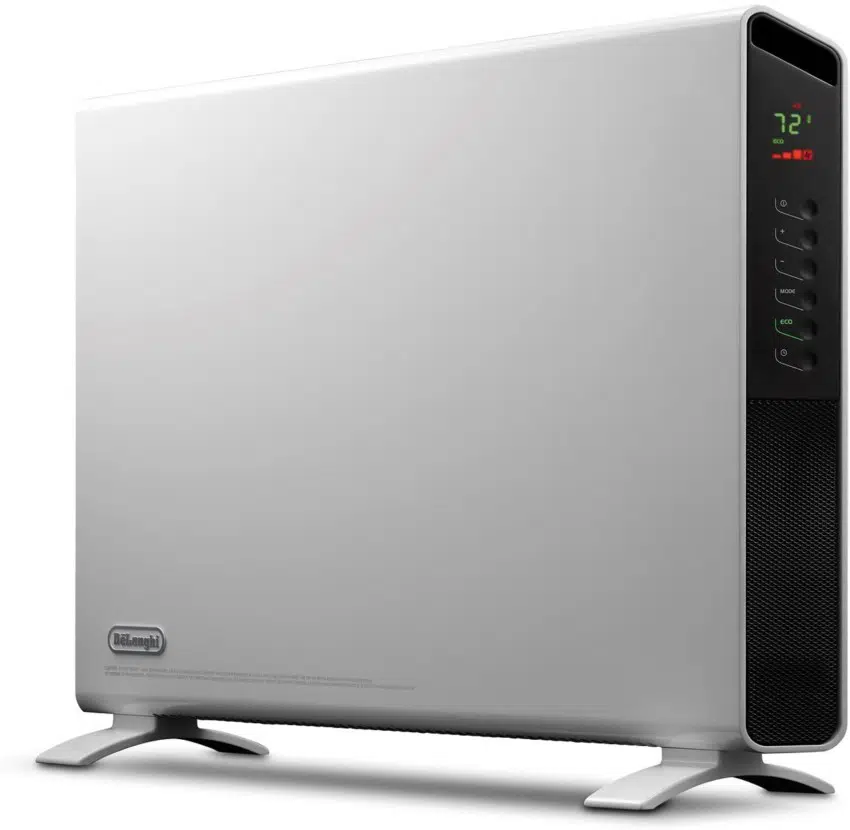 You can place it on the floor or mount it on a wall as you, please. With features like an LED display, ECO saving mode, and an adjustable thermostat, this particular model offers convenience.
It has an instant warmth function which basically uses two fans to quickly spread warm air and heat up the room. This feature can come in handy when you come back from work in the evening, and the house is too cold. This dual-fan system also ensures that heating is more even (convection).
When in the ECO mode, it automatically adjusts temperature and heating according to the ambient temperature. This results in less electricity usage over time, so you can even have it on for hours. But if you're one of those people who like it quite warm, you can adjust the settings to your liking with just a few presses.
This also has a safety thermal cut-off function, which cuts off power when it heats up. Then there's a tip-over switch to save it from accidental falls or knocks.
Pros
Contemporary design
Convection heating (uniform heating)
Easy-to-use LED panel
ECO mode for energy efficiency
Wall mountable
Cons
A bit pricey
Cord not long
See Related: How to Heat a Garage Safely & Sustainably
Lasko Ceramic Tower Space Heater
The Lasko Ceramic Tower Space Heater can easily warm a room up to 300 sq. ft in area. Powered by electricity, the convection heating element (ceramic) of this tower-style heater ensures warmth reaches every corner of the room.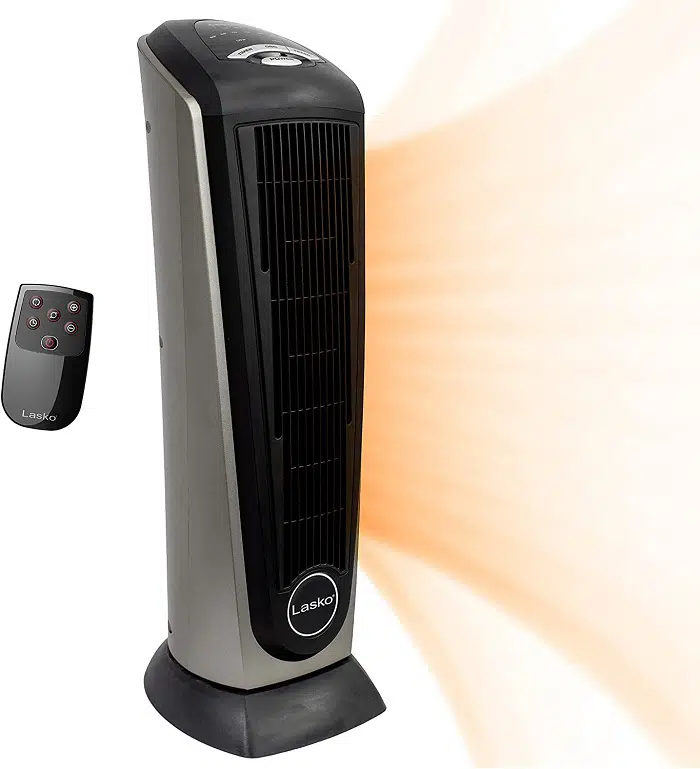 Controls are located on the top of the appliance but you also have a small remote control for added convenience. Much like other large space heaters, this one also has a maximum wattage of 1500 Watts.
Lasko is an American company, so it's trustworthy. However, this heater is made in China as are most other heaters on the market these days. With all the essential safety features, they have made sure the device isn't a hazard around children, pets, or even adults, as accidents can happen.
This one comes fully assembled, and features a handle, which you can use to carry it. The auto-shut-off time is seven hours. You can choose from low or high heat, or put it in auto mode which uses the thermostat to get the temperature just right.
Pros
Stylish and sleek design
Remote control
Budget-friendly
ETL-listed
Con
Grills are not cool to touch
See Related: Best Erosion Control Blankets to Buy
ASTERION Ceramic Space Heater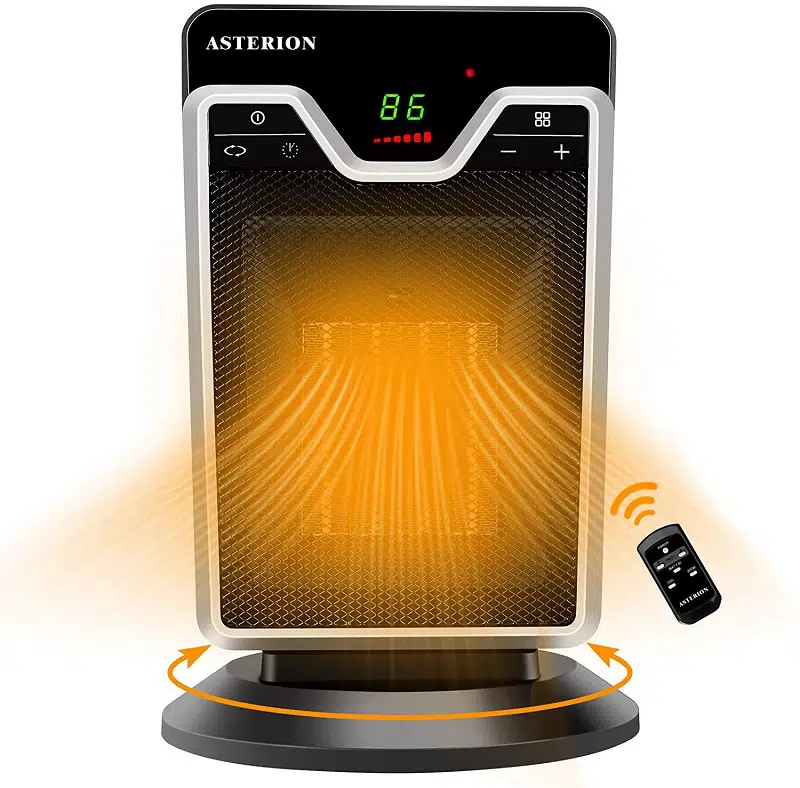 The ASTERION Ceramic Space Heater is a versatile heater with five distinct modes, including an ECO mode. A good option for climate-conscious, the other modes include high, low, freeze, and fan modes. So you can use it in both early winters as well as those frigid cold days.
During ECO mode, it can adjust the temperature between 60 to 90 degrees. The thermostat is very efficient at detecting ambient temperature and adjusting the temperature and heating element accordingly.
The heating timer can be set anywhere from just 30 minutes to up to 24 hours. Similarly, the 72 degrees oscillation means you don't have to adjust the direction of heating manually. It can heat a large room more uniformly and efficiently by oscillating.
This heater also has more than adequate safety features with overheating prevention and tip-over protection. While it has a DC motor, that does allow it to be a little quieter. The cord is pretty long too, coming in at 1.8 meters.
You can set it up and control it through the control panel on the heater or the remote control that comes with it.
Pros
Multiple heating modes
Easy to use remote
24-hour timer
Safety feature for overheating
Low noise motor
Con
Can take time to heat up big rooms
Dr. Infrared Portable Space Heater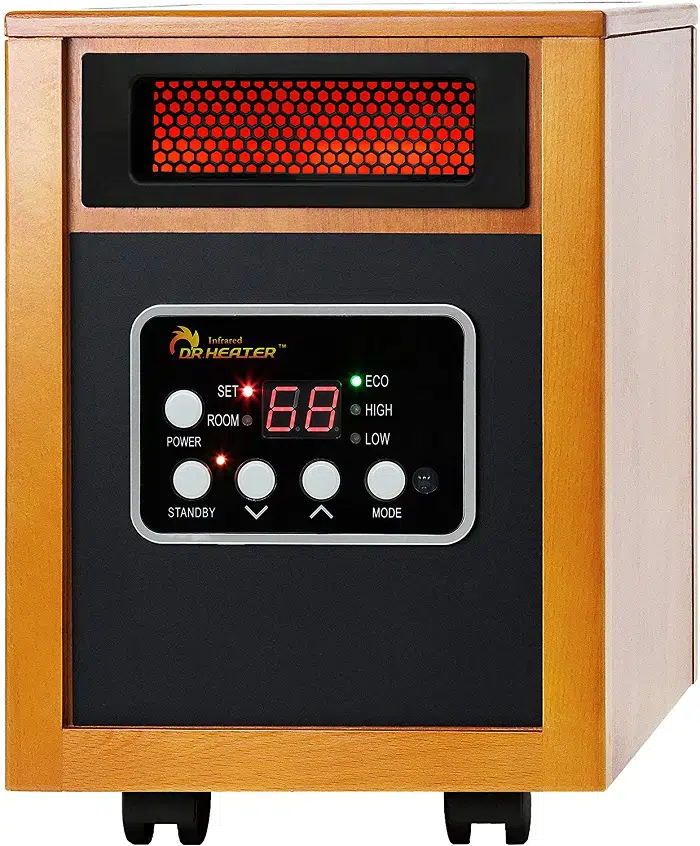 Don't let the name Dr. Infrared Portable Heater confuse this heater as a small, portable heater that's just for small spaces like an office cubicle. While it's designed to be portable, the heating element and range are just enough to warm a large room. After all, it has a dual heating system, combining an infrared quartz tube and PTC heating element.
In terms of wattage, it takes 1500 W to run. The blower is high pressure yet low noise, emitting a sound of just 39 dB. This is portable, thanks to the caster wheels at the base and its weight of just 24 lbs. Another great thing is that the cord is 72 inches long, so even if an outlet is far, you can connect it.
All the necessary safety features are there, including overheat protection, tip-over protection, and automatic shut-off after 12 hours. It comes with a lifetime filter, so there's practically no maintenance.
Pros
Highly portable design
Can easily warm a large room with dual heating elements
Low noise
IR remote control
Quality construction
Cons
The temperature range is limited
Expensive
KopBeau Oil Filled Radiator Electric Heater
The KopBeau Oil Filled Radiator Electric Heater has a smart ECO mode that keeps the temperature in the range of 40 to 95 degrees and uses very little energy. While it's an oil-based heater, it has an oil-refill-free construction, meaning no need to change the oil.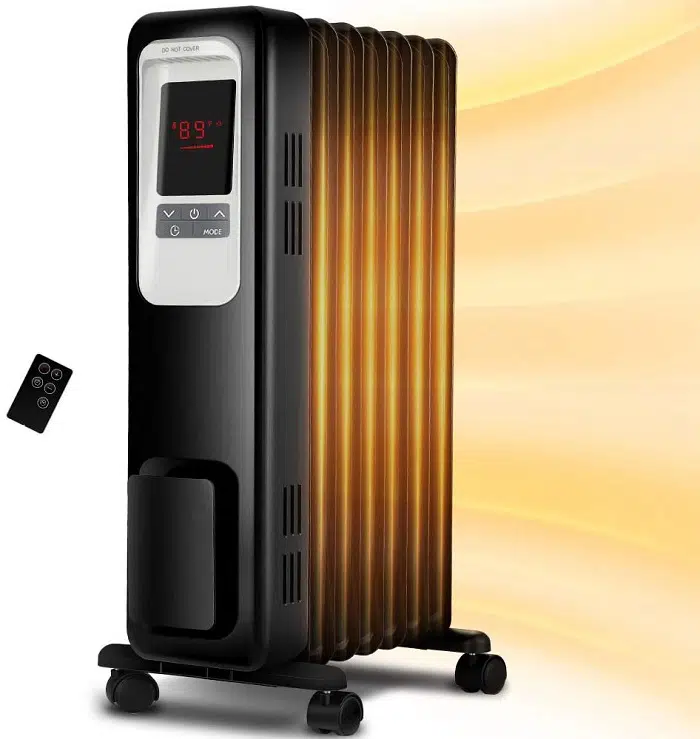 This one has a tower-style body with a radiator-style design that looks elegant and does the job well. As one of the best electric space heaters that are energy efficient, it ensures that the temperature in the room is even, especially for large rooms where cheap heaters often fail to warm evenly.
While it doesn't heat up the room very quickly, it does keep it constant once it achieves the desired temperature. But if it's too cold and you want more heating, run it on high mode (1500 W).
It comes with remote control, which you can use to change settings and turn it on/off from the comfort of your couch or bed.
Pros
Uniform heating for large room
No need to refill the oil
Beautiful design
Remote control
Energy-saving ECO mode
Con
Pelonis Oil Filled Radiator Electric Heater
The Pelonis Oil-Filled Radiator Electric Heater is yet another one of the best energy-efficient electric heaters for large rooms and offices (up to 160 sq. ft.). There are three heat modes, combining five different temperatures. Then there's also a quick heating feature that gets the temperature to 70 degrees in just three seconds.

The design is minimalistic, modern, and attractive, adding to the look of any space you use it for. It has a sleek base with a towing heating unit and an LCD display on the top that shows the mode and temperature. The buttons are also on top, which makes it easier to change settings without bending too much.
As usual, Pelonis offers a one-year warranty for this heater as well, as it does for all its heaters. With a weight of just over 14 pounds, it's also incredibly lightweight. You can move it from one room to another, without burning your hands as the material is safe to touch and stays cool.
Pros
Wide temperature range (cool and warm)
Sleek, modern design
Good value for money
Lightweight with a carry handle
One-year warranty
Con
Customer support isn't great
Cadet Manufacturing Electric Wall Heater
For those who want something very non-intrusive, a wall heater is the best solution. The Cadet Manufacturing Electric Wall Heater is a fan-forced electric heater that delivers reliable warmth for a large room.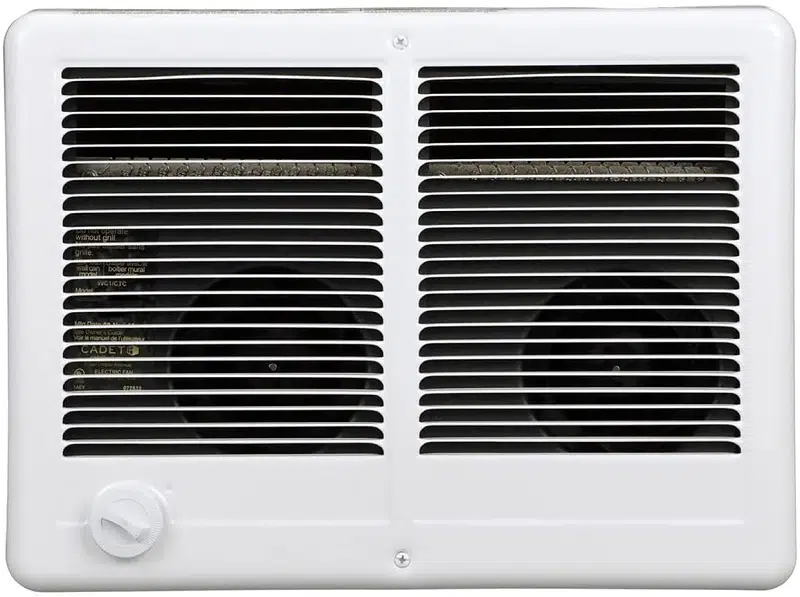 It has an adjustable thermostat that allows you to set the temperature to your liking. However, you can also get it without one.
The heating element inside uses coils, which deliver heat faster. This is ideal for places with a cold climate most of the year, as it's more of a permanent heating solution. This is not a portable heater, so you can't really move it from one room to another.
Although it requires installation, the 20-gauge wall mounting can come with the heater. You may be able to install it by yourself, but you'll need to cut a square in the wall, which may require professional help.
Pros
Powerful fan-forced heating
Suitable for large rooms/hallways
Optional thermostat
UL listed
Cons
No advanced features
Installation required
See Related: Is Spray Deodorant Bad for the Environment?
Lasko Designer Series Ceramic Space Heater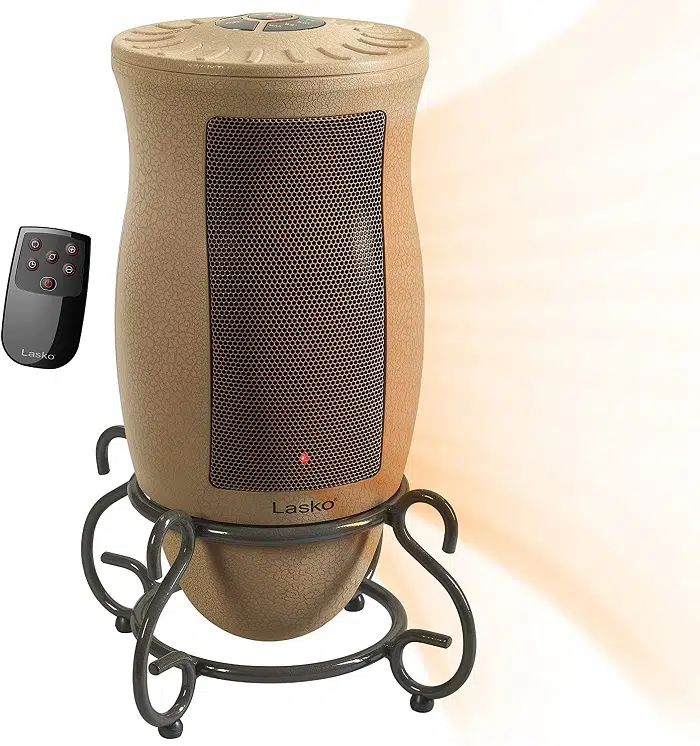 Next on our list of the best energy-efficient electric heaters for large rooms is the Lasko Designer Series Ceramic Space Heater. The modern design makes it look more like a home decor piece than a heater. It's mounted on top of beautiful metal frame legs.
This is a ceramic heater with oscillation for more even heating. Also, it runs very quietly, which is something a lot of people look for in a heater. The temperature range is 65 to 80 degrees, which is not that wide but makes the room cozy enough.
The timer works hourly and can be set for up to seven hours. The buttons are on top of the machine for easy access and less visibility from the front.
You can also place it on the floor or a table, as the stand doesn't heat up. The heater itself is also cool touch, so you can move it freely. It also has overheating protection.
In addition to the buttons of the control panel on top, you can also control the temperature and choose from the three heat settings. This heater weighs a mere three pounds, making it the lightest electric heater for a large room.
Pros
Decorative design
Lightweight but solid construction
Cool to touch at all times
Remote control
Built-in timer
Cons
Small temperature range
No quick heating
FAQs
What type of electric heater is the most energy efficient?
An infrared electric heater is the most energy-efficient type of electric heater. It uses electromagnetic radiation to heat objects directly, rather than heating the air around them, which makes it more efficient than traditional convection heaters. Additionally, many infrared heaters have energy-saving features like programmable thermostats and automatic shut-off timers.
Is there such a thing as an energy efficient electric heater?
An energy efficient electric heater is a type of heater that uses electricity to generate heat while consuming less energy than traditional electric heaters. These heaters are designed to minimize energy waste and reduce electricity costs. They often include features such as programmable thermostats, timers, and energy-saving modes to further optimize energy usage.
What type of electric heater is the cheapest to run?
An electric convection heater is the cheapest type of electric heater to run. These heaters work by heating the air in a room, which then circulates and warms the space. They are typically more energy-efficient than other types of electric heaters, such as radiant heaters, which heat objects in a room rather than the air.
Additionally, electric convection heaters can be controlled with a thermostat, allowing for more precise temperature management and further energy savings.
What type of electric heater is the most energy efficient?
The most energy-efficient type of electric heater is a convection heater. Convection heaters work by circulating air over a heating element, which warms the air and creates a convection current that spreads heat throughout the room. This method of heating is more efficient than radiant heaters, which heat objects directly, or fan-forced heaters, which blow hot air in a single direction.
Related Resources