Which are the most energy-efficient baseboard heaters? If you want to add an extra source of heating to your home, this article gives you some of the best baseboard heaters to choose from.
Baseboard heaters are a good addition to your home as they supplement your home's heating system. They are slim and can easily be fixed against your rooms' walls and so can be used to provide heat to individual rooms.
Baseboard heaters can be classified as either hydronic or convection. Hydronic baseboard heaters come pre-filled with oil or water. The installed internal heating system in these heaters heats the prefilled liquid to release warmth into your room.
On the other hand, convection baseboard heaters take in cool air and pass it over a heating element. After heating, warm air is emitted and distributed in the room.
Most baseboard heaters require an electrical supply to function. To help you select the most energy-efficient baseboard heaters that best suit your room, below are our top picks.
Most Energy-Efficient Baseboard Heaters for Any Home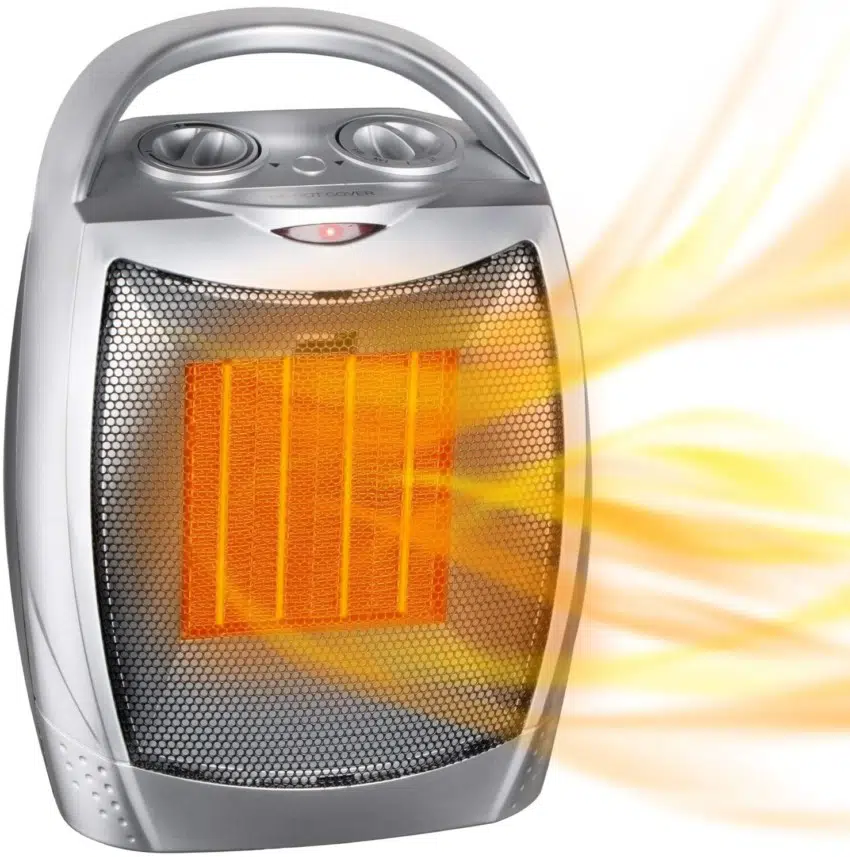 This convection heating gadget is among the best energy-efficient baseboard heaters. It provides two levels of heat you can choose from – 750W and 1500W. In addition, this ceramic heater contains a cool aeration fan and a thermostat.
The role of the thermostat is to regulate the functioning of the gadget. Generally, it will switch off the heater when a preset temperature has been reached. Also, it will turn on the heater when the temperature falls below the set level. You can ensure the heater functions optimally by adjusting the temperature setting from 0-158 degrees Fahrenheit.
The heater also includes a multi-level safety system and is made using fire-resistant material. This protects you from unforeseen fire hazards. A tip-over protection feature will automatically shut off the gadget in case of an accident.
The portable electric space heater stands out because it is powerful and compact. This makes it easy to carry around and only heat the room you want to keep warm.
As one of the most energy-efficient baseboard heaters, it is a quiet and incredibly efficient heater. The lower sound decibel ensures that you can use the gadget even while sleeping, making it not only energy efficient but also environmentally friendly.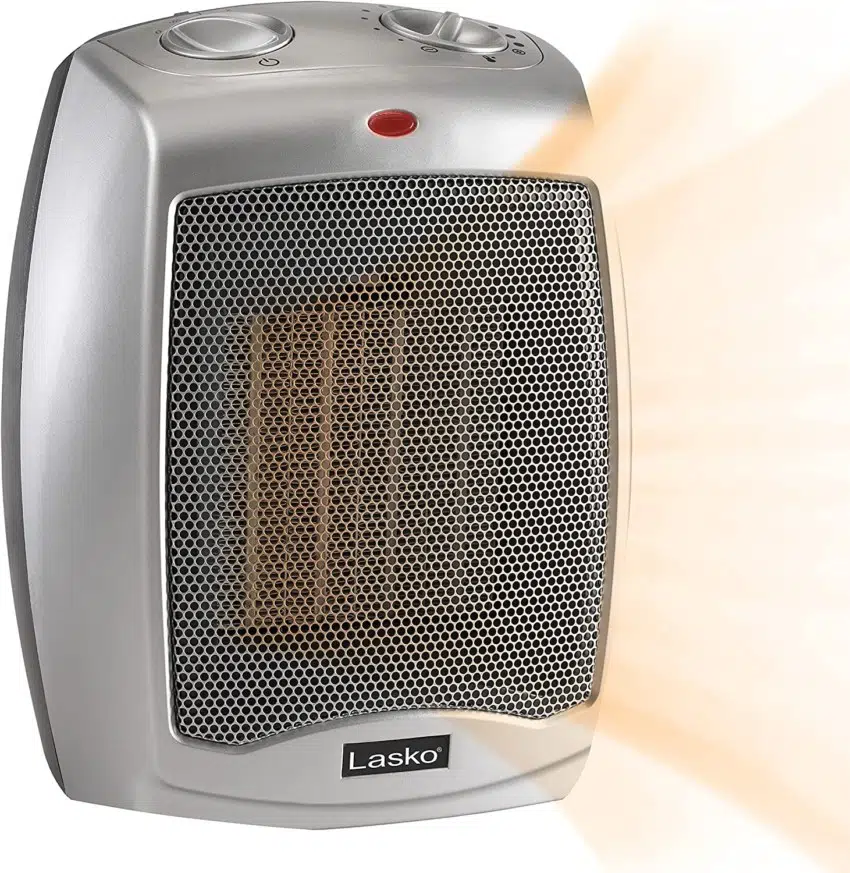 This heater comes with an adjustable thermostat to help you adjust its heating element. It includes a wide range of temperature settings (around 11) to choose from. You can be sure to find a temperature setting that is comfortable for your household.
Being among the most energy-efficient baseboard heaters, this electric heater offers you three quiet settings. These include low heat, fan only, and high heat. The three settings make it a most ideal baseboard heater for warming a specific area or room in your home.
Also, this space heater includes a carry handle you can conveniently use to move it around the house. And, although it has a compact size, the heating coverage is about 300 square feet. This is sufficient enough even for large rooms.
The overheat protection feature of the heater ensures the gadget doesn't overheat even if it runs for an extended period.
Another important built-in feature is the cool-touch exterior that allows the heater's external body to remain cool even when turned on.
If you are looking for the best energy-efficient baseboard heaters, this 110 volts device fits in that list. It is fully assembled and ready for use immediately after purchase. And, it will help you reduce your heating costs, lowering your energy bills.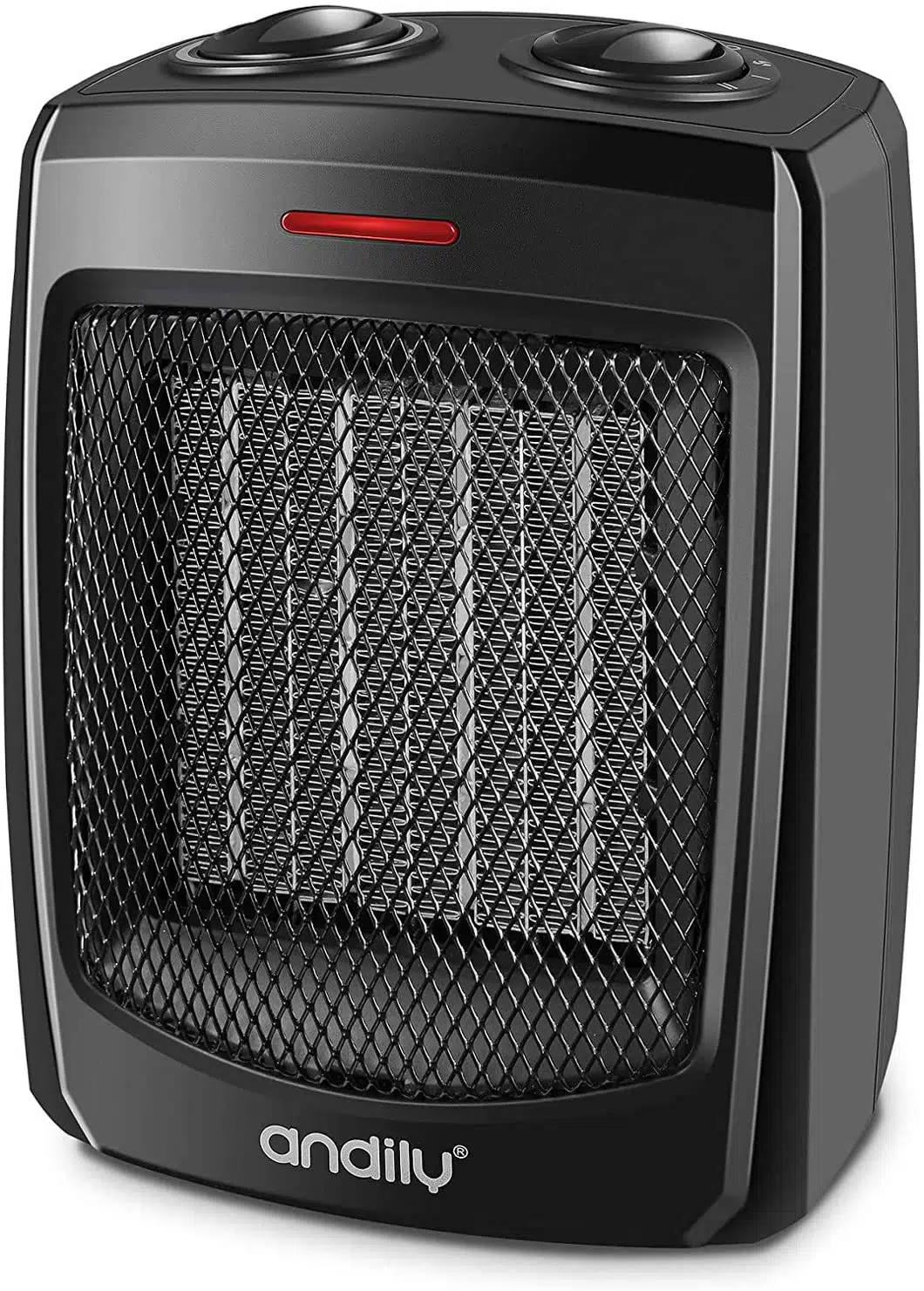 This convection baseboard heater is small in size and uses manual controls. It comes fully assembled so don't worry about doing it yourself. Also, it comes with a convenient handle for easy transportation. The portability makes the heater useful in a variety of settings.
Like most energy-efficient baseboard heaters, the gadget has a thermostat to help you adjust the temperature to your desired levels. This allows you to enjoy comfortable warmth in your office or home.
The heater comes with various advantages. First, you can enjoy three levels of heat variations when using the gadget. High heat is set at a wattage of 1500W while the low heat option is set at 750 watts. There is also the fan-only option, as the third level.
Secondly, the gadget's ceramic elements heat fast, produce enough heat, and are durable. Also, for safety purposes, this baseboard heater has an inbuilt overheat system, a tip-over switch, and a power light to help you operate it safely.
See Related: How to Heat a Garage Safely & Sustainably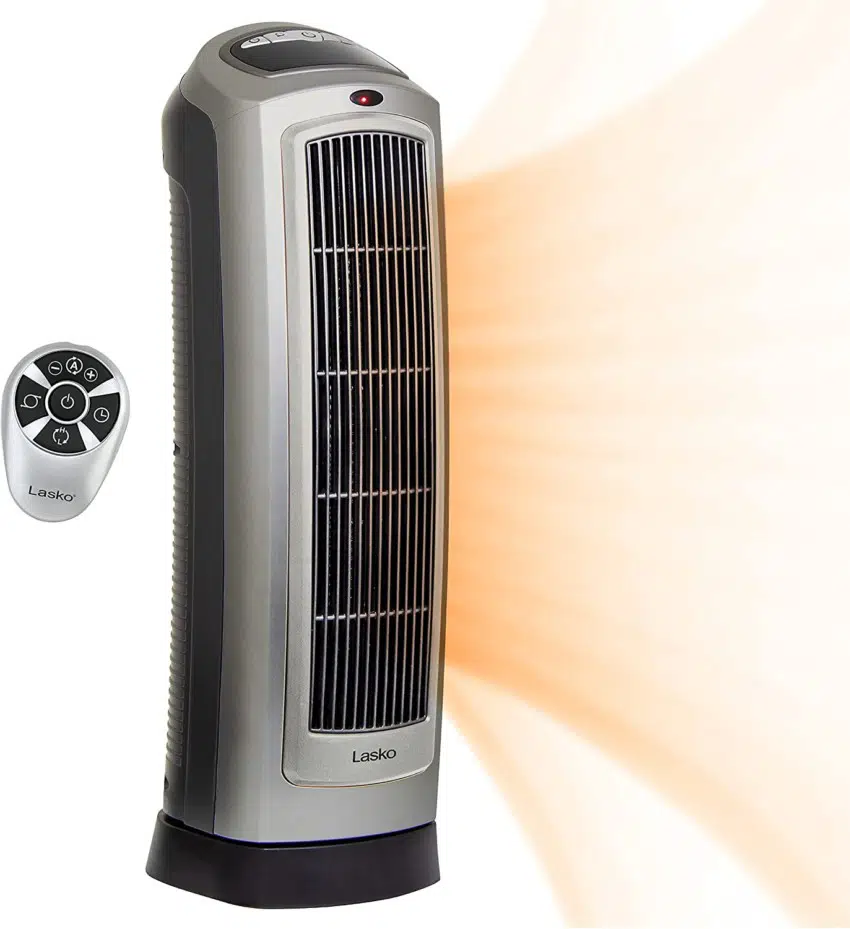 On our list of most energy-efficient baseboard heaters, this gadget couldn't miss. Mainly because of its superior features and performance!
It is a convection baseboard heater that provides you with two energy levels to choose from. You can choose from either low heat or high heat.
The space heater has a widespread oscillation that is designed to distribute warm air evenly around the room. It is, therefore, ideal for warming medium to large rooms. And, it could be quite useful in your home or even at your home office.
Just like the other baseboard heaters on this list, it has an adjustable thermostat. The thermostat has an inbuilt digital display that will enable you to adjust temperature levels easily and accurately. You can also select your desired or comfortable temperature setting in either Celsius or Fahrenheit.
As one of the most energy-efficient baseboard electric heaters, it has a built-in timer and it's remote-controlled. The two features will allow you to remotely adjust the temperature, oscillation, timer, etc.
The heater's timer is easy to adjust. You can select your preferred heating time between 1-8 hours. It is safe and incorporates built-in features to ensure your safety when handling it.
See Related: Greenhouse Costs Guide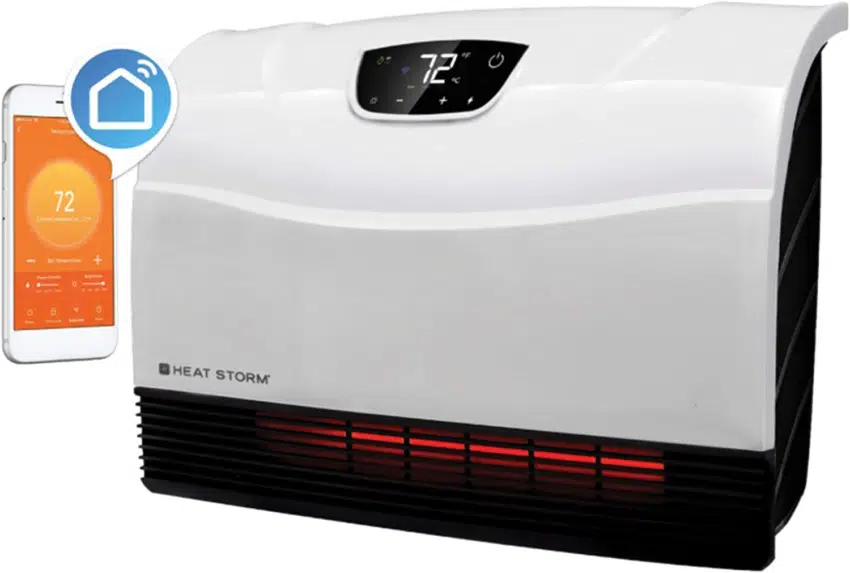 What is the most energy-efficient wall mount baseboard heater? If that's your question, then the HS-1500-PHX-WIFI heater by Heat Storm matches the description.
It is a technologically advanced baseboard heater with special modern features such as Wi-Fi capability. The Wi-Fi makes it easy and possible to control temperature settings using your mobile phone.
When it comes to heating capacity, the maximum temperature is 1500 watts meaning it is effective enough for different room sizes. However, it is not portable so it works by being wall mounted in the room you want to heat.
The equipment's grill is safe to touch because of the infused cool touch technology. You can safely handle it without the worry of getting hurt by excessive heat.
It is one of the most energy-efficient baseboard heaters since it doesn't transfer excess heat to your wall. And, when connected to the electric outlet, you have the option of hiding the electric cord inside the equipment.
The heater has an outstanding design. And since it's wall-mounted, it ensures your floor space is not lost.
It is perfect for kitchens, bedrooms, home offices, and even washrooms. Also, if you are trying to reduce your carbon footprint, this is one of those devices that can help make your home heating, more ecofriendly.
See Related: Best Hand Crank Generators: Top Picks for 2023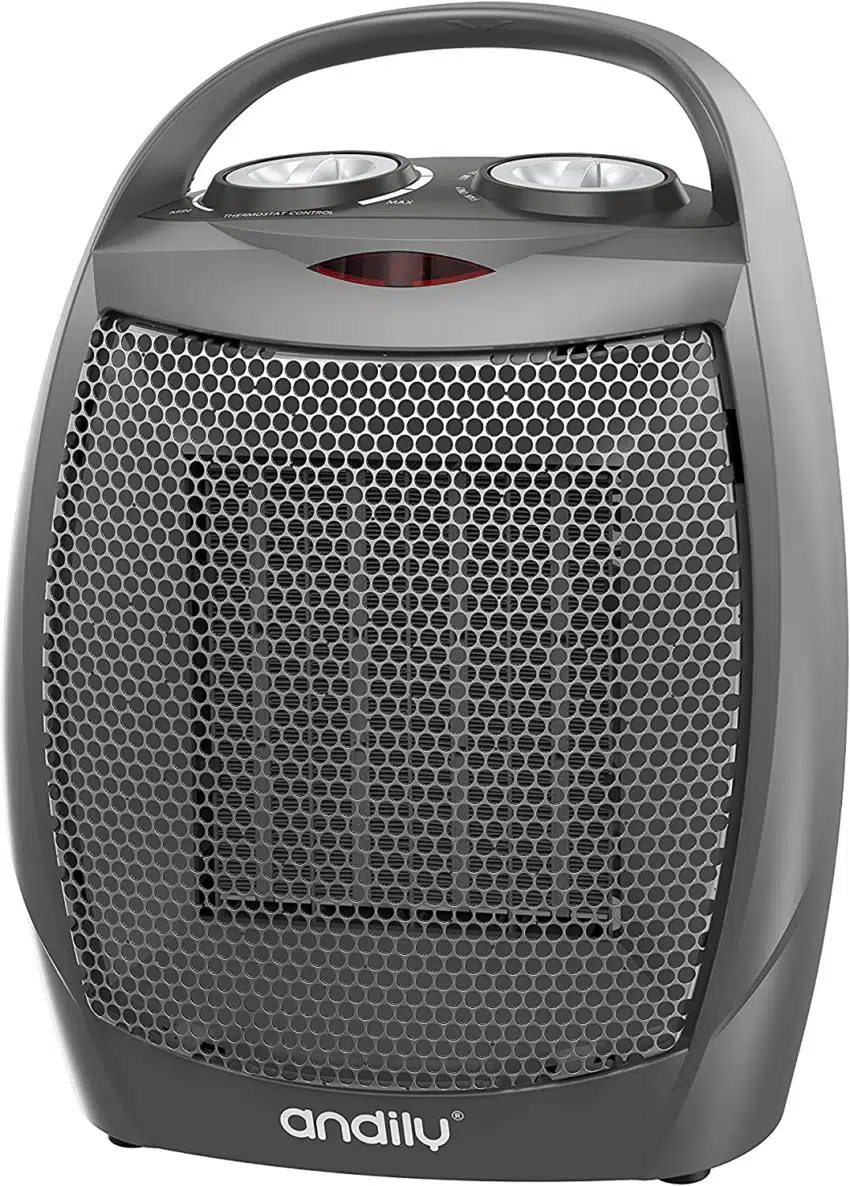 This baseboard heater uses ceramic technology. The ceramic heating elements ensure efficient and faster heating. It also ensures that maximum heat is produced without the need for open coils.
This heater is designed to support a quiet operation. Therefore, you can still turn it on, even when you are doing things that require silence such as reading or sleeping.
The heater supports three heat levels. This way, you can adjust the temperature to a level that suits your comfort. Like most baseboard heaters, high heat is set at 1500 watts and the low heat level at 750 watts. Fan option is also included for cooling purposes.
With Andily Compact Space heater, you can conveniently cool down or warm up your personal space. Also, there are other advanced safety features to ensure your safety and peace of mind while using it.
Furthermore, the heater has compact dimensions. It is small in size, fully assembled, and light in weight. It is, therefore, portable and easy to move around.
The heater will serve you for a long time because it is highly durable.

Are baseboard heaters most energy efficient? Yes. In fact, this one is among the most energy-efficient baseboard heaters in the market today. It relies on the most trusted technology in this industry.
The thermostats used in this heater are programmable. Consequently, you easily customize your desired temperature settings to maximize warmth and efficiency. The three temperature modes to choose from are low, high, and eco. Eco mode supports energy saving and helps you achieve the most ambient temperature.
Besides energy efficiency, the heater is user-friendly. It is remote-controlled, supports oscillation, and has a touch control feature. Quiet operation is supported because it has a working noise of 50 decibels.
Moreover, it is safe to use. Fire-resistant material is used to make the exterior of the heater.
You do not need an extension cord or adapter to connect to a power outlet. This is because it comes with a standard socket that you can just plug into a power outlet and turn on.
There is a 1-Year warranty offered by the manufacturer. And, you are free to claim the warranty on the equipment provided the claim is made within one year from the day of purchase.
See related: 12 Best Solar Tiki Torches for Your Home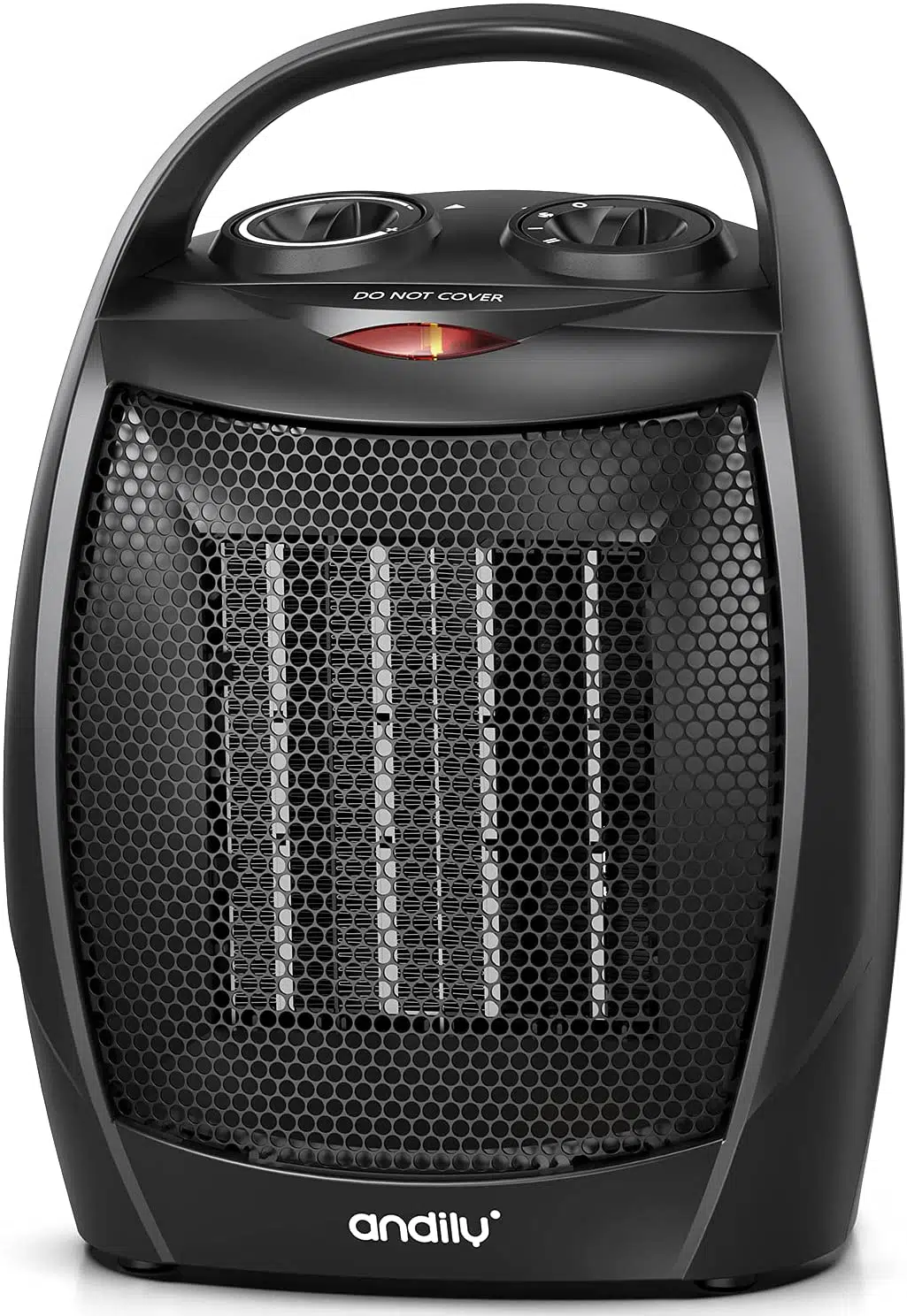 This Andily Portable Space Ceramic Heater incorporates energy-saving technology that gives it a place among the most energy-efficient baseboard heaters. With four heat levels to choose from, you can easily make savings on your energy bills while keeping yourself and your surroundings warm and comfortable.
Energy-saving technology is set at 1,000 watts. The low heat option is set at 750 watts while its high heat option is set at 1500 watts. There is an adjustable thermostat that comes in handy when you want to turn on the Energy Save option. The option brings you comfortable warmth while saving your overall energy consumption and protecting the environment.
The ceramic heating elements of this equipment are designed to serve you superbly during cold weather. They maximize heat production, heat fast, and are long-lasting.
Additionally, this baseboard heater is easy to carry around. It comes equipped with a carrying handle so you can transport it easily. The heater is also ETL certified. Your safety is assured when operating the equipment.
See Related: Best Solar Panels for Greenhouses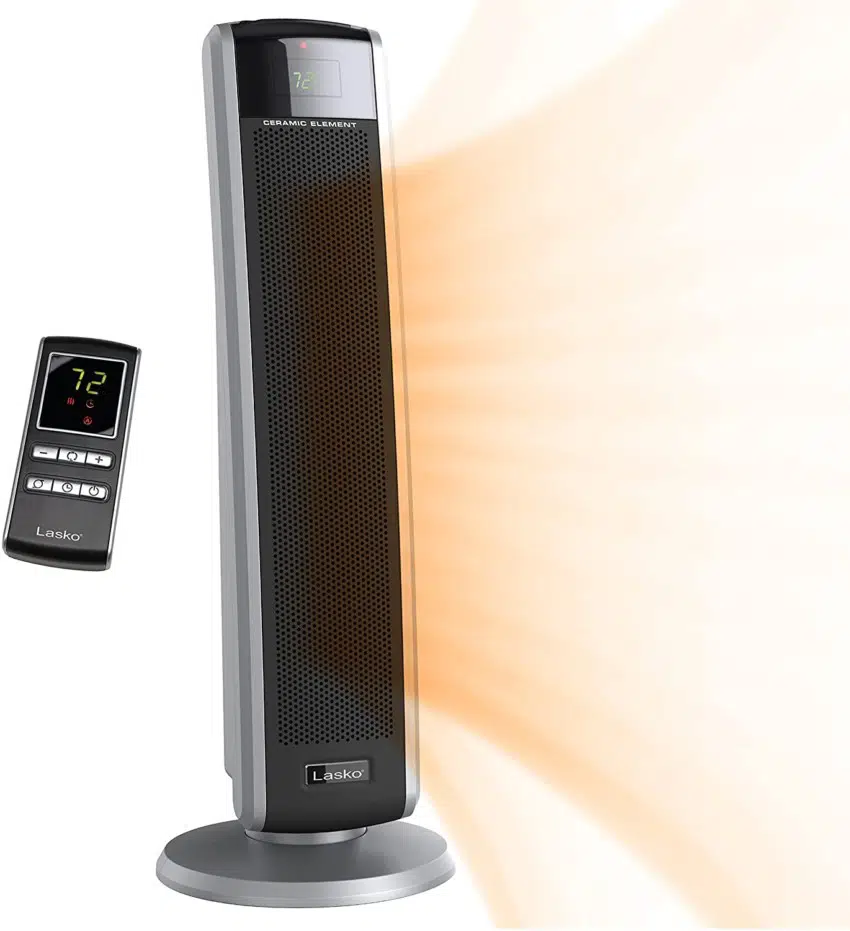 Lasko 5586 conventional heater is also among the most energy-efficient baseboard heaters. It is, therefore, a great companion for cold rooms or home offices.
Ceramic heating is a mainstay in this heater. This feature allows fast heating, reliability, and the ability to achieve constant temperatures. The technology used in the heating elements will enable the device to heat up to about 65 degrees Fahrenheit in only three seconds.
The high heat level is set at 1500 watts. However, you have other two heat levels to adjust the temperature at. The equipment comes with a programmable thermostat that has digital controls. This makes it easy to operate the heater. Also, an 8-hour timer gives a wide range of hours to turn your equipment on.
The equipment is remote-controlled. You can monitor and control the operation of the equipment using your electronic devices. For instance, use your mobile phone or personal computer to switch the heater on or off. The thermostat provides a digital display, which enhances the operation of the heater. Also, it has a maximum weight of 7 pounds, which makes it portable and easy to transport within your home.
See Related: Organic vs Natural Foods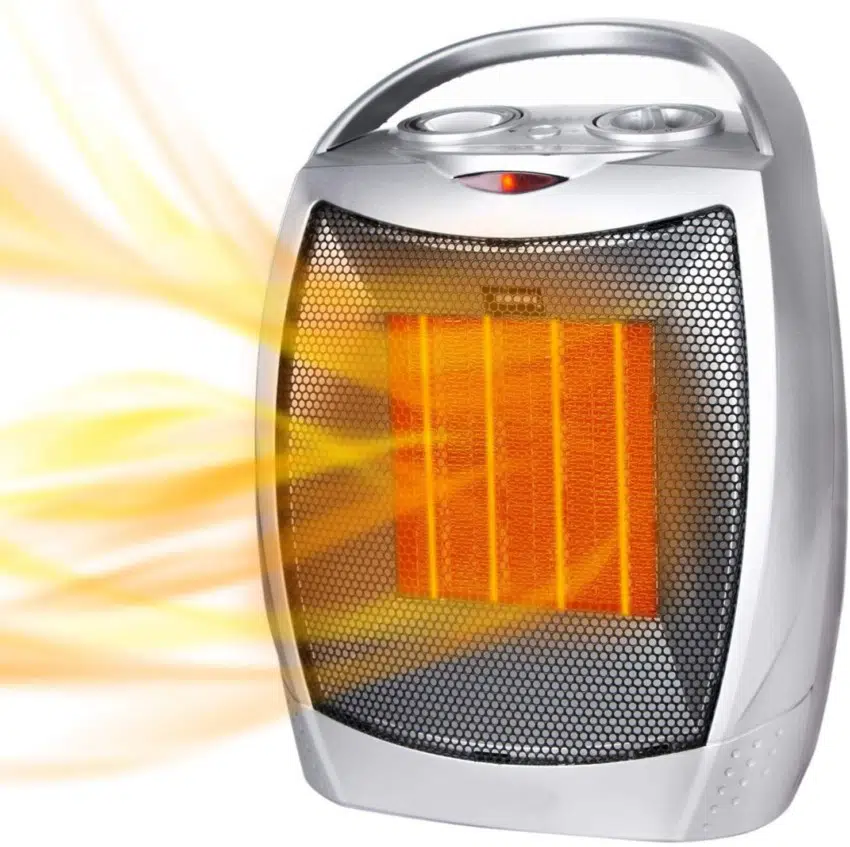 Last but not least on our list of the best energy-efficient baseboard heaters is the Portable 1500W/750W Personal Room Electric Heater by Brightown. Firstly, it is safe for your pets and kids. The heating element is flame-resistant, thus, the risk of fire is cut to zero when using this heater.
The equipment is also safety tested and ETL certified. Some of the important safety features present in this gadget include overheating protection, a power indicator, and the tip-over switch located at the base.
The most energy-efficient baseboard heaters promise speedy warming. This heater scores highly on this feature because of the ceramic heating technology used in its formulation.
A low working noise of below 45 decibels ensures quiet operation. Therefore, efficient heat dispersal can be achieved while engaged in activities such as indoor reading, working, and sleeping.
In addition, this gadget is so easy to use. The configuration on the knob makes it easy to understand and adjust. Please note that the equipment is lightweight and has a carry handle. It is thus portable and easy to move between rooms. The equipment is best suited for use during winter and will serve you for a long time.
FAQs
Are there high efficiency baseboard heaters?
Is there a high-efficiency baseboard heater? Yes, there are high-efficiency baseboard heaters available in the market today. These heaters use advanced technology to convert electricity into heat with minimal energy loss, making them more energy-efficient than traditional baseboard heaters. They are a great option for those looking to reduce their energy bills while keeping their homes warm and comfortable.
What is the most efficient way to run baseboard heat?
The most efficient way to run baseboard heat is by using a programmable thermostat to maintain a consistent temperature and avoid overheating. It is also important to ensure that the baseboard units are clear of any obstructions and that the room is properly insulated to prevent heat loss. Additionally, installing a hydronic baseboard heater can be more efficient than electric baseboard heaters, as they use hot water to heat the space.
Do baseboard heaters use a lot of electric?
Baseboard heaters are electric heating devices that are installed along the base of a wall to provide heat to a room. They do use a lot of electricity as they rely solely on electric resistance heating to warm a space. The amount of electricity used by a baseboard heater will depend on the size of the heater and the temperature setting. It is important to consider energy efficiency and cost when choosing to use baseboard heaters as a primary heating source.
Which type of heater is cheapest to run?
The most cost-effective type of heater is an electric heater. Electric heaters are cheaper to run than other types of heaters because they convert all the energy they use into heat. In contrast, gas heaters lose some of the energy they use in the process of combustion, while oil heaters require more energy to produce the same amount of heat as electric heaters.
Related Resources