Do you want an eco-friendly toothbrush to upgrade your dental hygiene? Look no more than the SURI Sustainable Electric Toothbrush! Dentists recommend this revolutionary electric brush, and it offers a variety of great features that make it stand out from traditional models, such as sustainability, durability, convenience, and exceptional cleaning power.
In this review of the SURI toothbrush, we'll discuss all its special elements, including design construction about green living initiatives, usability for everyday use in life, performance test results versus classic brush types, battery strength output compared to regular units, cost efficiency amongst alternatives, plus customer opinions.
Does getting sustainable electrical make sense with so much offered with one purchase? You can decide once you read over what has been discovered about this unusual electric product here!
Key Takeaways
Experience superior oral hygiene with the sustainable, stylish, affordable SURI Sustainable Electric Toothbrush.
Enjoy dentist-recommended cleaning modes, compostable bristles, and free postage for returning used brush heads to impact your environment positively.
Get praised by customers for its superior cleaning performance, eco-friendliness, long-lasting battery life & affordability, making it an ideal choice!
Introducing the SURI Sustainable Electric Toothbrush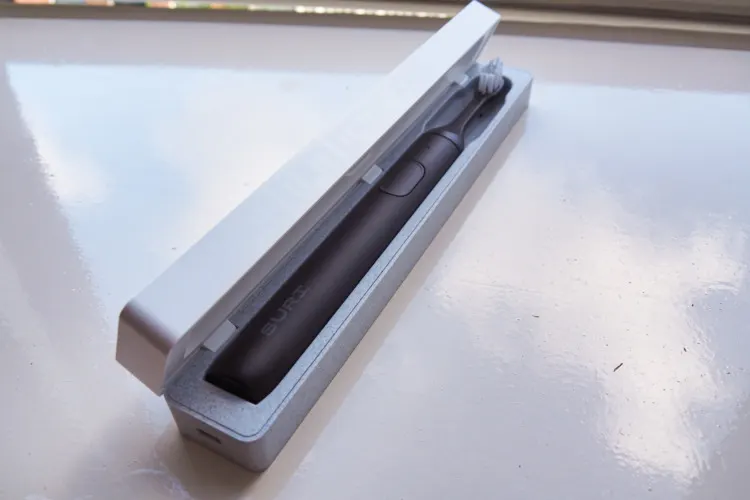 The SURI Sustainable Electric Toothbrush is an innovative and game-changing oral hygiene device. This toothbrush offers many features, such as a plant-based brush head made of corn starch and castor oil for eco-friendly use.
Its 22cm long aluminum handle makes it easy to grip with an oval-shaped shaft measuring 2 cm width by 1.5 depth, giving you 33,000 sonic vibrations per minute when brushing your teeth.
All these come at the affordable price point of £75 plus an optional UV cleaning case priced at 95 pounds. Replacement heads cost a little over $6 each while subscribing for a SURI brush head costs just 9.60 pounds monthly with minimal shipping fee included in this deal – making it competitive against other electric toothbrushes like Philips Sonicare's.
Environmental sustainability was considered in the design process: modular structure ensuring simple repairs were used and recyclable materials utilized throughout, including free postage compostable paper bags specifically meant to return used heads without any hassle or additional expenses attached.
Magnetic wall mount adds a convenience factor alongside the USB charging stand that allows quick charge times, keeping your (Suri) toothbrush ready anytime. It also ensures a Sanitary state through specially designed UV cleaning system encasement offered optionally, but overall, a promising sustainable choice here undeniably stands out from the crowd!
Setting Up Your SURI Toothbrush
Setting up and using the SURI toothbrush is a breeze. The package includes a charging stand and a USB cable to juice up your device – it takes a mere 3-4 hours to charge fully, indicated by an LED light that illuminates when done. Additionally, there's a magnetic mirror mount for storing your brush in the bathroom, eliminating the need for extra space or the risk of brushes touching each other.
Two modes are available for the use of the toothbrush: Everyday Clean mode and Polish mode. Both have pacer features that assist users in brushing every surface area equally according to their dentist's guidelines – making dental hygiene easier than ever!
See Related: Sustainable Toothpaste Products Ranked
The Green Design of SURI Toothbrush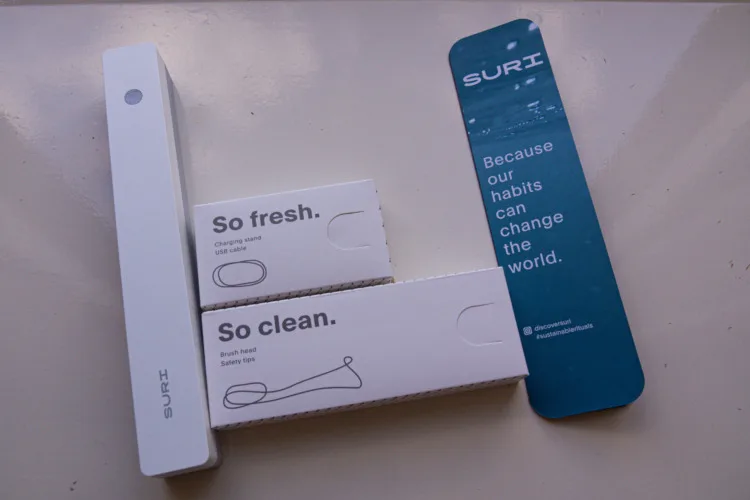 SURI Toothbrushes boast of a commitment to sustainability. They are made with an aluminum body, providing lightweight durability that is environmentally friendly in the long run due to their modular design, which allows for easy repairs and increased lifespan while reducing waste at the same time.
SURI brush heads contain recyclable materials such as corn starch and castor oil derived from plants. They are offering a more eco-friendly alternative than traditional plastic bristles. Free postage compostable paper bags can be used for disposing of old head brushes safely without causing harm to our environment.
The use of the SURI Sustainable Electric Toothbrush entails several beneficial consequences: promoting positive environmental action alongside having an enjoyable but effective brushing experience, cutting down needlessly created plastics by reusing lasting items, encouraging responsibility given its strong appreciation towards preserving ecological habits throughout the production process, up till disposal As well!
Durability and Ease of Use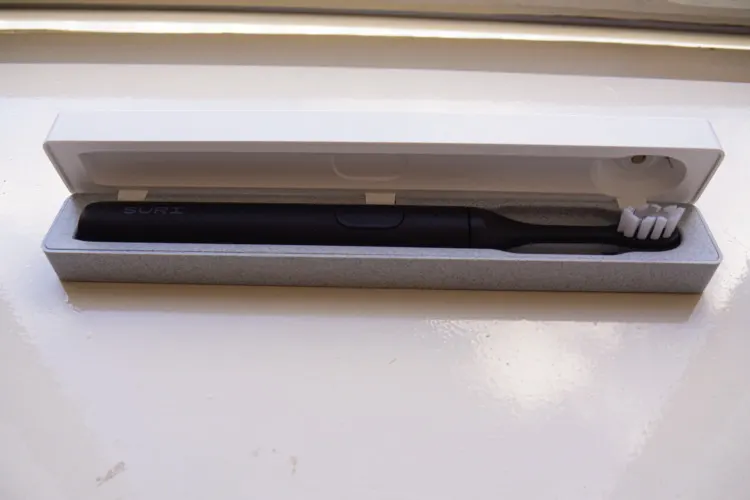 The SURI toothbrush is environmentally friendly and features a durable and lightweight design due to its aluminum body. With an IPX7 rating, the waterproof brush can also be used safely in the shower. The two-button interface allows users to easily switch between Everyday Clean and Polish modes for their convenience when brushing their teeth.
This travel-friendly product provides added hygiene with an optional UV-C cleaning case with one brush head. At the same time, vents allow it to dry and utilize a UV light, eliminating up 99% of harmful bacteria within 1 minute so you won't have to worry about cleanliness when traveling away from home!
See Related: Essential Environmentally Friendly Tech Products
Real-Life Performance of SURI Toothbrush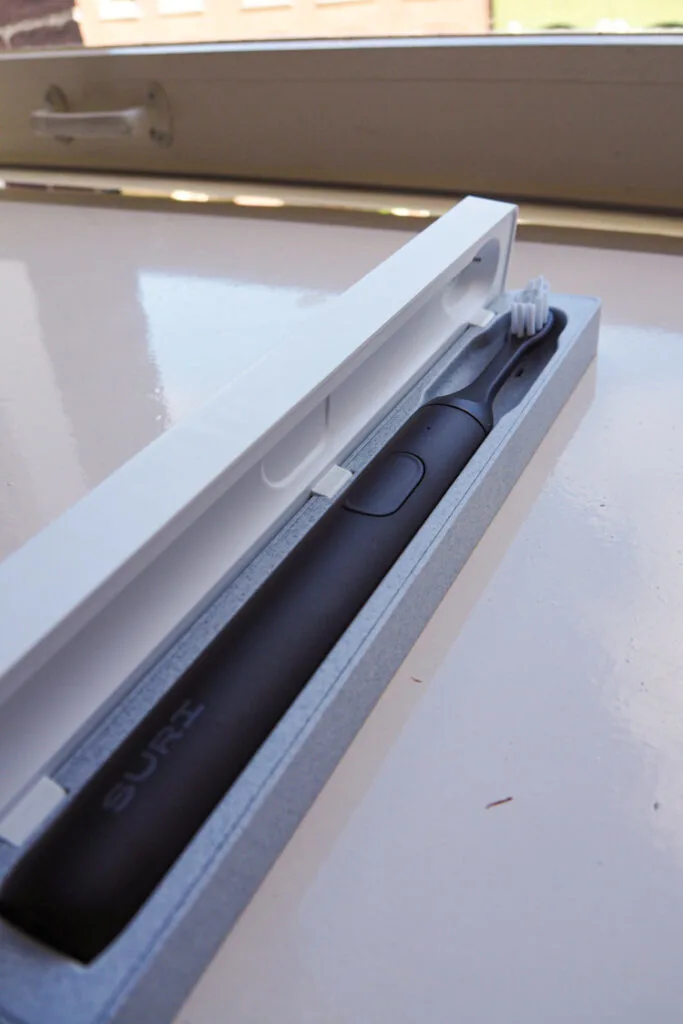 Users of the SURI electric toothbrush have voiced their positive feedback, lauding its efficiency for improving dental hygiene and cleaning teeth. With 33,000 sonic vibrations a minute through sonic cleaning technology being far more effective than manual brushing.
The battery life on this device has been highly praised by users – with it lasting up to 40 days from one charge alone. Making this an ideal companion for both everyday use and travel purposes as it is quite in operation during usage too.
Overall customers are satisfied with what the product has offered them so far – namely effectiveness along with prolonged battery power which accompanies its eco friendly design composed of sustainable materials that makes purchasing the SURI Toothbrush an attractive option when considering high quality electric brushes.
Cleaning Efficiency and Battery Life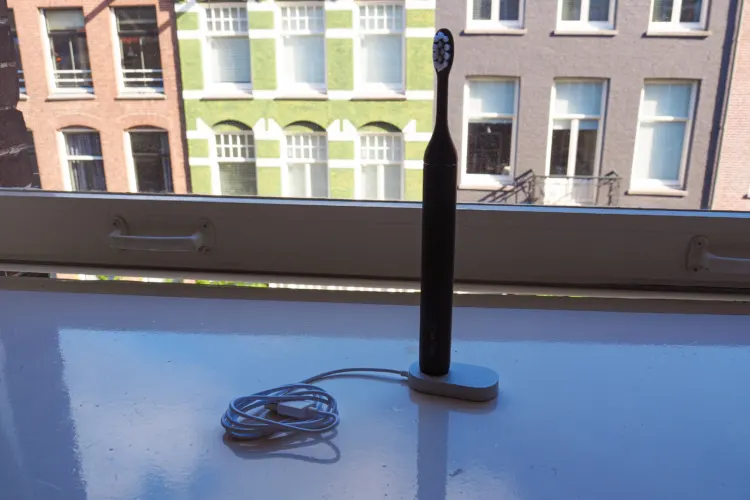 The SURI toothbrush provides excellent cleaning power thanks to its high-frequency sonic vibrations of 33,000 per minute. This ensures maximum plaque removal and is especially effective for a comprehensive clean in hard-to-reach areas. Many users state that their teeth feel incredibly fresh after using this particular electric toothbrush when compared with other products they have tried before.
What makes it truly special are the amazing battery life features: one charge can last up to 40 days! As such, it's extremely convenient for day by day usage as well as travel purposes. Much better than many other similar models requiring more frequent recharging periods.
Plus, combining long lasting performance along with eco-friendly design makes the suri model stand out among all existing electric toothbrushes available on today's market.
SURI Toothbrush vs. Traditional Brushes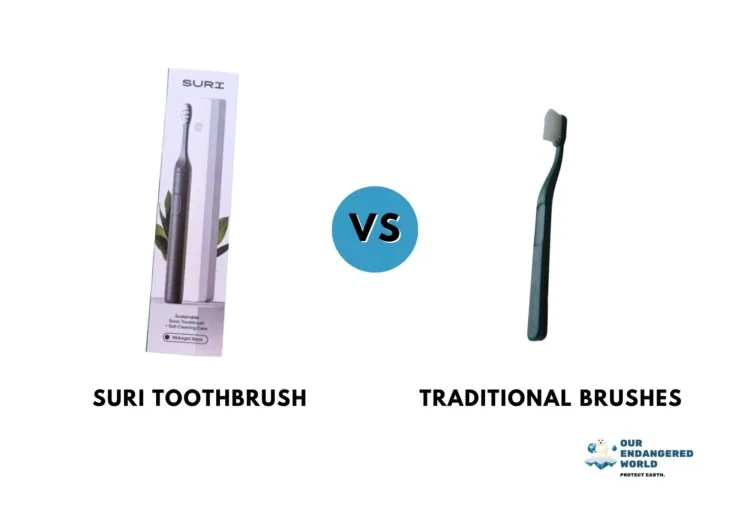 A comparison of the SURI toothbrush to conventional brushing tools yields numerous advantages. Its sonic vibrations enable far more efficient plaque removal and better overall oral health than manual brush use can provide. Those who have used it report a tangible improvement in how clean their teeth feel, affirming its efficacy.
This electric option is much more sustainable due to features like recyclable plant-based suri heads on an aluminum body. Something that other similar products may not take into consideration when designing them. This eco friendly design makes the SURI stand out amongst traditional brushes and others powered by electricity alike as being especially mindful of environmental wellbeing.
To sum up, choosing the SURI Toothbrush over standard methods provides users with top notch cleaning power combined with superior sustainability.The effectiveness combined with its user satisfaction make for reasons why people looking for low impact electrical solutions should select one without hesitation.
Eco-Friendly Alternatives to Consider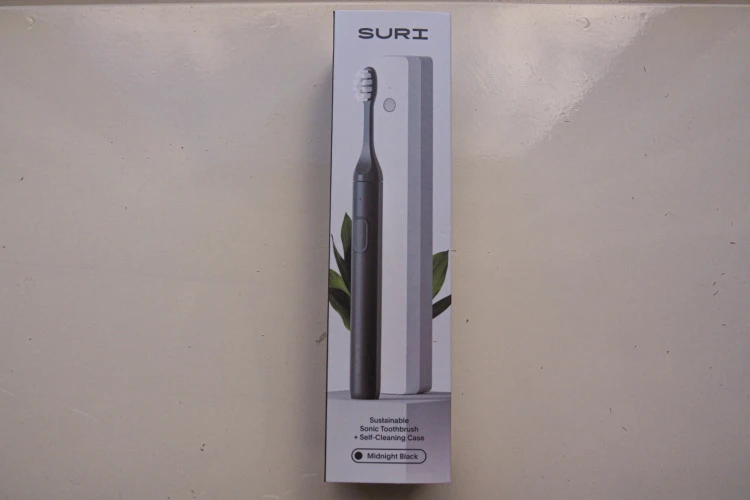 When it comes to eco-friendly toothbrushes, the SURI option is certainly worth consideration. Other sustainable options should not be overlooked, such as bamboo manual brushes. Even though these can offer a biodegradable alternative to traditional models. Over time, they may no longer provide optimal hygiene levels for users.
Electric variations also bring similar green benefits and features much like the ones from SURI. When looking at environmentally friendly choices one must pay attention to materials used by companies in their product manufacture as well its effectivity of dental care effectiveness.
See Related: Best Eco-Friendly Travel Products
SURI Toothbrush Reviews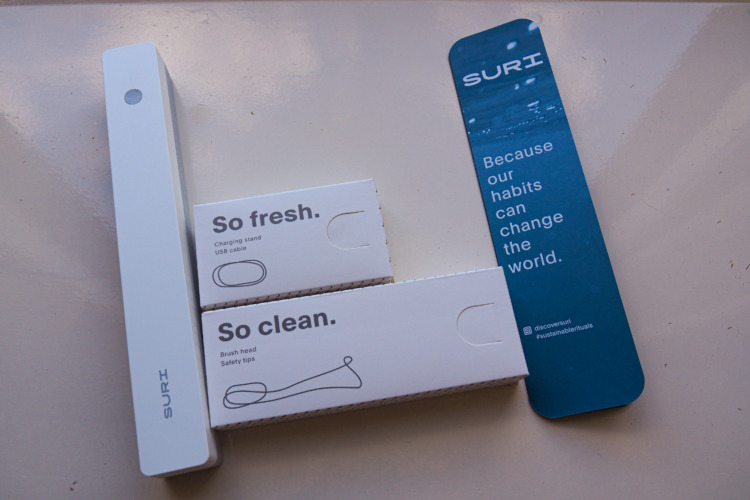 Users have commended the SURI toothbrush for its effectiveness in cleaning teeth, as well as its eco-friendly design and materials used. Consumers highly appreciate how inexpensive it is compared to other electric toothbrushes available on the market. Customers report that their mouths feel exceptionally clean after using this particular toothbrush brand, and many state that it outperforms other brands they have tested.
The sustainability aspect has been highlighted by purchasers who express approval regarding such a beneficial feature when choosing an electric brush option for daily use or special occasions. The affordable price point makes Suri's Toothbrush stand out while delivering high-quality results. It is one of the best choices for an eco-friendly yet reliable tool that provides excellent oral hygiene care.
Numerous praises can be heard throughout different communities about Suri's acclaimed electrical model due not only to be extremely effective but also economical in comparison among similar products within the same category. Why do so many people buy this type when exploring new options for finding the right Electric Toothbrushes?
Is the SURI Toothbrush Worth Its Price?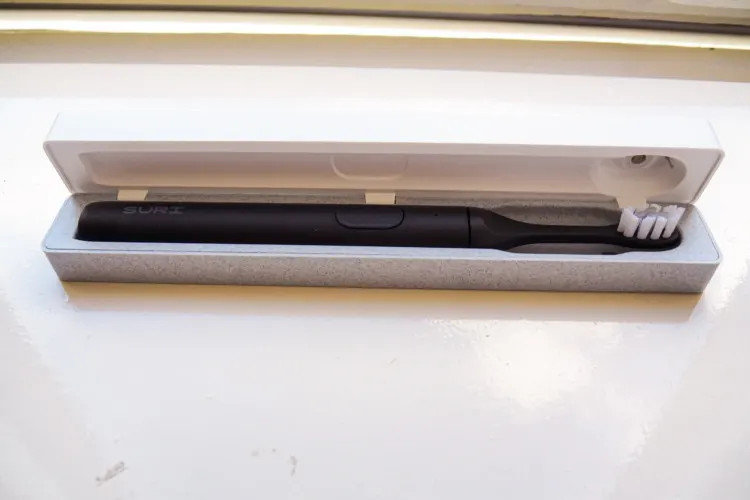 For people who wish to own a durable, powerful and eco-friendly electric toothbrush, the SURI Sustainable Electric Toothbrush offers impressive value. With strong sonic vibrations offering efficient cleaning power and long battery life coupled with an attractive, user-friendly design, this product stands out as one of the top choices in its category for customers keen on sustainability.
The SURI toothbrush is designed specifically for those who desire quality oral hygiene habits and are also mindful of environmental responsibility, making it stand apart from other options available today.
Its features, such as superior brushing action due to high-frequency sonic vibrations, make it desirable among users looking to get their money's worth when investing in an electrical brush option. Additionally, convenient charging options add up significantly towards delivering excellent performance consistently over time.
Positive customer reviews across websites attesting effusively regarding its suitability come with great rewards from consistent use backed by research studies into effectiveness – all suggest that this brand should remain firmly at or near the summit amongst rivals within the field, providing notable gratification from ownership.
Summary
The SURI Sustainable Electric Toothbrush is a great choice for an electric toothbrush that focuses on being eco-friendly. This brush has lots of impressive features and advantages, from its sustainable design to the long-lasting battery life it offers, all while delivering effective oral hygiene results! Reviews have been highly positive due to these qualities as well as its overall durability.
If you're searching for your next toothbrush purchase, remember the standout performance and sustainability offered by this Suri product – not only will you maintain healthy teeth but also contribute towards protecting our planet simultaneously!
See Related: Eco-Friendly Tips for Sustainable Living
Frequently Asked Questions
Are Suri toothbrushes good?
SURI toothbrushes offer an outstanding hygiene experience due to their renewable plant-based brush heads, cushy castor oil bristles, and the choice of recycling or restoring the aluminum body. Not only do they present a great cleaning performance, but they are also eco-friendly as all components can easily be recycled.
Is Suri as good as Oral-B?
Oral-B offers an optimal cleaning performance, whereas SURI is a great option for eco-friendly-conscious consumers. Both options provide beneficial results, but oral-B comes out on top regarding overall quality and experience.
Is SURI toothbrush actually sustainable?
The SURI toothbrush is an eco-friendly option for dental hygiene, as its heads are crafted with sustainably sourced cornstarch and bristles made from castor oil, which can be composted. The handle will last up to three months before needing replacement. The head easily pops off to be put into a composter, while the grip may still have some use. This makes this toothbrush great for those wanting something more sustainable when brushing their teeth!
How long do SURI toothbrush heads last?
To ensure you're brushing with the best, replace your SURI toothbrush heads every three months. You can also send them back for recycling once their life cycle is over, a great way of helping our environment! To keep optimal performance, it's important that we stick to the schedule when switching up our Suri toothbrushes and brush heads.
How does the SURI toothbrush compare to traditional toothbrushes regarding cleaning efficiency?
The Suri toothbrush is a revolutionary dental tool, featuring high-frequency sonic vibrations that offer improved plaque removal and superior cleaning efficiency compared to standard brushes. This advanced technology enhances oral hygiene for users when using this top-of-the-line toothbrush.
Related Resources