As we become more aware of our environmental impact, it's essential to make eco-friendly choices with our everyday products. One product category where this has profound effects is laundry detergent. With so many friendly options for this year, figuring out which ones are sustainable and reliable can be tricky.
In this blog post, let us take you through ten environmentally conscious brands of laundry detergents – explore their specific features plus advantages and disadvantages to decide on the best choice for your laundering needs!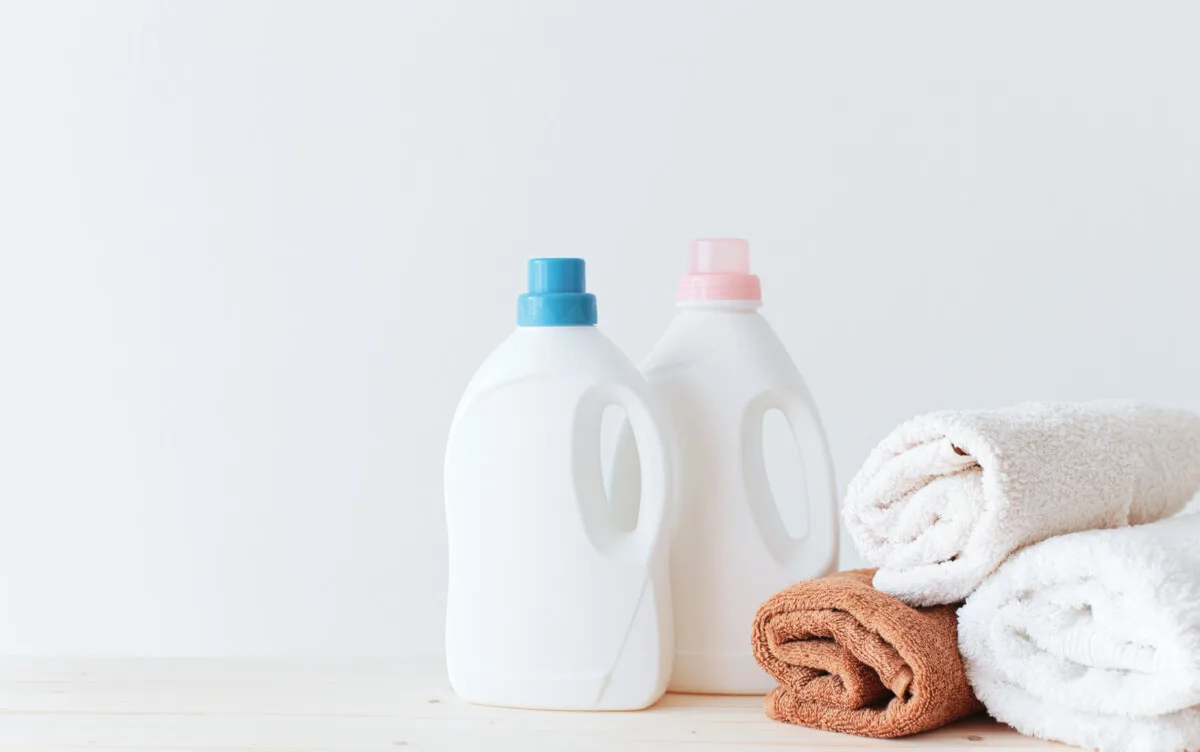 Best-Of by Category
Best Eco-Friendly Laundry Detergents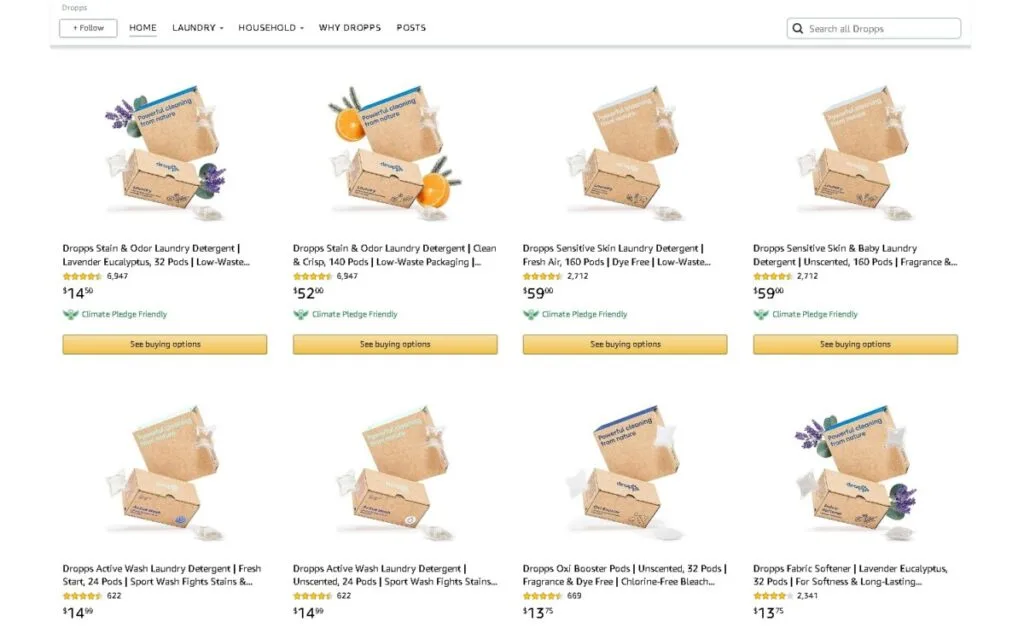 Dropps Laundry Pods provide an eco-friendly, budget-friendly alternative to traditional laundry detergents. The pods are formulated with natural enzymes and plant-based ingredients for powerful cleaning performance in a small size similar to detergent sheets.
They also feature packaging that is fully compostable, recyclable, plastic, and FSC-certified, making it a guilt-free choice when doing your laundry routine. Dropps offers multiple scents as well as formulas designed specifically for sensitive skin stain removal or odor elimination, providing more variety than most other options available on the market today.
Despite reviews being Positive across three thousand customer ratings at 4.7 stars out of 5, there have been some reports about potential problems dissolving these pods if used on certain washing machines, so this should be considered before purchasing.
However, no guaranteed risk exists due to general satisfaction from users who use them correctly following instructions provided by the manufacturer. Ultimately, the choice between conventional vs. Dropp's Eco-Friendly Laundry Detergent comes mostly from personal preference.
Once you decide which route best suits you, price shouldn't stop you since prices range between $15 – $78 giving almost everyone access to quality environmentally friendly products.
See Related: Essential Environmentally Friendly Tech Products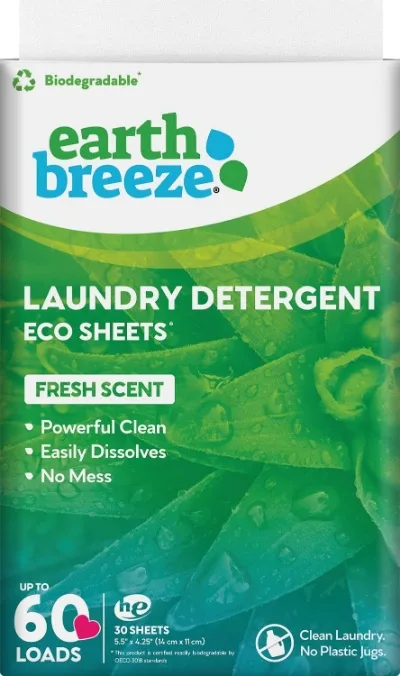 Earth Breeze Laundry is Earth Breeze Laundry. Sheets offers a safe and effective laundry detergent solution with zero-waste eco-strips made from glycerol, sodium dodecyl sulfate, and PVA.
The sheets come in fresh scent or fragrance-free varieties so customers can pick one to suit individual needs, all of which are packaged using compostable material for an environmentally friendly choice.
Those seeking, especially gentle options will be pleased as Earth Breeze caters particularly to those who have sensitive skin or allergies due to its biodegradable formula that keeps things easy on the environment, too.
Though this option may seem expensive when compared against other alternatives (which range between $20-$119), it does provide tremendous value considering the benefits environmentally conscious consumers gain from buying these sheets – making them worth your while!
3. Tide Purclean: The Trusted Brand's Green Option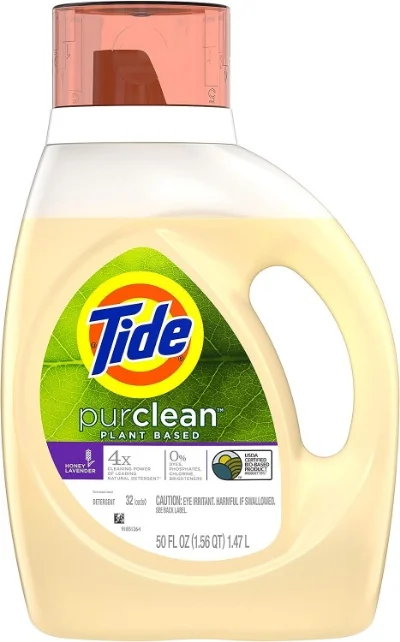 Tide Purclean is an eco-friendly laundry detergent that maintains the same cleaning power as a well-known brand. The formula has 75% plant-based ingredients; no dyes, chlorine, or optical brighteners are included. This makes it safer for your clothes as well as better for the environment overall.
To ensure sustainability even more than to ensure sustainability. This product is also manufactured using renewable wind energy at zero waste to landfill sites!
Although not quite as concentrated as other green choices in terms of performance while washing clothing, Tide Purclean still stands out among its competitors thanks to being reliable and trustworthy amongst customers who search for these types of products, specifically looking to be gentle on nature's resources.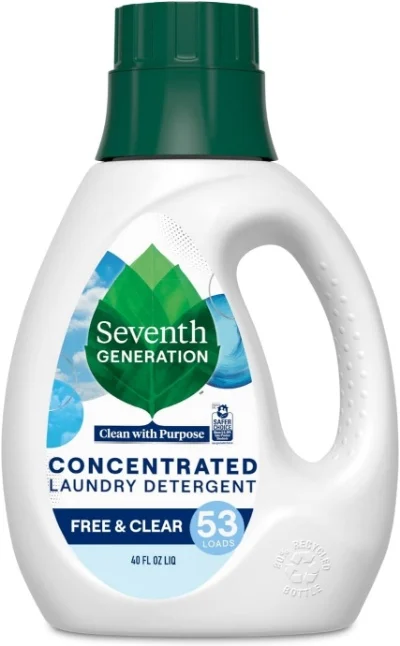 For those needing an eco-friendly laundry detergent, Seventh Generation Free & Clear may be your choice. Its features include a plant-based formula that is gentle on fabrics and environmentally safe according to U.S. EPA Safer Product Standards, plus being fragrance-free and suitable for sensitive skin.
It has become popular among people looking for a natural cleaning option as the company openly shares its ingredients online. Some of them, like laureth 6 or sodium lauryl sulfate, could serve as potential allergens or carcinogens; hence, it might not be ideal if one is particularly prone to skin irritations due to allergies.
This product offers great benefits such as ecological responsibility and good fabric protection without including fragrances while still giving consumers transparency about what goes into their products, making the seventh generation an interesting option when considering buying a new laundry detergent.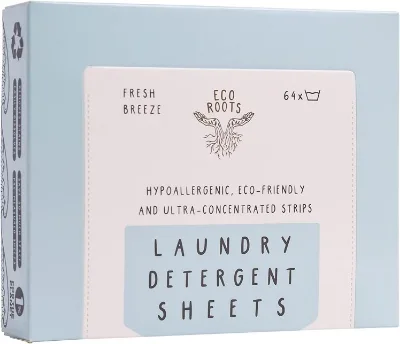 EcoRoots Eco-Strips are a zero-waste, sustainable alternative to traditional laundry detergents. This chemical-free solution offers an easy and convenient way of cleaning clothes without compromising quality or the environment.
With 4.9 stars out of 5 and over 100 positive customer reviews, these eco-friendly strips have successfully delivered effective results while being gentle with both garments and nature alike!
The pre-measured amounts ensure accuracy when adding the right amount for each load—no guesswork is needed here!
Formulated with plant-based ingredients means that this is a safe option as far as chemicals go, too — definitely ticking all the boxes regarding sustainability-related concerns nowadays.
One small downside may be its efficacy against heavily soiled clothing pieces, but overall, many consider it a good value for money, considering you pay only $15.99 per pack. Great going, EcoRoots. Keep up your mission towards more conscious consuming habits!
See Related: Best Eco-Friendly Travel Products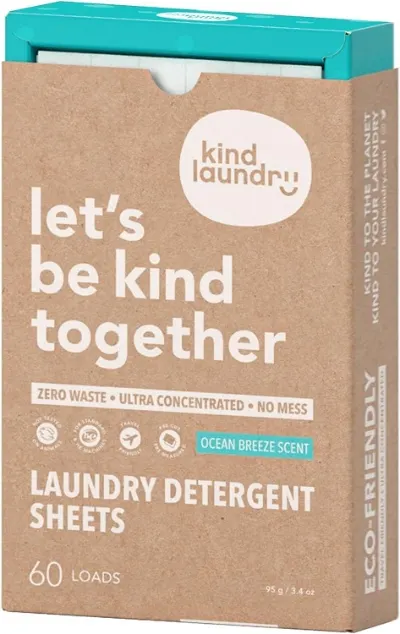 Kind Laundry Low-Waste Detergent Sheets is an eco-friendly laundry detergent with minimal ingredients and PVOH packaging. For those looking for a low-sudsing, environmentally conscious option to launder their clothes, these sheets (also known as laundry soap) offer the perfect solution.
They dissolve quickly in hot and cold water, leaving garments fresh without artificial scents or harmful chemicals being used. The price is quite reasonable at a $19.95 one-time purchase ($1696 subscription), saving you 15%.
Despite its effectiveness, there is one downside: Kind contains PVA & sulfates, which can be toxic if exposed to aquatic life, so they must be handled carefully. This still makes it a great choice when seeking a green yet effective way of cleaning your clothing items!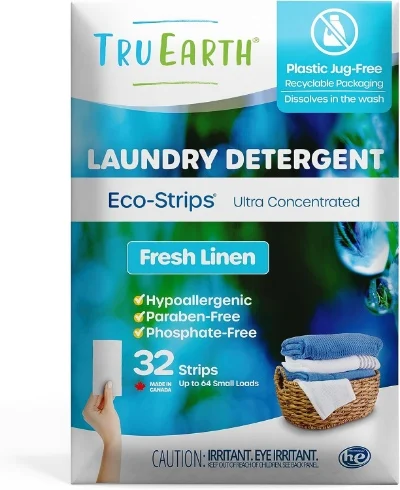 Tru Earth Eco Strips provides a plastic-free, zero-waste laundry detergent solution for those looking to be more eco-friendly. All their ingredients are plant-based and free of harsh chemicals, so they can safely go into standard or high-efficiency washing machines without leaving too many suds behind.
At $15 per packet, this is pricier than other kinds of no-waste options available, but it's certainly worth the investment if you want to reduce your reliance on plastics as well as make sure that your clothes come out just as clean every time!
The hypoallergenic formula also helps guarantee that there won't be any unwanted irritants in contact with sensitive skin when doing laundering tasks, an important factor not always considered when selecting a product like this one from Tru Earth.
Compared with all its benefits, cost shouldn't necessarily prevent someone from considering using these strips since reducing one's environmental impact should take precedence over anything else anyway!
Whether people choose Tru Earth Eco Strips or another form of green-conscious decision-making is ultimately up to them, but rest assured, knowing that opting for such products will help minimize strain placed upon our planet while providing good results at home even during tough times, what could we ask more?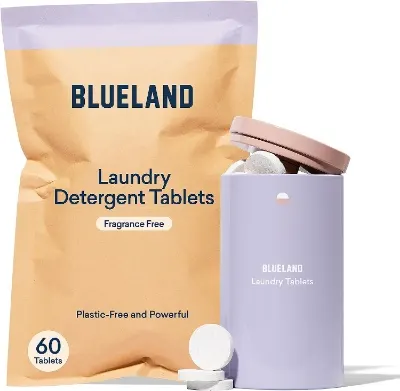 Blueland Laundry Tablets are an eco-friendly solution to conventional laundry detergents, formulated with natural ingredients and designed without artificial fragrances.
These tablets dissolve in water for a zero-waste clean that eliminates the need for harmful chemicals usually found in other types of detergent. The unscented formula is suitable even for those who suffer from sensitivities, making it an excellent choice if you want to switch up your cleaning routine.
The packaging on Blueland Laundry Tablets can be recycled, so there's no worry about creating additional waste! One consideration could be its higher price point compared to other eco-friendly laundry products available today.
Still, many people feel this cost justifies itself through effective results when using their products alone or combined with traditional liquid versions! They do not offer various scents, which may disappoint some customers who want greater options.
Despite having limited scent choices and being slightly more expensive than others within its category, Blueland's non-toxic yet powerfully efficient formulas make them stand out amongst their peers – offering good value because strongly clean clothes while also proving highly earth-conscious at the same time.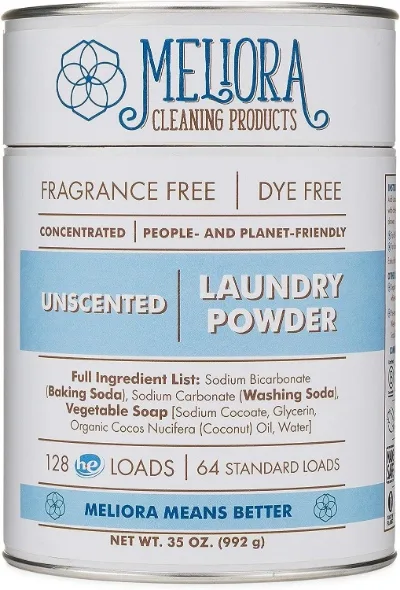 Meliora Zero Waste Laundry Powder is an eco-friendly laundry detergent that offers a plastic-free and vegan alternative to traditional products.
The all-natural ingredients make it ideal for those with skin irritations or allergies, and the MADE SAFE certification ensures its cruelty-free status. It also comes in reusable packaging and refill options to reduce your environmental footprint while still getting quality cleaning results.
The powder formula of this laundry detergent can be slightly messy, but apart from that, there are many benefits, such as being environmentally friendly without compromising on performance levels. Something any zero-waste advocate will appreciate!
Their price point at $16.99 for 64 standard loads (128 HE) per reusable canister makes them competitively priced compared to other brands claiming eco-friendliness today.
Anyone seeking out plastic-free laundry detergents should seriously consider Meliora Zero Waste Laundry Powder because they offer unique, sustainable properties like refilling possibilities; their delicate nature also gives peace of mind if looking after sensitive skin! Meloria's powdered product could prove advantageous due to its thoughtful design, which ticks both health & sustainability boxes nicely!
See Related: Best Home Energy Saving Products to Buy Today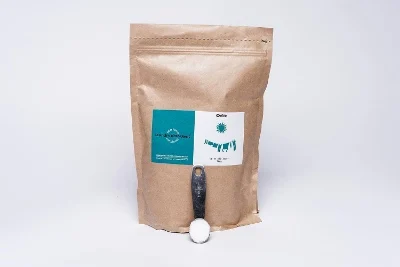 Etee Non-Liquid Laundry Detergent is an eco-friendly laundry detergent option, free from plastic and zero waste. It comes in a concentrated powder form as well as a bar to replace traditional liquid forms of the same product.
This detergent contains natural ingredients designed to remove stubborn stains and odors with minimal environmental impact. The cardboard packaging ensures no use of plastic or other damaging materials during the distribution process, making it a great choice for those seeking sustainability options regarding laundering clothes.
Consider the following points. Etee is relatively new in this market, so customers should bear in mind they may not have all the established credibility like some more experienced brands that offer similar services within the scope of 'eco-friendly' laundry products. But if you want something both innovative and sustainable, exploring what Eete can bring could be worth your while!
Overview of Eco-Friendly Laundry Champions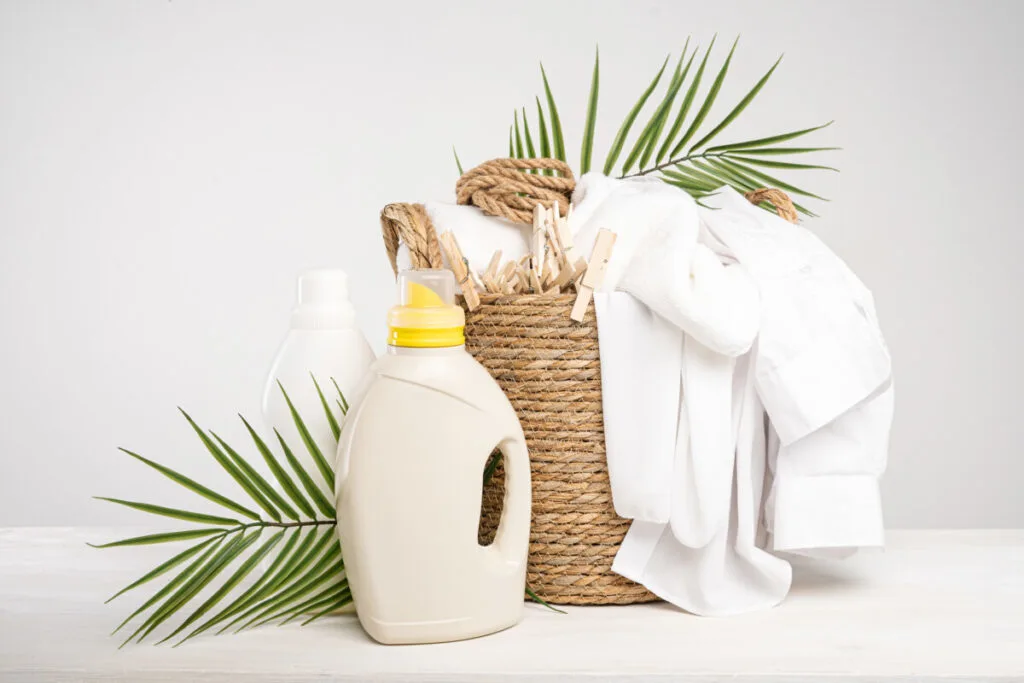 Navigating the eco-friendly laundry detergent market can be difficult, but this post simplifies it by showcasing ten of the top picks for this year. All these options demonstrate excellent results and a reduced environmental impact.
Many other regular laundry detergents are used due to their sustainable ingredients, packaging, and production methods. They are helping you make an effective change in your cleaning routine.
Dropps Laundry. Pods are an affordable yet plastic-free solution, while Earth Breeze's Laundry Sheets work well on sensitive skin types without compromising quality performance output. Additionally, Tide Purclean is another environmentally friendly choice from a highly trusted brand name that has been around for years.
Blueland also offers great tablets as part of their zero waste range. At the same time, Etee Non-Liquid stands out amongst newcomers with its effective features, albeit with a slightly higher price tag than average products within its category.
Every item will feature full details regarding pros & cons and key functions when looking through our list to locate your ideal option within a zero-waste laundry room environment!
Decoding the Eco-Friendly Laundry Detergent Market
Navigating the eco-friendly laundry detergent market can be intimidating due to a variety of seemingly sustainable and effective products. To decide which one is right for you, assessing certain features such as ingredients, packaging options, certifications, and manufacturer's claims should take place.
For example, plant-based elements in combination with enzymes or biodegradable components are desirable qualities when it comes to picking out an environmentally friendly washing agent.
Looking at resources like the EPA Safer Choice label plus USDA Certified Biobased or MADE SAFE might provide extra assurance that your product meets sustainability standards. Lastly, consider optimal eco choice-related concerns while choosing packaging, e.g., preference for reusable/recyclable/compostable items over plastics.
In short, considering all these tips could help you search confidently leading up to committing yourself to greening up your laundry habits!
Summary
When deciding which laundry detergent to choose, a range of eco-friendly options on the market cater to different needs and budgets. Dropps Laundry Pods make for an affordable solution, while Blueland Laundry Tablets provide more innovative solutions.
Before making your choice, consider aspects such as ingredients, packaging sustainability certifications, and truthful claims. This way, you can be sure that your purchase is helping to create a cleaner environment in the future.
The best environmentally conscious choices listed here offer great alternatives when purchasing a sustainable laundry product. You will help support brands dedicated to environmental improvement and create impactful changes for generations yet to come!
Frequently Asked Questions
What is the most eco-friendly type of laundry detergent?
For eco-friendly laundry solutions, look to Earth Breeze's Laundry Strips, Pur Home's Liquid Detergent, and Blueland's Laundry Tablets, as well as True Earth's variation of strips. All are packaged with materials that degrade easily in the environment, so you can feel good about your purchase.
It is always worth considering these earth-conscious options when shopping for a detergent alternative or complimenting product within this range. They will undoubtedly lead to more sustainable cleaning practices around the home!
Which laundry detergent is safest for the environment?
Tru Earth Eco Strips is the most eco-friendly laundry detergent on the market, perfect for safe and effective cleaning. Joining it are other earth-friendly brands such as Cleancult, Blueland, True Earth, Biokleen Ecos, and Grove Collaborative, who all offer great environmental alternatives to traditional laundry practices. Seventh Generation and Ecover also provide sustainable options when considering an eco-friendly solution for doing their laundry!
How do I choose eco-friendly laundry detergent?
Consider certifications like USDA Organic, EcoLogo, or EPA Safer Choice when searching for an eco-friendly laundry detergent. Avoid hazardous chemicals such as phosphates, bleach, and artificial fragrances to keep your home safe from toxic substances.
Does Tide have eco-friendly detergent?
Tide has a selection of environmentally friendly detergents known as 'Eco-Box'. Its reworked formula requires less water but boasts greater cleaning efficiency than traditional liquid detergent.
To be more eco-conscious, it is much smaller and easier to store away. Overall, the Eco-Box's effectiveness at giving your clothes excellent results while significantly reducing its environmental impact makes this product ideal for anyone looking for an ecological solution that still leaves you with sparkling laundry!
What is the best eco-friendly laundry detergent for sensitive skin?
Earth Breeze Laundry Sheets are perfect for those seeking a more eco-friendly laundry approach without compromising comfort.
Their formula is designed with sensitive skin in mind, containing no harsh chemicals or fragrances that could irritate. They break down quickly when disposed of, so you don't have to worry about adding extra strain to your local environment.
The sheets are incredibly user-friendly and make laundering hassle-free, ideal if you want an easy way to reduce environmental damage while still caring for delicate items like clothing made from natural fabrics!
Related Resources