Even for people looking to shed off some pounds, the taste of a home-baked treat or mouthwatering meal is always a delight. And what's a kitchen without a proper oven for preparing the meals your family enjoys? Let's evaluate are double ovens more energy efficient?
Whether you are looking to replace your old oven or you're an avid baker looking to step up his game, you should consider settling for a double oven.
However, it's not wise to just pick the first one you come across; there are several things that you should look for. They include:
Capacity
The first thing you need to have in mind is the capacity of the oven you intend to purchase. To determine the best size of an oven to invest in, you should consider the purpose you intend to use it for –the number of people you'll be cooking for.
Keep in mind that a double oven's measurements are inclusive of both spaces. Most manufacturers use cubic feet to measure the capacity of ovens.
Depending on the model you go for, some will have a bigger lower oven paired with a smaller lower one. Some wall ovens have evenly sized cavities at 5 cubic feet each.
Energy Source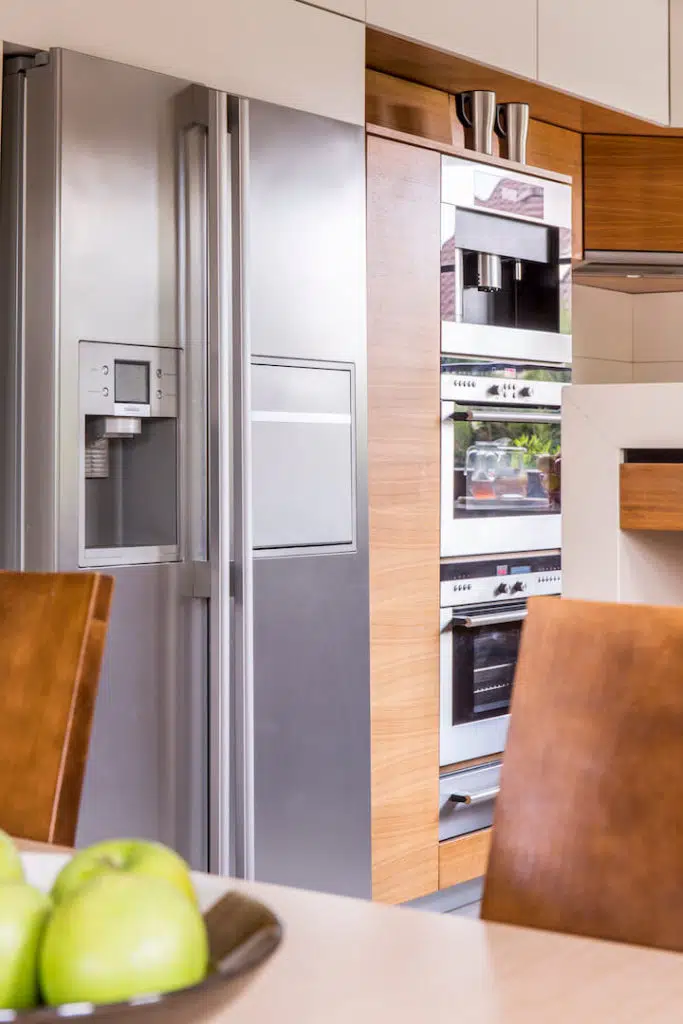 The next thing you should consider is the type of energy source. You probably want an oven that is energy efficient to help you save a few dollars on power bills. Ovens either use gas, induction technology, or electricity as a source of power.
Double-wall ovens are inbuilt which makes it difficult for them to be powered by gas, they mainly use electric power. A double oven gas range, on the other hand, can use gas, electricity, or induction technology for energy with no problems.
See Related: Best Erosion Control Products
Type
Next, you'll have to consider the type of double oven you are interested in. You can either go for a double range oven or a double wall oven depending on your preference. Double ranges come with a stovetop and are powered by gas, induction technology, or electricity.
If you already have a cooktop you like, the best option would be to go for a double wall oven –they have no cooktops.) It however can be a bit difficult to install since it will require major renovations.
See Related: Home Wind Turbines
Features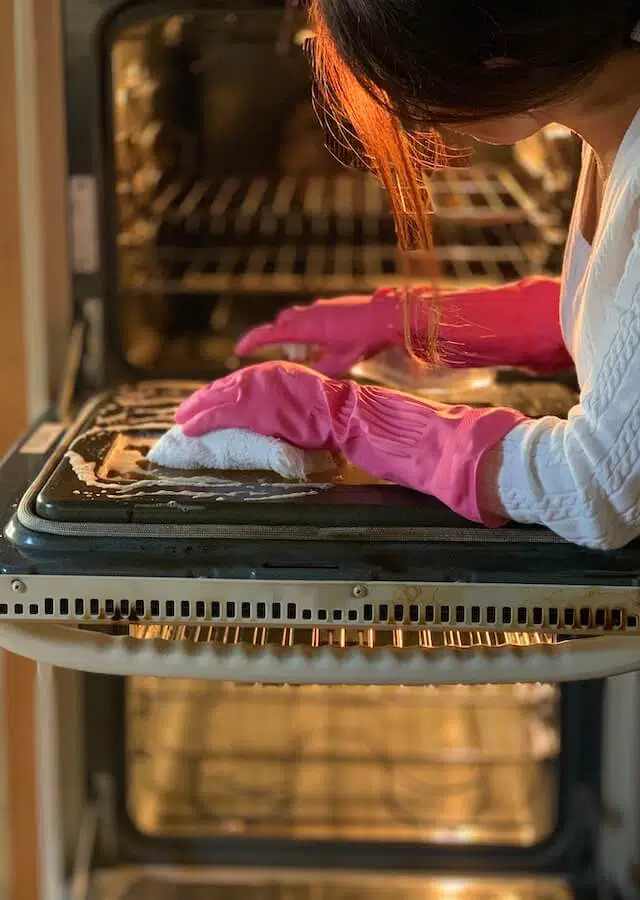 Then there are additional convenience features to consider. Different models of ovens, (both single and double) are designed with features to help ease the cooking process.
These include things such as;
self-cleaning,
sensor cooking,
timer-cooking,
dehydration setting,
double oven and stove
Heat regulations among others.
See Related: Best Solar Refrigerators
Pros and Cons of a Double Oven
To better evaluate how useful a double oven will be in your kitchen, let's take a look at what benefits they offer.
Pros
Faster and smarter cooking enables you to always present all your family needs in good time.
You don't have to worry about flavor transference while cooking different types of dishes at the same time.
You stand to save cooking time even when preparing a large meal. The option of baking or cooking different meals together is a real-time, saver.
With all the fancy features that double ovens come with, you will see value for your money –especially if you use the oven.
With a range double oven, you can save some energy by opting to cook your everyday meals using the small oven. It uses less energy than say if you were using a large single oven.
See Related: Environmental Organizations in South Africa
Cons
Double ovens cost way more than a single large oven; the double wall oven is however more expensive than the double range oven.
The bottom cavity of a double oven range is way too low to the ground making it a bit uncomfortable to use. This lower cavity is also smaller than the cavity of a single oven.
You will also miss out on the storage/warming drawer when you invest in double-range ovens.
These ovens can also be large power consumers especially when they are being used simultaneously.
See Related: How to Be An Environmentalist
Best Double Ovens
Now that you have some idea of what factors, benefits, and cons to expect from double ovens, the following are examples of real products in the market. Going through them might give you a better idea of what you might be looking for. Shall we?!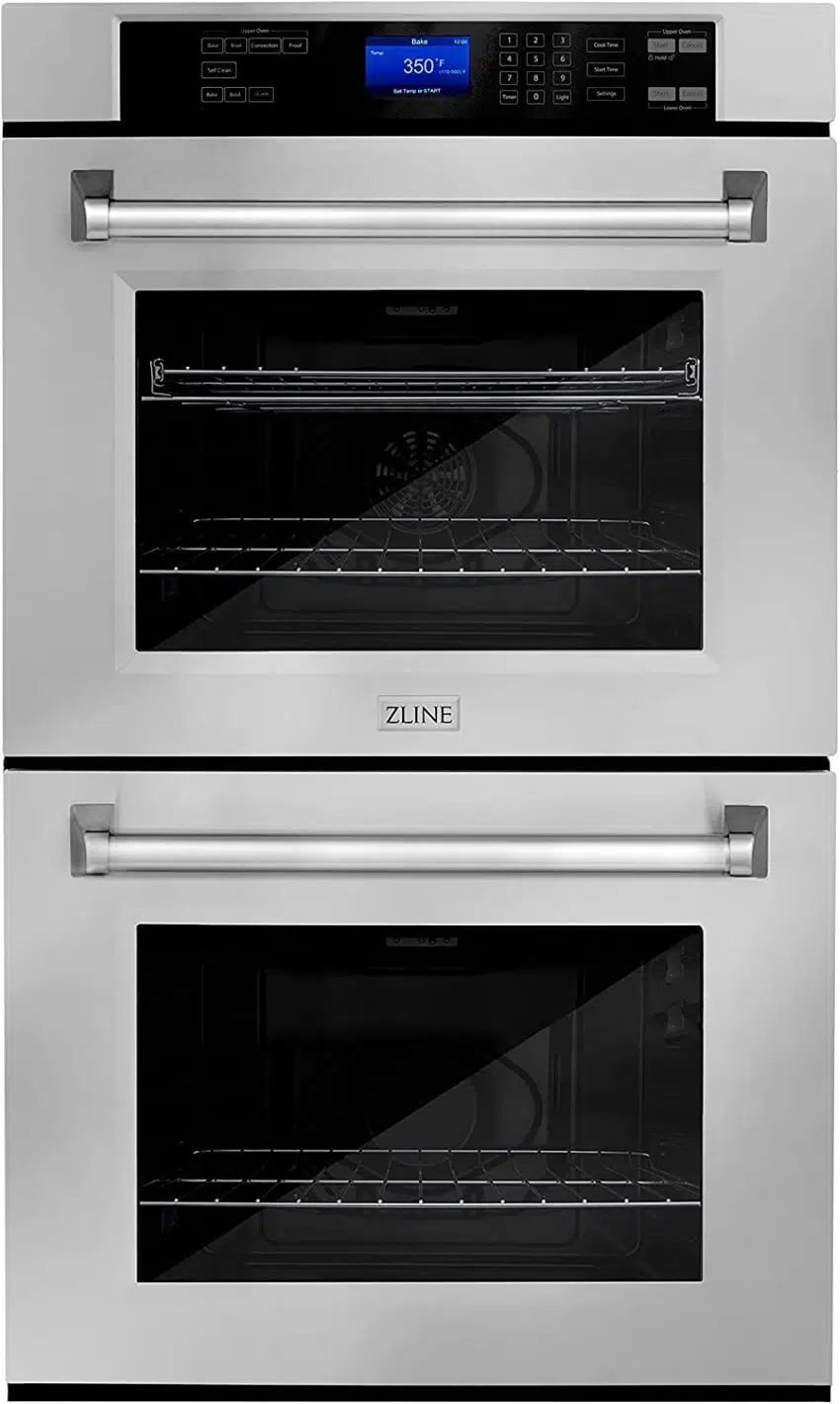 The ZLINE 30'' Professional double oven will have you cooking and baking like a pro with its multiple cooking modes. They include Convection Roast, Convection Broil, and Convection Bake; the last two modes are ideal for your daily use.
Both oven spaces have the capacity capable of handling and simultaneously cooking multiple dishes. The convection system can distribute heat to both ovens at the same time, even if they are each set at different temperatures.
The oven doors are designed with great stay-put hinges that can support and hold them at any point. This comes in handy a lot of the time when you are taking a dish out of the oven, it keeps the door from shutting with your hands still inside.
Installing this oven into your kitchen will cost you since it's a built-in appliance. However, the seamlessness achieved after construction will be well worth it. It uses electricity as the source of power.
See Related: Environmental Organizations in California
The Bosch HBL8651UC 800 is a convection double wall oven which makes it the ideal candidate for multi-rack cooking. It's capable of circulating hot air inside to maintain a steady temperature using its exhaust system and powerful fan.
For fuel, all you need is to plug it in and it's ready for you to get started preparing those delicious meals. It requires 8600 watts to function and comes with 12 different modes of cooking.
With the Boschs' fast preheat, you can stop wasting time waiting for your oven to heat up, and just get right to it. Whichever oven you choose to use for this baby, you shouldn't fret for they can both fit a lot of food.
This appliance is going to make your next dinner party sail smoothly –unless, of course, if your cooking skills are lacking! It's eco-friendly and with self-cleaning capabilities, saving you time and the stress of cleaning your oven after every meal.
See Related: Eco-Friendly Trash Bags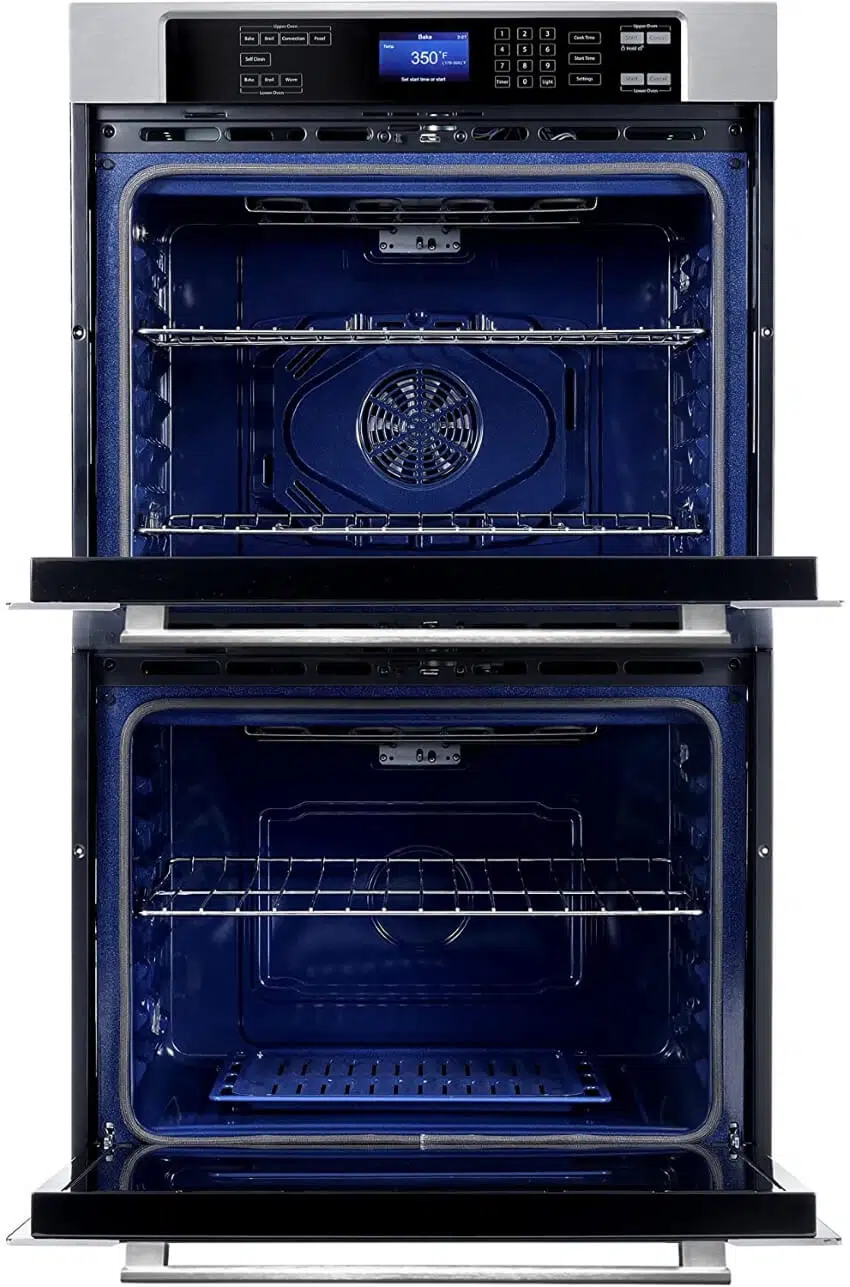 This Cosmo double wall oven needs 4800 watts for it to function properly. You can, however, save both energy and time with the ovens' Turbo True European Convection. This function helps you cook food in less time and more evenly.
With the top oven, you will get 7 oven functions that include convection bake, convection roast, convection broil, bake, proof, broil, and warm. You can now prepare your meals like a pro with no rush since this baby can easily handle multiple meals simultaneously.
Though cooking can be fun, cleaning isn't always something you look forward to; with this baby, you can cut down your cleaning time with the help of its self-clean feature.
Utilizes high temperatures to get rid of any spill, soot, or soil. Safety is very important, especially in the kitchen where there are open flames among other hazards.
This Cosmos wall oven has overheating protection, a cooling ventilation system to dissipate the heat, and a heatproof handlebar.
See Related: Energy Efficient TVs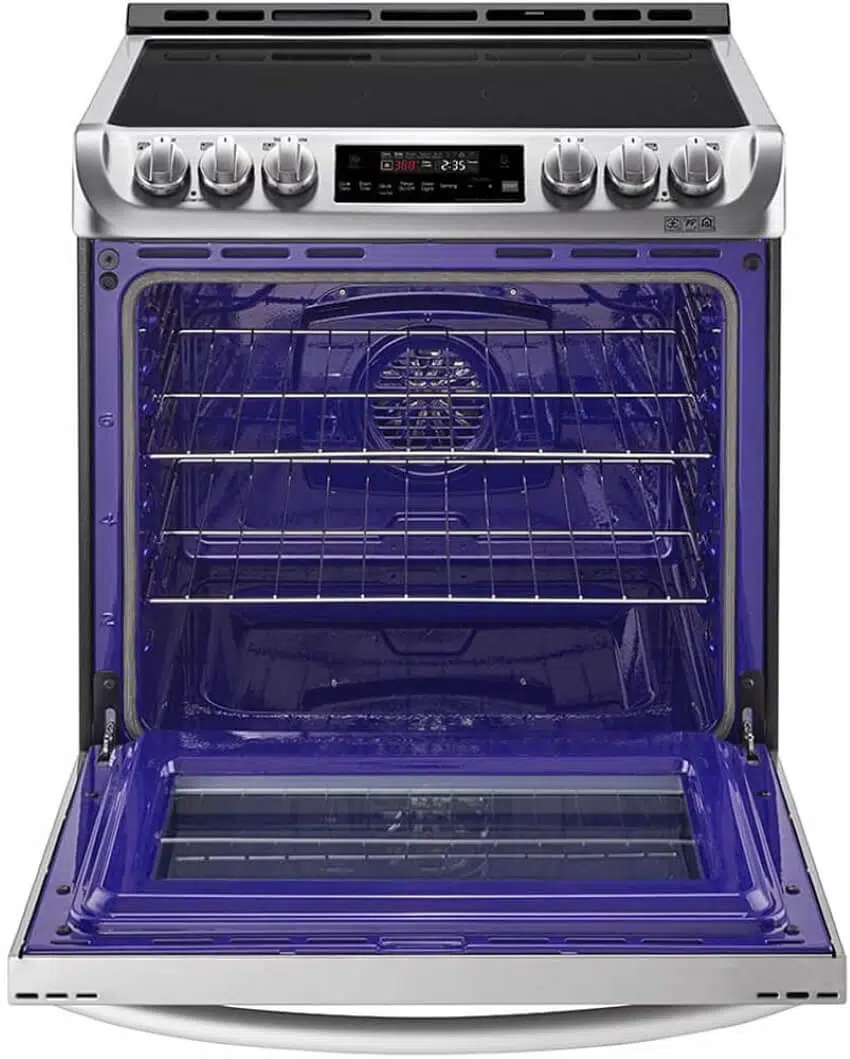 The LG ProBake Convection is a free stand double range oven that will not cost you anything in installation fees.
With this professional-looking oven, you can prepare multiple meals at the same time. You can use any type of cookware for your meals using gas or electricity.
You don't have to wait forever when boiling water, this appliance has a dual elements power output of 3200 watts. The controls are angled to allow you the ease of use and style –Sleek SmoothTouch interface.
Even after preparing a huge meal, you will be able to clean the whole oven in just 3 simple steps that will only take you about 10 minutes.
If you are a stay-at-home mum with small kids, the door lock feature will give you some peace of mind when you are multitasking. You could even set your baking to start at a time when you'll be ready to head into the kitchen.
See Related: Best Solar Lamp Posts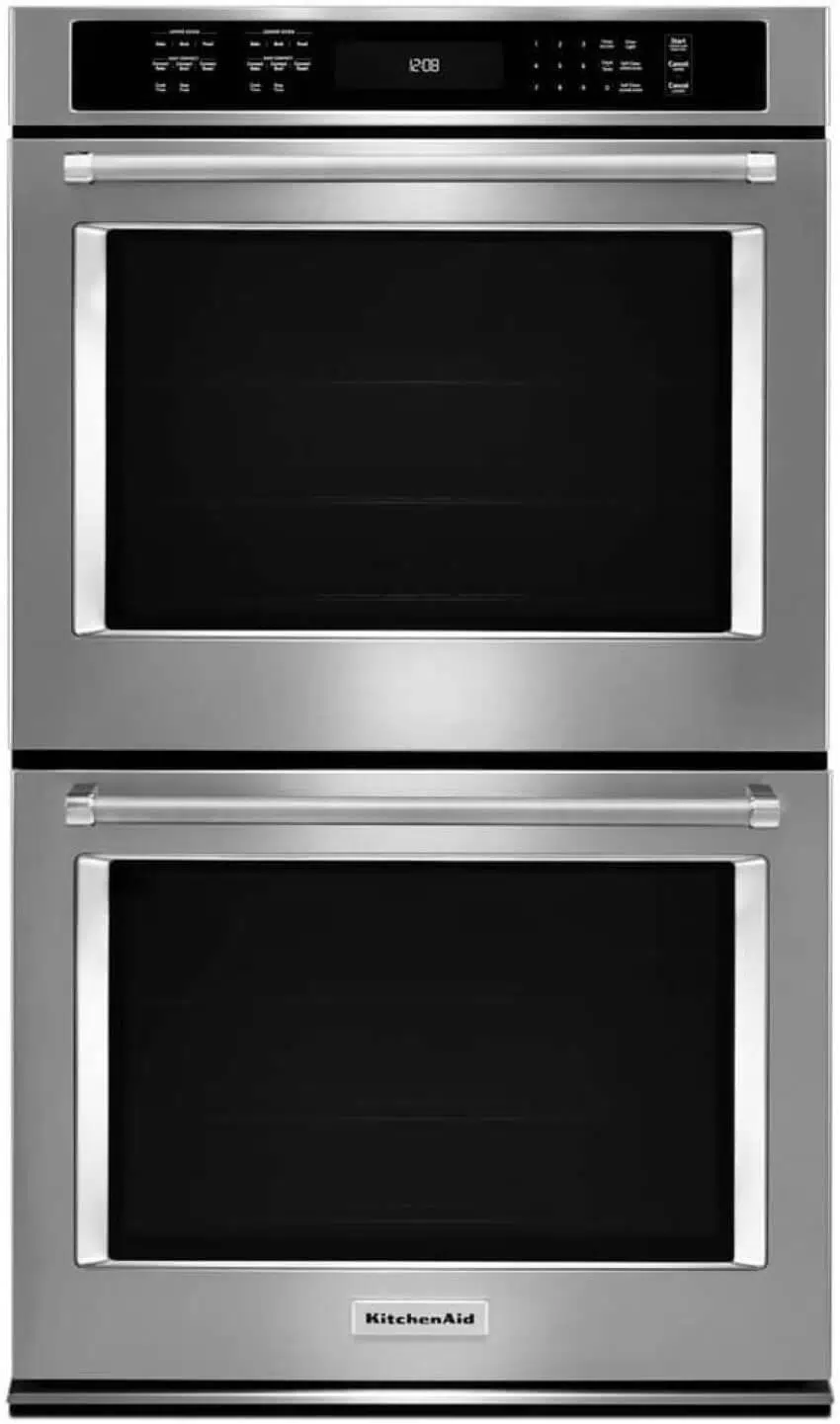 This electric KitchenAid KODE500ESS 30 is a sleek double-wall oven that comes in two oven spaces of equal. With this, you can comfortably bake those cookies or cakes for the bake sale with ease.
It's made of stainless steel and has a total length of 53'', a width of 34'', and a height of 31''. You don't have to worry about cleaning, this baby is capable of self-cleaning.
The EasyConvect Conversion System automatically adjusts the baking temperatures making it an effortless oven to use. You'll soon be baking all sorts of recipes like a pro baker.
For ease of use, the ovens' controls are on a glass touch, with bright colors inside, and buttery windows. All of these make it easier for you to keep track of and adjust your meals/baking progress.
If you are looking to conserve some energy, the best option would be to use one oven at a time. However, in case of an emergency or big dinner, you can always throw caution to the wind and put your KitchenAid in high gear.
See Related: Environmental Organizations in India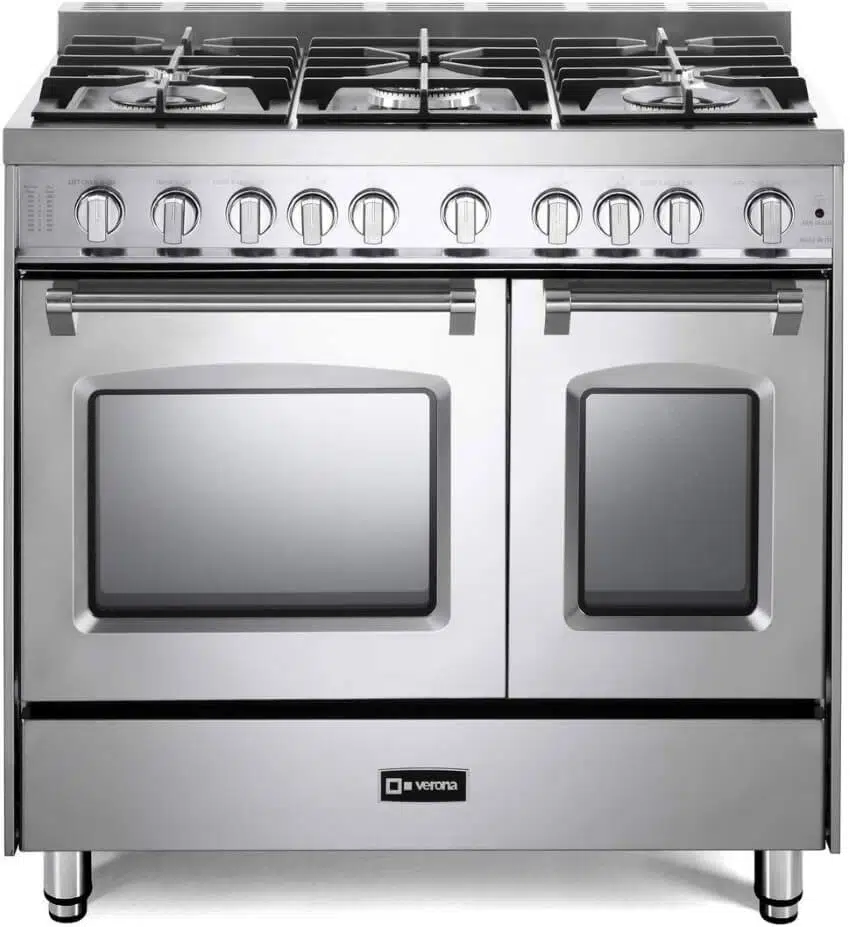 This double oven utilizes gas as its major energy source. It's made of stainless steel which will ensure it remains in tiptop condition for a long time to come.
Its 5 burners offer you the convenience of preparing multiple dishes. It also has a 2 Turbo-electric convection fan. The electric part of the oven requires 120 volts for it to function properly.
The dimensions of the large oven are a depth of 17'', a width of 18'', and a height of 14''; those of the smaller cavity are a depth of 17'', a width of 11'', and a height of 14 inches. This can handle almost any amount of food you might want to prepare –the main oven can fit a 15 – 20 pound turkey.
This oven also comes with numerous added features and tools to help make your experience a memorable one every time you cook with it. If you are looking for a double oven to cram in a small space, this would be the ideal option to go for.
See Related: Pros and Cons of Biomass Energy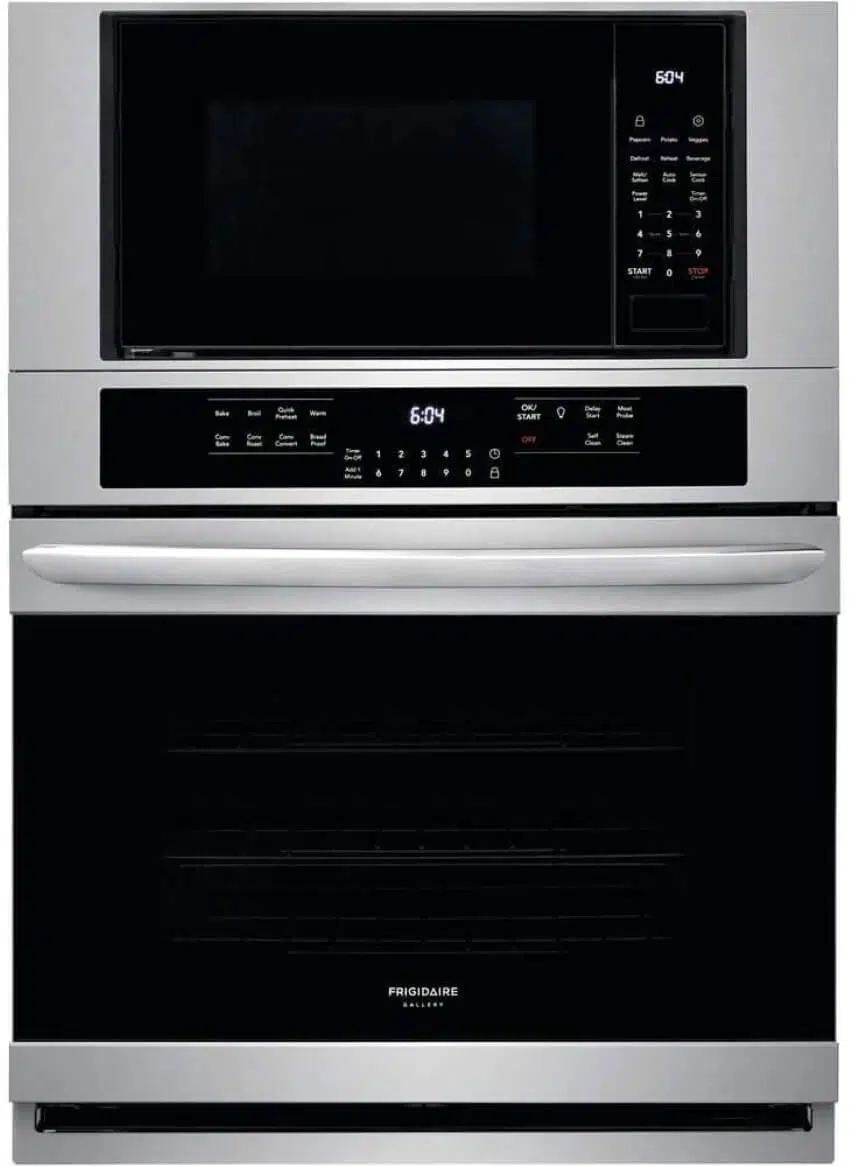 This is another great oven that has a futuristic look with a smudge-proof stainless steel exterior. This will make it easier for you to keep it clean even when you have numerous meals to prepare and not much time in between to clean.
It has a True European Convection system with a third heating element located around the convection fan in the oven's back wall. This double oven uses electricity for power and comes with a quick preheat setting to get you started immediately.
The Frigidaire Gallery series 30'' is capable of self-cleaning at given intervals in a cycle. It also has odor-free, chemical-free, and fast steam cleaning every 30 minutes.
To offer you some peace of mind, it also has cooking sensors that are capable of automatically adjusting the cooking time and power levels to ensure the meal is prepared to perfection.
The NIB FGMC3066UF Frigidaire Gallery Series 30'' has more than enough space for preparing any large meal you might have in mind. It has a depth
See Related: Best Energy Efficient Electric Heaters for Large Rooms
Are Double Ovens More Energy Efficient?
Double ovens use convection heat as opposed to the radiant heat used by conventional ovens. Convection heat is distributed throughout the oven with a fan for faster heat distribution.
This will go a long way in saving you energy and cooking time. ovens make use of thermal, convection, and microwave heating which leads to faster cooking.
Other than any features, cooking modes, and other settings, you can also try to save energy by concentrating most of your cooking in the smaller oven.
Using energy-efficient electric stoves and only cracking up the oven when it's time for baking or preparing large dishes will help too.
Related Resources