Outdoor enthusiasts and adventurers often encounter wildlife, including bears, making safety a top priority. Carrying an effective deterrent for bear encounters is essential; this is where the bear spray comes in. Bear spray is a powerful, EPA-approved aerosol containing capsaicin and related capsaicinoids, which are proven effective at deterring aggressive bears. Compared to other methods, using a bear spray is more likely to reduce human injuries and bear fatalities during these encounters.
When choosing the best bear spray, several critical factors must be considered. These factors include spray distance, duration, the concentration of active ingredients, canister size, and ease of use.
The longer the spray distance, the safer it is for the user, allowing them to deter the bear from a greater distance. Similarly, a longer spray duration provides an extended period of protection. Additionally, the concentration of capsaicin and related capsaicinoids should be within the EPA-approved range, ensuring its effectiveness in deterring bears.
With a wide range of bear spray options available in the market, deciding which product is the most suitable for your needs can be challenging. To help you make an informed choice, we have spent countless hours researching and testing multiple bear sprays, ultimately narrowing down the best options that prioritize safety, effectiveness, and ease of use.
Best Bear Sprays
Explore our top picks for the most effective bear sprays available.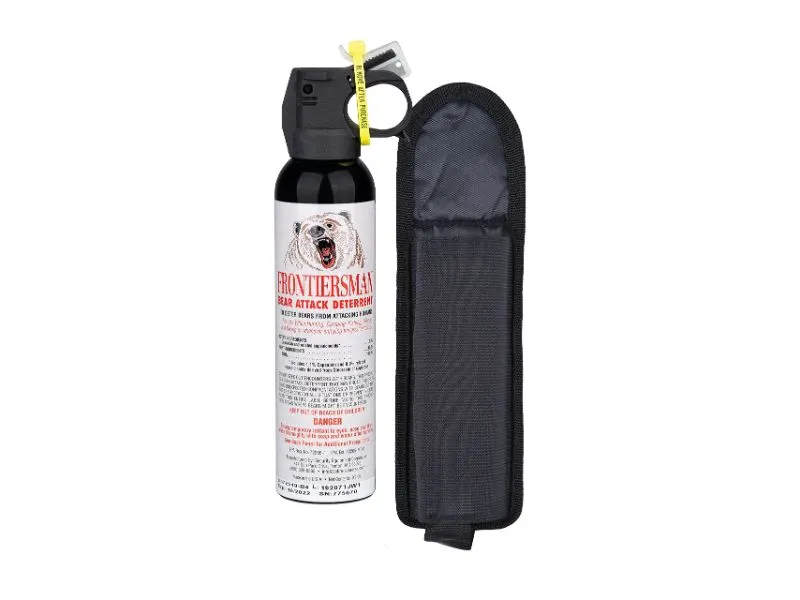 Experience unparalleled confidence and protection during outdoor adventures with SABRE Frontiersman 9.2 oz. Bear Spray – a powerful and reliable deterrent with an impressive range.
Pros
Maximum stopping power with 2.0% major capsaicinoids
Impressive 35 ft. spray range for safe deployment
Convenient belt holster for quick access
Cons
9.2 oz. canister may feel bulky for some users
Need to replace after expiration date
Potential for accidental discharge if not securely stored
While exploring the great outdoors, the SABRE Frontiersman Bear Spray is essential for avid campers, hikers, or anyone venturing into bear country. It offers maximum stopping power of 2.0% major capsaicinoids, 50% stronger than SABRE's police-grade pepper spray, and packs a punch against aggressive bears.
The spray boasts a remarkable 35-ft range, enabling you to deploy it from a safe distance and create a massive protection barrier. The efficient delivery system releases a heavy fog of 1.84 oz (52 grams) per 1-second burst, up to 15 feet (4.6 meters) farther than other competing brands. This ensures you have ample time to react to a charging bear while maintaining a suitable protective distance.
In addition to its impressive stopping power and range, the SABRE Frontiersman Bear Spray comes with a belt holster for immediate accessibility during crucial moments. This easy-to-use, secure, noiseless holster ensures the canister stays in place without any troublesome straps or Velcro closures.
With over 45 years of experience manufacturing pepper sprays, SABRE is a trusted name in personal safety, offering you the confidence and peace of mind you need on your outdoor adventures.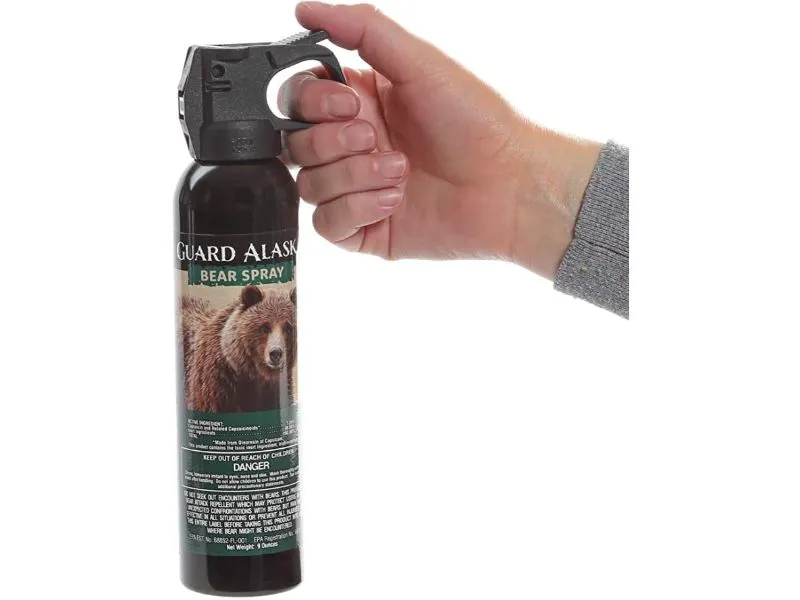 Use the Mace Brand Guard Alaska Bear Spray to get outstanding protection from bears and other outdoor threats.
Pros
Powerful, long-range spray up to 20 ft.
Natural, EPA-regulated formula.
Convenient finger loop handle with a safety clip.
Cons
Empties quickly in 9 seconds.
No holster included.
May not stand up to extreme weather conditions.
As an outdoor enthusiast, I recently tried the Mace Brand Guard Alaska Bear Spray and was impressed by its effectiveness. This bear spray has an advanced delivery system and a powerful formula that provides accurate and long-range protection. The power fogger spray pattern ensures a 20-foot range, enabling you to protect yourself from a safe distance when facing bears or other outdoor threats.
The bear spray uses an EPA-regulated, natural ingredient derived from hot peppers called Oleoresin Capsicum (OC) Bear Safe Formula. Upon contact, OC Pepper causes the membranes of a bear's eyes, nose, and lungs to engorge, resulting in temporary loss of sight, restriction of breathing, and a painful burning sensation. This bear spray is effective and environmentally safe, providing peace of mind when using it in the wilderness.
I appreciated this product's easy-to-use finger loop handle with a safety clip, making it simple to carry during my outdoor adventures. However, I noticed that the spray empties in just 9 seconds, which might not be enough time for individuals who may panic in a dangerous situation.
Additionally, no holster is included to attach the spray to a belt or backpack, so you'll need to find your solution for accessibility. Overall, the Mace Brand Guard Alaska Bear Spray is a reliable and powerful self-defense tool for anyone exploring the great outdoors in bear country.
See Related: What Attracts Bears? Here are Several Things to Know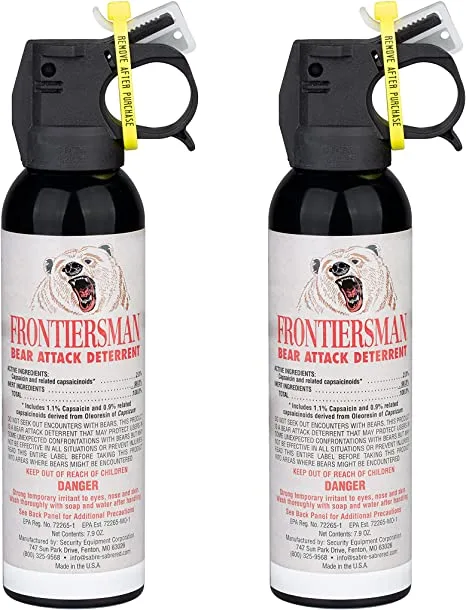 The SABRE Frontiersman Bear Spray delivers powerful and effective results for outdoor enthusiasts seeking reliable bear protection.
Pros
Maximum stopping power with 2.0% major capsaicinoids
Impressive 30-foot spray range
Quick-to-deploy with accessible holster options
Cons
Some users report reduced shelf life
It does not come with holsters in 2-pack option
Potential for irritant blowback in windy conditions
As a seasoned hiker, I recently used the SABRE Frontiersman Bear Spray on my latest outdoor adventure, and I appreciate the sense of security it provides. The 7.9 oz canister rapidly deploys a heavy fog that creates a massive protective barrier between you and a charging bear. This powerful deterrent is both EPA and Health Canada-approved, ensuring your safety in bear country.
With a 30-foot range, this bear spray outperforms many competitors by providing a safer distance from the threat. Thanks to the available belt and chest holsters, it's also easy to access, which enables quick and silent retrieval during an emergency.
While SABRE Frontiersman Bear Spray is a generally reliable option, it is essential to consider the reported drawbacks. A few users noted a shorter-than-expected shelf life, and the 2-pack variant does not come with holsters. Additionally, in windy situations, the possibility for irritant blowback exists, so users should remain cautious. The SABRE Frontiersman Bear Spray is a robust and valuable addition to your outdoor safety gear.
See Related: Best Hand Crank Generators: Top Picks for 2023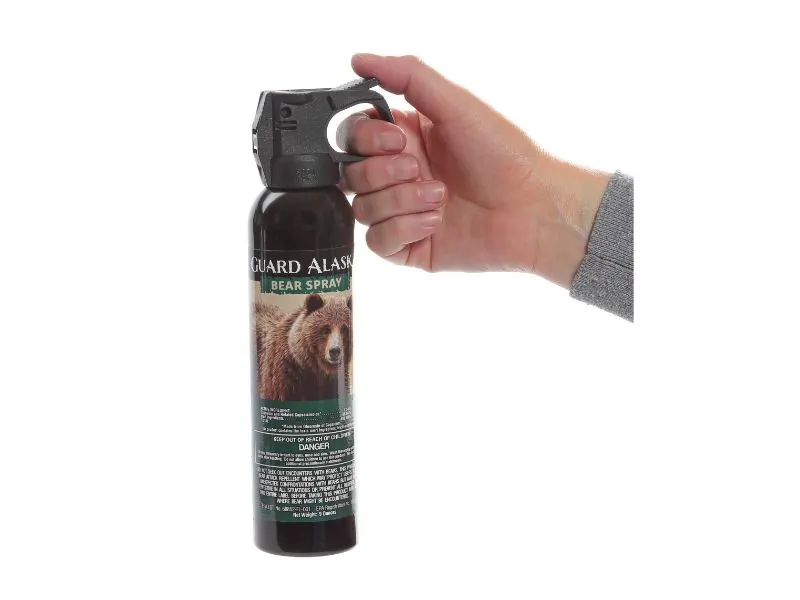 Mace Brand Bear Spray Holster offers reliable long-range protection for outdoor enthusiasts.
Pros
Powerful formula for effective protection
Easy-to-use finger loop handle
Impressive 20 ft range
Cons
Empties quickly in 6 seconds
Size and weight may not suit everyone
Potentially confusing product description
Having recently utilized the Mace Brand Bear Spray Holster, I found it an essential accessory for outdoor activities in bear country. Its powerful OC Bear Safe formula derived from hot peppers effectively causes temporary sight loss, restricted breathing, and a burning sensation in bears.
The Mace Brand Bear Spray is easy to use, thanks to its finger loop handle and safety clip. The quick actuator button allows you to swiftly release a power fogger spray pattern that reaches up to 20 ft, providing vital protection against potential threats. However, it is essential to note that the spray empties in just 6 seconds, so you need to use it only when required carefully.
While the size and weight may not be ideal for everyone, the Mace Brand Bear Spray does come with a durable nylon holster for secure storage and easy access. The product description could be more precise, as it mentioned the inclusion of a holster, which some customers did not receive.
Overall, the Mace Brand Bear Spray Holster is an excellent choice for those exploring the great outdoors, offering peace of mind and reliable protection.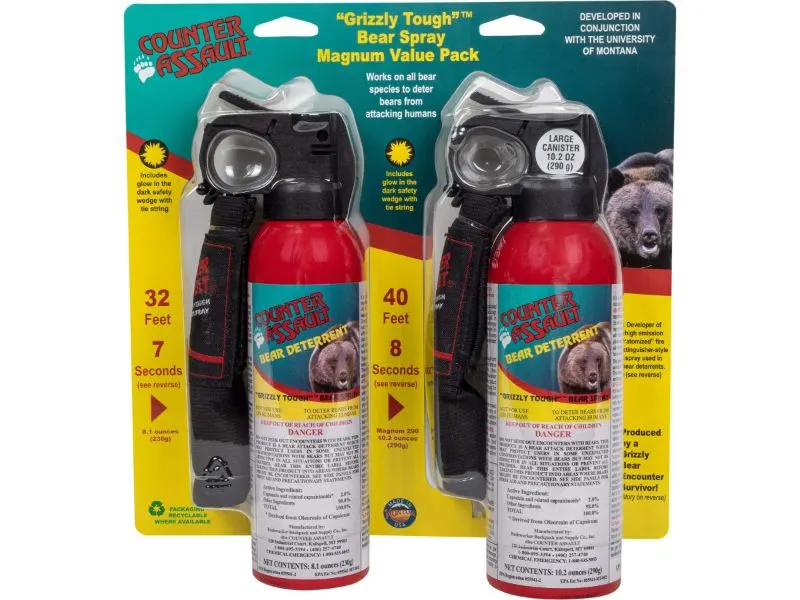 Protect yourself from unpredictable bear encounters with the highly effective Counter Assault Bear Spray Combo Pack.
Pros
Combo pack includes two spray cans with holsters (8.1 oz and 10.2 oz)
Impressive 32-40 foot spray distance
Effective on all bear species
Cons
Slightly heavier than other bear sprays
No warranty information provided
Glow-in-the-dark safety wedge may fade after prolonged exposure to sunlight
Having recently ventured into bear country, I can attest to the importance of carrying a reliable bear deterrent. Counter Assault's Bear Spray Combo Pack offers double the protection with two different sizes.
Related Resources: