A backyard shed is convenient for storing and organizing your gardening tools. It can also add some flair to your landscaping.
We understand that not everyone is up for building a backyard shed from scratch, so we put together a list of shed design ideas for different DIY skill levels. We also included projects for various budgets and product recommendations to help you get started.
Read on for some exciting backyard shed ideas to help personalize a store-bought shed or upgrade a DIY project.
1. Build a Foundation for Your Shed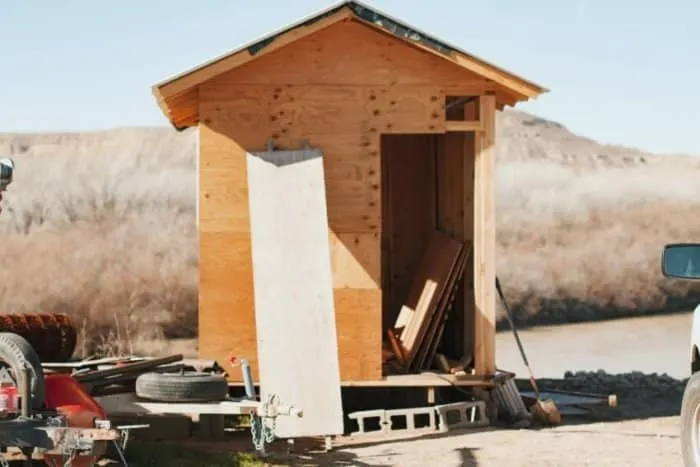 While 8×6 and smaller sheds don't necessarily need a foundation, it's best to use one for larger structures.
For a small shed, you can place concrete foundation blocks on an even surface, but a larger shed will require a concrete slab. Here is how you can build a sturdy foundation for a shed:
Find a spot with an even surface and good drainage.
Dig a hole that matches the size and shape of the shed and pour a concrete slab into this hole. You'll need two or more of these concrete mix bags depending on the size of your project.
Think about adding a vapor barrier to insulate the shed from moisture. This roll of underlayment from Schluter Systems is a good option.
Pros:
A foundation will make your shed more durable.
You need a foundation for large sheds and heavy metal sheds.
Cons:
You can't add a foundation if there already is a shed on your property.
See Related: Best Rain Barrels for Water Collection
2. Build a DIY Shed From Scratch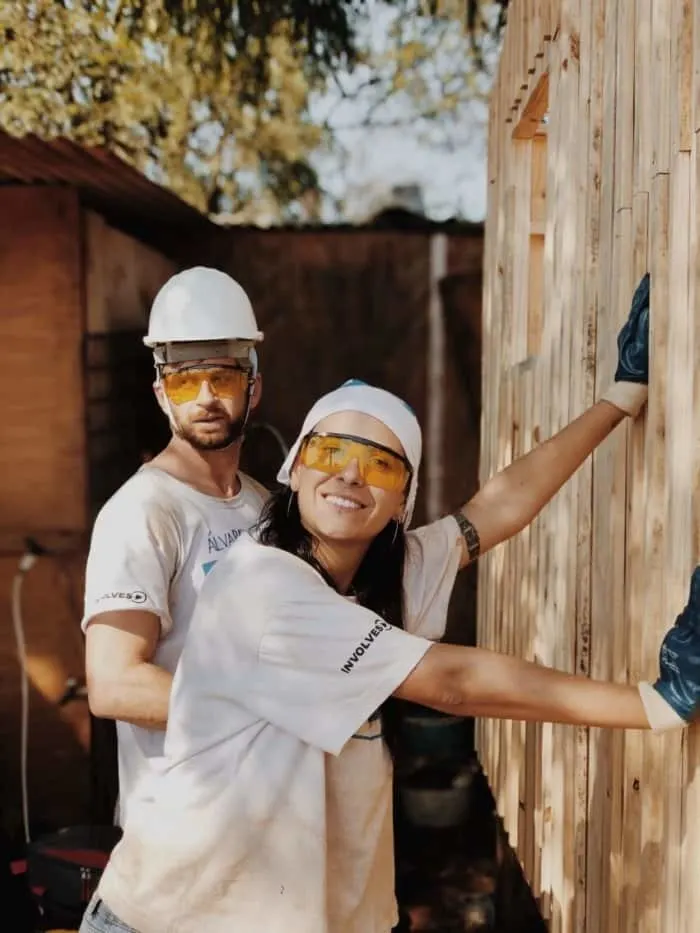 How much would it cost to build a shed from scratch? It depends on the size of the finished product and on the materials you want to use. If you want to upgrade your property on a budget, we recommend exploring small garden shed ideas.
You can find kits with all the parts you need to build a metal, wood, or plastic shed. However, you can also design a shed yourself or use backyard shed designs or plans for this DIY project.
Do you need planning permission to build a backyard shed? It depends on where you live and on the size of the shed you want to construct. It's best to check your local building code before getting started, so you can apply for a permit if needed.
If you want to get a kit, we highly recommend this 6×14' shed kit because of its simple but sturdy design. You'll need to purchase timber separately.
Building a DIY shed is easier than you might think:
You'll need to pour a cement slab to create a strong foundation.
You can then build a base frame with some construction timber and some screws. Build a grid and use construction timber to create cross support.
Add the shed floor by securing some plywood boards to this grid. These birch plywood sheets are a sturdy option.
Next, you can build the shed walls. Use construction timber to create a grid and add some sturdy posts in the corners of the shed.
Cover the wall grids with some waterproof sheeting and plywood boards.
You can use construction timber to build a roof frame. Cover it with roof felt and plywood boards.
Pros:
It's easy to customize a DIY shed.
You might be able to reuse materials you already have.
Cons:
It's an expensive and time-consuming project.
See Related: Coco Coir vs Perlite: Which is Best?
3. Customizing a Store-Bought Shed
You can purchase a shed and have it delivered or get a kit and assemble it yourself. Here are a few backyard shed designs to customize a store-bought shed or shed kit:
Add a window by cutting a hole in one of the walls. You'll need a tool like this DeWalt 20V circular saw.
You can replace the hardware for the doors and windows.
Add a coat of paint to change the color of the shed.
Cut a hole in the roof and install a skylight. You can find affordable skylight kits like this 10" tubular skylight.
Upgrade your shed with a small patio.
Customize the inside with some paint, wall decor, storage, shelves, workbench, and more.
Pros:
There are a lot of options to explore.
Most of these DIY projects are easy to complete.
Cons:
You can affect the structural integrity of a store-bought shed if you cut holes for windows.
See Related: How to Clean an Aerogarden
4. Turn Your Shed into a Greenhouse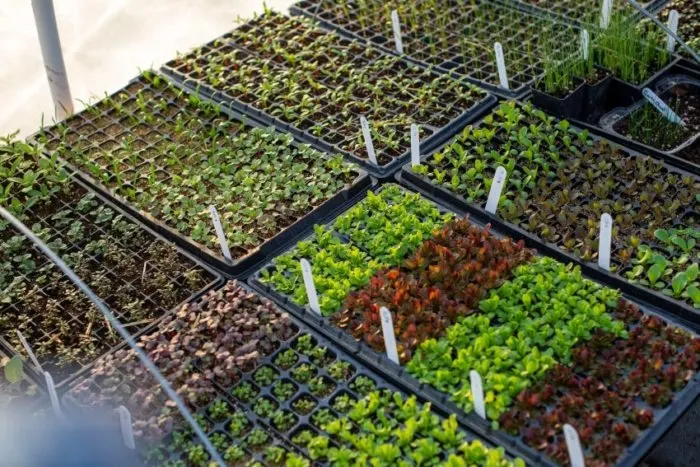 A greenhouse allows you to grow flowers, shrubs, fruits, or vegetables in a controlled environment. If you have an existing shed with a wood or metal frame, you can turn it into a greenhouse by removing the roof and replacing it with glass panels or with a transparent membrane.
As an alternative, you can install a smaller walk-in greenhouse next to your shed.
Pros:
Cons:
Glass panels can be heavy and will require a sturdy frame.
See Related: Best Erosion Control Blankets to Buy
5. Add a Coat of Paint to Your Shed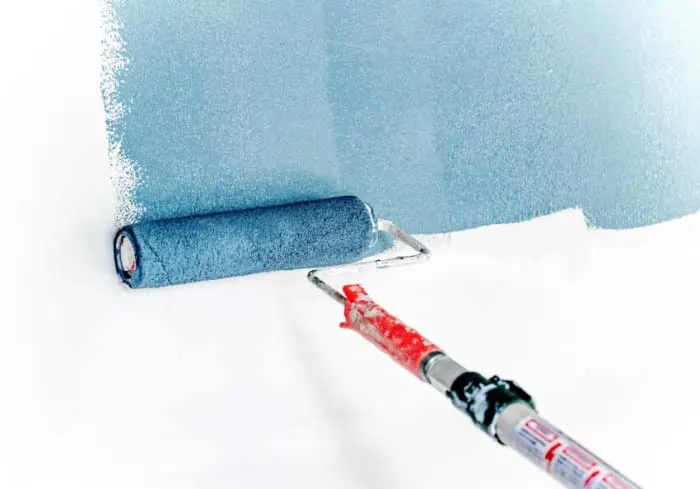 Do you like cool garden shed designs? A simple way to customize your shed or to spruce up an old shed is to add a coat of paint. You can choose a color that matches your house or go with a color that will help the shed blend in with its surroundings.
Painting a shed is a simple project:
Start by cleaning the exterior of the shed. Use some sanding paper to remove old paint and create an even surface.
Apply a coat of primer. Make sure you use an outdoor primer. We recommend using the all-surface primer from Rust-Oleum.
Apply one or more coats of paint. You should use exterior grade paint.
Choose a different color for the trim and hardware. This white exterior paint from Rust-Oleum will make the trim pop.
Pros:
Painting a shed is a simple project you can complete in one afternoon.
The materials are inexpensive.
Cons:
Painting will not make the shed more functional.
See Related: Best Greenhouse Paint & Spray-On Shading
6. Secure Your Shed with an Anchor
If you live in an area with strong winds or extreme weather, it's best to anchor your shed to avoid damage to your property. We recommend using this affordable anchoring kit.
Anchoring your shed is something you can do while building a DIY shed from scratch. However, you can also add anchors to an existing shed:
Start by digging some deep holes around the shed and filling them with concrete. You'll need a hole at each corner of the shed, but you can dig additional holes for a large shed.
Insert anchor bolts into the concrete. Let the concrete set.
These anchor bolts should have a ring at the top. You can use a cable or strap to attach your shed to these rings.
Pros:
An anchor can protect your shed from damage.
The materials are inexpensive.
Cons:
Anchoring isn't necessary if you don't live in an area with extreme weather.
See Related: Best Rain Barrels for Water Collection
7. Add a Green Roof to Your Shed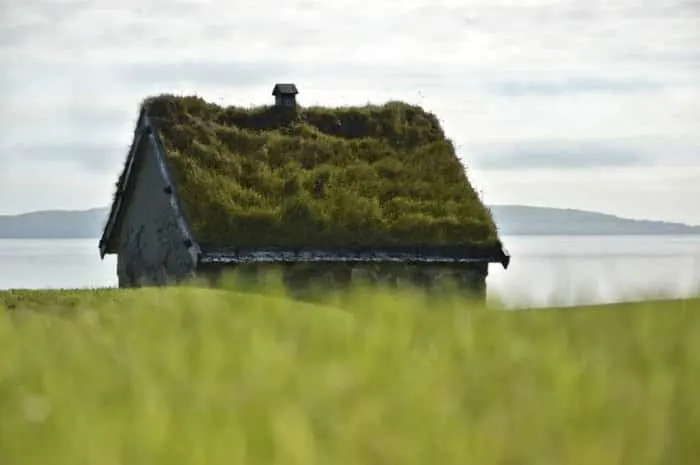 If you live in an area with no heavy snowfalls or rain, you should think about upgrading your shed with a green roof. This cool garden shed idea will add some greenery to your landscaping and help camouflage your shed.
You might need to reinforce the walls and roof of your shed to support the weight of a green roof. You'll need to create different layers for your green roof:
Start with a plastic sheet or pond liner to protect the existing roof. This thick pond liner from Actrey is an excellent choice.
You should add a drainage layer of the plastic sheet or pond liner. You can use rubber mats with a honeycomb pattern. You might want to add a filter material so this drainage layer doesn't get clogged.
You can add optional water retention mats over the drainage layer. Water retention mats are a helpful addition to your green roof because they will retain moisture and turn your green roof into a low-maintenance project.
Next, you'll need a layer of growing medium. Look for a growing medium that is lightweight and has good drainage. You can use a mix of soil, crushed clay, and perlite. This potting mix is a good choice because it offers excellent drainage.
You can then add your plants. You can plant grass, succulents, flowers, vegetables, and more. Avoid anything with deep roots.
Pros:
Cons:
You might have to reinforce the structure of the shed to support the weight of the green roof.
8. Add Storage to Your Shed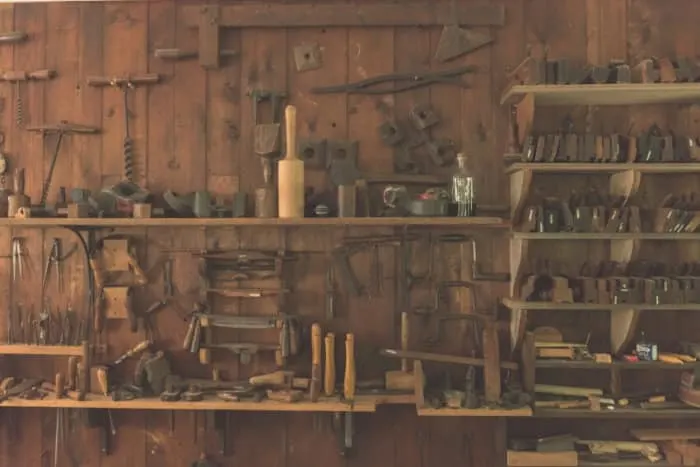 Upgrading your shed by adding some storage options is an easy project that will make this space more functional. There are many different ideas to explore, and you should look for an organization system that makes sense for what you use your shed for:
You can build some shelves with materials you have leftover after building a DIY shed.
You can also buy a kit to build some shelve or repurpose an old bookcase.
Freestanding metal shelving is a good alternative if you need sturdy and durable storage. We like this budget option because it provides you with adjustable shelves.
Think about stacking some wooden crates to create some shelves.
You can use plastic tubs and containers with lids for storage. You can buy a lot of plastic tubs to upgrade your shed on a budget.
Do you have an old desk, chest, or cabinet? You can repurpose it to add storage to your shed.
Tool wall mounts and hooks are a great way of maximizing storage space.
A rack storage system can be a convenient option if you use your shed to store tools.
Pros:
Adding storage to your shed is easy and inexpensive.
Storage will make your shed more functional.
Cons:
Adding too much storage can make your shed feel cramped.
See Related: Best Greenhouse Kits
9. Use Your Shed Roof to Collect Rainwater
Does your shed for the backyard have a gutter system? If not, you should think about installing one. Installing a gutter system is relatively easy, and gutters will help keep water away from the walls and foundation of your shed.
Here is how you can upgrade your backyard shed with a gutter system:
Attach brackets at the top of the shed walls to support the gutters.
Cut the gutters to match the dimensions of the shed.
Think about adding gutter guards to keep leaves out of the gutter system.
Add some end caps to the gutters.
Cut a hole for the downspout.
You can place a barrel underneath the downspout to collect rainwater and use it to water your garden.
Pros:
A gutter system will protect the walls and foundation of your shed.
You can use the gutter system to collect rainwater.
Cons:
You'll need a few tools to cut the gutters to size.
10. Get Some Sunlight and Improve Airflow with a Shed Window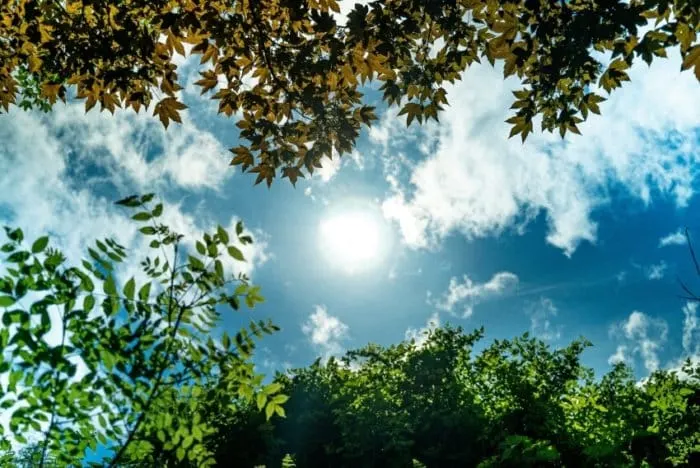 If you use your shed to store plants or work on DIY projects, it's important to get plenty of sunlight. Unfortunately, store-bought sheds often come with small windows.
You can upgrade your shed by cutting a hole in a wall and adding a window. It's easier if you have a wooden shed.

There are many different types and sizes of windows to consider. An awning window can be a good addition since these windows typically have good insulation.
Note that adding a window is an advanced DIY project. It might not be a good project if you're looking for more affordable backyard shed ideas costs. You'll need some tools and a good understanding of building practices:
Start by locating the wall studs. You might have to remove a few studs before you can cut a hole in the shed wall. You'll need to replace any wall studs you remove with a sturdy window frame.
Build a frame for the window. Think of it as a grid that will go around the opening for the window. It should run along with the entire height of the shed wall and help support the roof.
Once you have installed the window frame, you can cut an opening for the window.
Use flashing to seal this opening and install the window.
Put the finishing touches by adding some trim to close any gaps.
Pros:
A window can add sunlight and improve airflow in your shed.
You can repurpose materials you already have for this project.
Cons:
You might change the structural integrity of your shed by cutting a hole for a window.
11. Upgrade Your Shed with a Ramp
A ramp is a convenient feature that will help you bring gardening tools and equipment in and out of your shed. You can upgrade your shed with a sturdy metal ramp or use plywood boards.
If you use wood to build a shed ramp, make sure you select materials that can be in contact with the ground. This pressure-treated timber is a good option.
Here is how you can add a ramp to your shed:
Start by attaching a ledger board underneath the shed door. Make sure there is enough clearance to open and close the door.
You can use screws to attach ramp joists on both sides of the ledger boards. Add ramp joists in the middle to create a sturdy base for the ramp. You should have four to six joists, depending on how wide the ramp will be.
Depending on the slope around your shed, you might have to dig to create the ramp inclination you want.
Connect the ramp joists with an end piece and use dirt to fill the spaces between the ramp joists and strengthen the base of the ramp.
You can then attach the ramp itself on top of the ramp joists. You can use a large plywood board, a metal sheet, or perpendicular planks.
Pros:
A ramp is a practical feature for getting equipment in and out of your shed.
You can build a ramp with a few supplies you probably already have.
Cons:
Building a ramp can be time-consuming, especially if you have to dig to achieve the desired inclination.
12. Integrate Your Shed into Your Landscape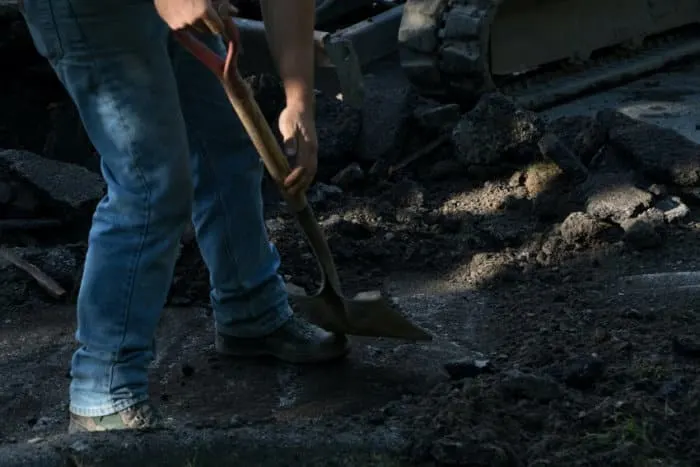 A backyard shed can become an interesting focal point for a landscaping project. There are different ideas you can use to help your shed blend in and become a part of the landscape:
Add some flower beds around the shed to hide the foundations and create a visual continuity with the rest of the yard.
If you don't want to build flower beds, you can achieve a similar result with some potted plants and planter boxes around the shed.
Attach some window boxes to the walls of the shed to add some flowers and hide peeling paint and other flaws. This pack of seven 17" window boxes is an excellent choice for upgrading your shed on a budget.
You can attract wildlife by attaching a bird feeder to the shed or a bait hive to attract some wild bees.
Pros:
Your shed can look very aesthetic and boost the curb appeal of your property.
Most of these projects are easy and inexpensive.
Cons:
Using vegetation and other tricks won't cover up an old shed that needs repairs.
Related Resources