What are the ideal greenhouse lights for your indoor gardening? Check out this detailed grow lights guide for the best, well-researched, and proven options.
If I recall well from my 7th-grade science, plants need light to produce food. They do so through photosynthesis, where green plants absorb certain light wavelengths to convert water, CO2, and minerals, into glucose.
Without this process, plants wouldn't grow, hence the need for enough light. When growing plants indoors, it might be impossible for the plants to absorb natural sunlight like other plants. This means that they need an alternative source of sun-like light to still grow healthy.
And, that's where grow lights come to save the day. But since not every form of light is ideal for your plants, today we take a look at some of the best greenhouse lights that can guarantee optimal growth for your plants.
Best-Of by Category
Best LED Lights for Greenhouses
LEDs outrank the rest of the pack in terms of efficiency, performance, and even lifespan. And for this reason, we will explore more on the various LED greenhouse lights available in the market.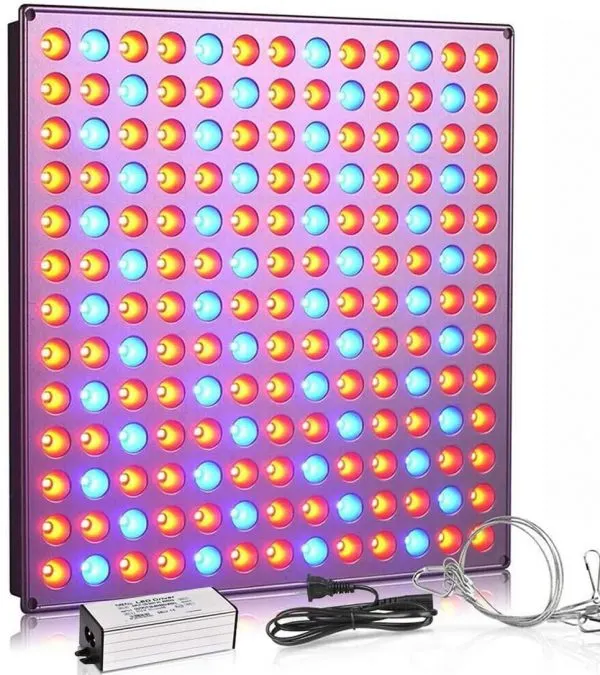 I tried this one sometime back for my indoor garden, and I can attest that it works perfectly. In fact, I consider it one of the best indoor greenhouse lights. And it's for some good reasons.
Firstly, it's a full spectrum grow light. Meaning that it offers a diverse light spectrum, ideal for various plants, including seedlings, greenhouses, hydroponic, succulents, and flowers.
If you are looking for LED lights for a greenhouse or your indoor flower garden, Roleardro 75W is a good choice.
What I like about the product:
It offers perfect heat dissipation features.
These LED greenhouses grow lights are lightweight and easy to install.
They are long-lasting with a 30-day warranty.
When it comes to greenhouse LED grow lights, Roleardro 75W certainly has your back.
See Related: Best Off-Grid Greenhouse Heating Systems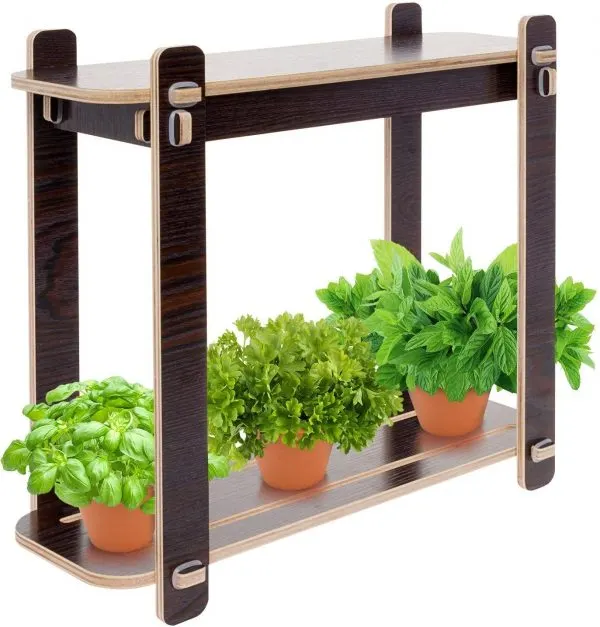 If you are growing 2 or 3 plants indoors, this sturdy stand with inbuilt greenhouse LED grow lights offer a perfect lighting solution. In addition, it has a great design that blends well with your interior.
What I love about these LED grow lights:
Allows you to grow your crops anywhere – its small compact design favors any kind of indoor setting.
Best indoor sunlight – This bright 850 lm, 4000k LED offers the same effects as natural sunlight indoors, helping the plants to grow healthy even in minimally lit environments.
Includes an automatic smart timer – eliminating the need of having to switch it on or off.
Make your small space bright with healthy plants and flowers.
See Related: Best Greenhouse Accessories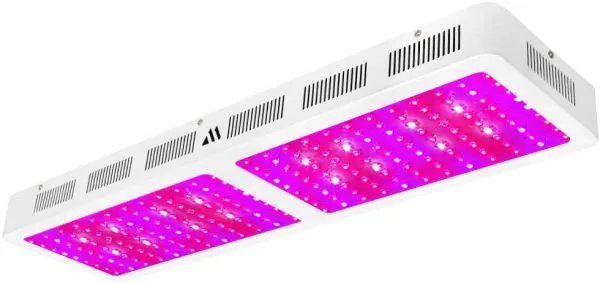 This is another full spectrum LED plant light ideal for almost any type of in-house farming. Whether you are growing vegetables or flowers, this bulb can stimulate natural sunlight through its UV and IR white, blue, and red lights, giving your plants the perfect source of light for growth.
What I like about this product:
It's affordable compared to most other grow lights.
Comes with an in-built cooling system with six cooling fans
Includes a three years warranty with a one-month money-back guarantee (30 days)
It's long-lasting and significantly power efficient.
Dimgogo LED greenhouse lights will fit any of your gardening needs, be it a house garden, greenhouse cultivation, sowing, breeding, pipeline cultivation, etc.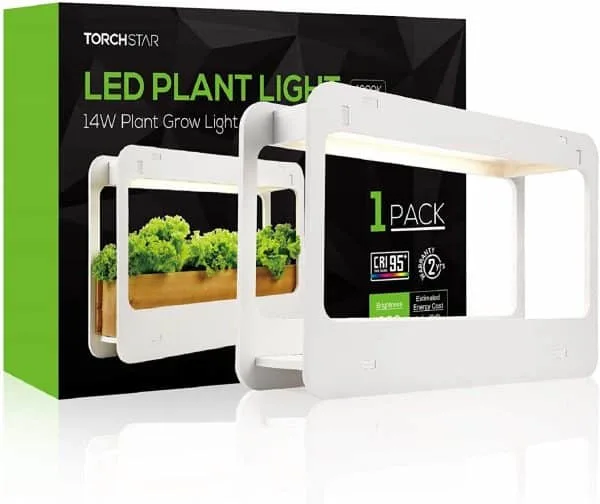 The perfect indoor greenhouse lights for your indoor garden. This attractive greenhouse kit not only offers the ideal conditions for your plants but also blends well with the environment, adding glamour to your interior. The main aspects I love about this product include:
Smart timer – It automatically switches on for 16hrs and goes off for the remaining 8hrs of the day. This routine offers the plants the same conditions as natural sunlight, making the product one of the best solar-like LED greenhouse lights.
Flexibility – It's a full-spectrum LED grow light that helps in stimulating photosynthesis in a wide range of plants. Allows you to plant anything from vegetables, succulents, mint, sweetgrass, etc.
Safety and convenience – The product is safe and easy to install even by a novice. It's made of sturdy, waterproof plastic material and doesn't need any screws to install.
Perfect size and design – 16.54″×11.42″ ×5.43."

GE greenhouse lights come in two sizes, 24-inch and 48-inch long, and are significantly easy to install or attach to most shelving. With such indoor lighting for your plants, you can maintain healthy plants all year round, no matter how poorly lit the room is.
What I love about GE grow light bulbs:
Offers excellent indoor solar light simulation
Durable and energy-efficient
Ideal for fruits, flowers, and other vegetables due to its red-light spectrum
Allows you to grow your desired plants in your indoor space
See Related: Best Boots for Working in a Greenhouse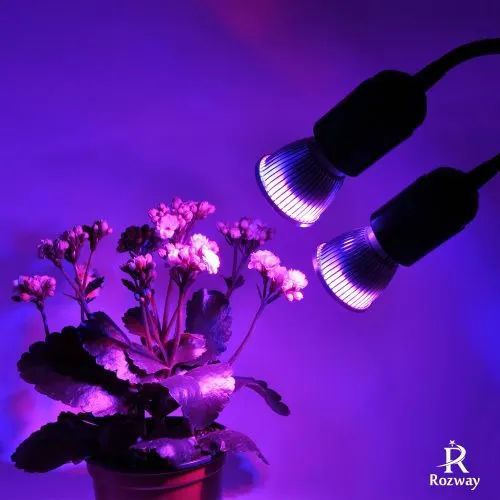 If you want to nature some indoor plants but are on a tight budget, Rozway greenhouse lights have you sorted out. These budget-friendly LED grow lights for the greenhouse give your plants the much-needed light to help them flourish.
The main features of this LED grow lamp include:
Excellent dual head, gooseneck design that allows you to focus the light exactly where you need it.
Diverse functionality ideal for speedy growth in foliage, potted plants, flowering plants, etc.
Replaceable bulbs that offer optimal sunlight conditions at affordable prices.
Durable product with a 50,000 hours lifespan.
Get the most from your indoor greenhouse with LED lights from Rozway.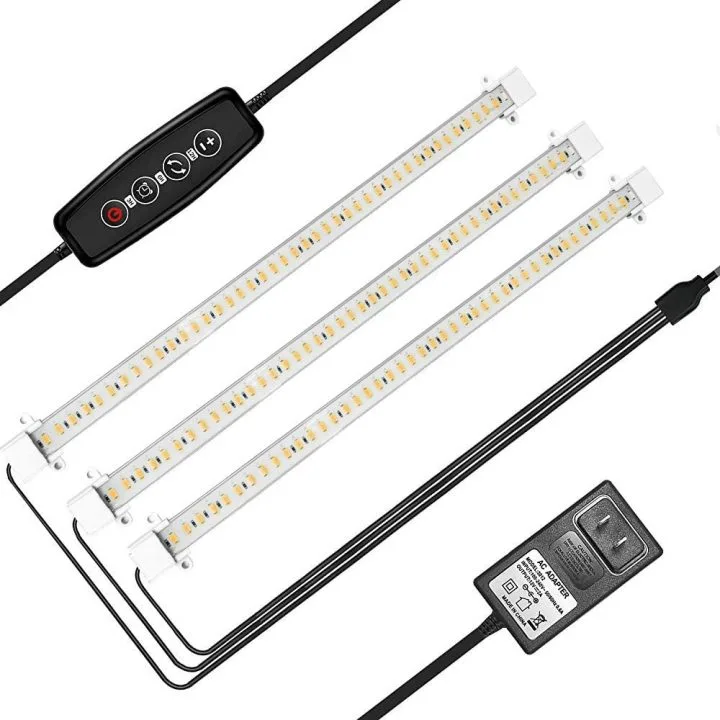 This is a triple-light LED grow light that includes an automatic timer and a brightness adjustment feature. With these two features, you can effectively control the amount of light that reaches your plants at any time.
Features that I like about these LED grow light strips:
Allows for 5 brightness adjustments levels
An automatic timer that allows it to switch on and off at specific times
Ease of installation
Diverse use that allows plants to flourish at any growth phase
And, although they produce minimum heat, you can use these LED string lights to heat a mini greenhouse – giving your plants the ideal growing conditions.
See Related: What are the commercial costs of a greenhouse?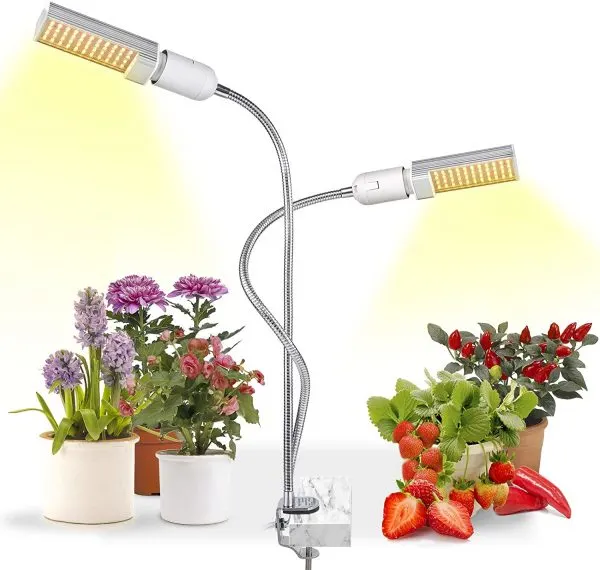 This is one of the most reviewed LED grow lamps on Amazon, and gardeners love it for a good reason. Not only does its dual head, gooseneck structure help you to focus the light on the plants you want, but it also comes with replaceable bulbs. This makes it quite flexible and economical as you only need to replace the bulbs and not the whole lamp.
Here is what makes it one of the best-selling professional-greenhouse LED grow lights:
Best sunlight simulator with some of the most durable LED chips (50,000 hours lifespan)
Encourages faster plants growth – ideal for any stage of plants growth
Safe for use in indoor gardens without worrying of overheating, overcurrent, or overvoltage issues
Wide beam focus angle
Highly efficient, offering excellent heat dissipation
Commercial Greenhouse LED Grow Lights
LED grow lights are not limited to small indoor gardening and small greenhouses only. We have multiple LED grow lights for commercial greenhouse farming that have proven to offer the best results.
Here are our best picks: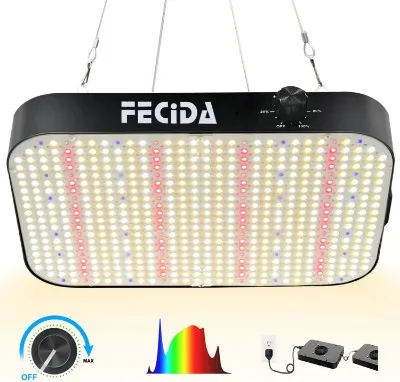 For larger greenhouses or commercial use, this LED plant grow light from Bozily presents the best features. It offers an ideal Sun-like full-spectrum light, ensuring that your indoor plants can flourish all year round.
Best features of Bozily LED commercial grow lights:
Ideal for commercial use, with no harmful noise
Excellent energy consumption with a full-spectrum white light (3000K – 7000K) that gives your plants 3 times higher growth rate than in normal conditions.
Remote control for light adjustments
Long lifespan with a 2-year warranty
See Related: How to Attach Greenhouse Plastic
Best greenhouse lights for large commercial greenhouses.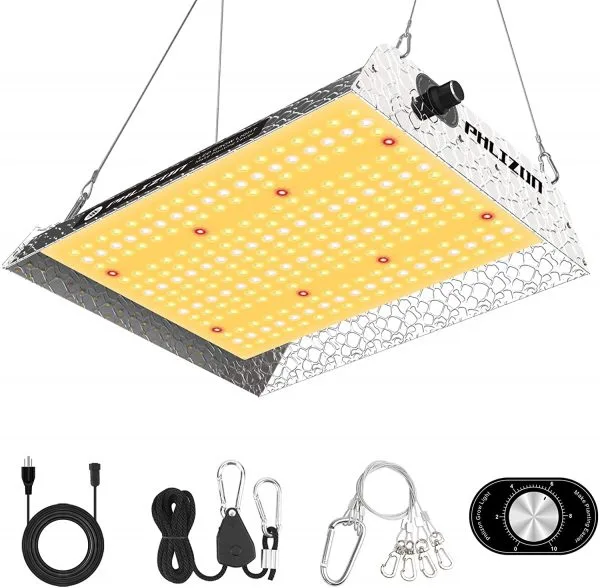 With a 4.7 stars rating on Amazon, this LED grow light gives optimal growth conditions for your indoor plants. If you are growing vegetables, fruits, or even flowers on a commercial scale, its 2x2ft coverage, and a 100 wattage, have you sorted.
Main features include:
Sturdy aluminum hood design that ensures over 90% reflection for optimal plants growth
Highly efficient and runs at pretty low temperatures.
Durable with a 30 days money back surety and a 3-year warranty
It's water-resistant and produces zero noise as it doesn't have fans.
See Related: How to Grow Sugar Cane Indoors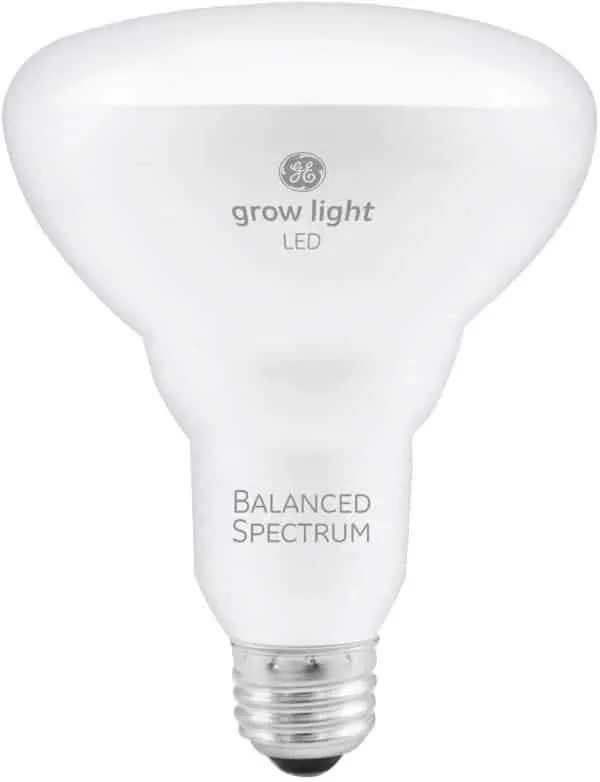 This is a 9-watt full-spectrum grow light bulb that works well both for small indoor gardens and large commercial greenhouses. It offers a balanced sun-like light, ideal for plants at any stage. Whether it's seeding, flowering, or budding, you don't need a different set of greenhouse lights.
What sets it apart?
Perfectly balanced light that encourages optimal growth in indoor plants
Durability and efficiency
Allows for indoor gardening through the year
Ideal for most types of plants
You should certainly try out this best-seller grow light for your indoor plants.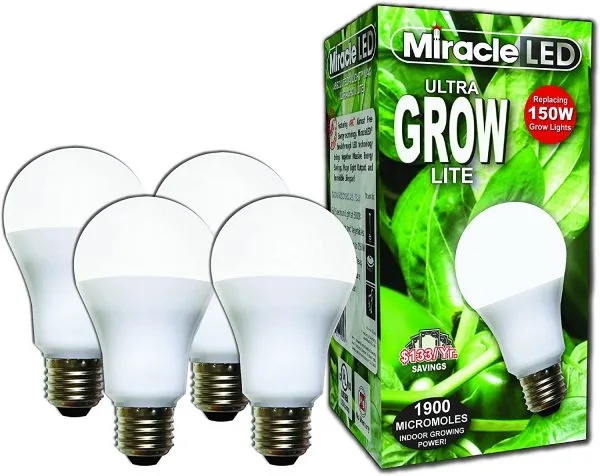 Whether you want to grow a few indoor vegetables or a large DIY horticulture farm, this LED grow light by Miracle LED offers a perfect solution.
Some of its most notable features include:
Full-spectrum light solution for your plants, at (5000K)
Produces minimal to no heat
Works best both for big plants and vegetables
Excellent energy consumption, with a 12w LED
If you are looking for the best lights for greenhouses, offering the best light conditions at affordable prices, this product will do it.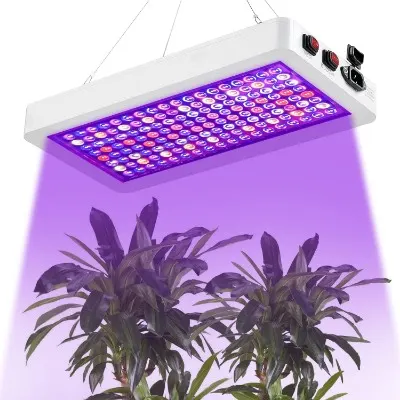 Yet another excellent full-spectrum grow light, ideal for indoor plants, as well as commercial hydroponic farming. Not only does this grow light guarantee more yields, but it also does so at minimum energy consumption levels. It guarantees up to 200% yield, but at 50% less energy.
Other outstanding features include:
High-quality, long-lasting, with a three-year warranty
Waterproof feature
Full-spectrum sun simulator with blue, red, white, UV, and IR lights ideal for plants from germination to fruiting.
This LED grow light offers everything that plants need and gets from natural sunlight and more.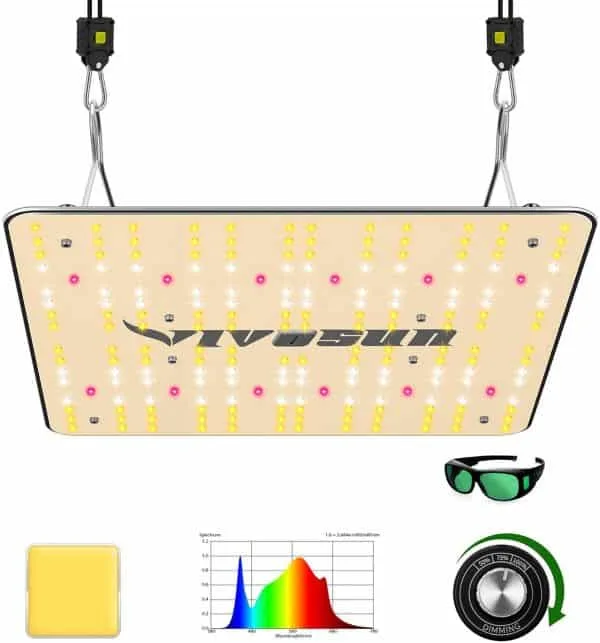 VIVOSUN LEDs have been tested and proven. They offer the much-desired sun-like light spectrum that plants need to produce maximum yields efficiently. VS1000 LED Grow Light has both inbuilt fans and a heat sink to keep the grow lights at ideal temperatures.
This is what you get from these greenhouse lights:
High efficiency and low costs
Minimum light and noise
Long lifespan with three years warranty
Adaptability for any growth stage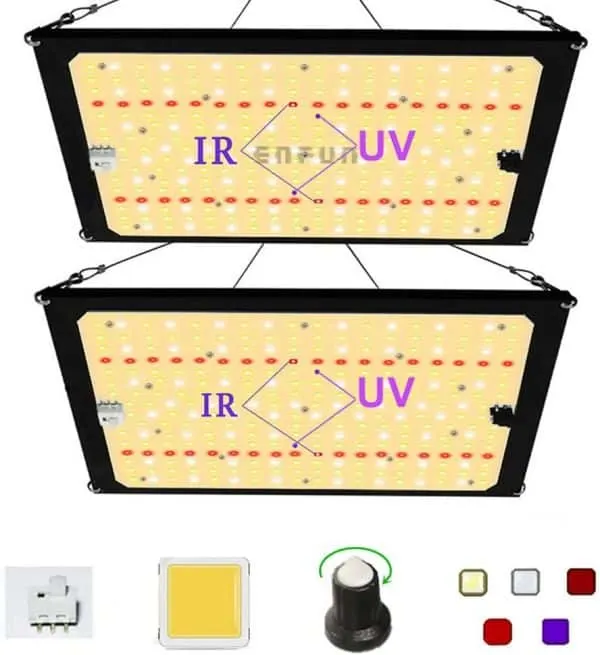 Although pretty new in the grow lights manufacturing industry. Enfun has introduced grow lights that give the industry's bigwigs a run for their money. They offer advanced, full-spectrum solar lights, with specific wavelengths ideal for plants in all stages.
Some of the crucial features you get here include:
Adjustable light
Innovative fanless design with heat sink
Red light and UV light Switch
Waterproof IP68 connector
Full-spectrum solar design
Give your indoor vegetables, fruits, and plants, everything they desire from natural light, no matter the season.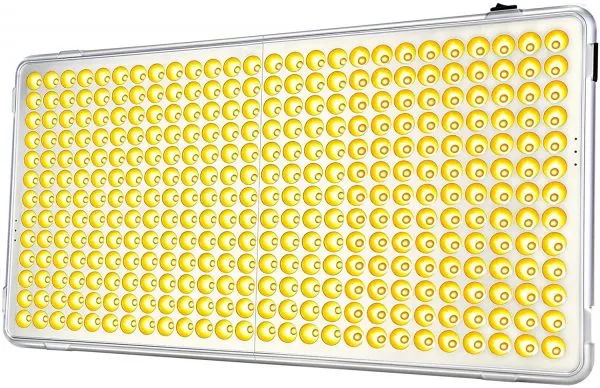 This 22-inch indoor grow light, with 338 Sunlike LEDs, is a great option for commercial greenhouses. It offers the ideal solar conditions for your plants without worrying about too much energy consumption.
What I like about this LED grow light:
A great design with zero fans and zero noise
Full-spectrum solar-like light
Heat sink for each LED chip for excellent heat dissipation
Ideal for all plants, at all growth stages
Durable, efficient, and safe for use at any time and in the weather
See Related: Best Starting Seeds for a Greenhouse
Different Types of Greenhouse Lights
Artificial grow lights come in various types and wavelengths. Understanding the right greenhouse lights to use for your plants is a critical step toward nurturing healthy indoor plants.
To help you with this, here are some common types of lighting you should know about:
Incandescent lights
This type of lighting remains one of the cheapest lighting options and is most common in our homes. However, when used in greenhouses, they should be placed at a safe distance from the plants, as they emit significant heat that might damage plants. They are ideal for some plants and are known to last for around 1,000 hours.
Fluorescent bulbs
Fluorescent bulbs, on the other hand, emit blue light that is known to encourage bushy plant growth. Unlike incandescent lights, they produce less heat and are more energy-efficient. They are the favorite choice for greenhouse gardeners, especially during seeding.
High-Intensity Discharge lights (HID lights)
These types of greenhouse lights are ideal for large greenhouses. The installation for these ones also needs to be at a safe distance as they emit quite significant heat amounts. I found out that HID bulbs are available in two types, Metal Halide (ideal for flowering and budding) and high-pressure sodium bulbs (ideal for stimulating plant growth).
LED (light-emitting diode) lights
This is the newest greenhouse light technology we have around. We can call it "the new kid on the block." LEDs are more energy-efficient, perform better, and have a longer lifespan than the rest of the squad. Greenhouse LED lights are available in either blue or red colors and produce balanced heating.
With this knowledge, picking the right greenhouse lights for your plants becomes quite easy. And to make it even easier, I have gone ahead and prepared a list of the best lights for the different types of plants we usually grow.
Things to Consider when Buying Lights for a Greenhouse
Type of greenhouse
The size and structure of your greenhouse will determine what kind of grow lights you need. A small personal greenhouse will require different greenhouse lights from a large commercial greenhouse.
For instance, a commercial greenhouse will need to grow lights that can withstand humid, harsh conditions, mostly found in commercial settings.
Light Spectrum
Since plants need PAR (Photosynthetically Active Radiation) light, you should pick grow lights that are within the right wavelengths. PAR light is within 400 to 700nm.
Electrical efficiency
You should always determine how efficient a product is before buying. This will ensure that you get maximum results without costing you an arm and a leg. Look for grow lights that are highly efficient, and at low energy consumption.
Heat
Plants need a certain level of heating, below or beyond which, can be detrimental to the plant. This means that you should always pick a grow light offering the ideal heat dissipation. Some lights will produce too much heat and others too little.
Related Resources