Glass greenhouses have always been the most popular option for greenhouse owners, and that popularity shows no sign of weakening. They offer several advantages over traditional non-transparent greenhouses, such as better light transmission, improved insulation, and the ability to be used all year round. Here are the best glass greenhouses on the market.
Glass greenhouses are popular among gardeners and farmers because they offer many benefits, such as protection from the elements, controlled temperature and humidity, and better light exposure. They are also a great way to showcase plants and flowers. When purchasing a glass greenhouse, be sure to consider the following:
The type of glass used (clear, tinted, or insulated)
Whether it is portable or permanent
The features it includes (heating, ventilation, lighting)
We'll cover each of our favorite greenhouses in detail considering the above characteristics.
Best Glass Greenhouses to Buy Today
Here's a list of the best glass greenhouses to buy right now.
1. Arcadia DIY Glass Greenhouse Kit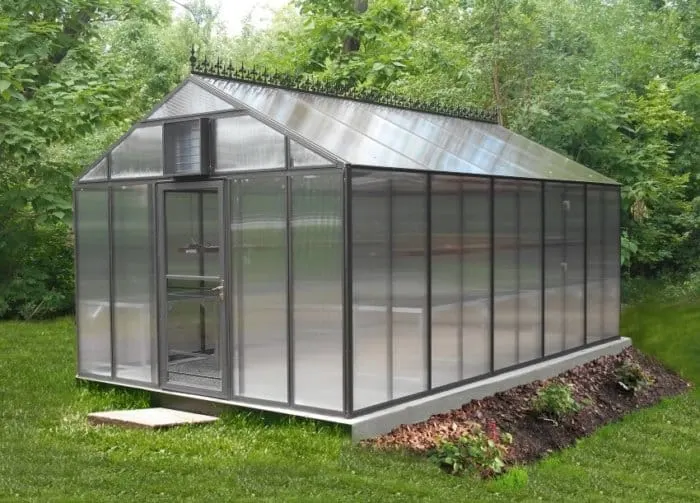 The Arcadia DIY Glass Greenhouse Kit is made by Arcadia and makes an excellent sizeable eco-friendly greenhouse if your primary requirement is space. It can be compared to the Ikea of glass greenhouses, which were made to self-assemble.
Built on a 24 ft center, this gives you more space than most large greenhouses on the market. If you want more or less space, the dimensions can be customized by the manufacturer. It means the company provides custom greenhouses.
It is double-pane, 8mm glass, covers the entire greenhouse, and a welded truss metal design holds it together. The greenhouse is solid but also a little heavy: keep this in mind and consider help when installing it.
Its airtight seal guarantees that what's in your greenhouse remains safe and protected from weather, humidity, and any nocturnal creatures that roam your garden. All hardware is included for assembly upon purchase. It is made in the United States with an extended warranty that covers the product and its parts as a sign of the maker's confidence.
See Related: Hydroponics vs Aquaponics
2. Janssens Royal Victorian Greenhouse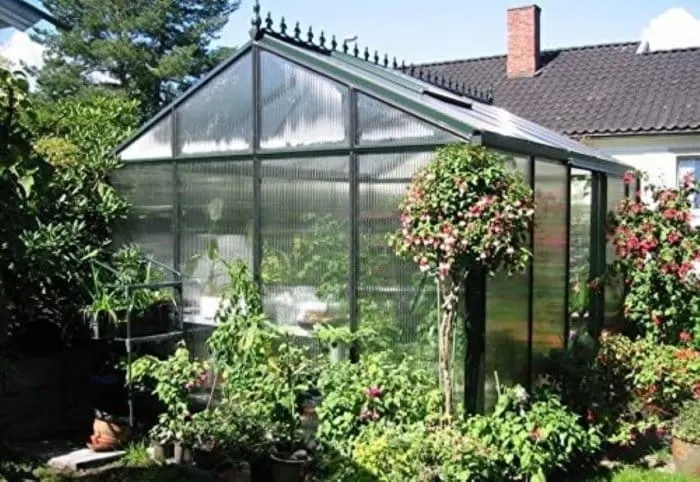 The Janssens Royal Victorian Greenhouse is made in Belgium by Janssens, a reputable greenhouse manufacturer that's been in the business of making great greenhouses far longer than most of its competitors. It's great if you are looking for a classic eco-friendly greenhouse in a charming Victorian style.
The Royal Victorian Greenhouse includes a built-in misting system. Double-pane windows from high-quality glass cover the entire span of the Royal Victorian. A high-quality decorative metal construction frames the greenhouse.
The greenhouse is lockable and can also be kept safe when you aren't around. You will need a foundation to install the Royal Victorian Greenhouse. It has a 15-year warranty covering the Royal Victorian Greenhouse and its parts.
Suppose you would like a similar greenhouse made in a Victorian style. In that case, Exaco is known to produce excellent Victorian Style greenhouses that almost look like this one – but are available in several different sizes.
See Related: Best Starting Seeds in Unheated Greenhouse
3. Juliana Jr Greenhouse Kit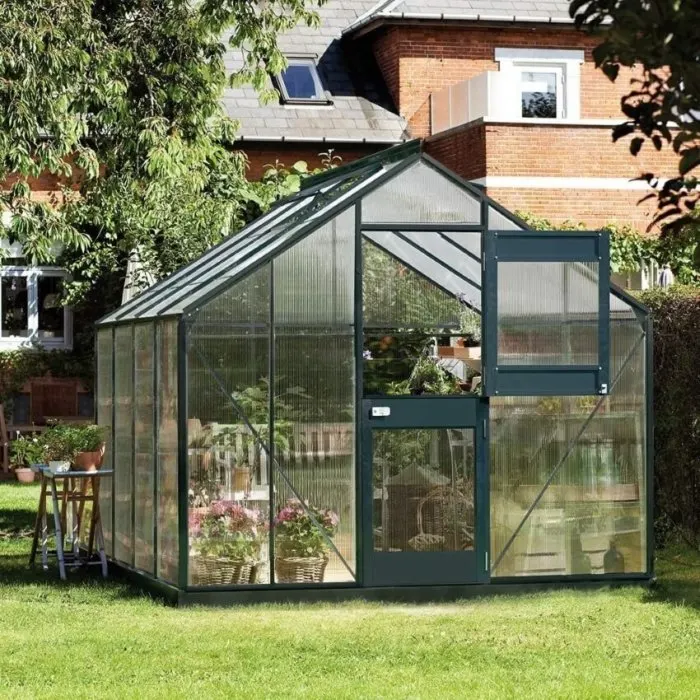 The Juliana Junior Greenhouse Kit is great as an affordable starter eco greenhouse kit, measuring 9 feet by 12 feet. The Juliana Junior is a common sight in back gardens, thanks to its affordability and ease of use.
It's been built with space economy in mind from start to finish. Its back doors and windows guarantee total control over things like humidity, airflow, and sunlight – and more windows on the roof refine this control even further for the advanced gardener.
It is one of the best small glass greenhouses with a classic look but beefed up with more advanced features. Glass is high quality, with 3mm tempered glass panels throughout.
The Juliana Junior Greenhouse is an easy DIY project. Even if you have never installed a greenhouse yourself, it's almost effortless – and everything secures to everything else with included clips and parts.
If you would like more sizes to work with, other greenhouses are available in different sizes from the same manufacturer. When installed, the Juliana Junior contains a lockable, high-quality door to protect your greenhouse. It is made in Denmark, the Juliana Junior has a 12-year comprehensive warranty and an additional two-year warranty on certain parts.
See Related: What are the Commercial Greenhouse Construction Costs per Square Foot?
4. Juliana Oasis Greenhouse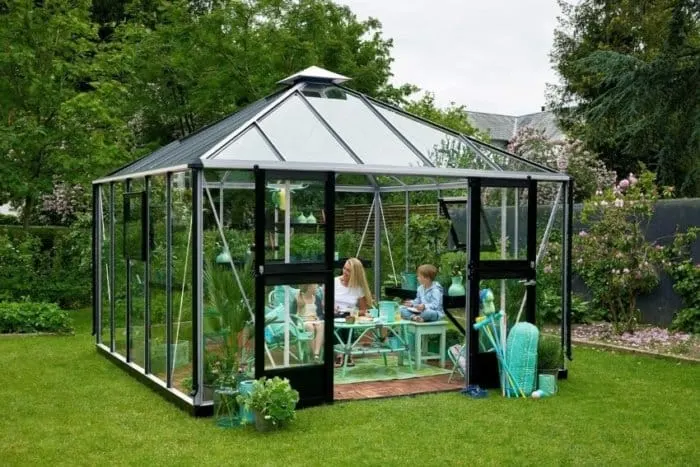 IMHO this is one of the best moderate eco-friendly greenhouses on the market. Its manufacturer has a great reputation in gardening circles for an excellent products – you know you're buying the best quality.
Available in different finish options (including aluminum and black), the Oasis Greenhouse measures 10 feet by 10 feet. That's more than enough space for most gardeners to get things done. The shelving combined with a high roof extends the available room.
The glass is guaranteed to be high-quality: 3mm tempered glass panels line the Oasis Greenhouses to let the best light in and protect your greenhouse contents from harm. If you change your shade to let in more (or less) light, tinted options are available.
It has a connecting spray system, extra shelves, or a gutter network is accessible: note that the Oasis doesn't include most of these spare parts but has room for installation. Getting your perfect greenhouse might still require a few things sold separately! The greenhouse also comes with a high-quality locking door that protects the greenhouse from intrusion.
Made in Denmark, the Juliana Oasis Greenhouse is covered by a 12-year overall warranty and an additional 2-year parts guarantee.
See Related: Best Shelves for Greenhouse
5. Sturdibult Greenhouses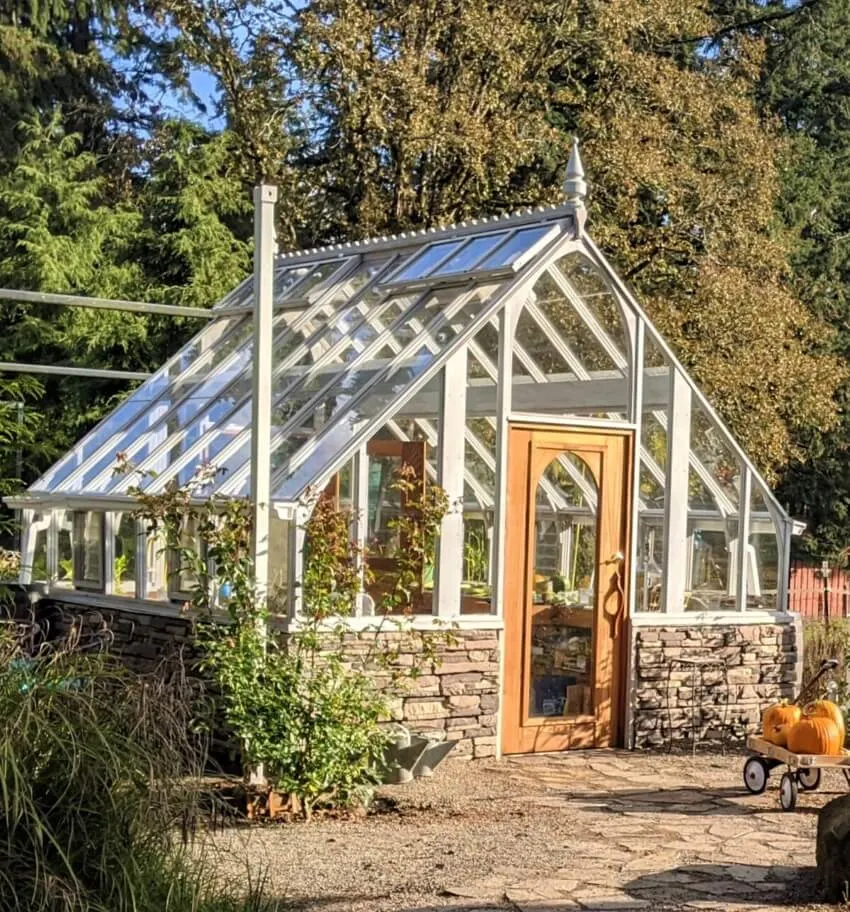 Sturdibult Greenhouses are made with a difference, and these are not automatically machined into existence but instead handmade from a combination of redwood, glass, and aluminum framing.
If you would like a greenhouse that's been made just for you, the Sturdibult Greenhouse is a great eco-friendly greenhouse made in Portland, United States. Tempered, 3mm glass protects the greenhouse and harnesses the sun's best qualities while keeping your plants safe from the wind and rain. It's easy to install and can also be made to your specifications if you want to be more specialized about your gardening needs.
See Related: Best Greenhouse Fogger
6. Exaco Victorian Greenhouse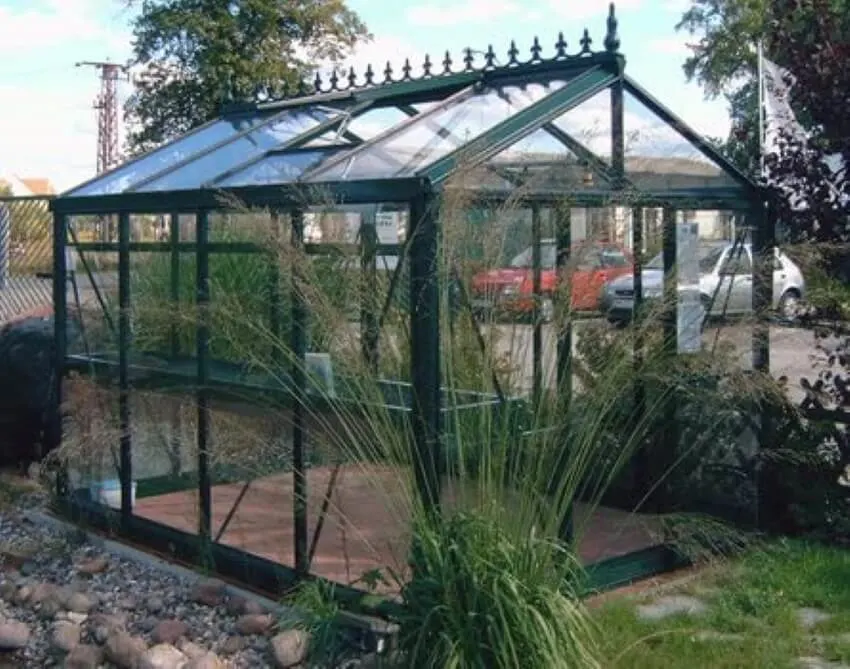 The Exaco Victorian Greenhouse is one of the Victorian Style glass greenhouses available from Belgian manufacturer Exaco. It has a beautiful and striking Victorian aesthetic that you'd expect to find in a classic English country garden. If you aren't sure about its size, there are several Victorian greenhouses in this range – we'll get onto them later.
A dark green sturdy aluminum frame finish adds to the visual effect. Practically speaking, this is a fantastic eco greenhouse that doesn't take a lot of sweat or time to set up. You can have a completed greenhouse from the ground up in a few hours!
The walk-in design of Exaco Victorian Greenhouse allows a significant amount of floor space. Shelves can line the walls, and additional shelving is easy to install, with more than enough "empty" space to fill once installed.
A few features set the Victorian Greenhouse in its class: eight high-quality tempered glass panels line each side of the greenhouse, and the roof is finished with a fancy spiked-stylish design, which is not only attractive but may also help deter birds from leaving their "love." It has an easy hinge system that controls the roof windows. Nothing automatic here, which keeps to the Victorian style.
One drawback is that the shelving, cloth, and misting or fogging system are not included. If you choose this greenhouse, you'll have a few things to buy separately. It has a 12-year overall and an additional 2-year parts warranty cover the Victorian Greenhouse and other Exaco products.
See Related: Best AeroGarden Pods
7. Exaco Retro Royal Victorian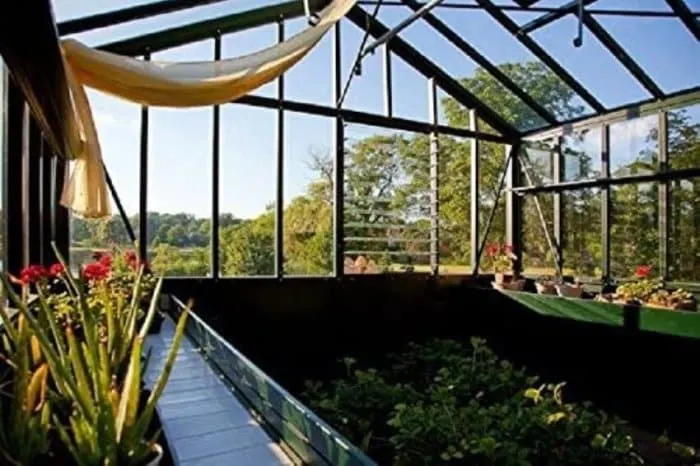 The Exaco Retro Royal Victorian is a large-sized Victorian-style eco greenhouse perfect for achieving a tremendous natural effect. Exaco offers several greenhouses in the same style, and smaller ones are available if this strikes you as too imposing for your available space.
Especially large and with a wonderful feel, it's a high-quality greenhouse made from the best aluminum frame – and topped off with 14.4mm tempered glass for protection. It has a slanted roof that improves the distribution of sun, no matter where you park your greenhouse in your garden.
Additional greenhouse accessories like extra shelving and gutters are easy to install, and most Exaco greenhouses are pretty easy to install. It has a locking door that protects the contents with a high-quality, tested, and approved lock.
Reviews rank Exaco as one of the top worldwide eco-friendly greenhouse brands. It is guaranteed that this will stand through any weather conditions – and your plants inside won't notice anything!
Like most Exaco products, it's proudly made in Belgium and covered by an overall 12-year warranty (and an additional 2-year warranty on its parts).
See Related: How to Start Growing Mushrooms in a Greenhouse
8. Exaco EOS T Royal Mur Greenhouse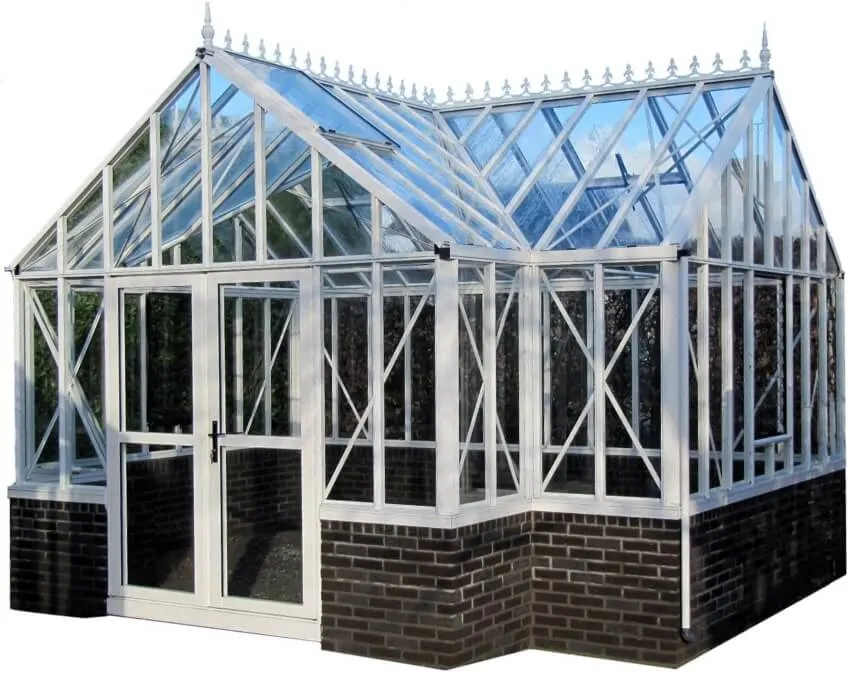 The Exaco EOS Royal Mur Greenhouse is great if you want to blend the Victorian greenhouse effect and the classic greenhouse look. Made from aluminum, this Exaco model contains four windows on the roof (and an impressive angled roof that ensures maximum sun and heat distribution). It has an automatic opener that can open and close the windows, a cool feature you don't see in many greenhouses.
the greenhouse is covered in 4mm tempered glass for protection, and it's one of the best simple eco-friendly greenhouses on the market today. Its weight is one of its best features, but it might also mean that you need extra help to install it. Keep this in mind if this is the greenhouse you go with.
Exaco Greenhouses are covered by a 12-year overall warranty and a 2-year additional parts warranty.
See Related: How to Attached Greenhouse Plastic to Metal Frame
9. Exaco Jr Victorian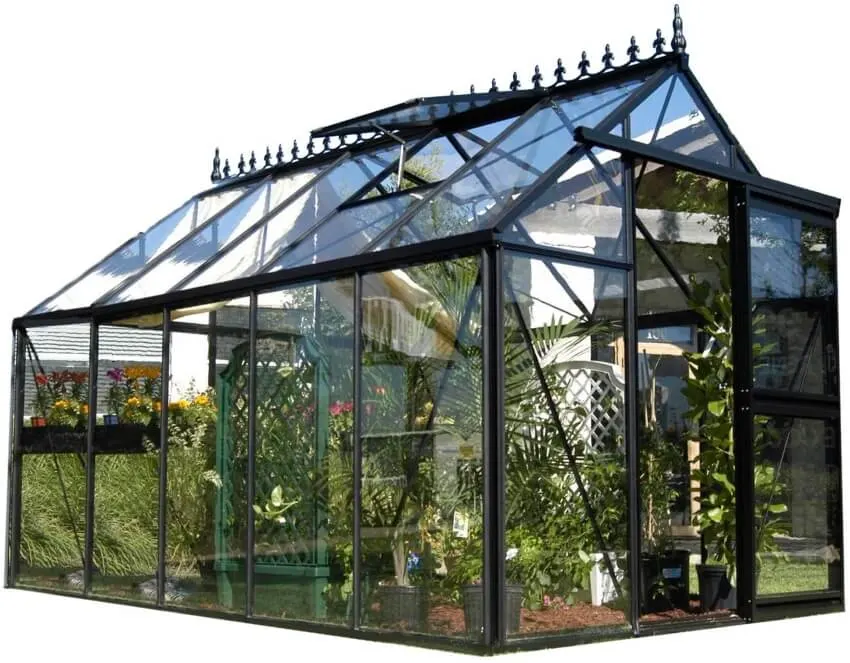 The Exaco Jr Victorian Greenhouse is also made by Exaco, one of the world's leading brand names in greenhouse manufacturing. The Junior Victorian Greenhouse is smaller than the large Victorian model from the same company and is cheaper.
How small is their small Victorian? The Junior Victorian Greenhouse measures 24 square feet, making it bigger than most "small" greenhouses. If you would like a small eco greenhouse with a great classic look like you would see in the movies, the Victorian is affordable and well made.
It has a slanted roof and three roof windows that allow you more control over the environment and access to enough heat and light within your greenhouse. Tempered glass protects your inside environment. All the necessary parts are included in the kit, and the instructions are clear on where to put them.
The product quality is guaranteed, and an impressive warranty covers the entire product for 12 years – and additional parts for 2. It's great for the classic greenhouse look on a budget.
See Related: Best Mini Greenhouses
10. Janco Greenhouses Palmetto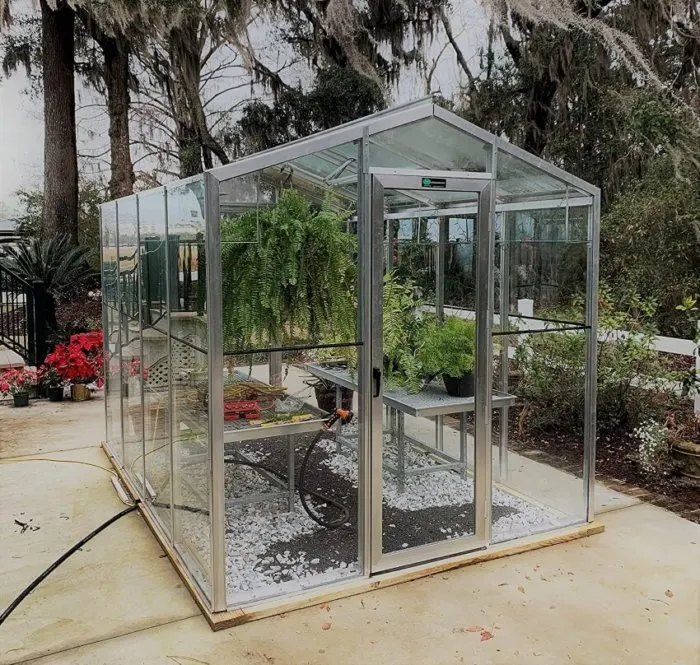 The Palmetto Greenhouse is one of the hybrid greenhouses available from Janco, one of the world's best hobby and professional greenhouse manufacturers. It is a great recommendation if you would like a great mid-sized professional-quality greenhouse that's easy to install.
The Palmetto Greenhouse measures 8 feet by 10, and is made from a mixture of polycarbonate and glass with an aluminum frame. This combo of materials is done to save on the total cost, but it also makes the final greenhouse design a little bit lighter.
Its glass is tempered and guaranteed to be made from only the best quality materials. It won't easily shatter, break, or suffer other damage – even when subjected to potential impacts. A tight seal is guaranteed throughout to keep the best qualities of your greenhouse protected on the inside.
Like most of the greenhouses from Janco, the Palmetto is easy to assemble yourself. Instructions are clear, and assembly videos are available if you need some help to figure it out.
Security is one of the best extra features of the Palmetto. It's one of the only greenhouses with a high-security lockable door – and a duplicate key, so you can save yourself a call to the local locksmith. As with most of Palmetto's products, it also comes with a lifetime warranty covering all basic parts and common repairs.
See Related: Best Aquaponic Greenhouse Kits
11. Little Cottage Company Petit 5 x 2.35ft Greenhouse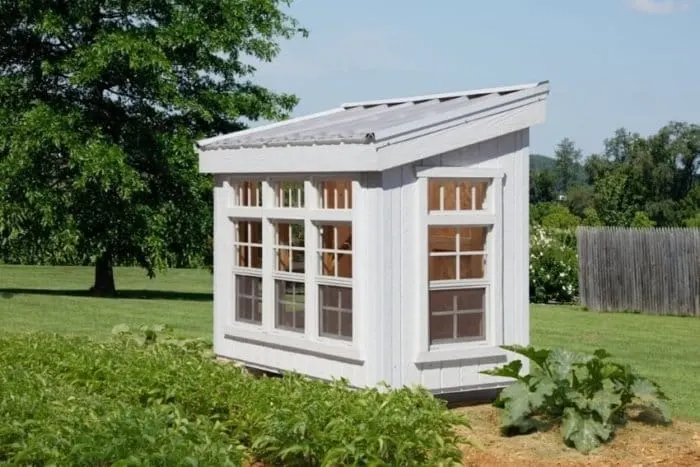 The Little Cottage Company Petit Greenhouse is the perfect option for a small greenhouse made by one of the best eco-friendly greenhouse companies in the United States. It is sized at 5 feet x 2.35 feet, it's smaller than most you'll find – but worth it if that's all the space, you need to start.
It's also adorable as all heck. Just look at this cute wee sucker.
The Petit Greenhouse is great for creating a rustic look in the middle of your garden. The greenhouse is corrugated metal sheets that make up the greenhouse's frame, with simple glass panels covering the sides.
While the rest of the greenhouse is smaller than most, there's more than enough shelf space that allows you to stack upwards. It has extra shelves that can be installed if you want to extend what you have. Size has no impact on quality: this is one of the strongest-made greenhouses you will find!
It is one of the best small glass greenhouses on the market, and again, cute as heck. Choose this if you want a hobby greenhouse or a starter eco greenhouse kit. A basic warranty covers repairs and most manufacturing defaults.
See Related: Best Greenhouse Kits
12. ACD Action 104 Greenhouse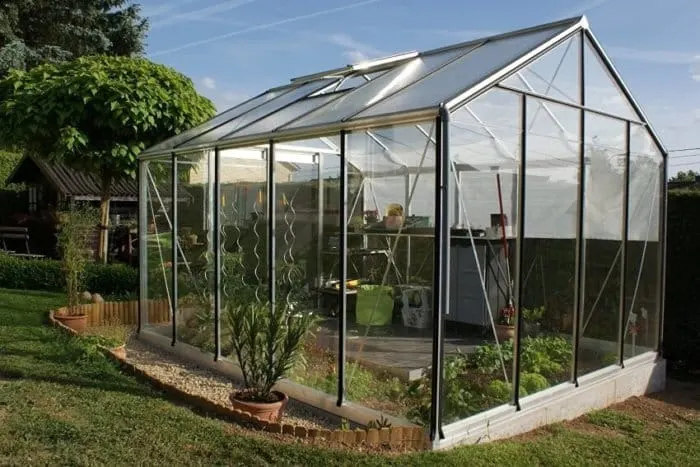 The ACD Action 104 Greenhouse is one of the best eco-greenhouse models if you are looking for a greenhouse in a classic style. It looks like greenhouses represented in Hollywood movies or classic British soaps and sit-coms with black edging to add to the perfect quintessential hobby greenhouse look.
ACD is based in Belgium and is well known for creating high-quality greenhouses in almost every shape and size for hobby gardeners and professionals. Quality is a given with this brand, giving all their products and parts a lifetime, 30-year guarantee. The ACD Action 10 measures 10 feet x 10 feet and is 7.5 feet high.
That puts it in the range of a great mid-sized glass greenhouse at an affordable price. The combination of a slanted roof and wall provides superior conduction of heat and sun. All gardeners know this leads to a much better environment inside the greenhouse!
It has a 4mm reinforced glass that covers the sides of the Action 10 Greenhouse and brought in all the best parts of sunlight while blocking off potentially harmful elements like cold, wind, and debris.
If there's one downside, the product can be hard to assemble and impossible for just one person. Assume that you'll need help installing and assembling this greenhouse when you've ordered it.
See Related: Best Shade Cloth for Greenhouse
13. Esschert Design Glass 26.6″ x 31.5″ mini greenhouse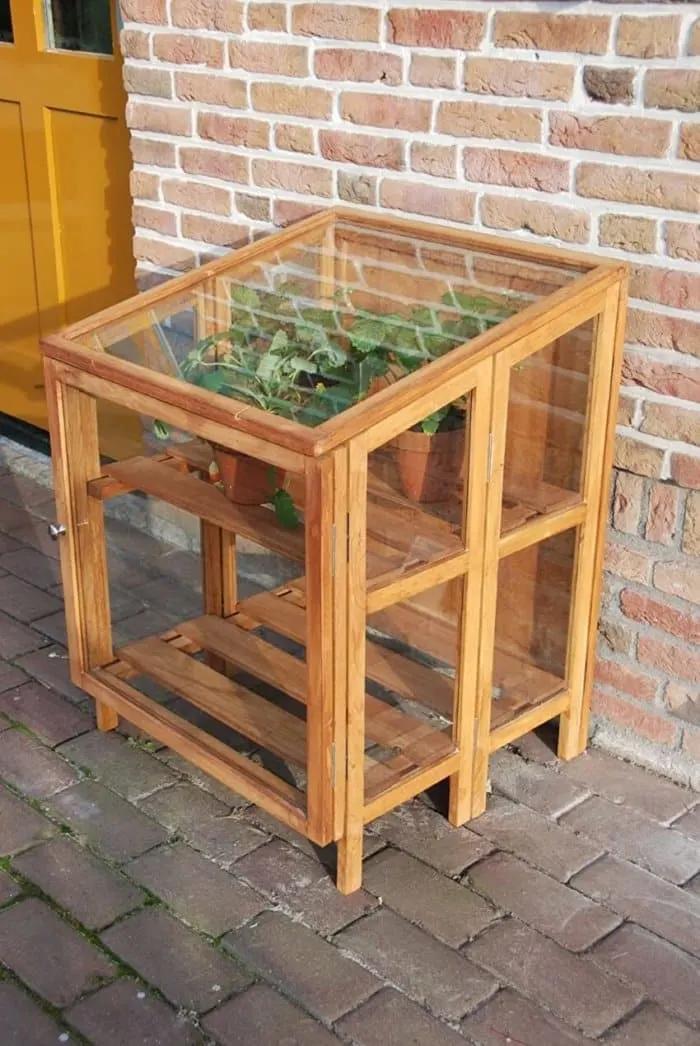 The Esschert Design Glass Mini Greenhouse is a simple eco-friendly greenhouse that gives you the advantage of high-quality materials and more than enough space. While it's not as elaborate as other greenhouses twice the price, it's great for a single feature or hobby gardener still getting to know the art. Two shelves provide the gardener with more than enough space to stack infant plants – and additional shelves can be added with very little effort.
Esschert's Mini Glass Greenhouse is made from wood and glass, which adds to its durability while also giving it a nice look. It uses a single, tempered 4mm glass covering the whole surface of the mini greenhouse.
The angled roof panels benefit equal distribution when the sunlight hits the top of these best glass greenhouse kits. Comparatively, angled roof greenhouses almost always mean a happier environment to get things growing.
While it's a very small greenhouse, the advantage is more than enough space and an eco greenhouse that's very easy to put together. It can provide a great effect but also be a wonderful start for a new gardener who doesn't want to blow a huge budget on their first greenhouse. Better still, a lifetime warranty covers all the parts.
See Related: Best Things to Grow in AeroGarden
14. Hartley Tradition 10 Glass Greenhouse

The Hartley Tradition 10 Glass Greenhouse is a great eco greenhouse from a reliable company with more than 80 years of making great greenhouses. While other models are available from Hartley, this is the best for small to mid-sized gardeners who need guaranteed quality.
Reinforced 4mm safety glass covers the entire stretch of the Tradition 10 Greenhouse. In total, you have more than 10 square feet worth of floor space to work with, and the Tradition 10 is 8 feet in length.
While it's a self-assembly product that needs some knowledge, it comes with clear enough instructions that you should be able to assemble it in just a couple of hours. Videos are available from the manufacturer's website if you need the visuals!
Hartley offers installation on request for people who are much better at gardening than they might be at DIY. If you want quality of life, choose Hartley. It has a 30-year lifetime warranty covering materials and parts against the most common repairs you could need.
See Related: Best Indoor Greenhouse with Lights
15. Hartley Planthouse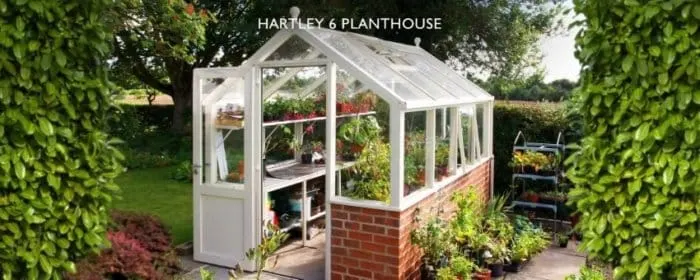 The Hartley 6 Planthouse is one of the best affordable eco greenhouses on the market if you are looking for a small to a mid-sized, high-roofed greenhouse made from the best possible materials. It is also one of my favorite small glass greenhouses where aesthetics are concerned.
The Planthouse is one of several different greenhouses offered by the company and is highly customizable by the customer. As well as the "6" it's available in, 8 feet, or 10 feet wide options, depending on how much size you have or need. Several different colors are also available as a finishing touch.
Made from only the best quality materials, the Planthouse model is guaranteed 4mm tinted safety glass that distributes light but reduces potentially harmful rays. A high roof is one of its best features: the slanted roof at an angle provides additional optimal conditions for what's growing in your greenhouse. That's not all: there is more than enough walkaround space to view your collection of colorful plant life.
At least four shelves provide more than enough packing space, though other accessories (like the filtration system) might have to be bought separately. The product has a 30-year lifetime guarantee that covers any potential repairs on the product.
See Related: Best Greenhouses to Buy
16. Jungle Jane Glass Heavy Tropic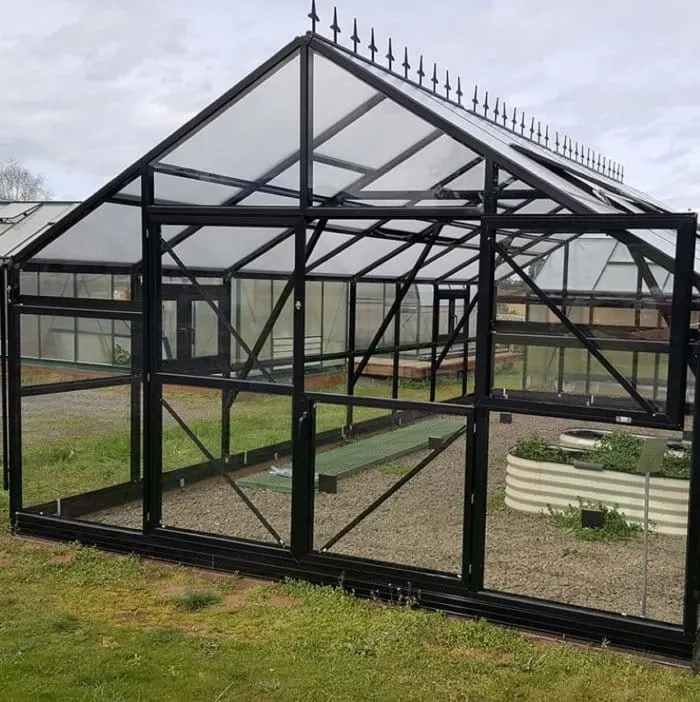 The Jungle Jane Glass Heavy Tropic is one of the best small glass greenhouses, and it's great if you would like an unusual greenhouse that's not in the typical rectangular style you see everywhere else. The Jungle Jane Greenhouse is six-sided and measures 11 feet by 11 feet. Double-tempered high-quality glass provides enough access to warmth and light while keeping its contents well protected.
The Jungle Jane option is made from superior-quality glass with durable Victorian-style aluminum frames. There's more than enough top and bottom shelf space to work with, and it can be extended without much extra effort.
The six-sided aspect is not just for a different look but also works to distribute light and heat more evenly than the average four-sider. While it doesn't include a huge list of added accessories, it's great for effect and makes a nice addition to your garden.
See Related: Best Greenhouse Plastic Sheets for Protection
What is a Glass Greenhouse?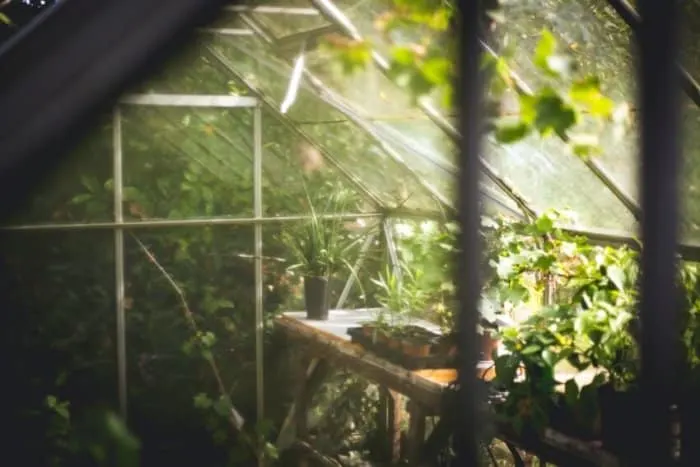 A glass greenhouse is a type of greenhouse made mostly of glass. You're welcome. Glass greenhouses offer many benefits like traditional, windowless greenhouses of yesteryear (the concept of which is centuries old). Glass greenhouses have better light transmission, improved heat retention, and enhanced durability.
Glass greenhouses are popular among gardeners all around the world. They've always been more popular and common than other greenhouse alternatives. Today the panes in glass greenhouses are been made from modern, durable glass material, and are usually held together with aluminum or steel frames surrounding them.
The eco-friendly difference lies in the use of glass instead of polycarbonate material or plastic, which may be cheaper, but is more damaging to the environment in the manufacturing phase and when it comes to disposing of the plastic panes. They are expensive to produce, never degrade, and create a huge carbon footprint to make. Glass, overall, is better for the environment and your garden.
Why is Glass Considered the Best?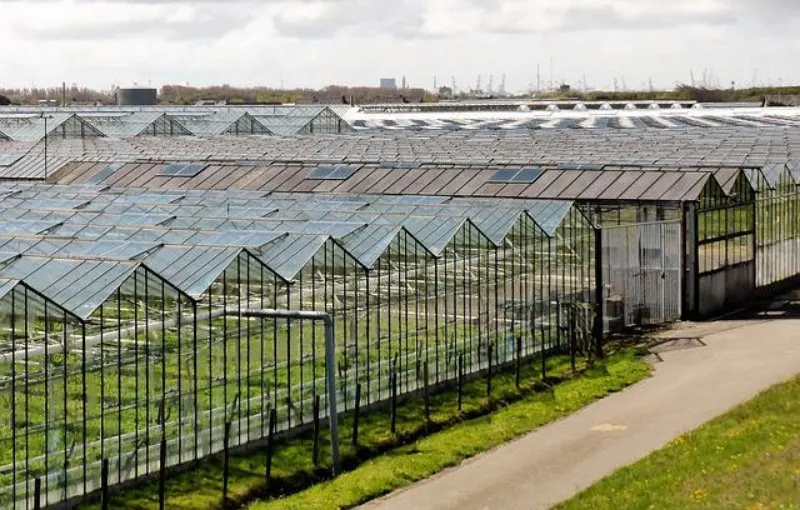 Glass greenhouses are the best type of greenhouse because they let in natural light and heat, which helps plants grow. They also provide an unobstructed view of the plants inside, so you can enjoy them while you work. Glass greenhouses are easy to maintain and can be customized to fit your specific gardening needs.
Glass greenhouses also have a more pleasing look than other greenhouses. This is because glass allows sunlight to enter and help plants grow.
It is also a great greenhouse material because it doesn't rust, corrode, or discolor. Features that give the greenhouse a classic and high-end look.
See Related: Best Portable Greenhouses to Buy Today
Single-Pane vs Double-Pan Glass
The glass used in greenhouses is an essential factor when choosing a greenhouse. Two types of glass commonly used in greenhouses are single-pane and double-pane.
Single-pane glass is the most common type of glass used in greenhouses. It is lighter, less expensive than double-pane glass, and provides good light transmission. However, single-pane glass does not insulate as well as double-pane glass and is more susceptible to breakage.
Double-pane glass is more expensive than single-pane glass but provides better insulation and is more resistant to breakage. Double-pane glass is the best type of glass to use in a greenhouse – or any building windows while we're at it.
Tempered vs Annealed Glass
When it comes to glass greenhouses, two types of glass are commonly used in either form of the previously mentioned panes: tempered and annealed glass.
Tempered glass is stronger than annealed glass and is less likely to break. However, if it breaks, it will shatter into small pieces instead of large shards. This is great for safety – less so for cleanup.
On the other hand, Annealed glass is more likely to break into large fragments. These can be razor-sharp and extremely dangerous if handled carelessly, but they are arguably easier to clean up in the event of a break.
See Related: Greenhouse Cost Guide
How to Choose the Right Glass Greenhouse
When it comes to glass greenhouses, there are many options on the market. So, how do you choose the right one for you? Here are a few tips:
Decide what you want to use your greenhouse for. If you're mainly looking to grow plants, you'll need a glass greenhouse that can provide light and heat. However, if you're looking to use your glass greenhouse for other purposes, such as storage or a workshop, you'll need to ensure it is big enough and has the right features.
Consider the climate. If you live in an area with harsh winters, you'll need a glass greenhouse that can withstand the cold. However, you won't need as much insulation if you live in a more temperate climate.
Choose the right size. Glass greenhouse kits come in all different sizes. It is an important factor in choosing your kit, so you'll need to make sure you choose one that is big enough for your needs. A small glass greenhouse will suffice if you're only looking to grow a few plants. However, if you want to use your glass greenhouse for other purposes, such as storage, a hangout space, or a workshop, you'll need to ensure it is big enough.
Consider the features. Glass greenhouses come with different features, so you'll need to decide which ones are important to you. For example, some glass and polycarbonate greenhouses come with shelves, while others do not. Some have vents and windows, while others do not. Consider what features are important to you and choose the best glass greenhouse kits accordingly.
Compare prices. Glass greenhouses can range in price depending on the size, features, and brand. So, it's important to compare prices before making your final decision.
FAQ
Do glass greenhouses come with shelves?
Some glass and polycarbonate greenhouses come with shelves, while others do not. When choosing the best glass greenhouse kit for your needs, it is important to consider what features are important to you.
What is the best way to vent a glass greenhouse?
The best way to vent a glass greenhouse is by opening the doors and windows. This will allow fresh air to circulate and prevent the build-up of heat and humidity.
Do glass greenhouses come with a warranty?
Most glass greenhouses come with a warranty, while others do not. It's important to read the warranty before you purchase to make sure you are covered in the event of damage.
Is a glass greenhouse good?
A glass greenhouse is a type of greenhouse made primarily of glass or other transparent materials. Glass greenhouses are good for plants because they allow for maximum sunlight exposure, which is essential for photosynthesis.
Additionally, glass greenhouses provide a controlled environment for plants, which can help protect them from pests and harsh weather conditions.
Related Resources