A greenhouse is a great way to extend the growing season for plants, and adding a shade cloth can help keep plants cooler on hot days. But with so many different shade cloths available, which one should you choose? Here are 10 of the best options for keeping your greenhouse plants cool.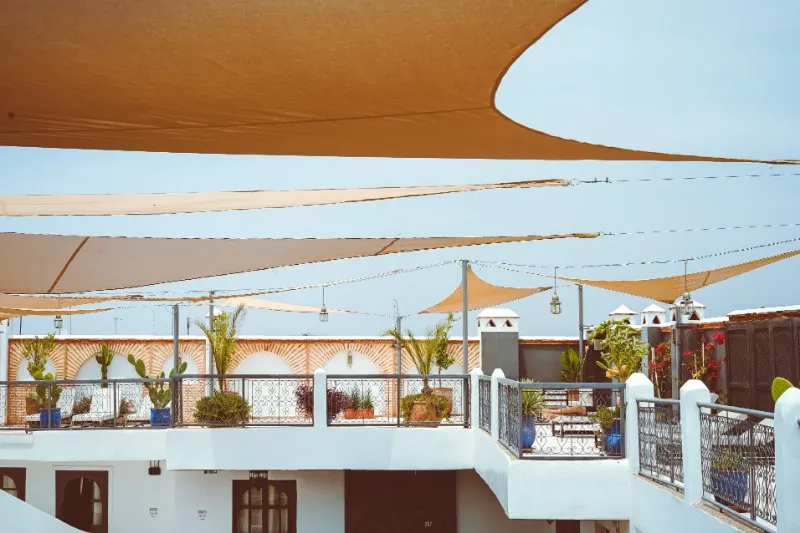 So you've invested in a greenhouse to ensure year-round production, stability, and security for your plants, but did you get a shade cloth for a greenhouse? In that case, you're probably not maximizing the efficiency of your crop production.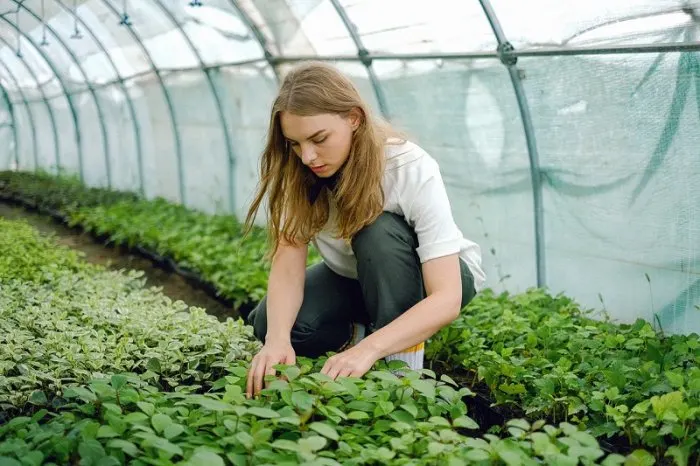 Greenhouses are great for producing crops outside the growing season or climate without worrying about the weather. However, shading clothes for plants ensures maximum protection for your crops.
The quality of your plants is directly related to the production environment. Therefore, as the summer approaches, you need to take extra care of your plants.
You'd need an agricultural shade cloth to protect your crops from scorching heat and UV radiation.
Read on to learn more about the best shade cloths for greenhouses and how they protect your plants!
Best-Of by Category
What is Greenhouse Shading?
Shading keeps greenhouses cool in the hot months. It reduces the temperature inside as well as reduces light entering greenhouses. Good ventilation can keep the temperature at the ideal level, but you forget the sun-reflective power.
It builds up quickly in greenhouses, increasing the temperature and danger to too many plants. Of course, plant growth depends directly on sunlight, so reduce your exposure to a minimum.
What is a Shade Cloth?
Shade cloth is a type of material that is used to block out the sun's rays. These cloths are typically made from various materials such as Polyethylene (PE), Nylon, or PVC. They are often used in outdoor areas such as gardens, patios, or greenhouses.
They also double up as an extra layer of protection from insects, bugs, and other pests!
See Related: Best Greenhouse Irrigation System
What To Know About Shade Cloths for Greenhouses
Plants are too sensitive to bear the harshness of summer heat. Especially if you live in a place with blistering heat like San Antonio, Texas, or Las Vegas, Nevada, your plants may become wilted from dehydration.
These clothes act like sunscreen for your plants; they protect them from sunburn, and from water evaporating too quickly. Also, they provide proper crop ventilation, so you don't have to spend money installing costly cooling systems.
But before you consider buying a greenhouse shade cloth, you need to know its color, size, and material. Otherwise, you may purchase an inappropriate shade cloth for your plants.
Here's what you need to know:
Color
While shopping for shade cloth, you may be stricken by the sheer number of colors available. So, the variety of options may leave you wondering, "What color shade cloth is best for my greenhouse?"
Blue, red, white, green, black, and silver (aluminized) are common shade cloth colors. So let's figure out how each one works.
We all know that light colors reflect heat from the sunlight. As such, choosing a light shade cloth could improve ventilation.
On the other hand, dark shade cloths are likely to absorb more heat from the sun. Yet, they do better to protect your plants from harmful UV rays and filter out light.
So, we cannot say that one color is better than the other – it's different horses for different courses.
It really all depends on your plant's needs. If you want to grow flowers, a white shade cloth for the greenhouse may work better. However, dark shade cloth (black or red) is ideal for growing lettuce, while blue shade may be suitable for cucumber growth.
And for additional cooling, you can use an aluminized cloth.
Material
Shade cloths are either knitted or woven. Here are some details about the fabric of each kind and its durability.
Knitted Shade Cloth
Made of lightweight polyethylene fabric
UV resistant
It has a longer life expectancy than woven shade cloth
More flexible than woven shade cloth
Easy to install
Horticultural chemicals and detergents resistant
Woven Shade Cloth
Made with heavier polypropylene fabric
UV resistant
It cannot be customized
It may wear out faster when cut
Suitable for extreme winter weather
It can also serve as a windscreen
See Related: Best Shelves for a Greenhouse
Shade Cloth Density
Density is yet another essential factor when shading greenhouses and shade cloth percentage to use. Generally, the density of cloth measures the amount of sunlight that can penetrate it.
Each plant requires a different amount of sunlight; therefore, one density cannot accommodate the need of all types of crops.
30% Density
Some fruits, vegetables, and heat-tolerant plants can benefit from a cloth that provides shading with 30% density. Vegetables like tomatoes and eggplants do well under 30% shade cloth density, as do fruits like peaches.
40-50% Density
Flowering plants like salvia, geraniums, lilies, and camellias are ideal for growth under 40-50% cloth density.
60%
Dark green vegetables like spinach, kale, and broccoli are best grown at 60% cloth density.
75-90% Density
The plants that require the minimum sunlight do best in 75-90% density of cloth that provides shading. Ferns, impatiens, lobelia, and orchids are among a few shade-loving plants.
Best Shade Cloths for Greenhouse
You made the right decision to install a greenhouse for your delicate plants! But do you want to complement your efforts by providing extra protection to your crops from harmful UV radiations?
If yes, you must purchase a suitable shade cloth for the greenhouse.
To assist you in making the right choice, we have compiled a list of the top ten shade cloths for greenhouses.
So, without further ado, let's get right to it!
1. DirectShade – 70% UV Green Shade Cloth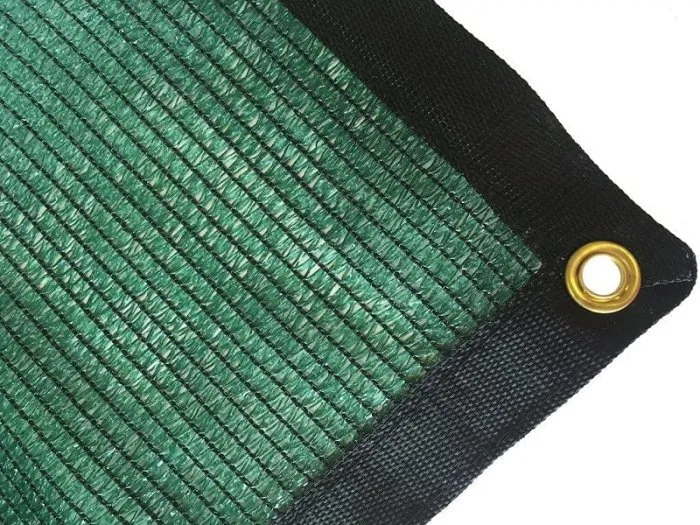 Are you planning to grow wood spurge, snowdrop, bellflower, or any other delicate plant that needs minimum sunlight? If yes, Direct Shade offers a suitable shade cloth for your sensitive plants.
With 70% cloth density, this shade cloth for the greenhouse ensures minimum sunlight penetration.
Aside from that, it is made from polyethylene fabric, which is both lightweight and durable.
Whether your greenhouse is small or large, direct shade has you covered. With nine varying sizes, this garden house shade ensures maximum coverage to your greenhouse.
Also, the cloth has double grommets at each corner. Therefore, you won't have to worry about strong winds or heavy rainstorms pulling the shade away from your conservatory. The grommets ensure strength, protecting your greenhouse shade cloth from wearing out.
See Related: Best Portable Greenhouses to Buy Today
2. YGS Perfect Sunblock Shade Cloth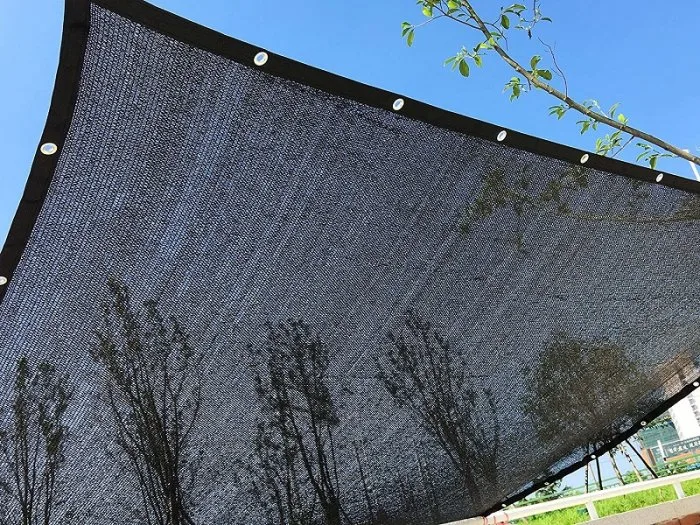 If you're looking for a dark garden shade cloth for plants, YGS's perfect sunblock comes in a jet black color.
Black color will filter sunlight protecting your crops against the harmful UV sun radiations.
This premium quality shade cloth is made up of lightweight polyethylene material. Besides, its fabric is pure mesh and breathable.
Furthermore, the net is equipped with grommets at each edge, so they can be attached to your greenhouse easily.
Also, this product is multi-purpose. You can utilize it for greenhouses, swimming pools, porches, or playgrounds.
This high-quality shade cloth is easy to install and ensures maximum safety for your plants.
See Related: Best Greenhouse Aquaponics Kits
3. ZG UV Resistant Aluminet Shade Cloth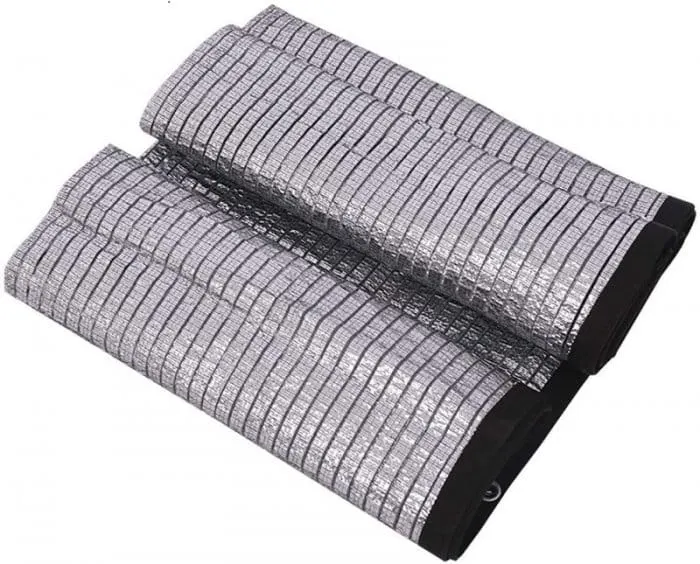 Aluminate shade cloths are known to provide additional cooling in sweltering summers. So if you live in a city where summers are unforgivably hot, a ZG UV Resistant shade cloth might be handy.
ZG UV Resistant cloth is made of reflective aluminized fabric that keeps your vegetables and fruits cool in summer.
Also, you won't need to worry about its size as it's available in eleven varying lengths and widths! Therefore, no matter what type of greenhouse you have, you'll have the option to choose from various sizes.
In addition, you do not need to take the cloth off to water your plants. The mesh material ensures that water droplets reach all your vegetation – waste not, want not.
Even though this cloth that provides shading allows water and air to pass through, dust cannot penetrate through its holes. So, in case of a heavy dust storm, your crops remain protected.
With about 85% density, the shade cloth offers great protection from the sun and enhances the growth of your plants.
See Related: Best Lean To Greenhouses | Side of House Options
4. GFYWZZ Shade Cloth 90% Sunblock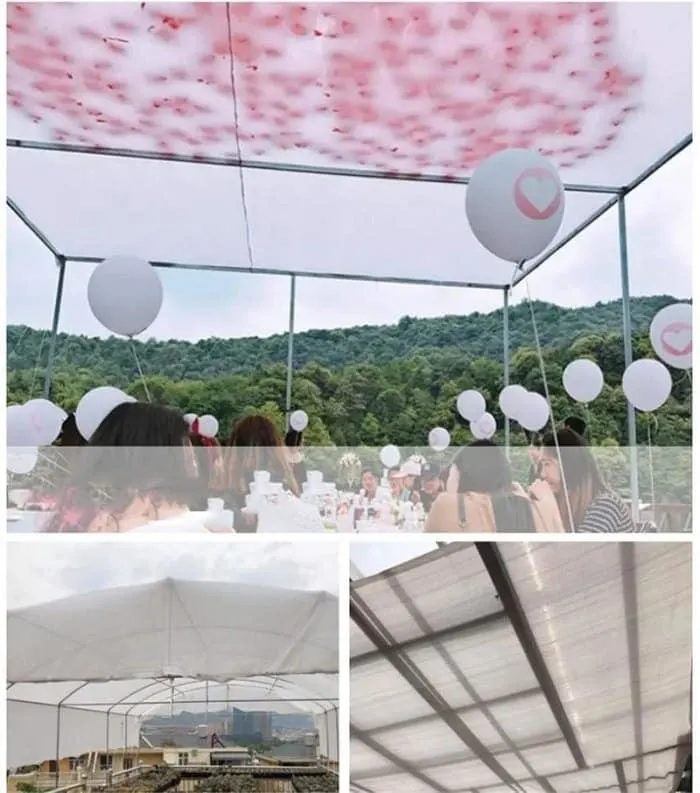 What smells better than fresh flowers? The fragrance and colors of beautiful flowers are sure to delight any viewer. So, if you're willing to grow some, know that you can bloom gorgeous flowers in your greenhouse.
However, proper maintenance is the key. As such, shade cloth is an accessory you simply must have for your greenhouse.
GYWZZ white shade cloth will let you grow unique flowers while ensuring their safety from the sun.
This shade cloth provides 90% protection against the UV rays, making it ideal for exquisite shade-loving plants.
In addition, the cloth comes in five distinct sizes, making it a suitable fit for any greenhouse. With high-quality polyethylene material, this greenhouse shade cloth provides durability. As such, you won't need to buy a new shade of cloth frequently.
See Related: Best Wooden Greenhouse
5. UV Resistant Net for Garden Covers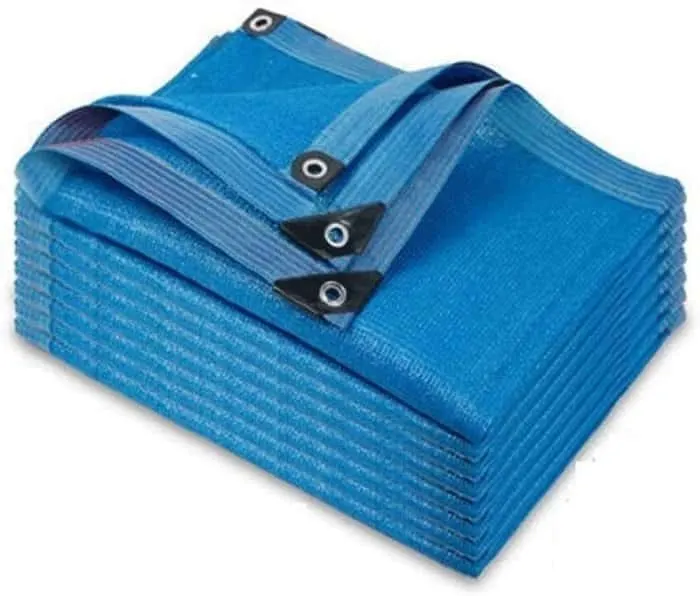 If you want to slow down the rhythm of your plants and delay the blooming, this blue shade UV-resistant cloth may work best for you.
Blue cloth shade has distinct purposes, just as white, black, and green shade cloths do too. It may work for you if you
Want to postpone flowering.
Want more compact plants.
Desire to grow leaves that are darker than usual
This lightweight greenhouse is made out of UV-stabilized polyethylene material. It supports your plants and alters the growth pattern based on your preferences.
In addition, you can select from a range of thirteen sizes. Moreover, metal grommets at each edge of the fabric allow easy attachment to your garden house.
You may want to use this if you grow vegetation for commercial purposes. Hence, greenhouse farmers willing to gain profits in the market may benefit from blue cloth that provides shading.
6. IMFILM Green Shade Cloth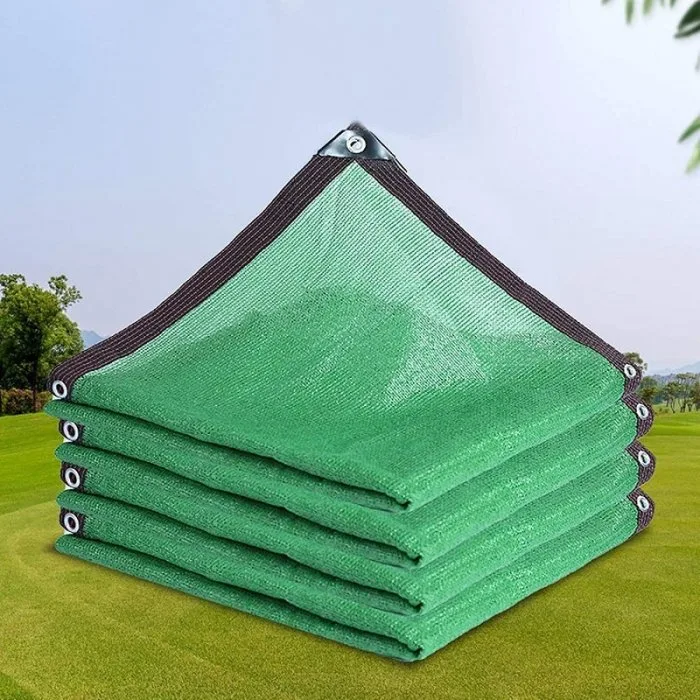 If you want to maintain ventilation in your greenhouse and protect your plants from pests and UV rays, this green shading cloth may serve your needs.
Plants that receive more sunlight than needed may suffer the consequences, such as slow growth and eventual defoliation.
However, this lightweight and durable green cloth plummet the temperature inside your greenhouse, providing a safe, consistent temperature.
While it does resist harmful UV rays, it doesn't stop airflow. So, your plants get enough oxygen to thrive.
Whether you want to cover your garden house in green shade or hang it right in front, the metal grommets provide easy coverage and hanging.
Additionally, there are three options available, so you can select one that best suits your needs.
See Related: How to Winterize a Greenhouse
7. Waytina 70% Shade Cloth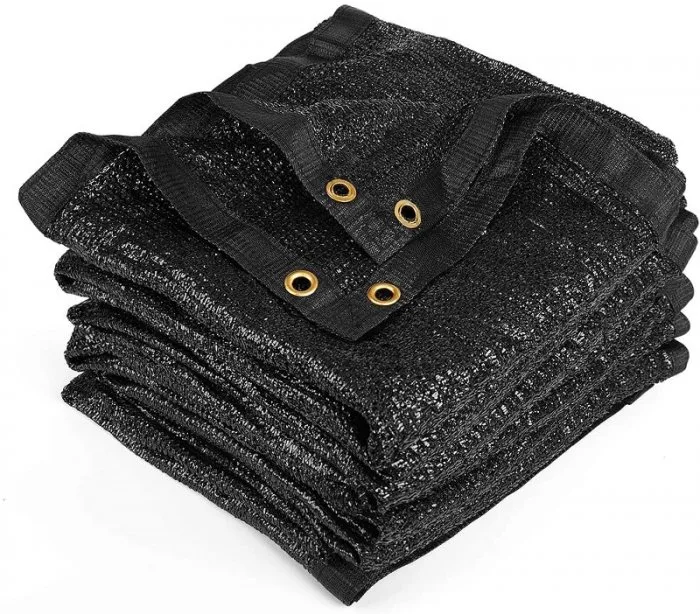 With a 70% shade percentage, Waytina shade cloth is another best shade cloth for greenhouse use. This shade cloth is made from high-quality polyethylene to protect plants in extreme weather conditions.
So, whether it's the scorching summer heat or high windy conditions, this colored black shading cloth has you covered. Let's see how.
While the cloth will emit UV sun rays, it will allow the amount of light ideal for plant growth. By allowing wind to pass through and blocking dust from entering, the mesh material will maintain the health of your plants.
Also, the company offers a one-year warranty, so you won't have to worry about it wearing out soon.
It is reinforced by copper grommets (18 in number, each spaced 3.3 feet apart), making it strong and resistant to high winds. Additionally, the edges are double-bound with needles for durability.
See Related: Best Greenhouse Plastic Sheets for Protection
8. E.Share 70% Green Shade Cloth Taped Edge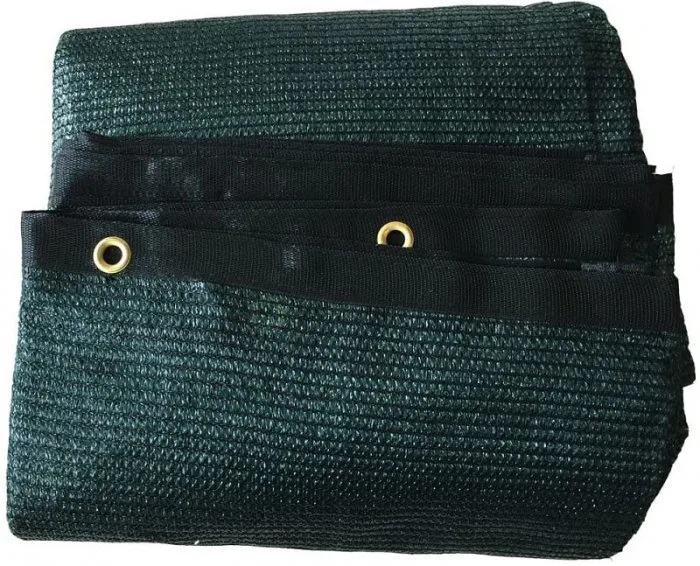 Gardening experts believe that green-colored cloth that provides shading is best for ventilation to your plants. Especially if you live in a place with frequent harsh weather conditions, installing a lightweight polyethylene green shade cloth will increase your plant growth.
As such, E.share brings you green shade cloth with 70% cloth density. While 60% cloth density is ideal for growing fruits and vegetables, most gardeners opt for a shade percentage of 70% density cloth that provides shading to be safe.
This green shading cloth comes in 12ft x 8ft size with a grommet every 2ft apart. E.share can be used to cover not just your greenhouse but also any tiny plants you have in your village or backyard.
Plus, considering the benefits, the price is pretty reasonable.
9. Artpuch 10'3×13' Sun Shade Sails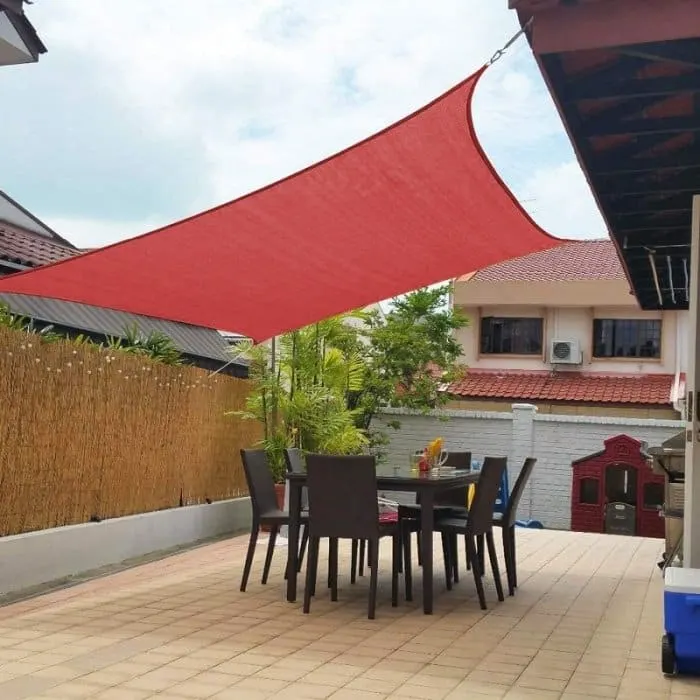 So far, we've discussed black, white, aluminized, blue, and green shade cloths. Artpuch sun shade brings you a red cloth that provides shading for your garden house. Are you wondering whether or not you need this?
To figure that out, you can consider the factors given below. Plants grown in red shade cloths have
Large leaf surface
Higher foliage volume
Thicker and larger stems
Besides, a red shade cloth would work for you if you're looking to obtain early flowering without decreasing the flower quality or enhancing root development.
You have the option to select from ten different sizes. The cloth is made of high density and durable polyethylene material, reducing heat and blocking 95% of harmful UV rays.
Also, it has durable stainless steel D rings at each edge, ensuring strong attachment. Therefore, heavy winds would not rip it apart from your greenhouse.
Completed
10. Greenhouse Shade Cloth for Plants
This shade cloth is the last on our list but not to be taken for granted. last, is by no means least!
This breathable material circulates the air, and simultaneously blocks extra heat from the sun. This greenhouse shade cloth comes in several sizes.
The shade cloth has metal grommets installed at each end, giving it a firm grip when attached to your greenhouse today. Furthermore, the four corners are leather-bound with inward folding, ensuring greater strength.
Ensure you do not pull the shade cloth too hard while installing if you want the product to last longer – some reviews mention fraying. Also, note that the company warns to keep it away from open flames as it may catch fire.
See Related: Best Greenhouse Accessories
How to Choose the Best Shade Cloth
When choosing a shade cloth for a greenhouse, it is important to consider the following factors:
The climate of the area your greenhouse is in
The climate you are trying to create in your greenhouse
The percentage shade cloth to use
The amount of sunlight that the greenhouse receives
The type of plants that will be grown in the greenhouse
The size of the greenhouse
The best shade cloth for a greenhouse will depend on the climate and the sunlight the greenhouse receives.
Greenhouses in warm climates will generally need more sun protection than greenhouses in cooler climates. Greenhouses that receive direct sunlight for most of the day will need a more heavy-duty than those that only receive indirect sunlight.
It is also important to choose a cloth that provides shading made from a durable material. These clothes made from Polyethylene (PE) or PVC are typically more durable than those made from Nylon.
How to Install a Shade Cloth for Greenhouse?
The shade cloth installation is pretty straightforward once you have decided on the cloth that provides shading you wish to purchase.
First, double-check your plants and their needs before deciding on a color or material of the shade cloth. After this, you need to get accurate measurements of your garden house to ensure you're buying just the right size.
If your shade cloth is too small, you might have to pull it from each side, and if your cloth that provides shading is too big, it may droop.
Once you've got the accurate measurements, you can order a suitable size of cloth that provides shading for your greenhouse.
Now comes the installation process. For this purpose, you may need two or more people and a ladder, as it will ease the installation process for you.
To begin with, you need to pull the shade cloth's long roof portion over the top of your greenhouse, leaving equal amounts to dangle off both sides.
Now stretch the cloth as needed to fit over the area of your greenhouse.
PRO TIP: Tie a rope to one of the grommets and throw the shade net above the top so the other person can easily pull it from the other end.
Once you've scattered the shade cloth, staple it every 5-10 inches along the wooden frame. If your greenhouse has a steel or metal frame, you can tie it with a rope threaded through each grommet.
Lastly, ensure you install a cloth that provides shading in pleasant weather; otherwise, the wind will drive you nuts.
Maintenance Tips for Shade Cloths in Greenhouses
Maintaining your shade cloth in a greenhouse is essential to keeping your plants healthy. Here are some tips on how to best care for your shading cloth:
Inspect your shade cloth regularly for tears or holes, and repair them as soon as possible. A tear in the fabric can let sunlight and heat through, damaging your plants. Duct tape is great for quick patch jobs.
Ensure the cloth that provides shading is securely attached to the greenhouse's frame. Loose fabric can flap in the wind and damage plants or even cause greenhouse collapse.
The shading clothes should be cleaned regularly to remove dirt and debris.
If the cloth becomes stained or soiled, it can be cleaned with a mild detergent and water.
Shade cloths should be inspected regularly for damage. Damaged ones should be repaired or replaced immediately if you have the time and money.
FAQ
Is shade cloth good for greenhouses?
Yes.
Covering greenhouse glazing with shade cloth cools the air for plants, reduces UV damage and adds a layer of protection from pests.
How do you shade a greenhouse?
Use a shade cloth! If required, glass within a greenhouse may easily be tinted green. Painting or whitewashing greenhouses is another popular method.
What shade cloths are there in the market?
Typically, shades cloth is made of two materials; knitted and woven. Knitted shade fabric may be the better option because it has a longer lifespan.
What is the best color for greenhouse shading?
The best color for greenhouse shading is white. White shade cloth reflects sunlight and helps to keep the greenhouse cool. This is especially important in hot climates where excess heat can damage plants.