Greenhouse foggers can help you maintain the right environment for your plants by eradicating mold and pests and managing the humidity level.
Greenhouses are artificial growing areas that aim to provide a suitable environment for diverse plants to thrive according to their needs. A greenhouse is an ideal solution if you want to cultivate exotic plants away from their natural habitat or increase their yield.
However, a greenhouse needs light, the right temperature, and adequate humidity to enclose the plants in a favorable environment. Besides that, these humid, closed areas are also prone to pests and mold, which must be tackled before damaging your plants.
Luckily, all these aspects can be achieved using a greenhouse fogger. The best fogger for greenhouses uses efficient coverage technology to impart moisture and pesticides into the plants for optimal productivity.
Check out my list to pick the best fogger machine for the greenhouse.
Best-Of by Category
Best Greenhouse Fogger Options
Now that you know how important it is to use a fogger to maintain a favorable environment in your greenhouse, you are probably ready to make a purchase. Unfortunately, however, most people make the mistake of choosing the most expensive, high-tech greenhouse foggers.
Remember, it is not crucial that the product with the most extended list of features and flashy price tag will work best for your greenhouse. Instead, it is important to assess your needs initially before looking for the right option.
In this list, I have included greenhouse foggers from multiple categories, price ranges, and brands, so you can easily find one that suits your purpose. So without further ado, let's get started.
1. PetraTools Electric Disinfecting Fogger Machine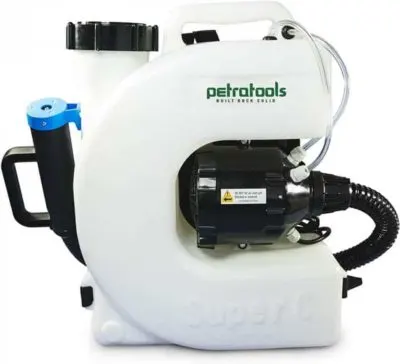 This electrically operated ULV greenhouse fogger by PetraTools is one of the most heavy-duty and efficient machines on the market. It is mainly a backpack sprayer conjoined with a 4-gallon tank to spread your product up to 15 feet away.
It is easy to carry and operate, so all you have to do is fill it with your desired fluid, disinfectant, or pesticide and get to work. Besides that, you can also use it to deodorize, clean, and sanitize your plants.
On the downside, the fogger is quite expensive and designed for commercial use. So unless you own a considerably large greenhouse, this model might not be the one for you.
However, if your greenhouse is around 30,000 sq ft, you can use this fogger to spray large droplets up to 20-5 microns. Similarly, it is usable for both indoor and outdoor plants, so you can use it to disinfect your backyard as well.
Most importantly, its cordless design makes for hassle-free operation and is backed with a 9-month brand warranty if you experience any glitches.
See Related: Best Off-Grid Greenhouse Heating Systems
2. SuperHandy Fogger Sprayer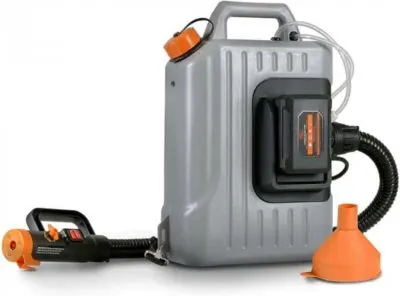 This heavy-duty battery-operated ULV fogger is another reliable model for those who own large-scale greenhouses. In addition, it has a cordless backpack design which makes for accessible use.
Additionally, the fogging system is integrated with a 48v battery which powers its 350w motor. This means the fogger can throw mist up to 20 feet away. Similarly, its tank has a 3-gallon capacity, so you won't have to refill it frequently during use.
Moreover, it is designed for both indoor and outdoor use. It means you can use it to sanitize, clean, disinfect, and control mold development in your greenhouse while also eradicating pests from your backyard.
Similarly, by replacing the chemical formula inside the tank, you can use the fogger to clean and disinfect places such as offices, homes, and factories.
If you want to use the fogger specifically for your greenhouse, it will provide around 25,000 feet of coverage before the tank needs to fill it again.
If your greenhouse is smaller, go for a smaller model to avoid wastage of chemicals and minimize your operational costs. While this multi-purpose fogger, it specializes in sanitization and mold control to ensure a favorable environment for your plants.
See Related: How to Install a Greenhouse [Step-by-Step Guideline]
3. Concrobium Mold Control Cold Fogger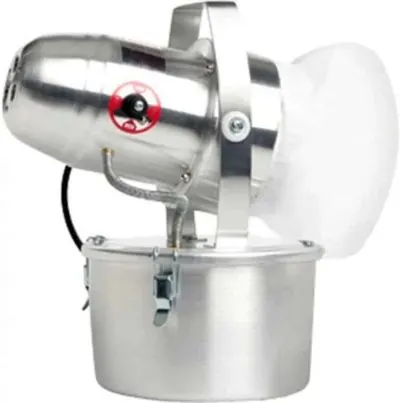 It is another ULV fogger by Concrobium especially designed for mold control inside greenhouses. If your greenhouse has a highly humid environment that encourages the rapid growth of mold and mildew, this fogger is the ideal solution to your problem.
It is constructed with a robust metal design and built to stand the test of time and last long even after rigorous use. Once you fill its one-gallon tank with insecticide or mold-control solution, you can cover almost 2,800 square feet before refilling the tank!
Similarly, it is suitable to use in both indoor and outdoor settings. So you can use it to disinfect and clean the environment in your greenhouse and even kill the plant-eating pests in your back yard.
Moreover, the fogger can throw mist particles up to 50 microns, so you can be sure that your plants will receive the optimal amount of chemicals needed to enhance their growth and get rid of pests.
The moderate droplet size is among the best features of this multi-purpose fogger. It means you won't have to carry a bulky tank on your back while disinfecting your plants.
Similarly, its efficient design makes it suitable for both moderate to small-sized greenhouses.
See Related: Best Geothermal Greenhouse Systems
4. The Nix Co. Disinfectant Backpack Fogger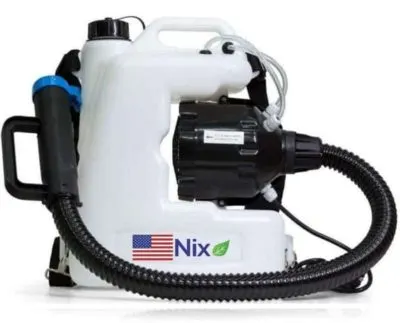 If you're looking for a portable fogger that you can efficiently operate by yourself, this backpack fogger by Nix Co. is one of the ideal options. With a 16-26 foot spray range, you can use this fogger to spray insecticide or mold-control chemicals across a small to medium-sized greenhouse.
In addition, it's versatile enough for outdoor backyard plants. Besides that, you can also use it to fumigate farms and indoor living spaces.
Another attractive aspect of this backpack fogger is its noise-free operation. This way, even if you're using it for hours at a stretch, you won't feel exhausted by its noise. Similarly, you can adjust the flow rate according to your needs which makes for hassle-free operation.
Furthermore, the device is lightweight, so you can easily carry it on your back without extra strain. However, a serious downside of this machine is its short cord.
It comes with a small 10 ft cord, so you'll have to add a power extension or switch from one power port to another while treating large greenhouses.
See Related: Best Greenhouse Floors to Buy Today
5. Smith Performance Sprayers FT982 Electric Thermal Fogger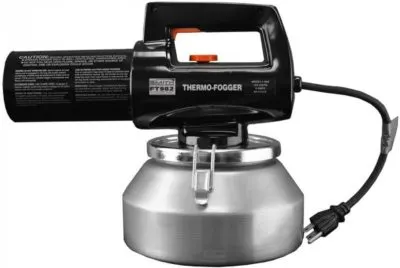 This heavy-duty electric thermal fogger is the ultimate choice for those looking for a greenhouse fogger from a reliable brand. Its high-power technology lets it turn any solution into mist.
Whether you want to use a water- or oil-based chemical to eradicate pests and mold in your greenhouse, you can easily do it with this thermal fogger. The best part is that if your greenhouse has increased humidity levels, you can even produce dry fog with this fogger to treat your plants.
Through this technique, you won't produce any extra moisture to damage your plants or create moisture pools in your greenhouse.
Another appealing feature of this thermal fogger is its ease of use. Even if you're a beginner, you'll find the intuitive controls accessible and comfortable to operate.
Furthermore, the device sports a durable aluminum container with a capacity of 0.75 gallons. It means you can quickly treat a small greenhouse in one go. However, if you intend to use it for more extensive settings, you must refill the container multiple times.
Most importantly, unlike other greenhouse foggers, a thermal fogger requires caution during operation. Don't get burned!
See Related: Best Greenhouse Plastic Sheets for Protection
6. Fogmaster Tri-Jet 6208 Fogger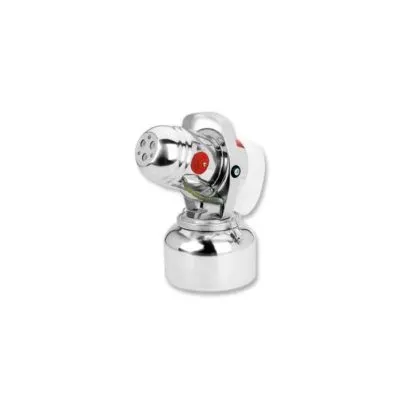 For those who don't want to handle the risk of thermal foggers, this Tri-Jet 6280 by Fogmaster is another reliable option. It is integrated with a cold-fogging mechanism, and this fogger is suitable for misting both water-based and oil-based solutions.
However, this greenhouse fogger cooling device cannot produce dry fog, unlike a thermal fogger. But, it can still emit mist solutions up to 25 feet away, making it ideal for small to medium-sized greenhouses.
Furthermore, this cold fogger sports three rotating nozzles on its sprayer. You can adjust the direction of each of these nozzles while spraying to get better coverage and complete the job in less time.
Besides that, you can use this device to disinfect and de-mold outdoor and indoor plants. You can purchase one machine to use in your greenhouse and backyard.
The best part is that the fogger is not heavy thanks to its heavy-duty aluminum construction. It makes it easy to carry and puts less strain on the user. Also, it has a sleek and compact design to fit into small spaces for easy storage.
On the downside, this fogger does not come with a long hose. It means you will have to carry it around to reach every nook and cranny of your greenhouse.
See Related: Best Solar Heaters for Greenhouses
7. The Fountainhead Group Inc. Burgess 1443 Insect Fogger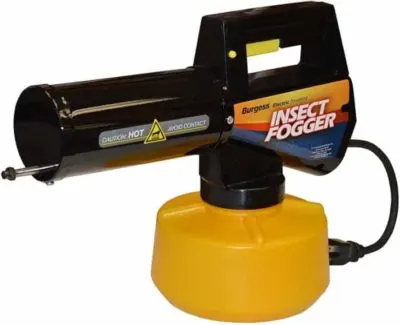 This Burgess 1443 greenhouse fogger (from The Fountainhead Group Inc.) is an affordable option for those on a budget. Created by one of the pioneering brands in the industry, this reliable fogger is suitable for small to medium-sized greenhouses.
It is constructed from premium-quality plastic, and this robust device weighs around 3 pounds, so it is highly portable and easy to use. In addition, it can hold around 40 oz of insecticide, pesticide, or mold-control solution. You can use the device for approximately two hours without refilling the tank.
Despite its compact and lightweight design, this gadget creates a tall wall of fog within minutes of spraying. So you can save time while treating your greenhouse plants with this fogger.
Similarly, the fog settles down within 5-10 minutes, so you can quickly access the treated area for any further tasks. On the downside, this model does not come with a propane tank, so you'll have to purchase it individually.
See Related: How to Grow Mushrooms in a Greenhouse
8. Cardinal CMD65 Commercial Mosquito Fogger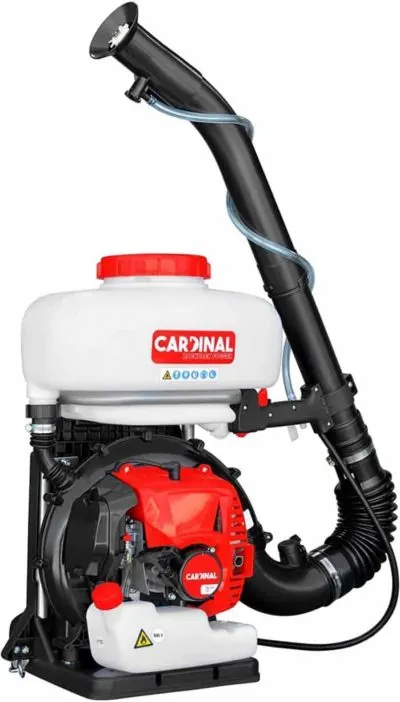 If your greenhouse is badly infested with insects and pests, then the Cardinal CMD65 is the ideal option. This commercial insecticide fogger has a high-power engine that lets you take on multiple tasks, including fogging, blowing, and even dusting.
It is designed for indoor and outdoor use, and this industrial-grade machine effectively eradicates pests and mold from your greenhouse and your backyard. You can also use its dusting and blowing techniques to remove dead leaves and debris.
The device weighs around 35 pounds and can hold approximately 3 gallons of chemical solution in its tank. It means you will seldom have to refill the tank during operation and finish the task in one go.
However, because this gadget is for large commercial-size greenhouses, it is expensive. It means if you own a small greenhouse, this isn't a good investment.
If you intend to use it across a large greenhouse, it can make the task easier for you and help you keep your plants healthy.
See Related: Best Starting Seeds for a Greenhouse
9. Black Flag 190107 Electric Mosquito Fogger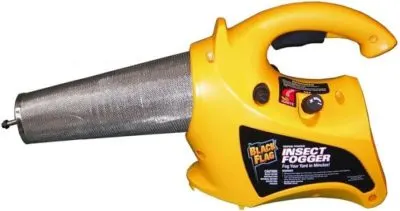 For those looking for a greenhouse fogger to eradicate pests from their greenhouse, this Black Flag 190107 electric model is one of the best options. As the company has been producing high-quality pest-control products since the 19th century, their products are among the most reliable in the market.
This lightweight, electrically-powered model is specifically designed for small to medium greenhouses. The handheld device is easy to use and weighs only four pounds, ensuring minimum strain on the user.
All you have to do is connect it to a power port and wait while it heats up. Once it does, you can spray any insecticide or mold-control solution from the hose, depending on your needs.
However, it would be best if you always connected the model to a power cord. This means you won't be able to move around with it freely as you would with a cordless device.
Nevertheless, it disperses an impressive amount of fog and comes at an affordable price for budget buyers.
10. SWANSOFT ULV Fogger Machine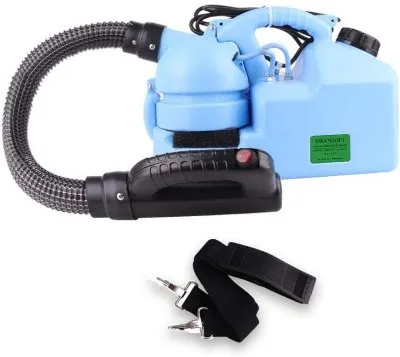 If you're looking for the best greenhouse fogger on the market, look no further than the SWANSOFT ULV Fogger Machine.
This top-of-the-line fogger can handle both small and large greenhouses and is perfect for use in a variety of applications. The tank body is composed of high-density PP material, ensuring a long-term use.
See Related: Best Things to Grow in AeroGarden
11. Konideke Electric ULV Portable Fogger Sprayer Machine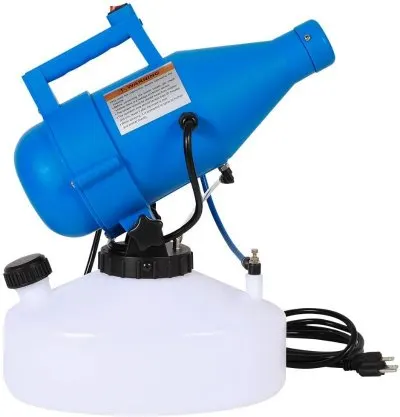 The Konideke Electric ULV Portable Fogger Sprayer Machine is a great option for those looking for the best greenhouse fogger. It is portable and easy to use, making it a great choice for anyone looking for a fogging and misting system that is both effective and easy to operate.
The output flow of a frequency-conversion motor may be adjusted. The fixed valve can be moved up or down 60 degrees. It's airtight and non-corrosive.
The adjustable spray is ideal for misting. The output of the water droplets is fast-spreading and has a particle size of 20-50 microns, with an average droplet of 30 microns.
12. Vectorfog C150+ ULV Electric Cold Fogger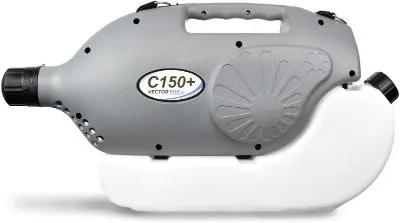 The Vectorfog C150+ ULV Electric Cold Fogger is a top-of-the-line choice for greenhouse fogging systems. It offers powerful and efficient performance, along with a range of features that make it perfect for use in greenhouses.
Oil-based and water-based foggers are available. They're great for disseminating disinfectants, herbicides, fungicides, and odors neutralizers because they can spray water- and oil-based solutions indoors and outdoors.
It is a fogger disinfectant solution that is both ergonomically and intuitively simple to use and resistant to the most extreme conditions. This well-made and well-designed fogger will last a long time and is ideal for daily and commercial usage.
See Related: Best Glass Greenhouses
13. AlphaWorks ULV Fogger Backpack Sprayer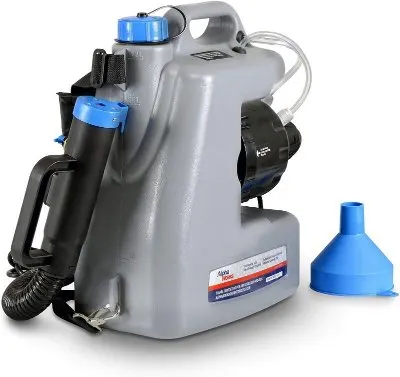 The AlphaWorks ULV Fogger Backpack Sprayer is a great choice for those looking for the best greenhouse fogger. It delivers an ultra-low volume (ULV) misting system to help protect plants from pests and diseases. It's also easy to use, with an adjustable nozzle that lets you target the fog where you need it.
ULV foggers are designed for high-speed aerosol delivery, fast diffusion, and deeper penetration; According to studies, ULV foggers produce a fog/mist composed of Ultra Low Volume (ULV). It is useful for combating disease and vector carriers.
For easy filling, it has a big wide mouth with a screen filter to prevent dirt from entering the tank. During the asbestos abatement, the long coiled hose allows precise misting to keep the dust down while raising the humidity.
What is a Greenhouse Fogger?
Here's a brief introduction for those new to the concept of a greenhouse fogger system before getting to the ultimate list. While treating your greenhouse to manage humidity, mold, or pests, you'll have to impart the chemicals appropriately across the area to achieve the targeted results.
But, just spraying water-based solutions on your plants is not enough. Water has a high surface tension which makes it prone to beading over leaves, leading to inefficient absorption.
That's why a fogger for the greenhouse is the ultimate replacement for flimsy squirt bottles and sprays. It dilutes the desired product to make it easy for the plants to absorb it through their roots and leaves.
Similarly, some high-pressure fogging system emits their air and create air currents across the greenhouse. This means it uses air as a medium instead of water and suspends the droplets through the air space.
The airflow suspension technique created by a greenhouse fogger is ideally used to manage humidity and mold accumulation. On the other hand, the suspension of minute droplets through misting and hydraulic spraying targets insect and pest eradication.
How Does a Fogger Help a Greenhouse?
In my list below, you will find various options that can make it confusing to choose the best fogger for a greenhouse that fits your needs. However, to make the right choice, it is essential to know the multiple ways a fogger helps keep your greenhouse healthy and thriving.
This way, you can determine which aspect of your greenhouse needs to be treated and choose a greenhouse fogger accordingly.
Apart from the countless technological aspects of different greenhouse foggers, you will find most with differing purposes and some multi-purpose products. For example, there's a dedicated fogger for humidity or a greenhouse portable fogger to use at more than one location.
In a nutshell, a greenhouse fogger helps a greenhouse by maintaining the ideal environment for the plants inside. For instance, if the humidity levels are low, the plants will not conduct photosynthesis effectively, leading to a low yield.
A greenhouse fogger for humidity can solve this problem quickly by providing extra moisture for healthier growth. On the other hand, you can use greenhouse fogger insecticide to eradicate pests and insects from your greenhouse. Greenhouses are enclosed areas full of moisture and plants, making for a bountiful environment for problems.
Greenhouse foggers help impart insecticides through misting and generating artificial airflow to get rid of creepy crawlies for good!
How to Choose the Best Fogger for You
When choosing the best greenhouse fogger for your needs, there are a few things to consider:
The size of your greenhouse.
The climate you are trying to create.
The type of fogger you need.
The price.
Reviews.
See Related: How to Grow Sugar Cane Indoors
How to Set Up and Use Your Greenhouse Fogger
Once you have decided on the best greenhouse fogger for your needs, it is important to set it up correctly and use it properly. Please consult the user manual with your particular model for specific instructions. In general, however, the process is as follows:
Hang the fogger from the ceiling of your greenhouse using the provided hooks or hangers.
Determine the number of nozzles needed. Calculate the water and air flow requirements and a compressor with the required pressure.
Connect the fogger to a water source using the provided tubing.
Plug the fogger into an electrical outlet.
Adjust the settings on the fogger to create the desired climate.
Benefits of Using a Greenhouse Fogger
The benefits of using a greenhouse fogger include:
Increasing humidity levels in the greenhouse can be beneficial for plants.
Cooling down the air temperature in the greenhouse.
Creating a more comfortable environment for people and plants.
Helping to prevent diseases and pests.
Provide a uniform wetting.
During the summer, humidifies the air and reduces temperatures.
FAQs
Are foggers good for plants?
A plant fogger is a device that emits a fine mist of water and nutrients to help plants thrive. It can be an effective way to provide moisture and nutrients to plants without overwatering. However, it is important to use the right type of fogger and to follow proper guidelines to avoid damaging the plants. Additionally, some plants may not benefit from fogging and may require other methods of care.
What is the difference between fogging and misting?
Fogging produces droplets that are smaller than 50 microns, while misting produces droplets that are larger than 50 microns. Fogging is typically used for disinfection purposes, as the small droplets can penetrate hard-to-reach areas and kill bacteria and viruses. Misting, on the other hand, is used for cooling or humidifying purposes, as the larger droplets can provide a refreshing mist without wetting surfaces.
What is plant fogging?
Plant fogging is a technique used to increase humidity levels for plants by dispersing a fine mist of water into the air. This method is particularly useful for plants that require high levels of humidity, such as tropical plants or those grown in arid environments. Plant fogging can also help to reduce the risk of pests and diseases by maintaining a healthy and humid environment for the plants.
Can you use a fogger for fertilizer?
A fogger can be used for fertilizer as a way to distribute liquid fertilizers evenly over a large area. This method is especially useful for outdoor applications, such as lawn care or crop farming. However, it is important to note that not all types of fertilizers are suitable for use with a fogger, and the appropriate safety precautions should be taken when handling and applying liquid fertilizers.
Related Resources