More people are turning to home gardens because of the lack of access to fresh produce, rising food prices, and not knowing what goes into your food. Of course, not all climates provide optimal growing conditions year-round.
That's where portable greenhouses can save the day and your garden. The best part is that there's an option for everybody. Do you need something to protect against frost?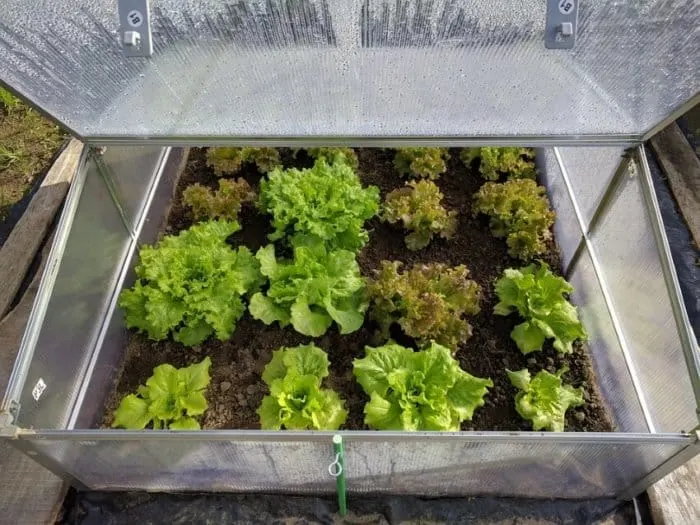 Are you hoping to start some seeds inside during the winter? You can find something that works for your space, including walk-in structures and wheeled options. We have some ideas if you're having trouble choosing the best portable greenhouse.
Read on to learn more about our top picks in this list of portable greenhouse reviews.
Best-Of by Category
Best Portable Greenhouses to Buy Today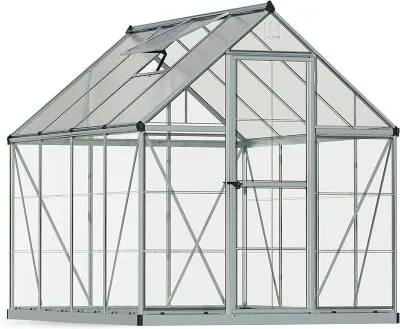 The Palram comes from Israel, weighs about 63 pounds, has a size of 6'x8'x7' as standard, and is easy to put together. The Palram is a sturdy little greenhouse, thanks to the polycarbonate panels and rust-resistant aluminum frame, one of the best cold frames to use. Rated for wind speeds of up to 47mph, it's meant to take a beating.
Plus, the twin-wall polycarbonate roof panels diffuse lights so that your plants get what they need but don't burn. It's a substantial, decently-sized little greenhouse that'll keep your plants cool during heat waves and warm during the winter. It's easy to control the internal temperature and humidity to optimize growing plants all year long.
Though this is one of the best mini greenhouses available, it doesn't have shelves. You can make your own or buy some from the manufacturer.
Pros
Very durable and sturdy
Easy to assemble
Filters out unnecessary UV light while still letting sunlight through
Easy to control internal conditions
Sleek design
Cons
Customer service is lackluster
Some quality assurance issues, mostly with missing parts
See Related: Best Greenhouses to Buy Today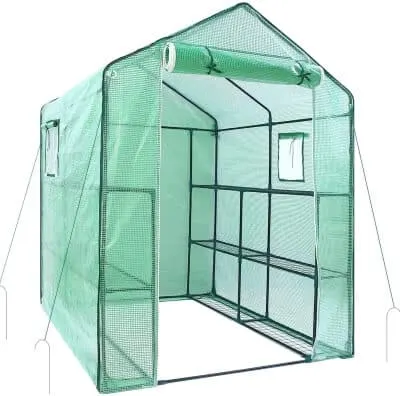 Ohuhu specializes in small greenhouses only and for a good reason. The company produces some of the best mini-greenhouses on the market with sturdy, attractive, and convenient options suitable for home gardeners.
This portable outdoor greenhouse features a heavy-duty frame with a PE material cover that's UV resistant.
You get a zippered door that rolls up to improve ventilation. There are two velcro windows, one on each side so you can peek in without opening the door. Additionally, this portable greenhouse includes shelves, so it's not an additional expenditure.
The green cover has gridlines to increase durability and blend better with the outdoors. It's an attractive design that you can set up almost anywhere, though you need to anchor the cover with stakes or stones.
Pros
4.9' x 4.7' x 6.4' structure fits almost anywhere
Fast, easy assembly
Protects plants from harmful UV rays
Includes shelving, ropes, and stakes
Cons
You might need to do some DIY to rig it for your needs
It might not be sturdy enough for high-wind areas
See Related: Different Types of Greenhouse
This is one of the best mini-greenhouses at a compact 36" by 36" by 71" size. It's quick and easy to assemble or disassemble. It also packs up nicely for easy storage or transport.
Although highly portable, this isn't the sturdiest greenhouse on the market. That said, the polyethylene material used for the cover is eco-friendly and tough to shred. It protects plants from unwanted UV rays, frost, and unpleasant weather conditions.
This greenhouse is ideal for those starting their gardens. It's a reasonably lightweight greenhouse, better suited for protecting smaller plants. Humidity and heat might be a bit harder to regulate, but for the price point, it's a great way to get a little garden of your own going.
Pros
Easy to transport
Fast and easy to assemble
Simple to pack up and store
Ideal for covering plants pre-frost
Cons
Potential quality control issues
There are no shelves or dividers
See Related: Best Lean To Greenhouses | Side of House Options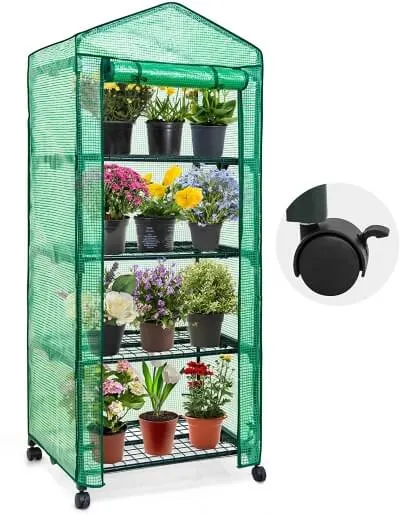 The EAGLE PEAK Mini Rolling Greenhouse features an alloy steel frame with a thick polyethylene material cover. One of the key selling points is that this is a wheeled greenhouse, making it easy to move around. The wheels lock so it doesn't take off down the driveway.
This greenhouse on wheels is an excellent option for any beginner who doesn't have a lot of space. You can even use it indoors, as it retains the humidity and temperature well.
It's not exactly going to hold up to a windstorm, but for insulating your plants from the elements while on a budget, you won't find much better.
This item is ideal for a small porch or even next to a bay window in an apartment. Its lack of sturdiness becomes a non-issue just by putting it in the right spot.
Depending on the size you choose, you get three or four shelves. However, be aware that excess weight causes the shelves to bow.
Pros
Multiple sizing options
You can use it indoors or out
Lightweight and easy assembly
Affordable pricing
Cons
Not an ideal choice for those in windy areas
Wheels don't work well in grass or mulch
See Related: Best Greenhouse Accessories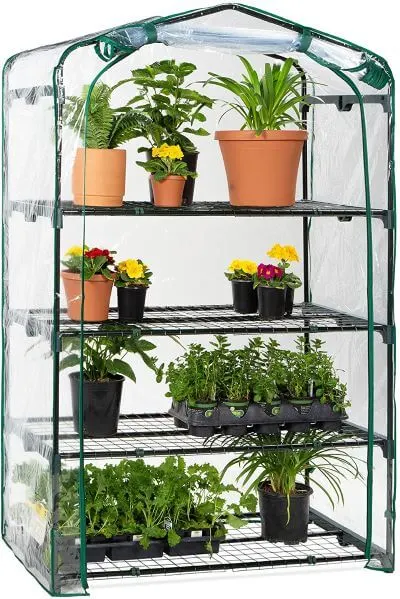 This mini greenhouse has a steel PE plastic frame, weighing just over 10 pounds, and is designed to be sturdy. It has ample space for many plants but for limited adjustability. Only the top shelf is likely to accommodate taller plants, but it's an excellent option for starter plants.
Loose fittings may cause it to lean, but zip ties or wires can fix that quickly. Some owners recommend having zip ties or a bit of wire handy if it wobbles.
The plastic cover is excellent at keeping humidity and warmth in but not so great with UV protection. You might want to add a shade and dedicated plant light or keep it indoors to ensure it doesn't bake the plant leaves.
It's still great for smaller homes, like apartments. Just be mindful of where you put it.
Pros
Sturdy and durable with support
Four zippers allow you to open from the top or bottom for easy access
Quite spacious considering its size
Shelves hold up to 20 pounds each
Cons
It doesn't offer great UV protection
You might need to DIY it to improve stability
See Related: Best Glass Greenhouses in 2023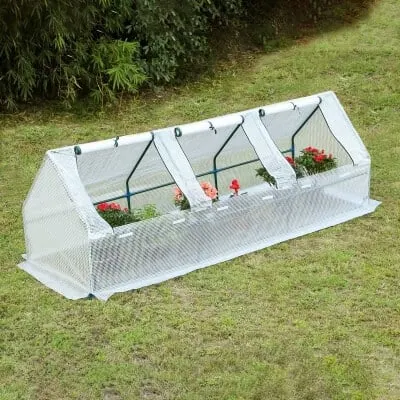 The EROMMY Portable Mini Greenhouse is a 9-pound, 95"x32"x32" tent for plants. It's long enough to accommodate several plants and has three roll-up flaps. You can check on plants or customize ventilation.
The frame is a series of 1" steel tubes with metal frames that keep it upright even in bad weather. Ensure you stake it to the ground or use bricks to keep it in place, especially in windy areas.
If you plan to leave it in place permanently, try burying the cover's ends underground for additional support.
This miniature greenhouse might seem more like a glorified plant cover, and that's not wrong. However, you get UV protection, and it keeps the pests and critters away from your precious plants.
While it might not hold up in extreme weather, it can handle a lot. This particular option is an excellent addition to raised beds, especially to protect young plants from damage during cold weather. It is a small, practical, and cost-effective solution.
Pros
Offers great insect and critter prevention
Durable cover with extra-long ends
Handle most weather conditions with ease
It fits over raised beds
Cons
Not ideal for those who live in areas with more extreme climates
It doesn't offer as much warmth as other options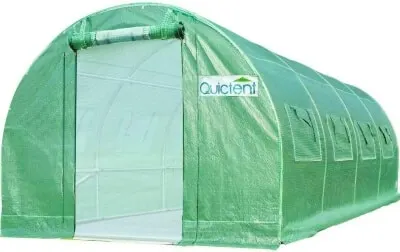 If you need a much larger greenhouse that's easy to assemble and disassemble, the Quictent Upgraded Portable Greenhouse might work.
It's a whopping 20 feet long, 10 feet wide, and 6 ½-feet tall, so there's not much a home gardener won't fit in this greenhouse. If somehow you need more space, there is a larger model available.
The greenhouse frame is made from heavy-duty galvanized steel and includes reinforced stakes to secure it in the ground. Additionally, you get diagonal cross poles for support and security. The polyethylene cover comes in white or green. It is waterproof and protects against harmful UV rays.
You can enter at either end through large, zippered doors. Plus, there are several vents and velcro windows to maintain temperature, air circulation, and humidity.
Pros
Keeps critters out
Two color choices
Includes all connectors and stakes to secure it
Rounded design prevents water, leaves, and debris from pooling on top
Cons
It does not come with shelving
It might require additional lights and heaters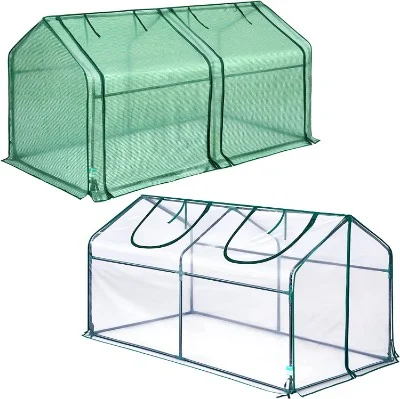 Quictent crafted a decent, easy-to-use, cheap, simple greenhouse with shelves and a cover that can be closed with a zipper. It's an excellent starting point for many home gardeners because it's affordable and doesn't overwhelm with bells and whistles.
The anti-rust steel frame is easy to assemble with push connectors. It includes eight shelves that can handle up to 33 pounds each, with shelf clips for additional security. Plus, you get wind ropes and hooks to secure the entire structure, though you might want to add a few more in windier areas.
This mini greenhouse features a transparent cover made from polyvinyl chloride, so you can watch your plants grow without setting foot inside. It's rainproof, UV-resistant, and protects against frost. The door zips closed and rolls up for easy access and ventilation.
Pros
No tools are needed for assembly
Clear cover lets you see inside
Protects against frost
Includes 8 shelves
Cons
Might have to do some DIY reinforcements on the shelves and frame
Probably need to add a heater for colder climates
See Related: Best Backyard Shed Ideas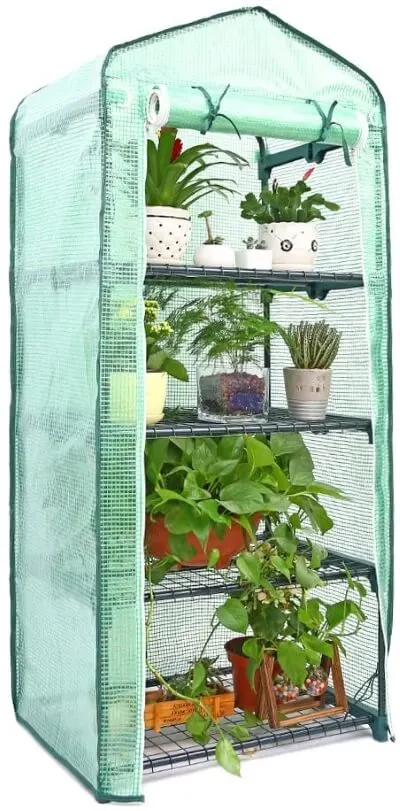 If you're looking for something smaller and more affordable to dip your toe in home gardening, you might want to consider this mini greenhouse.
Ohuhu does make some gloriously large options, but this one is compact enough for small spaces. It works in tight spots, including balconies, at 2.3 feet by 1.5 feet by 5.3 feet.
There is nothing flashy to this clean setup. You get four shelves made from steel wire on a heavy-duty steel frame. Each shelf can handle up to 23.4 pounds, which is more than enough for starters and small plants.
The cover is durable, green PE material with grid patterns to reduce the chance of tears. It features a roll-up door that zips closed on both sides. The cover also features rings you can use with rope and stakes to anchor it in the ground.
You can easily set it up when it's time to start plant growing season and then tear it down when you move it outside.
Pros
No tools are needed for assembly
Durable PE cover with rollup door
Sturdy, steel frame and shelves
Small enough to fit in nooks and crannies
Cons
Shelves aren't adjustable
Might need more reinforcement in windy areas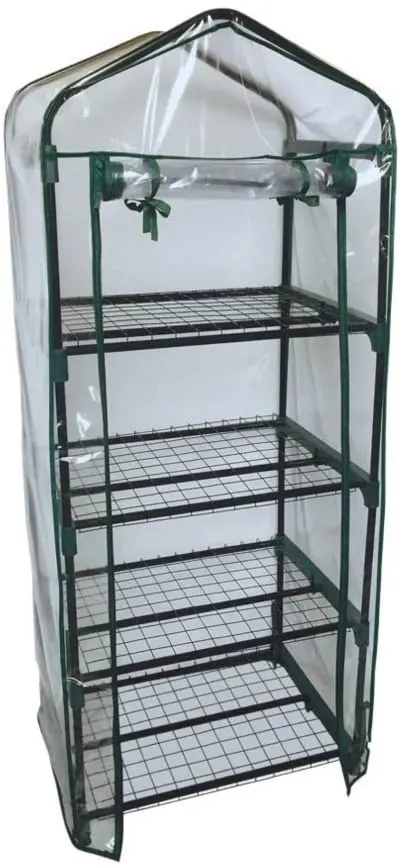 ShelterLogic crafted a sturdy, 4-tier mini greenhouse that also fits almost anywhere. This portable greenhouse kit is nothing flashy, but it has some neat features that make it a solid option for beginners and those living in smaller spaces.
The greenhouse is less than two feet wide and deep and less than five feet tall. However, it does have four adjustable shelves and a solid steel frame with a powder coat finish.
Since the shelves adjust, you can remove them to make space for taller plants. The clear PVC fabric cover lets you watch the plants thrive while protecting them from harmful UV rays that could burn the leaves.
The attached tie-downs create a snug fit, and the sloped top prevents water and debris from collecting there.
Pros
Assemble in 15 minutes without tools
Features tie-downs to secure the structure
Protects against UV light without a colored cover
Adjustable shelves for custom setups
Cons
Might need to reinforce it for balance and stability
Some quality control issues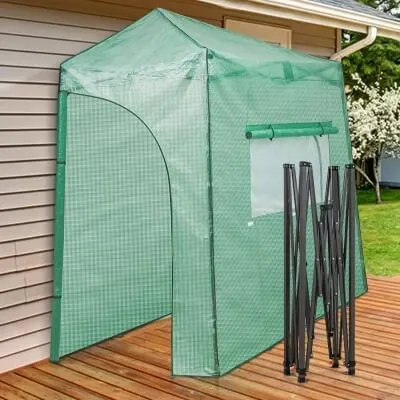 With the wind being a concern for many of these mini greenhouses, Eagle Peak made a lean-to style foldaway greenhouse that sets up against a building for support.
It functions as a canopy with a frame that expands and locks in place, then folds down for storage. You still get to entrances with zippered flaps, a window on one side, and a sloped roof to prevent build-up.
One side is flat and slides up flush against another building for support, allowing you to shield the structure more than you could in an open space. It's also easier to strap it to nearby structures or fences.
One of the perks of this greenhouse is that it's not just for plants. You could set this up anywhere since it has a canopy framework and plenty of ventilation.
Pros
Lean-to style leverages buildings or walls for support
Two entrances and window for ventilation
Walk-in setup
Versatile enough for other uses
Cons
It does not include shelves
It still needs some stability and reinforcement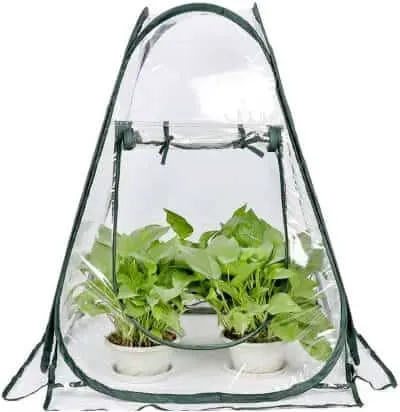 It's impossible to do a mini greenhouse equipment review without discussing the smallest versions. For people who need protection for one or two plants or a small crop of seedlings, a small pop up greenhouse might be the best bet. It's an affordable choice that doesn't take up much space and stores easily when you don't need it.
This tent is a 28-inch by 28-inch by 32-inch greenhouse with extended flaps on the cover so that you can secure it.
The clear PVC cover is sloped to prevent water or debris from building up on top and weighing it down. It's also transparent, so you can see what's happening inside without exposing your plants to the elements.
Note that there is no frame included with this one. It's just a tent that pops up and covers potted plants. It's a solid option for newbies or people hoping to protect a few individual plants from frost. Additionally, people hoping to start plants inside during the late winter might use it to protect the young plants from kids and pets.
Pros
Pop up, no tool assembly
It folds down for storage
Zippered window for easy access
Protects against critters
Cons
Won't handle extreme winds unless properly secured
It doesn't protect against UV rays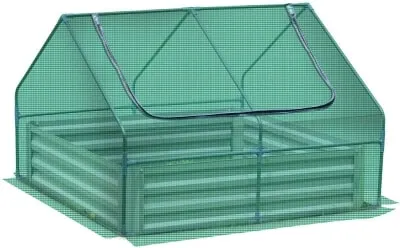 Many people use raised beds for their gardens, so this product could be a game-changer. A plastic greenhouse cover that slips over a raised bed means you can plant sooner, keep plants warmer, and protect against birds and critters who want to relieve you of your crops.
This greenhouse cover comes in several sizes to fit over existing raised beds. It features a zip-up top that lets you access the crops from above. It also offers UV protection and water resistance.
One of the best parts about this one is its galvanized steel planter box, so you must pick a space and set it up. You will likely need some weed blocker and extra soil to fill the box.
Pros
Easy setup makes a great family project
Offers protection against UV raises and the elements
Zippered windows on top
Keeps critters and birds out of crops
Cons
It needs some additional DIY work for best results
Some quality control issues
FAQs
Who makes the best portable greenhouses?
Is a portable greenhouse worth it?
A portable greenhouse is a type of greenhouse that can be easily moved from one location to another. These are worth it for gardeners who want to extend their growing season and protect their plants from harsh weather conditions. These are also a good choice for gardeners with limited space or who want to experiment with different types of plants.
Are portable greenhouses good for winter?
A portable greenhouse is a small, movable structure that can be used to grow plants in a controlled environment. Portable greenhouses can be beneficial for winter gardening because they provide protection from frost and cold temperatures. Additionally, they can be moved to different locations to take advantage of sunlight and protect plants from harsh weather conditions.
Where is the best place to put a portable greenhouse?
A portable greenhouse is a type of greenhouse that can be easily moved from one location to another. The best place to put a portable greenhouse is in an area that receives plenty of sunlight and is sheltered from strong winds. It is also important to consider factors such as drainage and accessibility when choosing a location for a portable greenhouse.
Related Resources