Looking for greenhouse ideas is a fun experience for anyone interested in upping their green thumb game. But how do you narrow down the best way to get a greenhouse up and running?
Finding a suitable greenhouse can be masterfully joyful and incredibly stressful for all the planters, amateur farmers, and professional vegetable growers.
Whether you have one professionally built in your backyard or want to know how to build a greenhouse, there is a wealth of information at your fingertips. Even if you want to improve the greenhouse you already have, there is no shortage of information available to you.
Now it's time to examine some of the best greenhouse ideas on the market.
Between DIY greenhouse ideas, complex greenhouse design ideas, or a simple search for useful greenhouse accessories, you'll find plenty of the best backyard greenhouse ideas as you read.
Why a Greenhouse?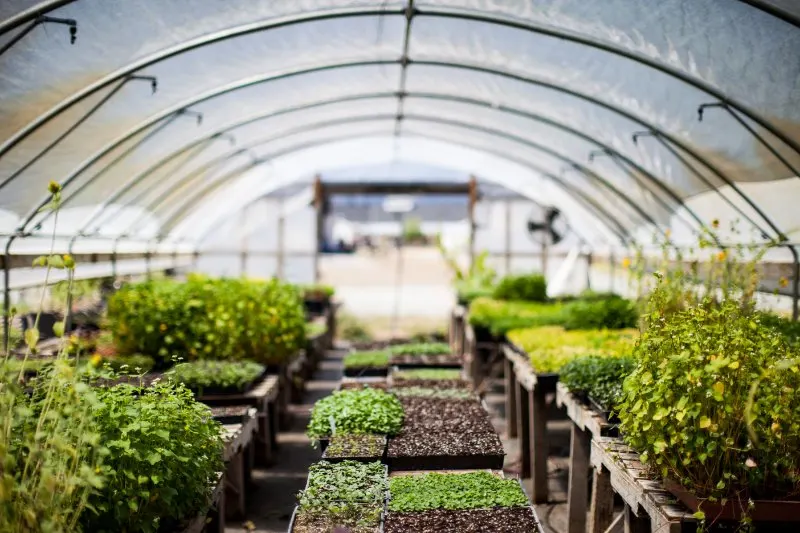 So why are we talking about greenhouses?
If you already have a greenhouse, you might need some good ideas to spruce it up. Or maybe you've never had your own greenhouse, but you've always dreamed of installing one in your backyard. If that's the case, you're doing yourself a great favor.
If you live in the tundra, backyard greenhouses allow you to maintain the health and wellness of your plants in the dead of winter.
The basic idea is that it magnifies sunlight and protects plants simultaneously. The greenhouse can protect your plants from drying up, scorching, or dying if you live in intense heat.
A small greenhouse provides a protected, stable environment to grow and protect plants. We all know that planting a garden is a huge money saver in the long run.
Just imagine how much more effective you can be with an all-season contraption like a greenhouse. Suddenly, you don't have to stop growing because the weather changes.
A whole new world of plant cultivation opens up when you invest in a greenhouse. There's an excellent solution regardless of why you're looking into greenhouse ideas. Let's walk through the best greenhouse ideas available for your garden, backyard, and more.
Best-Of by Category
8 Best Backyard Greenhouse Ideas
There are several things to consider when looking for new greenhouse ideas or ideas for making a homemade greenhouse.
After a complete overview of the best greenhouse ideas, we'll walk through some of the best backyard greenhouse kits you can buy for your greenhouse. And how they help you perfect your hobby greenhouse game.
1. Wooden Greenhouses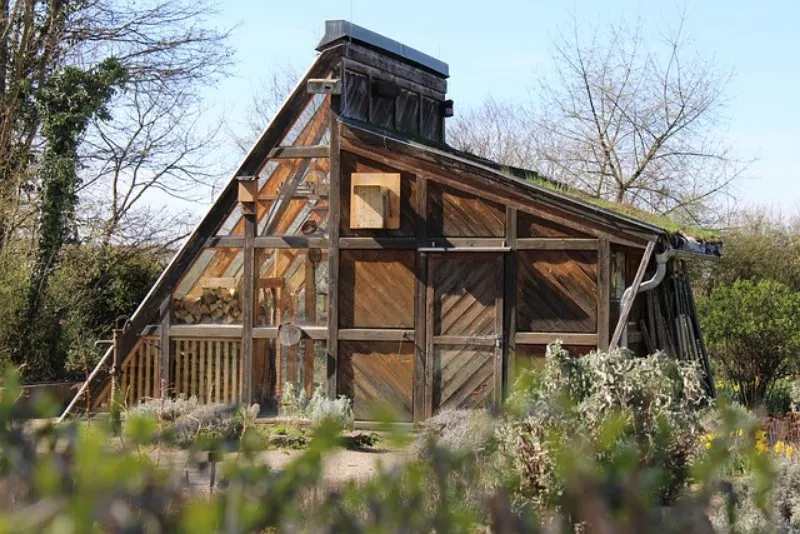 The wooden greenhouse is one of the more stately structures available. Wooden greenhouses work great in dry, hot climates. Since wood absorbs heat, it creates an excellent insulator for your plants.
You can put up a wooden greenhouse of any size. No matter what, it's going to look nice. Some wooden greenhouses look like little barns or tiny homes. You can customize them to fit almost any design and have some fun painting them if you have any color scheme preferences.
Aesthetically, there's no wrong reason to add a wooden greenhouse to your property. Everything about it screams elegance and sophistication.
They add a great look to your lawn and let all the neighbors know you are an expert plant keeper – even if that's only partially true.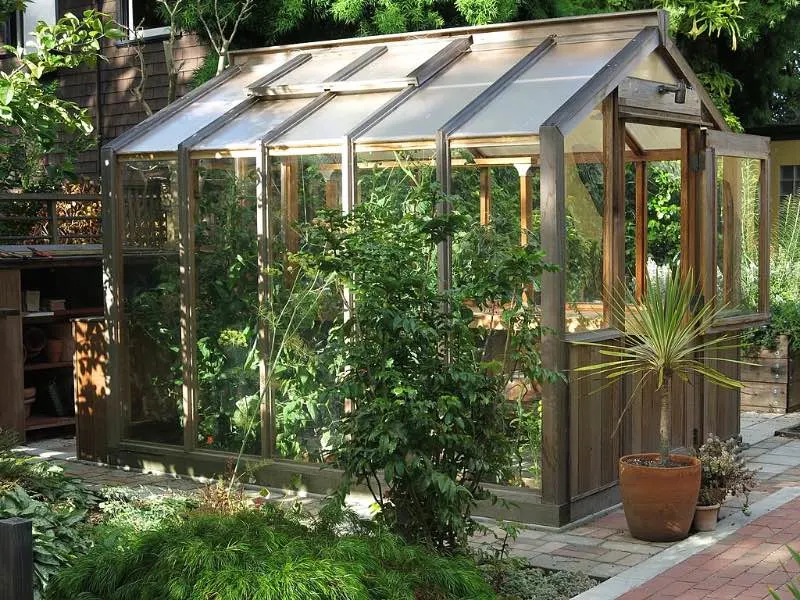 Wooden greenhouses are also incredibly sturdy. It makes them a reliable structure if you are somewhere that's particularly windy or if lousy weather frequents your neighborhood.
You can build your wooden greenhouse if you want something more extensive. But you're in luck if you want something smaller and more manageable. It is because there are several wooden greenhouse options online.
See Related: Best Greenhouse Fans to Buy Today
2. Glass Greenhouse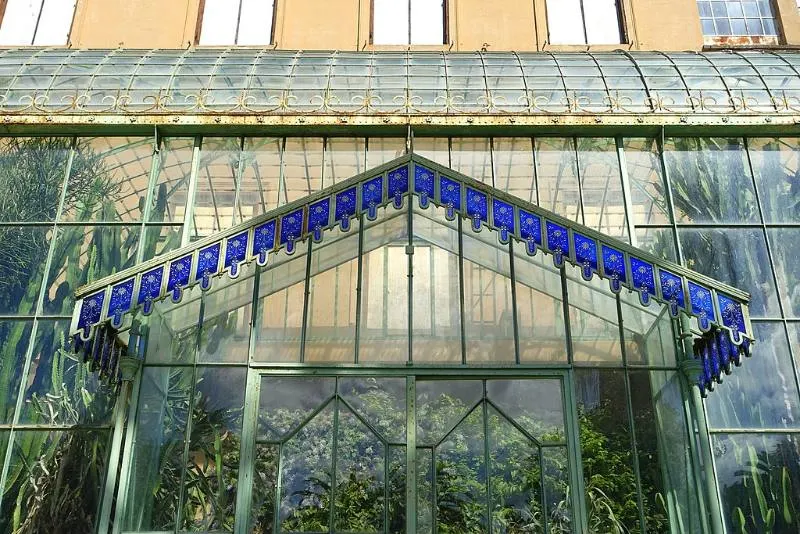 If wooden greenhouses aren't your preference, try a glass greenhouse. Glass greenhouses are durable, excellent at transmitting light, and look nice in your yard.
Glass is one of the most robust materials for a backyard greenhouse. And compared to other greenhouse materials, they transmit the most light to your plants. Whether you use single-layer or double-layer glass, your plants will benefit from massive amounts of light.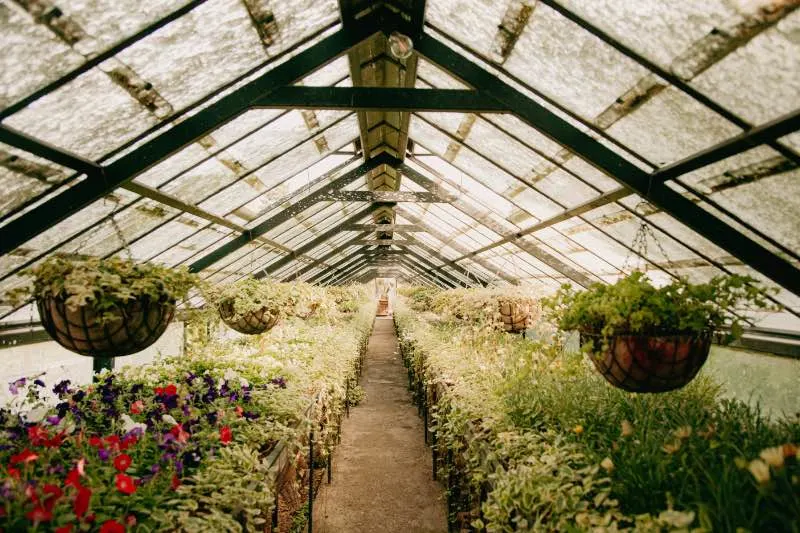 There's something slightly ironic about the glass greenhouse look. From an aesthetic perspective, glass greenhouses are stunning. They look how you might imagine an original greenhouse looking in the earliest days of greenhouses.
Some glass greenhouses are considered the best you can find. And for as beautiful as they are, their functionality is still extremely high. You don't lose anything for the nice-looking greenhouse.
And some of the best brands for Glass greenhouse frames are from Palram. But unfortunately, they are currently sold out.
See Related: Best Insulation for a Greenhouse
3. Hydroponic Greenhouses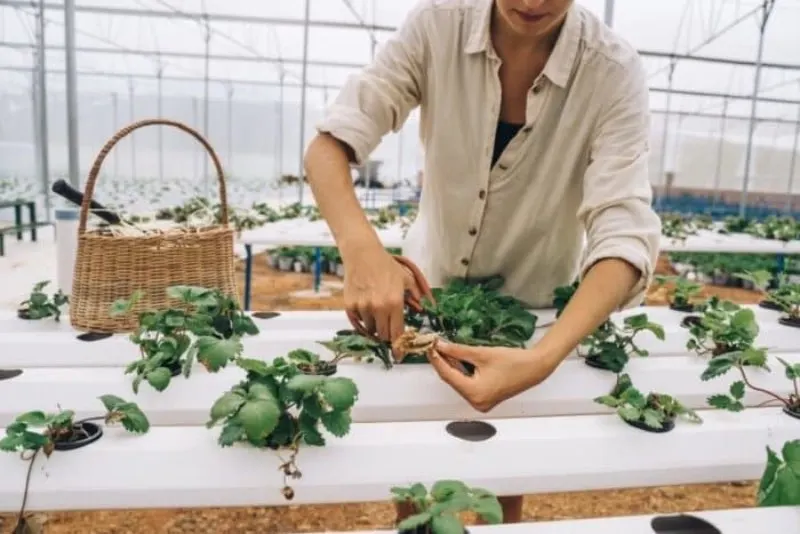 The hydroponic system of growing plants of various kinds is essentially a nutrient-focused cultivation method. Plants are grown in some nutrient-rich solution as opposed to regular soil. The hydroponic method works best in greenhouses.
Hydroponic greenhouses are a great way to save time and money in your growing operation. No matter the types of plants you're growing, you can find a way to prevent loss and save some cash with the hydroponic method.
The hydroponic greenhouse method is also a great way to make the most of the space available. Essentially, you waste no square inch when you're working with hydroponics.
Hydroponic backyard greenhouses work with compact shelving and efficient use of every ground space. It means more production on the same ground space as other growers using standard methods and less successful results.
Finally, hydroponic greenhouses reduce the need for weeding and reduce the presence of pests and nasty plant diseases.
Since it is a closed system, bugs, pests, and disease-carrying bacteria cannot access the plant. It saves time and money in the future as you reduce the need to care for pest-infested plants.
And since a hydroponic greenhouse is closed and soil-free, there's no real way for weeds to creep into the mix. Suddenly, all those hours spent pulling weed after weed from your lovely garden disappear.
You can easily add hydroponic instruments to any small greenhouse structure. Some of the best options out there include:
See Related: Best Greenhouse Lights for Plant Growth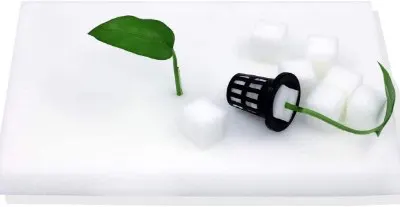 The Pruns 100Pack Hydroponic Sponge Seeds Planting equipment is designed to protect the root of your vegetable seedlings. And it provides the perfect environment for your garden greenhouse.
The Sponge block recesses are designed to clip seedlings easily. It has a diameter of about 1.3 inches and a height of about 1.2 inches. And it makes them a perfect fit for 1.8-inch net cup pot baskets.
This product suits anyone looking for a soilless cultivation option for their plants in a backyard greenhouse.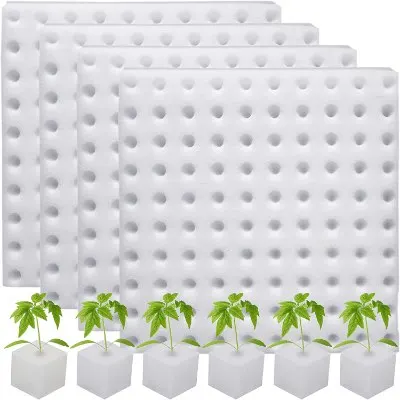 If you're looking for an easy and effective way to start your plants, the Eshylala Hydroponic Sponge Planting Tool is worth considering. This package includes four whole sponges that contain 400 tiny sponges, which can be separated for individual use.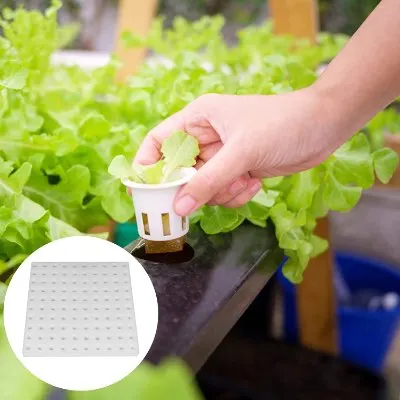 These sponges are perfect for soilless cultivation, a popular method used in hydroponic gardening. Pre-drilled planting holes make seeding and plant propagation easy and hassle-free. And they're great for both hobby greenhouses and commercial growers.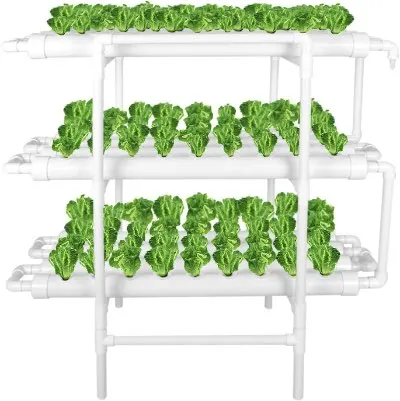 The LAPOND Hydroponic Grow Kit is a convenient way to grow vegetables and plants without soil. With nutrient film technology, this hydroponic grow kit allows maximum crop production potential, perfect for your backyard greenhouse.
Compared to traditional soil cultivation, it can double the yield while requiring less water and space. The kit comes with food-grade PVC-U pipes, each with a 2.48″/63mm diameter and a hole size of 1.2″ 1.2″/30mm30mm.
4. Lean-To Greenhouse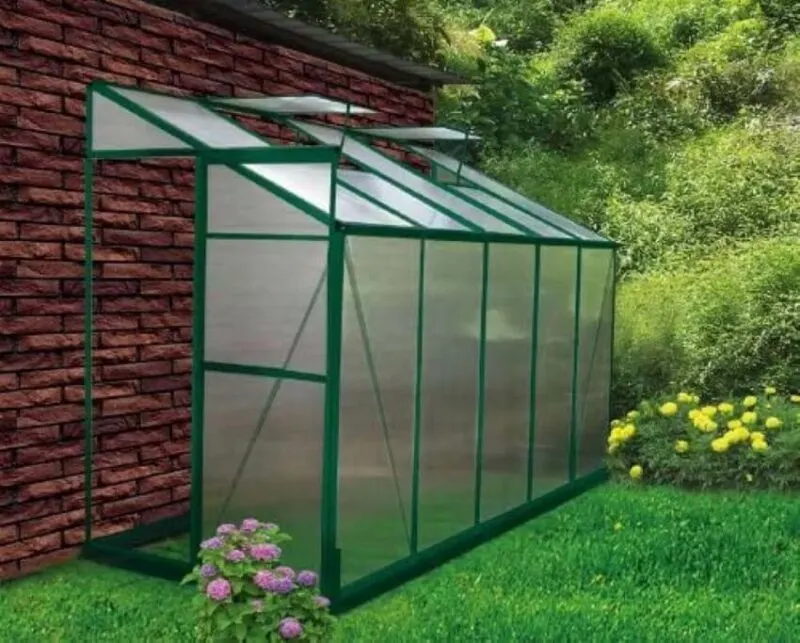 The lean-to greenhouse system is a great way to save space. The design leans against another structure, usually the side of a house or a shed. They are smaller than other backyard greenhouse options, but their overall function is highly effective.
With minimalism, all the rage these days, the lean-to greenhouse offers a way to enhance your plant-growing capabilities without overdoing it on the look and extravagance some greenhouses offer.
The lean-to greenhouse is especially helpful for people who have already devoted much of their garden space to something particular. Since the attached greenhouse does not require as much space as other structures, it can be a helpful addition to your garden instead of an imposing structure that you don't know how to handle.
Overall, the lean-to greenhouse is a beautiful addition to any garden venture. You can find some nice ones online if you know where to look.
Fortunately, we've compiled a few of the best lean-to or side-of-house greenhouses for you: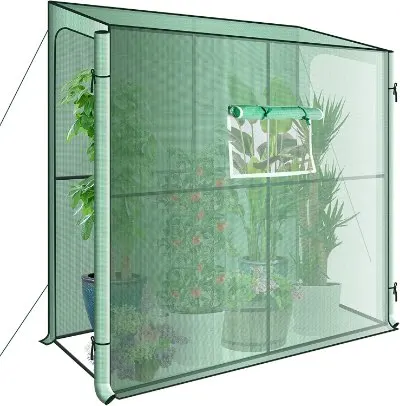 The Solution4Patio Lean to Wall Mini Walk-in Greenhouse is an excellent option for gardeners who want to save space. Instead of occupying your yard, this backyard greenhouse can be attached to the side of your house or other structure. And you can place it above your rain gutters for direct water flow.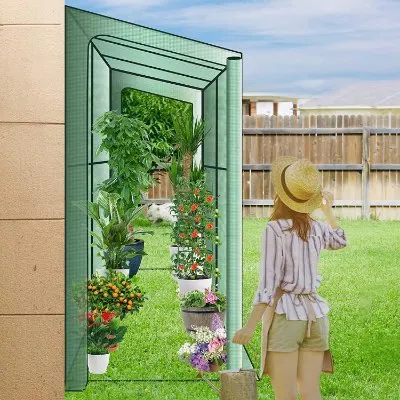 It has double-entry doors for convenient access and improved ventilation. Assembling this garden greenhouse is easy, and the package comes with instructions. The heavy-duty steel frame and thick PE cover protect seedlings against frost, cold snaps, and pests.
The garden greenhouse also has double zippers and a side window for ventilation. It is especially suitable for small backyards or homes with limited space. And you can place it on a wall, fence, deck, patio, or balcony.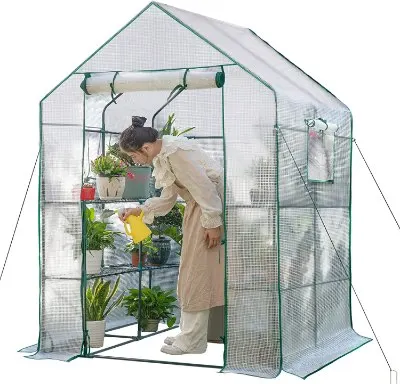 The KOKSRY Portable Walk-in Outdoor Greenhouse is an excellent solution for protecting your plants during the winter and extending your growing season. It is designed to be stable in windy conditions.
It has a high-strength connector link of 16mm diameter steel pipe, ground nails, and rope. The greenhouse also has a thickened waterproof PE cover that prevents UV from burning plants. And it features mesh screen windows on both sides to regulate airflow and keep out pests.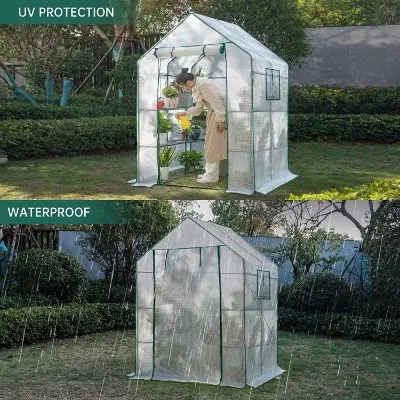 With three tiers and eight shelves, the small greenhouse provides ample space for starting seedlings, growing vegetables, and maintaining plants in your backyard greenhouse.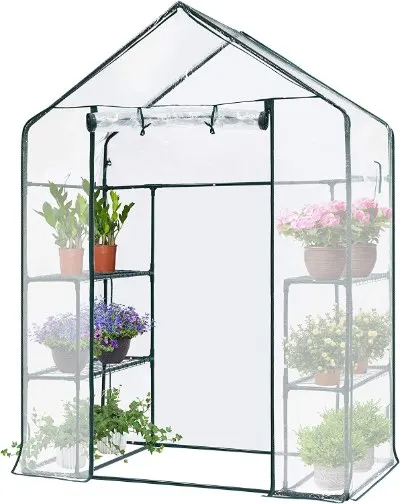 The VIVOSUN Transparent Mini Walk-in Greenhouse is an excellent option for people who want to grow plants but have limited space. The small greenhouse has four wire shelves and measures 57 x 29 x 77 inches. It provides ample space for starting seedlings, planting flowers, and cultivating vegetables.
Custom mesh windows effectively stop plants from being harmed. The PVC cover is double-stranded and has edge banding. It is durable and can prevent harm from rays and bad weather while bringing good solar conditions to nourish your plants.
See Related: How to Grow Sugar Cane Indoors
5. Polyethylene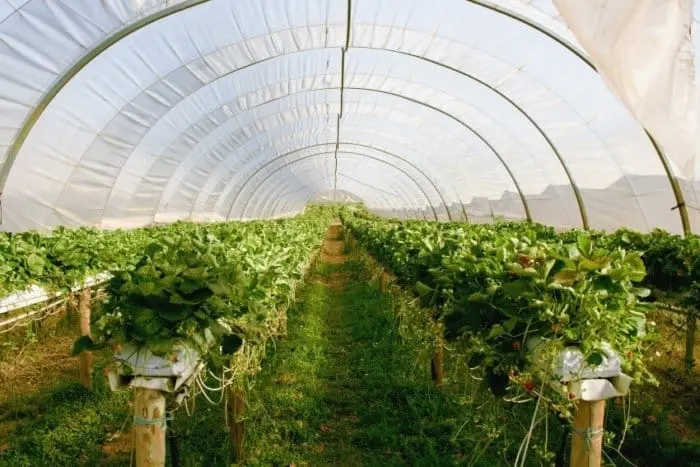 Sometimes known as greenhouse poly film, polyethylene in a greenhouse is a perfect way to transmit maximum sunlight without hurting your plants from the UV rays. The polyethylene material blocks UV light while still allowing the lightest diffusion possible.
These greenhouses are usually cheap and easy to set up, even on your own. The polyethylene greenhouse material comes with antistatic properties that help reduce moisture and dust. And it makes it easy to care for and maintain the greenhouse as a whole.
Another great feature that polyethylene offers are heat insulation. The material is highly effective as a light transmitter and is thin enough to allow high oxygen seepage.
It's believed to be one of the most effective in the business, with cost savings climbing up to 40% in some instances.
One of the best things about the polyethylene backyard greenhouse is that you can easily find big ones. With all that space, there's no telling what wonderful things you might grow. If you're a gardening enthusiast who wants an entire crop grown inside a greenhouse, then using a polyethylene material is the best way to make that happen.
All in all, the polyethylene greenhouse is an excellent option for your gardening needs. You can hold hydroponic tools in them and a variety of plant materials.
While they often need to be replaced sooner than other greenhouse materials, their benefits usually make them a worthwhile investment despite that downside.
The best polyethylene greenhouse is Mellcom Greenhouse, but it's currently sold out on Amazon. So our research has brought us to these options in the market: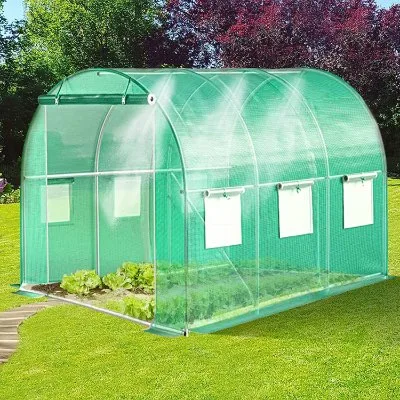 The KANAGAWA Large Green Walk-in Tunnel Backyard Greenhouse is a durable and practical plant-growing solution.
The greenhouse is covered with a 140g/m2 grid durable PE fabric resistant to UV damage, corrosion, and cracking. The tunnel shape enclosure has one zipper door and six exhaust vents to provide fresh air and is 100% waterproof to provide a comfortable growing environment for plants.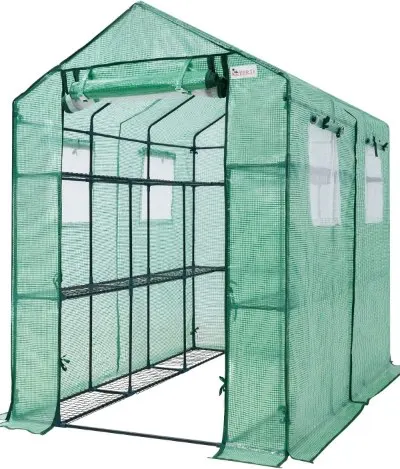 The KING BIRD Upgraded Walk-in Greenhouse is a perfect solution for growing plants outdoors. It can hold up to 46 lbs per shelf with newly-added shelves and upgraded steel wire shelves.
The reinforced 145g/㎡ green PE grid cover with 6% Anti-UV inhibitor offers a longer lifespan and more sunlight. This backyard greenhouse also features a roll-up door and five mesh windows. It helps control temperature and humidity. With eco-friendly materials, it is safe for your plants and the environment.
See Related: How to Start Growing Mushrooms in a Greenhouse
6. Pop-up Greenhouse Frame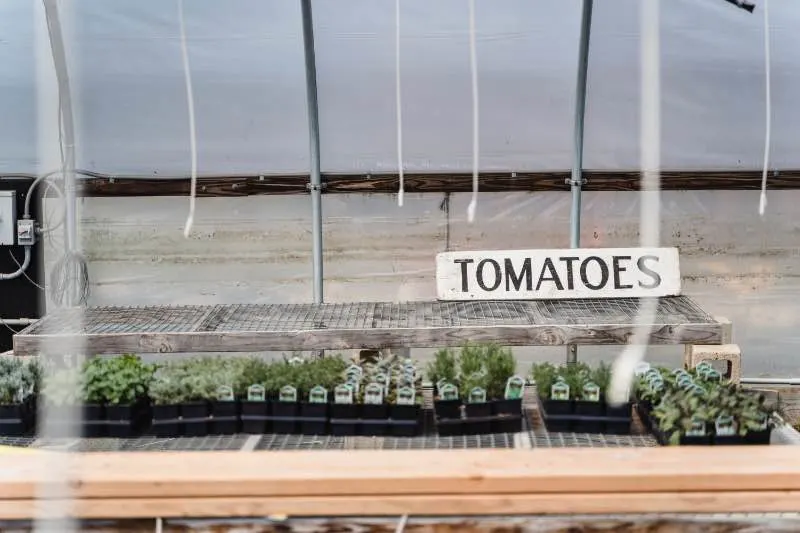 A pop-up greenhouse frame is a collapsible frame made of lightweight materials such as fiberglass, PVC, or steel. It comes with a cover made of polyethylene or other durable materials that protect your plants from wind, rain, and pests.
The frame is designed to be easy to set up and take down. It is ideal for those who need a temporary or portable backyard greenhouse.
A pop-up greenhouse frame is an easy and convenient solution for gardeners who want to protect their plants without investing in a traditional greenhouse. The frame can be assembled and disassembled quickly. It allows you to move it around your garden as needed.
And this is one of the best pop-up greenhouses available online: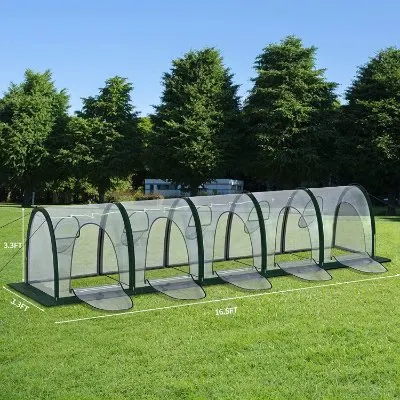 The TONAHUTU Pop-Up Garden Greenhouse is a great way to protect your plants and flowers from harmful rays while giving them the necessary sunlight. This greenhouse is sturdy and can withstand various weather conditions. It ensures your plants are well-nourished.
The greenhouse has windows with all-sided Velcro, making it air-locked and maintaining the inner temperature during winter. The greenhouse has five entrances on each side, making it much more convenient and increasing ventilation.
7. Raised-Bed Garden Greenhouse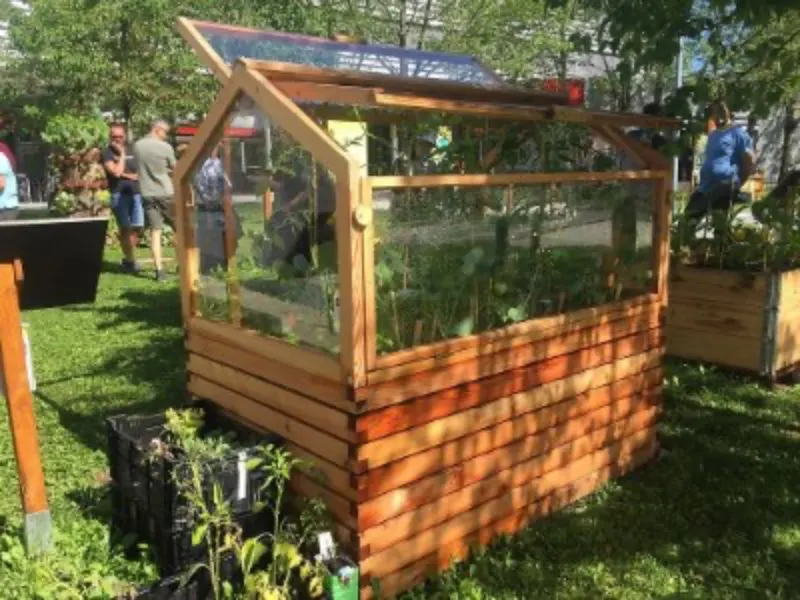 Gardening enthusiasts are always looking for ways to improve their growing conditions. And a raised-bed garden greenhouse might be just what they need. This type of greenhouse combines the benefits of raised garden beds and traditional greenhouses to create a versatile and productive gardening space.
Raised beds have become increasingly popular in recent years. Raised beds provide better drainage and aeration, improving plant growth and reducing the risk of disease. Raised beds also make it easier to control the soil quality, as gardeners can fill them with nutrient-rich soil tailored to their plants' needs.
One of the key benefits of a raised-bed garden greenhouse is that it allows gardeners to grow a wider variety of plants. With a controlled environment, gardeners can grow plants unsuitable to their local climate or soil conditions.
And we will share with you one of the best-raised garden beds available online: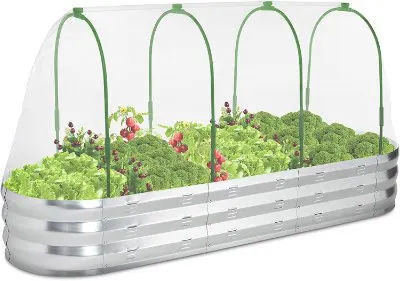 The POTEY Raised Garden Bed with Greenhouse Galvanized Planter Box is a complete kit for gardening enthusiasts. This kit includes a planting bed, a greenhouse, and two different covers.
The planter box is designed with innovative soil ventilation holes essential for healthy plant growth. These holes replace the oxygen in the soil, promoting strong and healthy roots.
With this kit, gardening enthusiasts can grow plants in raised beds while providing a controlled environment through the greenhouse. This combination ensures optimal plant growth throughout the year.
8. Greenhouse Kits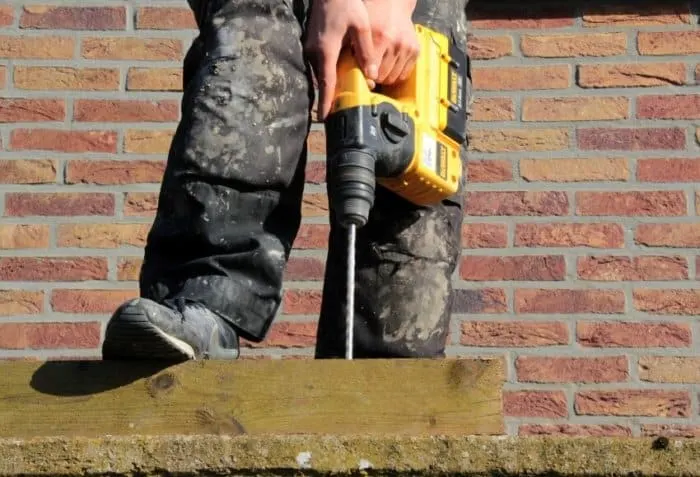 One of the best feelings in the world is doing something for yourself. Whether building a greenhouse or removing the trash, there is palpable satisfaction in demonstrating your innovation and ingenuity in creating something or doing a good job.
Utilizing greenhouse kits provides only one example, but it's good. While professionals might construct all the greenhouses we've discussed so far, there's always a way to get one up yourself.
Greenhouse kits allow you to build something useful and to feel pretty good about yourself in the process. There's no reason to hire a professional when kits are easy to assemble and come with step-by-step instructions.
The "do it yourself" movement of the last decade has translated into excellent opportunities for gardeners to take command of their destinies. To make the process easier for you in your search, here's one of the best greenhouse kits available: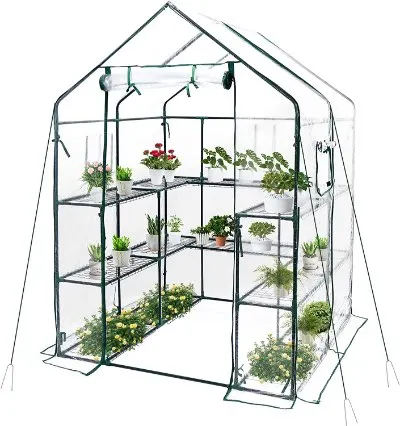 This Rocomoco greenhouse features a zippered roll-up door and three mesh windows that regulate external airflow. It helps to keep plants warm and provides better air circulation. This design also makes it easy to observe the growth of plants.
Setting up the greenhouse is a breeze and highly stable, allowing it to be moved easily as the seasons change. No tools are required for assembly, and all parts are detachable, so it's perfect for a hobby greenhouse.
FAQs
What Is the Most Efficient Shape for a Greenhouse?
Each shape has its own merits that make it practical and productive. As a general rule, greenhouses are most efficient when they are wide. This spaciousness allows for excellent circulation and light transmission. And the plants can't overcrowd one another.
It also helps to have less influence from the side walls as you design your greenhouse space. The more room your plants have to work with, the better off they'll ultimately be for your gardening endeavors.
Is a Greenhouse Worth It?
As we've already seen, there are innumerable benefits to owning and operating a greenhouse. The controlled environment alone offers you and your plants peace of mind that regular gardens can't match. Frankly, there's no reason not to have a greenhouse.
One of the best arguments for setting up a greenhouse is how much it helps plants grow and thrive. With a greenhouse, you can produce more at a higher rate than growing plants in the yard. The UV rays alone damage plants, not to mention the other elements they experience without the protection of a shelter.
In short, a greenhouse is undoubtedly worth it. And not only that, but it can be a lot of fun if you let yourself enjoy the process.
Do Greenhouses Have Any Downsides?
If you let them, a greenhouse doesn't have to be a burden, financially or mentally. If you're serious about gardening and want to find new ways to innovate and experiment, then a greenhouse is the way to go.
If you're willing to do the work to maintain your greenhouse, you'll have the time to make it work for you and your plants.
What's a Good Greenhouse Size?
It all depends on your needs. Some greenhouses are massive and great for large plant production. However, if your interests are smaller greenhouse options, you don't need something particularly large or intrusive.
Related Resources