If you've noticed that your darling greenhouse is feeling a bit stuffy or hot, you may want to add a fan to your greenhouse setup. Many growers and plant lovers overlook the need for air circulation around your plants. But circulation is crucial in healthy plant growth and a flourishing greenhouse.
To help you find the ideal fan for your greenhouse that is both effective and environmentally friendly, we've compiled the thirteen best solar-powered greenhouse fans to keep your greenhouse feeling fresh and clean.
Best-Of by Category
What is a Solar Powered Greenhouse Fan?
A solar-powered greenhouse fan either circulates the air in the greenhouse or brings in fresh air to provide your plants with more carbon dioxide for photosynthesis.
Greenhouse fans, interchangeable with attic fans, use energy captured from the sun to power the fan's motor.
Greenhouse fans are usually larger than typical fans used in residential locations, like your house. And of course, a huge benefit of them is the lack of energy consumption.
Because these fans live outside, they can operate almost entirely off sunlight.
See Related: Best Off-Grid Greenhouse Heating Systems
Why Solar Powered?
Honestly, why not solar-powered?
Some things make sense, like calculators because they can easily grab some energy from the sun, avoiding batteries and power cords that are becoming a thing of the past.
When using something like a massive fan that will sit outside, it is logical that solar power is the way to go.
A large fan like that will suck up a lot of energy, costing you a good deal of money when your electric bill comes. But if you use a solar-powered fan, it fuels itself along with the sun, making your life a whole lot easier.
Sometimes it just isn't practical to use a plug-in fan outdoors, as you may require several extension cords to make it happen.
Another option is generators, which still need to be charged and take up a lot of space. Solar-powered fans cut out the middle man (the generator and cords), making it a more streamlined process to fanning your greenhouse.
So if you've wondered: why are greenhouse fans solar-powered, there are so many logical answers.
Why Do I Need a Greenhouse Fan?
The main reason you need a greenhouse fan is to refresh and recycle the air in your greenhouse so the plants have relief from the heat and can access new carbon dioxide to help with their health and well-being.
Most greenhouses have vents that allow air in and out, but this often isn't enough to keep your plants happy.
While vents are a great idea, you should also use some circulator to make the air move around and provide different plants with carbon dioxide as they need.
Best Solar Powered Greenhouse Fans to Buy
Here are our in-depth reviews of the thirteen best solar-powered greenhouse fans on the market in 2022.
Before wandering through Home Depot or scouring the internet, check out our list of the best fans so you can get the perfect fan the first time.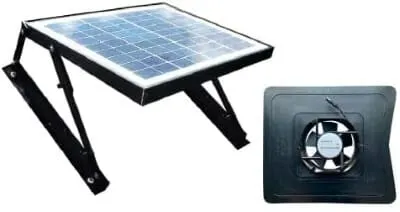 The iSolar exhaust fan has a design that works for both attics and greenhouses. This exhaust fan tops our list and comes recommended by HGTV's Bryan Baeumler, so you know the pros approve of it.
It can circulate and refresh the air in a 600 square foot space, making it the ideal capacity for a moderately sized greenhouse.
The unit is small, weighing only about ten pounds, so it's easy to install even if you aren't a bodybuilder. The design will fit into most greenhouse roof vents, so you may not need to perform any construction.
Professionals and experts in the HVAC industry report that is the most efficient fan for its size, one of the reasons it made the top of our list.
Despite its power, customers report the fan is as silent as a mouse. Some fans create a humming or buzzing noise that lessens the quiet you seek in your greenhouse.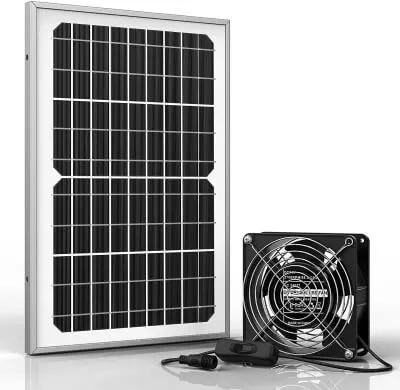 The Allto Fan Kit is super affordable, considering the power it offers. The fan can circulate air in a space up to 500 square feet, making it slightly less powerful than the iSolar, but still a great little unit.
At only $50, the solar panel is extra efficient at capturing and storing energy, so you get full, uninterrupted power even on cloudy or rainy days. So if you live in a cloudy climate like Seattle, this fan is one of the best options for you.
The fan works for greenhouses, chicken coops, and dog houses and comes with dual protective nets to eliminate the risk of touching the blades. So if you have small animals or little kids running around these areas, you can feel better knowing about this safety feature.
See Related: Best Solar-Powered Laptops to Buy Today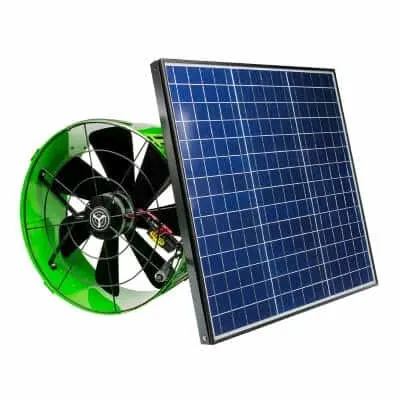 The QuietCool Attic Fan is one of the fanciest fans on the market for greenhouses. With a bold design and powerful fan, this fan is a top-of-the-line model and an excellent choice for people with a big budget.
The QuietCool is available for a roof or gable, giving you some flexibility with the ventilation design of your greenhouse.
Many customers report that despite how heavy-duty the system is, it is easy to install, especially with an extra pair of hands. The customer service offered by QuietCool is exceptional, and the unit comes well-packed with super clear instructions.
While users report the fan is quiet at to start, some customers complain that the fan seems to get louder over time. If this happens, we recommend you contact QuietCool customer service, as they are usually eager to remedy any complaints.
See Related: Best Backyard Shed Ideas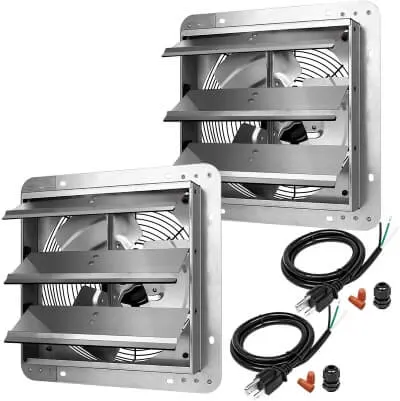 The iPower Shutter Exhaust fan is made of sturdy aluminum and has a high-speed motor, so it can circulate air efficiently. The iPower fan comes in a wide range of sizes from seven inches to 24 inches, so you can get one that meets your exact needs.
These exhaust fans require some effortful installation, which can be reduced if you get a perfect size. Rather than having to cut a panel for the exact measurement of a one-size-fits-all fan, you can order the fan closer to the measurement that you need.
The iPower lives up to its name as one of the most powerful fans on our list. And it comes in a two-pack, so you have two exhaust fans to put on either side of your greenhouse.
The iPower fans are absolutely ideal for a large greenhouse that gets very hot. These fans take more effort to set up, however, once they are ready, they are great at their job.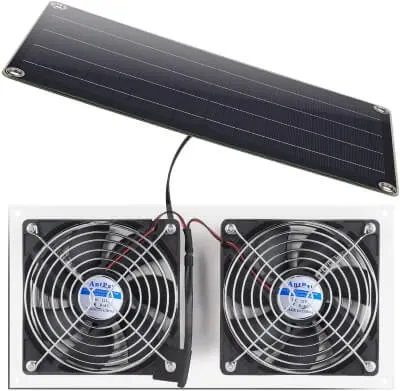 The Antpay weatherproof dual fan is the widest fan on the list, making it rather unique. Because of the lengthy design, it emits a plentiful airflow while using less energy.
While most of the fans on our list can withstand the elements, the AntPay fan is the most durable. If you have a thriving greenhouse nestled in the arctic tundra, this is the best solar power fan for you.
It also features a double-layered metal protection net inside the unit that prevents small animals like chipmunks or birds from making a home inside the warm fan when the winter months come.
The downside of this fan is it needs plenty of sun to run and has no other power source available. So if you want the fan to run 24/7 and work every day, you should opt for a fan with a more reliable and sensitive solar panel.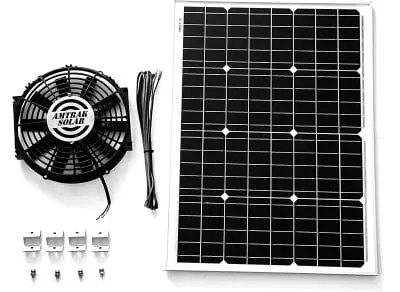 The Amtrak Solar Attic fan is a wonderful midpoint on our list of fans for your greenhouse. It is in the middle of the price range, operates efficiently but not perfectly, and can work as a circulation fan or as an exhaust fan.
It can refresh the air in a space up to 2,250 square feet, making it one of the larger capacity fans on our list. It also comes with a free thermostat system and a 25-year warranty so you can keep the fan in tip-top shape for years to come.
Some customers wish the fan kit came with more mounting pieces and installation equipment, as the package is rather bare-bones.
With that said, it does come with everything you technically need, just no extras. The biggest complaint is that the wires for the solar panel are weak, thin, and easily damaged. Consider buying replacement wires before installing.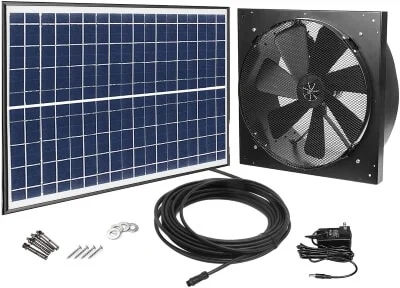 Heavy-duty and long-lasting, the GBGS fan is a powerful option to circulate the air in your greenhouse.
The GBGS can refresh a space as large as 4,200 square feet, an impressive amount of space for a single fan. It comes with a built-in thermostat to give you more control of the temperature and airflow in your greenhouse.
The unit as a whole is rated to last over 20 years, so although the price is a bit steep, the fan unit is worth the money. Customers report it is easy to install if you have some muscle and the will to get it done!
For some reason, this fan doesn't do much to cool down the air but just circulates it. Only some customers reported this problem, but if you want a cooler greenhouse, there are better options.
See Related: Cheap Nursery Post for Greenhouses & Gardening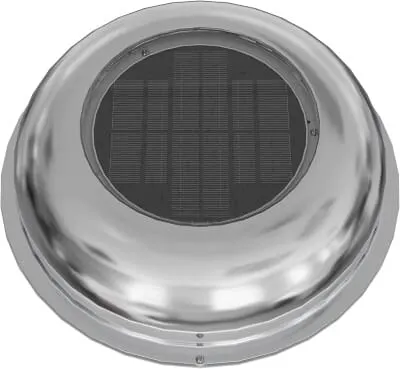 The EcoHouse fan vent looks like a porthole on a cruise ship, using a sleek look and compact design. The fan stores power from the sun to use overnight or on cloudy days, so no need for a battery pack or extension cord when a patch of rainy days comes.
Unlike most of the fans on our list, the EcoHouse is a greenhouse fan designed with aesthetics in mind. So if you want to maintain a beautiful greenhouse on both the inside and the outside.
This fan is pretty small, so can't cool down a huge space. But the compact size makes it easy to fit multiple into your greenhouse to improve ventilation.
However, installation is tough because the fan is an odd circular design, great for aesthetics but not cutting out panels. You may want to hire a contractor for this construction unless you are quite handy yourself.
A lightweight fan kit weighing in at only 9 pounds, it's perfect for tinier greenhouses that need moderate circulation. This fan is 14 inches wide but has a powerful motor, working hard to move the air around and replenish the carbon dioxide.
The solar panel is an absolute monster, pulling energy even on the darkest days and storing it for when nighttime comes. And if that isn't reliable enough, it also comes with a backup battery pack so you can use the fan even with zero sunlight.
It may seem pretty expensive for the size, but the unit performance is practically unbeatable, making this a worthwhile investment for your greenhouse setup.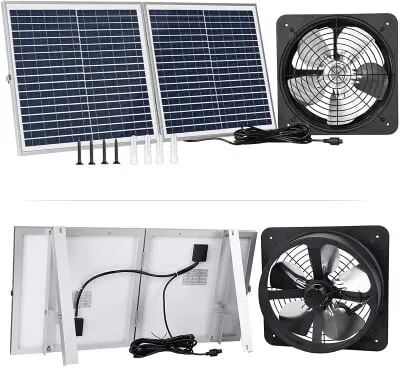 The Pumplus fan kit has a lot to offer people in the market for a solar-powered way to cool down their greenhouse.
The fan does its job well, circulating and cooling the air in your greenhouse. It works well, even when the sky is rather cloudly, storing some energy overnight.
However, the performance of the fan does not seem to be the issue, but installation causes many problems.
Many users state that if you get this fan, just call an electrician or HVAC technician right away to install it, as doing it yourself is a minefield.
The installation instructions have been described as 'terrible' by one customer and contradictory by others. If you want an easy installation process, steer away from the Pumplus fan system.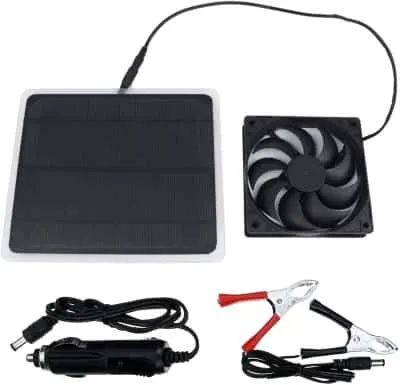 The ShareTime mono ventilator is pretty small and doesn't produce much air circulation, but can help bring fresh carbon monoxide into your greenhouse to revive your plants.
If you have a large greenhouse, this fan won't be able to do the job, so make sure your space is small enough for this fan to be effective.
While customers report that the fan can be troubling during setup and installation, it works okay once you get it going.
The LED light on the fan indicates that the fan is on, receiving solar energy, and working to move the air. It can be a little tricky to get the LED to light to work, but once you do, you should be all set.
Like many of the smaller solar-powered exhaust fans, this fan needs full sun to work. Some clouds or an overcast day is a dealbreaker, as is nighttime.
So if you want an exhaust fan in your greenhouse that can run 24/7, you'll have to keep looking.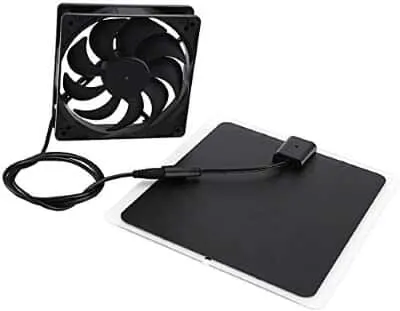 The Zuzzee Mini Ventilator fan is incredibly affordable but also useful. The design works perfectly for your greenhouse roof and should fit into an already-cut vent if you have one.
With the Zuzzee, the power of the fan is hot or miss depending on the sun. When the sun is strong your fan will run well, but when the sun is weak or nonexistent, the fan wouldn't be able to cool down a dollhouse. That is a direct quote from a dissatisfied customer.
If you have a massive greenhouse, this is not the right fan for you as it will not adequately refresh the space.
The moral of the story is that this fan will work for a small space, but manage your expectations. It is a small and cheap exhaust fan that can circulate the air in a tiny space, so don't expect it to do more than that.
See Related: Best Portbale Greenhouses to Buy Today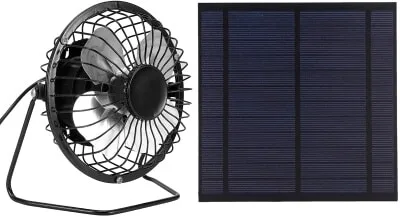 Asixxsix is a very affordable fan that is super portable and compact. The Asixxsix is a circulation fan, so requires almost no installation. This fan is ideal for smaller greenhouses that don't get particularly hot.
The fan can also get power from other sources like a generator or electric outlet. This feature is necessary, as the fan solar panel is not the most persistent.
On cloudy days, the solar panel isn't very effective at drawing energy from the sunlight. And if it is an overcast or rainy day, you definitely will not be able to use the fan.
The fan only costs $25, and it's at the bottom of our list because there is a lack of customer feedback. However, the limited feedback available is positive. This fan is perfect for someone looking for a low-maintenance and easily-managed setup that will slightly cool their greenhouse and refresh their plants.
Advice to Buyers
To help you figure out what to look for in a fan and what will fulfill your greenhouse needs best, consider these tips and factors for how to find a solar-powered fan for a greenhouse.
Types of Solar Powered Fans
There are two kinds of fans for greenhouses: circulation and exhaust. Exhaust fans aim to pull stale air out of the greenhouse and refresh it with new air from outside.
Circulation fans are used to move the air around in the greenhouse, offering normal and consistent circulation.
If you live in a warmer climate and your greenhouse is not made up of mostly tropical plants, you definitely need an exhaust fan. The exhaust fan will remove heat trapped in the greenhouse and give your plants some fresh air to breathe.
Circulation fans don't connect to the outside and just circulate the interior air. Circulation fans don't always need to be specific for greenhouses, as most fans will work to circulate the air adequately.
Size
The bigger the fan, the higher price usually. If you want a large fan, you'll have to pay more, but sometimes buying two small fans is more expensive. Consider the size with the cost of the fan and if your priorities are being meant.
Installation Requirements
Circulating fans require almost no installation to run. You just place them in the corner of the room, place the solar panel outside the greenhouse in a sunny location, and then you're all set. Sometimes it's best to have two fans to keep the air moving throughout the space.
Exhaust fans require much more effort, as you often need to cut out wall panels to install these. Because construction and probably some woodworking is required, you can either hire a professional contractor or give the project a go on your own.
If you aren't familiar with this kind of work, you may want to hire a professional to do the manual work.
Make sure you factor in installation costs when setting your price point. A circulation fan shouldn't have excess expensive, but if your greenhouse doesn't already have the correct sized vents and panels, an exhaust fan will accrue extra costs.
Price
It's important to keep your price range in mind when shopping, as the fans can be quite expensive, but there are affordable options on the market too.
Solar-powered fans for a greenhouse can cost anywhere between $25 and $500. Circulation fans will be cheaper than exhaust fans. The size also plates a huge factor in what the price will be.
While many people assume solar-powered greenhouse fans are super expensive, they are usually similarly priced to standard-powered fans that use batteries or cords. Solar power is much more affordable than one may think.
More and more products are pivoting to solar power because it is so resourceful while being moderately priced.
See Related: How to Winterize a Greenhouse
Other Uses for Solar Powered Greenhouse Fans
Pet House
Chicken Coops
Treehouse
Dog house
RV/Camper
Touring Car
Camping
Music Festivals
Attics
Screened Porches
Bus
Boat Cabin
Final Thoughts
Keep your plants cool and comfortable with one of these well-built and efficient solar-powered greenhouse fans. Solar power is the ideal way to run your greenhouse as it will save you money and help out the environment, and your plants will thank you.
FAQs
Which fan is best for solar system?
Is a solar-powered fan the best option for a solar system? Solar-powered fans are an excellent choice for those who want to reduce their energy consumption and save money on their electricity bills. They are also environmentally friendly and can be used in a variety of settings, including greenhouses, attics, and garages. When selecting a solar-powered fan, it is important to consider the size of the space, the amount of sunlight it receives, and the fan's power output to ensure that it will meet your needs.
Should you put a fan in a greenhouse?
Putting a fan in a greenhouse is recommended. A fan helps to circulate the air in the greenhouse, which can prevent stagnant air and reduce the risk of plant diseases. Additionally, a fan can help regulate the temperature in the greenhouse by distributing warm or cool air throughout the space.
What type of fans are needed in a greenhouse?
The type of fans needed in a greenhouse are solar power greenhouse fans. These fans are powered by solar energy and help to regulate temperature and humidity levels inside the greenhouse. They are an eco-friendly and cost-effective solution for maintaining optimal growing conditions for plants.
Is there such thing as a solar powered fan?
Yes, there is such a thing as a solar powered fan. It is a type of fan that is powered by solar energy, which is converted into electricity through the use of photovoltaic cells. Solar powered fans are typically used in areas where electricity is not readily available, such as remote locations or during power outages. They are also a more environmentally friendly alternative to traditional electric fans, as they do not require electricity from non-renewable sources.
Related Resources