Christmas is all about having a fancy dinner, exchanging gifts, and decorating our homes with beautiful Christmas trees. But amidst all that, you probably don't realize the impact of your celebrations on nature.
For example, look at your Christmas tree. Of course, it looks beautiful, but do you know that all Christmas trees have a carbon footprint, whether they are real, fake, or potted. Not to forget the ornaments you put on it; are they sustainable?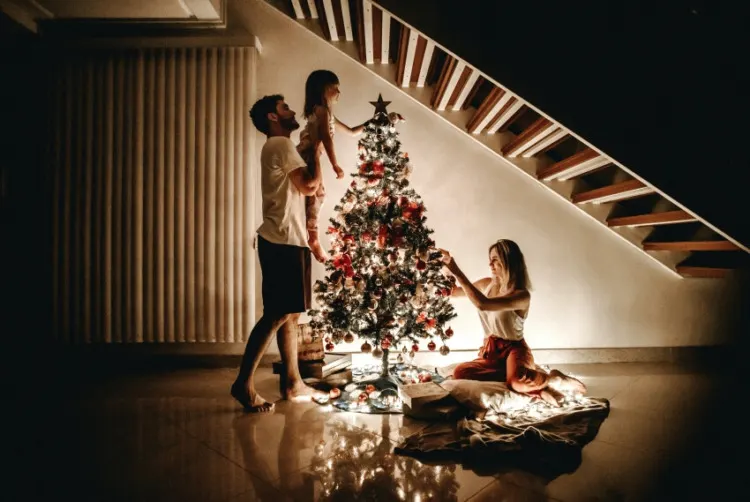 In the USA, more than 23 million artificial trees are purchased each season. Out of all the Christmas trees displayed in the country, 80% of them are artificial. Considering these stats, it's definitely impossible to calculate the total amount of carbon emission affecting our environment each season.
If you've already started sweating, believe us, that's not even half of the story. But hey, don't think of dropping the idea of your Christmas tree purchase just for the sake of the environment, like sustainable Christmas trees. There are many sustainable Christmas tree options to give you a memorable yet eco-friendly holiday this year.
Let's have deeper insights into the environmental impact of real vs. fake Christmas trees and learn about the most sustainable Christmas tree options you have at the moment.
Best Sustainable Trees for This Christmas
If you're searching for eco-friendly Christmas trees this holiday season, we recommend buying one directly from a tree farm. If you can't, we have listed down the best Christmas tree alternatives to save your precious time.
We included some real trees, fake trees, wooden trees, and the ones with LED lights. Let's have a look at all of them.
1. Oncor 6.5ft Sustainable Christmas Tree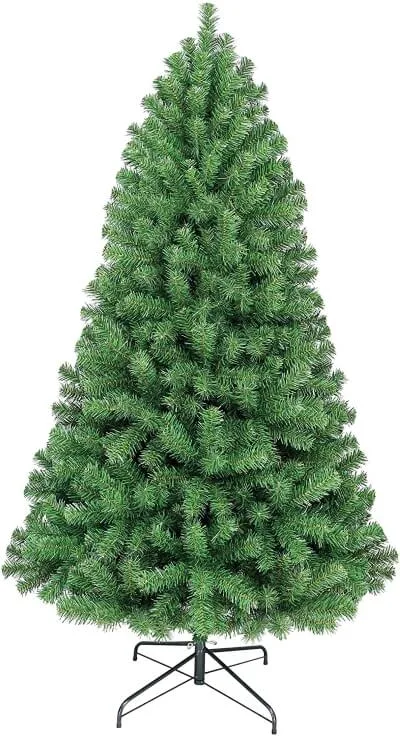 Whether you want a 4.5ft, 5.5ft, or 6.5ft eco-friendly Christmas tree, Oncor has been making all of them since 1980. We chose the Oncor 6.5ft Eco-Friendly Christmas Pine Tree because it looks fuller and has a more classic pine look than the rest. But, obviously, you can go for any size you want.
This Christmas pine tree has a hinge-tree structure, which makes it easier to set up. Because of its heavy build, it comes with a strong metal stand and 1-3 trunks sections along with a beautiful treetop.
The brand chose to make hook trees as they offer more flexibility in assembling and shaping. Moreover, they are more sustainable as they require less packaging and shipping supplies.
What's more, the tree itself is made of 100% recycled PVC plastic, which is non-toxic and contains tin-based stabilizers instead of lead.
Oncor is also a member of 1% for the Planet and Green America and donates at least 1% of their gross sales to FTP-approved non-profit organizations working for the environment.
You can use this tree for more than 30 years. Think of all the greenhouse gas emissions you're preventing from entering the environment.
Pros
Branches are easy to assemble
Made of 100% recycled, non-toxic PVC material
Doesn't contain lead
Manufactured for more than 30 years of use
1% sales of the tree go to non-profit environmental organizations
Con
Branches may not be strong enough to hold heavy ornaments
See Related: 11 Different Types of Coniferous Trees
2. Derogras Ceramic Christmas Tree with Lights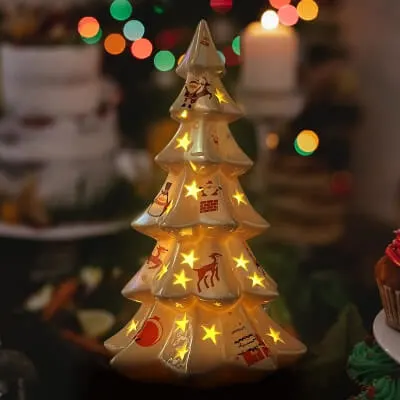 How about a Christmas tree made of ceramic? Believe us, the tree itself is even cooler than it sounds. The Derogras Ceramic Christmas Tree is made of premium quality, eco-friendly, and non-toxic ceramic material.
What makes this particular product unique is its classic vintage vibe, enhanced by the built-in warm LED light that runs with batteries. When the light is switched on, the bulb emits a warm light through the hollow star-shaped holes.
Crafted with fine artistry, the tree has a multi-layer design like that of a real Christmas tree. The good thing is that it is just 11 inches long, which means you can put it on your tabletop and enjoy Christmas vibes.
Not only that, but the tree also comes with three sheets of fluorescent Christmas stickers that you can paste on the tree with your kids and spend a great time together.
Well, you can also give it to your loved ones as a Xmas gift too!
Pros
Made of recyclable, non-toxic ceramic
Has the perfect size for a tabletop ornament
Features a built-in LED light
Includes a battery
Comes with three Christmas stickers sheet for DIY decorations
Con
Battery isn't long-lasting
See Related: Best Solar Powered Generators for Home Use
3. Centro de Keratinas EPA Colombia Canadian Pine Wood Christmas Tree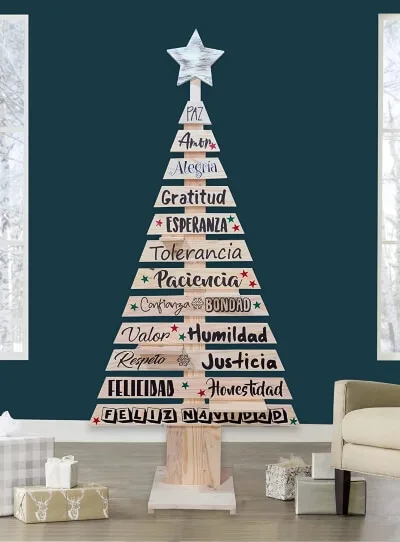 Another one of the great sustainable Christmas tree ideas is a wooden tree. The Centro de Keratinas EPA Colombia Canadian Pine Wood Christmas Tree is a beautiful pine tree crafted with recycled wooden pallets.
The pallets measure 5.57 feet high and 2.55 feet wide. This means you can put it at any corner of your home or office and use it as a Christmas tree. Don't forget to add a wooden treetop!
Apart from that, the brand offers 6 options in this wooden tree as well. You can choose from Naturalwood English, Naturalwood Spanish, Wenge English, Wenge Spanish, White English, and White Spanish. The languages refer to the change in the phrases written on the pallets.
This pine-made wooden tree doesn't come with any decoration pieces. But it features 4 shelves for any ornaments you want to put onto it.
Pros
Made of recycled pine-made wooden pallets
Has a reasonable size
Comes with 6 options to choose from and two different languages
Features 4 shelves for the decorations
Con
Doesn't come with decorative ornaments
See Related: Best Eco-Friendly Fireplaces: Top Sustainable Alternatives
4. Yookat Artificial Mini Sisal Bottle Brush Trees With Wooden Base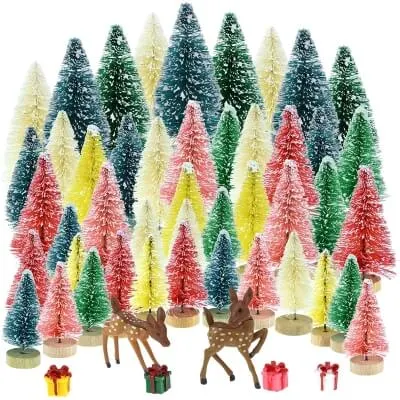 Sisal is a natural, sustainable material, making the Yookat Artificial Mini Sisal Bottle Brush Trees a great eco-friendly Christmas decoration.
So if you've been looking for cute, little Christmas ornaments that are eco-friendly too, these artificial sisal bottle brush trees are your true calling.
These trees come in 3 sizes: 8.5cm, 6.5cm, and 4.5cm, and also have a variety of colors. What makes these trees this adorable is the white snow sprinkled on their branches and leaves.
You'll get 45 pieces of mini pine trees, 4 pieces of gift boxes, and 2 pieces of deer in a single package.
Most artificial trees usually don't have a strong base, but these mini trees come with wooden bases that help them stand firmly.
So, do you want to take your inner child out this Christmas?
If so, get these trees now and create beautiful landscapes, mini gardens, train or railway landscapes, aesthetic life scenes, or anything you're in the mood for.
This holiday season is all about having fun and caring for the environment!
Pros
Made of renewable, recycled sisal
Comes in 3 sizes and a range of colors
45 pieces of mini pine trees, 4 pieces of gift boxes, and 2 pieces of deers
Makes great decor pieces
Con
The white snow may come off easily
See Related: These 13 Animals Have the Best Hearing in the World
5. Dporticus Eco-Friendly Artificial Tree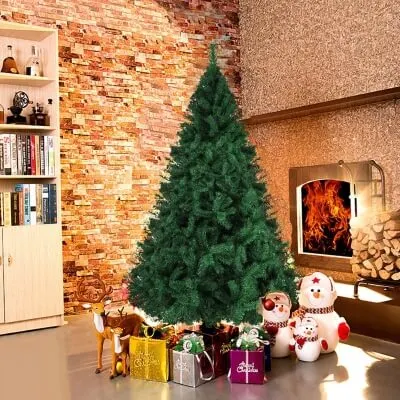 If your heart is still insisting on buying an artificial Christmas pine tree, listen to your inner voice and go for Dporticus Eco-friendly Artificial Christmas Tree. This tree is made of reusable PVC and pine, and comes with a sturdy metal stand.
It stands 8 feet tall and is 47 inches wide. It also features 1500 tips, making it a full Christmas tree ready to grab everyone's attention during the holidays.
Considering its eco-friendly nature, you can use this tree for a long time as the PVC used for it is harmless, durable, and lightweight.
The package comes with no lights, and the assembling is pretty complicated too. But if you're all for it, this tree makes a great sustainable option for this holiday season.
Pros
Made of reusable, durable, and lightweight PVC material
Metal stand is sturdy enough to prevent breakage
Features 1500 tips that make it look like a whole tree
Good alternative for artificial sustainable Christmas trees
Con
Time-consuming to assemble
6. Leruckdite LED Christmas Tree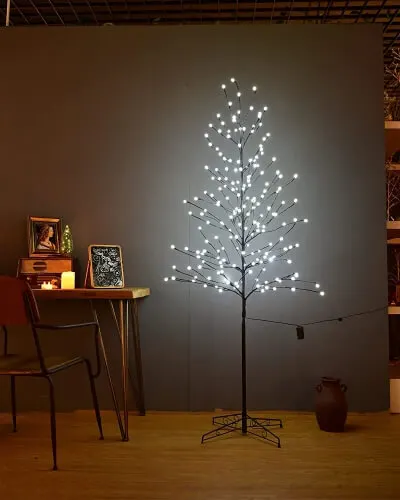 Looking for a cool option to catch everyone's attention? Go for a metal Christmas tree with LED lights. Feeling confused? Check out the Leruckdite LED Christmas Tree and see an enchanting tree with a 208 LED ball light with your own eyes.
In case you don't know, LED lights use up to 80% less energy than ordinary lights, making the tree a sustainable option to choose from. Moreover, you can reuse this tree even after Christmas, and it will still look appropriate.
What's more, you can even adjust the brightness of the tree in 3 different types, such as slightly bright, medium bright, and bright. It stands 6 ft tall and doesn't require much space.
The tree also comes with 4 ground spikes for a firm grip to the ground and 5 ball light pieces to create a charismatic environment.
Additionally, you can shape the branches of the tree as you imagine. This way, you can spend time with your kids hanging some ornaments, and have a great holiday.
Pros
Comes with 5 pieces of reusable, energy-efficient 208 LED ball lights
Includes 4 ground spikes to stand firmly
Suitable for the whole year
Has reshapable branches
Adjustable brightness
Con
May not satisfy the true Christmas tree lovers
See Related: Best Solar Driveway Lights
7. Costa Farms Live Christmas Tree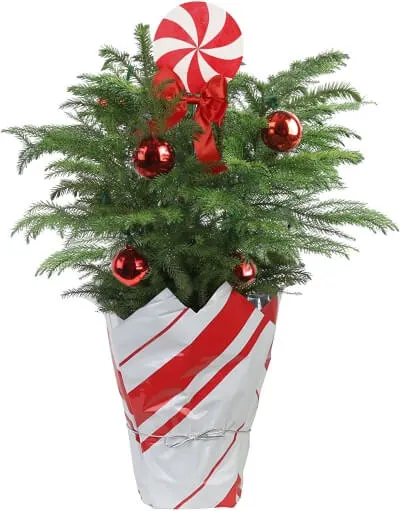 Undoubtedly, a fake Christmas tree is nowhere near a real one. This is why we have included the Costa Farms Living Christmas Tree in this list of sustainable trees. Although it is not actually a tree, you need to grow it in your home and wait till it turns into a tall tree.
Costa Farms offers a variety of styles in potted trees to bring the real Christmas vibe to your homes and offices. From Small Norfolk Island Pine and Charlie Brown Christmas Tree to Medium Norfolk Island Pine and Norfolk Island Pine, and even a Large Norfolk Island Pine, the range is surely a great catch.
Not only that, but this plant comes with ornaments hanging on its needled branches and a beautiful topper that just completes the look.
You need to grow this potted tree in bright, direct sunlight, and feed it approximately 1 cup of water once a week. The brand claims that this potted Christmas tree can live for years if you take care of them.
Want to know something great? You can use this plant as a centerpiece on your table or desks even after the holidays.
Pros
Highly sustainable
Can live for years
Comes pre-decorated with ornaments
Easy-to-care potted tree
Con
8. JOEDOT Live Indoor Green Norfolk Island Pine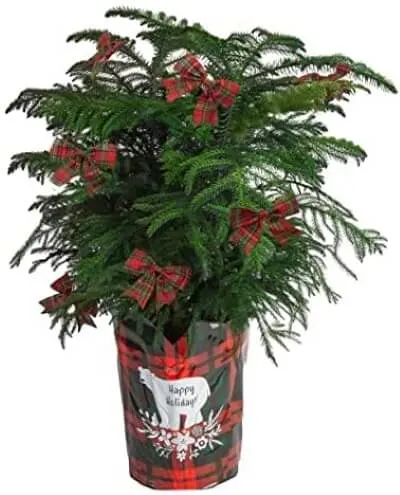 Another option in living trees, we have got the JOEDOT Live Indoor Norfolk Island Pine tree. This easy-to-grow potted plant is 36 inches tall when measured from the pot bottom to the plant top. The size of the pot separately is 10 inches.
To grow this plant into a lush-green Christmas tree, you need to water it once a week for about 2-3 cups. Also, you have to put in bright, direct sunlight for the best growth.
If you've been looking for an indoor potted plant that takes less space and comes with ornaments, the JOEDOT Norfolk Island Pine would be an ideal choice for you. You can put this plant on your tabletop, kitchen counters, or rooms; it will look good anyway.
Remember, a real tree is always better than an artificial one, even if it takes longer to grow or requires care.
Pros
100% real, sustainable Christmas tree
Looks good at different spots
Comes with ornaments and a pot
Doesn't need extensive care
Con
9. JOYIN Store Tabletop Mini Wooden Christmas Tree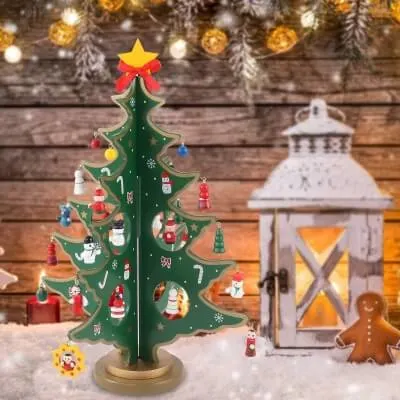 Coming back to wooden Christmas trees, the JOYIN Store Mini Christmas Tree is a delight to the eyes. This 14 inches tall tabletop Christmas tree is all about enhancing the look of your office desks, tabletops, and living rooms with its vibrant colors.
It is made of 100% natural wood and is painted in the colors of Christmas – red, white, and red. What's amazing is that it comes with 28 different ornaments and a gorgeous star treetop.
Believe us, when you assemble the tree, you won't get your eyes off of it.
It has a brown-colored wooden base that helps the tree fight off all the bumps and knocks. You can also gift this product to your loved ones and make their holidays memorable.
The brand offers a money-back guarantee if you receive a defaulted piece. So, what's stopping you from trying your luck and ordering this cute little tabletop? At least, you know you'll get a fully functional Christmas tree.
Pros
Easy to assemble
Made of 100% natural wood
Includes 28 ornaments and a star treetop
Comes with a money-back guarantee for 90 days
Con
The package may come with missing ornaments
See Related: Best Solar Lamp Post
10. National Tree 23″ Natural Looking Snowy Cone Tree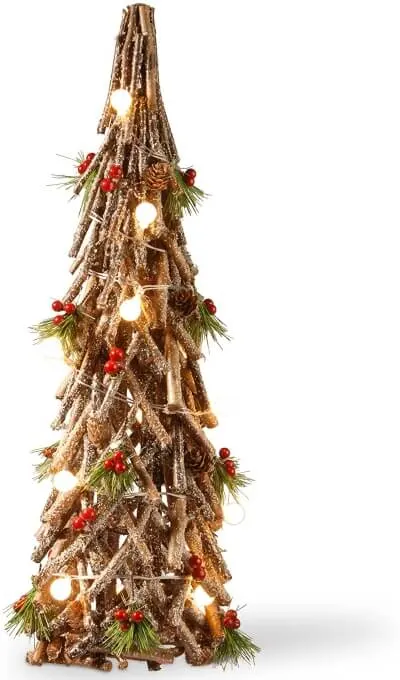 Real wood trees are always a delight to the eyes. The National Tree Wooden Snowy Cone tree features beautifully crafted branches with a snow-dusted appearance. The branches are embellished with 10 lights, which are operated on a battery and emit warm white light.
Speaking of ornaments, we have got multiple varieties in them. The cool combination of red berries, pine cones, and evergreen needles adds a natural touch to the tree.
The tree stands 23 inches tall that you can put indoors as well as outdoors.
What's more, the tree is fire-resistant and non-allergenic, so you don't have to worry about any disaster occurring at your family dinner.
Since this holiday is all about spending time with your family and caring for the environment, this tree is constructed with 100% real wood.
When you choose National Tree, you don't have to worry about anything!
Pros
Comes with ornaments
Made of natural wood
Measures 23 inches tall
Suitable for outdoors and indoors
Features 10 warm white battery-operated LED lights with an integrated 6 hours on and 18 hours off timer
Fire resistant and non-allergenic
Con
Doesn't come with batteries
Real vs Fake Christmas Trees: What's Better for the Environment?
A large number of fake or artificial Christmas trees come to the USA from China. During this shipment, these trees not only release lots of carbon emissions but are also made of non-recyclable PVC (plastic) material. We know what plastic does to the environment!
So, is there any eco-friendly fake tree? How long does a fake tree last? Well, it's hard to say yes, but you can make them environmentally friendly by reusing them a few times. The A.C.T.A (a group from the manufacturers' side) says that if you reuse artificial trees five or more times, you can reduce the negative impact of the artificial Christmas tree on the environment.
Still, they can't compete with the benefits of a real tree. In case you don't know, a real tree absorbs carbon as it grows and can be compostable. This means it not only can be recycled at the end of its life but also clears out the environment from carbon emissions.
Amazing, no? Contrary to the common assumption, a real tree actually comes from Christmas tree farms, not large forests. Many experts believe that restoring and taking care of these Christmas tree farms is extremely vital for our climate.
Moreover, many states also have tree return services that recycle and reuse donated Xmas trees or convert them into mulch.
So, in a nutshell, if you already have an artificial tree, you can use the same tree for as long as possible to keep it away from the landfill. Otherwise, go for a real tree without any second thought.
Related Resources