Are you yearning to do some gardening at home but don't know where to start? Here is a list of the best greenhouse kits that can help fulfill your desire. With these greenhouse kits, you only need a few hours to set them up and are ready to grow your plants.
What is better than enjoying that authentic taste of fresh, homegrown fruits or vegetables? Well, even with the increased urbanization and congested ways of living seen in current times, you still have a chance.
If you love gardening and wish to grow some healthy vegetables or fruits in your backyard or even on that balcony, things have never gotten any easier. Greenhouse kits are perfect structures that allow you to grow your desired vegetables right from home.
And you don't even have to worry about space. These structures come in different sizes, and you can choose one that best suits your space. But how do you get to know the best greenhouse kits with numerous options? No need to panic!
After reading this article, you'll have all the information necessary to identify the best greenhouse kits on the market.
Best-Of by Category
Best Greenhouse Kits to Buy
Now that you have an idea of how to choose the right structure for your backyard, here are some of the best greenhouse kits you can check out.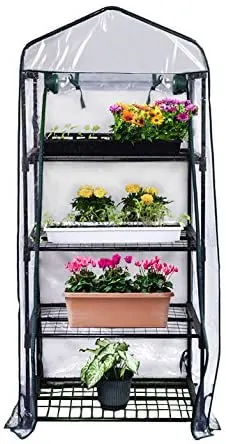 This is our first choice greenhouse kit, and that is also the most sought after brand in the market. This greenhouse kit by Gardman is a 4.2-star rated structure on Amazon and is also one of the most reviewed greenhouse kits.
Some of the outstanding features of this product include:
Comes as a pack of two structures of 27″ Long x 18″ Wide x 63″ High
Perfect for small spaces including small backyards, patios or even balconies
Offer ideal conditions to give your seeds and seedlings the best early start
Built from a clear polyethylene cover with a roll-up zippered entrance for easy access
Made of a sturdy push-fit cylindrical steel frame that is easy to assemble even without any tools.
If you are looking for something that will fit in your limited space, this one is a great greenhouse kit option for you.
See Related: Greenhouse Costs Guide: Cost to Build, Own and Operate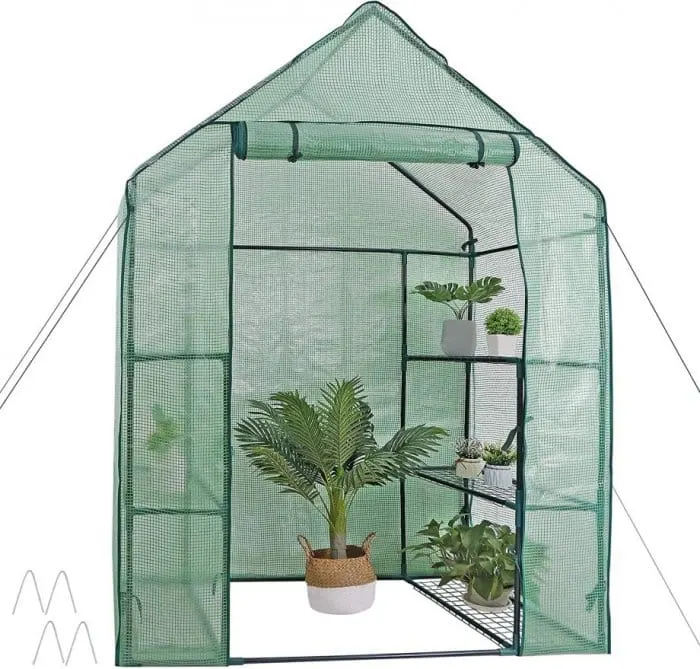 This Mini Garden is another excellent greenhouse kit for those people with limited space but still wish to have the sense of a garden in their backyards. Some of the most attractive features of this greenhouse kit include the following:
3 Tier 6 Shelves with a Roll-Up Zipper Door
Size: 9″ L x 28.3″ W x 75.59″ H, ideal for balconies, patios, and gardens.
Water-resistant cover: protects your seedlings and plants against any harsh weather element. This guarantees healthy plants all year round.
Sturdy construction: The greenhouse is lightweight yet quite sturdy to ensure durability. The shelves are of high quality and are made to hold multiple seed trays or plant pots.
Portability and ease of assembling: You can easily break it down and assemble it again without requiring any tools.
Attractive design: Its walk-in design allows even large plants enough space and ventilation for better growth. The Zippered roll-up entrance also offers easy access to your plants.
This is one of the greenhouse kits that will make your gardening endeavors even more enjoyable.
See Related: Easy Plant Propagation Techniques to Start Today
If you want to start gardening as soon as possible and wish to avoid the hustle of assembling, then the Home-Complete's HC-4202 Walk-In Kit is a perfect choice for you. With this brand, you walk home with a fully built greenhouse ready for use.
Some of the other reasons why we love this greenhouse kit include:
It is perfect for indoor and outdoor gardening, meaning you can have green vegetables in and out of season.
It has eight sturdy built-in shelves for placing your seedling trays and plant pots
Heavy-duty construction
You can easily assemble it without any tools, which also favors rookies
It is a ready-to-use greenhouse kit with dimensions of 56.3″ by 56.3″ by 76.7."
Durable materials that ensure healthy plants away from harsh weather elements
If you are a beginner, try this best-selling greenhouse kit from Home-Complete and enjoy fresh produce year-round. It's one of the best heavy-duty greenhouse kits in the market.
See Related: Best Boots for Working in a Greenhouse
Quictent is a well-known company that has been operational for almost two decades now. With their vast experience in making tents, the company boasts in making one of the most sought after greenhouse kits.
Their Large 12′ X 7′ X 7′ Portable Greenhouse is a 3.8 stars rated product in Amazon, with over 500 ratings. This superior greenhouse is built with a sturdy, steel framework and middle rails that offer the desired stability against multiple weather elements.
Other features that make this greenhouse kit unique are:
Two double zippered openings, one in the front and the other one at the back
Reinforced polyethylene cover (transparent) that is 100% UV and waterproof
Portable and easy to install
Includes a worry-free warranty with an effective and responsive after-sales service
The greenhouse is ideal for either starting or protecting plants for healthy growth.
See Related: Best Greenhouse Plastic Sheets for Protection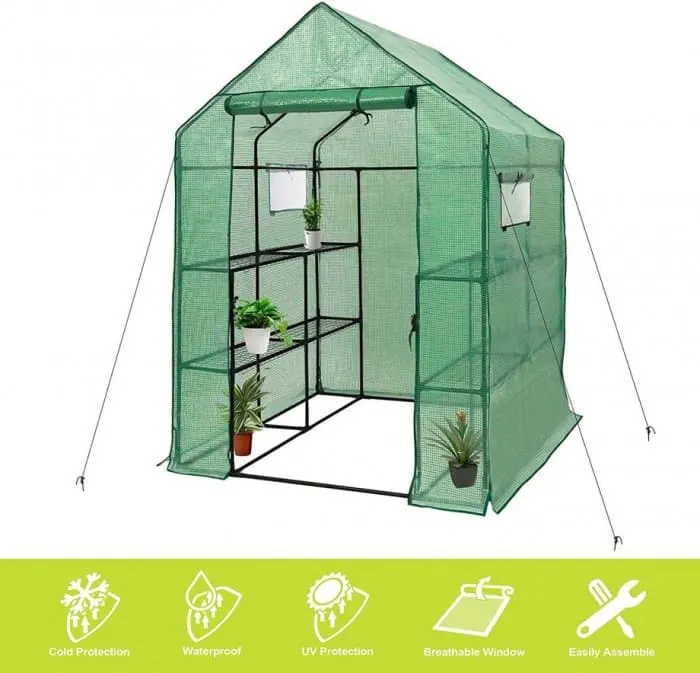 This is a highly-rated greenhouse kit on Amazon, which is perfect for protecting your plants and offering enhanced growth. Whether you place it in your garage during the cold winter or outside in hot summers, this structure offers the ideal conditions for your plants. If you want to extend your productive season or protect your plants, this is an excellent greenhouse choice.
What do we like about the Deluxe Green House?
It's incredibly lightweight thus quite portable
Perfect for any weather
Enough space: Measures 56 "W x 56" D x 77 "H and is built with six wired shelves on each side
A sturdy framework made from heavy-duty steel
Easy access due to its zippered roll-up entrance
Easy to either set up or break down with no tools necessary
You can easily set up the greenhouse yourself without requiring any professional help.
See Related: How to Grow Sugar Cane Indoors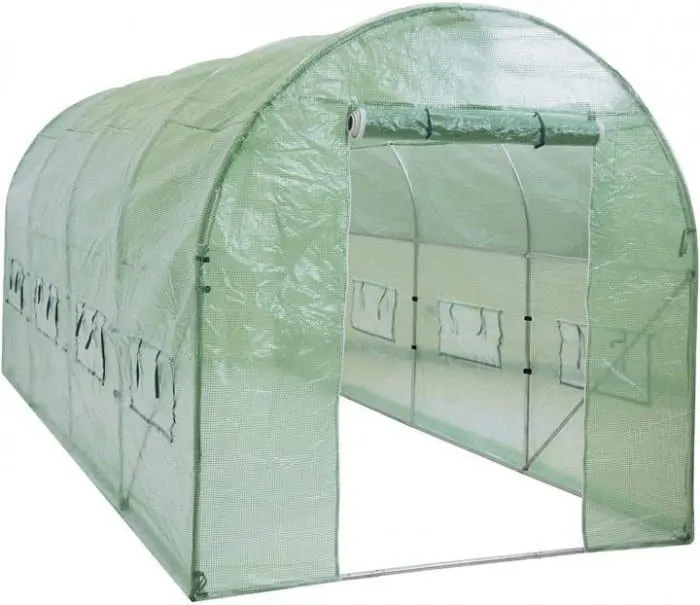 This Walk-in Tunnel Tent greenhouse is considerably lightweight and portable even with its large size (15 x 7 x 7 ft.). It also offers enough space to accommodate a large number of plants that you might wish to grow.
With its robust metal framework, durable cover, and wide entrance, this greenhouse kit offers the best place to grow and care for your plants. The greenhouse cover is also built to offer excellent light and heat management for healthier plants.
And, since the structure is spacious enough, you can even plant various growings like fruits and tomatoes straight from the ground without needing pots or trays.
You can grow vegetables in ground vessels or even construct some shelves for more space. This structure is ideal for individuals with enough space to place it as it's relatively large.
What makes this greenhouse unique?
Spacious design that allows you to grow many crops
Built with weather-resistant materials
Supports multiple planting techniques
Able to regulate moisture, heat, and light for health plants
Durable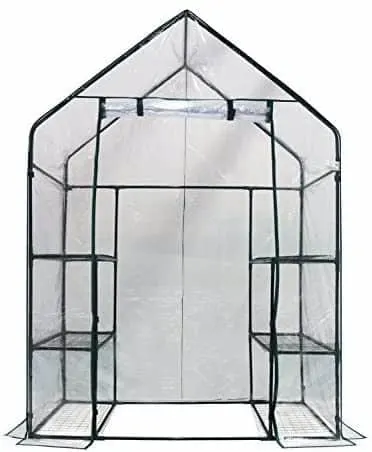 With small greenhouse kits like Quictent Store Walk-In, space is never an issue. Even for people with limited space but who wish to practice eco-friendly home gardening, these mini-greenhouses make it possible. The structure is 4.7 x 4.7 x 6.4 FT, making it ideal to install on balconies, patios, and small backyards.
This greenhouse offers the best environment for nurturing plants of almost any kind. Its small size makes the greenhouse suitable for use both indoors and outdoors. Other features that make the kit unique include:
Durable with minimal maintenance needs
Non-toxic material, thus safe for food production
Heavy-duty metal shelves.
A sturdy powder-coated framework that is resistant to weather elements
Zippered entrance
The greenhouse allows you to grow your vegetables all year round without cluttering your space.
See Related: How to Start Growing Mushrooms in a Greenhouse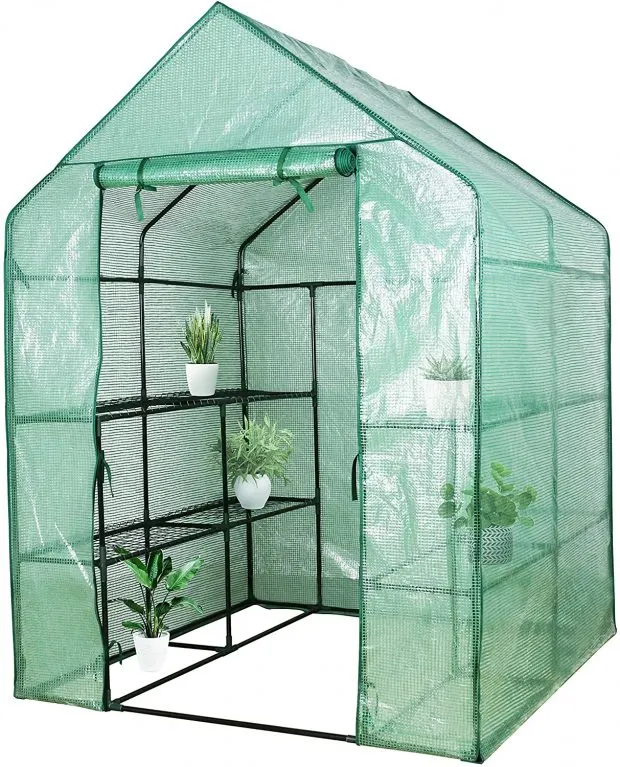 Are you looking to transform that idle space on your patio or backyard into a productive space? This Walk-in Greenhouse by VEIKOU can be just that solution you've sought. The 56″ by 56″ by 77″ structure offers the best space for those who want to farm at home.
This greenhouse kit is perfect in various ways, including:
Compact size that can fit in limited spaces (56 "W by 56 "D by 77 "H)
Eco-friendly PE material: water and UV-proof, offering the best thermal insulation, non-toxic, sturdy, and durable.
Excellent ventilation design with internal ventilation
Zippered door
Lightweight, portable, and easy to set up
In winter, you can easily move the greenhouse indoors to shield the crops from the extreme cold weather.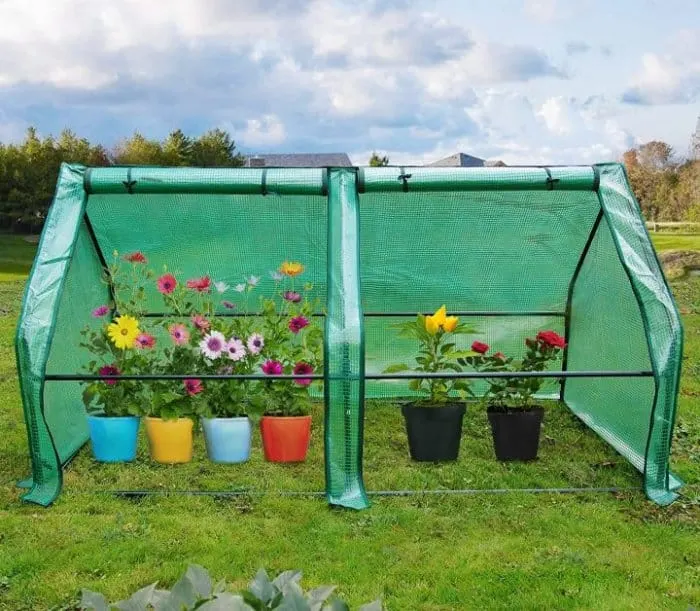 Quictent's Portable Cloche Greenhouse is one of the most versatile greenhouse kits that work perfectly outdoors. The greenhouse offers enough space for the healthy growth of at least five medium-sized plants. It, however, lacks in-built shelves and thus requires you to place the plant pots or trays on the garden floor.
What we like about this greenhouse kit:
Large zippered doors that allow easy access to plants
Offers a guaranteed 95% germination rate which is way higher than in most other models
Durable material that is resistant to rapid tear or fading due to weather elements
Built with a sturdy frame that is ISO 9001:2000 certified
Lightweight and portable
If you need a durable, easy-to-install greenhouse kit, you can check out this 4.1-stars-rated Portable Mini Greenhouse by Quictent.
See Related: Best Indoor Greenhouse Kit with Lights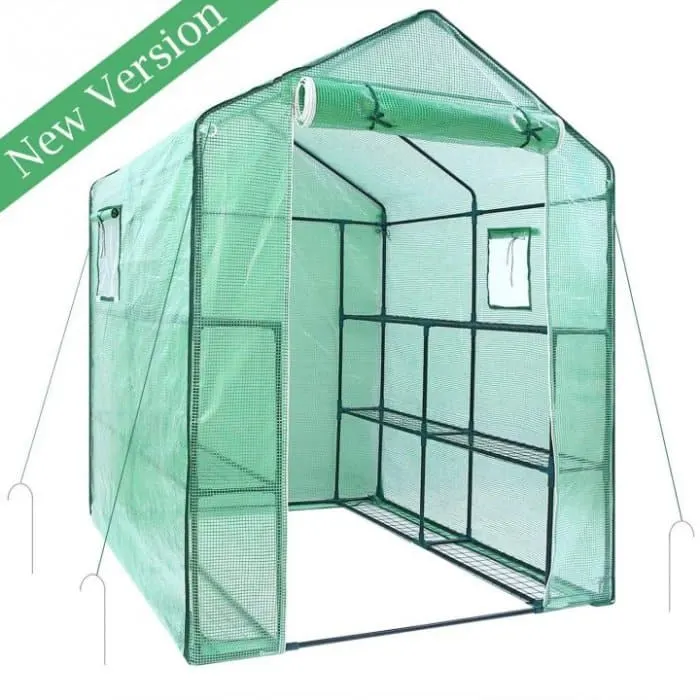 Last but not least, on our list of best greenhouse kits is the Ohuhu Large Walk-In Greenhouse. This greenhouse kit, just like the rest in this list, is built to offer the most favorable conditions for the growth of healthy plants. It protects your plants against various harsh weather conditions, extending your gardening season into an all-year-round one.
The greenhouse kit is ideal for growing your plants in any weather. And it is sturdy and durable, ensuring continued gardening for you.
Other attractive features of this kit include:
Ample size- 55.5" (L) x 56.3"(W) x 76.8" (H),
Fitted with 12 wired shelves that allow you to place your small plants and gardening tools easily
Long-lasting design
Zippered roll-up entrances plus two Velcro windows
Perfectly suited for protecting your plants and starting seedlings
Stable PE Material that is both water and UV-resistant
What are Greenhouse Kits?
Greenhouse kits are structures that enable you to grow healthy plants right in your backyard all year round. They are complete sets of ready-made greenhouse parts that require a simple assembly to get your functional greenhouse.
They are perfect for you, especially if you aren't handy with tools or don't want to go through the hustle of constructing a greenhouse from scratch.
A greenhouse kit allows you to enjoy fresh produce throughout the year, regardless of season. These structures are built in a way that provides a stable, warm environment for potted plants to flourish in all seasons.
Before transferring them to the garden, they offer a controlled environment that can also be used as a nursery for various potted plants, such as tomatoes and peppers. So, if you live where finding fresh vegetables is a hustle, a greenhouse kit can be the best solution for you.
Things to Consider When Buying a Greenhouse Kit
Although installing a greenhouse in your garden can have significant benefits, it's also a big decision that needs some consideration. There are several factors you must consider before you purchase that greenhouse kit. These may include:
Functionality
What do you want the greenhouse kit for? This is the first determinant when choosing the best greenhouse to buy. You have to pick a structure that best fits your needs.
For instance, if you need a greenhouse kit to help you extend your harvesting season, a small cold greenhouse will suffice.
If, on the other hand, you need a structure that will hold various tropical plants for an entire year, a larger, weather-resistant one will be necessary. You might also want to use the greenhouse kit in more ways than growing vegetables.
Let's say use it as a relaxing site when taking your coffee or entertaining some friends with your beautiful potted plants. If that's your intention, you'll need to consider the size and aesthetics of the greenhouse.
All in all, it's prudent to know what exactly you want with your greenhouse, to be able to make the best pick. Check these different types of greenhouses out there if you need an understanding of flexibility and structures.
Size
What are your gardening plans? How many seedlings are you planning to grow in the greenhouse kit? These, together with the size of your backyard, will determine the size of the greenhouse kit you install.
Many people usually start with small greenhouse kits or use indoor greenhouses with lights but wish they had purchased a larger-scale outdoor greenhouse. This is after they realize the many benefits of growing crops in these structures.
And, although a larger greenhouse kit means you'll part with more money, it is, in most cases, worth the cost. Size is, therefore, a vital factor that one must consider before they decide to install a greenhouse.
Appearance
Appearance matters a lot, especially for people who want to maintain a certain look for their homes. How will the greenhouse kit change the setting of your backyard?
Remember that this structure will be in your backyard for quite some time. For this reason, you should consider choosing a structure that blends well or adds more beauty to your home. You don't want to install something that you'll want to uninstall after just a few months.
Price
This is arguably the most obvious factor you should consider. You need to budget and know how much it will cost you to install the greenhouse.
Planning will help you avoid leaving the project halfway due to the rise in the price of some materials during construction.
Depending on your budget, you can choose a greenhouse kit that fits your financial limits. This way, you won't overspend. Many great greenhouse kits will fall within your budget if you take the time to shop around.
Helpful Tips for Buying Your First Greenhouse Kit
When looking to buy your first greenhouse kit, it's important to consider a few factors. The first thing you'll need to think about is the size of the greenhouse kit you need.
Some greenhouses are small and only accommodate a few plants, while others are large enough to grow an entire garden. Evaluate your available outdoor space to determine how much greenhouse gardening you can fit in your backyard.
Also, consider the weather and climate of where you will be using your entire greenhouse. In colder climates, you may consider starting with a small greenhouse since you will have more input costs like temperature control during winter and fans or roof vents for warm weather.
Another thing to consider is the material the greenhouse kit is made from. Some greenhouses are made from plastic, while others are made from metal or glass. Each material has its benefits and drawbacks, so it's important to choose the right one for your needs.
Finally, you'll need to consider the price of your greenhouse kit.
Types of Greenhouse Kits
There are several different types of greenhouses that you should consider and know before making a buying decision. Here are some of the most well-known options:
1. Small greenhouse kit
Small greenhouse kits are perfect for those with limited space or who live in a colder climate. These greenhouses are typically made from plastic and are designed to accommodate a few plants. They are often lightweight and portable, making them easy to move around.
2. Backyard greenhouse kits
If you have plenty of space in your backyard and live in a temperate climate, a backyard greenhouse kit may be your best option. These greenhouses are typically made from metal or glass and are large enough to accommodate an entire garden. They often come with shelves and other storage options to help you organize your plants.
3. Large greenhouse kits
Large greenhouse kits are perfect for those with much space who want to grow an entire garden. These greenhouses are typically made from metal or glass and are large enough to accommodate an entire garden. They often come with shelves and other storage options to help you organize your potted plants.
4. A portable greenhouse kit
A portable greenhouse kit is a great option for those who want the benefits of a greenhouse but don't have a lot of space.
These greenhouses are typically made from plastic and are lightweight and easy to move around. They often come with shelves and other storage options to help you organize your plants.
5. Glass greenhouse kit
Glass greenhouse kits are popular among gardeners for a variety of reasons. Made from glass, they are lightweight and easy to move, making them a great option for those who don't have a lot of space. Glass greenhouses are among the most beautiful options, adding a touch of elegance to any garden.
In addition, they are typically equipped with shelves and other storage solutions to help you manage your plants. Whether you're looking for a place to grow delicate flowers or tropical fruits and vegetables, a glass greenhouse kit is a great choice.
6. Polycarbonate greenhouse kit
Polycarbonate greenhouse kits are a great option for those who want the benefits of a greenhouse but don't have a lot of space. These greenhouses are typically made from plastic and are lightweight and easy to move around. They are usually aligned with polycarbonate panels that protect your greenhouse from high winds and heavy snow.
Polycarbonate greenhouse kits can be expensive, but they will last longer than cheaper alternatives and provide you with many years of use.
If you are serious about starting a garden or expanding your current one, a polycarbonate greenhouse kit is a great option.
7. PVC greenhouse kit
PVC greenhouse kits are an increasingly popular option for gardeners looking for an affordable, easy-to-assemble greenhouse. PVC pipes are lightweight yet strong materials that are easily cut to size and assembled using PVC connectors.
PVC greenhouse kits typically include a PVC cover, a set of pipes, connectors, and clamps. Some kits also include a PVC base and cap. The base helps to keep the PVC pipes in place, and the caps provide added stability.
The clamps provide a watertight seal between the PVC pipes and the connectors. PVC greenhouse kits are an effective way to create a greenhouse because they are easy to assemble and provide a strong and durable structure. Also, PVC is a low-cost material that is widely available.
8. Lean-to greenhouse kit
A lean-to greenhouse kit is a perfect option for gardeners with limited space. This type of greenhouse kit is attached to the side of a building, which makes it ideal for small yards or gardens. Lean-to greenhouse kits are also very affordable and easy to assemble.
The lean-to design maximizes space and sunlight, and the polycarbonate panels provide excellent insulation. Lean-to greenhouses are an ideal way to extend the growing season and protect tender plants from harsh weather conditions.
With a little creativity, lean-to greenhouses can be used as an extension of your home, a place to relax and enjoy the beauty of your garden year-round.
No matter what type of greenhouse kit you choose, make sure it's the right size for your needs and that it's made from a durable material that can withstand the weather conditions in your area.
What's the best greenhouse kit?
When putting greenhouses in your home, figuring out how many forms, sizes, and costs might be daunting. The ideal greenhouse kit is determined by a number of criteria.
Do plants grow faster in greenhouses?
While plant growth are typically faster in a greenhouse, there are a number of factors that will affect the rate of growth. The size of the greenhouse will have an impact, a large greenhouse will typically experience faster growth than smaller ones.
The type of plant will also play a role, with some species growing more quickly than others. In addition, the climate inside the greenhouse can be controlled more easily than outside, leading to faster growth.
However, it is important to note that plant growth in a greenhouse can vary depending on the conditions, so it is important to experiment and monitor the plant's progress to ensure optimal results.
Glass Greenhouse vs Plastic Greenhouse: What is Better?
Glass greenhouses are typically made with either double-glazing or triple-glazed panes of glass. Double glazing is two panes of glass with a space in between them, while triple glazing is three panes of glass. Greenhouses made with plastic are usually made with polycarbonate, a type of plastic.
Glass greenhouses are more expensive than plastic greenhouses but have better insulating properties. Glass is a better insulator than plastic, so it keeps heat in the greenhouse better.
Glass greenhouses are also more durable than plastic greenhouses. Polycarbonate can be easily broken, but it is more resistant to wind damage than other plastics.
The Best Accessories for Your Greenhouse
These kit options are a good place to start if you want to extend your growing season. Nonetheless, there are a few more things to consider if you want the most out of your garden.
Heating
If you live in a very hot climate, your chances of producing veggies in your greenhouse at night are slim. In areas with short growing seasons, a heating system may be required to get seeds to maturity before the winter freeze begins.
Heaters with higher temperatures are perfect for use in a greenhouse. This provides you with a pleasant environment without increasing your maintenance expenditures.
Grow Lights
LEDs are more efficient than previous grow lights like HPS lights and use less power. This means you'll save money on your utility bill, and your plants will develop faster. LED grow lights also generate next to no heat, so you won't have to worry about them getting too hot.
You can find grow lights in a variety of colors, so you can choose the ones that best suit your needs. Whether you're looking for full-spectrum grow lights or grow lights that emit only a specific light color, you can find what you need.
Grow lights are an essential part of any greenhouse, and they can help your plants grow more quickly and vigorously as long as you avoid harmful UV rays.
Air movement
Maintaining air circulation in a greenhouse is important for the plant's health. When airflow is insufficient, the leaves of the plants can become deficient, and the CO2 levels can become contaminated.
Oscillating fans help keep air moving, making these problems less likely to occur. In addition, circulating air helps regulate the temperature inside the greenhouse, promoting plant growth.
By ensuring that air flows freely throughout the space, growers can create a more optimal environment for their plants. In order to save money on electricity, we recommend using solar fans in your greenhouse to ensure proper airflow.
The market is bombarded with numerous brands of greenhouse kits. This can make it quite hard to choose the right greenhouse kit to buy.
But, looking at the various online greenhouse kit reviews and user comments, we have compiled this list that represents some of the best greenhouse kits available.
FAQ
What is the best material for a greenhouse?
There are a few different materials that greenhouses can be made out of. The most popular and widely used material is polyethylene, a plastic type. Polycarbonate is another type of plastic that is used to make greenhouses, but it is not as common as polyethylene. Metal and glass are also materials that can be used to make greenhouses, but they are not as common as plastic.
What size greenhouse should I get?
The size of the greenhouse will depend on the amount of space you have available and the number of plants you want to grow. If you only have a small amount of space, then a small greenhouse kit with a durable steel frame would be a great option such as a lean-to greenhouse.
Are greenhouse kits worth it?
Greenhouse kits can be a great way to grow plants that wouldn't normally thrive in your climate. They can also be a fun project for the family, and they provide a great opportunity to teach kids about gardening and plant care. Before buying a greenhouse kit, make sure you have enough space and time to maintain it.
Related Resources