What is the best greenhouse plastic for maximum results? This detailed guide on greenhouse plastic offers answers to this question and more.
An increasing number of people around the world are turning to greenhouse farming to produce their food. Why? Because greenhouse farming allows you to save on groceries while at the same time offering you an opportunity to sustain a healthy diet.
Also, you do not need a large space to do greenhouse farming. Greenhouses help to keep a controlled environment where you can plant crops all year round. They also minimize or eliminate problems associated with the weather such as lack of rain, harsh temperatures, and pathogens.
In the past, greenhouses were difficult to set up and maintain because most were made using glass or fiberglass. But with recent innovations in farming technology, plastic has become a more suitable alternative. So, which are these alternatives?
Best-Of by Category
Best Plastic Sheets for Greenhouse
This article explores the 10 best greenhouse plastic you can use to build your greenhouse. They include: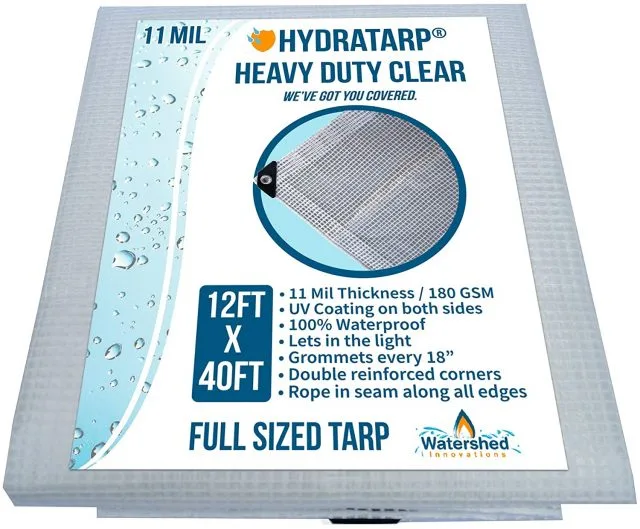 This Heavy-Duty Greenhouse Tarp is made by combining different plastics for extra thickness and sturdiness. At 10 millimeters thick, it is way thicker than many other types of plastic sheets.
And to enhance stability and rigidity, the manufacturer has used industrial-grade materials.
Also, the corners are doubly reinforced, and the outer edges are sealed using heat to prevent collapse. In addition, the support grommets are made of high-quality aluminum, which is rust-free. The grommets are placed at intervals of 16-inches.
There is a mesh weave running through the entire tap, which adds durability and facilitates transparency. The mesh is very light and it, therefore, doesn't add extra weight.
This greenhouse plastic also has UV protection. Meaning, it will serve you for quite a long time if well maintained. The installation process is quick and easy and you do not even need any technical support.
See Related: Best Lean To Greenhouses | Side of House Options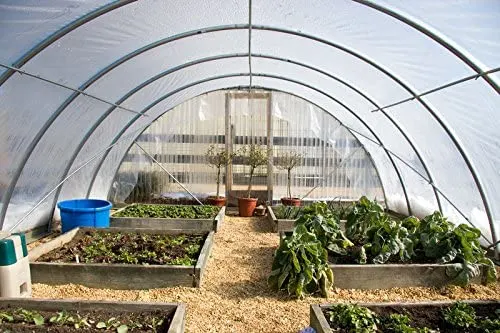 One of the stand-out features of this greenhouse plastic sheet from Farm Plastic Supply is its transparency. It lets in more light compared to other brands, most of which are either translucent or even opaque. This extra sunlight is good for your crops.
It is UV treated to resist sun damage meaning it can last longer. According to the manufacturer, it can serve you for over 4 years. It is made of polyethylene plastic and therefore it is not very rigid.
It has 6millimeters thickness, which makes it still rigid enough to withstand heavy rain, high winds, and even snowfall.
The fact that it's made from polyethylene greenhouse plastic also means that it is very easy to repair.
So in case, this greenhouse film gets damaged, a little patchwork is enough to keep it going. The set-up process is very easy, making one of the best greenhouse plastic available.
See Related: 10 Types of Greenhouses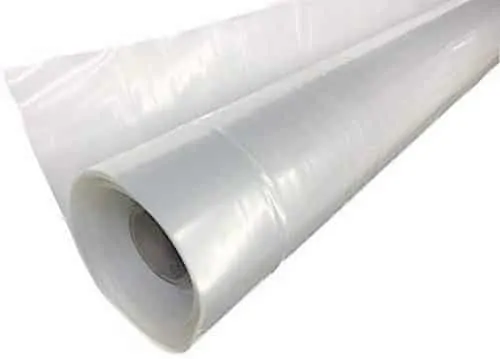 This greenhouse plastic sheet has a thickness of 6millimeters. This means it is thick and strong enough to withstand high winds, heavy rain, and snow.
This not only keeps your plants protected, but it also regulates the atmosphere inside it creating an optimum environment for your plants.
It has built-in UV resistance that protects the sheet from sun damage. It will serve you for at least 4 years before demanding a replacement. And although it's not as transparent as other plastics, it's still clear enough to let through sufficient light.
This plastic sheeting film measures 10 feet by 10 feet and has a total weight of 5.7 pounds. It is, therefore, light enough to be fixed on a frame without worrying about weight.
It's also rust-and weather-proof so your crops will be safe from the vagaries of weather and pathogens.
See Related: What is Polyvinyl Alcohol (PVA)? Applications & Environmental Impact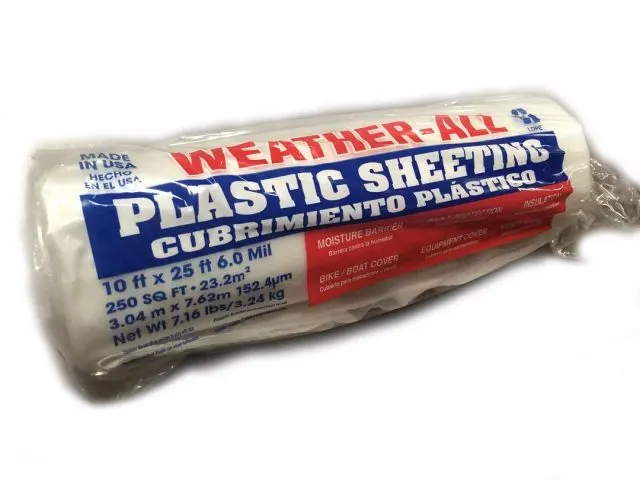 TRM Manufacturing uses high-quality materials to make their products. This one is, therefore, one of the best plastic sheeting for greenhouses.
It is made from recycled plastic, which means that by buying it, you're promoting environmental conservation. It can be used for a wide variety of applications including greenhouse farming.
This plastic has a standard thickness of 6 millimeters, 10-inch width, and 25-inch length. The manufacturer can also build custom sheeting to fit your specification if you so wish.
This plastic sheet is slightly translucent compared to other greenhouse plastic films. But, this doesn't make it any less ideal for a greenhouse. It still lets in enough light for plant photosynthesis to continue uninterrupted.
However, it lacks UV protection, which means it may not last long in harsh sunlight. The good news here is that the price is really low. This means that you won't feel much pinch when the time comes to replace it after a few years.
See Related: 10 Best Mini Greenhouses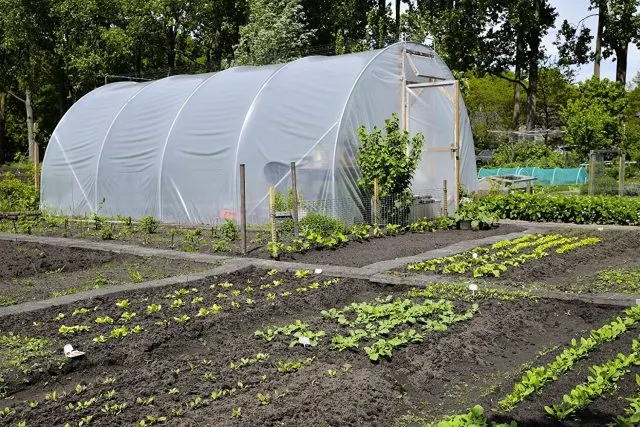 The Ecogardener Greenhouse Clear Plastic Film is used for a wide variety of greenhouse applications. But it is ideal for the farming of vegetables and flowers.
It has been manufactured in close adherence to industry stands for thickness, transparency, and durability. It can be used for a kitchen garden or even commercial farming.
The plastic has a thickness of 6 millimeters, which provides excellent light transmission for optimum greenhouse conditions. And like many other greenhouse plastic sheets, it is UV treated to offer protection from the sun. It can last for over four years as long as you clean it regularly.
Another very special feature of this greenhouse plastic is that it offers anti-condensation. Condensation affects the transmission of light in greenhouses and may lead to plant diseases.
Being one of the best greenhouse plastic in the market, it tackles this problem by limiting water droplets from forming inside the greenhouse.
See Related: Greenhouse Cost Guide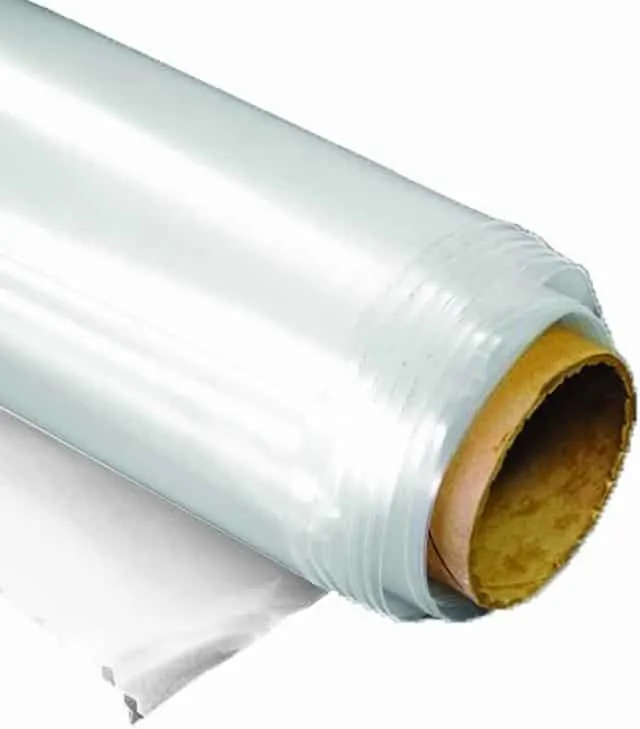 This greenhouse cover from Sunview is also made from low-density polyethylene plastic. Therefore, it is very clear and offers higher light transmission. This ensures that your plants grow in an optimally conditioned environment.
It unfolds quickly and easily for easy set-up. It is also tough and can withstand any type of weather for over 4 years. In fact, with extra care, such as regular cleaning with soap and water, it can serve you for longer than indicated.
As one of the best greenhouse plastic, it has an infra-red additive which helps to regulate the greenhouse environment. So whether it is summer or winter, you can still grow your crops without worrying about the temperature. Sunview Greenhouse plastic also has UV resistance, for sun protection.
Do not use this film directly on a metal or PVC pipe frame as this may affect its longevity and void the warranty. You can treat your frame with a primer or cover it with pipe foam to prevent that.
See Related: 7 Best Aerogarden Pods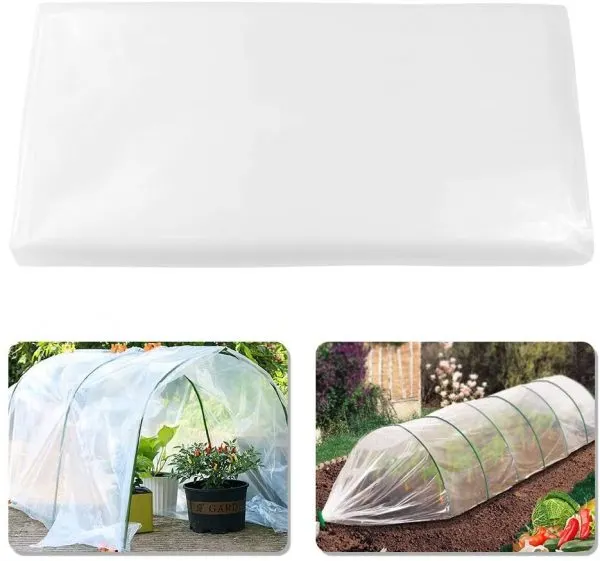 The YBB Clear Plastic Greenhouse Film is one of the most affordable in the market. The manufacturer has made it from polyethylene of the highest quality to make it stronger and more durable.
This plastic is UV-treated meaning it can withstand sunlight even in very hot summers. It is also clear and it lets through sufficient light for your plants.
Most greenhouses don't last long due to the accumulation of dust but this greenhouse has been ionized to make it dust-proof.
It is also ant-drip, meaning it prevents the formation of condensation inside the greenhouse. Condensation droplets are not good for crops as they distort the moisture balance and may even introduce mold into the greenhouse.
It has a 6-millimeter thickness, which is the industry standard.
This means it won't puncture easily and can hold up to harsh weather. This greenhouse is well labeled to indicate the side that faces in or out.
See Related: Best Things to Grow in an Aerogarden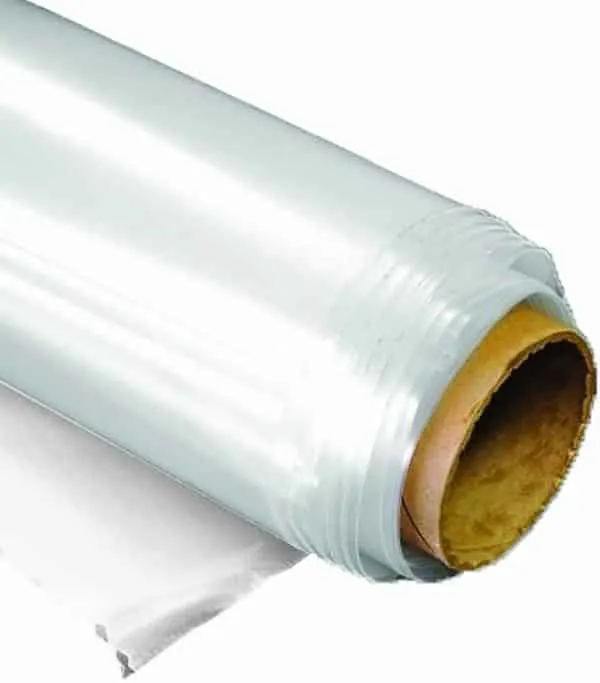 Grower's Solution uses the latest plastic technology to manufacture some of the best plastic sheets for greenhouses, like this one. It is strong and tough enough to withstand all weather conditions. It offers higher light transmission making it comparable to glass or fiberglass sheeting.
This Greenhouse Clear Plastic Film has a thickness of 6 millimeters and has infra-red additives that maintain a stable greenhouse environment and minimize heat loss.
It also has advanced UV resistance and has been proven to last longer than standard polyethylene sheeting. This is why we've considered it among the best greenhouse plastic.
It rolls out easily and so installation is not an issue. But keep in mind that it should not touch PVC piping as this will damage the film and void the warranty.
You can use things like a primer or felt to break the contact.
See Related: What is Polyvinyl Alcohol (PVA)? Applications & Environmental Impact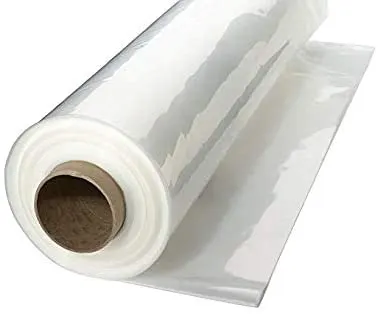 This Green Store Greenhouse Plastic has special features that make it ideal for any greenhouse grower. To begin with, the manufacturer has employed a 5-layer greenhouse film technology to make it tougher and more durable.
It is transparent and UV resistant meaning it is protected from UV damage. It can last beyond 4 years. And, you can extend its life by cleaning it with just soap and water.
The 6-inch thickness of the plastic makes it suitable for all seasons, as it keeps your greenhouse warm in winter, and cool in the summer.
As with the other polyethylene greenhouses mentioned before, you should not let this plastic come into direct contact with PVC frames.
Use primer or other products that prevent contact to ensure that your plastic lasts longer.
It measures 12 feet by 25 feet and has been marked to show which side goes inside. Installation should be very easy.
See Related: What is Polyvinyl Alcohol (PVA)? Applications & Environmental Impact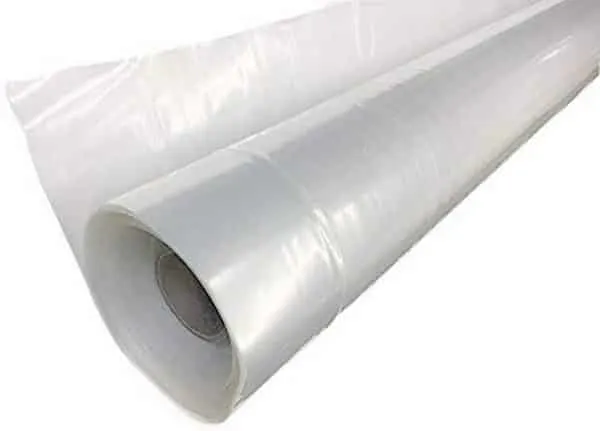 Truecharms greenhouse plastic sheeting is made of polyethylene, the standard material in most greenhouse sheets. This makes it fairly inexpensive but durable enough to last you a few years. The manufacturer offers a 5-year warranty, which shows high confidence in the product.
It also has a high degree of transparency meaning sunlight penetration is superb. It is thick enough to hold up to harsh weather such as strong winds and snow. The thickness also helps to keep the greenhouse insulated especially during the cold seasons.
Also, the sheet is UV protected for a longer lifespan. You can prolong its lifespan just by cleaning the film with soap and water.
The sheet is 12 feet wide, but it has varying length options depending on your needs. For easier installation, there is a label to indicate the side of the plastic meant for the interior, as well as the exterior.
See Related: Best Greenhouse Accessories
Things to Know When Buying Plastic For a Greenhouse
Here are 4 of the most important things you need to know in determining what plastic is best for greenhouses.
· Materials
There are different types of plastic to use in the greenhouse. They include polyethylene, polyvinyl carbonate, and polycarbonate. Polyethylene is the standard material in most greenhouse plastics.
It is thinner, less expensive, and easier to repair compared to the other materials. It is also more transparent, although not as durable.
Polyvinyl carbonate and polycarbonate are more rigid and hence more durable. However, they are more expensive and not readily available like polyethylene.
· Thickness
The thickness of greenhouse plastic determines the strength of the material as well as the temperature of your greenhouse. The industry standard for thickness is 6 millimeters. But, you can buy a thicker or lighter one depending on your needs.
If you live in an extremely cold area, you can get a thicker one that will retain more heat. Lighter plastics are more suitable for warmer areas, and they also allow in more light.
· Transparency
Transparency is all about sunlight penetration. So the best greenhouse plastic should allow enough sunlight to reach the plants for photosynthesis to occur. Greenhouse plastics have varying degrees of penetration.
Therefore, go for those that allow high levels of sunlight penetration.
Typically, plastic sheets made from polyethylene allow in more light than those made from polyvinyl carbonate or polycarbonate.
· Coating Properties
There are some additional properties that you should look for in greenhouse plastic. UV protection, for example, is necessary to protect the material from sun damage. You can also consider getting plastic with an infra-red coating, especially if you live in very cold areas as it reduces heat loss.
Some of the best greenhouse plastic also has anti-dust properties to prevent dust accumulation and anti-drip properties to prevent water droplets from falling on crops.
With the proliferation of greenhouse farming, the use of plastic sheets and films is the way to go but, you should first find the right type of plastic.
Related Resources