Having access to fresh produce from your farm all year round is a desire for many people. But how can you guarantee this? Here are the best greenhouses that can ensure you have fresh plants no matter the season.
Do you want to garden all year round without worrying about climatic limitations? Then, a greenhouse is the best and probably the only solution.
But to harvest vegetables and fruits rich with nutrients or blooming flowers in and out of season, your choice of greenhouse matters significantly. If you ask any gardener out there, they will agree that getting a suitable greenhouse that rhymes with your needs is also difficult.
You must embark on serious research for you to be able to identify the best greenhouses among the extensive possibilities in the market. During your research, however, there are some vital differentiators that you must consider to help you make the right choice.
Here is where this guide comes in. We have compiled a list of the top greenhouses based on in-depth research, plus the various online greenhouse reviews from satisfied users. But before we look at the greenhouses, here are some crucial facts you must know before you make that purchase.
Best Greenhouses to Buy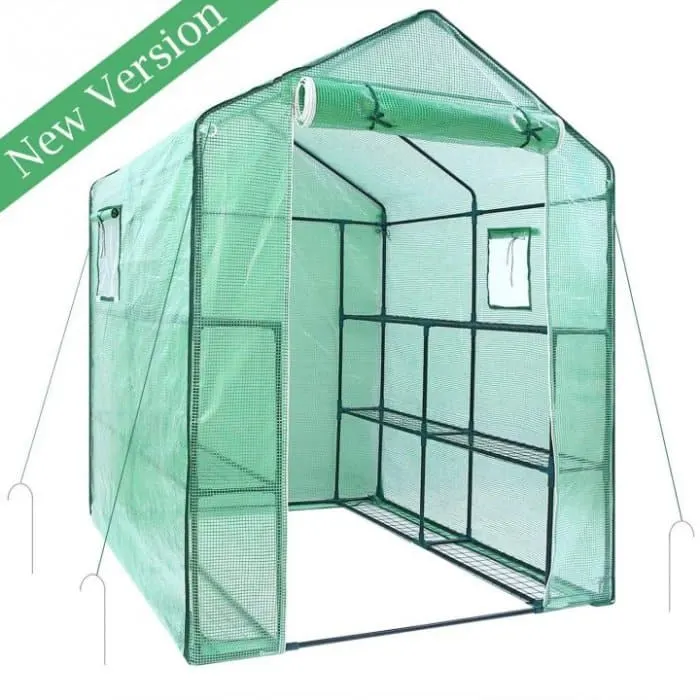 Our top pick is a portable greenhouse that uses space sparingly. Still, it's large enough to care for tender seedlings that can't compete for air, water, and warmth.
The structure has rock-solid stability to hold pots, plants, and seed trays. Thanks to the sturdy tubes, which weigh 18 lbs capacity. This is strong enough to withstand mild storms that move at 30mph. If you are still worried, it has additional tie-downs for more stability.
Nothing makes a gardener happy, like seeing plants growing well. The secret here is air circulation. Air movement in plants facilitates gaseous exchange, mitigates mold growth, and increases the weight of leafy plants.
Ohuhu greenhouse has leveraged the power of air movement since it is designed with zippered roll-up doors. The Velcro side windows perform the same function. It's, therefore, the perfect structure if you are planting nurseries or plants that need constant air circulation for optimum growth.
Advantages
Has a durable and upgraded cover that is waterproof and UV resistant
The frames are stable to avoid falling
It is easy to install
It has a convenient zipper for easy access
Disadvantages
The finish of the metal pole edge is not smooth on some bars
There is an irregularity of painting on the poles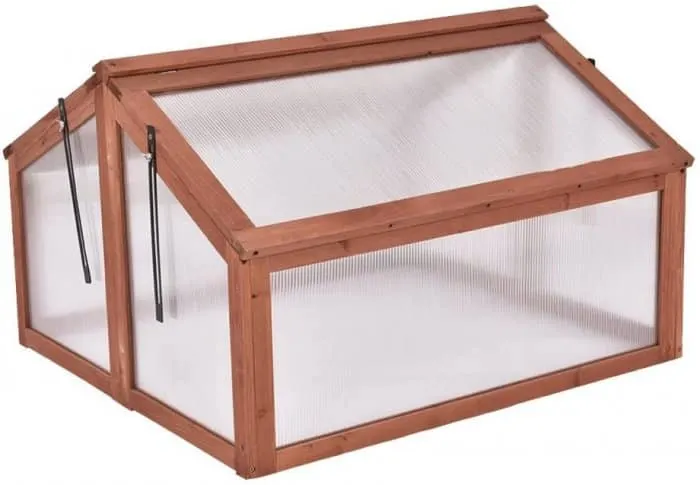 This is a small-sized wooden greenhouse that keeps plants warm and safe. It's not for large-scale use. From a closer look, it looks like a house decoration with a gardening touch.
The base is sturdy, and the covering is not vulnerable to UV degradation. The raised cold frame and foldable top are perfect for seedlings. You can open it on sunny days to let the young plants absorb light.
For such a small greenhouse, movement and assembling is not a hard task. It becomes even more manageable as all the parts are detachable.
Advantages
It's a high-quality construction
It's affordable since wooden greenhouses always have a hefty price tag
Has an excellent design with a top-notch finish
Disadvantages
The panels are made out of plastic
The timber is low-density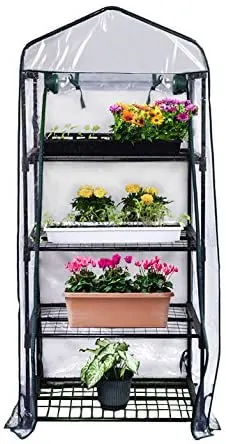 To some people, gardening is not something they think of doing for the long term. It's their love for plants that force them to purchase a greenhouse. It's these people that Gardman greenhouses tend to reach. Maybe you are looking for something simple and affordable that can hold a few of your favorite flowers.
First of all, it's incredibly lightweight, which means that setting it up is similarly straightforward. It's only 27 by 8 inches, which gives room for 4 shelves after rolling up the zipper door.
If getting that extra space is something you will mule over for long, Gardman has prioritized using the smallest area as much as possible. Your balcony is enough to hold the whole structure.
The greenhouse still has a robust tubular push steel frame even with all these. You need not worry about the small bugs or water that may damage your seedlings. The transparent polyethylene cover will keep all danger at bay.
Advantages
Disadvantages
Dirt and water can drip on the floor as it does not have a floor on the bottom
Shelves cannot hold too much weight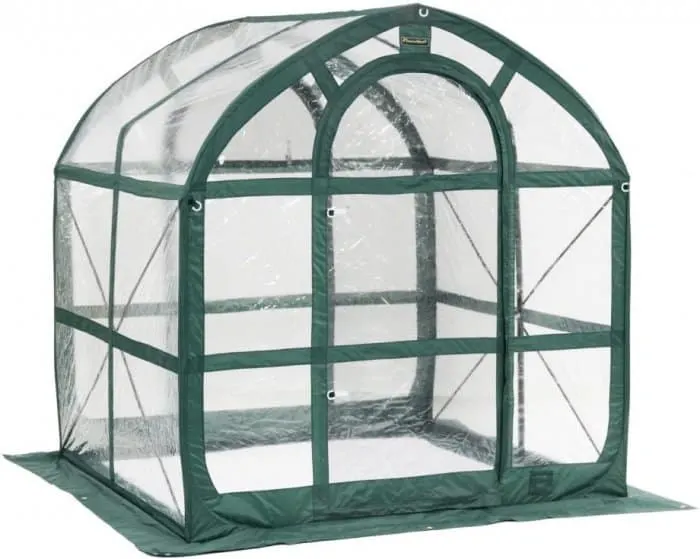 This is a perfect year-round greenhouse for herbs, flowers, and shrubs from the comfort of your lush lawn. Some flowers you can plant here are orchid springs, Amazon lilies, African violets, and Chenille plants.
As we said earlier, all greenhouses are environmentally friendly but not as good as the flower house greenhouses. Why so? It dramatically improves climatic conditions in all geographic locations.
This makes it possible to keep your plants and flowers fresh and beautiful. You can overwinter plants in other climatic areas because flowers bloom earlier during spring and summer.
Since Flower House greenhouses are small, you must be wise when organizing your planting. Using limited space as much as you can should be your goal. You will have to choose an ideal location: a raised garden bed with good drainage.
Advantages
An automatic overheat shut off
Easy to assemble
The ventilation system is powerful
Affordable for a little flower house
Disadvantages
Can't hold a variety of plants and flowers at once
Less durable than other options
See Related: Best Greenhouse Fogging Systems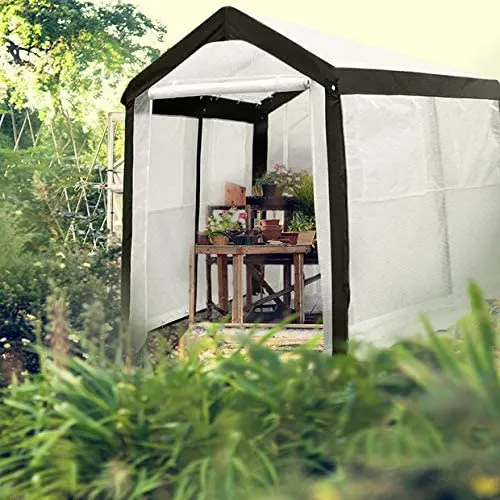 This greenhouse comes with large canvas panels that cover the whole structure. You will appreciate the spaces for windows and doors for free airflow. It's made with a modern style that looks good, hence something you can feel proud of when showing to others.
Talk of the robust PE cover that is made with a heavy-duty material! These ensure it does not give in to scratching or wear after prolonged use.
Also, its powder-coated frames prevent chipping and corrosion. This is an excellent choice if you live in areas with high humidity exposed to erosion agents.
The main problem gardeners face is dealing with unseen enemies who strike when least expected. Pests pose a significant danger to plants; sometimes, pesticides do not do much. To increase the effectiveness of the greenhouse, the manufacturer used insect nettings on the Velcro windows.
Advantages
It's simple to assemble and disassemble
Has a robust and high-grade construction
The materials are lightweight
The storage bag can fit anywhere in your house
Disadvantages
The frame is brittle which may be easily bent
The fabric does not last long as expected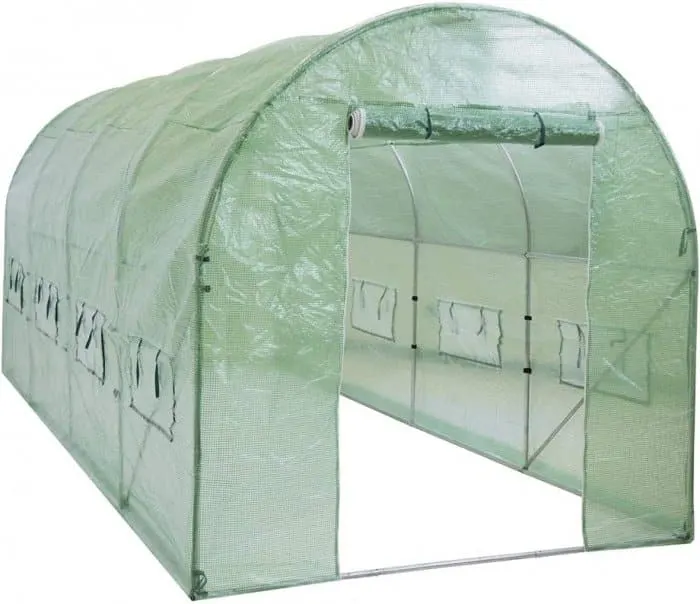 As the name hints, it's one of the best greenhouses to buy if you want to produce plants on a large scale. That's why it's designed with great resistance to external aggression.
The stainless steel protects it against rust and bad weather. Besides, powder-coated steel is very stable to support many plants at once. Also, don't let the hefty weight fool you that setting up the structure will be an uphill battle.
The dome-shaped design gives you ample space to organize your plant effortlessly. What's more? The different heights in the spaces allow you to store large plants side by side.
However, We know this can be a problem if you work with limited space. The design is attractive, and the external appearance gives someone a glimpse of what they expect to find inside the greenhouse.
Advantages
Highly resistant to rust
Spacious composition for numerous plants
Regulates the ventilation inside for optimal protection
There is no risk of injury if the glass breaks
Disadvantages
You may have problems with the ground attachment
The design for water flow allows "valleys" to form at the weakest location if there are heavy rains
See Related: Best Solar Heaters for Greenhouses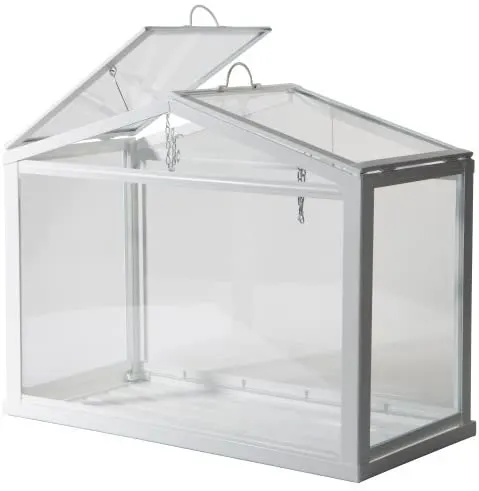 Although small, the Ikea Greenhouse is a greenhouse for all seasons, with 100 cm, 60 cm, and 40 cm dimensions. For those that have experienced its protection milestones, it's more than a cute indoor greenhouse. Why? It can fit in the backyard or lawn and does not require much maintenance.
Its chassis is made of aluminum polycarbonate, a robust material that will protect your precious plants. Plus, it ensures that you enjoy the service for as long as you use it. The opening is at the upper part to guarantee complete airflow to every part of the structure.
The feet are made of strong plastic. This can hold pressure from all plants. Besides, the base avoids movement during natural occurrences to prevent the falling of plants.
When installing the structure, you don't need a handyman. A quick tip: avoid sunny places and look for a flat surface when installing.
Advantages
The strong covering material is durable.
The plastic is clear for easy viewing
Very cute and makes the best gift
The installation process is fast
Disadvantages
You might have to use glue to increase the stability of the structure
The screws can get damaged if you tighten them too much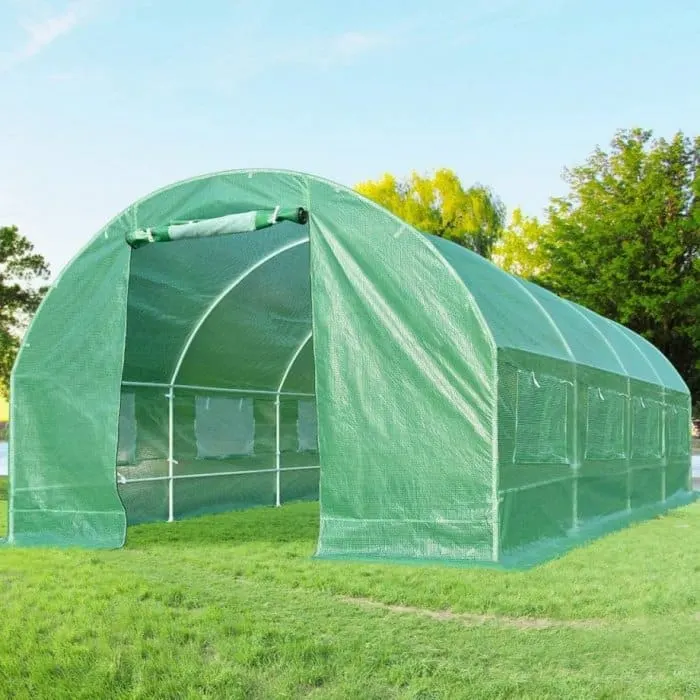 The physical features of the greenhouse constitute two doors on both ends for air circulation and ease of entrance and exit. It also has ten exhaust vents (2 on the doors and eight on the upper sides) for extra ventilation during hot days.
The doors on both sides make it easy for accessibility and airflow into the structure. When it comes to stability, which is a headache for gardeners living in tornado-prone areas, Quictent might help out a great deal.
Some of the features for extra support are ten bases and 20 stakes placed in essential positions. You will also see the upgraded pole joints. The three-corner and four-corner joints make the whole frame more stable.
You can take this friendly advice. Don't use the greenhouse in a wet condition to ensure the lifetime is not shortened. Also, it's advisable to purchase anchoring materials like stakes and weights to make stability effective. You can also go the natural way of surrounding the structure with compost and topsoil, which improves stability.
Advantages
Has a vast growing space for multiple plants
Has an excellent ventilation
Set up process is swift
Disadvantages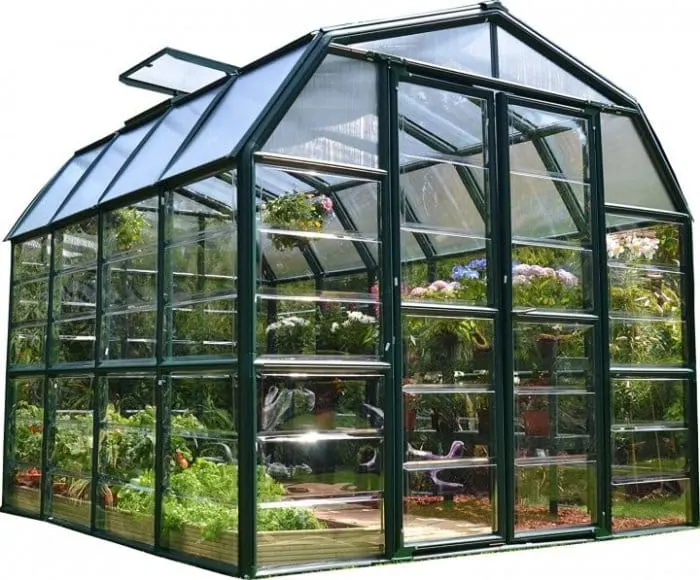 Rion Grand Gardener greenhouse features 4 mm solid polycarbonate twin walls, which are 100% UV protected. The crystal clear sidewalls offer a clear interior view while offering excellent protection.
The twin roof can absorb 90% of sunlight but will not allow the blazing sun to scorch plants. Also, the barn shape design gives more space in the headroom.
Planting climbing plants like tomatoes has never been easy. Similarly, the area on the ground is large enough for all the plants you might have in mind.
Not to forget the double doors on both sides for air circulation. Besides, the roof vents provide heat when the doors are closed. This keeps the structure ventilation controlled.
Advantages
The structure is durable and easy to assemble
The labels are water-resistant hence will remain firm in unfavorable weather conditions
Its rubber seal can go around all the wall panels
Disadvantages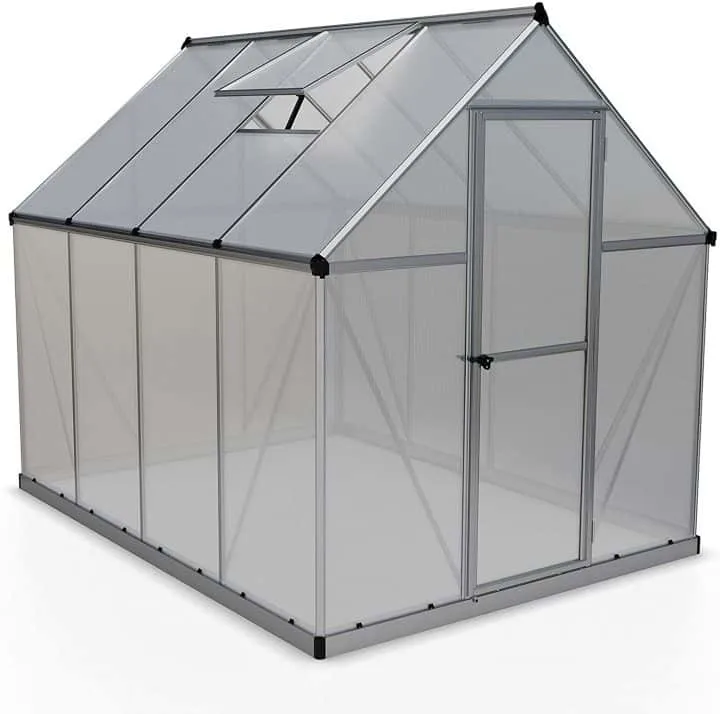 Like the Rion Grande greenhouse above, Palram greenhouses have polycarbonate roof wall panels. The only difference is that it only allows up to 70% light transmission for optimal plant growth. The good thing is that it offers 100% protection from harmful UV rays.
The greenhouse can cover up to 132 square meters with an additional 6.8 feet of headroom. This is enough to grow many plants and still give you room to attend to them. The frames come in silver and green, coated with aluminum.
Other amazing features are the manual roof vents, built-in gutters, and galvanized steel base that guard against rusting and ensure a prolonged service. One of the main reasons why the greenhouse performs well is because it has an extension of uses and capabilities.
For instance, you get the extra benefit of hard harvesting plants, which reduces their risk of breaking when transplanting. Besides, the unbreakable polycarbonate gives you total control over pesticides and fertilizers.
Advantages
Bars are made with rust-resistant aluminum for long service
The gutters on the side lead water away to avoid dampness inside the structure.
Disadvantages
The structure is not strong to withstand mild storms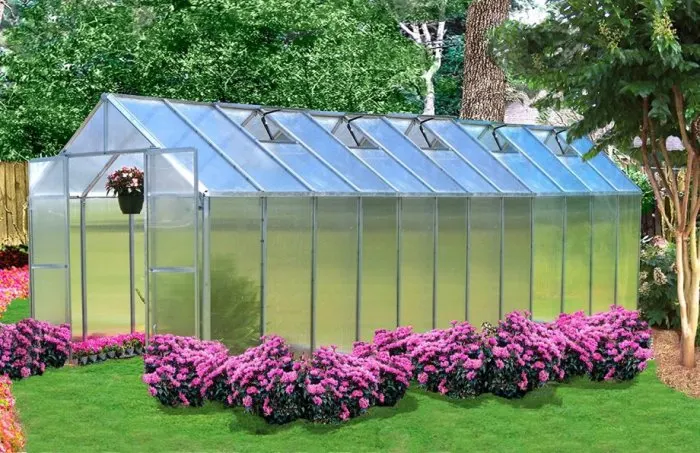 Are you looking for a greenhouse with top-notch construction quality, ease of installation, and interior height to support all your climbing plants? Then it's the Monticello greenhouse that you need.
It's made in the USA and very affordable. The only con is that you might have to dig deeper into your pockets if you buy it from another country.
So what makes Monticello Greenhouse stand out? The frame contains 0% lead. Alternatively, it uses high-quality extruded aluminum, which is not toxic. It's also a very sturdy greenhouse (thanks to the bars), which can withstand winds of 65mph.
The roof has an automatic opener that detects the temperature inside the structure and reacts accordingly. Plus, it has an interior shade system that works with the automatic roof opener.
You will get the fabric in two colors; these are black and silver. Gardeners prefer silver as it appears more royal. You can give it a shot too.
Advantages
Disadvantages
Assembling may need extra hands
You need a contractor to level the ground before you mount the structure. This is an additional cost.
See Related: 10 Best Greenhouse Kits – Buying Guide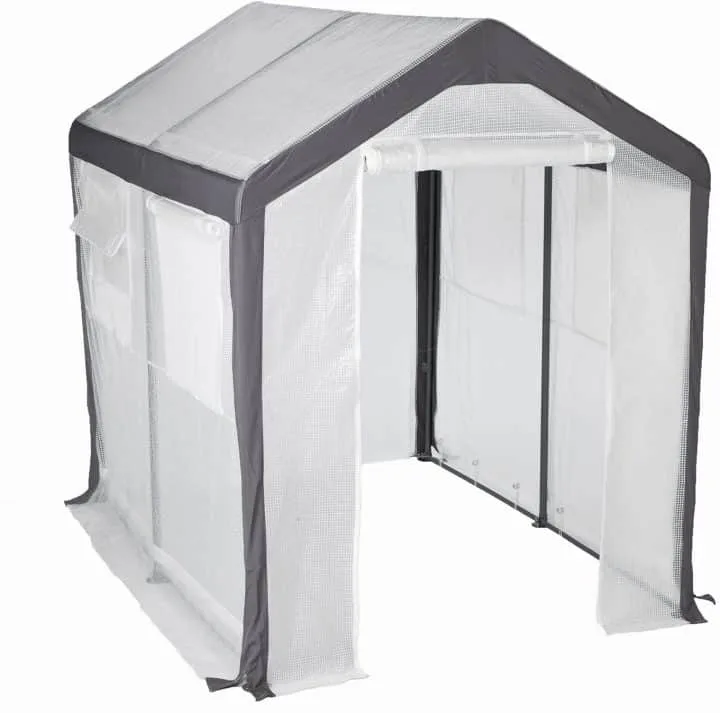 You get the best of both worlds with a spring garden greenhouse. They have a large space to plant numerous plants but are still very affordable. What's more? The translucent fabrics are UV protected. You will also appreciate that the ventilation is roll-up doors and windows.
The combination with zippers makes it easy to walk in and out. Not to forget that the valance is decorative, which matches the frame.
Advantages
Can withstand heavy rains and strong winds
Mold resistant fabric
Easy to assemble
Disadvantages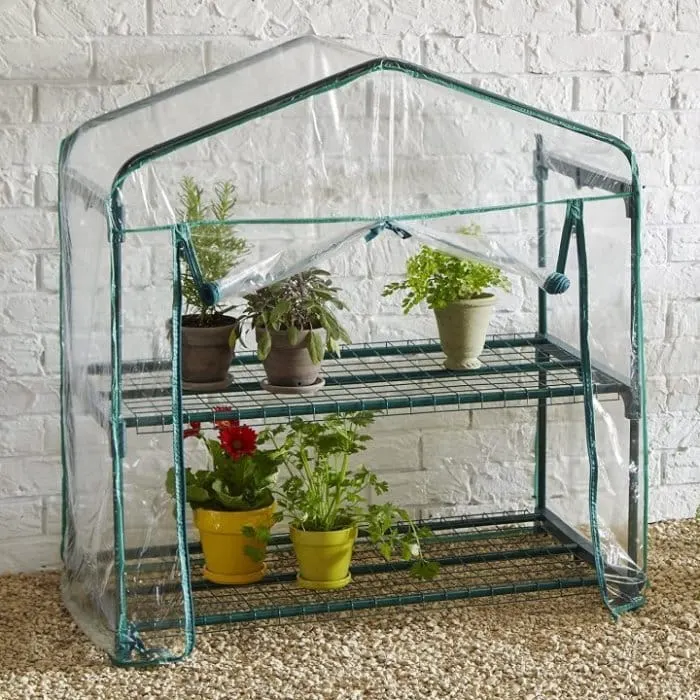 This is another small-scale greenhouse that can fit on your balcony or porch. As the name hints, it's mainly used in classrooms. It helps plants have the same experience on a farm with planted trees or a huge greenhouse.
Setting it up is not complex. The only tools you will need are the steel frame, wire mesh shelving, and plastic connectors. If you have tall plants, you can remove the top shelf. The greenhouse is only ideal for potted plants and not seedlings.
The door has a zipper for access. And you can remove the front covering completely whole for better air circulation. Since it's covered with transparent material, it gets light from all sides.
Advantages
Fits in a small space
Very easy to clean
Sturdy and can support heavy pots
Disadvantages
The materials are not high quality
Very small capacity
See Related: Greenhouse Cost Guide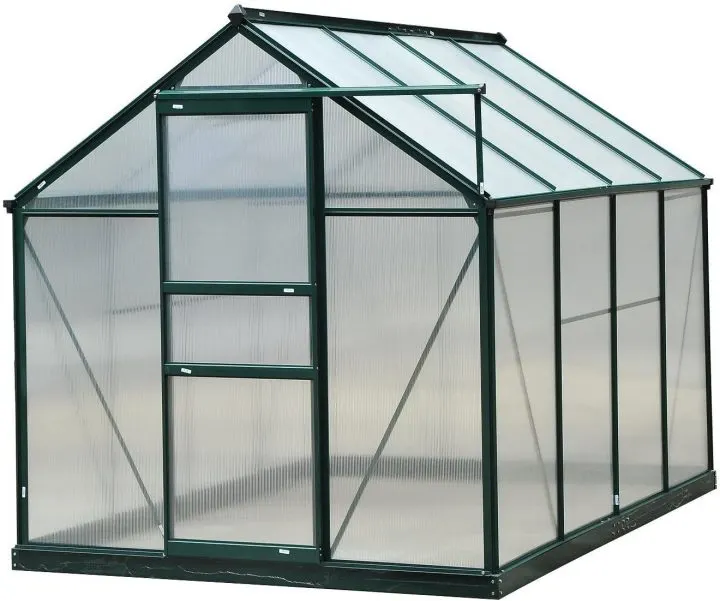 Do you want to stay in the soil all year round? Outsunny Greenhouse is here to help you fulfill your dream. Before you enter into the structure, what will catch your attention first is the simple design and the shape of the rooftop.
You move a little closer and are treated to the single sliding door. Ideally, the main reason behind this door system is to ease the movement in and out of the structure.
The UV-resistant polycarbonate will keep your plants safe and give you the bounty harvest you deserve. The price tag that comes with it is, however, hefty. But if you compare the features with the price, you won't feel the pinch of investing in the structure.
Although the greenhouse can occasionally move, the strong base is not interfered with. The base supports the entire structure and can withstand winds up to 12 m/s.
Advantages
You can plant crops in the soil
The customer service from the manufacturer is top-notch
The metals are not burdensome, yet very sturdy
Disadvantages
You might need an expert during the assembling process
Does not offer a reliable support system during winter
See Related: How to Grow Sugar Cane Indoors
Things to Know when Buying a Greenhouse
Although many people presume that every greenhouse is suitable for any plant, there is another side to the coin. We are talking about long service, size, materials, and design. But these small factors impact your plant's appearance when the harvesting season comes.
Some more vital traits of a greenhouse that you must put into consideration before you buy include:
Ventilation
In many cases where plant failure is recorded in a greenhouse, the lack of proper ventilation is always the first suspect. Ideal greenhouses should retain warm air during winter and release it during summer. If this cycle is interfered with, your plant growth gets distorted
Proper ventilation does not only depend on your chosen greenhouse but also on the location. The location should have excellent airflow to ensure air can enter and exit the structure smoothly. Alternatively, you can purchase solar-powered louvers to take away ventilation stress.
Metal or Timber Greenhouse
Wooden timber greenhouses are beautiful but very expensive. You will also invest more time in its upkeep. The good thing is that it's perfect for marinating at room temperature.
Metal greenhouses, more so those made of aluminum, are perfect if you don't want to spend a fortune on gardening. They also have low maintenance requirements.
The Shape of the Greenhouse
The greenhouse's shape is something that many gardeners don't keep in mind. What they miss out on is that a wrong shape/design will affect air and light circulation inside the structure.
There are four types of shapes you'll come across. We shall talk about them in detail when reviewing the individual greenhouses.
Traditional
Octagonal
Domes (Newer versions)
Check out these different types of greenhouses that you need to know about. There are a ton of different structural considerations as well as design considerations.
Size of the Greenhouse
Research shows that most gardeners wish they had chosen a bigger greenhouse when starting. You shouldn't make the same mistake.
Choose a larger greenhouse, even if you are considering having a few plants in the garden. The only thing that should change your decision is these two scenarios.
When the space you want to seclude for gardening is limited
You are looking for a greenhouse for a small "flower farm."
It's essential to choose a greenhouse with a width of at least 6 – 8 feet. The eaves should be at least 5 feet to allow more light to enter the structure. A large greenhouse gives your plant room for perfect growth and limits competition for space.
Besides, you may want to change your small garden into a small farm. You never know. Here are some guides that will help you:
The Extent of Plant Protection
Your plants, of course, are protected from harm when inside the greenhouse. Pests and animals may not easily attack, and strong winds are also prevented from ravaging your garden.
But how far can the greenhouse go in protecting your plants? You must prepare to battle other intruders like bugs, slugs, worms, and pests. Unfortunately, only a few of the best greenhouses can offer extra protection. It's something that you have to check if your location is infested.
Benefits of a Greenhouse to Plants
Extended Growing Season
Typically, extending your harvesting period is how greenhouses work. Farmers have tried the best way to do this for a long time but have been unable. The invention of greenhouses was able to downplay the climate.
Today, when you prepare your seedlings early in the season, it is possible to get a bounty harvest earlier than other farmers. This makes greenhouses an excellent transition to sustainability in terms of more efficient farming and gardening.
You can use aquaponics kits to extend your growing season.
You Can Grow a Variety of Crops in a Single Structure
A greenhouse gives you room to try out different plants simultaneously. It's a significant advantage because you can experiment on exotic plants which are not easy to find.
Still, ensure that what you want to inter-crop is mutually compatible for maximum harvest.
Greenhouses are Environmental-Friendly
Environmentalists agree that these structures fight the greenhouse effect a great deal. That's why they advocate for their use in modern farming.
Adding more plants to the structure helps provide fresher plants. The oxygen plants excrete is what cleans the atmosphere and fights climate change.
Saves Energy
Traditional gardening does not reduce the use of energy. Why do you think modern farmers have taken the shift? Greenhouses can conserve energy sources like heat and water as they are easily controlled.
Portability and Customization
Most of the greenhouses, which we will discuss are portable. You can place them in areas with maximum sunlight and in which they are easily accessible. The greenhouses are easy to assemble and hence reliable when always on the move.
Also, structures like ShelterTech High Tunnel greenhouses enable you to make personalized structures to accommodate planting needs. You can configure them to include the frame, end panels, and cover. Besides, you can get a complete kit with size options of up to 100 feet.
You have to understand that the above greenhouses are not best for everyone. Some will go for the Outsunny portable or Monticello greenhouse, while others will pick another brand. It all depends on the needs and tastes of everyone.
If you were careful, you must have noted that almost all the greenhouses are made with polycarbonate material and steel for the bars.
So you ask yourself? What's the main difference? The perfect answer to that question depends on you. The ball is still in your court.
What's your budget?
What is your purpose for purchasing a greenhouse?
Do you understand what you need?
You are good to go if you can answer these three questions satisfactorily. This is the secret to picking the best greenhouse to buy.
FAQs
Which type of greenhouse is best?
The best type of greenhouse often depends on individual needs, but the freestanding greenhouse is widely appreciated for its flexibility. A freestanding greenhouse can be placed anywhere on a property, allowing for optimum sunlight exposure. It offers ample space for various plants and can be easily expanded.
What is the most reliable greenhouse?
The most reliable greenhouse is generally a professionally constructed, permanent structure made from durable materials like polycarbonate and aluminum. This type of greenhouse, often called a traditional or Victorian-style greenhouse, is designed to withstand diverse weather conditions. It offers excellent insulation and longevity and can support various plant species year-round.
What greenhouse is best for winter?
The best greenhouse for winter is an insulated greenhouse, often called a 'cold greenhouse.' These structures feature a heating system, double-glazed glass or polycarbonate panels for increased insulation and adequate ventilation to regulate temperature and humidity. These design elements enable cultivating various plants even in colder temperatures.
Related Resources