Looking to cash in on some free rainwater, courtesy of nature's bounty? Well, you can choose from various rain barrel types when you install a home rainwater harvesting system if sustainability is your game plan. It's a great means of storing water to hydrate your garden and greenhouse plants or harvest your own drinking supply (once sterilized and filtered, of course). To help you decide, we have a list of the best rain barrels for water collection.
Collecting runoff water in a rain barrel is an eco-friendly technique to keep a home garden hydrated all season. In regions where water shortages are common; and the cost of water is high, it can also be an efficient way to maintain water costs down during the summertime.
The top rain barrel must be cost-effective, easy to install, and available in various forms to fit any backyard style. Large rain barrels can help those who want to implement a rainwater system for their home's water supply. And smaller rain barrels are ideal for watering a garden and indoor plants.
Rain barrels vary in exterior design, materials, size, and type. And one essential criterion in selecting one depends on how you intend to use the collected rainwater. We compared the best rainwater collection systems and their features to create this list of the top rain barrels for you to review.
Best-Of by Category
Best Rain Barrels for Water Collection
For your garden landscape, here are the best rain barrels for water collection.
1. RTS Home Accents Rain Water Barrel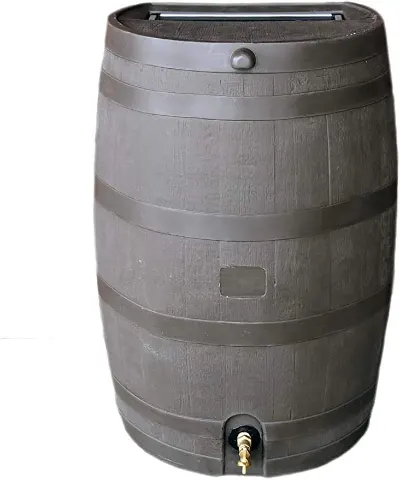 Brand: RTS Companies Inc
Material: Plastic
Capacity: 50 Gallons
Size: 19 x 24 x 34 inches
Weight: 18 pounds
This durable 50-gallon barrel earns our top spot because it has practical features that collect rainwater for many seasons. Although the design is similar to a classic rain barrel, the RTS Home Accents Rain Water Barrel is made of plastic which is more resistant to rotting and fading.
This rain barrel design has a flat back that allows it to fit flush against a wall, saving space and preventing it from spilling over. It's worth noting that the spigot is close to the ground, which is perfect for attaching a hose but inconvenient for a watering can or jug.
If the barrel fills up, dual overflow valves prevent water from overflowing your outside wall. It can also be connected to other rain barrels to gather more water. This rain barrel is only available in brown, which is neutral enough to blend in almost any outdoor environment.
The rain barrel has a durable brass spigot and a functional aluminum screen to keep dirt, insects, and other particles out of the water. Also, installation is easy, making it a perfect choice for professionals and beginners.
Pros:
Designed for large-scale rainwater storage and distribution
Aluminum filtering screen
Use the bottom spigot can to dispense water into a bucket or through an attached hose
A flat back helps save space
Optional stand available for purchase
Cons:
When exposed to the sun over extended periods of time, fading may occur.
Spigot is very low to the ground
The barrel may bulge when full, indicating structural weakness
See Related: Best Greenhouse Irrigation Systems
2. FCMP Outdoor Rain Water Barrel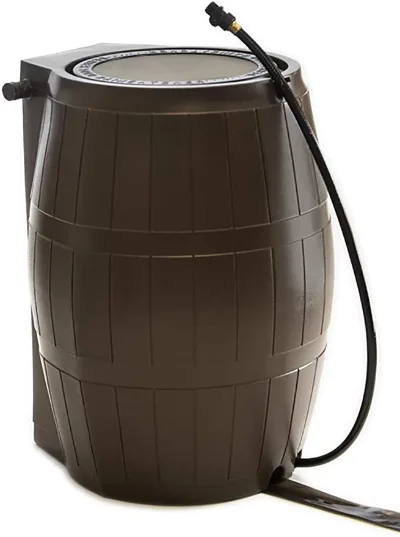 Brand: FCMP Outdoor
Material: Plastic
Capacity: 50 Gallons
Size: 24 x 24 x 32 inches
Weight: 21 pounds
The FCMP Outdoor Rain Barrel is ideal for a classic rain barrel. This 50-gallon rain barrel has spigots on the barrel's side, allowing you to connect other rain barrels to increase storage capacity. You can keep excess water away from your foundation by an overflow connection on the back.
This barrel is composed of BPA-free and UV-resistant polyethylene, but it resembles a classic rain barrel. The barrel includes a big aperture at the top, making installation easier. It can also sit flush against a wall because of its flat-back design.
This product has a debris screen. But consumers claim the mesh isn't tiny enough to keep mosquitos away. And it also includes a spoke and wheel pattern at the top to keep children and pets from falling in.
Pros:
Includes a garden hose and a hose clip for hanging
It is possible to connect it to other rain barrels
It has a mesh debris screen
The flat back is flush against the wall
Cons:
Mosquitoes may pass through the mesh
There have been some instances of missing pieces
See Related: Why Is Taking Long Showers Bad for the Environment?
3. Mirainbarrel Rain Water Barrel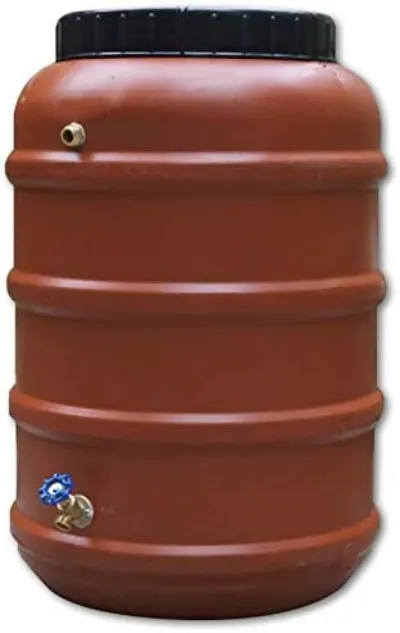 Brand: Mirainbarrel
Material: Plastic
Capacity: 220 Liters
Size: 22 x 22 x 40 inches
Weight: 17 Pounds
The Mirainbarrel Rain Barrel resembles what you could imagine when you think of a rain barrel. It lacks the "wow" element of other barrels, but what it lacks in style is compensated for by its eco-friendliness and quality.
It is a long-lasting rainwater storage solution. It is from recycled food-grade rain barrel plastic that does not significantly add to your carbon impact.
Despite the fact that it is composed of recycled plastic, the collected water in this rain barrel is safe from non-food-grade plastics. It is risk-free, user-friendly, and with a cover that twists on and off for convenience and upkeep.
The barrel also contains corrosion-resistant brass spigots to which you can attach a hose to water your plants. If you want to lessen your ecological footprint by collecting rainwater, this is the rain barrel for you!
Pros:
It is composed of recycled plastic.
It uses 100% silicone caulk to seal the joints.
Top lid with a plastic mesh screen that is easy to open and close.
Cons:
The design and colors are basic, boring, and industrial as heck
See Related: Best Eco-Friendly Travel Products
4. VINGLI Rain Water Barrel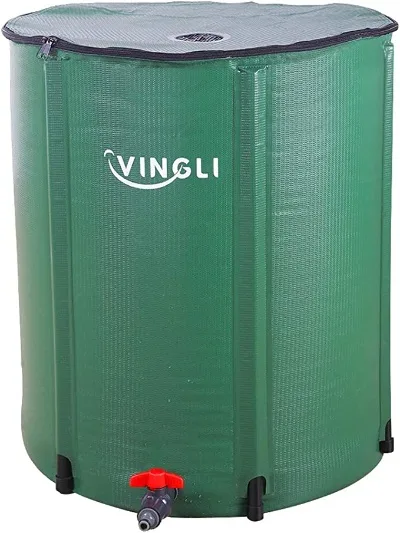 Brand: VINGLI
Material: PVC
Capacity: 50 Gallons
Size: 23.6 x 23.6 x 27.6 inches
Weight: 4.4 pounds
This VINGLI 50 Gallon Collapsible Rain Barrel is a good choice if you have limited outdoor space or for off-grid living. The lightweight, 4.4-pound PVC frame and mesh tank fold up for easy storage when not in use.
This unit has six support rods that will keep it sturdy once set up on the ground. It also has a water entry filter on the top to keep trash and insects out and an overflow valve to connect additional containers.
Rubber rings are included with the spigots and the outflow valve to prevent leakage. Since this rain barrel cannot be attached to a garden hose, you will have to transfer the water to another container.
This tank is available in three sizes to meet various needs: 50, 66, and 100 gallons. It is only available in one color, forest green, which should blend in with most gardens.
Pros:
Collapsible design for easy storage
Water inlet filter to keep out debris
Overflow valve to prevent leakage
Available in 3 sizes
Made out of high-quality PVC fabric
Cons:
It can't be connected to a garden hose
More prone to tipping over
It has a plastic spigot which is low to the ground
See Related: Different Uses for Solar Panels
5. LOSTRONAUT Rain Water Barrel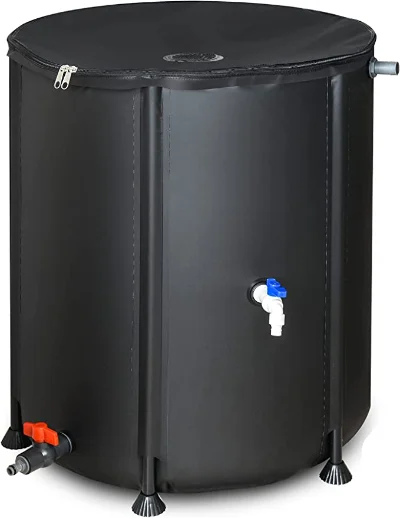 Brand: LOSTRONAUT
Material: PVC
Capacity: 53 Gallons
Size: 24 x 24 x 27.5 inches
Weight: 6 pounds
This LOSTRONAUT 53-gallon foldable rainwater barrel is a perfect alternative if you need a rain barrel to take on an RV trip or want an option that folds up easily. The tank has soft sides, six legs, and heavy-duty zippers and is made of UV- and heat-resistant PVC.
The entire package weighs just over 6 pounds, making it light enough to add to your camping kit or transfer in and out of garage storage when needed. It also includes two spigots, a filtered input hole, an overflow spout, and 25 garden tags for marking your garden's rows.
Remember that while this rain barrel collapses for convenient storage, it does not provide the same level of durability or stability as non-collapsible variants.
Pros:
Portable, collapsible, and easy to transport
Quality plastic exterior withstands any environment
It includes 25 lawn and garden tags
Cons:
It is made out of soft PVC material which isn't super strong
See Related: Plastic Pollution
6. Algreen Products Castilla Rain Barrel 50-Gallon, Brownstone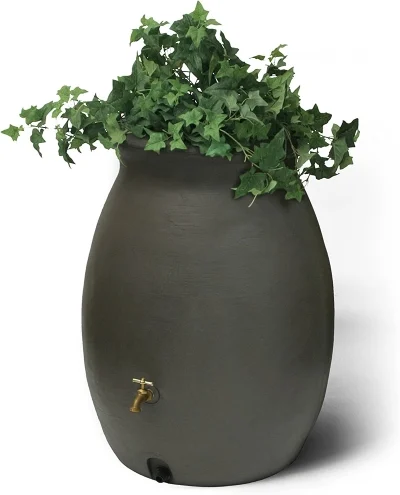 Brand: Algreen
Material: Plastic
Capacity: 50 Gallons
Size: 23 x 23 x 33 inches
The Algreen Products Castilla 50-Gallon Brownstone Rain Barrel is a visually pleasing entry. It combines the durability of plastic with the appearance of a ceramic planter, allowing it to blend in with any garden ornaments. The brownstone aesthetic provides more possibilities for coordinating home exteriors.
The barrel is 50 gallons, which is on the bigger side for a rain barrel, making it a suitable choice for those who need to water a bigger garden. The barrel is composed of rotomolded plastic for a sturdy structure resistant to leaks and cracks even when subjected to extreme temperatures.
Pros:
It has a premium look and feels with an elegant, pottery-like design
You can connect multiple barrels
Made from rotomolded plastic that won't break
Can be used as a small planter
Cons:
The hose might need replacing after some time
A little more expensive than some on this list
See Related: Best Greenhouse Plastic Sheets for Protection
7. Good Ideas Rain Barrel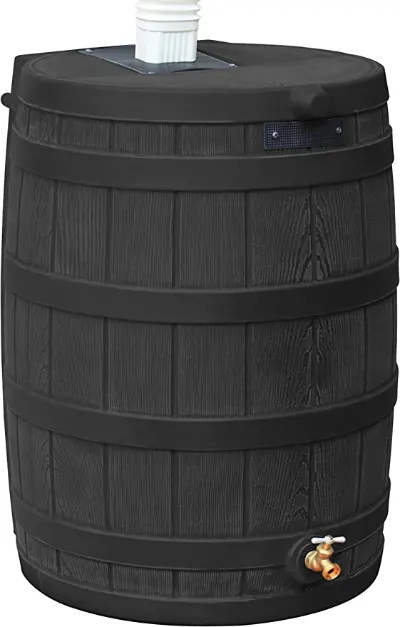 Brand: Good Ideas
Material: Plastic
Capacity: 50 Gallons
Size: 23 x 31 x 22 inches
Weight: 22 pounds
The Good Ideas Rain Wizard 50 Gallon Plastic Rain Barrel has various design features that set it apart from the rest. Unlike comparable models, this barrel withstands freezing conditions without cracking or splitting.
Another significant advantage of the Good Ideas Rain Wizard Barrel is that it does not bulge when full. We also like that it comes in five colors—black, green, khaki, oak, and terracotta—so you can match the aesthetic for your outdoor space.
Many components you'd expect in a home rain barrel are included, such as a debris screen, a brass spigot for hose hookup, and a sturdy rubberized coating. But you can't lift the lid, which may make cleaning the inside of the barrel more challenging.
Pros:
More resistant to freezing temperatures
Easy-to-operate spout with a compatible hose connection
Doesn't bulge when full
Includes a debris screen
Available in 5 colors
Cons:
Spigot is low to the ground
It may require a stand
Hard to clean
See Related: How to Heat a Greenhouse Without Electricity
8. Upcycle 55 Gallon Gray Rain Barrel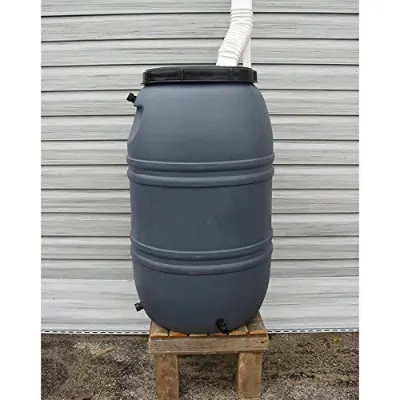 Brand: Upcycle
Material: High-Density Polyethylene
Capacity: 55 Gallons
Size: 38 x 23 x 23 inches
Weight: 23 pounds
The Upcycle 55 Gallon Gray Rain Barrel is the most eco-friendly option on this list. It is made of food-quality recycled high-density polyethylene. And it can hold 55 gallons of recycled rainwater.
What makes it a viable option is that it can link other barrels to fill from one downspout. And the bottom spigot fits a standard garden hose.
Pros:
Made of recycled high-density polyethylene
55-gallon capacity
Mesh screen to keep the water clean
Cons:
Some reports say it arrives with scratches
Pretty utilitarian-looking
See Related: Is Rainwater Harvesting Worth It? Learn The Pros and Cons
9. Outsunny Rainwater Harvesting System Collection Tank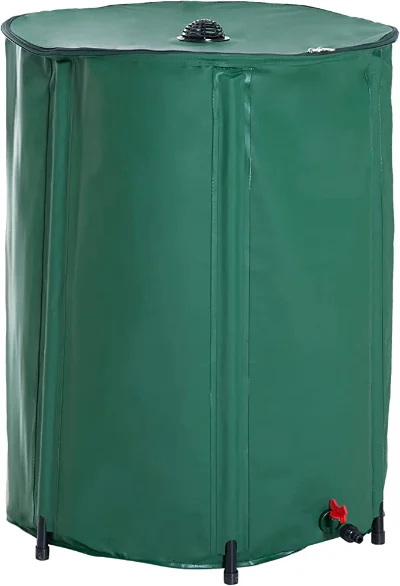 Brand: Outsunny
Material: PVC, Plastic
Capacity: 60 Gallons
Size: 23.5 x 31.5 x 32 inches
Consider the Outsunny Rainwater Harvesting System Collection Tank for a large-capacity rain barrel when space is a premium. This highly functioning rain barrel is cheaper than similar offerings and is guaranteed to perform the job.
When not used, the round, soft PVC barrel is supported by a six-pole frame and folds down into a compact size for convenient storage. Remember that if you live in a high-wind area, the barrel may blow away if it is not filled with water. Because the base is not weighted and the entire device weighs less than 6 pounds.
Pros:
Large water storage capacity
It is made from premium PVC material
It has a functional and foldable design
Cons:
Not preferable if you live in a windy area
See Related: Best Rainwater Collection Systems for Sustainable Living
10. Good Ideas Impressions 90 Gallon Rain Barrel
Brand: Good Ideas
Material: Plastic
Capacity: 90 Gallons
Size: 29 x 29 x 44.5 inches
The Good Ideas Impressions Rain Barrel has a 90-gallon capacity. It is one of the biggest models available for home use if you have wide outdoor space and want to maximize your rainwater collection. The barrel is made of high-quality polyethylene that will not fracture or peel in cold temperatures.
This rain barrel is attractive and functional. Its distressed texture, reminiscent of a coral reef or tree trunk, will look stunning on any landscape. Use the wide opening at the top as a planter to make it look more ornamental. Remember that plants may get flooded during heavy rains.
This barrel is available in eight natural colors, including green, oak, and terra cotta, to complement your outdoor layout. It costs more than most rain barrels on this list, but the extra-large volume and elegant appearance are worth the extra money.
Pros:
Stylish design
Use the top as a planter
Dual spigots
It includes a debris screen
Routed channel diverts excess water
Cons:
The planter may flood
Pretty spendy
See Related: Best Greenhouse Paint & Spray-On Shading
11. RTS Home Accents Round 35 Gallon Rain Barrels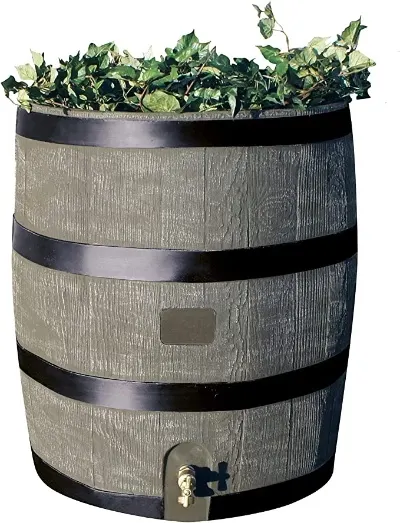 Brand: RTS Companies Inc
Material: Plastic
Capacity: 35 Gallons
Size: 24 x 24 x 28 inches
Weight: 20 pounds
The RTS Home Accents Round 35 Gallon Rain Barrel is a decent alternative for a small rainwater system. Although it resembles a classic rain barrel, its plastic construction withstands the elements better. It's rust and corrosion-resistant and contains a filtering screen to keep out particles.
This model contains a front-side overflow to minimize flooding near the groundwork of a home, including a shut-off valve for connecting a hose. One disadvantage is that the spigot is close to the ground. If you plan to fill watering cans or jugs, mount the barrel on a stand.
This piece has a planter on top that is useful and attractive. This barrel has limited capacity compared to other models, but it's an ideal buy for smaller outdoor spaces and those who don't collect much water.
Pros:
Compact size
Resistant to fading and rotting
It has a debris screen
Built-in planter at the top
Looks like it came off the set of Pirates of the Caribbean
Cons:
The spigot is very low to the ground
The planter may flood
See Related: Is Water a Renewable Resource? Things to Know
12. RIOBOW Collapsible Rain Barrel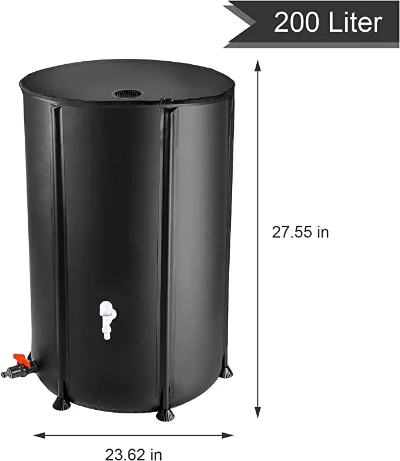 Brand: RIOBOW
Material: PVC
Capacity: 66 Gallons
The RIOBOW Collapsible Rain Barrel is a good alternative if you want to save money on a rain barrel. It's also portable and collapsible, so you can move it as needed and store it when there's no rain in the forecast.
You can open it and position it under a downspout, and the colors are available in black or green. It includes a mesh top that collects waste and other substances and can store more than 50 gallons of water. It's ideal for beginners and people who have limited space.
Pros:
Easy to store and carry with its foldable barrel design
It uses a high-quality PVC support rod and a thick waterproof tarp
It has a unique design
Cons:
Users report missing parts on shipment
See Related: Important Water Flow Pros and Cons to Know
13. Enviro World EWC-10 FreeGarden Rain Barrel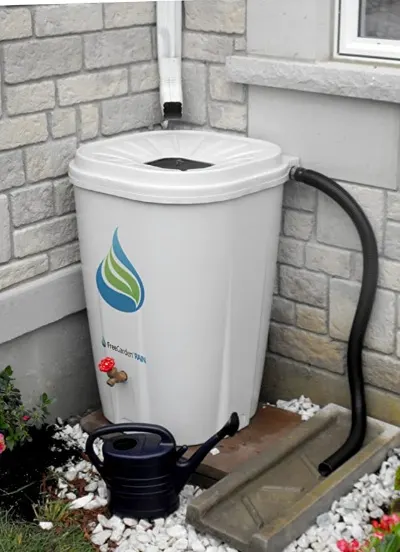 Brand: Enviro World
Material: Plastic
Capacity: 55 Gallons
The Enviro World Rain Barrel has a flat back and square form that you can position against a wall or in a corner. It contains 55 gallons of collected water and can be connected to other barrels if additional storage is necessary.
It is made of high-density polyethylene that is easy to clean and comes with a brass spigot, extension hose, and steel screen that protects your water from debris and insects.
Parents will like the screw-on cover, which prevents little children from opening the barrel. The overflow valve directs excess water away from your home, and the elevated location of the spigot eliminates the need for a stand to fill a watering can or bucket.
Pros:
You can connect other barrels
You can secure the lid for child safety
It has a mosquito-proof screen
The flat back design is easy to position
Cons:
A very high spigot means a lot of water is inaccessible
Looks like a trash can
See Related: Types of Water Pollution You Need to Know About
14. Emsco Group 50-Gallon Rain Barrel
Brand: Emsco Group
Material: Plastic
Capacity: 50 Gallons
Size: 19.88 x 27.88 x 29.88 inches
The Emsco Group 50-Gallon Rain Barrel has a rustic whiskey barrel style that comes in brown or weathered gray. Because it is composed of heavy-duty molded plastic, the 50-gallon barrel will not fracture, chip, or fade over time.
Its downspout diverter technology directs rainwater from the downspout to the water collection reservoir, removing any drainage issues. The Emsco rain barrel includes an integrated planter with a built-in weep hole to prevent root rot, an output hose, and a flat back design maximizing open spaces.
Pros:
Attractive rustic whiskey barrel design
Heavy-duty molded plastic will not crack, chip, or fade
Downspout diverter system
Easy to assemble and come with a great planter on top
Cons:
The cheap drain hose needs to be replaced with a better hose; reviews are not flattering
Some of the barrels did not have instructions on how to connect the barrel to the downspout
See Related: Best Conservation Posters: Earth, Water & Energy
15. Good Ideas 65-Gallon Rain Barrel Urn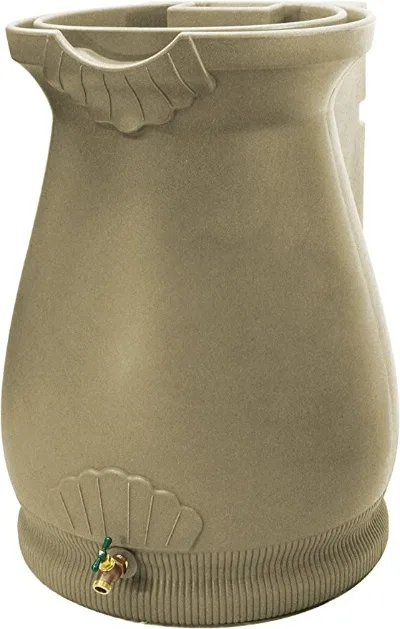 Brand: Good Ideas
Material: Plastic
Capacity: 65 Gallons
Size: 25 x 26 x 35 inches
Collect rainwater in style with the Good Ideas 65-Gallon Rain Barrel Urn! Featuring a Grecian urn tapering style with plastic details, the appealing neutral hues match the style of any garden.
The top of the rain barrel maximizes space while adding beauty to your lawn by working as a planter for flowers and other shallow-rooted plants. Don't worry about root decay because excess water will run off.
This barrel features a flat back design that allows you to position it flush with the outer wall to collect rainwater without sacrificing aesthetics. You can connect this barrel to others to hold more water without sacrificing the functionality of the rain barrel.
This rain barrel's appeal extends far beyond its appearance. It is made of high-quality BPA-free plastic and contains a removable fine mesh screen to keep debris, bugs, and other pollutants out of your water supply. If you want a one-of-a-kind rain barrel that doesn't skimp on capacity or longevity, you should pick this one.
Pros:
The flat back design optimizes space
Diverts overflow away from the house foundation
Visually appealing
Cons:
You can't remove the lid, so it's challenging to clean
Must be raised off the ground to use a spigot
A little pricey
See Related: Best Off-Grid Greenhouse Heating Systems
16. Goplus Portable Rain Barrel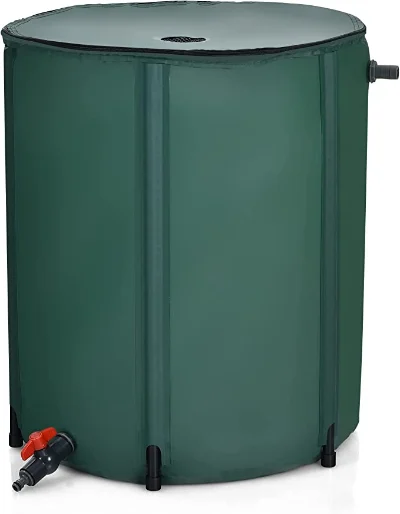 Brand: Goplus
Material: PVC
Capacity: 60 Gallons
Size: 24 x 24 x 27.5 inches
The Goplus Portable Rain Barrel has numerous distinguishing qualities that set it apart from the market, beginning with its folding PVC frame. If you harvest rainwater on a regular basis, you'll appreciate the ability to collapse and store this rain barrel. It's also light enough to move easily when it's empty.
The rain barrel's flexible corrosion-proof PVC mesh material also enables it to resist high-temperature swings with no maintenance or weatherproofing. While hard plastic barrels may become brittle or shatter, this material is strong enough to withstand the harshest weather.
Pros:
Foldable barrel design with top mesh
The PVC frame and anti-corrosion mesh cloth make these rain barrels durable
Cons:
The bottom spigot does not fit a standard hose
Some of the poles broke easily according to reviews
Related Resources: