Are you into gardening and need some cheap nursery pots for your plants? Well, this list offers you some of the best and most affordable plant containers in the market.
Now that you have your greenhouse all set and ready in your backyard, one more crucial step remains. How are you going to plant your crops? Is it on the ground, or will you use planting pots?
Well, if your answer is the latter, then you still need to choose the right pots that will fit your desired type of crop. And you'll have to consider several factors to help you choose the right containers for your garden. Affordability is one of the major factors that most gardeners will have to consider when it comes to the purchase of planting containers.
To ensure that you stick to your budget, especially for those growers with minimal budgets, finding cheap but quality pots, is vital. That's why we have prepared this article, to help make your search for affordable nursery pots, even easier.
Best Pots for a Nursery
As a gardener, you have a wide range of nursery containers you can choose from. All of them will have varying characteristics, which will help you to choose the most appropriate one for you, based on your needs.
Here are some of the best plant pots available in the current market: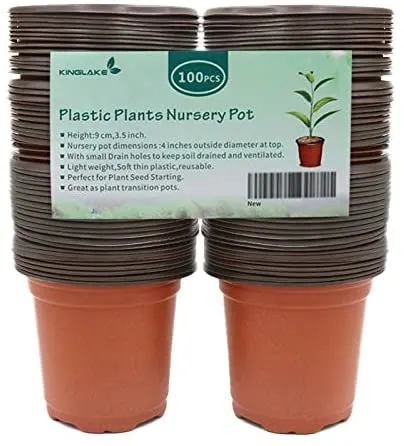 These 4.2 stars rated nursery pots are one of the best nursery containers present in the market.
From the numerous online reviews by current and past users, these containers won't disappoint. Also, they are quite affordable with a pack of 100 pieces, 4″ in depth going for only $18.99 on Amazon.
Some of the other features that make these KINGLAKE's include:
Size- 4″ outside top diameter
100 pieces per pack
Well-drained and aerated with eight small holes at the bottom
Plastic made- ideal for cutting and seedlings, plants, and plant seed starting
Lightweight and reusable
Risk-free purchase with a replacement or full refund guarantee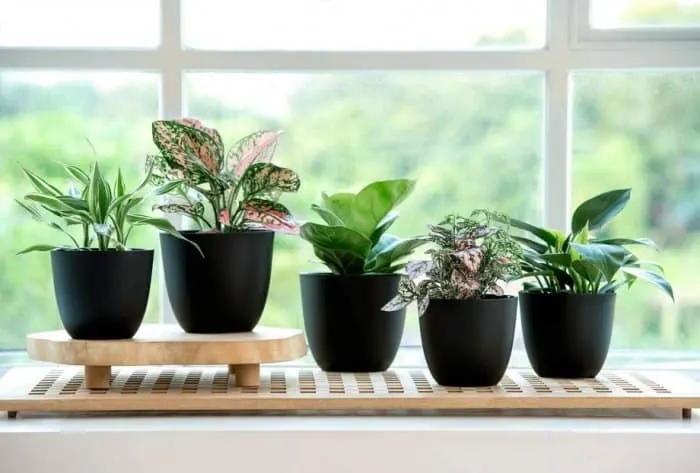 These are 4.7 stars rated nursery pots, specially built to meet your houseplants planting needs.
Their round shapes add to the matte black finishing, bringing out that aesthetic feel that complements your décor.
And, although made of plastic, these pieces look more like ceramic. This gives you a chance to enjoy both the advantages that come with plastic pots, as well as the ceramic touch.
Other incredible features of Mkono products include:
Simple design – simply built to bring out a contemporary style that will easily fit any décor
Size – 5.5″ top opening diameter, 4.8″ high and 3″ bottom diameter
Made of durable but eco-friendly material – lightweight but strong material that can withstand considerable wear and tear.
Five flower pot pieces that are ideal for small or mid-size plants
Drainage – comes with an optional drainage system
If you want some beautiful pieces for your indoor or outdoor flowers, then Mkono planting pots are the perfect pieces.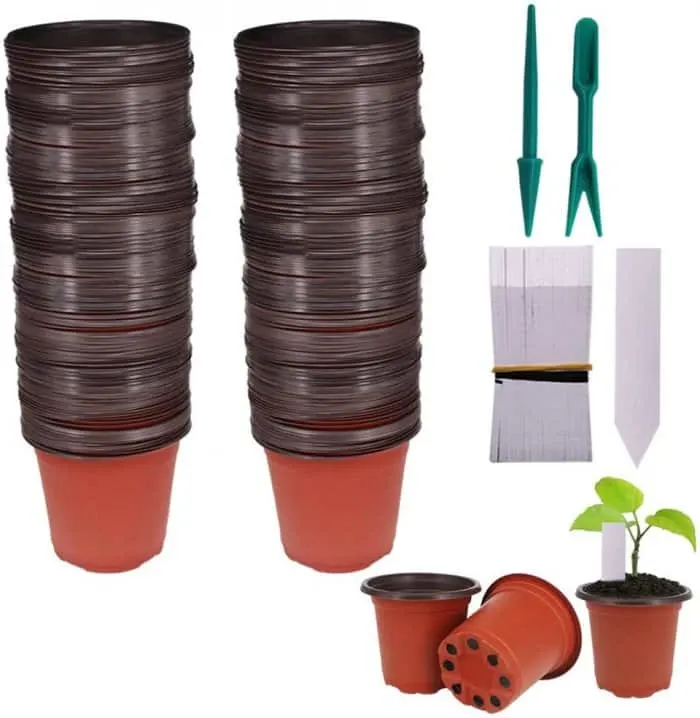 This is yet another incredible product that is rated at 4.3 stars in Amazon. With a pack of 100 nursery pots, and 100 more waterproof plant tags, this product offers an economical option for planting your crops.
They are one of the best greenhouse garden pots you will come across during your search. One of the numerous customers who have reviewed this product said that, despite him having never reviewed any other product, he saw it worth to review this one.
This is one indication that Huvai 100 pieces 4″ nursery pots are a perfect choice when it comes to buying nursery pots.
What we love about this product:
The planters are made of thin, lightweight plastic that is also reusable. The material makes it possible to restore the pot after being compressed without breaking.
The pack also comes with 100 waterproof reusable plant tags
Comes with a set of plastic-made transplant tools
The gardening pots are well-drained with eight drain holes at the pots' bottom
These products are ideal for plants that require small pots, as well as plant seed starting. And, if you are looking for affordable plant pots, these are quite economical.
See Related: Best Aerogarden Pods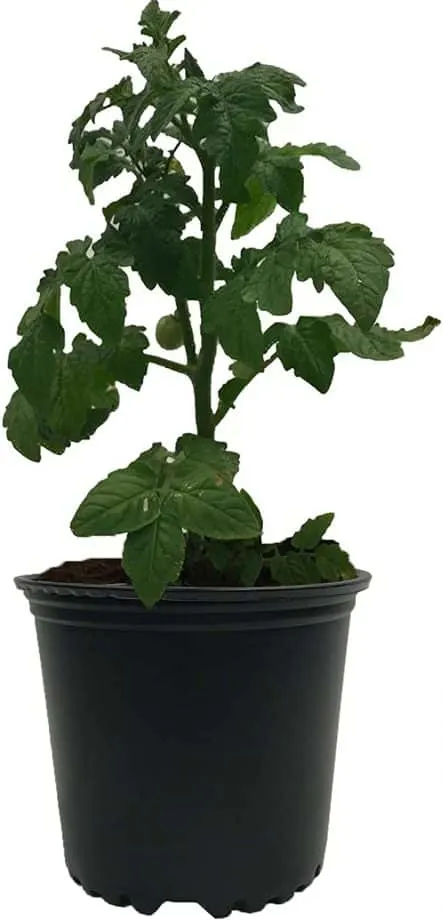 Although not as cheap as most other nursery pots, these US-made planters are both high-quality and economical. These 4.4 stars rated nursery pots by Viagrow are incredible pieces that will make your greenhouse gardening more fulfilling.
And, the company offers a variety of sizes from which you can choose your ideal pot.
Other excellent features of these greenhouse garden pots include:
These containers are well-drained, with nine drain holes at the bottom that also assists in improving the soil's aeration.
They are mainly built of recycled plastic that is free of BPA, and safe for food production
The products are reusable and quite easy to clean
They have an injection molded design that guarantees durability
Whether you are planning to plant soil-growers or hydroponics, these planters are a great choice. Also, they are among the best large nursery pots for those looking to plant bigger plants. They are more common with commercial users.
See Related: Best Things to Grow in an Aerogarden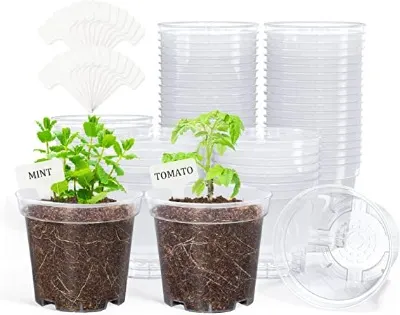 With these 60 pack plastic nursery pots, you are guaranteed healthy plants all year round. They are the perfect containers for your backyard greenhouse gardening.
These planters are ideal for seed starting, succulents, cuttings, and transplanting. And, whether you want to start an indoor or an outdoor garden, these homenote nursery pots will do the trick.
With a pack of 60 pots, this pack is incredible for people who want to grow many plants.
More features:
50 extra pieces of plant labels
Ideal size for small and mid-size plants (3.93″D x 8.66″W x 15.35″H)
Well-drained
Lightweight, flexible and reusable
Perfect for multiple uses including starting seedlings and transplanting
If you've just installed your greenhouse, these are among the top pots for greenhouses, and that will never disappoint.
See Related: 9 Important Farming Skills to Know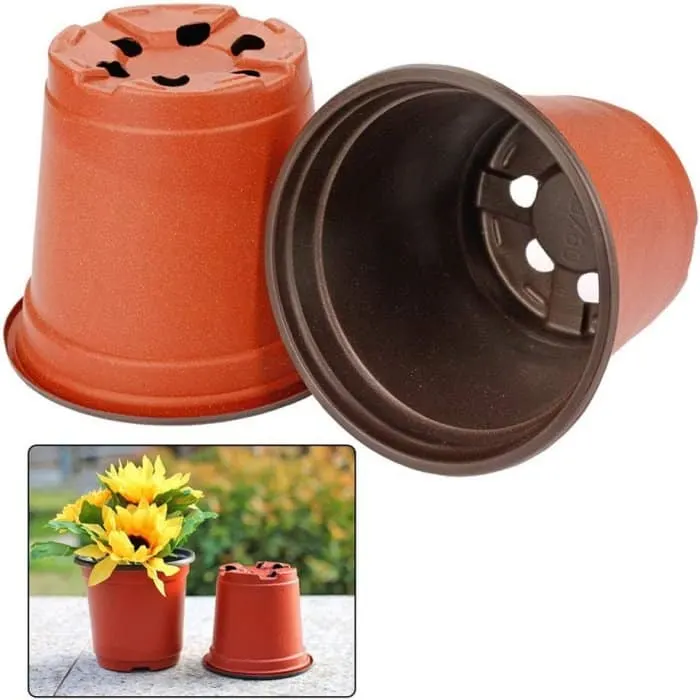 These are one of the best planters for nursery gardening. The plastic-made plant pots by Augshy are perfect pieces for plants, plant seed starting, cuttings, or seedlings.
And, if you are a nursery lover or a seedling seller, these inexpensive nursery pots guarantees you the healthiest plants for better returns. The pots offer you the best service and at an affordable price.
More Features:
Size- 4″ upper diameter, 2.6″ bottom diameter, and a 3.6″ height
110 pieces in one pack
Well-drained with six bottom holes
Made from soft, reusable plastic
If durability is one of your determining factors for purchase, these 4.2 stars rated pots offer you just that.
See Related: Greenhouse Costs Guide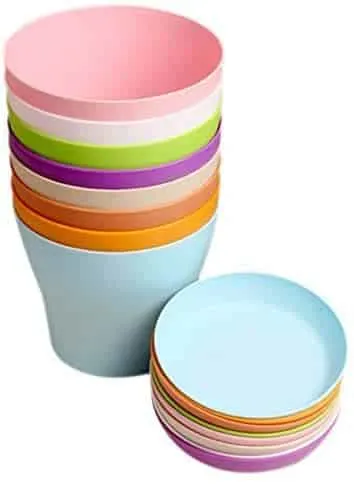 These are colorful plastic nursery pots by KINGLAKE. They come in different colors and can be ideal for people who want to add beauty to their houses, offices, or garden.
Whether you want pink, green, purple, or orange ones, these planters offer quite a wide variety of color options.
What makes these planters unique?
Comes in multiple beautiful colors
Well-drained with bottom drain holes which also help with soil aeration
The package includes 8 nursery container pieces
Made from thick, durable plastic material
Separate drip trays to help make indoor gardening easy
See Related: 9 Best Vegetables to Grow in Greenhouses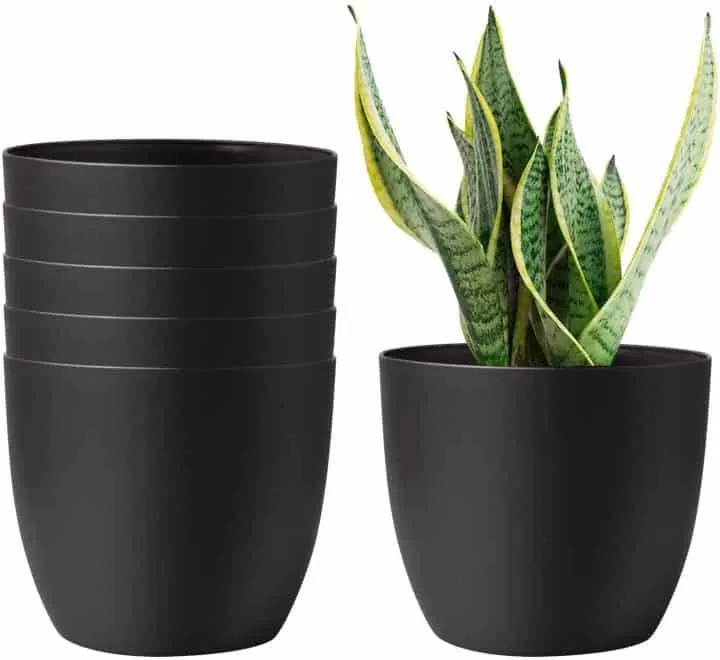 Established in 2016, Think for You (T4U) is one company that strives to make your gardening efforts painless. They are focused on providing customers with gardening supplies, and nursery pots are just but one of their incredible products.
Their 6″ self-watering planters are some of the best pots for nursery we have in the market. And, with its numerous incredible features, home gardening has never been more enjoyable.
These features include:
Self-watering feature – you only need to water your plants one or two times a week.
The pots are made of a lightweight resin material
Comes with an internal reservoir to store the drained water
Size – 6″ diameter by 5″ height
Comes as a pack of 6 pieces
Full money-back guarantee within 60 days after purchase
See Related: Best Mini Greenhouses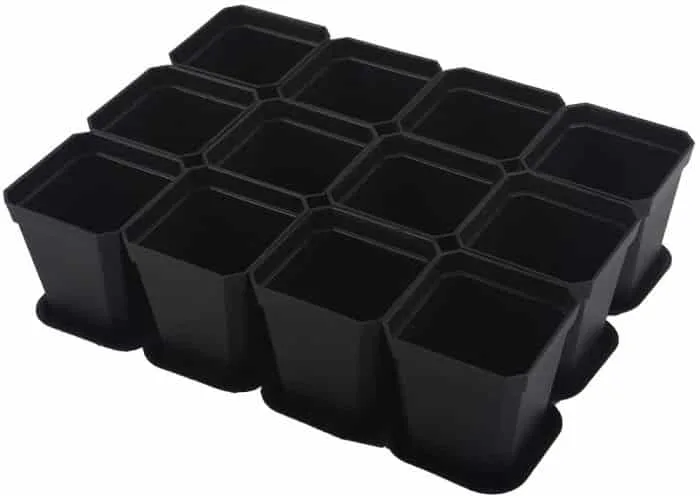 Based on the numerous online reviews by customers, these square pots wouldn't miss a spot on our list. These pots are made of reusable, sturdy, and durable plastic, which makes their use relatively economical.
The pots are ideal for growing plants, as well as serving as decorative pieces to grow indoor plants. Also, they are designed with an ample drainage system that allows optimum moisture management and soil aeration.
They also come with a saucer that helps to hold the excess drained water, preventing it from spilling all over.
See Related: Best Backyard Shed Ideas
What to Look for in a Nursery Pot
As we mentioned earlier, your choice of a nursery pot will mainly depend on several factors. These will include:
Size
Although it might not seem like a big deal, the size of that pot matters a lot. If, for instance, the pot is too big for the plant, your plant is likely to tip over. Also, a bigger pot implies more soil, which will tend to retain more water. Small plants will absorb water slowly from the soil, leaving it wet for longer periods.
This means that, although plants need that water, the continuous dampness leaves your plants more vulnerable to root decay.
If, on the other hand, your plant is too big, it means that the water absorption rate will be higher. This will leave the soil dry, requiring you to water the plant more regularly.
Also, your plant might become root-bound, leading to stunted growth. Choosing the right size is, therefore, crucial when it comes to gardening pots.
Cost
This is also an essential aspect that must be in your mind when shopping for your planters. And, although "being expensive" is, in most cases, associated with quality, there are still some cheap products that can incredibly serve the same task.
Therefore, especially when you are buying bulk gardening pots, you should look around for containers that won't drain your pockets even more.
The Material of the Container
When it comes to the material, you'll mostly come across nursery pots made of plastic, clay, or terra cotta. Plastic nursery pots are the most common ones as they are cheap, lightweight, and also quite colorful. They also have the ability to retain moisture, letting you water your plant less frequently.
On the other hand, terra cotta pots are a bit costly but also offer a variety of beautiful patterns. And unlike the plastic ones, these planters are porous, which means that you'll have to water your plants more frequently.
If you want to have your plant on a hanging basket or a wall shelf, plastic pots are ideal as they are lightweight and non-porous. For the terra cotta pots, they are perfect for plants that do well in dry and well-aerated soils.
See Related: 8 Best Aquaponics Kits
Drainage
This is quite an important factor, especially if you are doing indoor gardening. Most indoor plants will not do well in stagnant water. So, you'll need to use a planting pot with a drainage hole to allow water to drain out and air to seep in.
If you are more concerned about décor, you can do double potting. This is where you use a pot with a drainage hole to grow your plant, but insert it in a larger aesthetic container that fits your décor desires.
Conclusion
When preparing to do greenhouse gardening, nursery pots are essential pieces that you'll most likely need to purchase. And, with all the numerous brands out in the market, choosing the right one might sometimes become tricky.
I hope that this guide on cheap nursery pots will help you identify some planters that not only offer quality but also are pocket-friendly.
Related Resources