What are greenhouse fabrics? How useful are they in keeping your greenhouse plants in good shape? If you've been struggling with harsh weather such as freezing winter, hail storms, or scorching hot summers, greenhouse fabrics to add to your nursery are what you need.
This guide explores more about this essential greenhouse covering material, explaining what it is and where you can get the best products on sale. Being able to enjoy fresh produce in and out of season from your garden can be thrilling.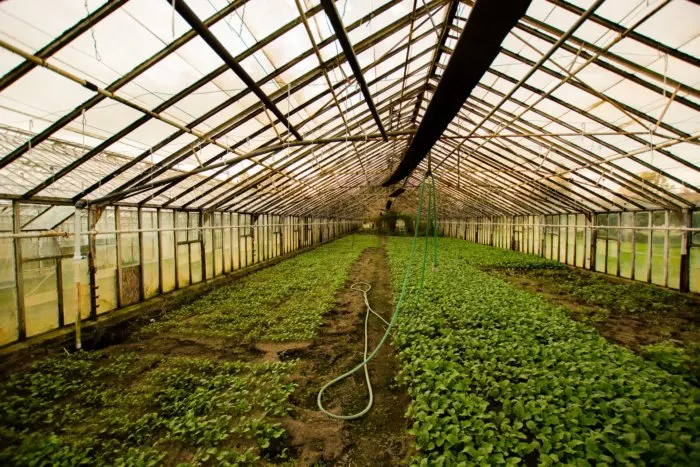 While others have to make those several trips a month to the grocery store, all you do is go to your backyard and get some fresh leafy greens, tomatoes, carrots, and other vegetables., for a tasty meal.
Greenhouses come in various sizes, designs, and materials (frames and covering). And, the choice of a greenhouse you make or buy will depend on your preferences and needs.
One major factor that will make a significant difference between various greenhouses is the material of a greenhouse covering used.
While the greenhouse frame matters a lot, greenhouses covering also matters as much.
Generally, when it comes to greenhouse coverings, we have several options. You can opt for plastic, glass, or fabric covering.
While each has its merits and demerits, today, we focus more on greenhouse fabrics.
Best-Of by Category
What are Greenhouse Fabrics?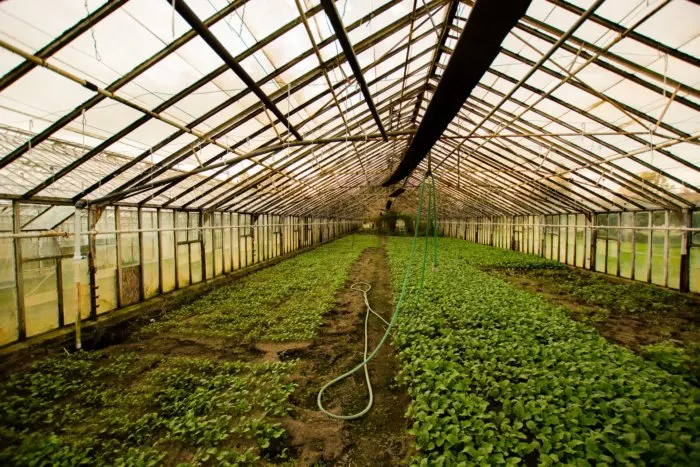 As mentioned above, greenhouses need to be covered.
And, you can do so using different materials like glass, fabric, plastic coverings, etc.
Therefore, greenhouse fabrics are simply one type of greenhouse covering material.
Generally, a fabric is any material made through weaving, knitting, or crocheting and used to make further goods.
And, when we talk of greenhouse fabrics, we are simply referring to greenhouse coverings produced through weaving, knitting, or crocheting.
Picking the best greenhouse covering material is not always easy. This is because each material, whether glass, plastic, or fabric, has its pros and cons.
For this reason, the choice is still highly influenced by personal preferences and needs.
However, research shows that greenhouse fabrics are better in many ways and are even the first choice for many farmers than other coverings.
We went further to identify why this is so…
Benefits of Greenhouse Fabrics to Add to your Nursery
The reason why more people prefer greenhouse fabrics include:
While some greenhouse covers like glass are more attractive and good to look at, they are never the best choices for certain situations.
For instance, glass is pretty easy to shatter in bad weather or when pressure is exerted. This might even destroy the plants inside the greenhouse.
In comparison, greenhouse fabrics are extremely flexible and can survive harsh weather conditions, including scorching heat, hail storms, or even negative zero temperatures.
In addition, they can fit on any greenhouse design or size, making them a great fit for any use.
Since woven greenhouse coverings are mostly reinforced with polyethylene, they tend to last longer than most other covering materials. In essence, their flexibility feature also adds to their lifespan.
This way, they become more durable than glass, polycarbonate, or fiberglass coverings.
The polyethylene reinforcement ensures that these greenhouse fabrics are not only weather and light-resistant but also withstand wear and tear effects.
They are easy to maintain, clean, and ensure that your plants stay protected from all risks of damage.
One of the greatest benefits of using woven greenhouse fabrics is that they are meant for all seasons. This way, whether you want to grow your crops in the middle of summer or in the dead of winter, you will have the same excellent results.
Since they are polyethylene reinforced, they can withstand almost any harsh conditions that weather elements throw their way. Therefore, whether it's hot, cold, or stormy, you can sit relaxed, knowing that your harvest is guaranteed.
In summer, they allow enough light to penetrate and benefit the plants. During winter, they have good heat-retaining features, keeping your plants warmer in the cold weather.
Greenhouse plants need light for better growth. And, a sufficient amount of it! Greenhouse fabrics offer the best solution for this, as they permit between 85% and 87% penetration of sunlight light.
This way, your plants get all the amount of light they need, with the excess amount being diffused as easily. With greenhouse fabrics, it's easy to have covering consistency for your entire greenhouse.
Meaning, all plants in that greenhouse are covered and can receive the necessary light uniformly.
Woven fabrics are more economical than most other greenhouse-covering materials. This is because they are durable, easy to maintain, and even their initial costs are not exaggerated.
If you compare greenhouse fabrics' prices with those of other materials, you will out rightly note the difference. For instance, installing a glass covering can cost you an average of $2.50 per square foot.
On the other hand, the woven fabric will cost around $0.25 per square foot. Now, while the glass coverings might be preferred for their aesthetic appeal, the price difference tends to sway more farmers to the side of the fabric.
In addition, these greenhouse fabrics are 40% more heat efficient than other materials like polycarbonates, glass, or fiberglass.
This results from their ability to retain infrared light inside the greenhouse, helping to keep the environment warm throughout.
See Related: Best Starting Seeds in an Unheated Greenhouse
Best Greenhouse Fabrics for Sale
Now that we have an idea of why we should choose fabric for greenhouse coverings, let's see some of the best products in the market.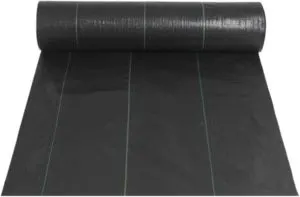 When we talk of quality woven greenhouse fabrics, this landscape fabric from Forimo is among the best. Since they are made of high-quality fabrics, these greenhouse covers guarantee flexibility and durability, which are essential requirements for landscaping and greenhouse covering.
In addition, its woven texture is designed to allow air passage, as well as water and nutrients The main advantage of this woven fabric is that it can be used for numerous purposes. While it is designed for landscaping, it is also widely used in commercial greenhouses due to its unique features. It can also be used in yards and even garden fences.
This greenhouse fabric is polyethylene reinforced and measures 6 by 300 feet, weighing around 3.2 ounces. Its size allows you to cut it based on the size of your greenhouse easily.
As for durability, the fabric is sturdy, tear-resistant, and light-resistant. Also, it is ideal for any kind of weather.
See Related: Best Greenhouse Plastic Sheets for Protection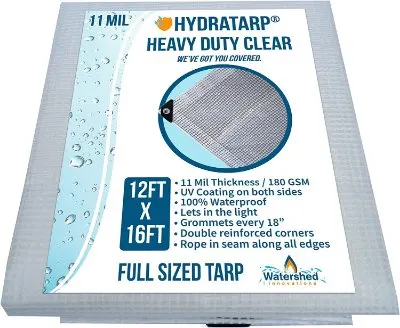 Durability is the main feature of this heavy-duty fabric greenhouse cover. It is made from industrial-grade material, 10 mils thick, but light enough to make installation easy.
If you are looking for a greenhouse covering that will protect your crops for a long time, this heavy-duty, UV-coated fabric from Watershed Innovations is an excellent choice. It is designed with double reinforced corners, rope hems on all edges, and rust-resistant grommets spread every 36."
The covering is ideal for greenhouses, patios, and outdoor camping to cover your RV or truck. Whatever you want to be protected against harsh weather elements, pests, or animals, this is the cover for you.
Even better, it comes with a 30 day, no-questions, money-back guarantee.
See Related: Best Glass Greenhouses in 2023
This is a premium sunshade cover, ideal for almost any situation. Whether you want it for your Patio, Pergola, or as a greenhouse fabric, you'll certainly be sorted.
The fabric is designed to help block harsh UV rays, giving the perfect protection for you, your assets, or plants in your greenhouse.
It usually offers over 90% UV rays' protection in a way that doesn't compromise the cool air breathability.
It is also made of heat-resistant materials, meaning that your plants are safe from too much heat, which most regions experience during summer.
And, the reinforced grommets make it sturdy and easier to fix.
The good thing when using this shade cloth for your greenhouse is that it protects the plants against harmful UV rays and still allows ample air and water to penetrate. Still, as it's polyethylene reinforced, it's significantly unaffected by frost, moisture, or heat.
The shade is versatile in use, as it comes in various sizes, starting from 8′ by 12′, 10′ by 12′, 10′ by 20′, and 12′ by 20′.
So, whatever you need it for, you have a size to pick from.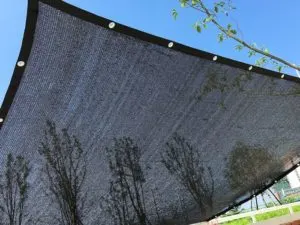 Finding the right greenhouse fabric is essential for your plants' growth. It can be quite frustrating to get zero or poor harvest after doing so much work on your backyard garden or greenhouse.
Perfect Sunblock Shade is an excellent shade cloth that can help you avoid this. It helps you cover your plants in a way that allows only the essential elements to reach the plants, blocking away harmful ones like UV rays. And, you can use it even for your barn, kennel, pergola, or even the swimming pool.
The fabric measures 10 ft x 20 ft, which is large enough to fit various uses, as mentioned. It's made from high-quality polyethylene reinforced material that is 100% UV stabilized.
Also, its lightweight, durable, breathable, and includes anti-aging qualities.
Even better, the numerous grommets fixed throughout its entire edges, make this shade cloth pretty easy to fix for anyone.
So, whether it's your plants you want to protect or wish to cover your patio for that cool environment, this shade cloth will work perfectly.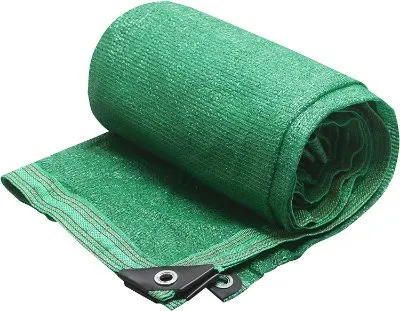 This greenhouse cover is a mesh made of high-density, breathable, and water-resistant material that is also lightweight for ease of use. If you are looking for a cover to protect your flowers, plants, fruits, etc., you have a solution in this sunblock shade.
The covering is multipurpose and can be used to protect your assets, animals, and plants, even in your greenhouse.
It is designed to block around 70% of harmful sun rays, which also works to lower the temperature inside the covered environment.
However, this feature doesn't hinder water or air from passing.
This way, if you are using the covering for your plants or greenhouse, the crops beneath the cover still receive the necessary conditions for better growth.
This plant cover is ideal for protecting your crops from scorching sunlight or freezing temperatures. So, no matter the season, your crops continue growing undisrupted.
See related: Important Farming Skills You Need to Know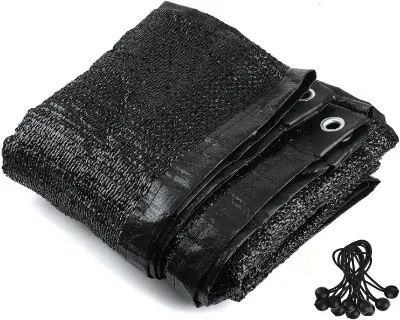 Rated 4.4 stars in Amazon, this sunblock shade is an excellent option when you need to cover your plants. The fabric is made of high-density polyethylene-reinforced material, making it flexible, durable, and, most importantly, economical.
In addition, the covering contains anti-corrosion and anti-aging features, which makes it applicable for various situations. It can be used in greenhouses, livestock housing, hoop structures, etc. Even better, it comes with a 5 years warranty if anything happens to the shade cloth.
In terms of UV protection, this shade cloth does away with around 70% of sun rays, meaning that your plants will get only the necessary amount of sun to keep growing healthier. And besides blocking harmful UV rays, it also protects your crops against pests, insects, and animals.
The fabric is also fitted with two grommets on every meter along the edges, making it pretty simple to hang or install on your greenhouse or any other location.
This fabric comes in a small size, measuring 6.5 ft by 6.5 ft, and weighs 0.88 lb.
If you've had a problem protecting your plants in the past, this shade cloth should be able to solve that issue for you.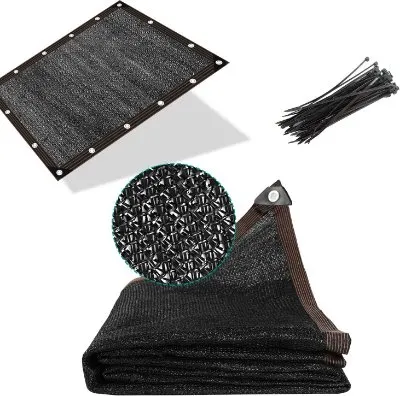 Durability and UV protection are key features in a greenhouse covering. And, MOLIK greenhouse fabrics offer exactly that and more.
These sunblock shade cloths are manufactured with premium, polyethylene-enhanced material, which blocks around 70% of harmful UV light from reaching your precious crops or flowers.
They are also light and heat-resistant, meaning that fading or getting damaged from extensive exposure to these elements is not an issue.
MOLIK shade cloths' knitted construction is significantly sturdy and resistant to wear and tear. This means that you won't need to keep changing or buying a new shade of cloth every other time.
They are also easy to install as they come fixed with aluminum grommets along the four edges and corners.
Therefore, whether you want to use it to cover your patio, balcony, porch, or greenhouse, it becomes pretty simple.
And, you don't have to worry about the changing seasons. These shade cloths are ideal for any weather. Not the scorching sun or the freezing winter does it any harm.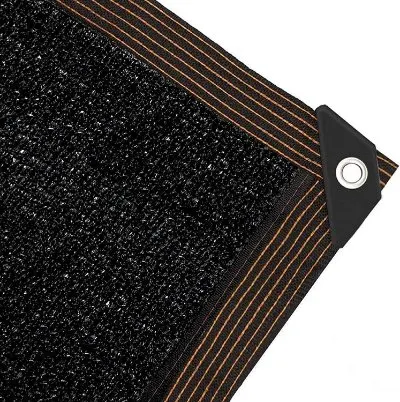 Milky house shade netting mesh is designed to block off 90% of harmful UV rays from reaching your plants or your cool patio. The shade fabric that measures 6.5ft by 6.5ft offers the perfect environment for you when used on a patio or plants when installed in a greenhouse.
It can also be used for other purposes, including covering lawns, livestock housing kennel hoop structures, etc. And, it's not only useful in summer or hot days.
Even when the weather turns cold and everything starts to freeze, your plants will be protected from such conditions. One main advantage of using this shade fabric for your greenhouse is that the plants are still able to receive desired airflow and water when it rains.
The shade blocks away only what is harmful to your plants, making it one of the best cover materials for greenhouse plants.
Related Resources