Even if you're not a gifted gardener, you can use AeroGarden pods complete with all the essentials to grow any vegetables and fruits your like. Read through my list to purchase the best options for your indoor garden.
Whether you want to test out your green thumb or grow some natural products for everyday use, the process is easier than ever. Nowadays, you don't necessarily need to maintain your backyard or terrace garden to grow fresh crops at home.
Instead, you can get the best AeroGarden models and place them on your countertop. Not only do these gadgets save space and provide year-round harvests, but they also bring a natural feel to your interior decor.
However, operating an AeroGarden requires the right components so that every plant shows its optimal growth. An integral component of the lot is AeroGarden pods.
These pods let you arrange your seeds and create the right environment for them to grow. In this article, I have listed the best AeroGarden pods for you to choose from.
What Are AeroGarden Seed Pods?
To mimic the conditions in a natural environment, AeroGardens use multiple components like LED lights, nutrients, seed pods, and seed baskets. Mostly, you'll get all the necessary components with the AeroGarden model you purchase.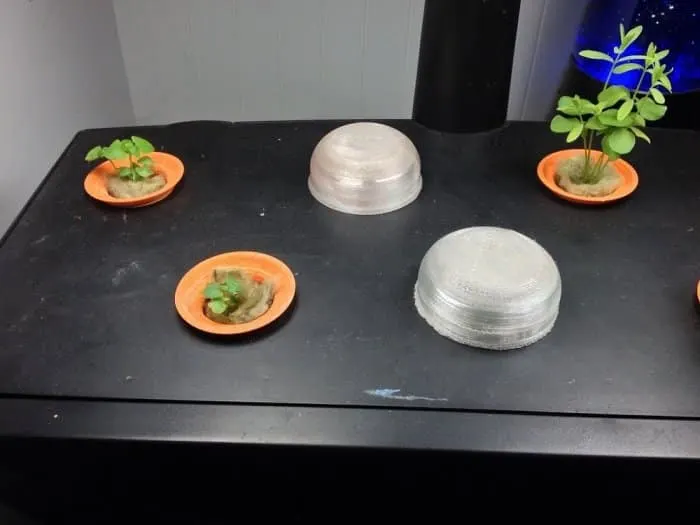 But, sometimes, you might need to buy the best AeroGarden pods yourself, depending on the variety of fruits and vegetables you want to grow.
Similarly, the default seed pods that come with AeroGardens cannot be used infinite times. Therefore, you will need to buy new AeroGarden pods if you're hoping to operate your garden regularly.
So, to make sure you pick the best pods for AeroGarden, you will need to know how these elements work. Mainly, seed pods are the ultimate hassle-eliminating parts in an AeroGarden.
Through these efficiently designed pods, home gardeners don't have to deal with potting soil and regulating it for optimum moisture. Instead, these seed pods easily fit in your AeroGarden and ensure your seeds stay protected and the roots receive the right amount of water they need to grow.
Each seed pod includes a germination dome, a grow sponge, and a growing basket. The grow basket holds the seeds while the sponge mimics the ideal growth environment for the plants.
Some seed pods come pre-seeded with individual labels so you can tell which pods will grow into which plants. Naturally, with the long list of options available, choosing the best AeroGarden pods for your AeroGarden model can get quite tricky.
That's why I have listed down some of the best AeroGarden pods introduced by the company itself to make the operation more accessible for you. All you have to do is pick one that fits your needs and get started.
1. AeroGarden Grow Anything Seed Pod Kit
Whether you're using the AeroGarden Harvest or the AeroGarden Bounty, this Grow Anything Seed Pod Kit is one of the best AeroGarden pods for you.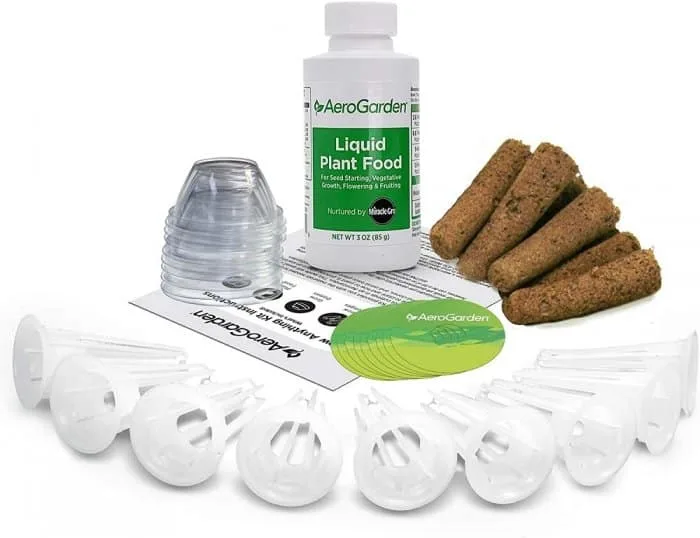 The package includes around 9 ounces of liquid nutrients formulated to increase yield, along with a growing guide for beginners. You can use this AeroGarden pod to grow and harvest your vegetables in your AeroGarden or transfer the seedlings into your outdoor garden.
The best part is that you can choose the seeds you want to work with. These pods don't come pre-seeded so you can include a variety of plants like wildflowers, cucumbers, peas, salads, and whatnot.
Similarly, you can use this pod to grow and harvest any plant at any time of the year. It maintains ideal oxygen and water levels for your plants to germinate evenly and bring ample harvests.
Most importantly, if you're looking for pocket-friendly aero garden pods, this Grow Anything Seed Kit is one of the best-price AeroGarden pods. At an affordable price, you'll get enough growing materials to last around three complete growth cycles.
Pros
Allows variety
Lasts long
Affordable package
Ideal for indoor and outdoor growing
Produces desirable growing conditions for plants
Cons
The aerator tends to clog and leak at times
The baskets fit a little lose into the pods
Labels on the domes need to be trimmed to fit well.
2. AeroGarden 6-Pod Seed Kit
This is another accessible AeroGarden Seed Pod Kit that works just like the Grow Anything Kit. It includes all the components you need to grow your favorite plants in your AeroGarden model, except the seeds.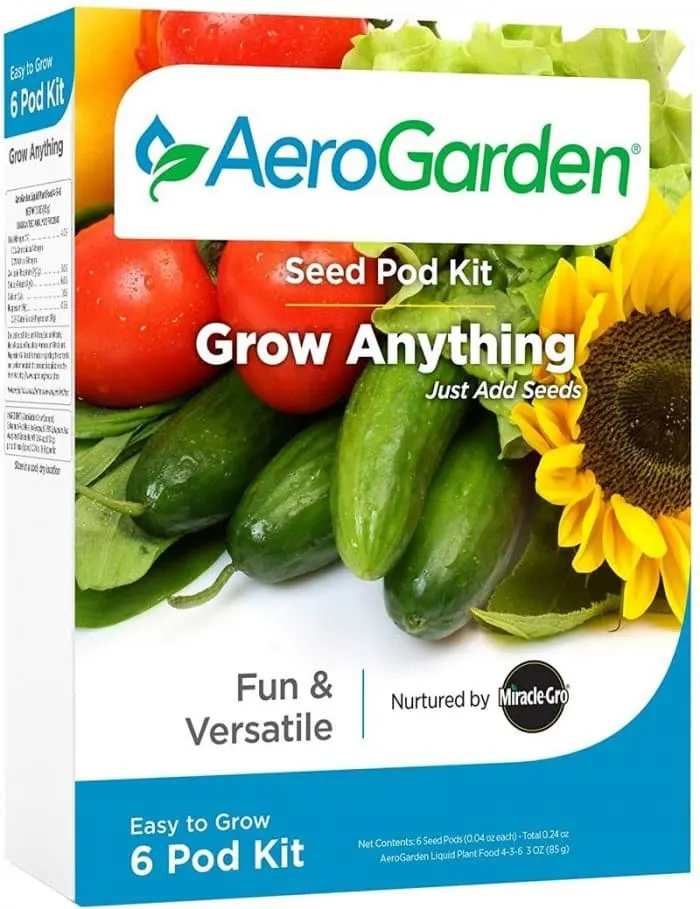 You can plant any seeds you like and create a garden filled with fruits, vegetables, and flowers of your choice.
All you have to do is purchase your favorite seeds and insert them into the grow sponges. After that, you can add water to the top level every day and watch your plants grow.
With these AeroGarden pods, you don't have to worry about adding extra or less water than required. The sponges optimize the water levels automatically, so your plant will only thrive in ideal conditions.
Additionally, the nutrients are loaded with valuable minerals like calcium, magnesium, and iron without any harmful herbicides or pesticides. However, unlike the AeroGarden pod mentioned above, this one has enough components to plant six pods.
Pros
Works with all AeroGarden models
Complete package for optimal plant growth
It comes with an instructional guide for beginners
It lets you grow and harvest diverse plants
Con
It does not include seeds
3. AeroGarden Salad Greens Mix Seed Pod Kit
This is a pre-seeded AeroGarden pod for salad lovers. If you're having a hard time selecting an assortment of plants to grow in your AeroGarden, you can easily buy this Salad Greens Kit and create your salad garden without any hassle.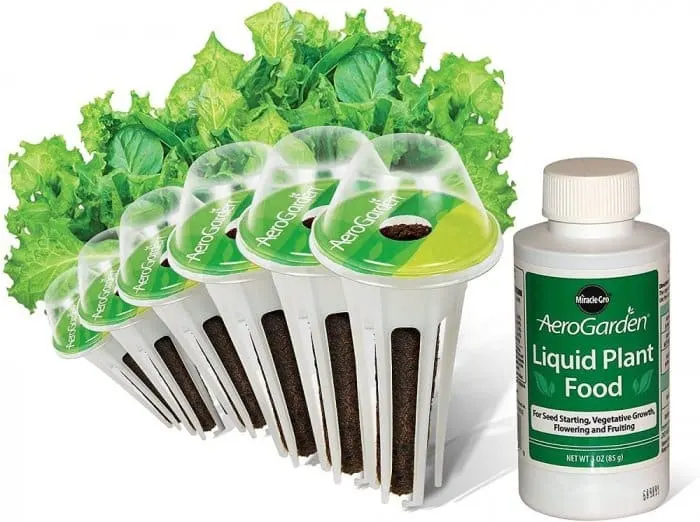 The package includes a total of six seed pods pre-seeded with delicious types of lettuce. These include romaine, butterhead, and red-green-leafed lettuce to bring that oomph to your salads.
Apart from giving you multiple varieties to include in your daily cooking, this seed collection also ensures that your crops grow well with each other. This means you'll get a plentiful harvest every time and enjoy the flavour and crunch you're looking for.
Additionally, this seed pod includes liquid nutrients which are entirely free from harmful herbicides and pesticides. Furthermore, they only use non-GMO seeds to give you the healthiest batch of vegetables on your countertop.
This AeroGarden seed pod can work with any AeroGarden model you have. Besides that, the company provides a replacement guarantee for the pods and prompt customer support if you need any help during operation.
Pros
Easy, fresh salad for lettuce lovers
Produces quick harvest in around 4-8 weeks.
All required components are included in the package.
Con
You can only plant a few varieties of lettuce greens.
4. AeroGarden Gourmet Herb Seed Pod Kit
Are you a cooking enthusiast who just loves the aroma of herbs in the kitchen? Then this Gourmet Herb Seed Pod Kit is one of the best AeroGarden pods for you.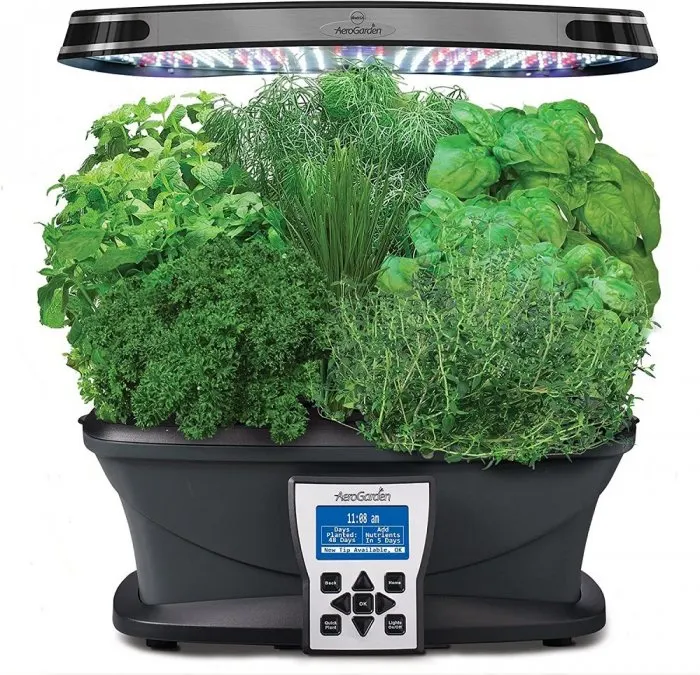 This kit includes seven pre-seeded pods, which you can plant in any AeroGarden model you have at home. Although it is best, you use all seven pods on a floor AeroGarden model to give your herbs enough space to grown.
The pods have seeds of your favourite aromatic herbs that fit easily into your everyday recipes. These include two varieties of basil, dill, mint, chives, parsley and even thyme. Just grab a handful from your indoor garden and give a flavorful kick to your salads and sauces.
All the seeds included in this AeroGarden pod are non-GMO and are paired with herbicide-free liquid nutrients. This means not only will you get a plentiful harvest, but your herbs will have the ideal flavour and texture as well.
The best part is, you can use these pods all year round and store the herbs you grow. You can diversify your approach by developing a new variety of vegetables or fruits in your indoor garden in the coming year.
Pros
Quick harvest
All-year-round production
Guaranteed germination
High-quality seeds and nutrients.
Customer support and comprehensive user manual
Advanced channeling for optimal moisture distribution
Works with all AeroGarden models
Cons
Only produces a fixed variety of herbs
You'll have to drain the reservoirs every now and then.
5. AeroGarden Mighty Mini Cherry Tomato Seed Pod Kit
Who doesn't love cherry tomatoes? The only thing better than their taste is the visual aesthetic of a small tomato plant sitting there on your kitchen countertop.
Luckily, if the prospect sounds appealing to you, AeroGarden has developed its Mighty Mini Cherry Tomato Seed Pod Kit for tomato lovers like you. The package includes three pre-seeded pods, so if you can, make the best arrangement for 4 out of 9 pods on AeroGarden using this kit.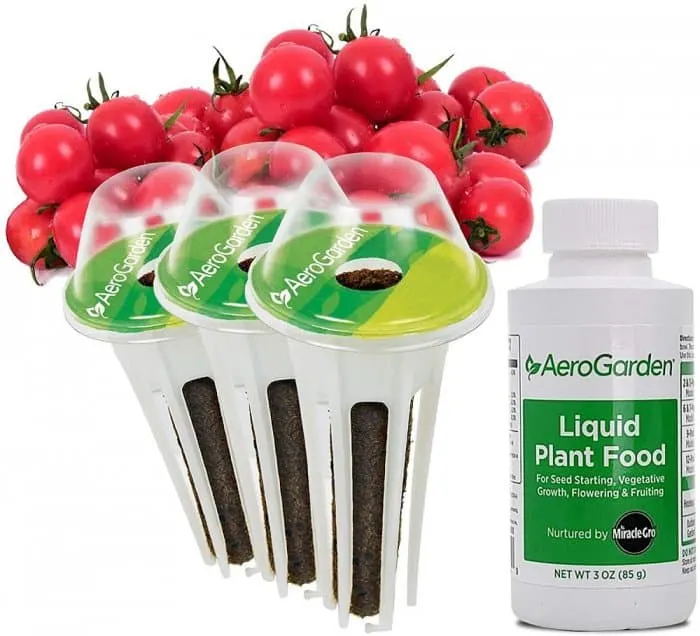 You see, even if you have a large AeroGarden, it is recommended to leave a few pods free just to give your plants some room to spread out. You can line three of these pre-seeded tomato pods and use another pod of your choice to complete your garden.
These pods, along with their sustainable nutrients, are formulated to produce miniature, dwarf-like plants that grow no more than five to six inches tall. That's why the nutrients are concentrated into the delicious small fruit, which makes it fresh and flavorful at the same time.
Furthermore, these tiny plants tend to bloom early so that you will have a harvest of tomatoes for your salads every two-three months. What makes this one of the best AeroGarden pods is that it lets you grow your tomatoes all year round and generate plentiful harvests whenever you like.
Pros
All-natural components with non-GMO seeds and herbicide-free nutrients
Works with all AeroGarden models
Soil-less plantation for hassle-free gardening
Guaranteed high-quality yield with vibrant fruits.
Affordable price range
User manual and customer service provided for guidance
Cons
Only grows tomatoes
Can't produce full-sized tomato plants
6. AeroGarden Assorted Italian Herb Seed Pod Kit
If you're someone who loves whipping up pasta dishes and aromatic bread, Italian herbs are probably a must-have in your kitchen. Now, you can quickly grow these herbs on your kitchen countertop using the best AeroGarden pods.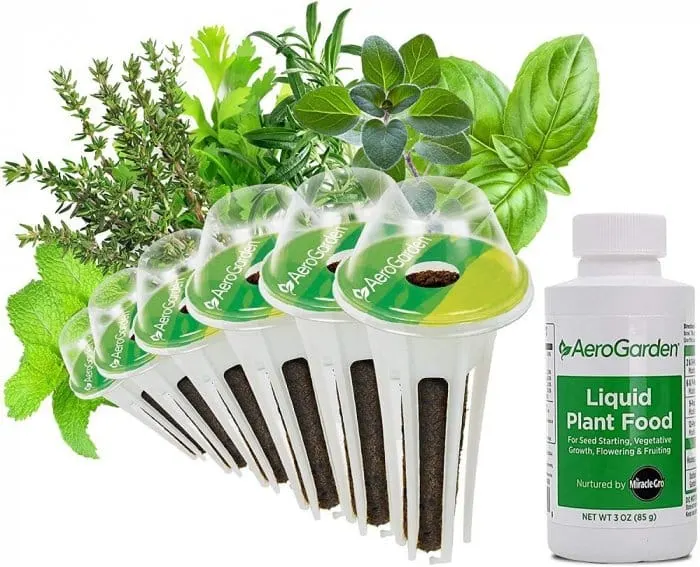 This Italian Herb Seed Pod Kit includes six pre-seeded pods that are guaranteed to grow into your favorite herbs in no time. It can be used with any AeroGarden model and comes with a detailed growing guide to help you out if you're a beginner.
Using this AeroGarden pod, you can grow various kinds of herbs often used in Italian recipes. These include oregano, savory, thyme, mint, and basil. Its rapid germination technology works to produce quick harvests so you can get fresh herbs for your dishes every time.
Besides that, these AeroGarden soil-free pods use the cutting-edge Canadian Sphagnum Peat technology to prompt mess-free growing. Additionally, the grow domes create an optimal condition for the herbs to flourish and maintain the same flavor as outdoor plants.
Pros
Works with all AeroGarden models
Affordable price range
Easy to use
Rapid germination technology
No soil or water regulation is required.
Con
pre-seeded pods produce only limited amounts of herbs
7. AeroGarden Heirloom Salad Greens Seed Pod Kit
Another best AeroGarden pod for salad lovers is the AeroGarden Heirloom Salad Greens Seed Pod Kit. As the name suggests, this AeroGarden pod includes all the crunchy, juicy, and flavorful salad greens that make your everyday lunch interesting.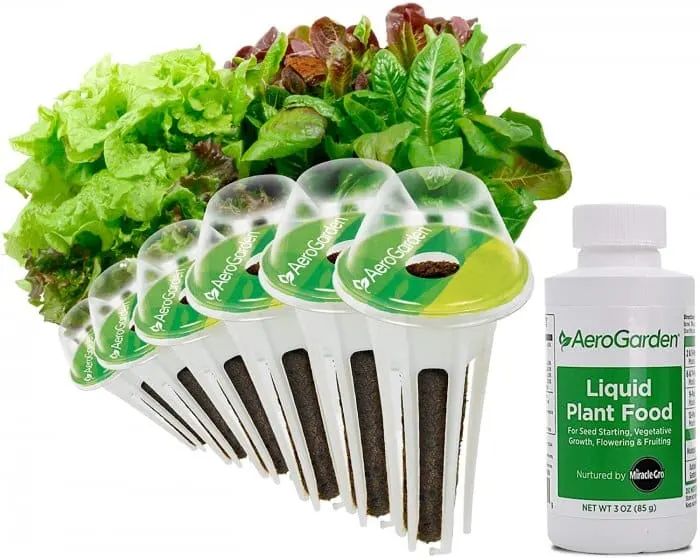 The pre-seeded pods' assortment includes seeds that grow into gourmet lettuce varieties. Namely, Deer tongue, Black-seeded Simpson, Firecracker, Parris island, Rouge d'Hiver, and Marvel of 4 Seasons.
The seeds use soil-free technology to grow without creating any mess in your kitchen. Besides that, the package's liquid nutrients are reinforced with valuable minerals such as calcium, magnesium, iron, and other vitamins.
This not only makes your vegetables taste great but also helps them retain a vibrant color that makes your indoor garden look visually appealing.
Besides that, it has AeroGarden's 100% germination guarantee combined with prompt customer service if you face a problem during operation. All you have to do is place these pods into your AeroGarden and enjoy delicious salads within a few weeks.
Pros
Easy to use
Quick germination
All-inclusive package
Beginner-friendly
Affordable
Produces tasty and vibrant vegetables
Con
Only produces salad greens
Best AeroGarden Pods FAQ
Now that you've been through my list of best AeroGarden pods, you probably know which one fits your needs. However, if you still have some questions regarding AeroGarden pods, I have answered a few FAQs right here to help you out.
How Do I Best Change The Seed Pods In My AeroGarden?
The best way to change your AeroGarden pods is to remove them and completely clean your AeroGarden. After that, if you have reusable AeroGarden pods, you can plant new seeds after cutting off the previous roots and replacing the sponges.
However, if you were using pre-seeded AeroGarden pods, the best way to change your pods is to discard them and replace them with new pods.
How Long Do AeroGarden Pods Last?
AeroGarden pods have a lifespan of around one to two years. If you purchase AeroGarden seed pod kits and plant them immediately, the seeds will germinate and produce a harvest for about a year.
But, if you buy them to keep for future use, the seeds stay in plantable condition for around two years if stored properly in a cool, dry place.
Which AeroGarden pods are best?
The best AeroGarden pods are those that are compatible with your specific AeroGarden model and meet your gardening needs. AeroGarden offers a wide range of pod options, including herbs, vegetables, flowers, and gourmet options. Some popular pod varieties include basil, cherry tomatoes, and salad greens. It is important to consider factors such as growth rate, taste, and ease of use when selecting the best AeroGarden pods for your home garden.
Are all AeroGarden pods the same?
There are different types of AeroGarden pods available, including herb, vegetable, flower, and salad greens pods. Each type of pod contains different seeds that are optimized for growth in the AeroGarden system. Additionally, AeroGarden pods come in different sizes and shapes to fit different AeroGarden models.
Related Posts: